So now I have tiwi up and running to a point where I can use it. I didn't get round to doing much with it today, mainly just discovering new issues. They include:
Compose key doesn't work. This could just be a question of the keyboard mappings, but I need to investigate. It seems that I have visited the issue multiple times over the last 12 years, and I really wish I didn't have to do so again.

Display corruption on

xterms

. Random text from previous displays appears, at least when using

mutt

.
The other problems still exist. Irritating, but I could live with it. But why should I? I can switch back to teevee with a couple of button presses and change of keyboard and mouse. So that's what I did. It's frustrating, though, that I still haven't finished the transition.
Spring is on its way, and the Acacias have been flowering for months. But today when walking the dogs I came across this one:
Not much of a smell, but it seems that there's enough pollen to trigger my age-old hayfever. I haven't had that for a while.
For some reason puppies like to pick up branches and walk around with them, and for some reason they always take them close to one end. Typically it happens at an age of about 6 months. But today, for some reason, Larissa tried it again: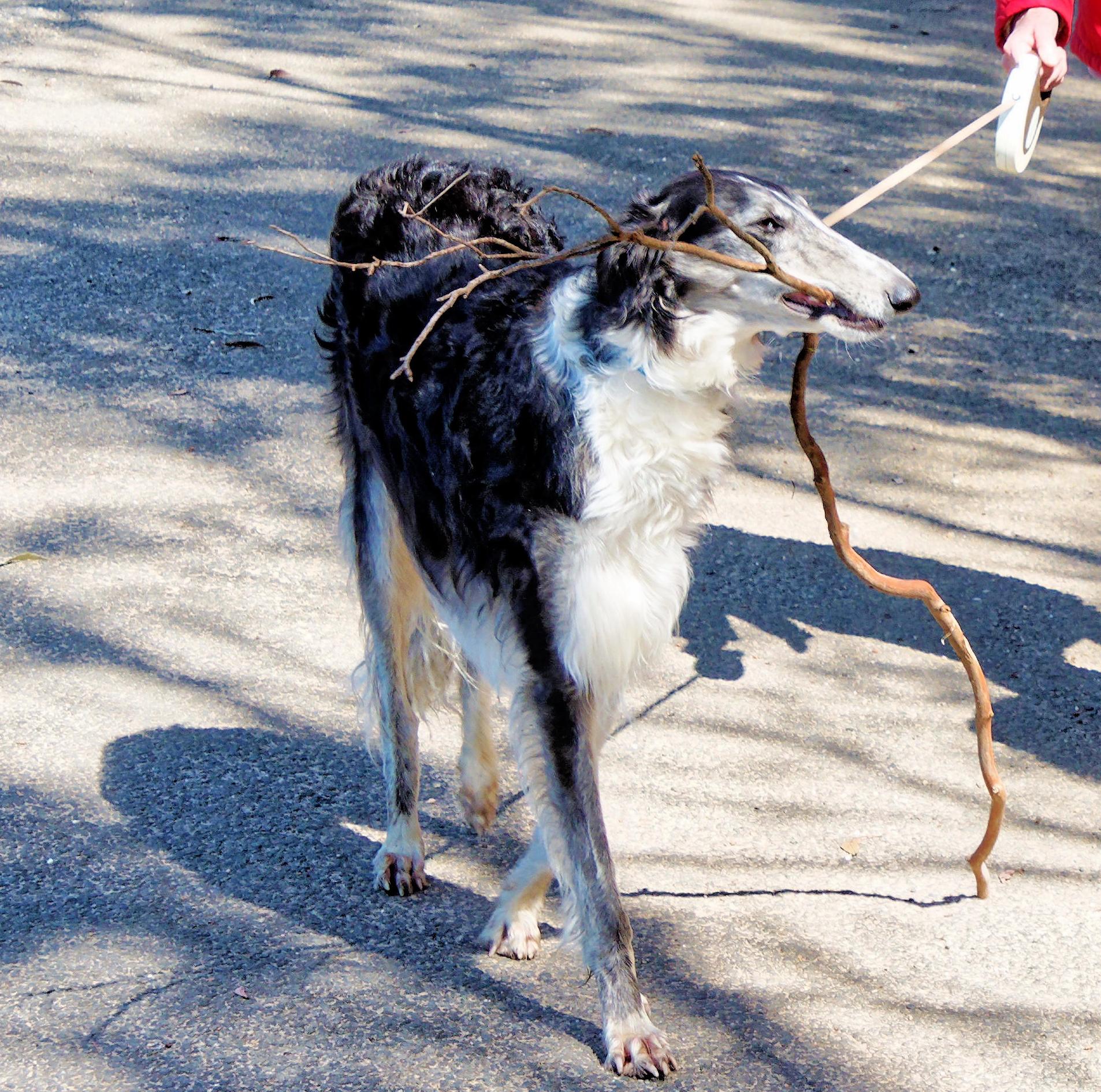 She's nearly 19 months old, arguably an adult. Why now?
First day of Daylight Saving Time today, time to reset dozens of timekeeping devices. Fortunately computers, even Microsoft, Apple and Android, now do that automatically. But there are still 8 cameras, two watches, two microwave ovens, one conventional oven, two conventional clocks and two car clocks, a total of 17.
The older cameras are clear: go through the menu and set the time. Three of them are so old that I won't bother until I really take a photo with them. But the newest ones (Olympus OM-D) can communicate with the horrible Olympus Image Share mobile phone app. Ah, no, it's not Olympus any more, it's "OM Systems". I've already established that There Can Only Be One, so for every camera I need a mobile phone that knows about it. For the OM-D E-M1 Mark I and E-M1 Mark II things worked well enough, because they ignored the setting saying "disable touch screen" and allowed me to select "Wi-Fi" from the display. But the OM-D E-M5 Mark III does the right thing, at least there. To enable Wi-Fi I need to go into the menu tree.
But where? Off to RTFM, which took me about 10 minutes. Of course! It's in the "Playback" menu! Isn't that obvious and intuitive?
I wasn't done. On the phone I needed to start OI.Share. But which one?
Answer: the dirty one on the left. The other is the old, worn-out Olympus OI.Share, though it does offer to start the newer one. Interestingly, the old one is much bigger, as I discovered when I removed it:
That wasn't the only fun. Setting the time on the oven is so obscure that I just turn it off and let it go through its initialization sequence, which takes a couple of minutes but allows me to set the time. And one of the microwave ovens kept showing the old time. Did I really get it wrong 3 times? No, it doesn't say so, but it requires me to press the button Clock after setting the time.
Yes, getting rid of DST would be good for my nerves.
Found some forgotten "baby" octopus in the deep freeze recently:
Is that an alternative to squid tubes for KL Hokkien Mee? Only one way to find out:
At any rate it didn't require the smoking hot frying that the squid does. And yes, a very acceptable alternative.
Two short grid power failures round midday today, one 4 seconds, the other 3.
So do I go to Europe in December? I really don't want to, but if I have to, I should combine it with a few visits. For various reasons I want to go to Hamburg, and it occurred to me that there's a relatively active group, BSDHH, which meets once a month at a Chinese restaurant (Lotusblüte?) in Eppendorf. Would the time match when I might be there? Where's the last mail message on the topic?
=== grog@eureka (/dev/pts/35) ~/Mail 4 -> grep BSDHH *
david.purdue:16N8Qv8AkB2//Xyv/oL15zjI6fpTReC/hBz7n6cUY9s/rR9cfiBSDHHT8qZ1i/gP0NH5fpR7
iracarmel:wwwuuaRJDS6x0MlOM6Mygw43ueBSDHHN5BJMmuMEg4sv0H3zSimtUlOKL3zGwkox7VDDSikP
sandraellis.pi:bGGfrmbQly77BJBxhKV+AroJT7kjZ+Yh6pjbRuBpr3pMen1qa2SiR5UqBSDHHEhUfE4t1p3c
tessaa:mDrsRKLDTiQ67GxDh51t6LATiQ47kZiBSDHHeH3rE1sTyUtbS7a+SfK2qrbayf4NJzCadUgg03ie
tomt:Zu5JJSiOHZZlnxnss5xeST3SSiE8IsaydOkkhSScBSDHHsUlMISRfReeyf7O4+ARoqQpI/2bxcFI
=== grog@eureka (/dev/pts/35) ~/Mail 5 -> grep Lotusb *
frolley_zuideveld:VvOvLotusb8ut1MTEo5nDjxkJGp5MjYhaw2NdTGWVqtDxMmPIROvWf8ALgEI7Ki8mfWEFSB6

That's amazing! These are all encoded texts, and the encoding should be gibberish. But there were no fewer than 6 hits (in fact more, because the same texts appeared elsewhere as well).
After a bit more searching, found the web site, which states that the restaurant is the Lotosblüte, and they meet on the first Wednesday of the month. That could overlap, but I need to be back in Adelaide on the Saturday. Enough time?
No. If I eat in Hamburg on Wednesday evening, I couldn't leave for Australia until round midday on Thursday. Checking flight availability, the earliest I could be in Adelaide would be at 7:55 on Saturday, after spending two nights in a plane. No, people, those days are over.
Paul Donaghy along this morning to mow the lawn, which was greatly in need of it. It wasn't easy: it has been so wet recently that he could hardly get through, and he'll have to have another go next week, when hopefully it will be dryer.
The sun was shining, so outside at mean solar noon today to take my analemma photos. Damn! The battery had chosen just now to fail. Why didn't I see that yesterday when I was resetting the times?
Looked up. Carlotta, Yvonne's horse, was in the arena, but I didn't see Yvonne. Carlotta had a saddle on, which suggests that Yvonne should have been riding her. Over to find Yvonne huddled on her side on the ground. It seems that Carlotta had suddenly started bucking in rodeo style for no apparent reason, and after the third attempt Yvonne had sailed off.
How seriously injured was she? Pain across the chest, strange in view of the fact that she had landed on her back, and her inflatable vest had cushioned the impact. I took Carlotta back to the paddock, and later fed her. It seems that this is less than half what the two horses currently get: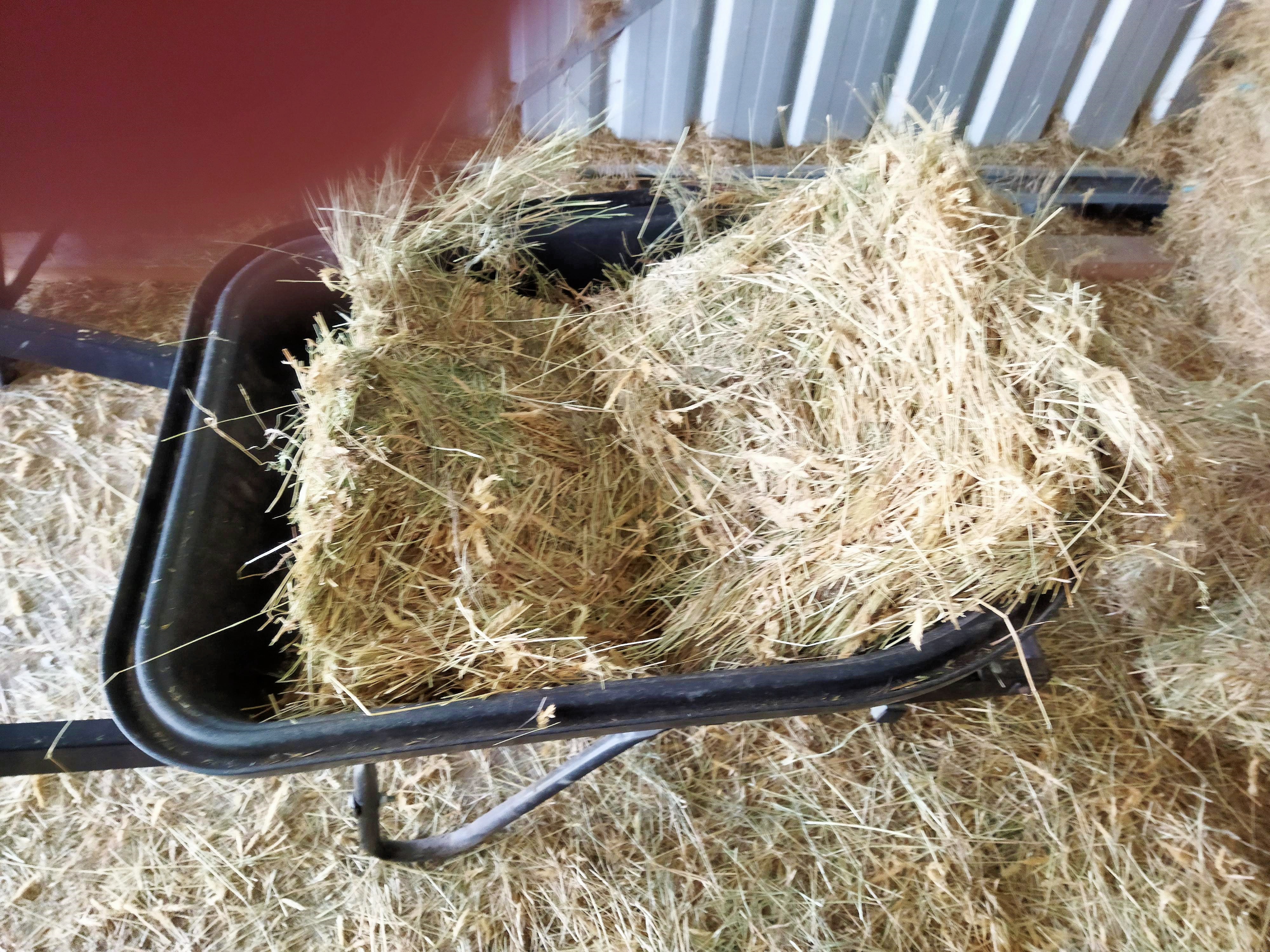 Yvonne had thought that Carlotta had had some sudden pain—sciatica maybe—but she didn't show any symptoms.
After some thought, off into Ballarat to get Paul Smith to look at Yvonne. He was able to rule out any serious issues, certainly nothing to do with the spine, but he thought that a CT scan of the cervicothoracic area.
Off to the new Sovereign Radiology in Sebastopol—we thought. Easy to find, on Albert Street. Got there just as everybody was leaving: it wasn't Sovereign Radiology at all, but Vision Radiology. Both have only recently popped up, and they're just about across the road from each other. Sovereign Radiology is in the same building as Tristar, where I used to go until six years ago.
So, as discussed with Paul: see how Yvonne feels tomorrow, and if she still isn't too good, she can do the scan then.
While I was picking Yvonne from the ground, another grid power failure, this time 25 seconds. I hope that's not going to happen too often.
I don't have an original battery charger for my older Olympus camera batteries, though I have 4 cameras that take the same kind. Instead I have 4 aftermarket chargers, all of the same kind:
They come with adapter boards for various kinds of batteries. Here the charger without adapter in the middle, the front of an adapter on the left and the rear of an adapter on the right:
Two of the adapters don't seem to be designed for my batteries. The one at bottom right of the first image contains the inscription "Fits FUJ. FNP-140", and the other is for the BLN-1 batteries for the simpler mirrorless cameras, for which I have at least 2 original chargers. Charged one of the old batteries for the E-30 in the appropriate charger, then put in the one that had failed today. It showed fully charged!
Further examination showed a poor contact on the power supply adapter board: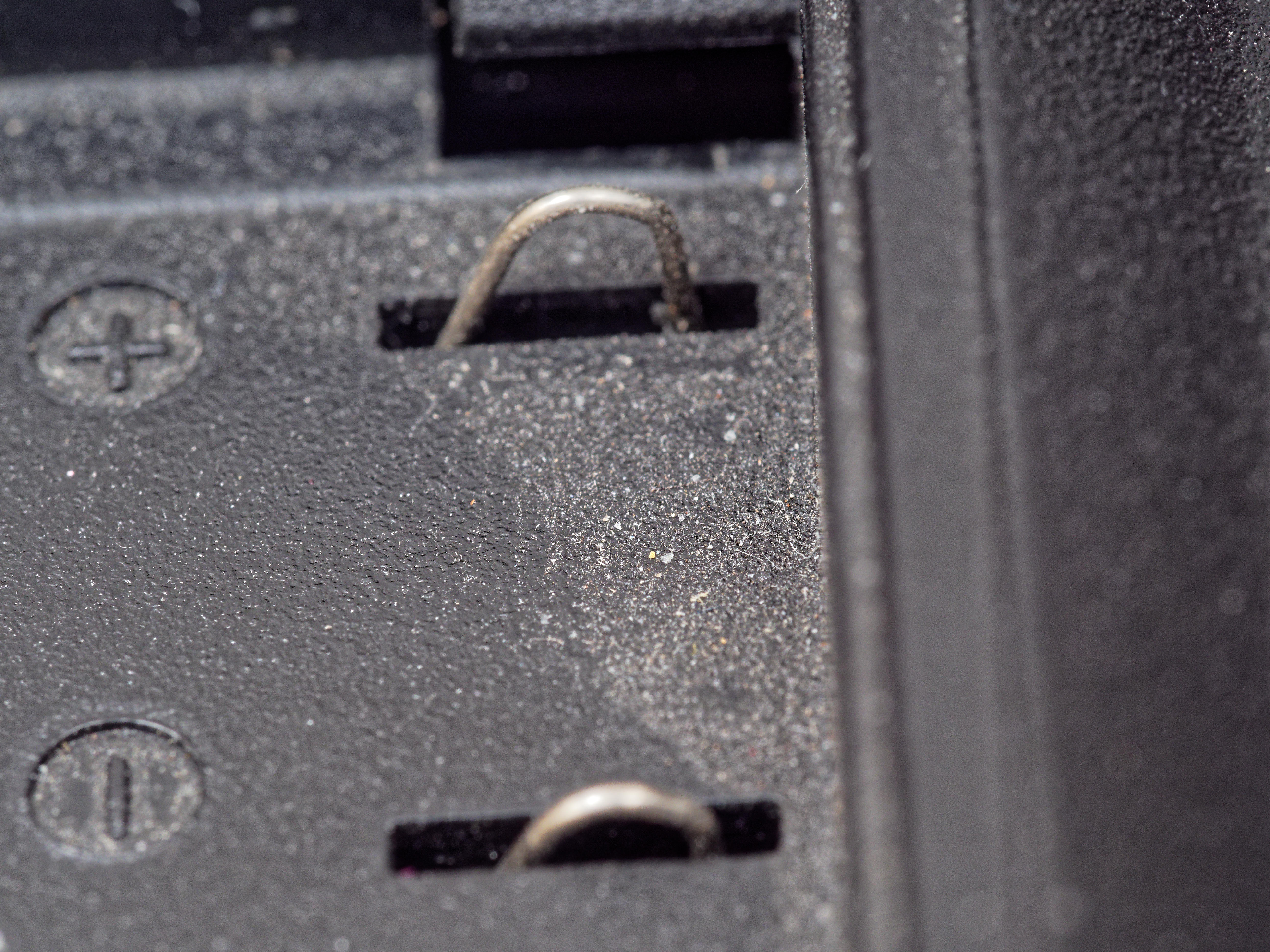 If I pressed on the battery, it started charging, but otherwise I got a false positive. The other one looked normal:
OK, charge the battery. The charger LED shows red when charging, and green when charged. But there was an orange phase! That doesn't give me the warm, fuzzy feeling that the batteries are being charged exactly.
A while back I subscribed to a Facebook group Crap bird photography. It seemed appropriate, but in practice I found it a little boring.
But today I got a call from Yvonne in the lounge: "Bring your camera". Out to find a kookaburra sitting on an arch outside the window. He must have sensed me coming:
And yes, that's part of him at bottom left. Clearly a candidate for crap photography. He didn't fly far, though. He stopped the wind:
Yvonne was feeling marginally better today, still good enough that she decided not to go to Sebastopol for the CT scan. It seems reasonable to assume that it was nothing serious, and if it gets worse we can still get it done.
Yvonne seems to think that she's getting better, and she still hasn't had the CT scan done. Instead she went into town and did the shopping as normal. It looks like another long recovery.
Received an email notification for a couple of updates to Bug 44034. Clearly a little too early: next Friday it will be 20 years old. And it's still open!
But I couldn't change the text. Attempts to log in failed, and the system refused to let me change my password. Discussion with Philip Paeps, who is almost in our time zone (Hong Kong). He fixed it for me, but how did it happen? It seems that I changed it by accident using a completely different kerberos interface. That, too, should be better documented.
Despite all reductions, Larissa is still marginally overweight. According to the suppliers of the dog food, she should be getting 400 to 500 g a day. She's been getting 250 g, and I've dropped it to 200 g. Doubtless the warmer weather makes the difference, but it's still surprisingly little, especially as Elena seems to need her 250 g.
Yvonne is still not feeling much better, so once again I needed to feed the horses, with her monitoring progress.
It seems to have been raining for ever, and just getting there is a problem:
It's been three days now since Yvonne's latest riding accident, and she's still not feeling much better. All the signs are bruised or broken ribs, but just to be sure, we took advantage of the CT scan referral and arranged to have her scanned in Sebastopol, while I went on to get a script for more powerful painkillers (codapane forte 500/30) in Ballarat.
Picked up Yvonne, who had the news that they hadn't found anything—yet, though there were many images to investigate. Back home, and the phone rang almost immediately. Spoke to Lawrence Lancucki, the radiographer. Yes, they had found something: a broken T1 vertebra, and she should go to the emergency department immediately.
Quick call to Paul Smith, who agreed, so off, arriving at 15:30 and taking advantage of the situation to get her taken out of the car in a wheelchair, thus bypassing the normal triage. But it didn't help the normal glacial rate of progress at the Ballarat Base Hospital. They're all very friendly and helpful, but there's usually a long back log, and today was no exception:
I asked at the triage, and they cheerfully told me that things weren't too bad: it would only take about 1 to 1½ hours for her to be seen. So I off home, and Yvonne called at 19:49 to tell me that they were still investigating. Spoke to Sam, the doctor, who couldn't tell me whether she would stay overnight, but that there was enough going on to ensure that she would be there until 23:00. Left it at that, and got a call from Yvonne at 1:04 to tell me that they would have to wait until the morning to talk to the specialists at the Royal Melbourne Hospital to decide whether to operate or to place a brace.
What a day!
Somehow it's a bit dreary here without Yvonne. The dogs seem to have thought so too: Larissa only ate 90 g of food this evening, far short of even the 200 g I had given her.
Yesterday I transferred some money from my Bank of Melbourne. Nowadays that's normally instantaneous, but this time I got a timeout saying that the transfer was in progress, and "check back later please". I did that, and the money had gone through, but where was the notification email to the recipient?
That arrived today:
From bounces+18703364-aeed-bankofmelbourne=lemis.com@em2371.bankofmelbourne.com.au Thu Oct 6 15:32:03 2022
Date: Thu, 06 Oct 2022 04:32:00 +0000 (UTC)

The Payer has requested we send you an email with details of a Payment made through Bank of Melbourne Internet Banking.

Date: 05/10/2022
Time: 03:31 PM AEST

That's 24 hours' delay, so exactly that it almost seems symptomatic. And it's also interesting that the Bank of Melbourne, which once used to advertise that it was in tune with Melbourne, uses UTC in its email messages.
Call from Yvonne at 7:45 with the good news that the specialists in Melbourne had decided not to operate, but to fit a neck brace. That would happen in Ballarat this morning, and I could pick her up round midday.
I was just getting breakfast ready when I got another call, from Mary, the doctor who had been looking after her during the night shift. She beat around the bush at first about me coming to pick her up, but it seemed what she really wanted was me to come and learn how to put the brace on and remove it (for showering, for example).
Off to the hospital through particularly nasty, rainy weather, where I was presented with a far-too-common sight: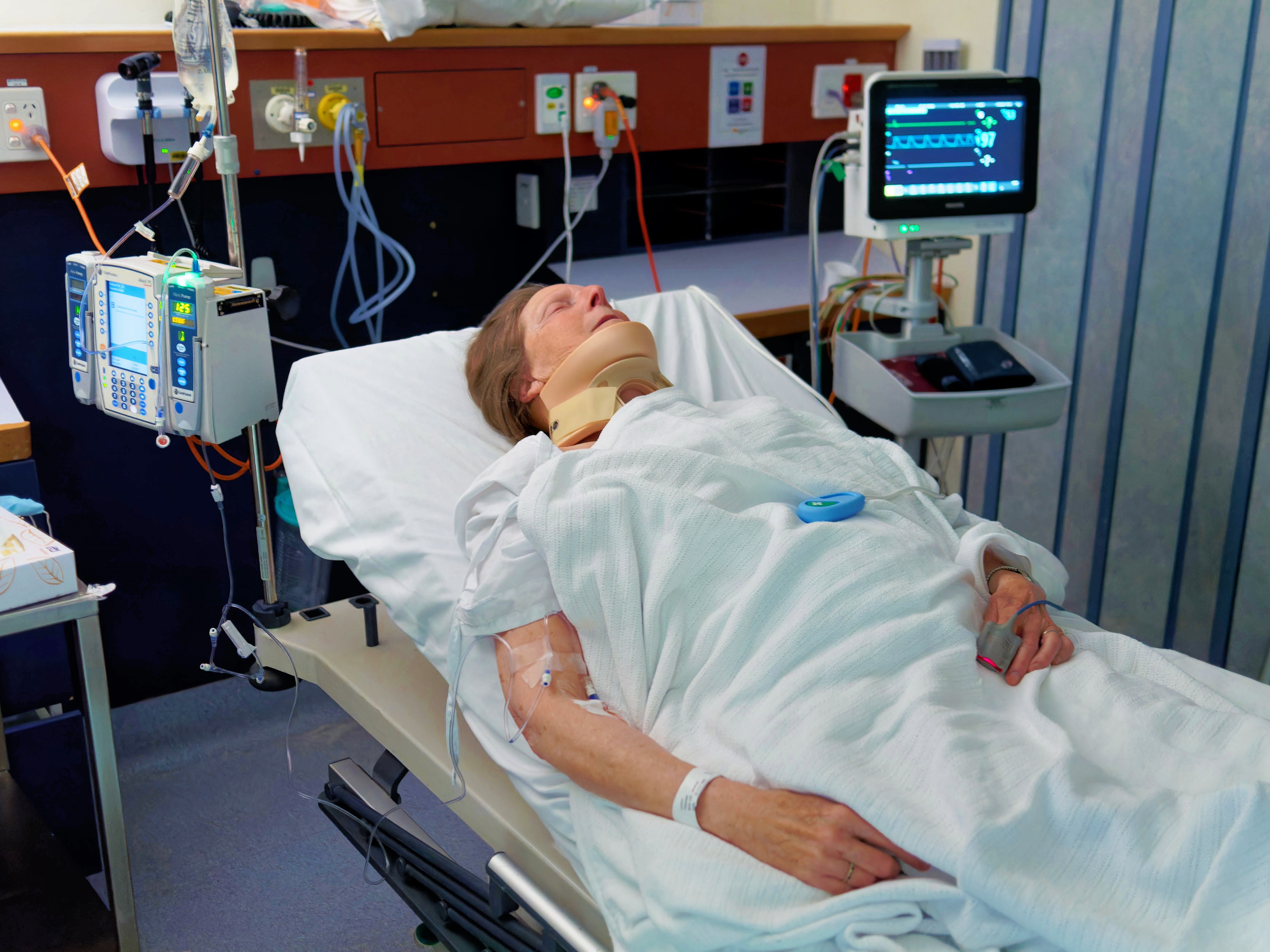 Now doesn't that resemble these (from 2 January 2006 and 14 January 2018)?
The neck brace she had on was temporary (and, apparently, very uncomfortable). The real brace proved to be a monster of a thing:
The loose part fits her back, and to put it on you need two straps (velcro) round the neck:
And two (plug in) round the stomach:
And it needed to be fitted to the curve of her back with a strange looking spanner:
Nearly all off this is a one-time-only thing. There are various buttons on the thing, clearly marked in yellow so that you know not to touch them, but all I need to worry about are the straps at top and bottom.
In passing, its amazing how many people were involved in the matter. Yesterday Yvonne had Sam the doctor and Matt the nurse, then during the night Mary. Today we had Bree (presumably not Brie) the nurse, Emily the orthopaedist in the photos and Stephen McMahon (yes, we even got a surname!) the doctor. Stephen noted that he was still relatively junior, and he reminded us both of Elias Bähr, a doctor in the TV series In aller Freundschaft - die jungen Ärzte: friendly but not overly clued up. A couple of times he pointed to a place on his own back where he presumed the T1 vertebra to be, but it was closer to T12. And then there was Gretta, the boss of the emergency department, who came in doing a Daisy Duck imitation:
It's amazing how friendly everybody was. It must be a horribly stressful job, but people all seemed relaxed and helpful. It's clearly not always like that, of course: this morning on the phone to Mary I asked what the real cause of her call was (at that point it just sounded like "you need to pick her up"), but she misunderstood and explained that she had to attend to a patient "being angry".
And what is T1? A vertebra, of course. But both Mary and Stephen referred to T1 as a vertebrae. In Mary's case, it was a particular concern, because it sounded as if other vertebrae had been involved as well. She explained that vertebrae was the plural of vertebra, but not why she used the plural to refer to a single vertebra.
The whole thing took the best part of 2 hours, and it looks like Yvonne is going to be tied up in the thing for 6 weeks or more. One thing's clear: I no longer need to worry about going to Europe in December. We'll be off to the Royal Melbourne Hospital in a couple of weeks to monitor progress.
It's interesting to note that these problems have nothing to do with the pain she was experiencing. They took more X-rays of that area, but it seems that the pain is really related to the ribs, and that it's either bruising or a minor fracture that doesn't show up on the X-rays. Still, under the circumstances it's good that the pain was enough to get her to have the CT scan done.
While writing things up, came across Health Direct, which might be of use at some point.
Filled up Yvonne's car on the way home. Write down the kilometrage. But I can't read it! The display has particularly low contrast, my eyes aren't what they used to be, and we were in direct sunlight, placing the display in a very dark position. In the end took a photo:
Oh. What do you expect of a mobile phone? I need a Real Camera:
The problem is clearly that the phone couldn't focus that close, but it was too polite to say so. The E-PM2 couldn't get any closer either, but it did say so. And it seems that I'm not the only one who has problems with that display. Yvonne had written down one of the numbers wrong on a previous occasion. And somehow the font doesn't help: it's easy to mistake 3, 5, 6, 8 and 9.
DxO have released a new version of PhotoLab, 6.0, as Digital Photography Review informs me: DxO is too polite to spam its customers with such information.
OK, try it. Oh. For some reason their web site only wants to speak German to me, and then refuses my password and my browser (firefox). Went to some trouble to download it, but finally succeeded: it's 765 MB in size and took about 3 hours to arrive. That seems to be somehow related to my link. I was able to download it to ffm.lemis.com in 7 seconds:
=== grog@ffm (/dev/pts/0) ~ 18 -> fetch https://download-center.dxo.com/PhotoLab/v6/Win/DxO_PhotoLab6_Setup.exe
DxO_PhotoLab6_Setup.exe 100% of 764 MB 115 MBps 00m07s

But copying it here again came across at about 100 kB/s, less than 0.1% of the speed.
Installed it after only the 4th attempt: for some reason it keeps aborting, maybe because it expects me to wait around while it does whatever it does for such a long time, but then expects a response with a very short timeout. That has happened on many occasions in the past. Why can't they collect all the information that they need up front?
Finally ran it with the considerable number of photos I took today. They have a new processing method DeepPRIME XD that promises even better results with high ISO images than their current DeepPrime. It also promises speed improvements, something of which DxO is greatly in need.
But maybe I misunderstood. DeepPRIME takes about 30 s per image, compared to about 9 s for normal images. Today I had:
That's even worse than it looks: the last 7 images were processed normally (63 s), so I really had 47 DeepPRIME XD images in nearly 4 hours, or 4 minutes, 50 seconds per image! I won't do that often, even if I decide to pay the relatively steep "special offer" price of 99 € for the upgrade.
Yvonne normally sleeps in a water bed, but the orthopaedist told her that she should sleep in a normal bed while she has the brace on. So we had to change bedrooms.
Not a success. Yvonne lets the dogs sleep in her bedroom, and they kept me awake much of the night. Yvonne found the "normal" bed far too hard and could hardly sleep at all. Round 7:30 I heard a rhythmic "bing-bing-bing" from a dog feeding bowl. Damn dogs! But no, it was Yvonne, trying to attract my attention.
She decided that she couldn't sleep in that bed, and in the end she decided to sleep in her reclining armchair:
Things gradually got better in the course of the day, but she's still very much in pain, and she's anything but mobile. And of course I had more things to do as a result, many of which I knew about but don't do. The biggest problem is feeding the horses. In principle it's simple: put some hay in a wheelbarrow, wheel it 250 m to the feeding place, empty it, return. But the mud all over the place makes it really difficult, and it can take me up to half an hour to do it. Fortunately it has stopped raining (coincidentally pretty suddenly during the time we were fitting the brace at the hospital), so hopefully things will improve.
So now Larissa is only getting 200 g of pellets a day. It's still too much! She left something behind, probably 20 to 30 g, but by the time I went to weigh it, somebody had eaten it.
OK, nothing for it: reduce to 150 g a day. She's certainly not starving.
One of the exercises that Heather Dalman gave me was to stand with my feet together, one further back than the other, and close my eyes. She warned me: do this in a corner in case you lose your balance. But I've been doing this for years while cleaning my teeth, and I only once fell over, right at the beginning.
Until this evening:
And of course it had to happen when the Spathiphyllum was flowering.
The news of the day: yesterday somebody severely damaged the Kerch Bridge linking Crimea (currently occupied by Russia) and the Russian mainland.
What a feat! And for once nobody is blaming the usual suspects (Iran, North Korea). But it's superb for a number of reasons: now that the Ukrainians have blocked Russian rail access from the north, the bridge was one of the main supply routes for Russian troops in Ukraine. And it was a pet project of Vladimir Vladimirovich Putain. Only two things went wrong: clearly it was meant as a present for his 70th birthday, but that was on the previous day. And they only destroyed one carriageway of the bridge, so it's still (barely) in service.
To counter that, the Russians scored an own goal. They shelled civilian areas of a city which, only a couple of weeks ago, they had claimed was part of Russia: Zaporizhzhia. So, Vladimir: are you shelling your own people, or are you admitting that Zaporizhzhia is not part of Russia? Either way there was no military justification for the attack.
Where do we go from here?
Why is it that nearly all my noodle cook times are longer than the manufacturer specifies? I had guessed that it might be to their advantage to specify a shorter time than necessary, and clearly some times are so incorrect that they can't be taken seriously. But what if I'm just used to particularly mushy noodles?
Today I cooked some Jack Hua rice noodles, for which I had established a time of 4 minutes. But rice noodles, in particular, tend to fall apart easily. Today I tried with 2 minutes in hot water, after which they were still very firm. But after cooking they weren't too bad.
What does this tell me? Not very much. These noodles come with no cooking recommendation whatsoever, and the cooking after boiling makes them atypical. But I'll continue my investigations.
One of the dishes that we had planned before Yvonne's problems became apparent was prosciutto-wrapped chicken with lemons, spring onions and potatoes, a dish desperately looking for a better title. That's an Yvonne recipe, so I didn't know much about it, but clearly I had to cook it today.
It was full of surprises. It seems that Yvonne copied the recipe (from "Utterly delicious simple food" by Belinda Jeffery) without correcting the many errors in quantities and time. I can accept that the requirement of 750 kg of potatoes was not a problem with the original recipe, but many other details just didn't work.
The result was very different. Here the attempt a year ago, then what we had today:
If I were to believe the records, last year's dish was cooked for a much shorter period of time. But I don't.
Still, it tasted good, and I think that we can eat it more frequently.
The photos that I took at the Ballarat Base Hospital on Friday proved particularly difficult to process for a number of reasons. Firstly the white balance was all over the place, and since I took things with available light and ISO sensitivities up to 3200/36°, I needed careful processing to render the images well. So far this has been with DxO PhotoLab's DeepPRIME setting. But now there's an even deeper PRIME, DeepPRIME XD (whatever that is intended to mean), and it is even much slower than DeepPRIME.
Today I tried to fix some of the white balance and also measure timing, in particular whether PhotoLab 6 is really faster than PhotoLab 5. It shouldn't be difficult. So I tried one specific image in all four grades.
Starting at the lowest, they're "High Quality", "PRIME", "DeepPRIME" and "DeepPRIME XD". Here the times, first version 5 and then version 6:
I don't see any improvement there. In fact, version 6 was actually slower across the board, though not enough to be significant. I haven't got round to comparing the quality; that will require more pixel-peeping. But one thing surprised me. Here the sizes of the output files in the same order:
=== grog@eureka (/dev/pts/9) ~/Photos/20221007 1444 -> l orig/2A075705*g
-rw-r--r-- 1 grog lemis 5,420,940 7 Oct 12:03 orig/2A075705_DxO.jpg
-rw-r--r-- 1 grog lemis 3,281,793 7 Oct 12:03 orig/2A075705_DxO-1.jpg
-rw-r--r-- 1 grog lemis 3,024,127 7 Oct 12:03 orig/2A075705_DxO-2.jpg
-rw-r--r-- 1 grog lemis 2,115,257 7 Oct 12:03 orig/2A075705_DxO-3.jpg

The higher the quality, the smaller the image produced! The "DeepPRIME XD" image is only 39% the size of the "High Quality" image! The results are similar with PhotoLab 5, though the exact sizes aren't directly comparable because of a slightly different crop:
-rwxr--r-- 1 grog wheel 5,425,333 10 Oct 12:06 2A075705_DxO.jpg
-rwxr--r-- 1 grog wheel 3,285,564 10 Oct 12:07 2A075705_DxO-1.jpg
-rwxr--r-- 1 grog wheel 3,027,986 10 Oct 12:10 2A075705_DxO-2.jpg

I wonder what that means.
As if that wasn't enough pain, I was once again afflicted with "virtual copies" of every single image. I've seen this before, but on that occasion I didn't find the solution in the documentation. Today I tried harder and found this page, which told me how to create individual virtual copies and (inaccurately) how to delete individual virtual copies. I had over 30 of the bloody things! How about the "filter" function of the image preview "film strip"? No, you can filter on colours, but not on anything useful. I've ranted on this before. In the end I had to select them all individually (mouse click) and then delete them. What a pain these "user friendly" programs are!
But the web page gave me an opportunity to comment: "Was this page helpful?". No, dammit. No comment from the web page.
Down to Corindhap to pick up some stuff from Suzie, a friend of Yvonne's. She also asked me to take a photo of a fencepost near the entrance:
By the time I got home, she had already arranged with Suzie to buy the thing, so now we need to know where to put it.
I've been waiting for days for things to dry out a bit, and gradually they are, in preparation for a threatened flood event on Thursday. But the bed in front of the house ("east bed") is still wet, though there's a drain pump almost exactly on the left edge of this photo, taken from the front door:
Where's that coming from? Do we have a leak somewhere? There's a sprinkler relay nearby (in the same pit as the drain pump). Turned the bore water supply off; we'll see tomorrow whether that makes any difference.
An article in the New York Times today: the US Americans have discovered Sisi Elisabeth in Bavaria, and they have made not only a film, but also a series about her. A very different Sisi from the one I know, as the heading of the Times article emphasizes:
A Netflix series and a new movie explore the life of Elisabeth, the 19th-century Empress of Austria who had a tattoo, worked out daily and wanted more from life than just producing heirs.
The film is called Corsage, and the IMDb page shows: Clearly this isn't the Sisi that we know (and love?). But what really got me was:
"Growing up in Austria, she was the main tourist magnet, aside from Mozart," said Marie Kreutzer, who wrote and directed "Corsage."
Now what kind of accuracy do you expect from that? I'm reminded of this photo of Leipzig, about which I ranted years ago
Clearly some US Americans have Bavaria denial.
Once again multiple short grid power failures round midday, like last week. But looking back further, it seems that a surprising number of short outages between 3 and 15 seconds happen in the middle of the day, for example no fewer than 7 in March this year. Could this be Powercor testing things and not bothering to warn people? It has no effect on us, but for most people it represents a genuine power outage.
Yvonne is still suffering from her injuries, but she still needs to wash.
After replacing the brace, it was much looser than before, but no less uncomfortable. What did I do wrong? In any case, she has an appointment with Emily at the Queen Elizabeth Centre in Ballarat tomorrow, which will hopefully bring both relief and an explanation.
15 years ago yesterday we toured the Great Ocean Road and Maits Rest, and of course I took a lot of photos. But at the time I had had my Olympus E-510 less than 2 months, and the results weren't that good. In particular, I took all photos as JPEGs, and in this photo Yvonne's face was burnt out:
OK, time to reprocess with the latest and greatest DxO PhotoLab. Yes, they're marginally better, limited by the choice of JPEG images (in turn decided because I didn't have any useful raw image processing software at the time). Here the original and today's result (run the cursor over an image to compare it with its neighbour):
Ultimately the gradation of her face was no better—possibly I should explore other methods—though the overall result was marginally improved. But what surprised me was the time it took to process the images. Yesterday I established that processing 20 MP raw images takes between 13 and 270 seconds per image, depending on the "quality". But today I processed 36 10 MP JPEG images in 91 seconds, or about 2.5 seconds per image. My guess is that this is primarily due to the fact that they were JPEGs.
Manipulating Hugin files is not the easiest thing in the world, and a while back I investigated the project file format, with only moderate insights. But today I heard of Panotools Script, which appears to have a number of functions that could help. If I only had time...
Suzie from Corindhap along today with her kangaroo post, giving Yvonne the chance to take a particularly unflattering photo of me:
Where do we put it? Yvonne wanted it in the lounge room, but arguably it doesn't look bad in front of the front door:
It's now barely dry enough in the paddocks that I could get through. But the Bureau of Meteorology is promising up to 80 mm of rain over the next couple of days, so with Yvonne's approval I put the horses in the "house paddock" next to the new riding arena. There are "stables" there, so they should be safe from the rain, and I can get through
Up at the crack of dawn (OK, initially 6:00) this morning to let out the dogs who wanted to go outside for some reason. Tried to get back to sleep—I had planned to get up at 7:00, almost as bad—but sleep eluded me.
Off to town? No, first rug the horses:
Finally off to the Queen Elizabeth Centre in Ballarat, not helped by Google Maps, which was clearly having an off day. Still, we arrived on time, and I was given a mask to put on. I have a mask on! Ah, yes, but it's not a KN95 mask. Unfortunately I wasn't told how to put it on, so I put it in my bag for later investigation. Yvonne, who had entered before I parked the car, had not had that requirement, so it's not clear what purpose it has.
The first thing that Emily found was that one of the yellow "don't touch" buttons had been touched, probably by clothing. That allowed the front of the brace to change length. It should be in the "up" position:
She fixed that with a bit of plaster over the button:
Next, why was the brace so loose? I had aligned it against the wrong part of the brace. Here's the correct position, with the marks up against the front of the neck brace:
And to address back pain, she suggested a rolled-up towel under the head:
In addition, she added some foam padding to the back to stop it pressing into what we think is the T7 vertebra:
In addition, after some discussion Emily came to the conclusion that there was no reason why Yvonne shouldn't sleep in the water bed. By the end of it, Yvonne was feeling a whole lot better. Let's hope it stays that way.
I had already noted that Google Maps wasn't much help today. Yesterday I had asked it to take me to the Queen Elizabeth Centre, which it knew, and it transferred the route to my phone. But today the route was gone! Somehow the user interface for the phone app is very different from (and much worse than) the web browser interface.
To its credit, it got us there at exactly the estimated time, something that many navigators have had trouble with in the past. But it took me to the wrong place:
Is that wrong? It's the other side of the Queen Elizabeth Centre, which is in Ascot Street South. But there are parking spaces there, and sure enough, we found one easily. But there's no entry from that side!
I had to drive round to the other side and drop Yvonne at the main entrance.
After that, finding Sinclair Meats was no trouble, but it didn't want to know about Whitey's in Sebastopol. OK, Google, take me to the junction of Victoria and Albert Streets in Sebastopol. Can do, off with the map showing "turn left" and the voice directions saying "turn right". Finally we got there, but Google wasn't happy. Carry on another 10 km! It seems that it wanted to take me to Victoria Street in East Ballarat, where there is no Albert Street.
"OK, Google, this is Whiteys". "According to Wikipedia, YouTube is a video sharing service...". How the hell did it get that?
And how do you get rid of these things? Stopping and starting maps doesn't help, and at one point it was so confused that it didn't want to rotate the map when I turned the phone.
To add to all this confusion, I discovered later that my location history had identified that I had visited "Whiteys Pet Food Supplies". So it knew very well where it is.
Sometimes I wonder why I bother.
Clearly Google Maps got confused by the fact that there's more than one Victoria Street in Ballarat and surroundings. An avoidable kind of false positive, something that happens more often with peoples' names.
One of the strange things about my name is that I seem to be the only person who has it. Just about everybody seems to have a Doppelgänger, but not I. Even Yvonne, born Yvonne Ködderitzsch, the name of a tiny village north-east of Weimar, has not one but two Doppelgängerinnen. This search page suggests that there might be even more.
But what are surnames? Yvonne (mine) has been treated by numerous medical professionals over the last 10 days. And we know almost none of their surnames. We know Paul Smith (clearly destined to thousands of false positives) of course, but the only other one I found was Stephen McMahon. Today, however, I found Emily's surname.
And forgot it again. Slocombe? That's an unusual enough name to be relatively unique. But no, there's at least an actress, a Rugby player and even a software engineer who presents the MySQL Community Awards.
None of this is relevant to our Emily, however: her surname is Scanlon, and she has many more Doppelgängerinnen: an actress (or actor, as they claim), an environmental engineer, six Facebook users and doubtless many more.
So why do I have no Doppelgänger? Why, do I have no Doppelgänger? Maybe there is another Greg Lehey struggling to make his name known, but I haven't seen him yet.
A thread on the NetBSD mailing lists today: how do I generate Alt key codes with X, specifically xterm? Some of this seems to overlap with my issues with tiwi. There seem to be some solutions there too; I just need time to look at them.
Finger trouble with the air conditioner today. I had turned it off while we were in town, in case there was a power failure. When I came back, I pressed on the power button. Twice, by accident. The air conditioner didn't like it. It came up with E3 on the room display, which turned into simply the digit 1. And the zone controller showed E5.
I've seen that before. Well, almost. Last time the error numbers were reversed: E5 for the room display and E3 in the zone controller.
Today I power cycled the unit, after which it still didn't heat: it was set to Cool. Change it to Heat and all was well.
Looking at last time, it suggests to me that this is really a firmware bug. As long as I can work around it this easily, I don't have much of an issue. But it's nice to understand these things.
The Bureau of Meteorology forecast between 15 and 40 mm of rain for today, very high by our standards. But my experience has been that we would be at the low end of that scale. I was wrong: we had so much rain that the rain gauges overflowed, and I had to take intermediate readings. The total rainfall was round 65 mm.
And it showed. When I got up, the house entrance was half flooded:
What about the drain pump? The sump was full!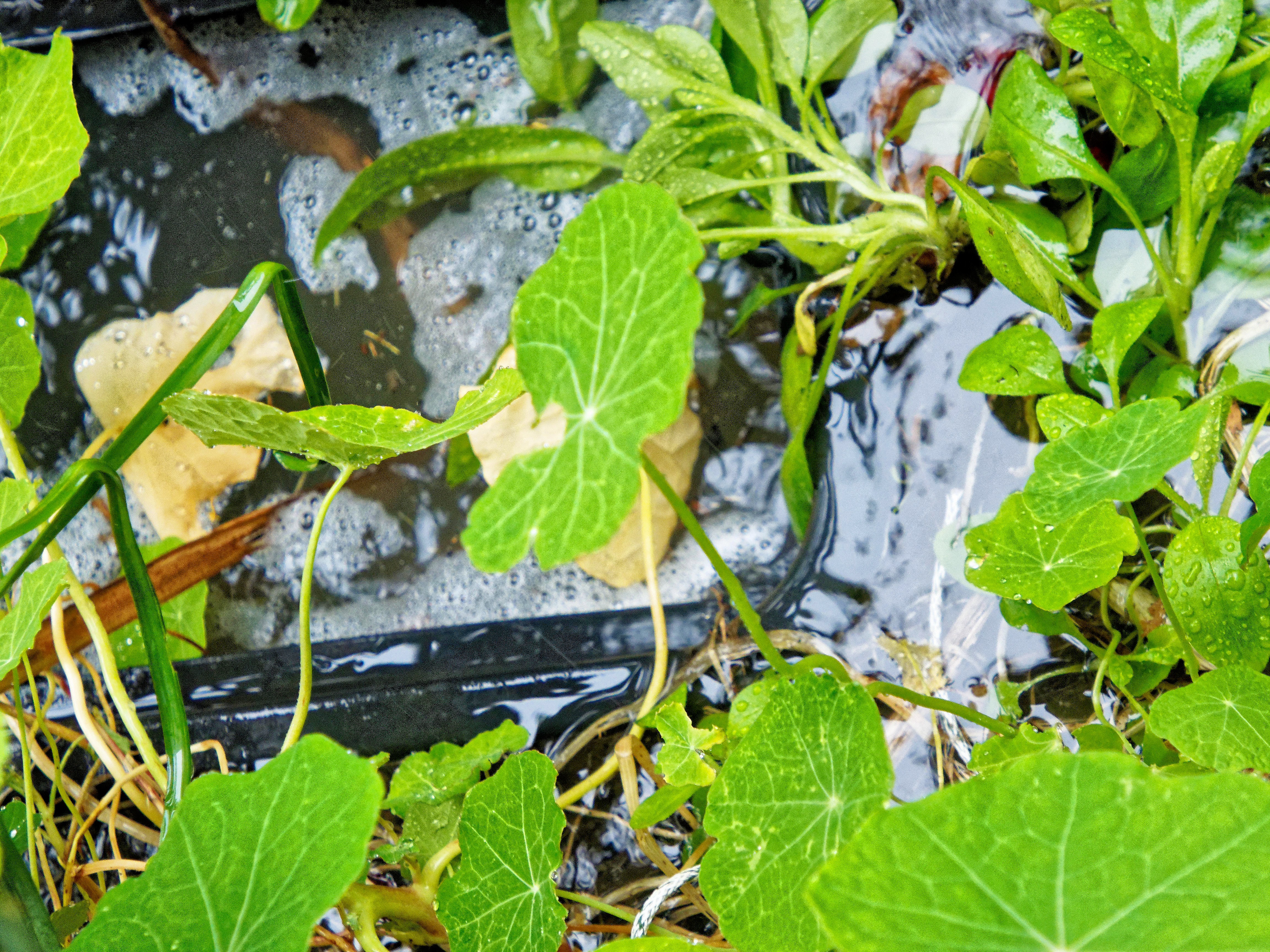 Pump failed? No:
It was just raining so hard that it couldn't keep up with the flow. But that was only at 9:30 in the morning, and it kept running continuously for much of the day. The Bureau threatened even worse rain between 11:00 and 17:00, so I fed the horses and waited. Yes, water everywhere:
The pump kept pumping, but gradually the sump disappeared from sight, and the water reached the doorstep:
Even the snails tried to escape. This one was on the other side of my office window:
And then there were what seemed to be leaks in the shed covering the arena:
But no, the shed was dry. The water came in under the bottom of the floor.
Gradually the rain subsided, earlier than the Bureau predicted. But it's still the heaviest rain we've had in Australia, round 10% of the average rainfall for Ballarat. But it seems that we had more rain that Ballarat. According to their observations page, they got 29.4 mm yesterday and 51.6 mm today, a total of 81 mm, compared to my measured 86 mm for the two days. And it seems that it wasn't even a record for October: that was on 24 October 2000, 64.0 mm.
Chose the wrong pan for fried eggs today, a little bit cosier than expected. The big egg is a duck egg, the small one a hen egg.
What comes with rain? Fallen trees, fallen power poles, grid power failures. I was expecting that, so I set the PV battery charge to 98%, which should give us a good chance to weather any outage. But the rain subsided and the power was maintained—until 21:38, while we were watching TV. Then there was a beep, and the TV went off. In to look in the office: eureka was down as well. But that was all; the power was out, but the rest of the house had had no problem. There must have been a power surge that TV and eureka didn't like.
Brought eureka back up again, stopped teevee from continuing the video it had been displaying, and checked the Powercor web site. Power to be restored at 1:00.
Can we make it? I guessed that the batteries would keep us going for 5 hours, until 2:38. That should be plenty, since they typically restore power before the specified time. Off to bed. Sufficient unto the day is the evil thereof.
By chance I woke up at 2:35. We still had power. We still had no grid power. While I was contemplating the situation, the power went out, at 2:40. Almost exactly what I had guessed.
How long would the outage last? We've heard of people who have been off the grid for days. Spent some time considering how to handle the situation, and during that time the power was restored, at 3:09. We had missed weathering the outage by 29 minutes! I later discovered that the state of charge of the batteries was only 94% when the power failed, and for some reason—I suspect Luke Parry of Effective Electrical—the "turn off" limit had been changed from 5% to 10%. So I had 9% less charge to play with than I had expected. Would that have tided me over? Maybe, barely.
Still couldn't get to sleep, so out to recover the system. This is getting easier every time, but it still took an hour to get things running. About the only thing that I missed, and which I didn't discover until some time later, was mounting the tiwi:/spool file system on teevee and eureka.
And then there's the issue with external USB disk drives. They come up in random order, resulting in them getting mounted on the wrong mount points, so in the past I have had to umount them, remove them (power switch) and reconnect them slowly in the order that I want. This time I turned them off before boot. Still not the solution: the reboot hung because it couldn't mount file systems. There must be a better way.
And finally, for some reason, the loudspeaker on eureka has become very loud and raucous. How can that happen? Is it damage caused by the power surge? That sounds very unlikely.
I've come to the conclusion some time ago that my eyes aren't what they once were. In particular, I have great difficulty reading the rain gauges. Admittedly they have also seen better days, but how about photos?
That's with high microcontrast to emphasize the readings. I still have difficulty! No wonder I normally do.
Yvonne normally goes shopping on Wednesdays. Now she can't, and I have to do it. I didn't do it this Wednesday because I didn't want to keep her in town longer than necessary, and yesterday was not a day for travelling, so I did it today.
On the way into town, Dogtrap Creek was even wetter than before:
But somehow the photo doesn't show the real extent of the flooding. How can I show it better?
In town, to Officeworks to buy a surge limiter. They don't have them, just extension plugs ($14) or 6-way extension boards ($17) with surge protection. In each case, it's interesting to note that they specify how much power they can swallow: always 175 J. Is that sufficient? In any case, bought 2 of them, and I'll fit them next time I take the systems down.
Looking for help for Yvonne: something to hold her book in place while lying on her back. Nobody seems even to have thought of it. And leef, the disabled persons place, doesn't do the kind of handle that she was looking for to hold herself in the shower. For that I needed to go to Aztec in Skipton Street. What, like the American culture? No, Astec opposite the Ampol servo.
Well, there's no Ampol service station in Skipton Street, but I was just on my way to where I thought it would be when I saw it: Aztec! OK, spelling doesn't have to be perfect. Went in through the rain and was told no, wrong company, I need to go to Astec, 1 km down the road! Who would have thought that there would be two companies with such similar names and not completely incompatible product lines (though apparently unrelated to the name) in such close proximity?
Off down the road, but it was still raining, I would have had to do 2 more U turns, and Yvonne doesn't really need this stuff until Monday, when we'll be in town again. So I left it for today.
Then shopping in Woolworths, always an experience. Where's the prosciutto? Potentially spread out over a 30 m range of shelves at the back of the shop, but I couldn't find any. In the end gave up and bought serrano instead.
Yvonne wanted a specific ice cream called "Vienetta". After searching the ice cream section for 15 minutes, came up with nothing better than this:
But then, I don't suppose the average shopper can do arithmetic either. Finally I found a shop hand who explained that Vienetta was a dessert, not ice cream, so it was hidden in a different place.
But somehow Woolworths think differently from me. Want pasta? Aisle 7. Want noodles? Aisle 8:
Want Asian food? End of aisle 7. Want Indian food? Middle of aisle 7.
I didn't even try to look for falafel there.
A few months ago I had lots of fun trying to prove to the Deutschen Rentenversicherung that I was alive, made impossible by their broken software. So I spent made multiple attempts to get a Justice of the Peace to witness the form they had sent me, and sent it off to them.
And today I got a reminder! What is wrong with these people? It seems that for every proof of life, we have to make 3 or 4 attempts to convince them. It's not as bad as the CNAV, but it's getting there.
About the only bright side of the affair was that I picked up the letter as I was on my way into town, so dropped into the police station, where I found a somewhat geriatric JP and another person helping him—and nobody else! Normally the place is packed. So I can try again. But why is this all so complicated?
Lots of emergencies at the moment, of course. And that's what the Vic Emergency app is all about. But I haven't been receiving any information.
Fool! Of course you have. Those are the little popups that appear while you're doing something else, and disappear before you get time to look at them. And if they show up in the notifications, they're behind more important things like PetaPixel's review of the Leica M6 (how did they find out how to spam me?), or a message from ALDImobile from 6 June telling me that it's time to recharge.
And once you locate the message, you just need to deal multiple swinging blows at your phone to discover a flood warning between Lake Eildon and Seymour, only 250 km away and on the other side of the ranges, or (if you look in the wrong place) that there are no total fire bans today. It's such a pain that it's hardly worth looking.
And of course Microsoft is in on the fun. One of the better programs is their "Phone Link", which enables me to perform those mobile phone functions that they think appropriate on a (Microsoft, of course) computer. But today I discovered that they have thought out a trick: you can only connect to your phone if mobile data is disabled. Presumably it prefers mobile data to Wi-Fi, and for some reason that doesn't work.
The last two days have been particularly busy. My standard metric, when I commit yesterday's diary entry, blew out completely: I didn't commit the entry for Thursday until 17:50 today, 24 hours later than a bad time.
At least the weather is getting better. The sun was shining again, and Yvonne insisted on taking the rugs off the horses, even to the point of getting proof:
And of course we had 4.2 mm of rain.
As the result of Yvonne's accident, we haven't had time to take the dogs for a walk. Finally got round to do so today, and was rewarded by the sight of a solitary orchid:
I should know what it is.
Another short (3 second) grid power failure today at 15:18.
What's a synonym? An alternative word with the same meaning as the first, of course.
Oh. That's an old, worn-out magic word. The OED tells me "more usually, either or any of two or more words (in the same language) having the same general sense, but possessing each of them meanings which are not shared by the other or others, or having different shades of meaning or implications appropriate to different contexts".
This helps make sense of the daily mail messages I get from thesaurus.com, where supposed synonyms have almost no overlap in meaning. Recently I got one of my favourites: which is a synonym for intuitive? Intrusive, perceptive or successive?
I don't think any are. But intuitively, I suppose, most people would choose "perceptive". And yes, that seems to be the correct answer. But somehow that doesn't match my understanding of "intuitive" ("that consists in immediate apprehension, without the intervention of any reasoning process").
One of the things that has worried me over the years, especially with the advent of severe effects of climate change, is what would happen if we had really heavy rain. Not just like last week, when we had 95 mm over 4 days, but maybe like they've had elsewhere, up to, say, 300 or 400 mm. We're in a valley, and there's not much possibility for the water to escape.
Now that there is sunshine again, I had a chance to look around. The surprising thing was how little impression the rainfall left. Elsewhere houses are being flooded and residents evacuated, but here there's almost nothing to be seen. Here a view of the south-eastern gate to the middle paddock taken over a week ago and now:
It seems that there was more water then than now.
But now, looking at the lie of the land, we're not that close to the bottom of the valley after all. Looking south from the north side of the property, the dam on the property next door looks considerably lower, and it in turn overflows to a property further south. Presumably that carries on all the way to Spring Creek, several 100 metres further south. and then into the river system.
But how much lower is it? What I need is a level. And I have not one, but three, in the Olympus OM-D cameras. They have an option to indicate when the viewfinder is pointing level. It's not overly accurate, but all three agree that "level" is from the base of this tree to some distance above the top. Subtract the camera height (about 1.7 m) and we're still above the level of the base, and that's probably 2 m above the level of the dam (second photo):
So I can't imagine how that could flood with less than about 1500 mm of rain. I think we're safe.
What was that orchid that I saw yesterday? By chance I saw one almost exactly 5 years ago: it's a Caladenia major, and for some reason I have difficulty getting images of them in focus. Here's another attempt:
Some years ago Chris Bahlo had some visitors on her property: sheep. Who did they belong to? We had automatically suspected David Yeardley, but it seems that he wasn't to blame. In any case, they were eating her grass, and it seems that the law allows you to keep them. So she found a friendly butcher who killed them and prepared them for cooking. Chris gave us a number of pieces, including 2 racks of lamb. And they've been in the deep freezer ever since.
Today was the day. How do you prepare them? "French" them, it seems, throwing away a lot of the meat in the process. We can do better. And it looks like a dish predestined for an air fryer. Put in a meat thermometer that Yvonne had bought at ALDI a couple of weeks ago, and off at 200°. It took about 18 minutes to reach 58° in the middle, conveniently what the thermometer chose for "rare" for lamb.
Not quite what I was expecting it to look like, but nothing like as much of a surprise as the difficulty I had separating the individual cutlets:
It took me several minutes with a large cleaver, and even then I missed one:
And the taste? Not bad. But really these are just lamb chops, and the rest is just a question of presentation. We have another rack, and I'm not sure whether we should go to the trouble, or just separate them first and cook them in the pan.
And the article title? "Lack of ram" is clearly a Spoonerism for "rack of lamb". Translated into German it could be "Mangel an Bock". But there's a German expression "Null Bock" (zero ram), which means "lack of interest". And that seems appropriate here.
Last time I was in Geelong, I bought some interesting looking noodles:
I discussed the matter at length a little later, but I didn't get round to cooking them. Time's running out: tomorrow is my next appointment in Geelong, and I need to decide whether to buy more of them.
OK, how long do I cook them? I thought they didn't say, but they did, hidden in an image title: soak in hot water for 1 hour! Boiled up some water and poured them in:
Those are noodles? The longest one must have been about 10 cm. And sure enough, after an hour they were still very firm. Boil for 8 minutes, and they were more or less acceptable:
One thing's clear, anyway: I won't buy any more of them.
Multiple grid power failures today, all longer than the frequent 1 to 2 seconds, but not that much longer.
Into town today to have another X-ray of Yvonne's thorax, as requested by the Royal Melbourne Hospital. It took longer than I expected. Riley, the radiographer, couldn't find any way to get a good view of the T1 vertebra, but certainly there was no evidence of any damage to it. Maybe the most interesting part was this:
Those white marks at top left are fillings in her teeth.
Once again everybody was very friendly. The most interesting person was Simon, the receptionist, who heard that our GP was Paul Smith, and sang his praises. "Did you know that he does Ju-Jitsu?". Yes we did; that's how Chris Bahlo met him.
Off to Geelong for a periodontal checkup today, as every 6 months. The appointment was at 15:00, and afterwards I had planned to go shopping at the Gourmet Asian Grocery (really Malaysian) for stocks of food.
But that was before Yvonne's accident. It would have brought me back too late to feed the horses. So I decided to do the grocery first. Simple: get Google Maps to work out a revised route, download it to my phone, and all is well.
Oh, no, it's a "smart" phone, meaning pain. Put the phone in its holder, and it rebooted! In fact, it seemed to get stuck in very slow reboot loop. In to borrow Yvonne's phone, out again, and backed out of the garage... into the back of Helen Miller's car. I've asked her multiple times not to park there, but she still does, and in the hurry I was I didn't look as carefully as I should have.
The damage? Nothing visible. Both cars have a soft bumper, and I hit it on a corner. Still, in to tell Helen, who came out, inspected the car and found what she claims is damage, spreading round the corner of her bumper. That doesn't match what I see on my car. Fortunately, it's dirty, so it's clear where the dirt was rubbed off:
But based on the tyre track, that would have hit her more on the back of the car than the corner she mentioned. Still, leave her to cool down and recognize that the damage, if damage it be, is minimal.
No: she wants to have it inspected by a body shop. In the evening she asked for the registration of my car. Is she really going to make a stink? Sorry, Helen, I didn't do any damage. If you want me to pay, get proof.
To the Gourmet Asian Grocery under Google Maps instructions. And I could barely recognize the display on the phone. Wrong brightness setting? No, it's set to 100%. Why so dim? And to add to the problems, the screen rotation doesn't always seem to work. Does the phone have some damage? I had Yvonne's phone too, and that looked no brighter. Certainly when I replace my phone, I'll look at display brightness. The route didn't seem bad, but to my surprise I didn't recognize where I was until about 200 m from the end: it came from the south rather than from the north.
The atmosphere in the shop was particularly pleasant today. The shop is run by a Chinese person whose name I should recall, but today the cashier was a Malay woman. And a couple of middle-aged Chinese women came in, speaking English with admixture of Malay words, looking for Brahim's rendang paste. I missed the "Brahim's" and, since I was standing nearby, handed one of them a sachet of Tean's Gourmet rendang. No, not as good. Found some curry paste: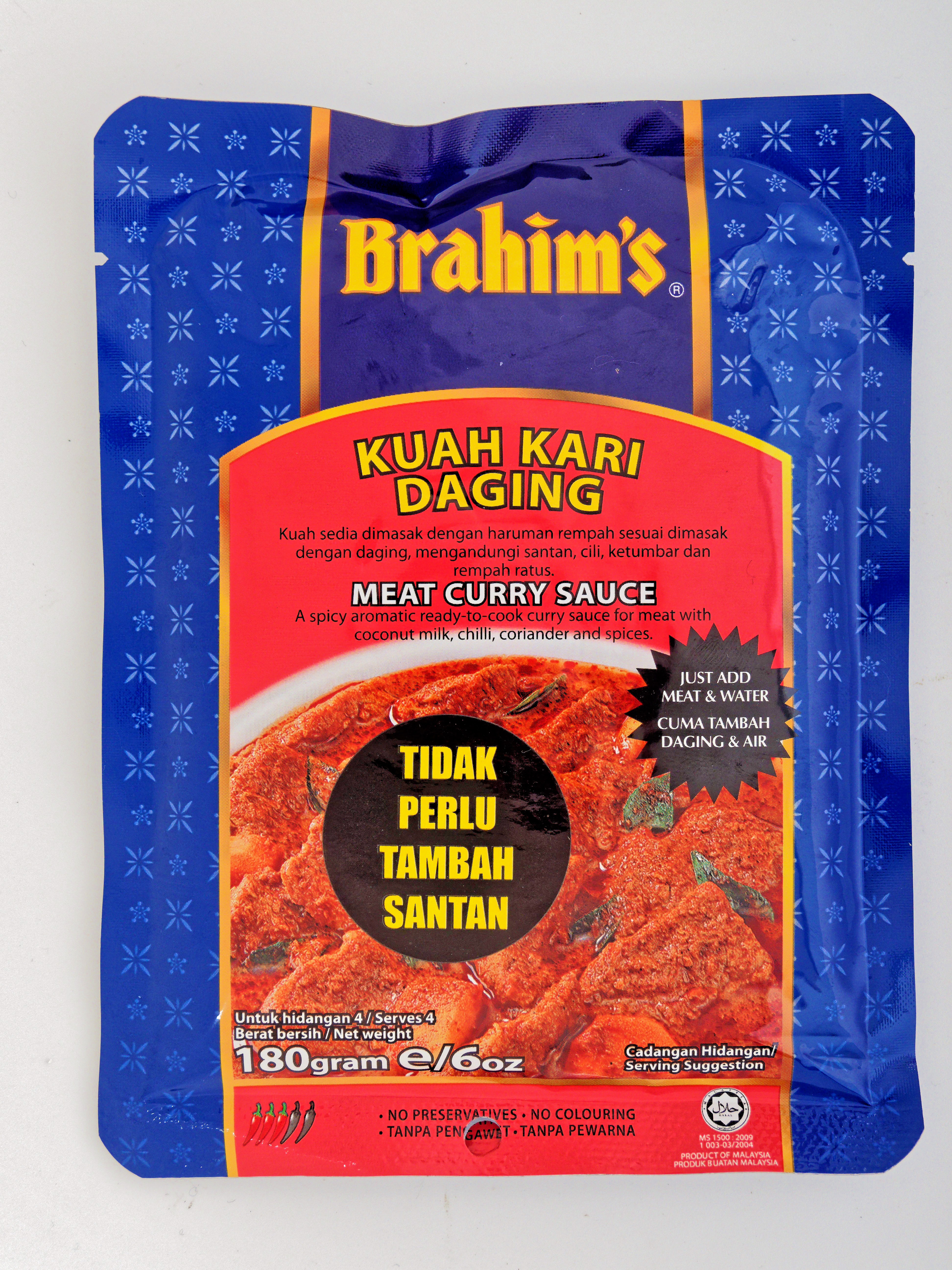 But that wasn't what they were looking for. Still, if they like the brand, it's worth trying, so I took one. Discussion ensued, in which we discovered that our tastes weren't the same, but somehow it was a pleasant experience.
Only the cat cried. I found a sachet of "air mata kucing", for which I later found a recipe, but not the translation: "cat's tears".
Today also for the first time I considered how many sachets of paste I should buy. A sachet is typically enough for 4 or 5 portions, about the number that I eat for breakfast in a week. So I'd need about 26 sachets for 6 months. But somehow I don't seem to use that much. I started off with:
| | | | | | | |
| --- | --- | --- | --- | --- | --- | --- |
| Paste | | Start | | Purchased | | Total |
| Curry laksa | | 5 | | 5 | | 10 |
| Mi udang | | 1 | | 5 | | 6 |
| Penang laksa | | 7 | | 5 | | 12 |
I'll keep an eye on consumption in the next 6 months.
Arrived at the periodontist's in plenty of time, and of course to make up for it he was behind time. Spent the wait reading through a Vietnamese cookbook that Chris Yeardley (at the time, now Chris Bahlo) gave me over 10 years ago. Somehow I can't find anything in there that grabs my attention.
The appointment itself was painful. Part is due to the reversion to old-fashioned tools that has been imposed by the COVID-19 pandemic, but there was more. And I discovered that they're closing down—Leela has been treating me for over 13 years. What do I do now? Leela had three possibilities: another periodontist in Geelong, himself in Werribee, or Peter Apostolopoulos in Ballarat. Another periodontist in Geelong doesn't seem to be the way, and maybe it's worth going to Werribee, but it would increase my round trip journey from currently 160 km to 250 km. I'll discuss the matter with Mario Cordioli, my dentist in Ballarat, when I next see him. Leela came up with the interesting news that Mario is also a qualified periodontist, just in Brazil, and not in Australia. And in passing it's interesting to note how international all these people are. I'm not 100% sure what Leela's origins are, but they're somewhere round India. The other people in the Geelong practice are Werner Bischof (German origin), and two with names that I suspect are Iranian and Dutch. Mario is Brazilian, and Peter Apostolopoulos is clearly Greek.
While there, showed Leela a thing that puzzles me:
That's a charger for an electric toothbrush, and it continually accumulates this crud. This photo shows the accumulation of a single day. What is it? Why is there so much of it? This is the amount that accumulates in a single day, despite rinsing the toothbrush before putting it on the charger. Leela thought it was a problem with the toothbrush, maybe because of the temperature of the base was higher. I consider that explanation highly unlikely, but I did confirm that the base runs round 6° warmer than the surroundings when charging.
The flood risk north of the Great Divide continues, and it's even worsening. But that's the Murray River catchment. We're in the Barwon River catchment, and it flows into the Southern Ocean. On the way to Geelong there are three rivers to cross: the Leigh River in Shelford, the Native Hut Creek in Teesdale and the Moorabool River in Batesford. I kept an eye out when passing, but the roads were dry. The only place that I saw any flooding was in Shelford, but that was on paddocks that are clearly inadequately drained: the level of the Leigh River was at least 5 metres deeper than the paddocks, and all three rivers showed no abnormal levels. So it looks as if we're on the right side of the divide.
No fewer than 4 short grid power failures today, ranging from 3 to 12 seconds.
Helen's reaction to the bump on her car annoyed me considerably. If she goes ahead with wanting compensation, she can go. She's really not the best cleaner we have had. She did 2 hours' work in the garden in the afternoon, but I'm hard pressed to see where. I had asked her to remove the weeds to the south, like these (taken the following day):
The best I can see is what she put on the wrong compost heap:
That looks like more than it is. She only added about half on the left-hand heap, and that includes flowering weeds. Yes, not a cleaner's job, but that's no better. The only question is: where do we find a new cleaner?
Today was the day we had been asked to wait for a call back from a surgeon at the Royal Melbourne Hospital with the results of Yvonne's X-ray on Monday. But they didn't say when, and I had put off going shopping in order to be there.
Finally, round 14:30, I sent Bernada an SMS—I thought. But according to my phone, it didn't get sent. Nevertheless, she responded almost immediately: Mister Peter Turner, the surgeon, had inspected the X-rays and determined no collapse of the vertebra, so currently there is no need to do anything, just keep the brace on and have another X-ray in 4 weeks, after which the brace will probably be able to be removed.
Call from Simon at Sovereign Radiology later. Yes, referral received, X-ray on 10 November please—only 3 weeks. Hopefully that will be the end of the matter.
Walking the dogs again, saw this bush, which we had admired last year:
It seems to have grown since then. I wonder where it came from.
Also the Carpobrotus in the driveway is coming into flower:
Paul Donaghy along today to mow the lawn and also harrow the paddocks.
Off to Ballarat today to do the weekly shopping. I have managed to reduce the time it takes, and today I was only gone for about 3 hours. Somehow I'm developing a strong aversion to Woolworths. I don't like Coles much either, but maybe it's time to give them another chance.
On Tuesday, as I was leaving for Geelong, I put my mobile phone in its holder... and it reset. I wondered at the time if something was wrong. But today exactly the same thing happened! It seems that it wasn't in a reboot loop: it wanted to feel wanted, and when I touched it the right way, it completed the reboot. But why did it happen? Did I touch it the wrong way when mounting in the holder?
Mail from a long-lost girlfriend today, one of the girls I met in Kuching in July 1969. We had broken up, but I had always had a soft spot for her. What a nice letter!
Recently I found information about me and other people from Kuching 1969 on your website

I am asking you to erase permanently any personally identifiable information you have in the public or private domain [on this site and elsewhere] which may connect either myself with you and anyone or anything connected to you. I am also asking that you do the same for my late brother to avoid any harm to his family.

And that's all apart from the names; I haven't decided whether I should reveal them or not. What a nice reunion!
But I've seen this before with Cynthia Beatt, who wanted me to remove photos I took of her. At the time I researched the matter and found that legally she didn't have a leg to stand on. But I offered to discuss what I should remove (she said that she didn't find all the photos concerning), but I never received a reply.
I was much closer to today's girl, but she can't expect me to destroy my diaries. There are something like 84 references to her in 1969. What is really worrying her? Another message; let's see what she comes up with. After all, I had suppressed some of the more intimate details, and maybe increasing the number would be sufficient to calm her.
Yes, it was a wild time. I've described that from my viewpoint despite my clear personal failings. But that was 53 years ago. Why do people worry about it so much?
Over the last 3 or 4 days I have had so many short grid power failures that I can't count them. In the past there have never been more than one or two a day, but this week there must have been 50.
And that brings a second problem: counting them. My reports are generated from a database table and basically just show all entries that don't have an "On-grid" status. So an outage looks like:
tstamp
Pac
Status
SOC
VBat
PacGrid
PacBat
PacPV
FromPV
W1
2022-10-20 11:39:07
784
Waiting to connect to On-grid
100
267
NULL
3
781
0
0
2022-10-20 11:51:08
1135
Off-grid
100
267
NULL
-1
1136
0
0
2022-10-20 11:51:09
1134
Off-grid
100
267
NULL
1
1133
0
0
2022-10-20 11:51:10
1136
Off-grid
100
266
NULL
1
1135
0
0
2022-10-20 11:51:12
1148
Waiting to connect to On-grid
100
266
NULL
0
1148
0
0
That's a 5 second outage. The first line belongs to a previous outage. The "Waiting to connect" comes when the power is restored, and it had been gone since 11:51:07, one second before the first "Off-grid" status. And in this case, time skew meant that I didn't get any entry for 11:51:11. I manually transform this into:
<td>
<?php href
("$diarybase/diary-oct2022.php?subtitle=Power%20outages%20revisited&article=D-20221021-020203#D-20221021-020203",
"20 October 2022"); ?>
</td>
<td>11:51:07</td>
<td> → 11:51:12 (0:5)</td>

That's not too much work for a single outage, but it's a real pain to do 50 times over. Clearly I need better scripts, and I'm still thinking about it.
But why am I suddenly getting so many outages, and why are they almost always in the early afternoon? There are other views I can get of the power supply, like this one showing the grid voltage:
But there's no dropout there! On the contrary, the voltage (nominally 230 V -5%+10%) is ridiculously high, over the maximum 253 V set in the standard. And the "outages" correspond with the times where the voltage exceeds 254 V. And during the "outages", voltage drops by about 6 V. This points to what I have been suspecting: the inverter cuts out when it gets overvoltage, a poor match for Australian power grids.
But why am I getting these overvoltages? A second view helps:
Here the blue is power consumption or power return to the grid. Clearly the voltage is strongly influenced by the power consumption. Use 7 kW ad it drops by nearly 10 V. Feed 4 kW into the grid and it rises by 6 V. Is that normal? In any case, it's clear that the base voltage, round 245 V, is far too high. We've seen this before, and I had to get Powercor to drop the voltage (by 6 V; this isn't the first time).
Last week we had more rain that we have ever measured before, 56 mm on the one day and 30 on the previous day. And then they predicted more rain, up to 40 mm today and more going on for the next few days.
Once again they under-predicted. But the rain was very different from last week, where a continuous band of rain went over the area, with barely a pause. Today we had plenty of pauses punctuated by cloudbursts that dropped up to 7 mm in the space of a few minutes, once again overloading the drain pump and filling the entrance up to the doorstep:
And it continued all evening!
A lot of cooking today, and for some reason things didn't go well. It started with huevos rancheros for breakfast. Too many things at once, and I left a tortilla in the cooker too long. OK, we know what to do there: moisten it and then re-bake it.
But not when it's very hard. Then it gets soggy and hard at the same time, and today the result stuck to the "non-stick" surface of the roti maker:
And to add insult to injury, I had forgotten the guacamole. By the time I found out, the eggs were nearly ready, so we had to go without.
In the afternoon, preparing for steak and kidney pie. What meat should I use? Meat has become very expensive, and last time we planned steak and kidney, Yvonne came back with a beautiful topside roast that was too good for steak and kidney. How about stewing beef?
No such thing any more, it seems. The best I found yesterday was "gravy beef", whatever that is:
But is it good enough? An obvious choice would be to cook it sous-vide before adding the kidney. So that's what I started today.
What temperature? Off to search the web. This page suggests 60-65°, this one talks about "stew" and "tenderloin" in the same sentence and wants 65°. This one can't tell the difference between sirloin roast and stewing beef, but it wants 60° anyway. Clearly nothing I can rely on.
Finally found this page, which goes into much more discussion and comes up with temperatures between 55° and 80°, but suggests that 60° is probably the way to go. So that's what I chose. I'll find out tomorrow whether it was the correct choice for this meat.
Into Yvonne's office this morning to see this display: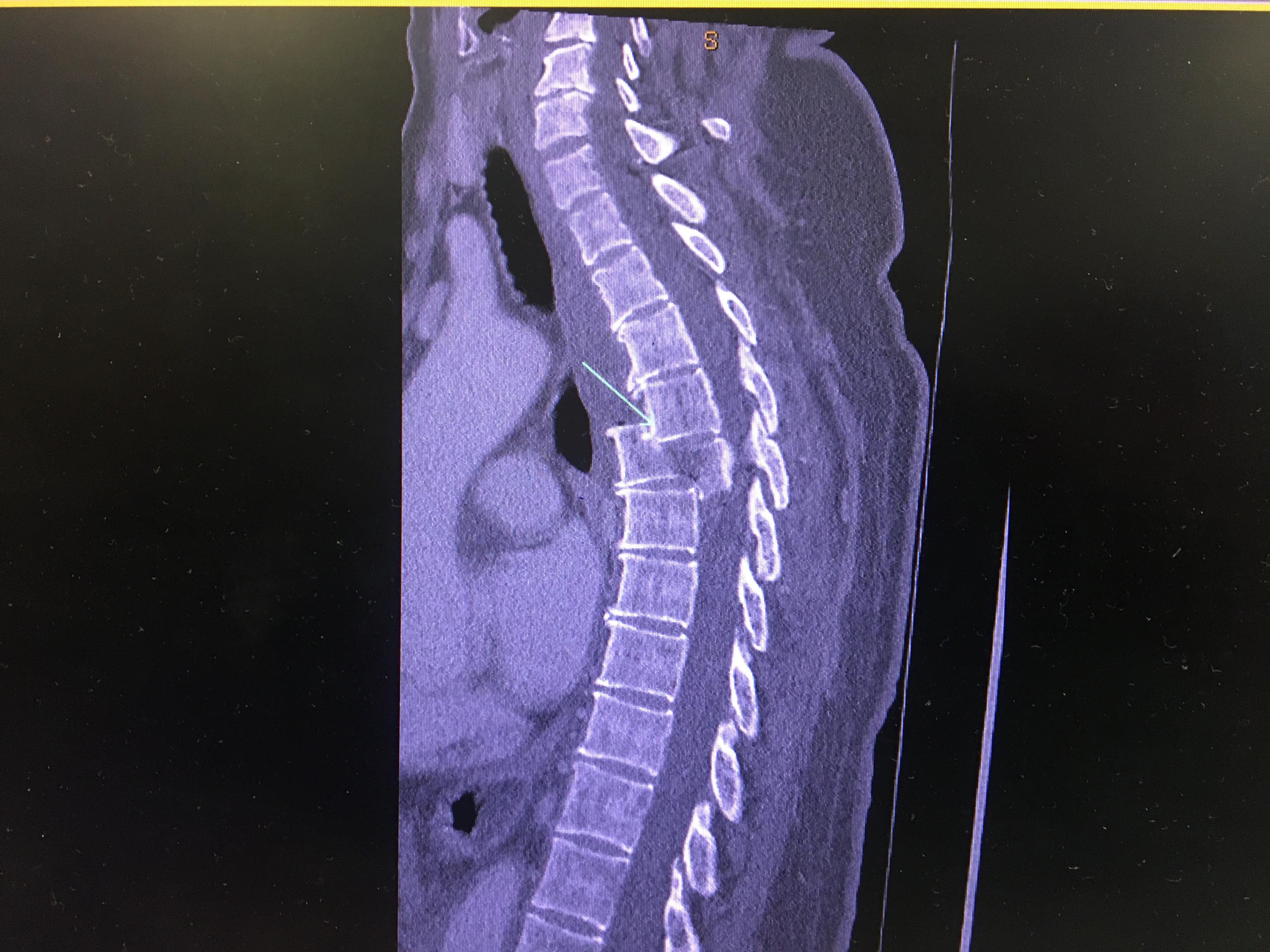 That's much worse than I had seen before. A clear fracture of the T5 vertebra!
Of course, it's not Yvonne. That's the good news. The bad news is that it's a friend of ours who fell off a ladder and was in hospital waiting for an operation. It makes Yvonne's problems seem like nothing.
Yesterday the Bureau of Meteorology had forecast 20 to 40 mm of rain for Dereel. We got 73 mm! That makes a total of 168 mm in the last 10 days, roughly a quarter of our annual rainfall. Since the beginning of the month it has been 208 mm, far more than the all-time record for Ballarat in October (193.3 mm in 1975), but there they have only had 157.4 mm so far this month.
And though the rain had subsided this morning, it showed: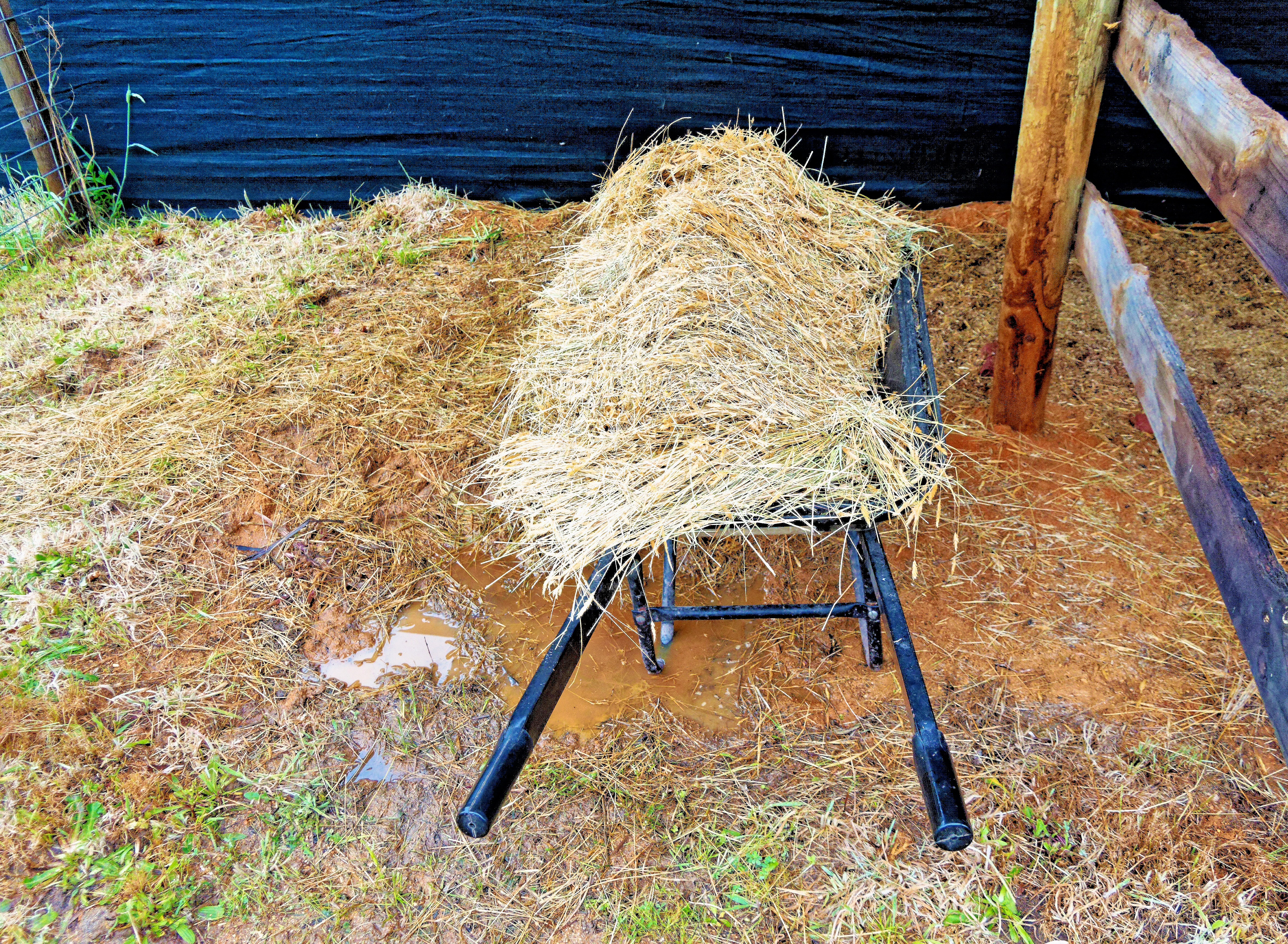 Under the covered stable there was a puddle of water to the left of the wheelbarrow. Even in the road we saw a remarkable sight:
That's a full-grown Yabbie, about 25 cm long. I wonder where that came from, and whether we can find more that are worth eating.
Today they forecast 5 to 20 mm, considerably less. But this time they overestimated: we only got 4 mm. Still, the threats aren't over yet.
This month's rainfall hasn't helped the garden. Some trees seem to be thriving, like these birches:
Others are not doing as well. Despite attempts to keep it dry, our Corymbia ficifolia is still looking sick:
And the Hibiscus rosa-sinensis "Uncle Max" looks like it might really be dead:
I marked a couple of branches last month to see whether there was any sign of life. Here the comparisons, first last month, then this month:
About the only difference (not visible here) is that the tree has lost the last vestiges of leaves.
The Abutilons that we cloned less than 2 years ago are showing various signs. Previously the one I planted was doing much better than the one left in the pot, but that has changed:
My guess is that the one I had planted has wet feet, and that if it ever stops raining, things will improve.
Other plants that have probably suffered as a result of the rain are the Salvia microphylla and the Solanum laxum, normally both relatively robust plants:
I think a priority needs to be to keep things dryer in winter. I wish I knew how.
One garden project is to complete the south garden. This morning it looked like this:
But then Jesse Walsh came and tidied it up:
Now what do we plant there?
House photo day today. I normally take 6 360° panoramas, each of which has a size of between 60 and 80 MP. But the camera has a high resolution option for roughly 4 times that resolution. Why not try it?
One issue is that I normally use exposure bracketing (+1.7 EV, +4.7 EV and -1.3 EV) and for whatever reason the camera won't do that in combination with high resolution shots, so I have to take each image individually. But that can be done. I can also just do individual exposures (0 EV offset) and stitch them together. Or, like today, I can do both.
Things didn't quite work out as expected:
enblend: an exception occured
enblend: error writing to image swap file.
Most likely cause: No space for temporary files.
Make sure that there is enough space in the temporary directory

(../include/vigra_ext/cachedfileimage.hxx:1708)

But that was just with the version with HDR, and it occurred after the third of 6 images The other one, the same size, worked normally enough. That doesn't make any sense, but I don't have time to look at it right now. Here the comparison, normal (58 MP), high resolution (247 MP):
The cloudiness is mist, something I wanted to capture (and probably a reason not to try this experiment today), and the difference in gradation probably a result of the change in weather in the time between the shots. I still need to examine this more carefully.
In the last week or so I have not been able to keep up with all the things that I wanted to do. Today was our "good" evening meal (Saturday), but I just didn't have the time.
OK, let's use up some of those old jars of spice pastes that have been hanging around for ever. I also have some fresh chicken (650 g) left over. What spices suit it? There's this jar of "tagine" paste. But I can't read the recipe! White on pale orange and small print! How can even people with good eyesight read it? Still, I have a solution: take a photo and blow it up:
Oh. I had to take it at an angle to avoid the reflections that still just show through. And only the bottom half is legible, something about lamb. Not what I'm looking for. But after all, why do I have all this whiz-bang equipment? Put it in the light tent, studio flash, and...
And now, of course, I can read it:
How about that, that turns lamb into chicken. OK, I have chicken thigh, not breasts. What weight, idiots? A chicken breast here weighs round 200 to 250 g, so they're asking for 600 to 750 g of meat! But then, the paste comes from the UK, which I have discovered is not a recommendation. How much does a chicken breast weigh in the UK? My guess is that the quantity is still far too much. Let's say 300 g for the quantity of paste.
So I need another paste for the other 300 odd g. How about this one?
This one also asks for ridiculous amounts of chicken, but at least it specifies the quantity clearly: 600 g! Call that 300 g and it should be about right. The idea of carrots or long beans seems ridiculous; even the photographer who took the photo seems to have thought so. So in the end I just fried the chicken and added the sauces. Only the "tagine" got the benefit of some of the far-too-many nuts that we have in the fridge:
And what do we eat with it? Rice with the "chicken and basil", cous-cous with the "tagine". And there we go again. How much? According to the instructions, 100 g of dried cous-cous and 125 ml of water per serving. Ridiculous! But I was in such a hurry that I stuck to it, also with the background that cooked cous-cous will almost certainly freeze (and thaw) well. Looking at what we ate, I'd guess that 30 to 40 g of dried cous-cous per person would be about right.
And the result? Edible. The chicken and basil was too pedas for Yvonne, probably the reason it has been waiting in the pantry for 5 years or more. The "tagine" was better, but still nothing like what I would have considered normal. Of course, a few vegetables could have improved it.
Still, at least we have used up two further old spice pastes.
It's been days since I've managed to finish everything that I planned to do. Today I managed to finish my diary by the end of the day, but I haven't finished looking at my historical old diary entries (55, 20, 15, 10, 5, 2 and 1 years ago) for days now, and I haven't classified downloaded videos for 11 days. And for all that I'm fully in stress.
Chris Bahlo has been away in Brisbane for a week. She got back to find:
In fact, it hardly rained at all today, despite forecasts of heavy rain. The BOM Bureau of Meteorology had predicted more rain all day, but in fact, for once, we had none. Clearly they're having trouble predicting what's going to happen.
Or maybe they have more important things on their minds, like the name of the Bureau. I've (almost) always called them the Bureau of Meteorology, but many people call them BOM, including they themselves: their domain name is bom.gov.au. But recently they spent over $200,000 in an effort to get people to call them by their full name. Hopefully they won't get really stupid and change their domain name to bureauofmeteorology.gov.au.
Finally got round to looking at the "gravy steak" that I had cooked sous vide at 60° for 24 hours:
I don't know why it had gone so grey on the outside, but it was fine inside. But not tender enough. This kind of meat clearly needs a higher temperature. 65° next time?
Yvonne has decided that even pies are too heavy-duty, and made herself a couple of packets:
The pies tasted alright, though Yvonne found a piece of gristle that had escaped. But it's a lot of work, and maybe I should just have taken a "rump steak" instead.
I've bought a couple of packages of "Jack Hua" rice noodles, and apart from the appalling documentation, they seem quite good.
But they don't give cooking times, and they don't even state the obvious that they're rice noodles, unless you combine the languages: in English it state's that they're noodles, and in French that they're made from rice.
I cooked some today (for 2 minutes) and discovered another advantage: they're packed in individual portion baskets of about 55 g each, which correspond to about 130 g after cooking.
That's a little on the light side, but perfectly acceptable, and certainly easier than cooking the whole 1 kg package and freezing the rest. Clearly an advantage; why do they leave it to chance for the customer to discover?
Yet another day of almost continuous rain! Today it was between 16.6 mm and 22.0 mm, depending on the rain gauge. For once, the weather station didn't show the lowest reading: 19.2 mm. That makes a total of 228 mm so far this month, round a third of the annual rainfall. And the Bureau of Meteorology is promising still more! Will this continue in future months and years?
While looking back through my old diary entries, came across this article: Ossobuco, which looks like this before cooking:
Now doesn't that look like this "gravy beef" that I bought last week?
When I bought it, it was wrapped in a circle that could represent the missing bone. So at least it's relatively clear what cut it is: shank. And that gives me obvious ways to cook it.
Whether I like it or not, I'm due for a few video teleconferences in the near future. Last time I did it with my mobile phone, which was suboptimal for a number of reasons, not the least of which is because the app insisted on using mobile data where it had a perfectly good Wi-Fi connection, thus using up all my phone credit.
In the meantime I have set up Bruce Evans' old HP EliteBook 8750p laptop, and that works as well as a machine with a hard-wired CapsLock key can work. And of course it has a webcam. How do I set it up?
Trivially, it seems: install webcamd, kldload cuse, and add myself to the webcamd group. webcamd obligingly creates device nodes /dev/video0 and /dev/video1a.
Next, fire up a program that uses a web cam. But which? Juha Kupiainen recommended cheese. OK, try that out. 32 dependencies! Still, it installed. Clearly it's a GUI program. How do I start it?
=== grog@bde (/dev/pts/0) ~ 13 -> cheese
libGL error: No matching fbConfigs or visuals found
libGL error: failed to load driver: swrast
(many repeats)

(cheese:52083): Gdk-

ERROR

**:

11:38:49.790

: The program 'cheese' received an X Window System error.
This probably reflects a bug in the program.

And so it seemed. Another program that doesn't understand X and requires a local server. Trying it locally, I got this:
=== grog@bde (/dev/pts/0) ~ 14 -> DISPLAY=:0 cheese
(cheese:52095): GStreamer-

CRITICAL

**:

11:41:48.57

7: gst_element_message_full_with_details: assertion 'GST_IS_ELEMENT (element)' failed

(cheese:52095): GStreamer-

CRITICAL

**:

11:41:48.57

7: gst_element_message_full_with_details: assertion 'GST_IS_ELEMENT (element)' failed
**

Message

:

11:41:48.57

7: cheese-application.vala:222: Error during camera setup: No device found

(cheese:52095): cheese-

CRITICAL

**:

11:41:48.58

8: cheese_camera_device_get_name: assertion 'CHEESE_IS_CAMERA_DEVICE (device)' failed

(cheese:52095): GLib-

CRITICAL

**:

11:41:48.58

8: g_variant_new_string: assertion 'string != NULL' failed

(cheese:52095): GLib-

CRITICAL

**:

11:41:48.58

8: g_variant_ref_sink: assertion 'value != NULL' failed

(cheese:52095): GLib-GIO-

CRITICAL

**:

11:41:48.58

8: g_settings_schema_key_type_check: assertion 'value != NULL' failed

(cheese:52095): GLib-

CRITICAL

**:

11:41:48.58

8: g_variant_get_type_string: assertion 'value != NULL' failed

(cheese:52095): GLib-GIO-

CRITICAL

**:

11:41:48.58

8: g_settings_set_value: key 'camera' in 'org.gnome.Cheese' expects type 's', but a GVariant of type '(null)' was given

(cheese:52095): GLib-

CRITICAL

**:

11:41:48.58

8: g_variant_unref: assertion 'value != NULL' failed

** (cheese:52095):

CRITICAL

**:

11:41:48.58

8: cheese_preferences_dialog_setup_resolutions_for_device: assertion 'device != NULL' failed

(cheese:52095): dconf-

WARNING

**:

11:41:48.58

9: failed to commit changes to dconf: Cannot spawn a message bus without a machine-id: Unable to load /var/lib/dbus/machine-id or /etc/machine-id: Failed to open file ?/var/lib/dbus/machine-id?: No such file or directory

I got a display, but it just said "no device found". Permission problems, thought Juha. OK, try as root:
=== root@bde (/dev/pts/0) /home/grog 1 -> DISPLAY=:0 cheese

(cheese:52149): GLib-GObject-

CRITICAL

**:

12:00:44.94

4: g_value_dup_string: assertion 'G_VALUE_HOLDS_STRING (value)' failed

(cheese:52149): dconf-

WARNING

**:

12:00:45.21

3: failed to commit changes to dconf: Cannot spawn a message bus without a machine-id: Unable to load /var/lib/dbus/machine-id or /etc/machine-id: Failed to open file ?/var/lib/dbus/machine-id?: No such file or directory
(many more)
But I got a display:
But it's terrible! Far too overexposed. Is that what it transmits? How about looking at a photo? There's no obvious way to do what it suggests, "take a photo". The "help" doesn't. Why? Am I missing something in the configuration? All this error message vomit is missing the important information. Maybe I need to RTFM after all, but first I need to go looking for it:
=== root@bde (/dev/pts/0) /home/grog 10 -> man cheese
No manual entry for cheese

Still, I see this as "success". All I wanted cheese for is to confirm that I can communicate with the webcam. Now to find whether the permissions issues occur with other programs, and find somebody to video chat with.
Now that the COVID-19 pandemic is "over" (never mind that at the beginning under 1,000 people had died of COVID-19 in Australia, and now it's over 15,000), I don't pay as much attention to the statistics as I once did. But today on IRC Callum Gibson mentioned a fourth vaccination.
What, a fourth? I hadn't heard of that. But I can check that on my mobile phone with this horrible Service Victoria app, which maintains "digital certificates" of my vaccinations. Fire it up:
Yes, that's old. Just show them... Oh. They're gone! They've moved them to MyGov (and not MyCovid), and I need to log in there:
Is that an abbreviation for RTFM? It wasn't the only error message I got, just the only one I got a screenshot of.
OK, try with a Real Computer™. Still problems; apparently MyGov thinks as little of me as I do of it. OK, try with the Medicare number, the one that they promised to deactivate online access a year ago. And sure enough, it presented my certificate:
I've seen that before:
That's the printer version. That was a year ago, but clearly their system is still broken. Only tested on Microsoft? Tried on distress, which showed:
Well, it's better, but I couldn't find any way to display the entire certificate, nor to print it. All the silly, undocumented buttons at the top don't help. About the only thing I could find was a list of all vaccinations in the last few years. And yes, Callum, I have had 4 vaccinations (7 May 2021, 30 July 2021, 19 January 2021 and 25 May 2022). It's surprising how quickly one forgets.
A while back I received email from Specsavers offering me two pairs of standard focus glasses for free, but only up to the end of October That fits one of my tenets: if they're free, take two of them.
Into town today to choose frames and sign up. First spoke to Isabel, clearly the new kid on the block. She didn't even understand me. Krystal came to help her, and when I had explained what I wanted, she handed over to Grace, who at least appeared to know what she was talking about. Well, the glasses aren't free: they cost $199, but my health insurance will pay up to $220 for glasses this year, so I don't pay anything. And there's no "end of October" limit unless I want polarized lenses, something that I already had.
What I could possibly use are computer glasses that aren't quite as strong (my current ones are set for a "near add" of +1.50 and +1.75 dioptres (two different sets). The ones I use are +1.50, but wouldn't it be better to have +1.25 for the more distant monitors? Sorry, Grace uses different methods, and gave me values of +4.00 and +3.75. And in particular, if I want something else, I need to talk to an optician. Next available appointment on 23 November.
Why is this all so complicated?
Today was our shopping day, which I'm doing while Yvonne is in her brace. And once again I had my fun at Woolworths. Yvonne wanted Kassler, but they didn't have any. Instead they had pork "sizzling steak". Based on my experience with the beef, that sounded like a good idea. Oh: 2 for $15!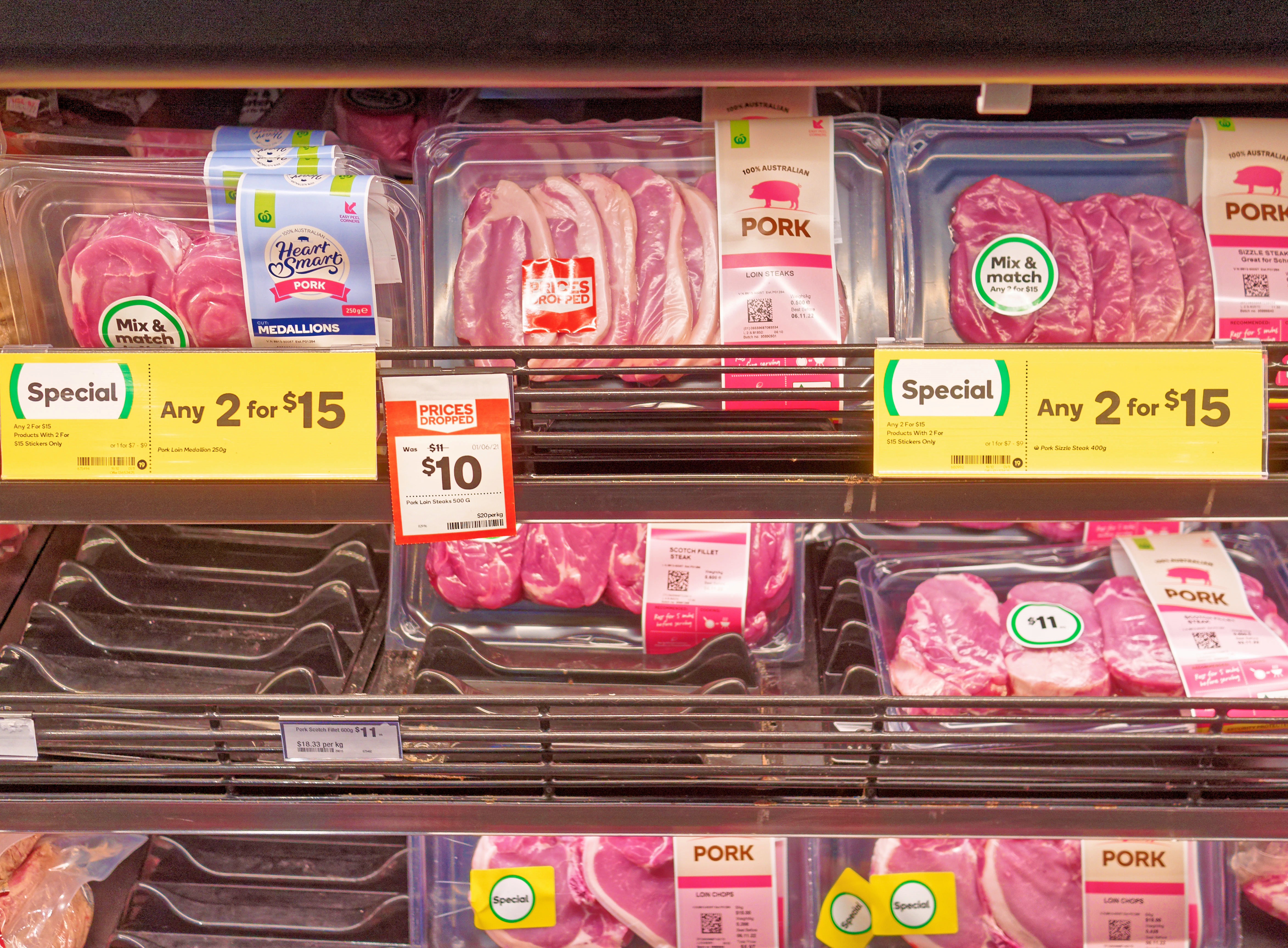 But where's the unit price? It's not marked anywhere. How much am I saving?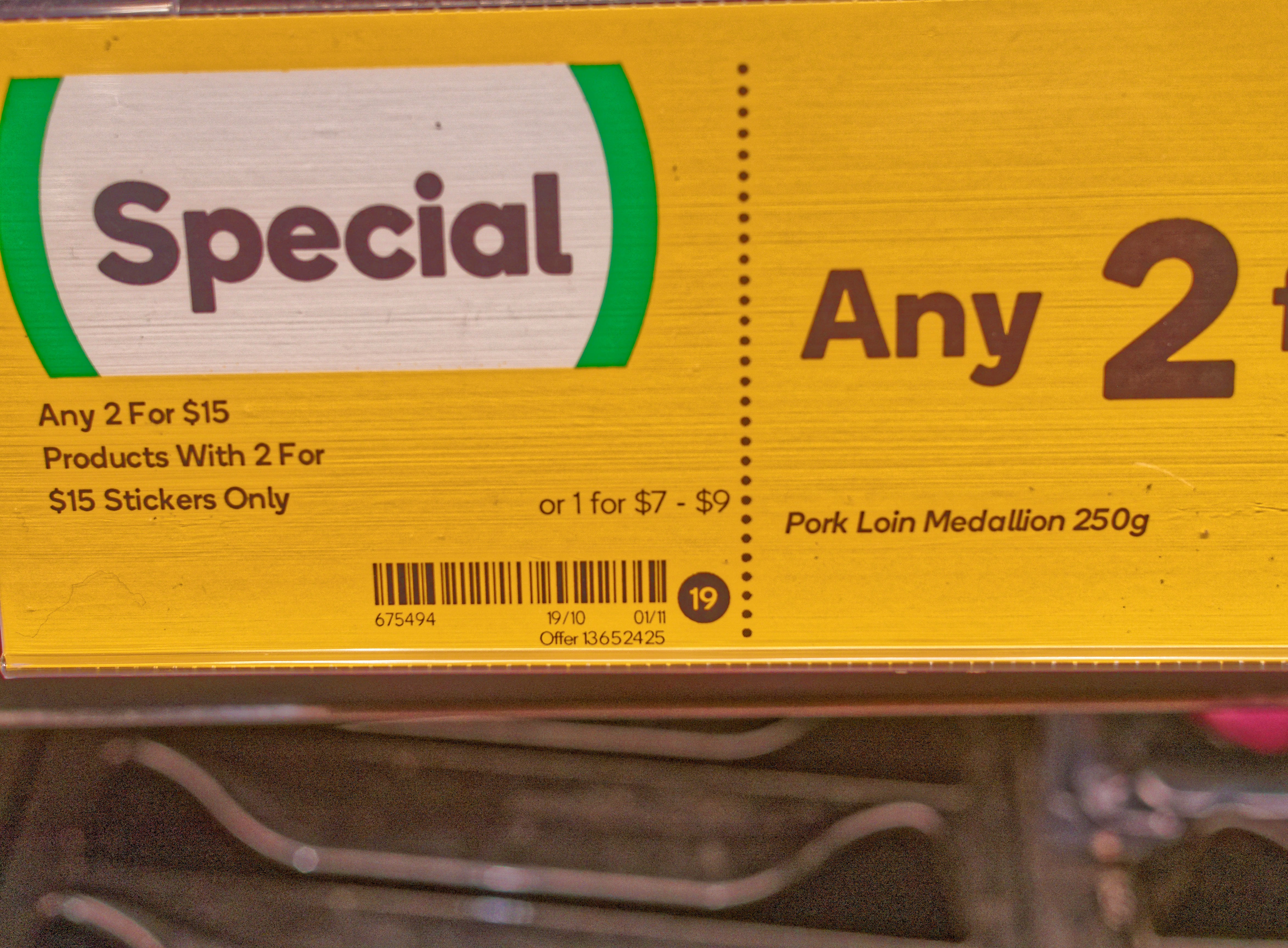 Unit price between $7 and $9! I could end up paying more for two! Off to the checkout counter to check. No, the unit price for my sizzling steaks was $8. But is that even compliant with industry standards?
Later, after finding (with Yvonne's prior help) "pumpernickel" hidden at the bottom of the Indian food section, I had more difficulties with their checkout terminals. They look something like this old photo:
By trial and error I have discovered that the current terminals have a scanner in the middle and scales on the left. The area shown here on the right, under the payment pad, and now without the display, appears just to be a place to put the basket. You need to first put your bag on the scales so that the terminal can check that you really put something in the bag.
But today things didn't work correctly. "Call assistance". Not while there's another terminal to use. But I had trouble there too. Finally "assistance" came and told me that I shouldn't be putting my basket on the right-hand side. Why isn't it marked accordingly? I shouldn't be putting my basket on the right-hand side. And he completely ignored my questions.
OK, call a manager. She arrived just as I was having difficulty scanning another item on yet another terminal, but it worked just when she arrived. I suspect some kind of performance issue: I can't scan more than one item every 20 seconds. The manager told me yes, the right hand area is for putting your basket. Why isn't it marked? It used to be. Left her with the suggestion that she report to the Powers That Be that it would be good to tell the customers how to use the terminals. After all, even her own assistant didn't know.
Another day when I didn't get my diary finished (or in fact even started). And once again I forgot my shopping list when I went to town. And somehow on the way home I managed to mislay (or lose) my bank card on the way back. Is this the sign of overload or loss of marbles? Called up ANZ on 13 13 14 and was able to get Leah to block (but not yet cancel) the card relatively easily, once I had fought my way past the voice menus. The good news is that a replacement card doesn't cost me anything, so I don't need to search too hard.
Seen in the Marriott's garden:
That's a Schinus molle, and it looks a whole lot healthier than ours:
Why? They're on similar soil about 70 m apart. I wonder how long it has been there.
Chris Bahlo along this evening to pick up the horses:
They'll stay at her place until Yvonne is well again.
Since Yvonne has been incapacitated, I've had more work to do than ever before. Once again I didn't meet my benchmarks: finish diary, read all new mail.
Is that because Yvonne has so much work to do? Yes, of course, at least partially. But another part is probably that I have taken on so much work, like cooking and the extensive diary for example, and that takes up much of my day. Add new tasks and I run out of time.
Not quite 5 years ago I found myself in Sebastopol waiting for ALDI to open. What better than to take photos of the busy intersection with the Glenelg Highway and try to remove the cars?
It was hand-held and not very good, and I had been planning to take another. But that will not happen: they have just finished spending no less than 10 months replacing the roundabout with a set of traffic lights. In principle I'm all for that, but what was the cost? And what was the purpose of the "raised junction" that the newspapers emphasized, the first in Ballarat?
So yesterday I took a tripod with me and tried to repeat the view. I was not overly successful: the weather was a brief respite from the rain, the road had been widened, and the point from which I had taken the old photos was now about 1 m on the road. And my rotator started playing up: the base plate, which should be fixed, rotated with the rotator. It wasn't until I got home that I discovered that I had missed a view, so the panorama didn't close. Grr!
Another 19 mm of rain today! The Bureau of Meteorology had forecast between 4 and 8 mm. Clearly they're having a hard time. And they're predicting significant quantities of rain for the next week. Will it never stop raining? We've now had round 247 mm of rain this month!
It's still raining! And though it's clear that the Bureau of Meteorology doesn't really know what's going on, they're predicting rain for every day in the next week. So far my rain gauges tell me:
| | | | | |
| --- | --- | --- | --- | --- |
| Date | | Gauge 1 | | Gauge 2 |
| 4 October 2022 | | 15.9 | | 15.4 |
| 6 October 2022 | | 11.2 | | 13.4 |
| 7 October 2022 | | 6.2 | | 6.6 |
| 8 October 2022 | | 5.0 | | 5.0 |
| 13 October 2022 | | 29.0 | | 30.5 |
| 14 October 2022 | | 56.1 | | 55.7 |
| 15 October 2022 | | 5.2 | | 4.5 |
| 16 October 2022 | | 4.1 | | 4.2 |
| 22 October 2022 | | 72.5 | | 73.3 |
| 23 October 2022 | | 4.0 | | 4.8 |
| 24 October 2022 | | 6.0 | | 8.7 |
| 25 October 2022 | | 10.6 | | 13.3 |
| 26 October 2022 | | 2.0 | | 2.0 |
| 27 October 2022 | | 9.5 | | 10.4 |
| 28 October 2022 | | 19.0 | | 19.0 |
| 29 October 2022 | | 6.7 | | 6.2 |
| Total | | 263.0 | | 273.0 |
And of course it shows. This horrible JG King "energy saving" house isn't has some single-glazed windows, which have been misted up for days:
And out in the garden, it's clear why the plants in the north bed die: