Another power failure this morning at 7:51. Contacted Powercor—finally, after 5 minutes of waiting—and was told that it was a widespread outage, and that it would take the standard 2 hours to fix. Had just shut down my computers when the power came back, after only 19 minutes.
Today the lens for my Olympus OM-D E-M1 arrived, so I was able to start playing with it. It's also now time to compare it with other cameras. Yes, it's much smaller than the E-30, but nowhere near as small as a compact. In fact, with the lens it's considerably bigger than the Pentax SV. Here left to right the E-30, the E-M1 and the SV, each with standard lens: How do you approach a new, complicated camera? Taking photos is only part of the experience. I've always started by taking test photos, of course: But there are others. Normally you'd throw away photos with this much camera shake: It's not until you realize that the photos were taken hand-held at 4 seconds and 0.6 seconds that the results look relatively good.
The things that are really supposed to be better about the camera are the autofocus and the viewfinder. The autofocus is really amazingly fast compared to my E-30, itself quite a fast camera in its day. Under normal lighting it's almost as if there's no delay at all, and even under poor lighting conditions it's not too bad, though it does use an AF assist light (amusing, considering that it doesn't have a built-in flash). And with this lens it's just as fast with "Live view" as it is through the viewfinder.
What about the viewfinder? It's amazing! It takes a bit of getting used to not being able to see anything until the camera is turned on, but it's really as good as an optical viewfinder, and there are apparently lots of clever things it can do, once I get past the documentation.
Then there's the sensitivity. My E-30 has a maximum ISO rating of 3,200/36°. The E-M1 goes all the way to "25,600"/45°. That's confusing, because it seems that 25,600 (if there were such a thing) would be 45.1°, so I need to correct it in my exposure reporting functions. It's all the sillier because the sequence is 10,000, 12,800, 16,000, 20,000 and 25,600, not the same relationship as the values 1,000, 1,250, 1,600, 2,000 and 2,500 at lower ratings. But it allows me to take photos like this forgettable one: It's too dark, of course—I don't know why—but the exposure is 1/15 s at f/2.8. At normal sensitivity that would be about 8 seconds. And of course it's noisy, but not unbearably so. Later I might compare it with the E-30 at 3,200/36°.
What about the 802.11 wireless link? It's not networking, as I've established yesterday, and it's really difficult to understand. Given the appalling state of the documentation, I found a couple of videos on YouTube that were helpful. This one shows how to use the wireless link; it's non-intuitive, at least for me. But yes, it is possible to read the QR code with the tablet—if you haven't already input the password.
It's really difficult to understand how to use the app without instructions. There are silly icons which mean nothing to me, and which aren't described anywhere, like this icon at top right: How do I tell it to focus? I don't know yet. My attempts only got it to take photos. Maybe the incomprehensible icons hold the secret. But, as those screen shots show, the viewfinder function does rotate with the orientation of the tablet. The other displays don't. And then there's the bizarre discovery that, although I had told it to only take photos in raw format, the ones taken remotely stored both raw and JPEG images. Still much to learn.
And the lens? I haven't done any optical tests, but it's clearly better than the Zuiko Digital ED 12-60mm F2.8-4.0 SWD in the close-up range, where the 12-60 shows pronounced barrel distortion. But I ran out of focal length a couple of times. As I had already noted, I have taken a large number of photos at 60 mm focal length, and 40 mm doesn't cut it. It's quite possible, if the 12-60 focuses fast enough, that I'll sell the lens. There's certainly quite a demand for them at the moment.
Converting images was more of a problem than I expected. I've already established that the new version of DxO Optics "Pro" will require the "Elite" version to convert the images. But based on experiences with images from the E-5, also an "Elite" body, I can at least look at them. But no, it refuses to even select them, although it doesn't officially have support for the body yet.
So I had to use Olympus Viewer 3. Was I up to date? Hard to say, but finally I established that I wasn't. I had version 1.01 (so where's the 3?), and the current version is 1.1, released round the time of the announcement of the E-M1. But Viewer itself would perform the update for me. Let it go at that, and it came back with the startling information that I was already up to date. How I love broken software!
In the evening did some attempts to determine the entrance pupil of the lens. They were inconclusive. I've tried to use the remote control via tablet, but it's not clear that that will work well enough. More to do tomorrow.
Reset my watch again today, from +4 seconds to -5 seconds. I forgot to mention last time I did it, but it seems to be consistent with about 1.5 to 2 seconds per week.
I had barely set my alarm clock last night when the power failed again, fortunately very short.
On with my trying to understand the Olympus OM-D E-M1 today. How I wish it had a manual.
The first thing I continued with was to try to work out the entrance pupil of the lens. My intention had been to use the remote control Android app. But I quickly ran into a serious problem: while the resolution of the electronic viewfinder on the camera is excellent, I couldn't say the same thing about the remote viewfinder: That's appalling! A little searching showed that one of the few interesting knobs I can tweak is the choice between "fast" and "high quality" viewfinder. When I switched to the latter, things got marginally better: But that's still terrible quality, and the speed leaves a lot to be desired. I'm left with the impression that there are significant speed problems with the network connection, which might also explain the lack of functionality for transferring files to computers.
Also investigated the other functionality of the remote control. There seems to be really no documentation, and I'm still left wondering what the button at top right means; maybe I'll find the icon in some other context. There seems to be no explanation for why it stores the image in both raw and JPEG formats when run remotely, even though the camera is set to raw only. In general I'm quite disappointed by the quality of the remote app control. I can only hope that they improve it later.
Also today, the news that DxO Optics "Pro" now supports the E-M1—and not a single Four-Thirds lens, as promised. What software can I use instead? No idea. Olympus Viewer 3 is really pretty bare-bones, and the results I get from the default settings don't compare well.
Also tried out the flash for the first time. Also not very inspiring. It seems to underexpose greatly, and it seems that the flash exposure compensation doesn't work. In any case, these two photos were taken first with no compensation, then with +3 EV compensation, but there was almost no difference: Strangely, the EXIF data showed the flash exposure information in a different format from the E-30, requiring tweaks to my exposure compensation functions: instead of "Flash Comp" it's now "Flash Exposure Comp". And some of the values are Just Plain Strange:
Flash Exposure Comp : 1.6640625
Flash Exposure Comp : 3

Clearly the first one is supposed to be 1⅔ EV, but it's not even accurate.
What weather we've been having lately! Three days ago we had a top of 36.6° and a low temperature of 14.3°. Today the temperatures were 12.7° and 5.0°—no overlap: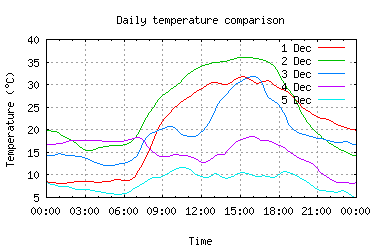 And looking out the windows, you'd almost think you were in Europe: That was some particularly heavy hail.
Another try with the pizza oven today. This time I preheated the stones in the kitchen oven—I'm concerned about the heavy gas consumption of the pizza oven. That certainly helped: without the stones, the oven heated up to 320° in less than 10 minutes. I had hoped to get the stones a little hotter, but I only partially succeeded, with the stone temperatures round 280°. The pizza on the upper shelf was done after about 12 minutes, but it had stuck to the stone, so it took me a couple of minutes to get it out. After that, the one below was still quite pale, so I remove the upper pizza and put the lower one on that shelf, after which it browned pretty quickly. Unfortunately, the result was not as good this time. Not the oven's fault: for some reason the dough had not risen as much, and with the longer baking time it was rather hard. I need more experience, as well as a way of keeping things consistent from one time to the next. I don't have any good idea how to do that with allowing the dough to rise.
---
| | | |
| --- | --- | --- |
| This page contains (roughly) yesterday's and today's entries. I have a horror of reverse chronological documents, so all my diary entries are chronological. I try to leave the pages here for two days; you'll find them all in the archive, so if I fall behind a day or two, you may find more here. Note that I often update a diary entry a day or two after I write it. | | Do you have a comment about something I have written? This is a diary, not a "blog", and there is deliberately no provision for directly adding comments. But I welcome feedback and try to reply to all messages I receive. See the diary overview for more details. If you do send me a message relating to something I have written, please indicate whether you'd prefer me not to mention your name. Otherwise I'll assume that it's OK to do so. |
---