My playing around with my new Olympus OM-D E-M1 Mark II, has subsided sufficiently that I can continue my re-scans of my old slides taken between 1969 and 1972. Many can only be dated by recollection or from the date on the slides. But I found a total of 9 that don't fit into either category: they're mounted in plastic frames (which must mean that I did it myself), and I don't recognize any of them.
Looking at these images and comparing the names of the companies, it seems that this must be Mittenwald:
When was I ever in Mittenwald? It must have been in my German period (1973-1997), which doesn't help much to determine the date. Yvonne can't recall having been there, so it might have been earlier (or it might mean that, like me, she has just forgotten it). We met in 1982, so I tentatively put them at some time in autumn 1980. But then I saw this photo:
That rings a bell, particularly the road tunnel at bottom left. That's somewhere between Augsburg and Dinkelsbühl, a road I took from home to DFVLR in Oberpfaffenhofen in late 1974. The direction shows that I was heading home. So it's reasonable to assume that it was a Friday in mid to late October 1974, and I've put all the photos on 18 October 1974.
And then I found photos for 1 October. The same ones, already scanned. But the quality difference makes it clear why I went to the trouble to rescan them:
Still no idea where the other photos were taken. The title I put in there last time (apparently 4 May 2004) was "Bavaria and Italy", but I have no reason to believe that that's accurate.
I took a few photos with the high resolution mode of my new Olympus OM-D E-M1 Mark II a couple of days ago, but then discovered that, although the camera was set to store only raw images, it stored only JPEG images. To get it to store raw images (as well), I needed to tell it all over again. And there seems to be no way to prevent it from storing JPEGs as well. To quote the "instructions" (page 49, at the top):
Choose from JPEG (50M F or 25M F) and JPEG+RAW modes. When image quality is set to RAW+JPEG, the camera saves a single RAW image (extension ".ORI") before combining it with the high resolution shooting. Pre-combination RAW images can only be played back on the software that comes with this camera.
This is as inaccurate as ever. The choice I get is:
As I've noted, 25 MP is not worth the trouble. So I set 50 MP F + RAW (not the one shown above) and took some more photos.
The results were interesting for a number of reasons, and I'm still analysing them. First impressions are that high resolution mode doesn't buy you much, possibly because it exceeds the capabilities of the lenses. I took the photos mainly with the Summilux 25/1.4, which DxO gives the highest rating of all my lenses. For comparison purposes I tried the Olympus M.Zuiko Digital ED 14-150 mm f4.0-5.6, which DxO gives a considerably lower rating. But the results didn't look that much different.
For the time being, it's interesting to note:
The camera does not generate "a single RAW image". It generates two of them:

-rw-rw-r-- 2 grog lemis 62,564,734 1 Mar 03:55 43010166.ORF
-rw-rw-r-- 2 grog lemis 17,122,908 1 Mar 03:55 43010166.ORI

The names starting with 4 are a modification from the normal P. This is the fourth of the cameras I currently have, and I have them sorted in the order in which I bought them. This makes it easier to see where the image came from, and it avoids potential naming clashes.

The .ORI files are not high resolution. They're perfectly normal raw files at standard resolution, as the size confirms.

The .ORF files are high resolution, 80 MP (specifically, 10368 × 7776 pixels, or 80.6 MP), a detail not mentioned anywhere in the "instructions". By contrast, the resolution of the JPEG that you're forced to accept is only 8160 × 6120 pixels (49.9 MP).

Contrary to the statement above, DxO Optics "Pro" has no difficulty in processing the high resolution images. It also recognizes the .ORI files without renaming (a trick recommended by Mathieu Gasquet).

Somehow I also ended up with 20 MP output files with names like 43010166_DxO_raw.jpg instead of the usual 43010166_DxO.jpg, but I haven't been able to repeat that.

Olympus "Viewer" 3 can also process the raw images (as promised), and explains graphically that which the "instructions" have been too polite to do:





The VGA connector emblem above the text "RAW" indicates a high-resolution shot. In passing it's worth noticing that the orange highlight does not mean that the image will be processed. For that you need to tick the box at bottom left of the image.

For some reason "Viewer" reduces the size of the image, though the resolution remains the same. Here an image processed by DxO, then one processed by "Viewer". Run the cursor over either image to compare with the partner, and click to see a larger version:

Potentially there are reasons for this that don't relate to bugs.
It has been well documented that Olympus is still working on the high resolution mode. It certainly shows. In passing, I can now see a reason for the 25 MP images, if the raw images stay the same: since the JPEGs are throwaways, you might as well make them as small as possible.
Another indication of the size of the images: Ashampoo Photo optimizer refused to look at them: "Information: Assuming load error because the image is too big: 10368x7776". Bad assumption (and it's not "information"; it's an error message). But how big are big sensors nowadays?
My message to PayPal on Monday promised a response within 24 hours. After about 60 hours, I still have no answer, and I'm no longer expecting one. The money was deducted from my credit card account on Monday, though I don't know whether that was a result of my message or not. But once again it shows an amazing amount of incompetence.
More investigation of high-resolution mode again today, still without any conclusion. The Ashampoo error message is one indication of the problem: there are no 80 MP sensors out there, at least not for normal sized cameras. It seems that the largest sensor on a "full-frame" camera is the Canon EOS 5DS, with 50 MP. But that review doesn't mention dirty things like real-world image resolution and sharpness—after all, that depends more on the lens than on the sensor.
So I looked at the DxO test results for four-thirds. The sharpest lens on the E-M1 Mark II was the Panasonic Leica DG Nocticron 42.5mm F1.2 ASPH Panasonic Leica DG Nocticron 42.5mm f/1.2 ASPH with—wait for it—16 MP!
That depends on the camera, of course. It can't go beyond 20 MP on that camera, and on the E-PM1 (12 MP sensor) it drops to 9 MP. But how many lenses can get more than 40 MP? Clearly they need to be mounted on a Canon EOS 5DS to get that far, and in fact DxO has 8 lenses with sharpness of over 40 MP. The best is the Canon EF 300 mm f/2.8 L IS II USM, which also shows that Olympus doesn't have a monopoly on long product names. It produces a very respectable 45 MP on the Canon, comparable with the best on the Olympus bodies. But the other five are a long way behind, between 42 and 40 MP. So I assume that the difference would get bigger on, say, a 60 or 70 MP sensor. And basically there's no lens as sharp as an 80 MP sensor.
My preliminary results show that. If anything, the results from the Leica Summilux 25 mm f/1.4 (first image) are worse than the results from the Olympus M.Zuiko Digital ED 14-150 mm f4.0-5.6:
Why? Is there something wrong with the lens? Focus problems? According to DxO, the lens should produce about 13 MP on the Olympus, while the 14-150 only manages 5 MP. But the Panasonic Leica DG Summilux 15mm f/1.7 ASPH gets 15 MP (the third best, behind the Nocticron and the Olympus M.ZUIKO DIGITAL ED 75mm f/1.8). How does that look? Here it's on the left, with the 25 mm Summilux on the right:
Basically, there's little to choose between them. How does the 25 mm Summilux compare with the normal resolution image? Here it's doubled in size, so the browser may confuse the issue, but it seems clear that the image quality is significantly better:
Still, the take-home message is that 80 MP resolution isn't ready for prime time until there are lenses that can take advantage of it.
The attempts at high-resolution photos over the last few days have been less than satisfactory. But today I got results that are more than acceptable. Here a comparison with my best results from yesterday:
What's the difference? The method. The first was taken with in-camera high resolution mode. The second (all 300 MP of it at full size) was stitched from about 35 images taken at normal resolution with the Zuiko Digital ED 35-100mm f/2.0 set to 100 mm focal length. Clearly there's no comparison.
So: in-camera high resolution mode isn't worth the trouble? It certainly has its advantages, and there would be more if (when?) they get hand-held hi-res mode working. But for it to be really useful we need better lenses.
The disadvantages of the composite images are many. It took me nearly an hour to take (time that could have been spent better looking for a more appropriate subject matter) and another hour to stitch (enblend alone took over 50 minutes). And the results weren't perfect.
Part of that problem was the hardware I used. I don't have entrance pupil data for the 35-100, and it looks like my guess wasn't quite right. Then there's the question of positioning the camera for each image. My field of view program tells me that the steps are 7° horizontal, 5° vertical. But how do I set that? My old, mechanical rotator has steps for 5° (too small) and 10° (uselessly too big). What I need is a computer-driven rotator. They're available, but the ones I've seen have exactly the same steps as a mechanical one. The main difference—I hesitate to call it an advantage—is that it rotates automatically at set time intervals. In other words, useless.
The final issue is a matter of depth of field. I took all photos at f/5.6 from a distance of 4 m, focused on the printed forms. At this distance, the depth of field for the 25 mm lens is 2.5 m, and the depth of field for the 100 mm lens is 0.14 m. The results are very clear with the writing on the slide boxes, about 38 cm in front of the focus.
So they've floated Snapchat, thus proving that I have no idea about social media. All my life I've been keeping records, and maintaining data integrity and uptime. And here's a company that wants to make money with data that self-destructs. What am I missing?
I got my first "concert flute" in September 1961. If my recollection is correct, it cost about UK £20 (equivalent to over $1000 in today's Australia). It was a horrible instrument, and I got a much better replacement in January 1964, for a price of 675 DM, equivalent to about $2100. The price difference understates the quality difference: that was the price differential between the United Kingdom and Germany.
I still have the second flute, and it still plays well. But when ALDI came up with a special offer, a flute for $149, I was curious. What does it take to build a metal flute? In olden days making a woodwind instrument was very much a handcraft, and it still is for bassoons in particular. But the modern Boehm flute was designed with acoustical principles in mind, and the metal construction makes it amenable to mechanical methods. In particular, tuning is nothing like the headache that it is with other instruments.
The biggest differences, it seems, are simply in the detail of mechanical construction. How do you ensure that the keys close properly? They have pads that push on the rim of the raised holes:
A simple raised hole, like on my first flute, can quickly cut into the pads, so the opening has a rolled profile. But that seems to be about the only issue.
So I bought a flute for comparison purposes. At first glance, it looks pretty much the same as my old flute (with tarnished silver):
In particular, the key holes have the turnover (the photo above is of the new flute). And how did it sound? Terrible! My flute hasn't been repadded (nor played much) for decades, but it was so much better. But I kept at it, and the new flute got better, and now it's reasonably good. I assume that it has something to do with the pads seating properly. It's still not as good as the old one, and my main question is: why? What makes the difference?
About the only real difference I can see are in the details. The modern "closed G♯" flute has a key for G that also closes the G♯ key:
From left to right, these are the G key, the G♯ vent and the F♯ vent. Only the first key is allocated to a finger (left ring finger). When you play G, it closes both G and the G♯ vent. To play G♯ you press the side key with your left little finger, which opens a corresponding hole on the side, not visible here. This method was a violation of Theobald Boehm's design, which required closing both the G and the (open) G♯ key to play G, and it was done because every other instrument, both flute and other woodwind, does it that way.
The problem came with high E: the correct fingering wants the G vent open but the G♯ vent closed. That's easy enough with the open G♯ construction, but with closed G♯ there's no way to achieve it. Unless you have the split E kludge: the G♯ vent is closed both by the G key and also by any of the keys of the right hand, as on my flute:
The G♯ vent is no longer rigidly coupled to the G key, and a lever to the right of the G♯ vent is actuated by the F♯ vent (which in turn is actuated by any of the first 3 right hand fingers). There's also a lever to do it directly, though I don't know what use that is. The requires two adjusting screws.
Apart from that, the keys for the right little finger (E♭, C♯ and C) have rollers on my flute, but not on the ALDI flute, with the exception of the C♯ key, which is a roller. That's a "nice to have" rather than a "must have". The shape is typical German:
On the whole, though, there's not much difference. I did notice difficulties playing high E, but they weren't insurmountable.
Roast beef for dinner tonight. Or was it? We spent several days finding a good cut of beef: the butcher at Coles sold Yvonne a blade roast, which sounded decidedly second-rate. Yvonne went back to Woolworths, where the butcher also recommended blade, but grudgingly gave her a more expensive rump roast.
So I cooked it sous-vide (at 53°), and it came out looking as insipid as usual. This time I let it cool down for 30 minutes and then seared it in an iron pan on the induction cooker. And how about that, in less than a minute it was nicely browned:
The trouble paid off: it was one of the tenderest roast beefs I can recall eating.
One of the accompaniments was what Yvonne somewhat loosely called rösti, really deep-frozen hash browns. They weren't so happy with the iron pan:
Iron's a poor conductor of heat, and the induction cooker appears not only to be rather aggressive, but also to heat only in a circle round the outside, thus the uneven browning. On a gas cooker they browned nicely and evenly.
Chris Bahlo is thinking of buying a camera, and asked my opinion. I lent her the E-PM1 to try out, though I think she's really looking at something like the OM-D series—if she buys Olympus. Of course, a great recommendation for Olympus is the availability of a lot of equipment for free loan.
What's the difference between the various models? Time to explain image stabilization, and to investigate it. I've heard of people taking still shots of up to 6 s shutter speed, but so far I hadn't tried it out. Did so today. Results are acceptable if you look at only a small image. Here two images taken at 2.5 s and 1.3 s:
But enlarge them and it's clear that they're nothing like sharp:
And of course you have to keep the subject still too:
All in all, I don't really see a bit difference from the E-M1 Mark I. But both seem to be better than the E-PM1.
By contrast, the E-PM1 seems to manage somewhere round 1/8 s (first image). The second, at 1 s, is clearly unsharp even at small sizes:
Since getting Rani we've been continually keeping an eye on random noises in the kitchen. Today it happened again: "Click!". But then we realized that both cats had retired to the garage (which, for some reason, they really love), and the dogs were all accounted for. But the "Click!" continued. Out to take a look and discovered that the noise was coming from some chick peas that I was soaking in a saucepan. I never realized that they made a noise. But the name seems to have nothing to do with the noise they make.
Powercor has Yet Another scheduled outage on Tuesday, this time for a mammoth 6 hours. Why? There really should be some kind of compensation for that kind of outage, even if scheduled. It would encourage them to limit the outage time.
But clearly I'll need at least one generator to tide over that length of outage. And neither runs. Why not? Various people have told me that it's because the petrol is stale. And the generators themselves have warnings written all over them:
Ignoring the "why?" for the moment, the immediate question is "how do I get the petrol out of the thing?". The only convenient place to drain the thing is from the petrol feed:
But how do I get it out? It's relatively low, and 15 l is quite a bit of petrol. I had to raise it to drain it:
Borrowed a canister from Chris Bahlo, bought some petrol hose, and drained it. The tank was only half full, but it took over half an hour. Finally drained, a little new petrol in the tank, and tried again. No difference. Of course there was still a little petrol in the feed lines. Shook the generator back and forth a bit to mix it, and it ran! So yes, the petrol was the issue.
But why? This doesn't happen with petrol left in cars. Last month I had considered that maybe the more volatile components would evaporate, making it less flammable. That's still a possibility, but there's also the consideration that the petrol may absorb moisture. Either way, it's probably due to the petrol cap mechanism, and it's a real pain. It means that, to do it right, you need to keep the tanks drained and anticipate the next outage so that you have the 10 minutes or so that you need to fill the tanks. And the lack of sensible draining methods is a real omission under the circumstances.
The generators are covered in warning labels, and while taking the photos I noticed this one:
I've never seen that before. I'm pretty sure that nobody uses it. I certainly don't.
When I was younger I read a lot of books, but somehow I no longer have time. But in the process of entering my diaries for the time round 1970, I ran into an interesting coincidence: my house mate had been dealing in drugs, and when he moved out, he locked the house from inside (clearly he didn't leave on the best of terms), so we (my girlfriend Sue Fortescue and myself) couldn't get in. We had to call in the police to help us enter. Under the circumstances, it sounded like a good idea to report his drug activities before we were dragged in to any investigation. Subsequently we were called into the police station in Okehampton to make a statement, during which they demonstrated their meagre collection of drug samples and left us with the impression that they were rather provincial and enjoying the diversion from more normal constabulary duties.
Coincidentally, at the same time I was reading a newly published book, "The House on the Strand", by Daphne du Maurier, which was set not far away in Tywardreath. The book also involved drugs, though somewhat different ones from the ones that Chris had been peddling. And I had some recollection of an interaction with the police—in Launceston? Probably worth looking at again.
So on Friday Yvonne brought a copy from the library, and for the first time in years I have been reading a novel. The experience was very different: the drugs are almost coincidental, and the real topic of the book is time travel to the 13th century. It's based on firm geography and history, and with the aid of the web I followed up lots of trails. The description of the roads was such that I could follow them on Google Maps' Street View—and note that since the book was written, 48 years ago, two of the roads had become one-way streets. And the 13th century persons of the novel really existed. There's even a family tree in the book, but now there's an amazing amount of information about them online, I suspect more than du Maurier was able to find when researching the book. And then there were references to places like Bere Ferrers, only 13 km from where my sister had lived in Horrabridge.
As a result, it's relatively slow going. But it's much more interesting than the first time.
Autumn is gradually coming, and some flowers need trimming. Had a go at cutting down spent Cannas, but didn't get very far.
Another fake tagine this evening, based on an ALDI paste, this time "sundried tomato and cinnamon". The instructions ask for "two or three chicken breasts", alternatively 300 g diced lamb. As I noted last time, a chicken breast typically weighs 250 g, so the relationship is ridiculous. I took 300 g of chicken thigh.
This time I only stretched it by adding 275 g of cooked chick peas (the ones that irritated us with their noise last night). It wasn't really enough, and we were left wondering what these sauces really buy us. If we do it right with vegetables and pulses, what do we need the sauce for?
Call early this morning from Mark Hofmaier in Beulah, asking about National Broadband Network satellite: he had read some online document of mine and extracted a phone number. It seems that he transferred to "SkyMuster™" from mobile broadband, and he's very dissatisfied with the performance.
How credible is this information? He's not a technical person, but if the performance difference hits him, then it's significant. Of course it's not necessarily NBN's fault: it could be his RSP (Bordernet). It's interesting enough that I'd be interested in seeing how he gets on. Left him with instructions to run Speedtest and confront the RSP with the results if they're bad (< 60% download speed, < 2 Mb/s upload, > 1 s latency).
In the process, checked whether he could get fixed wireless. He's some distance from Beulah, but he has a 20 m high tower that was once used for something else. Would that help? Took a look at the coverage map and noted:
Those circular areas are coverage for fixed wireless. They remind me of GSM coverage maps, which are limited by the protocol timing to exactly 30 km from the tower (implying a 100 ms round trip time). NBN have made it difficult to use the map, but it seems that the radius of the circles is roughly 14 km, which this page confirms. That's bad news not only for Mark, but also for Chris Bahlo too if she wants a connection with the Cape Clear tower.
In passing, Mark told me that he collects old cars, including the Packard that his father bought new in 1925. He confirmed that there's no problem starting them after leaving petrol in the tanks for years at a time—up to 10 years.
Over to Chris Bahlo's place today to help with some photography. She wants to set up a camera on a tripod and take video without manual intervention. Tried that and discovered that it's just possible with the Zuiko Digital ED 9-18mm f/4.0-5.6 set to 9 mm. Took 10 minutes which she'll look at and presumably publish. It's certainly clear that it was taken without manual intervention.
While there, did another couple of experiments. The arena is difficult for exposure because it's partly closed, but in some directions lots of light comes in. In the past I've seen underexposed images, so I tried the various alternatives: "ESP" (weighted over the whole frame) and centre-weighted. To my surprise, there was almost no difference:
The first was taken with "ESP", the second centre-weighted. But both received the same exposure.
Another couple showed some difference, ⅓ EV:
Here the first is clearly lighter, probably better exposed. But it was taken with "ESP", which I would have expected to be worse.
I originally stopped using "ESP" after some disastrous exposures in the open air nearly 7 years ago, which I attributed to interference by the sky:
Maybe it's time to reconsider. After all, there must be some reason why it's default, and maybe they have improved the algorithm since the E-30.
Another thing to try was the new, improved "continuous autofocus with tracking" system, one of the great advantages of the new camera over the Mark I. Chris longed a horse, so I set focus on its head. Almost immediately it moved to its hindquarters, and when it disappeared behind her, it fixed on her and stayed there. Some "tracking". Maybe it works better in other situations, but here it's as good as useless.
25 years ago my Pentax Z1 had some form of autofocus with tracking. I never used it—with film it would have been far too expensive, and I didn't have much opportunity anyway—but you'd think that things would have got better by now.
Chris Bahlo has this growing amongst the weeds in her veggie patch:
What is it? A chili, maybe?
Saturday's roast was very tender, and we greatly enjoyed it. The only problem was: nearly half was left. But what a good way to start a good rump steak.
Cut a couple of slices and warmed them up gently in the microwave oven (110 W) to 40°, and then seared them in the cast-iron grill pan. The result? OK, but not nearly as juicy nor as tender as on Saturday. I can think of two possibilities: either the heating in the microwave oven was uneven, causing the temperature on one side to rise considerably beyond the 40°, or the searing itself heated the meat more than I had expected. Next time I try this, I won't pre-heat it, just let it reach room temperature.
Yet Another planned power outage today, 6 hours of it. That's at least the fifth since the beginning of last year, and they account for the majority of interruptions. At least this time we were prepared, unlike last time. Power went out at 9:18, and the generator started on first pull. That kept the machines in my office running. But elsewhere in the house we weren't so well off. Yvonne's machine, lagoon, isn't on a UPS, so I had to shut it down, reconnect it, and start it again. All in all, with laying cables through the house, it took me 15 minutes.
How do you eat breakfast without power? The coffee machine won't work, and neither will the induction cooker or the electric kettle. But gas will, another argument for gas in our environment. So the only real issue was that I had to drink tea instead of coffee. We started cooking, and after about 5 minutes the power came back. "Only" 1 hour, 59 minutes. I wish I had known that earlier. More powering down lagoon—which hadn't been used—and tidying up. Another 10 minutes.
I wish they'd finally get their maintenance done.
So Chris has decided that she'd like a Olympus OM-D E-M5 Mark II. Problem: her budget. She wants to spend round $500, but the E-M5 Mark II body sells for well over $800 new. And there are almost no used models on the market, probably a good sign.
We're watching one auction, but what's the alternative? The Olympus OM-D E-M10 Mark II sells starting at just over $500 new. Once again there are no used cameras on the market, but it's clear that they'd be in Chris' price range. The question is: is the difference for the E-M5 Mark II worth it?
There are plenty of camera compare sites, like this one, in which I've also compared the Olympus OM-D E-M1. They give a certain amount of information, but how much? And how accurate is it? The E-M5 Mark II had a high-resolution mode, which I suspect will interest Chris even less than it did me.
The E-M10 Mark II has "5-axis image stabilization (yaw/pitch/roll/vertical/horizontal)", while the others just have 5-axis stabilization. A difference? Only in the text. Potentially the E-M5 Mark II stabilization is better, but I won't find the differences here. And it seems that only the E-M1 has phase detect autofocus, which surprises me. Viewfinder coverage varies widely: 1.23× for the E-M10 Mark II, 1.48× for the E-M5 Mark II, and only 0.74× for the E-M1. That's can't be right. And with "drive mode" (an old, worn-out magic word for "image sequence mode" or some such), the E-M10 Mark II doesn't seem to figure at all: they have just left out the details. On the positive side, the E-M10 Mark II has a built-in flash.
Round about here, it's clear that the comparison isn't very useful. There are more similarities than differences. Is there anything in the E-M5 Mark II that Chris really needs? It looks like more reading of the "instructions" is in order.
A surprising amount of discussion on IRC today about my generator problems. Some of it suggested that they hadn't read what I had written here, like claims that petrol in cars would keep for years. Peter Jeremy came up with the idea that I could siphon off the petrol, though this would not avoid having to lift the generator:
And why siphon? One advantage that Peter mentioned was that it would be faster with a thicker hose. But I still need a hose, and how do I prime it? Sucking petrol is not my idea of fun. And it's no faster to get started than to connect a hose to the petrol tap:
The lower hose is the normal petrol feed. It's touching the tap, but not connected.
In passing, it's interesting how little petrol I used. I filled the tank until it was just above the filter in the filler, and it was still above that level when we were finished:
It looks as if the tank would last for at least 12 hours.
While taking the generator photos, discovered something disturbing:
It's not immediately obvious, but the cap on the contact for the flash cable is missing:
How did that happen? The same thing happened with the previous camera, but there I had an explanation: I used it a lot of the time, and I misplaced it. Here I not only didn't use it at all, ever, but I had intended to be very careful about not losing it.
OK, it's gone. How do I replace it? My guess is that Olympus is not the place to go. On eBay I found a number of caps for Nikon cameras. Do they fit? A question to the Facebook group brought no certainty (yet), but a surprising number of people who had lost theirs too. Another bad design detail, as one claimed?
I'm still taking my time reading , "The House on the Strand", by Daphne du Maurier. It really describes the countryside in amazing detail, even to the extent that I could determine the location of his house. But Google Maps gives no name to the property. Time to look at other maps? The Wikipedia page for Tywardreath links to a map page with many different maps, including the British Ordnance Survey maps, which are now online. And they show more detail (and, I'm sure, accuracy) than Google Maps, including confirming my guess about Kilmarth, the property where the hero resides. Sadly it seems that access is only a 7 day free trial.
And then there are also the historical Ordnance Survey maps, such as this relatively well-hidden one from 1856. Following that round Devon was fascinating. Spellings were very different in those days; in the 1809 map, Horrabridge is spelt "Harrowbridge", Crapstone is spelt "Crapstown", and Yelverton isn't even marked (a tradition that Google Maps tries to continue). Two of the big houses I knew, Netherton and Grimstone, are also marked, something that is no longer the case: Grimstone is even marked as "Hr. Grimson" and "Lr. Grimson". Clearly there are many more interesting discoveries to be made.
The book was relatively interesting last time I read it. With the background information now available to me, it's really fascinating.
In my calendar today:
How time flies! As if that wasn't enough, today was also the 100th anniversary of the (beginning of the) February Revolution. What's really sobering is that 20% of that time passed since my return to Australia.
The issues with the generators have aroused more interest that I would have expected. Mail exchange with Jim Dillon today, who pointed me to various tools for pumping petrol out of the tank. That's all well and good, but my real issue is that I have to do it in the first place, with the corollary that, in an emergency, I first need to fill the tank. Jim came up with another idea: Sea Foam. I had already thought of some kind of petrol additive to make up for the stale petrol, but it's not quite clear which of their products would achieve this.
A while back Chris Bahlo sent me the URL of a rather puzzling topographic display system for radio tower coverage. You enter your location (say, 29 Stones Road Dereel), a distance (say 25 km), click on "Run Enquiry", and it shows what communication towers are in the area. You can then click on "Elevation Profile" against one of them and get an graphic of the terrain and signal path:
OK, there's land (Enfield State Forest) in the way, so this won't work. But it's not what I'm looking for. How does it look from Chris Bahlo's house (-37.820416, 143.724643) to the National Broadband Network radiation tower 2.5 km away?
Clearly no go. At first sight. But look where they've put the base of the tower: at 324 m it's lower than the ground level at Chris' place (332 m). That's clearly wrong, and nearly every attempt has shown a bug like this. The first example is one of the few that worked. Have the ACMA people not noticed?
The discussion on generators continues. Eddie Purcell sent me a link to this video:
That's about a generator that won't start, not quite my situation: even with stale fuel it starts. But then it splutters and stops. On the other hand, the generator shown is almost identical to mine (and, they say, a Honda clone). And one of the things they show is how to drain the carburettor, which could accumulate moisture.
Is that maybe the real reason for the problem? On Sunday I noted that the generator still didn't run smoothly when I replaced the petrol, and assumed that it was the stale petrol still in the line (and carburettor). Clearly whatever was there didn't want to run well, but maybe it was just what was there, not what was in the tank. Next time I'll try draining the carb and see if that does the trick.
Also mail from Rylee Lewis, who suggests using STA-BIL® Fuel Stabilizer, ("Keeps fuel fresh for up to 24 months during storage", "Eliminates the need to drain fuel prior to storage"). That sounds like just the trick. That link also comes up with some plausible reasons not to drain the tank.
Rylee also suggests that if the petrol in the tank gets stale, that I shouldn't use the tank: just connect up to a canister. Also an idea worth following. Now I need to decide which suggestion to follow first. I think the simplest is probably to drain the carb.
The Donald Trump jokes are gradually subsiding, not only because people are realizing that Trump is no joke. But yesterday, on International Women's Day, it seems that the lights went out on the US Statue of Liberty.
Yes, it turned out to be a coincidence—so they say. But it was certainly an appropriate one.
Not many plants died in late spring and early summer, before I got the irrigation system working properly. But they certainly seemed to have suffered. Now some gladioli have just started flowering:
The roses are also looking as good as they have in the summer:
But on a closer look, they have somehow been found by aphids:
I wonder where they came from.
Off today to the Eureka Village Hostel and the Geoffrey Cutter Centre with Nikolai, Sasha and Yvonne. Once again many people weren't there, but somehow we managed 50 minutes anyway, and by the time I got across the road to GCC, Yvonne was almost done.
The auction we had been looking at for the Olympus OM-D E-M5 Mark II brought more than we were prepared to pay. So Chris Bahlo still doesn't have a camera. I'm not overly unhappy: after recommending it, it occurred to me that we have had issues with every Micro Four Thirds system body so far, so buying a second-hand one is probably not the best of ideas.
But does she really need a E-M5 Mark II? I started thinking about this on Tuesday, but now it's more important. Tuesday's comparisons showed at very least that there were errors in the comparison page. The real questions are: how does the autofocus and image stabilization compare? Today I found this page, which seems marginally better. It was written before the introduction of the E-M1 Mark II. but also includes the E-M1, which is more useful than I expected.
Regarding autofocus, it seems that only the E-M1 (both models) can handle phase detection autofocus. That's a pity for the others, but not a reason to choose one over the other.
And image stabilization? Once again the details are fuzzy:
While Olympus claims that the systems inside both the E-M1 and EM10 II are effective by up to a maximum four stops, the E-M5 II promises five.
How do they come up with "four stops" and "five stops"? It sounds more like a convenient number than anything with a solid technical foundation. Still, I haven't had any problems with the stabilization of the E-M1, so that should be enough.
So it's beginning to look like Chris Bahlo will buy a new Olympus OM-D E-M10 Mark II, which start at $499. By contrast, the cheapest E-M5 Mark II costs $799, 60% more. But the cheapest E-M10 Mark II with Australian warranty (2 years) costs $680, and the cheapest E-M5 Mark II with Australian warranty costs $1080. That's a big difference.
So looking more carefully at the cheapest E-M10 Mark IIs, it seems that eGlobal is the cheapest—only $499. But that is exclusive of shipping, which to Dereel costs $52.90! But that seems strongly dependent on location; to Ballarat it only costs $19, and Chris can prove a Ballarat address. Still, that takes it to $518, more than the $510 of the next cheapest, which has free shipping and an SD card into the bargain.
So, take them? Wait, there are different warranty conditions. Neither has an Olympus Australia warranty, but the eGlobal warranty is 2 years, done in Australia. The other one is only 12 months and requires you to send the thing to Hong Kong. In case of a warranty claim, the eGlobal offer suddenly looks better. In addition I've heard personal recommendations from people who have used their warranty service.
The camera comparison page also explains the strangenesses about the reported viewfinder scale. The problem with viewfinders is: how do you measure magnification? In the good old days, the Pentax Spotmatic had a 100% viewfinder: put the standard 50 mm lens on it, and the view through the viewfinder is at the same scale as the direct view out of the other eye.
But that only works for the standard lens. Use a wide-angle lens and it's smaller. Use a telephoto lens and it's larger. Now we have different size sensors, and the standard lens is a zoom, so there are even more variations. It seems that the manufacturers (Olympus, at any rate) have standardized on an unspecified focal length and either "natural" or "35 mm equivalent" magnifications. Empirically it seems that the E-M1 has 100% magnification at a focal length of 32 mm. At 25 mm (the equivalent of the "standard" 50 mm for 35 mm cameras), that would be a magnification of about 0.78×. And the specs for the E-M1 give a magnification of 0.74, which matches relatively well.
But what about the E-M10 with 1.23× and the E-M10 with 1.48×? Do they really have that big a viewfinder? No, it's all damn lies a matter of definition.
Magnification on the viewfinders of both the E-M1 and E-M5 II is 1.48x, which equates to 0.74x in 35mm terms – roughly the same as certain full-frame DSLRs.
Sorry, I don't buy that. What they're saying is that these are the magnifications with a 50 mm lens. But what relevance does that have? So the E-M5 has the same angle as the E-M1, and the E-M10 is a little smaller. I think Chris can live with that.
In passing, having looked at the Spotmatic again (and confirmed the magnification): the real issue isn't magnification but angle of view of the viewfinder. And the angle of view of the Spotmatic viewfinder (horizontal 40°, diagonal 47°, vertical 27°) is about as big as is comfortable. On the other hand, wouldn't it be less confusing to specify viewfinders in terms of the angle of view?
Once again it was Yvonne who told me that we had had a brief power failure in the night, only noticeable because the kitchen device clocks had reset. From that I know that the power came back at 0:19, but the only indication of the duration was that the UPSs didn't have any problems.
Two days ago I found a whole lot of aphids on my roses, so they quickly received a treating with pyrethrum. And now? Here before and after:
A few years ago I looked at personal genome sequencing services, which at the time meant 23andme. They offered two interesting services: ancestry information and health screening. Or they had offered them. At the time they had just had difficulties with the US authorities, which were concerned that they were overstepping the mark reserved for qualified medical practitioners. And just for ancestry the $99 seemed too much.
As a sideline to reading "The House on the Strand", by Daphne du Maurier, I discovered many of the historical figures in genealogy web sites, such as Otto de Bodrugan. It also includes a family tree far beyond what du Maurier had at her disposal. And following through the sites, I discovered that there are many free genealogy sites, and all of them use DNA information to locate people.
That sounds interesting, so I followed up, and ran into completely impossible information on 23andme, which promised optional medical information too. How much does it cost? $99? $149? $199? Every time I tried to compare, one of them hid from me.
Finally I found what I was looking for. It seems that medical information is available in some countries, including the USA, but not in Australia. The difference in price reflects this: $149 for autosomal analysis (about 600,000 SNPs), and $199 for the same tests with reports on the results.
But they're no longer the only ones. I followed up a number, all of which have more advertising than substance on their web sites. FamilyTreeDNA has one of the better overviews. Autosomal tests for $79 (no health-related SNPs, it seems). Y chromosome tests for between $169 (37 markers) and $359 (111 markers). Mitochondrial tests for between $79 and $199. All prices additive for a grand total of $546, still without health-related SNPs.
Clearly my $99 no longer gets all the information available. How important is the expensive stuff? And why is it so expensive? It seems that you pay about 0.03¢ per autosomal SNP, but between $3 and $4.50 per Y chromosome marker. I need to follow up on the techniques. And of course there are metasites too, like Genie1, and ISOGG has a comparison chart that gives an overview, but also raises more questions than it answers. Quite a can of worms.
Last week we had a roast beef, cooked sous-vide. It was excellent, but at least in part because we bought a second cut of meat: the first one that had been sold to Yvonne was a blade roast, not exactly a choice cut.
But of course we still had that piece of meat. What should I do with it? Pot roast seems to be the answer, and what better method than in our sous-vide cooker, which doubles as a "slow cooker". Off to look for recipes, marvelling once again at some recipes, like this one, which combines silly volumetric measurements of solids with stupid conversions. How do I measure 354.88 ml baby carrots to the nearest 10 μl? Where do I find a 42.52 g envelope of dry vegetable soup mix?
Ultimately I adapted this recipe, leaving out suggestions like boiling sliced mushrooms for 8 hours, and adding many more vegetables:
quantity
ingredient
step
160 g
onion
1
12 g
garlic
1
15 g
flour
1
beef dripping
1
1100 ml
chicken stock, salted
2
25 g
tomato purée
2
285 g
turnips
3
325 g
potatoes
3
150 g
parsnip
3
180 g
carrot
3
1100 g
blade roast
4
salt
4
pepper
4
flour
4
beef dripping
4
bouquet garni
5
sprig of rosemary
5
20 g
gravy mix
6
200 ml
water
6
Finely chop onions and fry in dripping until glazed. Add crushed garlic, cook until uniform. Add flour and fry until lightly browned.

Add purée to the stock and bring to the boil. Stir in onion mixture until uniform.

Clean vegetables and cut into large pieces (about 2 to 4).

Salt and pepper the beef, then flour and sear in dripping until superficially brown.

Put in slow cooker with vegetables and cook on "low" for 8 hours.

Shortly before serving prepare a gravy and mix in some of the broth from the roast.
One of the things that interested me was what "low" (or "high", for that matter) means. As a sous-vide cooker, there's a thermostat that tries to keep the temperature to the nearest degree. Slow cookers predate that sort of thing. Does it just heat at a fixed rate the whole time? It seems not: I heard the heater relay click on and off. And the meat gradually settled round 66° or so, probably not a bad temperature for the cut of meat (I did the roast last week at 53°).
But things didn't quite work out the way I expected. An hour before completion the vegetables were still hard, so I boiled them for 30 minutes. And they were still hard! It's almost as if the slow cooking toughened them.
And the meat, la pièce de la résistance? Resistant. In fact, just plain tough. Along with the undercooked vegetables, a pretty average disaster.
What went wrong? I still don't understand. I could blame it on the cut, but it didn't look bad. And the cooking temperature looked right. In any case, not something that I would want to repeat.
I still only have one battery for my Olympus OM-D E-M1 Mark II. It's a severely hi-tech device, along with serial number and charge information shown in percent. No cheap $10 replacements here: the batteries cost $100 each, and I'm waiting for a special offer.
In the meantime, I've been watching the charge percentage gradually dwindle. In the afternoon it was round 30%, after about 580 photos—not bad considering the 440 that Olympus claim. But in the evening the battery indicator suddenly started flashing red. That was quick. After turning the camera off for a while and then turning it back on again, it was showing 20% again. So much for precise charge information.
OK, charge it. Where's the charger? I know exactly where it should have been, but it wasn't there. Spent nearly 2 hours looking for it, without success. All the other chargers were there, including ones from cameras we no longer use. Finally, after going to bed, it occurred to me: I had lent the E-PM1 to Chris Bahlo last week, and given her a charger and data cable. But the charger for the E-PM1 was still there. So hopefully the charger for the E-M1 Mark II (dammit, what a silly name!) is at Chris' place.
Yvonne off to Hamilton with Chris Bahlo today to pick up a stallion. Somehow I never get much done when she's gone. Even the dogs are subdued.
A first firmware update is available for the Olympus OM-D E-M1 Mark II: "Stability of RAW file formation has been improved", whatever that may mean. On Facebook I discovered that people had had trouble with the update, because the (Microsoft-based) software had difficulty recognizing the camera. So I updated it first (to revision 2.1.3) and had no real trouble.
But why is this stuff so slow? It took the best part of 10 minutes, much of it waiting while the camera (apparently) did nothing. And some of the instructions are confusing: you need to check boxes to tell the software what it should already know (for example, that you have power cycled the camera, which, in true Microsoft fashion, is necessary). On the positive side, it now saves and restores all camera settings.
The name of the camera is really silly. It even causes trouble with the EXIF data: the model name (tag 272/0x110) is truncated to "E-M1MarkII", which suggests that the full name doesn't fit. But the specification clarifies that the length of the string is "Any", so it's probably for compatibility with some software. But I'm increasingly finding that it's far too long. E-M1/2? E-M1-2? E-M1/2? E-M12? They all look ugly.
Why do people come up with such unwieldy model names?
Finally aftermarket BLH-1 batteries are showing up for the Olympus OM-D E-M1 Mark II. Once again there are two kinds: the "fully decoded" ones that work with the camera's charger, and from my point of view are thus preferable, and the ones that come with their own charger.
The decoded ones come from EXpro, and so far I've only found them in the United Kingdom, from seller directcal. At $32 odd they're only a third of the price of the Olympus part. But they want $145 (£90) postage! That's 50% more than the price of the battery, and completely ridiculous. Why do people do this? I suspect that at least part of it is based on eBay recommendations.
Surprisingly, the non-decoded ones are not much cheaper. I can get two and a somewhat strange looking double charger for $48, but with free postage: Until I have confirmation that they even work with the camera, I think I'll leave them well alone.
It has been nearly 2 months since I tried an asam laksa for breakfast. And I still had the remains of the paste in the fridge, clearly needing action. So today I tried again, less based on the experience I made then than on the curry laksa that I made a few days later:
quantity
ingredient
step
125 g
Richmond asam laksa paste
1
1000 ml
water
1
250-300 g
noodles
1
125 g
hoki fillet, cut in cubes
2
100 g
cucumber, sliced
3
80 g
cooked prawns
3
mint
4
Thai basil
4
Bring the water and paste to the boil and then add the noodles until hot.

Add fish and cook.

Arrange noodles, cucumber and prawns in bowl and pour half the soup over them. Keep the other half for "next time".

Garnish with mint and basil.
I should have read the previous diary entry before cooking, There I had noted that the soup wasn't strong enough, but this time I had diluted it even more, and had to add some sambal ulek to improve the taste.
What do I do next time (after finishing the other half)? Nothing, I think. Somehow it doesn't taste as good as the curry laksa, a marked difference from my opinion in my childhood, and probably due to the specific ingredients.
Chris Bahlo over today with Samba, who will stay here a while after weaning her foal Valeta. Not happy, of course, but she had almost no milk, so it was clearly time.
Chris and Yvonne are exhibiting at the next Rural Lifestyle Expo in Ballarat the weekend after next. They had hoped to be able to show Valeta, Samba's foal, but she's not reliable enough yet. So they did a bit of work with Carlotta, and I took the opportunity to use the 60 image per second feature of my new Olympus OM-D E-M1 Mark II.
The results? In three minutes I took four sequences and a total of 274 images, totalling not quite 5 GB of raw data. As feared, it's a completely different order of magnitude. But there are focus issues:
And in which sequence were the photos taken? At 13:06:36 I took 22 images, named Chris-Carlotta-2-1 to Chris-Carlotta-2-22. How do you sort them? By time, in principle. But camera storage uses FAT file system, with timestamps precise only to 1 second. So the fallback is to order by name. And there's a basic bug in my sorting method: Chris-Carlotta-2-3 comes after Chris-Carlotta-2-22. What I really need is a way to set the sub-second part of the timestamp, but there's no way to find that. Instead I need to find a different numbering scheme; clearly it will work with Chris-Carlotta-2-01 and so on, but how many leading 0s should I put in?
There's a lot more to say, but the more I look at the images, the more questions there are. I first need to analyse them more.
In early July 1970 I read a newly published book, "The House on the Strand", by Daphne du Maurier, set in Cornwall, not far to the west of where I lived (in Bow in Devon). The book was quite interesting, and at the time it seemed relevant: I had had a housemate who proved to be dealing in drugs, and the book also related to drugs. I had some recollection of an interaction with the police, maybe in Launceston. So I got it out of the library and spent the last 10 days reading it.
Finally I'm done. The book itself was about memory and history: set in 1969, the hallucinogenic drugs took the protagonist back to the same place between 1328 and 1349. And my memories of the content of the book? Very sketchy. Yes, Launceston gets a mention in the book, in the same sentence as Okehampton (the nearest real town to Bow). But the action happens in and around Tywardreath, on the south coast of Cornwall, and described in such detail that I could follow it on an Ordnance Survey map to within 10 metres.
My recollection was that it was on the north-east coast of Cornwall. Why? My memories are very much geographical in nature, and the difference between the coasts is all the more difficult to explain given that I lived only a few kilometres away:
Why did I think north coast? The book has a map, and it shows Tywardreath (a place that I don't know otherwise) not far from Mevagissey. I don't know Mevagissey either, but it's the home town of Gillian Gwilliam, with her husband Russell, friends of my father in Kuching. Just before my 20th birthday they invited us to dinner, and I discovered that Gillian was born in Mevagissey (which Russell, slightly the worse for drink, kept calling "Fishy-wishy"). So I was well aware of the location.
I can only assume that the primitive map in my current copy of the book wasn't present in the version that I read—the introduction, written decades later, certainly wasn't—and that I had simply guessed the location of Tywardreath, not least because it didn't seem very important at the time.
And the police? He didn't have any trouble with the police. At one point he had to visit the police in Liskeard (strangely, since the station in St Austell is closer and bigger), but that was all. Could I have confused Liskeard and Launceston? Not a hope. I knew Liskeard, having spent time nearby in April 1966 and passed through several times on the way to Plymouth, and I knew that it was closer to the south coast. Interestingly, I didn't really know Launceston in 1970—that happened a year or two later—but the fact remains that I was somehow left with the impression that the protagonist had been in trouble with the police, and he hadn't.
The real thing, though, is: how much can you rely on memories? In other cases, I have photographic evidence, like the day I was driving somewhere near Paris and saw a sign "Noisy Automobiles". I had a very clear recollection of the surroundings: it was a garage off to the left, on the other side of a dual carriageway, with no other traffic. But in fact things were nothing like my memory, as this relatively recently discovered photo shows:
All in all, memories are surprisingly unreliable.
Playing around again with the flute that I bought a couple of weeks ago. Yes, it's not as bad as it seemed at first, but it's still nowhere near as good as my old flute, which also has a much fuller tone. I'm also not convinced that it's in tune, though there are adjustments (with the cork, for example) that might improve that situation.
But why? What is it about a metal pipe with holes in it that makes such a big difference? The pads? Possibly, but you'd think that pad technology had also improved in the last 50 years. In any case, it goes back—that was pretty much what I had intended anyway—but it was an interesting experience.
Once again the recording of German News from SBS failed today: MythTV hung itself up.
Why? The log messages say little of interest. But somehow this whole system is so fragile and difficult to use that I just can't be bothered any more. It doesn't help that there's very little to see on TV, and that more and more content is becoming available on line. Somehow it's all just too much trouble. Moved the computer into the dining room, mainly because there's space there, and it reduces the optical load in the lounge room.
I really don't know why the cats so love the garage, but they spend a lot of time in it, usually on top of the cars. Time for some photos with my new Olympus OM-D E-M1 Mark II:
On the whole that wasn't bad for the relatively low lighting in the garage, though the wide aperture meant that I could get only one cat in focus at a time (and thus presents an opportunity for focus merging). But what happens when I turn the light off? Then there's only a sliver of light through the door (behind me in all these images). And then the exposure dropped from 1/20s at ISO 24°/200 to 0.3 s at 39°/6400:
And the focus wasn't quite right; it was a little behind the cat, as the fur and the reflections of the eyes show:
It should have focused on the (closer) eye. Why not? Not because it's a cat; that works. With dogs (Borzois, anyway) it doesn't. More reading the "instructions" (both the lines and between them) needed. And yes, despite DxO Optics "Pro", the noise is visible.
But why stop there? How does the Olympus OM-D E-M1 Mark I compare? The first one was a catastrophe:
No, that wasn't the camera's fault. I had it set to 24°/200 ISO, so the exposure was 13 s, not surprisingly too long for a hand-held shot. But there was an issue that a more sensible 36°/3200 ISO (with 0.8 s exposure) couldn't handle: I couldn't focus. The same lens with the Mark II focused easily, but here it was mainly guesswork.
But 36° and 39° aren't the end of the road. Both cameras go to 45°/25,000 ISO if you ask them. How does that compare? Here Mark I, then Mark II, looking at the windscreen wiper to the left of Piccola's head:
The crop is the same, but the sensor resolution is different, thus the different size. Still, there's not much in it. Can I pretend that the Mark II has less noise? No, if anything it's more. Is it sharper? Yes, maybe.
In summary, the one thing that stands out by the comparisons is that on the Mark II focus still works at these levels (-2.7 EV). Now to find out why it didn't detect the eyes.
Read an interesting hands-on experience with the new Leica M10, their latest flagship. For years I've marvelled that Leica still makes cameras that lack most of the features of modern digital cameras, that they charge the earth for them, and that they still sell anything.
The review basically says the same thing. Yes, it's well made and nice to use. But why have a rangefinder? The article gives that impression, but in fact it does have a viewfinder display, like cheap cameras, and even an optional plug-in electronic viewfinder like the Olympus VF-4, something that only the cheaper Olympus cameras need.
And does it really not have autofocus, or are the reviews inaccurate? With the exception of the sensor resolution (24 MP compared to 16), it doesn't seem to offer very much that Yvonne's Olympus E-PM2 doesn't have. But that camera cost $300 with lens. The M10 body will cost in the order of USD $6600 (about AUD 8,700), and the cheapest lens (Summarit-M 50/2,4) will put you back another $1,800/$2,400. And after reading the review, I still don't see the point.
It's been nearly 10 years since I bought my first serious digital camera, an Olympus E-510. Since then I've been using the same system—or have I? The E-510 was a Four Thirds system camera, and since the OM-D E-M1 in December 2013 the cameras (now four of them) have been Micro Four Thirds system. But they're compatible, and I still have 7 Four Thirds lenses.
But they belong to an older age. The Four Thirds system is officially dead, for some definition of "official", in the process breaking dozens of links in this diary: Olympus doesn't believe in dead systems, and the old link http://asia.olympus-imaging.com/products/dslr/e510/ is now dead and gone.
The demise of the system is not a real problem: there are issues with focusing the lenses on MFT bodies, as Chris Bahlo, whose Olympus OM-D E-M10 Mark II arrived today, will soon experience. But it would have been nice if they had retained some of the more interesting FT lenses, such as the Zuiko Digital ED 14-35mm f/2.0 SWD, in an MFT mount.
Last month I discovered that the new Olympus OM-D E-M1 Mark II doesn't have the same remote control connection as the previous Olympus OM-D E-M1 Mark I, for the relatively good reason that the USB connector has changed. I established that the new cable is simpler, a straightforward 2.5 mm audio connector, the image here from the eBay seller who supplied mine: Last month I wasn't able to establish the wiring. But now it has arrived and works with the remote control. So I tried shorting contacts, and things worked as I expected: if I short the contact closest to the plug (presumably common) to the middle contact, the camera focuses. If I short to the contact at the end (right in the image above), it releases the shutter, even if the middle contact isn't shorted. So it doesn't need any power.
Yvonne is surprisingly happy about my new Olympus OM-D E-M1 Mark II: the high-speed images are interesting for analysis of horse gait patterns. I still haven't analysed the photos I took on Tuesday, but today Yvonne asked me to take some more, so I went out and took a couple of short sequences with S-AF+MF focus mode and mechanical shutter (only 15 shots per second). And nevertheless I managed 162 images! I didn't process them myself; I let Yvonne do that, and the ones she likes are on her photo page for today. It seems that some also had focus issues, but since I need to analyse Tuesday's photos, I'll do it all at once.
Troy Hose has just about completed the structure for Chris' new verandah:
Yvonne wants something similar, but I'd rather have something in steel. The real question, though, is: what do we want? Yvonne doesn't really care about the verandah in front of the living room, and maybe we'll postpone that indefinitely. But she wants something to the south of the house to let the dogs dry in winter. And before we do that we need to consider how to use the space at all. Somehow things haven't worked out the way I had expected 2 years ago. Here's the current view (180°), taken on Saturday:
The entrance to the house is on the extreme left, behind the hot water supply, and Yvonne wants to put a roof over the area between the house and the shed. But we have the air conditioner there, which doesn't want a roof, and it's a pretty small area. On the other hand, the dog run is on the extreme left (with the little shed). How do we rearrange things?
Yesterday I took two photos of the cats in the garage, each with one cat in focus:
How do I get them both in focus? Clearly a task for FOCUS Projects. Tried that and, surprise, surprise (really), it worked! Well, mainly: once again I find that it had changed the gradation, and Piccola's face is somewhat dark:
Still, an indication that the stuff isn't completely useless. And in the process it seems to have done a good job of merging two images taken hand-held from not exactly the same position.
The second-last of the accessories for my new Olympus OM-D E-M1 Mark II arrived today: a USB 3.0 hub. Not quite the way I expected (images courtesy of seller): What I had ordered looks like this: Missing three ports! That can be sorted out, of course, but in the meantime I can play with it.
But where are the USB 3.0 ports on the motherboard? The connectors are usually blue, but not in this case. Where's the motherboard manual? What motherboard is it, even? Spent more time than I had expected looking for the information. It proved to be an Asrock Z87 Pro4, and the manual is available via that page. And how about that, it contains a nice overview of the connections:
| | |
| --- | --- |
| | |
But looking at the motherboard, all the USB connections were on the USB 3.0 ports. Why was I only getting 40 MB/s (USB 2)? Discussion on IRC, showing the advantage of keeping records (eat your heart out, Facebook): three years ago Callum Gibson had the same problem. It was just after my first installation of the current eureka motherboard, and at the time I still remembered the pain, which I had discovered the month before. It looks as if USB 3.0 is disabled in the UEFI setup. I'll wait until I have to reboot before I do anything about that. That looks like being soon enough: the FreeBSD ports collection has decided that my installation (less than 18 months ago) is too old, and refuses to install any more ports.
The Olympus OM-D E-M1 Mark II has a useful new feature: it can save the camera configuration, and does so when upgrading firmware. Time to investigate in more detail. The first thing to note is that it only works for the E-M1 Mark II: if I try with the E-M1 Mark I, I get this information:
Isn't that helpful? No, it's singularly useless. What is the "Olympus homepage"? And who in his right mind expects to find anything of use there? If they have to refer to the web site, then they should give a short, relevant URL. But of course there's nothing more to say: the first sentence says it all, modulo maybe a list of the cameras for which the function is supported.
The E-M1 Mark II is clearly one. Yes, I can save the configuration to a file, with names like C:\Users\grog\AppData\Local\OLYMPUS\CameraSettings\E-M1MarkII_BHUA20626.set or C:\Users\grog\AppData\Local\OLYMPUS\CameraSettings\E-M1MarkII_20170317.set. The first was the version saved by the firmware update, and it contains the camera serial number. The second clearly contains today's date.
And what's in them? Junk. There's something like a magic number at the beginning, but it's all binary:
What a pity. It would have been nice to have it in some marginally human-readable format (even XML). That way configurations could be edited off-line, and people could write programs to compare and validate the configurations. But Olympus' choice of format doesn't surprise me.
House photo day again today, like every Saturday, hardly worth mentioning. But today I had a couple of issues processing the photos. The first time I tried to stitch this view, the preview showed completely inconsistent intensities: only the centre was normal, and the images got darker towards the edge. But when I tried again, it was normal:
I wasn't able to fix the other one:
How did that irregularity arise? I take these images including the sun by taking two photos, one with the sun obscured, the other showing the sun. Run the cursor over either image to compare with the partner, and click to see a larger version:
I then mask my hand out of the first image, and nearly everything out of the second image. It's not immediately apparent, but the second image has some flare.
So the fact that there are problems in this area are probably related. But how? Looking at the preview, it seems that I cut it rather fine:
The blue area corresponds to what I left of the second image. Could it be that enfuse had trouble because there was not enough overlap? Tried widening the area:
But it didn't make any difference. This isn't the only image that I did that way; there were several today alone, and all the others worked. For the moment I can just take note of the fact and wonder why it didn't work.
Taking the house photos requires a number of non-standard settings: manual focus, manual exposure, HDR bracketing, turning off image stabilization. Just the thing that Olympus' "Myset" was designed for. But the implementation (switching between the different settings) was so complicated that it wasn't worth it, and I gave up on it very early on.
The Olympus OM-D E-M1 Mark II has a different system: instead of 4 "Mysets", it has 3 "custom settings", selected simply by the mode dial. Otherwise the idea is the same, and the reduction in number is probably because of mechanical considerations on the dial.
How do you set them? One of the things that the Mysets didn't have was exposure mode (P/A/S/M), which Olympus calls "shooting mode": you still needed to set the mode dial for that. Clearly you can't do that with the new system. Instead you set the mode dial while storing the settings, and the mode is recalled when you set the corresponding position.
Apart from that, a certain POLA issue: I had the Fn lever (Olympus-speak) to the right of the viewfinder set to position 2 (alter white balance/ISO settings), and when I tried to adjust the exposure I adjusted the ISO setting instead. Only the menu popup didn't appear, and it took me a while to understand.
Further investigation shows another POLA violation: in P, A and S modes, when the Fn lever is in position 2, the front wheel changes the ISO setting and the rear wheel changes the white balance setting. But in M mode, there is no white balance setting, ISO moves to the back wheel, and the front wheel is "exposure compensation".
Why? And what does "exposure compensation" mean when you're using manual exposure? You set shutter speed and aperture, and the exposure system obligingly tells you how it thinks that it compares to correct exposure:
The exposure determined by the aperture value and shutter speed you have set and the difference from the suitable exposure measured by the camera are displayed on the monitor.
"Exposure compensation" just doesn't make sense, and (as usual) neither does the explanation in the "instructions":
Difference between exposure setting and exposure with exposure compensation
That's what it does without the lever. Clearly there was nothing for it: I had to try it out. And as far as I could tell, the function doesn't exist: turning the front wheel doesn't do anything at all. That makes sense, but it doesn't explain why the ISO function changes wheels exactly in this situation. It wasn't until I read the instructions more carefully that I discovered:
When [AUTO] is selected for [ISO], exposure compensation can be adjusted.
And how about that, then (and only then) it works as almost described. The aperture and shutter settings remain the same, but the ISO sensitivity is changed. Is there a use for this functionality? I still need to decide, but one way or another it's hardly "manual" any more.
It's autumn, but you couldn't tell from the temperatures. Today we had a maximum temperature of 33.2°, and the flowers in the garden still look as they did in summer. But it's clear that things are going to change, so I'm particularly looking at longer-lasting plants such as bushes and trees. Our Paulownia kawakamii hasn't quite taken off at the racing pace of trees from nurseries, but it's looking quite healthy, and it has certainly increased greatly in size in the last 18 months:
The Carpobrotus in the island in the middle of the driveway has also increased considerably in size since being planted only three months ago:
The Banksia integrifolia is also considerably larger, and the older tree fern seems to be persisting rather than thriving:
The Buddlejas are also flowering, and have grown considerably:
And the Solanum laxum, the Tropaeolum and the Senna in front of the water tanks are all doing well:
Chris Bahlo over for dinner this evening, bringing a box of cat litter that proved to contain two cameras: my old Olympus E-PM1 and her new Olympus OM-D E-M10 Mark II. It's the first time I have seen the latter, and the immediate impression is how small it is; it's only barely larger than the E-PM1, and initially I had difficulty with the tiny controls. But that is, after all, an advantage. I hope Chris will be happy with it.
Now that Chris Bahlo has her new Olympus OM-D E-M10 Mark II, she can do with software for it. Yes, she has Photoshop, but geometry correction in Adobe Camera Raw is a little haphazard, and coincidentally DxO Optics "Pro" version 9 is available for free (current version is 11). A good thing about DxO is that you can get up-to-date correction modules for older versions too. So I went looking, and discovered that the offer had expired at the end of last month.
So what does it do if I apply for an activation key now? It works. Chris was coming over here anyway, so she brought her (Microsoft) laptop, and we downloaded both "Windows" and Apple versions before they changed their minds, and confirmed that she could activate the former. Next to show her round the basic functions. How do you read in photos from the camera? It doesn't seem to have that function. Gradually I begin to understand the "import" functions on these cameras: there's nothing like it in the Microsoft space. For this time she copied stuff manually, but once again I'm left with the impression of utmost poverty of the Microsoft interface.
Yesterday I made more baked beans. Based on my difficulties keeping the temperature constant on previous occasions, I cooked them in the sous-vide cooker:
One problem is that the temperature setting only goes to 90°. Is that enough? The first bean I tried, after only 90 minutes, was almost cooked. But then others weren't cooked even after hours. After about 5 hours I let it be and turned the thing off, but even the residual heat didn't help much, and this morning some were still hard. Gave them a few hours in the oven, which may have helped.
Why am I suddenly having so much difficulty? This time I made a double portion with two 375 g bags of different age (but both not expired). Could it be that the older ones were already too old? Next time I'll try a different brand.
Seen in my calendar today:
Twenty-five years! I suppose it's an indication of the robustness of the platform that I have changed very little in my desktop environment since then.
More calendar entries:
What's so special about swallows today? Google searches reveal that St Joseph is the patron saint of many countries, including China, Croatia, Mexico, Korea, Austria, Belgium, Peru, the Philippines and Viet Nam (the current Wikipedia order). Does the proverb relate to one of the francophone countries in that list? In addition, there are many repetitions of the swallows, some with different words, some with different saints' days. But it seems that there was once quite a tradition of observing the migration of swallows.
One of the great advantages of the Olympus E series is the automatic sensor cleaning that occurs every time the camera is powered up. But how well does it work? The dust doesn't go away, it just gets moved, hopefully off the sensor.
For some time I've noted artefacts on my macro photos, particularly those taken at a small aperture. Today I had to take a photo of the incorrect USB hub that I received on Friday. The first attempt showed noticeable blobs in the background:
Where did they come from? The background isn't perfectly clean, and smaller spots are also visible. But I had to do something. The image above was taken at f/22. What did it look like at f/5.6? Took a number of other images, and discovered that, sure enough, the artefacts are related to the aperture. Here images taken at f/5.6, f/16 and f/22. The smaller dots are on the background:
The originals were done with my specific settings, but it seems to be related to the microcontrast setting. With the DxO standard settings, the original (f/22) image looks like this (second image). Run the cursor over either image to compare with the partner, and click to see a larger version:
The spots are still visible, but they're much less obvious. So, do they come from dust on the sensor? It doesn't really make sense: then the size wouldn't depend nearly as much on the aperture. Dust on the lens? That's much more likely, but I didn't see any. Something to keep my eye on.
We thought that managed to keep Rani from jumping onto the lounge room furniture, but far from it. She found a way onto the cabinet in the corner via the rocking chair in front of it:
But what I didn't expect was to find her walking over the curtain rail from one cabinet to another:
We have three cabinets, with windows and curtains between each of them, so she can now walk around the lounge room just below ceiling level.
The Autumnal equinox occurred last night at 21:28, and it was as if the flood gates opened. Overnight we had 10 mm of rain, and in the afternoon another 24 mm within the space of an hour. The known wet area round the house entrance was wetter than I have ever seen before:
Not a serious issue; we have an effluent pump under the green cover to the right (first image) or left (second image) of the column. It had been turned off for the summer. Just turn it on, and it ran.
But no water came out! Off to look for temporary alternatives, including a second pump, conveniently supplied with a double output connector that needed to be cut in two to fit a hose to it. Finally got that done, and out to connect it up. But there was no need; the pump had finally done its job, and I was just in time for the last few seconds of clean-up.
What happened? The connector might have given me the clue: it contained a spider web that I first needed to remove. Quite possibly the same occurred at the end of the drain pipe from the installed pump. Next year I should plug it up during the summer.
More rain overnight. Between midnight yesterday and 9:00 this morning we had a total of 39.8 mm of rain.
Noise from somewhere in the hallway this morning: Rani meowing. Had she got herself locked in somewhere? No, she had found a mouse:
And as so often, she let it go, and it hid under the sideboard. I pulled it out so that they (Piccola had also joined in the fun) could get behind. After a while, there was no more noise. I don't know whether the mouse escaped or not.
I've already grumbled about losing the flash contact cover for my new Olympus OM-D E-M1 Mark II, and to add to the situation, on Saturday Chris Bahlo broke one of the side clips on the flash shoe cover for the E-PM1:
But then today the same thing happened to me with the shoe on the E-M1 Mark II. And before I could take a photo, the other one broke off too:
Why? I'm not exactly rough with my equipment. But it also begs the question as to the usefulness of these delicate features. The cover fits just as well without them. And I can get a replacement for $1, like I did for the Olympus OM-D E-M1 Mark I, and it has the advantage of being made in one piece:
On the other hand, the cover shouldn't just cover from the top, but horizontally as well. Front and sides are covered by the shoe itself, but the back is a different matter:
Clearly the one in the left does a better job. Is that a reason to buy the original Olympus cover after all? No, the one on the left is the el-cheapo cover. Time to buy a supply of them.
Callum Gibson and part family are off to the United Kingdom next month—not exactly the time of year I would choose—and will be spending about a week in the West Country. I spent the best part of the time between September 1961 and December 1972 there, including the entire span of my first diary series (1 January 1963 to 1 October 1970). So what can I recommend?
Strangely, not very much. I spent a lot of time on Dartmoor, and I enjoyed places like Clovelly and Cheesewring. And for those who are interested, Exeter Cathedral is well worth visiting. But if I were to go back, it would be to try to revisit my life in the 1960s, nothing (my life) that would interest anybody else.
Yvonne back from shopping with a new photo backup disk. The 4 TB disk, one of two that I bought a little over 3 years ago, is already nearly full. So once again we bought an 8 TB disk. Last June we bought the first one, for $348. Now the same model is old, and they're selling it at Officeworks for $329.
How do I format it? That (amongst other things) is what this diary is for. And since I've been there before, started off tarring and extracting the entire /Photos file system to it. Last time it took 3½ days, but since then there's more data. Nothing to do in a hurry.
"YABPF" is the abbreviation I used when checking in my power failure page: "Yet Another Bloody Power Failure". Today was the latest, at 0:34. Again we only noticed it because the kitchen appliances had reset.
I'm still not happy with my baked beans, so it seemed a good idea to compare with the commercial offerings. Today I ate "Heinz Beanz", apparently meant to rhyme. It was interesting for a number of reasons: they sauce was particularly sticky, almost certainly artificial, the beans themselves were considerably smaller, but nevertheless unpleasantly floury, and the sauce was almost tasteless. And of course it had sugar in it. I'm considerably encouraged by my own results, which taste much better.
The power failure wasn't the only problem we had this morning: the water wasn't hot enough. Went out to the hot water system and confirmed that yes, indeed, the internal circuit breaker had tripped, exactly the same problem that I had almost exactly a year ago. Is the date significant? Only, I think, because it's when sunshine isn't enough to keep the water hot. In each case it could have failed almost any time during the summer, and I'm left wondering whether overvoltage may not have played a role.
Where do you find videos online? YouTube, of course. And many other places of less obvious legality. Either way, things are more complicated if the language isn't English. We've been watching a series, "Der Bergdoktor", which is interesting mainly for the photography and the location. In the last couple of months a new series has been aired. How do I get hold of it? The possibilities are:
If any of these sites are illegal, it's interesting to note the supposedly reputable companies that advertise there, including Coles and Woolworths.
Today I finished the task I started in January last year: complete entering my diary from 1 April 1966 until the end of the entries on 1 October 1970 (in fact, only until 29 September 1970, since I had done the final two days earlier).
It's been an interesting time. It started with my first independent journey through England and Scotland at the age of 17 (hitch-hiking, no less) and ended just after my 22nd birthday and just before the beginning of my second year at the University of Exeter. I had always looked on it as a mainly happy time, but looking back it doesn't seem nearly as happy at time as I remember. It was certainly fun, but I most certainly wouldn't want to go back there, and I'm glad the entries are over.
The hot water situation didn't improve after resetting the circuit breaker yesterday: I had turned the power off before opening it, and forgot to turn it on again. Nevertheless, and despite lack of sun, the water was (barely) enough to shower.
As every other Friday, to the Eureka Village Hostel and the Geoffrey Cutter Centre with Nikolai, Sasha and Yvonne today. It's getting clear that Nikolai is not enjoying it much any more, and it seems that Sasha is also enjoying it less. We had planned to continue until the end of the year, but we're now wondering if we can hold it out that long.
In the course of the day had a number of intermittent problems with network connections, initially between tiwi (TV computer, in the lounge room) and eureka (main machine). Why? Typically it's a switch, and I have two between the machines. The one in the pantry has given me trouble before, so I power cycled it, to no avail. The switch in the office seemed to be working, but it had slipped back from its position between monitors 1 and 2, probably thanks to Rani.
When I pulled it forward, things worked. Aha! Poor connection? But it failed again later, and no amount of further jiggling helped. Changed the cable, used a different port, and it failed again—once. It's now working, but I suspect that I haven't seen the last of this. It got me thinking just how many potential points of failure there are between the two computers: two interface cards, 2 switches, 6 cables, 10 connectors. And two of the cables have been installed into the house by my favourite electrician, Jim Lannen.
How I love intermittent failures! They're all the more fun when there are two of them.
Off into Ballarat today to the Ballarat Rural Lifestyle Expo:
That's not exactly my thing, but Chris Bahlo and Yvonne were exhibiting a couple of horses (Keldan and Samba):
But of course there was space for fun:
In passing saw some of the smallest V8 cars and engines that I have ever seen:
Also spoke with the people from BREAZE, who confirmed that the prices for batteries for solar electricity storage still haven't dropped as far as we would like.
And the usual random stuff that you also see at a fair:
In preparation for today's trip, recharged the (only) battery of my Olympus OM-D E-M1 Mark II. It was at 38% charge, but I've experienced that the last 30% seem to disappear without a trace. The "instructions" carefully avoid mentioning the useful capacity of the battery (or even the model number), but the online specifications state that it's a BLH-1 good for 440 shots, or up to 950 under "Olympus testing conditions based on CIPA test standards" that are not described in more detail.
So it was a bit of a surprise to find that I had taken a total of 917 shots on the one battery, including a number of video clips. It seems reasonable to assume that I could end up with over 1000 per charge.
Off today with Yvonne (of course), Chris Bahlo and Margaret Swan to visit Nele Kömle in Garvoc. I had never been there before, and the others not frequently.
A couple of years ago, the local Facebook groups were full of activity, as I have commented over the years. But it seems to be cooling down lately. In the past if there were a fire or a car accident, the Facebook group would be full of it, including lots of inaccurate and inappropriate informaation. But on the way to Garvoc, Chris Bahlo was talking about indications she had seen of an accident involving a school bus about 4 weeks ago. Silence. But clearly something had happened:
Did the passengers survive? Strangely, the cabin was barely damaged, but I don't like the breakage pattern on the windscreen.
Of course I used my GPS navigator to get to Garvoc, and it got us there. Chris Bahlo was second-guessing with her mobile phone and Google Maps, which suggested a very different way. But total time was about 1¼ hours.
On the way back, we asked Nele, who suggested a different way. Total time was (now more carefully measured) 1 hour, 18 minutes, not different enough to give one way or the other the advantage. But the real problem was that I really have no idea how we went: there's just no overview. I had thought that we had gone down the Princes Highway from Camperdown to Laang, but on the way back we went through Terang, on that road, and I was sure we didn't go there on the way to Nele's. Looking at the map on a real display after getting home, it seems that we did, but the itinerary was nothing like I thought it was. And why does this stupid software not even show a compass direction?
Yes, you can get an overview by pressing and touching and swiping several times, but that's not appropriate when you're driving a car. It should be a single press, and maybe there are ways to merge both a detail view and an overview into one (somewhat distorted) map. I like to think of it as a "fried egg" projection: the yolk is enlarged to show detail, the white (periphery) at a smaller scale.
I must confess a considerable amount of Schadenfreude that Donald Trump's American (and not Affordable) Health Care Act failed. To quote Trump: "It's imploding, and soon will explode, and it's not going to be pretty.".
This isn't "fake news", or something that he is (justifiably) ashamed of: as the URL shows, it's in an official release from The US White House.
What have the US Americans let themselves in for?
Took some videos today. Not good. Horses running in circles seem to be obvious candidates for continuous autofocus with tracking, but I've never got it to work. I took yesterday's video with the E-M1 Mark I after complete failure with the E-M1 Mark II. Today wasn't much better. I turned resolution down from 4K to 1080p, but once the horse changed direction, the focus didn't, and it was left hanging in the top right-hand corner, and sometimes it disappeared altogether. And if anybody is standing in the middle of the arena, it always catches it, completely forgetting the horse.
Maybe C-AF without tracking will do better. But whatever it is, we're a long way from perfection.
I had some of the "Heinz Beanz" left over today, so I ate them alongside my own. There's really quite a difference after all:
Mine aren't normally that dry, but the real issue is in the taste, of course. Now I'm happy that mine are better.
Time for another loaf of bread. Since changing our diet, we're eating less bread, so I'm baking less often. And it shows. I had a couple of starters going back to 30 October 2016, and they hadn't weathered well:
Why? I hadn't had that kind of problem before, though I had kept starters for longer. But even the most recent starter (13 February 2017) seemed to have some growth on the surface:
Is that dangerous? For all I know it could be some of the organisms that make up the starter. I decided to use it, but removed the surface first. And by evening it had risen nicely and smelt good, so I'm not overly concerned.
It's the end of March, but the daytime temperatures were both in the early 30s. Until nearly midday today, anyway. In the half hour from 11:41 the temperature dropped from 30.1° to 26.0°, and in the 15 minutes after that it dropped from 26° to 21°, an average of 0.4° per minute. In the 4½ minutes from 12:15:28 it was 2.9°, or 0.64° per minute. And by 15:03 the temperature was down to 13.9°, a drop of 16.2° in a little over 3 hours, and the difference between hot and cool: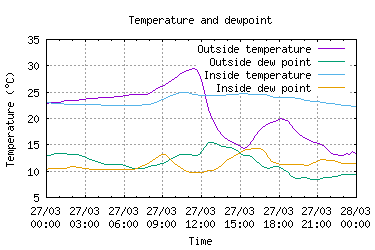 Some years ago I bought a body cap lens for Yvonne's Olympus E-PM2. It had a few advantages: it had its own "lens cap", it didn't require focusing, it was small and it was cheap. But the image quality was, not surprisingly, less than spectacular.
Leica also produced something similar decades ago: a Summaron 28 mm f/5.6, also designed to be small rather then high performance. The focal length is pretty much equivalent, and it has one stop more light. I read a review that called it an "incredibly slim pancake". The images showed that it has considerable vignetting. It's difficult to compare image quality, but this is an old lens designed for small size rather than high quality.
So how does it compare with the body cap lens? One stop more aperture, a real diaphragm (stopping down to f/22), but no built-in lens cap and much bigger. For the purpose it's not really as good, and I can't see any other reason for a lens of this kind. But dpreview and Steve Huff were both ecstatic. DPreview even put the vignetting as an advantage. I don't understand why.
So far, of course, I haven't mentioned the biggest disadvantage: the price, currently USD $2,500, roughly 70 times the price of the body cap lens. In the past I have wondered whether the 50 mm f/1.4 Summilux for the M series is really so the 8 times better than my 25/1.4 that the price differential would indicate. In that case, though, the 50 mm lens really does have features that the 25 mm one doesn't. In the case of the Summmaron, about the only justification for the price appears to be the name of the manufacturer. I wonder how many they will sell.
Good news on the Unix Heritage Society mailing list today: the later editions of Research Unix (8th, 9th and 10th editions) are now available under relatively liberal conditions:
Statement Regarding Research Unix Editions 8, 9, and 10

Alcatel-Lucent USA Inc. ("ALU-USA"), on behalf of itself and Nokia Bell Laboratories agrees, to the extent of its ability to do so, that it will not assert its copyright rights with respect to any non-commercial copying, distribution, performance, display or creation of derivative works of Research Unix® Editions 8, 9, and 10. The foregoing does not (i) transfer ownership of, or relinquish any, intellectual property rights (including patent rights) of Nokia Corporation, ALU-USA or any of their affiliates, (ii) grant a license to any patent, patent application, or trademark of Nokia Corporation, ALU-USA. or any of their affiliates, (iii) g rant any third -party rights or licenses, or (iv) grant any rights for commercial purposes. Neither ALU-USA. nor Nokia Bell Laboratories will furnish or provided support for Research Unix Editions 8, 9, and 10, and make no warranties or representations here under, including but not limited to any warranty or representation that Research Unix Editions 8, 9, and 10 does not infringe any third party intellectual property rights or that Research Unix Editions 8, 9, and 10 is fit for any particular purpose.
Much discussion, of course, and also the first output from a running system:
A month ago I discovered that the rain gauge in my new weather station wasn't working. OK, contact the vendor seller and get him to send a replacement.
That happened, but there were some details that I didn't like. Left the replacement, right the original:
The "new" gauge is clearly an older model (note the missing spirit level in the top), and it's second hand: the difference in colour is due to sunlight, and the dirt in the bucket mechanism speaks for itself. What do I do? I can complain and get him to send me a new one, but maybe a partial refund will be more appropriate.
Does it work? After installation, operated the bucket mechanism manually, four times. That should have registered 1.2 mm, but my weather pages showed no rainfall. Looking at the database was interesting, though:
Where did that -1.2 mm come from? How can the thing count backwards? Tried again, and it seemed to work. Now to wait for some rain.
Mail from ANZ today: they have further reduced the benefits that I get from my credit card. Not a big deal in itself: the benefits are primarily Qantas frequent flyer points, and it's been nearly 11 years since I was last in a plane (not coincidentally Qantas). But I pay a considerable amount for the cards. How about forgetting the "benefits" and changing to a cheaper card? Currently I pay nearly $300 a year for two cards, and that seems silly.
Spoke to <nameless> on the phone, who kept me waiting nearly 10 minutes on hold after I asked if there was a fee-free card she could offer me. Better still! $250 credit back on my account if I took a "Black" (apparently better than my "Platinum") card. And the fees? More on-hold. $495 a year.
What does that have to do with my request? It's diametrically opposed. Repeated my question, and this time got a more straightforward reply: no, ANZ does not offer any fee-free credit card.
Should I change? Currently we have a number of financial things that cost more than they seem to be worth. Our pensions come in at exchange rates that effectively cost us round $50 a month. Even my superannuation fund needs to justify itself. But in the case of the credit cards, changing means a new number that needs to be stored in many places. Much research needed.
Rain today, sooner than expected. What did my weather station show? 0.3 mm (one increment). That seemed less than observed. And then it changed its mind. 0 mm. Another look at the database:
I've seen that before. What's going on here? My last weather station always counted up, but it seems that this one is different. Looking at the results, if I take the absolute value, I get something in the right ball park. Is this a peculiarity of this station, or a difference in the interface? Time to inspect some other code.
Into town today to the dentist, who found nothing wrong, but managed to charge me over $100 out of pocket anyway, mainly for cleaning my teeth. I wonder if that's really necessary 4 times a year (twice with Mario in Ballarat, twice with Leela in Geelong).
Yvonne had a dentist's appointment too, but it was 40 minutes earlier than mine, so I went off to do some remnant shopping: chicken breast filet (one) and 1 kg chicken thighs. I wasn't prepared for what I found at Woolworths. Here the thighs:
What's the difference? "Chicken Thigh Cutlets Skinless Rw" ($7 or $8), "Chickn Thigh Fillet Portion Pack Rw" ($11 or $10.50), "Chickn Thigh Cutlets Skinless Small Rw" ($14.99 or $12), "Macro Fr Chickn Bulk Thigh Fillet Rw" ($14.99 or $14). What does it mean? I suppose "Rw" is almost preferable to the way photographers shout "RAW", but why Chickn instead of Chicken?
And what's the difference between a thigh and a cutlet? Is it like the difference between cow and beef: the former describes the animal (in Germanic), while the latter, imported from France, describes the meat? Does it imply any difference in the product? You'd think that the word "small" (inexplicably not mutilated) would have an obvious meaning, but I didn't see any difference in size from the others.
About the only obvious difference was the "best before" date, ranging from tomorrow ($12) to 8 April ($7, the cheapest). And then there are dates on the labels, like "08/02/17", presumably an obfuscatory way of saying "8 February 2017". But they don't say so.
The breasts are similar:
"Macro Fr Chicken Breast Fillet Sml Rw" ($18.89 or $15.99), "Chickn Bread Fillets Skinless Small Rw" ($12 or $15.49), "Macro Fr Chckn Bulk Breast Fillet Rw" ($14 or $14.99), "Rspca Approved Chicken Brst Fillet" ($9 or $12). What does it all mean? "Fr" might mean "fresh", hopefully a superfluous indication. "Bulk" is a very relative term: in the photos I see "Macro" (trade name) fillets weighing up to 587 g, though (too out of focus to be sure) there seems to be one costing over $10, which would imply a weight of over 625 g. The "bulk" version starts at under 1 kg.
It took me several minutes to decide on what to buy, and it wasn't until I got home that I discovered that some are marked "Free range", and the rest "Rspca [sic] approved", which appears to mean that the RSPCA approves of cage-held chickens.
But that wasn't the end of our shopping spree. After the dentist we went to Bunnings and bought some bulbs (various Iris) and a Hibiscus rosa-sinensis with the confusing labelling "Flamenco™ HibiQs Hibiscus sinensis Arion Arionicus", which I presume means cultivar Arionicus. We checked out at the do-it-yourself checkout, which works well if there are no questions to ask. But the Hibiscus didn't have a bar code on the label:
Do the checkout scanners understand QR codes? Yes, they do. Unfortunately, the software behind them doesn't:
Isn't the information age fun? We finally found a bar code on the pot.
What did that QR code on the Hibiscus label really say? According to the POS terminal, it was HTTP://GOO.GL/3P4sP. Is that correct? Took my not-so-trusty Samsung GT-I9100T smart phone and tried again. When I press the power button, it shows the camera:
But first I need to steal swipe (in other words, wipe) the screen. And then I see this:
| | |
| --- | --- |
| | |
No camera to be seen! First I have to swipe some more. Yes, this is Samsung's fault, but what do I care? The whole "experience" is just painful. And when I've taken a photo, there's no obvious way to process the QR code. Asked on IRC: yes, you need an app to process it. OK, off to the toyshop to look for some. They all seem to have the same name, something with obvious names like "Barcode scanner". I tried two different ones, and they had difficulty adjusting to the exposure on my monitor. Finally I tried Google Goggles, which also had difficulties initially, but snapped out of it. But I still needed to recognize the URL (which, modulo capitalization, was the same as the POS terminal reported) and select it. Then I had the choice of what to do with it: "open" it with firefox or "Internet". It didn't really make much difference: neither app could "open" it. That's at least partially due to the site itself, but on a desktop it at least displays something (freelance whales? What does that have to do with flowers?).
I've been fighting "smart" phones for nearly five years now, and I still hate them. But they're the big success story of the last decade. If I'm one of the few people who dislike them, the obvious conclusion is that the problem is with me. So I've been trying again and again to find a use for them. And again and again I fail. I think that it's because I've been round computers too long, and I expect them to do what I want, rather than having to put up with reimposed limitations that I have worked around decades ago.
2½ years ago I considered the pros and cons of Android, in this case compared to a Microsoft "Windows" tablet. I decided against the tablet, but it's worth looking at the Android functionality again. Then I established:
Normal computer functionality: works, but the lack of a keyboard is a real pain. And that was with a 10" tablet. With a phone it's as good as useless.

Phone: yes, works. So does a dumb phone, and the basic interface is simpler.

Camera: yes, works, and I used it today. But really a standby rather than something useful.

Networking: yes, but very limited, especially in view of the other issues.

GPS navigator: hardware seems good, but the available software is abysmal.

Document reader: bearable on a tablet, unbearable on a phone.
So it looks as if a single device can't do what I want. I need three:
Smart phone for phone calls and emergency photos.

Dedicated GPS navigator, which costs in the same order as the better (as opposed to good) smart phone apps.
It's been 5 months since I last made breakfast chicken wings, and we've run out. Yesterday Yvonne bought some more, 2 kg of them (on special). What changes? The big issue with the wings is the joints, which take a very long time to loosen up. So I changed the recipe slightly: 82° instead of 78°, and also a bit of sesame oil.
Into the office this morning, pressed on the keyboard to wake the computer, and ... nothing. On further examination, everything was dead.
Another power failure? No, I had already washed, requiring water from the pump, and that ran fine. But the office UPS was dead. Component failure? Turned it on again and things came back—for a while. Then it died again.
OK, connect the computer to the power point for the UPS in the shed. Also dead. But the lights were working, and they ran off the same UPS.
Into the garage. Two circuit breakers had tripped: one for normal power (the one that fed the office UPS), and the fourth of the four from the in-shed UPS. Why that? My guess would be a power surge, but why should the UPS-fed circuit breaker trip? Looking at the plan, the only things fed by that circuit ("Battery circuit 1" in the plan) are the power points behind the computers (bottom left, not in use), the ones by the office door (also not in use), and the ones for the switches in the pantry. The total power is probably in the order of 15 W. What could cause the circuit breaker to trip? It could have been leakage current, and I forgot to check the indicator. Alternatively, it could have happened when I plugged the computer into the socket.
In any case, rebooting eureka gave me the opportunity to re-enable USB 3.0 on the motherboard, which worked with none of the problems that I had three years ago, and two of the disks probed correctly as USB 3.0 (the third was only USB 2):
Put in the USB hub that I bought last month, with limited success. My camera was recognized:
But one of my backup disks didn't probe; no messages at all. Strangely, the other one, apparently identical, did. Yet another thing to keep my eye on. About the only thing of note is that it's almost certainly not Jim Lannen's fault (for once), and only marginally Powercor's.
despair, my Microsoft box, is usually hibernated, and it recovers completely from power failures while hibernated (one advantage of Microsoft). But it seems that I had forgotten to hibernate it last night, and it failed badly on recovery: it wanted "Startup Repair".
What's that? It claimed to be able to do it by itself, so I let it go. Something like 5 minutes, apparently without disk access. And then it rebooted, and all was well. I suppose that's good news, but I'd feel more comfortable understanding what it did and what the risks are.
After restarting dischord, I wanted to run DxO Optics "Pro": that's about the only thing I use it for. And I got an error message, one that I've seen before, something like "DxO Optics Pro is unable to start: this is usually becase DirectX 9 is not installed".
Did I have disk corruption after all? No, it's just fake news. The real issue was that the system was very busy after startup, and something timed out. And instead of checking, the error routine just jumped to conclusions. Sloppy programming.
Later in the morning I heard a high-pitched beep from somewhere in the kitchen, one of those tones that is almost impossible to locate. Finally I decided, correctly, that it came from one of the fridges. But why? Door left open? Possibly, but when I ensured that it was closed, it didn't make any difference. After careful examination of the panel inside the fridge I found an "alarm reset" button. Pressed that, and it went away.
Is that really necessary? Somehow domestic electronics ar getting to the point where non-technical people can no longer cope.
When Yvonne started preparing the chicken thighs I bought yesterday, she was in for a surprise:
| | |
| --- | --- |
| | Image title: Chicken unfil |