So once again I have a NetBSD, kimchi.lemis.com, currently with two issues: despite installing MySQL, I can't find the header files needed to build my weather station software software, and it hangs on boot unless I disable SMP. Decided to address the second problem first. Where do I get the system sources? There's a program called sysbuild that I hadn't heard of before, but it's not overly convincing:
OK, more RTFM. That was more successful. Basically it's the way that we used to do it in FreeBSD, using CVS. And of course it ran all afternoon.
Also more investigation of the Emacs mouse positioning stuff. Discovered that when I pressed mouse-9 as an input to local-set-key, it was recorded as:
I need a function that returns less of the context in which it was pressed.
It has been clear for a while that the Great Leader is having difficulty leading his country, and it's becoming clearer still that he can't even keep his house in order. I liked this one, from the New Yorker: There's a very good question as to how many potential replacement candidates exist.
Up earlier this morning, in time to catch an unusual sight: the sun rising over fog mist to the east:
Of course, that was a challenge, and somehow I needed to improve on it. First, a panorama, seen from my office window:
But the exposure varied by over 3 EV from left to right, and Hugin complained as a result. OK, that's what HDR images are for, so had another attempt:
None of this was helped by the fact that the sun was rising, and in the nearly 3 minutes between the photos the light changed completely. In many ways the second image looks best, but there's a strong colour cast. This looks like a candidate for selective colour correction.
Mick the gardener along again this morning and did some planting and general tidying up. Gradually the place is less of a mess.
One issue: we asked him to park his car in front of the shed, so that he wouldn't obstruct cars coming out of the garage. But he parked far closer to the garage, so Yvonne took the opportunity to reverse her car into his. Damage: none on Mick's car, broken tail light and dented rear left wing on Yvonne's car, cost about $550.
My neck has been getting stiff again, so off into town this afternoon to see Heather Dalman again, the first time in over three years. She seemed concerned about having been too forceful, but it didn't seem that way to me, and I didn't feel much difference afterwards. Looks like there'll be a number of visits.
I got the timing of my physiotherapy appointment wrong and left an hour early. What to do? Started to turn around, and then decided to do a bit of looking round Ballarat. Not a good idea. Went to The Good Guys and JB Hi-Fi again looking for cheap amplifiers, maybe special offers, but there was nothing at all at The Good Guys, and JB Hi-Fi still didn't have anything below $300.
Why are these things so expensive? At The Good Guys I found some cheap "Mini Hi-Fi" units for round $100, including CD player and loudspeakers, and some even had RCA sockets. That would have done: my main purpose is to be able to switch inputs from various computers. But it proved that the RCA sockets were outputs for some multi-channel units that I didn't investigate any further. Somehow my wishes don't match marketeers' expectations.
Then on to UPI to discuss our irrigation system. Since my visit to the Ballarat Pump Shop a couple of months ago, I've been wondering how to fix the issues. One thing has become increasingly clear: they blotted their copy book with the sale of the unit that was inappropriate to the task. What replacement I get will come from elsewhere. Spoke to Nick Barry, who gave me the alternatives: larger pressure cell for the pump (60 l, from memory $350 odd) and a pressure limiting valve (another $350). Alternatively, a 1000 l tank ($500), pump ($285) and level valve ($185). That's more expensive, but looks like a better approach. But it's so expensive! I'll have to look for alternatives, including second-hand tanks.
I've been scanning old photos for months now, and until now I have made very little progress. I need to be much more rigorous in my methods. Today I think I finally got on top of it:
Scan the photos as "48 bit color" at 2400 bpi in the Epson "Perfection" 4990 PHOTO scanner, with the options set 0660 (on, on, off, on, on, off)

Reset the counter to 1 at the beginning of every film, so that the image numbers match the frame number on the film.

Move the images to a directory ~/Photos/Films/<date>, where <date> is the date on which I developed the film, or when I removed it from the camera. Today it was the former, 19640826.

Add a comments file README in that directory, at least specifying the film.

For each day on which I think I took photos, create a directory and link the photos to the subdirectory orig:

=== grog@eureka (/dev/pts/38) ~/Photos/19640816 77 -> ln ../Films/19640826/I03*.tif ../19640816/orig

Process the images with DxO Optics "Pro". So far it seems that "DxO Standard" gets the best results.

Run through my contact print method, as with modern photos.

Modify the resultant Makejpeg file to include information that nowadays would be in the EXIF data, as far as I can reconstruct them:

I022_DxO Greg 0 d F 8 a Beverley_Lehey FL 45

These codes are understood by createexif:

d Set image date to date implied by directory name.

F 8 Film 8 (Kodak Plus-X Pan).

a Beverley_Lehey Author name.

FL 45 Lens focal length 45 mm.

Run createexif:

=== grog@eureka (/dev/pts/38) ~/Photos/19640812 78 -> createexif.php -c
exiftool -overwrite_original_in_place -TagsFromFile Greg.jpeg '-all>all' -title=Greg -DateTimeOriginal='1964:08:12 00:00:00' -author='Beverley Lehey' -usercomment='.Film: Kodak Plus-X Pan' -focallength=45 -iso=125 Greg.jpeg
=== grog@eureka (/dev/pts/38) ~/Photos/19640812 79 -> createexif.php -c | sh

Convert and optimize the images as usual.
So the install image on kimchi doesn't understand something about SMP on the board, and I have to boot manually every time. Sure, I could probably find a knob to tweak to turn it off by default, but it makes more sense to bring the system up to date and be able to use SMP. So after checking out a source tree, I did a make build. Not what I expected:
What's line 5?
Nothing obviously wrong there. Am I using the wrong make, maybe? In any case, this is not quite the polished interface I had expected.
My experience with NetBSD was somewhat underwhelming. But how about OpenBSD? I was never a member of the OpenBSD team, and thus have used it even less. But it's worth a try, if only to compare it to NetBSD and FreeBSD.
Once again a tiny image, leaving much space on a CD-ROM. The install programs don't seem to have changed since last time I looked at them, which must have been over 10 years ago. They're decidedly primitive by modern standards. At least it didn't trip over SMP.
Partitioning the disk still believes in CHS geometries. It recognized the NetBSD partition, and offered to create a second partition that overlapped. When I finally got it to create one that started afterwards, it gave me the most amazing file system layout:
9 file systems on a single disk! By contrast, the NetBSD installation, in a partition of the same size, has a single file system. Yes, I've discussed that with the OpenBSD people in the past, and we agreed to differ. Should I fix it? No, for the time being it's easier just to take the defaults.
The next step showed another rough edge:
Where's SHA256.sig? Not there, clearly. Why not? I had to specifically answer yes to continue.
The installation then proceeded normally, and I was able to reboot. No choice: ran into the NetBSD boot, and once again hung because SMP was enabled. How do I choose how to boot? I knoew how to do it with FreeBSD, but the OpenBSD documentation only tells me how to coexist with "Windows" and Mac OS X macOS. I suppose I should install the FreeBSD boot manager.
I'm reminded of this xkcd cartoon: It carries the title "40% of OpenBSD installs lead to shark attacks. It's their only outstanding security issue".
I've been tempted several times to play around with photo drones, but it looks like a can of worms. My one attempt wasn't exactly successful. This article, currently the first and only part of a promised three-part series, looks helpful.
My lack of success with installing NetBSD and OpenBSD got me wondering: what about Raspberry pi? I was given one a few years ago, but I never used it. Is now not the time?
The FreeBSD Wiki page was not easy to understand. It seems that I need two partitions (MBR and FreeBSD), and there are ready-made images on the FTP site, though not at the address specified on the page. But what's on the image? Do I still need hooks?
Downloaded the image, which has xz compression, and copied it to the SD card:
3½ hours to copy 1 GB! I don't know when I have seen such slow speeds. Is there something wrong with the SD card? I may find out when I get a power supply for the device.
Off walking the dogs today, through a little drizzle, so I put my hat on. Yvonne found that amusing and took a photo where it's barely visible, but the dogs look amusing:
I'm surprised that any details of me are visible at all. The wide angle has become a long telephoto, and the 20 MP have become 75 kP.
My problems with the Logitech M705 MARATHON mouse continue despite my attempts to limit it by software. I need to look more carefully into the logic to understand how the daemon works, but two things are clear:
Not everybody can suffer from these problems, or Logitech would be out of business. On the other hand, it happens with multiple mice, so it could be a software issue.

The problem appears to occur when the mouse moves from one screen to another. This might partially explain why it doesn't happen to everybody, but that alone wouldn't explain it. It does, however, make me wonder about the interaction between

X

and

moused

.
Sometimes I thought that we may have made a mistake buying Sasha. We had always planned to have only two dogs, and after Zhivago died, that's what we had. But then Sasha came along, the last of the Zolotos, and so we made an exception.
But somehow three dogs are really too much. Reluctantly we've thought of getting rid of him again, and when Chris Bahlo's sister Melanie came along, Yvonne decided that she was an ideal candidate: family with two boys, have one dog (a greyhound), and able to look after another.
Today Melanie came along for a visit and dinner, and she got to know him.
They haven't made up their minds yet. Husband Tony and (one) son Will are coming tomorrow to take a look at him, but it looks as if his days here are numbered.
Today was house photo day, and I finally wanted to GPS tag the images. I've spent some time trying to get my head round the details of Olympus OI.Share's GPS tagging. It's a modern system, so of course it's not documented. I'll try to document it at some later stage.
What I've found so far is: the bottom panel of the main display offers "Add Geotag":
That's more than inaccurate. If you turn the slider "ON", it enables GPS logging, no more. The important thing is that at this point the camera isn't involved. If it's on (and only then), the left side of the area will display an explanatory text:
That doesn't make any difference. Either way, if you press the left part of the display, log files exist and a camera is connected, it will offer to update the images for you.
And that seemed to work, faster than I expected for the 123 images I wanted to update, only in the order of 10 seconds.
After processing, I was more than a little interested in how accurate the positioning was. After all, I was moving around, and the difference in time between the phone and the camera could result in incorrect position information.
In fact, with one exception they all appear to be correct. Only the first image had the same location as the second, about 30 m away. Further investigation showed that the time in the camera was accurate to within a second, which suggests that the phone had updated the camera time. That makes sense, but when? Something to investigate.
The other issue was that the images all displayed incorrectly on Google Maps. This one was taken from the south side of the house:
But Google Maps "map" shows it roughly 20 m north of that place, and the "satellite" view shows it about 10 m south and 5 m west:
Clearly that's a Google problem. When it goes away, hopefully my locations will be correct.
What else does the OI.Share "Geotag" function do? It shows a list of logs, back to front:
What can you do with them? It's obvious, isn't it? Otherwise it would be documented. But it's not obvious to me. Press on on of the blue buttons on the left hand side and you get a display that is presumably intended to be a map:
But that's more than puzzling. It shows only four points. What does the cyan circle mean? What do S and G mean? S could mean start—that's roughly the direction I took for my photos, but that doesn't explain G, and there are fewer points than the number of photos.
But how do I access the logs? This blog explains some of it: "share" them! That's what the wishbone at top right offers:
OK, Email looks like the best choice. But what a choice!
Where did SMTP go? In the end I gave up just trying to transfer the 50 cm between phone and computer, and went round the world to use Gmail (and explicitly not Email), prompting one of Google's usual stupid messages telling me that somewhere in Australia, somebody had accessed my account from an unspecified Android device:
For whatever reason (they never state them), the transfer failed.
What about AirDroid? For that I need an account. Sorry, too hard. Why, oh why, are Android devices second-class citizens when it comes to moving data? Tried with AirDroid, but I couldn't even find the logs, though I did find gigabytes of old log files from some other unspecified app.
What about "WiFi direct"? Even the name turns me off. Why should a transfer method have anything to do with the link medium? This page, from Samsung confirmed my fears: it's designed for a deliberately limited set of devices. Highlighting is original:
Wi-Fi Direct™ is a wireless technology that enables Wi-Fi Direct devices to connect directly to one another. This means users on the go can print documents, share data, sync files, and display information from notebooks and netbooks, as well as from devices like smartphones and tablets. Products certified Wi-Fi Direct can connect to other wireless devices without joining a traditional wireless network or Wi-Fi® hotspot.
In other words, modulo network layer and limited connectivity, exactly the purpose for which ARPANET was developed nearly 50 years ago. They don't say why they have seen fit to reinvent the wheel, one that can't run on anything but their own tracks. This page went into more detail, but came up with the conclusion that it's a one-way transfer.
Further searching brought me to WiFi File Transfer, which seems similar in function to AirDroid. But when I installed it, it found the log files instantly. Why? I don't know. Both give a typical directory tree display, but somehow (currently, anyway) I find the WiFi File Transfer display better.
While I'm there, what about shell access to Android? I failed on that in the past because the apps wanted me to root the device, something that I'm reluctant to do. But today I found SimpleSSH, which runs as a normal user. Installed it and tried it out, and it seems to work, though as usual with ssh. Still, those two apps make life with Android more bearable.
So finally I had my GPS logs where I could look at them. In the process, ran across a mail message from Gmail: my logs had finally come through, though I didn't see them in my Gmail list.
Either way, they're rather strange:
What's that? Hambier's blog tells me that they're NMEA 0183 format "sentences", probably the native format of most GPS receivers. The $GPGGA sentences are "fix information", in other words information specifying time and location. The $GPRMC are described as "Recommended minimum specific GPS/Transit data" on this page. Another is this page. Both make clear that they're not official, but I haven't found a good official version.
There's also a converter for people who like cutting and pasting, and there's a set of C library functions for converting them, without documentation, and with a forum that has been inactive for over 3 years. It's nice to know that the stuff is there, and I installed the library, but without documentation it's not the easiest thing to use.
I've had four Pentax cameras over the course of time. It wasn't overly clear to me in the past, but by coincidence I bought them all at the same time of year, as evidenced by mail from my cron jobs in recent days:
Tony, Melanie and Will along today to get to know Sasha and take him home with them:
All in all they weren't there for more than 10 minutes. I hope all will go well.
For some reason I developed "toothache" today, somewhere localized round my right lower wisdom tooth. By mid-afternoon (about 15:15) it was so bad that I took painkillers, 1.3 g paracetamol, something that I almost never do. I needn't have bothered this time, either: it seemed to make no difference whatsoever.
In the course of the afternoon it became clear that the pain wasn't coming so much from the tooth as from the gums, notably on the front side. OK, how about trying to disinfect it? Round 18:00 used some chlorhexidine rinse that Leela Movva had given me 5 years ago, coincidentally for treating the same area.
And how about that, an hour later the pain was completely gone! That seems too long to attribute to the paracetamol, but I'm surprised that the inflammation could go back so quickly. One way or another, it's off to see Leela tomorrow.
Off to Geelong to see Leela Movva this afternoon, who told me that the area (wisdom teeth) is a problem, and that I would need to clean it with a compact tufted brush, which he gave me. It's not clear how it will help, but it's worth a try. He also cleaned the area, something that, despite anaesthetic, was excruciatingly painful. Hopefully I never have to suffer this again.
While in Geelong, also dropped in to the groceries in Belmont. Bought some masa harina at the Indo-Asian grocery, though it appeared to be expired: use-by date 12/02/2017. But no, this stuff is made in Texas, where they count the days differently, and it still has (only) 4 months to go.
Also some dofu at the Malaysian place, and also some frozen dumplings, some of which we ate in the evening. Not a revelation: the "pork buns", which I assumed to be chashao bao, were just a lump of minced pork in bread. The others, ginger prawn, weren't bad, but not to Yvonne's taste. Maybe I should just give up buying prepared foods.
Off to Enfield this afternoon to visit Petra Gietz, who needed help with her ISP changeover. She had had an account with Telstra which covered Internet, (VoIP) telephone and mobile phone. She changed her Internet and "landline" phone to Aussie Broadband a while back, but Aussie's mobile phone packages are more expensive than I like, so (also on my recommendation) she bought an ALDI SIM card. But she was puzzled by the heavy data usage on her phone, so I decided to check whether her router was still accepting 802.11 connections.
I made the mistake of bringing euroa, my Microsoft laptop. What can I do with it? The router has WPA encryption, of course, and though Petra must once have known the key, she no longer does. And Microsoft is really pretty useless for looking at networks. In the end I gave up and used her laptop instead, and that seemed to work fine. And of course it occurred to me that her mobile phone should also show the same SSID, and indeed it did. So all that was fine.
The only further issue was to help her through the registration process for the ALDI SIM. For that she needed her phone bill. It seems that Telstra stopped sending her paper bills about a year ago, so the bill she actually showed was for this time last year. What a price! No wonder she was happy to change. But it was interesting to look at the costs: mobile calls to non-Telstra mobile phones cost $0.85 flagfall. I wasn't able to establish the time charges, but on the other hand they're capped at $2.00 per call. Given that some of her calls lasted for over 20 minutes, it's not clear that she'll be better off with ALDI. But why do people use mobile phones when they can use normal phones? My bet is that it's because, until recently, line rental was so expensive.
One thing that the experience brought home to me was how difficult it is to use Microsoft-based systems. Not something that had eluded me before, but that's in my environment, where I have a higher resolution display. The ALDI registration page was too big for the display, and navigation was just plain painful. The only explanation I can think of is that people don't know any better.
Petra Gietz gave us some flower cuttings a while back, but Yvonne didn't know what they were. As a result, we don't know where to plant them. She had asked me to take some photos of the originals while I was there. Problem: Petra didn't know what plants she was talking about, and all I had was the location ("in front of the house"). Here's what I got:
Unfortunately none of them are what Yvonne meant, but we might ask Petra for some of the calendulas.
On Saturday I finally got some sense out of GPS tagging with OI.Share, and also discovered something about the log format. I even installed a C library of conversion routines.
When I went to Geelong yesterday, I turned on GPS reception and OI.Share logging, in case I took any photos (I didn't). But when I got back, the log was empty, something that so surprised OI.Share that it hung with a blank screen, and had to be stopped. Why didn't it log anything? Have I forgotten some magic handshake? So when I went to Enfield today, I enabled another logger with the descriptive name GPSLogger. A search in the toyshop gives 12 hits, 5 of them positive. How do I find which one it is? Nothing in its "help" helps. Neither does "App Info" in Settings. In the end I had to match the icon with the icons in the toy shop display: it's GPS Logger for Android with the supplemental text "Mendhak", which may be related the source of the app.
GPSLogger logged, displaying in a human-readable format. In this particular case, I'd almost prefer the NMEA 0183 format, since I had installed the library. But the library comes with no documentation whatsoever, and I haven't been able to find any. Looking through the sources suggests that it conveniently converts the data to the lowest common denominator, XML, presumably with an equally undocumented format. It would be easier to write my own conversion routines than to learn how to use it. Either way, if I have to process log files, I'd prefer to only do it once, so NMEA 0183 still makes sense.
Back home, the OI.Share log was still empty. And the GPSLogger log? I couldn't find it. Why, oh why, are these Android apps so opaque?
Yvonne was the first in the kitchen this morning. The drinks cupboard looked like this:
Yesterday evening I had opened a "cask" of red wine, and had noted that it was leaking a little. That happens sometimes, and to ensure that it didn't cause any problems, I had put it on a plate. But this amount of leakage is an order of magnitude worse than anything I have previously experienced, and the plate wasn't enough. Here's what the cask looked like after we had removed some more of the wine:
I wonder if Berri have had a bad batch of packaging.
Two more letters from Centrelink, the obfuscatory name for some parts of the Government Social Services. Our dealings with them relate to pensions. Only two weeks ago they had wanted copies of our German pension certificates, along with the date that we received them. Yes, I recall getting them: they also wanted proof that we were still alive, to be attested by somebody who had never seen us before. But when did we get them? How do we know? Do we care? Why should they care? So we wrote 7 July 2017 on them as a best guess, though I now see that it was earlier.
Today they wanted "income stream" stuff. I recall that: that's for our superannuation fund, so I got Yvonne to drop them off at the accountants. But in the evening I got an email from Peter O'Connell saying that it was referring to the German pensions. Why that? We sent in what they wanted. And why a different heading to the letter? Peter agrees with me: they're a pain, and he thinks they're getting worse.
Why did OI.Share stop logging GPS data, although it was switched on? No idea, but possibly because it lost signal. That's no excuse, of course: it should just have logged the fact and continued when the signal returned. As it was, I turned logging off and then on again, and then it continued. No idea whether the two occurrences are connected.
Then off round the garden looking at what GPSLogger showed me. Almost no updates; I could walk the 50 m from the house door to the front gate without it showing any different location. That's clearly not OI.Share's fault. Time to try with my old Android tablet.
I've had my Vanguard ALTA PRO 263AT tripod for two weeks now, but I haven't used it. Today I finally found a use. Somehow the undercarriage of the lawnmower has been damaged, and I needed photos to send to CJ Ellis:
The rod hanging down to bottom right should fit in the hole in the yellow flange (which is on the cutter assembly). But not only is it disconnected, the flange on which it is mounted is also bent, as the comparison with the other side shows:
All well and good, but how do I get these photos? I'm too old for grovelling on the ground. And that's where the tripod comes in:
The combination of titling main column and legs that can extend to almost 90° mean that I could position the camera down the ground. The only thing was that I had to position it in landscape mode:
It wasn't until later that it occurred to me that I could have put it upside down below the ball head. But all in all, a remarkably easy setup. For once it's difficult to find anything wrong with the tripod, apart from the instructions.
In passing, this is also a situation where remote control with a mobile phone is a big advantage. It's just a pity that the software is so irritating.
Petra Gietz along today, it would seem to visit the dogs: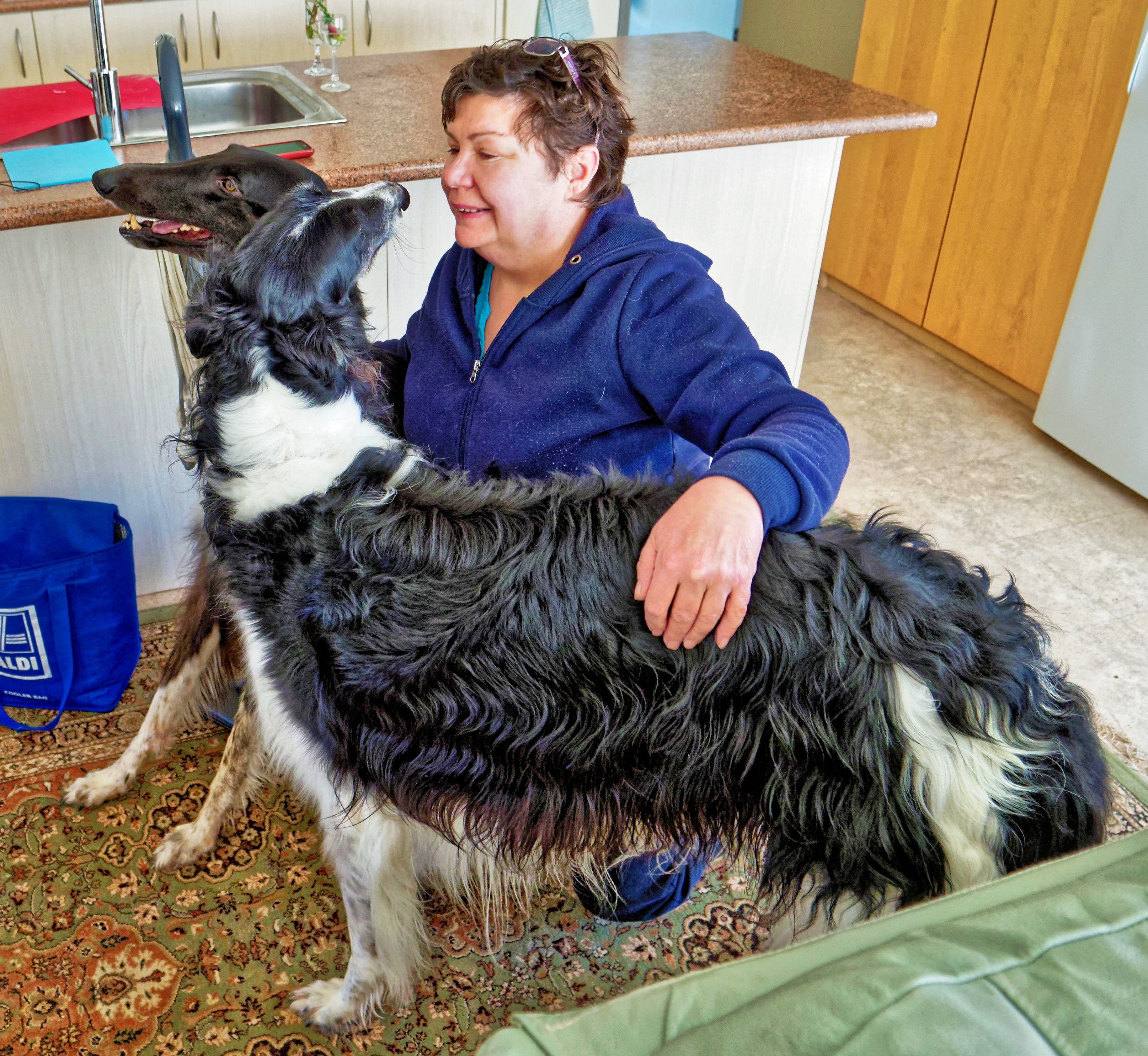 While she was here, I took a look at her phone to establish whether her new SIM card had been activated. I failed in that due to lack of coverage, but looking at the phone brought a surprise:
"Please turn off WiFi [sic] in your settings to get the latest data usage". What a declaration of bankruptcy!
I've had my Olympus OM-D E-M1 Mark II for over 5 months, but I haven't bought a spare battery for it yet. In the past after-market batteries appeared within a month or two of the camera, and for the Olympus OM-D E-M1 Mark I I received new batteries within three weeks of getting the camera.
But it seems there's more intelligence in the BLH-1, and so far nobody has come out with a lookalike. That's a pity: the lookalikes cost round $20, and the originals starting round $100. But it's about time that I got a second one, so on Sunday I decided to buy the first one available for $100 or less, including postage.
Even that seems difficult. There's a continuous offer on eBay for $95, but they want $12 postage. The name of the seller is familiar, though: digidirect2013. That's the company (http://www.digidirect.com.au/) from which I bought Yvonne's Olympus E-PM2 three years ago. So I went to the web site, and sure enough, there's the same battery for the same price (why?), but with only $9.90 postage.
Tried to order it. It seems I had had a password, which I had forgotten. OK, send me a new password. They do it differently here: I enter a new password, and they send me a message which I need to use to confirm it. That sounds sensible, but it didn't work well. After authenticating, I pressed "Continue" as requested, but nothing obvious happened. It wasn't until later that I looked and discovered that each of those presses had generated a "password changed" email. Web programming issues, apparently.
Then I discovered that, not surprisingly, the saved address was the Kleins Road address. OK, change it. For some reason it had forgotten the state, but I could add that. Not to the web site's satisfaction, though:
I couldn't get past that. Is this a browser sensitivity issue? Tried on Microsoft with "Internet Explorer" and got the same result. About the only thing I was able to establish was that their "shopping cart" is implemented with cookies rather than with customer-related information. Sent them an error report, which arrived back here in copy as:
I've been trying to buy an item for half an hour how, but your software won't let me enter my address. It tells me "Must enter state", although I have entered it.
The answer?
## Your ticket is now solved! ##

Message:

Hi Greg. I am unsure on what the issue would be. All I can reccomend is to clear the cart, refresh you browser and start again. we have been recieving orders all week end from others. I am usure on what else to recommend
"Solved" indeed! Or is it usury? You'd think that they'd care about being able to sell online. In the end I gave up and created a new account. That worked, though their clever web software (there's altogether too much of that around) wanted to sell me suitable accessories to my battery:
I wonder where they get this nonsense from. But it's a hard way to save $2.10.
Off to Ballarat today for another massage physiotherapy session, notable mainly by the fact that my health insurance covered the costs with the exception of the last 80¢, which I had to pay myself ("gap"). What a small sum! Even the receptionist was surprised.
Going in to Ballarat was an opportunity to try more GPS logging with the camera. Fired up my old Android tablet and started installing stuff on it. Surprise! OI.Share didn't want to install: the device is not compatible, it says. Why? I've run it on this tablet before.
The whole thing is silly. One issue, of course, is that OI.Share uses GPS navigation, which won't work without the corresponding hardware support. But a phone or tablet without GPS could still work as a remote viewfinder—if only they would let it. What's wrong with my tablet now?
While installing GPS Status I discovered that the tablet doesn't have a compass. I had suspected something like that, though I've never seen "compass" on any spec sheet. Is that the reason it now refuses to install?
Alternatively it could be simply that the GPS receiver wasn't active. But it should recognize that. One way or another, Yet Another issue with OI.Share.
I ran GPS Logger on both tablet and phone. Yesterday I couldn't find the logs, but today I discovered that its "Detailed View", which gives mainly status and not much in the way of log information, also contains a path name to the log file! /storage/sdcard0/Android/data/com.mendhak.gpslogger/files/. What a relief! Why do people hide this information? A big plus to GPS Logger, anyway.
The files themselves are the date with extension, 20170810.gpx for today's log. I had expected the information to be in NMEA 0183 format, but no such luck. It's XML, specifically GPX, as the extension suggests:
It has the advantage that it is (barely) more human readable than NMEA 0183, Putting it through HTML tidy (which has an -xml option) makes it much more readable:
That also points to a bug: it claims that the times are Zulu time (Z at the end), but in fact they're local time. I wonder if there's a canonical workaround for that.
On the other hand, it's a lot less machine readable without an XML interface library. I suppose I'm going to have to investigate that. Maybe I'll find software that will use this to update EXIF data, which would make me completely independent of OI.Share.
For yet another approach, I turned on logging on my car GPS navigator. Getting at that reminds me of the fun I had when I got it. Firstly, the medium it presents is not a file system, and I can't find a way to access it from FreeBSD. On Microsoft, I found a file Primo<space>2.4\SAVE\STATS\USAGE.LOG, which Microsoft claims is a Text Document. Not so, unfortunately. It starts out:
Still, potentially that, too, can be processed.
As planned, spent some time looking for alternatives for GPS tagging photos today. It didn't take long: exiftool has built-in GPS tagging. That's particularly good news, since I use it anyway, and the whole thing is easily scriptable. I'll try it with my house photos tomorrow.
This morning received a call from Quintin, surname still unknown. He's interested in buying a property in Dereel, and he wanted to know the status of mobile phone coverage in Dereel: he had read my Dereel pages, and was fully aware of what Wendy McClelland had done. He was also calling from a mobile phone, which was very evident from the poor sound quality.
What he didn't know was where Wendy or I live. The house he's looking at is 74 Progress Road, 318 metres from Wendy's house, and only 200 m corner to corner. And we're on the other side, only 230 m boundary to boundary. Round here, that's almost next-door neighbours.
For the fun of it, walked the dogs up there in the afternoon. Passing Wendy's house I saw a sign at the inner gate, completely illegible from the road. But that's what telephoto lenses are for:
So it seems that they are still there. I haven't heard anything from her in over 4 years, and we were wondering if they still lived there.
At number 74, a foolhardy toy poodle ran out barking furiously, followed by owner, so we got down to a talk. It seems that he is planning to move to Perth, and he has had another visit from Quintin, and is expecting an offer on the house.
Sudden rain shower on the way back, and for the first time in a long time we arrived home quite wet.
Mail from Michael Hughes this morning telling me about exiftool's built-in GPS tagging. And of course I took my house photos—without taking the mobile phone with me. There are so many small details in setting up for taking those photos that I almost think a checklist is a good idea. I suppose I should get used to carrying the phone with me whenever I take a camera.
The other thing that interested me was time synchronization. When is it done? The sensible thing to do would be when the phone connects to the camera for any purpose. But the other (non-exclusive) possibility might be to do it when tagging. That would also require resetting the times in each image, which could be slow and complicated.
Today I tested the first hypothesis: I set the camera time 3 minutes off and connected it to the phone. Yes, it reset the time. That's good to know. It also re-tagged the photos on the card, which had already been tagged.
Now to consider how to manipulate GPS tags in existing photos.
Our lawnmower is damaged: it must have hit something hard, and one of the rods holding the cutting assembly was knocked out of its mounting, probably because the flange holding the other end got bent:
The second image shows the bent flange, and the third one shows its companion on the other side. I sent CJ Ellis an email about it, and within a couple of hours he were here to pick it up.
Gradually I'm coming to the conclusion that my experiments with "instant" South-East Asian foods were a failure. About the only exception is laksa. But how much more work would it be to make the thing from scratch and freeze it in individual portions? Did some investigation and found this recipe, which I should try. In general Rasa Malaysia looks like a good site for recipes. It's Malaysian-based, so at least I can be relatively sure that the recipes are authentic.
Finally things are warming up. Today we had a maximum temperature of 18.2°, and it's sunnier. Spring flowers are also well on their way:
And then there are the orchids. Or are there? The first photo definitely shows some kind of Pterostylis, but what are in the second?
While walking the dogs, a big black SUV came past and asked me if I were Greg. Yes, guilty as charged. It was Quintin, with whom I spoke yesterday. He has made an offer for the house and it has been accepted. Now he's trying to decide whether he wants to buy the house. He's having the building inspected, but I think he should also get an assessment of bushfire danger. The house is surrounded by woodland for kilometres to the north and west, the danger area.
Today, while walking the dogs, I remembered to take my mobile phone with me, and logged the locations of my photos. And how about that, tagging Just Worked. It's so much easier than using OI.Share. Here's the procedure:
At some time, set the camera time accurately. OI.Share will do this if you connect the camera to the phone. Then you can disconnect again.

Take photos as normal, ensuring that the phone is nearby.

When reading in the photos, also read in the GPS log. Using WiFi File Transfer has another advantage: you can specify the directory in the URL, so for loading logs created by GPS Logger for Android from my phone (talipon.lemis.com), the URL is http://talipon.lemis.com:1234/storage/sdcard0/Android/data/com.mendhak.gpslogger/files/. The log file name is the date (YYYYMMDD) with the extension .gps.

Currently I'm storing the log files in the orig subdirectory, so after converting the images to JPEG I just need to write:

=== grog@eureka (/dev/pts/38) ~/Photos/20170813 207 -> exiftool -geotag=orig/*.gpx orig/*.jpg

That can be put in a script, of course, so it no longer needs to be done explicitly.
The good thing about this procedure, apart from minimal fiddling with OI.Share, is that it works for just about any digital camera. The only issue is setting the camera time correctly, and there are many alternatives for that.
And that's it! Well, almost. What if I don't have a log? My photo of Wendy McClelland's sign yesterday was worth tagging, but I didn't have a log. Started writing a program that can set the tags. Currently it works for Google Maps URLs, assuming they're correct—frequently they're not, for example when you select "What's here" and click on the coordinate link.
Next I need to modify it to set latitude, longitude and altitude individually.
Some years ago somebody gave me a bottle of Chimay beer, probably before I left Wantadilla. I've been waiting literally decades to find an occasion to drink it. But today I opened it by accident, instead of the planned Coopers next to it.
It tasted good, of course. And probably it was time to drink it. The label states that it was brewed in 2005, and would keep at least until 2010. But there was no reason to believe that it had deteriorated in the following 7 years.
Over the last few days I've come up with a couple of interesting maps. The first is a submarine cable map that gives some idea of how communications get round the world. It may also be interesting to consult if one of them fails.
The other is an antipode map, more fun than anything.
I've grumbled frequently about the quality of documentation for the Olympus OM-D E-M1 Mark II, and I'm half-heartedly trying to write something better. In the meantime, this page goes into detail about some things that I hadn't considered, mainly related to autofocus.
Off before breakfast this morning to take Yvonne's car in for repair to the damage done two weeks ago. While we were there, off yet again to furniture shops. In the process we learnt a couple of new words: "Tchéise", an adaptation of "chaise longue", meaning the leg extensions in lounge suites—I had thought that that was an ottoman, but that seems to obsolete usage. The 1911 Encyclopaedia Britannica knows it, and so does the German Wikipedia, but the modern English meaning of "Ottoman" is "footstool" The other word is "parachute", a rip-cord-like handle for operating a reclining armchair in the middle of a suite.
We're gradually coming to the conclusion that chaises longues aren't worth the trouble. We can just as well use a cushion (or an "ottoman"?) for our legs. But we're no closer to what we want. Here's one that we have looked at, not for the first time:
But do we need the corner piece? I'm beginning to think that we don't. Somehow we're no closer to a choice than we were a couple of years ago.
Cameras are getting tougher. This one recorded itself being chewed by a Sumatran tiger. Unfortunately the YouTube clip seems to have disappeared after a very short time.
Middle of the month, time for my monthly garden photos. Compared to previous years, there's not much to show. I think that's mainly due to the cold snap we had a week or two ago. Almost all our roses are gone, for example; we only have this pitiful specimen:
And the frosts are almost certainly responsible for killing off the flower spike of the Aloe. Here last month and today:
Even the Metrosideros excelsa, from chilly New Zealand, is looking the worse for the weather, though I'm sure it'll recover:
On the other hand, one of the other succulents is starting to flower, and the Buddlejas are hanging on longer than usual; normally they're over and done with by July:
The Camellia japonica is starting to flower, though the heavy winds we've had lately have removed many buds before they even got to flower: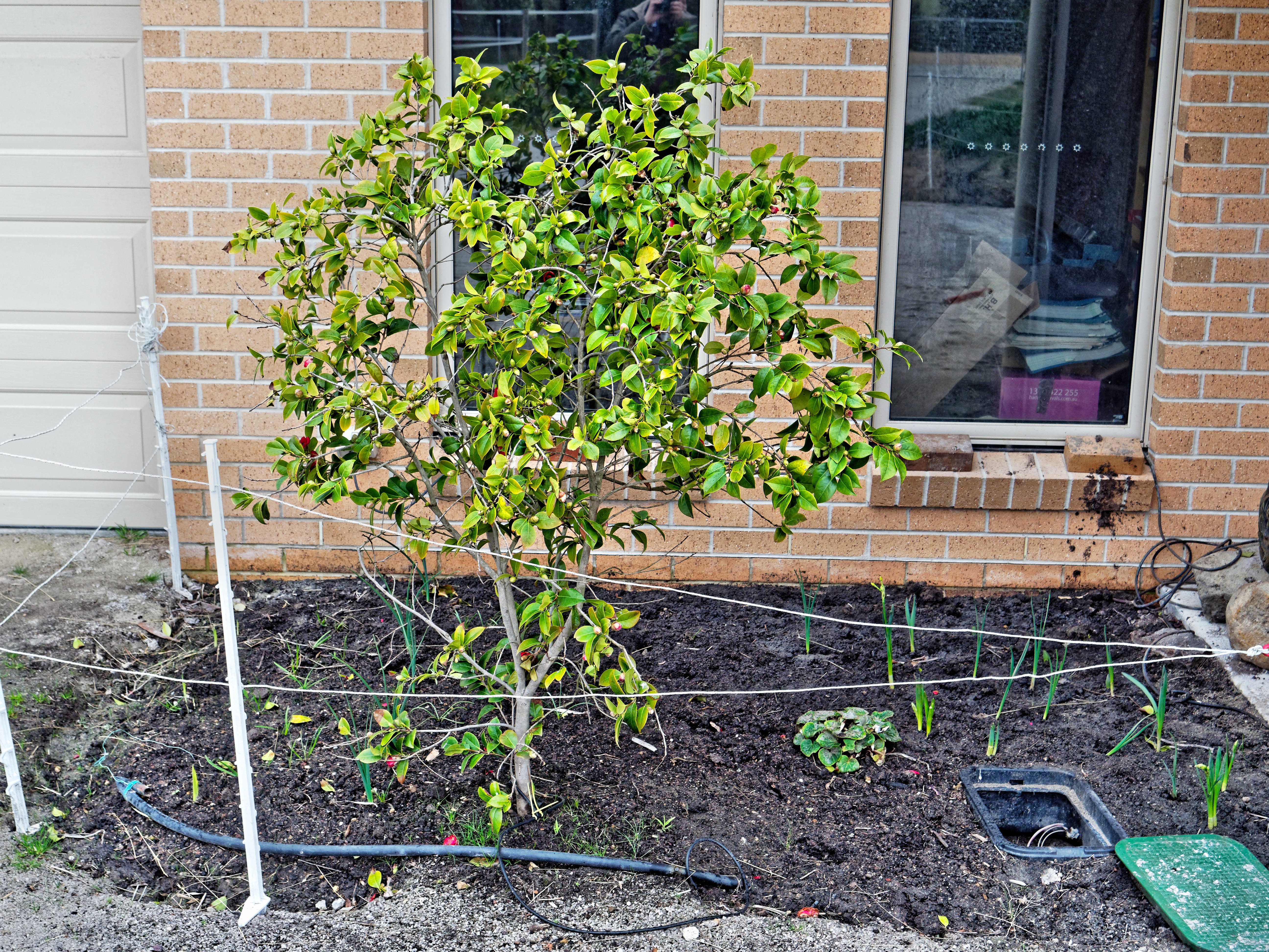 I had hoped that the bush would really take off after being planted in the ground, but last year, still in a pot, it looked much better:
Still, there's hope yet.
The Leucospermum cordifolium isn't a particularly early plant, but it's clearly preparing:
I've come to the conclusion that the Solanum laxum is planted in the wrong place, too exposed to wind and sun:
And there's something growing on the wire mesh that supports it:
What is that? So far I have no idea.
In the shade area, the Staghorn fern is doing well, but the Tree fern isn't:
Time to stop spraying bore water on it, I think.
And the Senna aciphylla is still flowering:
One plant that has only started flowering is the Helichrysum that we brought from Kleins Road:
Indoors, the Begonias are growing well, though not overly quickly:
And the Curry tree that had so catastrophically lost all its flowers has come back again, almost as if nothing had happened:
In particular, normally the leaves come back only at the tips of the branches, but this time there are new shoots along the branches:
The sight of Yvonne's flower vase got me thinking about focus stacking again. After 15 minutes of fiddling round, this is the best I could come up with:
Yes, of course I was expecting the background to be completely invisible, but even with flash that's not the case. It's all a lot of work.
So now I have GPS tagging working relatively well, and I can modify my scripts to take it into account. In the process, I also modified the scripts to read in photos from the cameras. Previously I added author information to the raw files, but now I'm just adding it to the converted files. This has two advantages: first, it maintains the integrity of the raw file (just as it came out of the camera, which can be important for some broken software, such as DxO Optics "Pro"), and secondly it's a lot faster. And tagging is simplicity itself, as I noted a couple of days ago. Even more satisfying is the method of downloading the log files from GPS Logger for Android:
Yes, that's trivial. Not completely by chance the name of the directory matches the name of the log file, and that's the only variable in that invocation. But after all the pain I've had with Android, it's remarkably satisfying.
Our coffee machine has irritated me since I got it, though it makes good coffee, and I think it has already paid its excessive price via savings on coffee: a kilogram of coffee beans costs about $11 and produces about 120 cups of coffee (40 days), while the cheapest capsules (from ALDI) cost 37.5¢ each, so in the course of a month they cost $33.75 compared to $8.25 for ground coffee. Over a year that's a difference of a little over $300.
One of the irritiations, though, is that it wants to be descaled. Why? We use rainwater, so there is no scale. But it wouldn't be deterred: you can specify water hardness on a scale from 1 to 4, but not 0. And it's a real pain, mainly pissing water through the milk frother, which I don't use:
The whole thing takes about 15 minutes and uses three containers of water, requiring the milk frother to be moved to one side offering the potential to spray water all over the floor and walls.
Diane Saunders along today to spend a few days with us while she decides whether to buy Samba, the Samba team approved Paso Fino mare that Yvonne had got from Jorge de Moya years ago. It's the first time we've seen Di in over four years. Since then she has had treatment—hopefully successful—for cancer.
She brought her remaining dog Rosie with her, whom we last saw five years ago (coincidentally almost exactly a year before we visited her in Meadows). Off walking with the dogs, once they calmed down sufficiently:
It's been over two months since I started propagating my first Hibiscus cuttings. Their progress has been interesting. Here the first cuttings, then and now:
It's hard to compare these photos. Clearly the biggest one, at the top, is as good as dead. The one on the right doesn't seem to have changed much, and the one at bottom left looks better than before. It has lost a number of leaves, but the ones that remain look healthier than before. And there are three new leaves on their way:
One of them (on the left) was there when I potted it, but the other two appear to be new.
Why did the cuttings fare so differently? The one that did the best is from the tip of the stem; the others were along the length, and they were planted in a different orientation to where they were on the bush.
Then there's the next round, cut just over a month ago. They, too, are doing very differently. I had expected both of these to do well:
But in fact one is almost dead, while the other might make it:
Again, the orientation of the leaves might give a clue. But we're not done yet. I'll leave them there for at least another month and see what happens.
The name ache goes back to the early days of the FreeBSD, decades ago: it was the user ID for Andrey Chernov, one of the first developers.
He died yesterday, a couple of weeks before his 51st birthday. Of what? We don't know, but it seems to be related to osteoporosis, not exactly a common complaint for a person in his position. In a recent mail message he wrote:
Sorry, I can't be constructive for some unknown time, because I broke my leg yet again, due to osteoporosis. This one is more serious than previous, so I need complex surgery, can't find skilled enough traumatologist in Moscow yet and don't have enough money for Israel clinic. All my time I try to resolve this issue now one way or another and it is difficult for me to think about something else???
So better medical care may well have saved him. That makes it all the more sad.
I've given up expressing my opinions on Donald Trump: they're all so similar. He is probably the worst thing that has happened to his country in decades.
As I see it, the USA came to global prominence when it joined the Great War on 6 April 1917. Not quite 100 years later, on 20 January 2017, it began its decline.
Yes, many people in the USA are up in arms about it, but not to the same extent that they are in other countries, and I'm left with the impression that they don't recognize what is happening. But last weekend something happened to change that: the rally in Charlottesville, where a woman was killed by a car that drove into a crowd. A sad occurrence, but the fallout seems to have impacted the US American psyche far more than the events would suggest. The car attack is nothing new: it's been done in France, Germany and the UK already, and in this case only one person was killed. Today it happened again in Catalonia, killing at least 13 people.
The reaction of the US "President" was less than sympathetic—to the victims, at any rate. It's easy to read pro-extremist sentiment into them, and that's what most people have done. It seems to have crossed a line when the editorial board of the Washington Post printed a statement condemning his behaviour. Is this the turning point where even his fanatical supporters turn against him?
Three years ago I wrote an essay about The Internet in 2034, and I've been watching things develop since then. 17.5% of the time has already passed!
One of the things that I predicted, and which I'm still very sure will happen, is the transition from on-site to off-site purchases. That implies more emphasis on transporting these goods.
Somehow, though, that isn't going according to plan. Transporting goods is getting slower, not faster. A while back Australia Post raised prices and slowed down deliveries. Today was a case in point: last week, after 3 days of trying, I finally purchased a new battery for my Olympus OM-D E-M1 Mark II. Australia Post's tracking system didn't like the tracking number I was given. Whose fault? Certainly the seller didn't crown itself in glory with their web site. I wasn't in a hurry, so I waited.
It arrived today, and suddenly the tracking number worked—after a week! Bad Auspost! And look at the times!
Despite what Digidirect said, it wasn't sent from Melbourne at all, but from Welshpool, a suburb of Perth. And that's 3,330 km away, further than from London to Istanbul.
But why such a long time? An obvious explanation would be that they were batching parcels until they had enough to make it worthwhile. But a week? Surely there are more parcels than that.
By contrast it's interesting to read what I wrote 52 years ago, on a Tuesday:
My bromide [photographic] paper arrived this morning, which is pretty good service, considering that I only sent off for it on Sunday evening.
That's not one postal item but two, in about 40 hours. Yes, the distance was shorter, about 260 km each way, but it was by train, and it involved work in the middle. I still don't understand why postage has become so slow. It's not just Australia Post (though they're a good example), so there must be a good reason. But what?
Di Saunders has bought a GPS navigator to help her find her way here. It didn't work: she couldn't work out how to program it. It's a NAVMAN MiVUEDRIVE FHD, as the web site claims, though I think that includes gratuitous shouting on the part of the WEBMASTER.
She paid $200 for it, far more than I have ever paid for a navigator. What does she get for it? A considerably smaller display (but bigger than the one on her iPhone; that's why she bought it). Free monthly map updates, 1080p video camera and a G-sensor to record the direction of impact during a collision.
The map updates don't seem to be any better than with the el-cheapo navigators: three years after our street number was assigned, it still doesn't know it. And it's strange to use; even after downloading the manual, I still couldn't understand how to navigate to a favourite place. There's no reason to assume that it's any worse than the ones I have, just different.
But the worst thing about it was that the battery doesn't hold a charge. After 3 hours on charge it died immediately when removed from the charger. That's an individual issue, presumably. But since I had an old navigator to give away, it should be enough reason for her to get a refund.
Di was doing some dog training this afternoon, so I got my camera and took some particularly forgettable photos:
Why is that so unevenly exposed? The simple answer is: I used on-camera flash. It looks as if the flash can't cover the entire field of view. This is at 30 mm equivalent, and the flash is supposed to go to 28 mm, so I can't see why. But it confirms my experience: never a good photo with on-camera flash.
Yesterday's plant comparisons weren't the only ones. A little over a month ago I pruned my Hibiscus rosa-sinensis and had a number of stems left over. For the fun of it, I planted them outside. They're doing about as could be expected:
There's also the stick that I put in a pot:
That one hasn't changed. I see little hope for any of them, but I'll give them a little longer.
Di Saunders left today in some of the worst weather we have seen for some time. When I got up, the whole front of the house was overflowing:
We had a total of 18.8 mm of rain, and in the course of the morning I had to pump out the sump about 15 times. High time to get the automatic switch to work reliably.
The GPS navigator had actually managed to fully charge, and was well prepared to take her home via (coincidentally?) the optimum route. She called back at 18:36 to confirm that she had made it home.
The two weeks trial period are nearly up, and Yvonne heard from Melanie Bahlo: yes, they're very happy with Sasha, and they'll keep him. We had expected as much, of course, but now it's final. We'll miss him.
Last month we received a request (in duplicate, because there are two of us) from Centrelink, the obviously named government agency which pays our pensions: please provide information about your German pensions. OK, that's valid, but why couldn't they ask the Germans? We sent off the documents as requested, after finding a place to get photocopies done. Then last week we received another request, with a different title, which I misunderstood and sent to our superannuation people.
Now today we received no less than four letters telling us that our fortnightly pension had dropped by about $2.50, a fraction of the increase we got from the Germans last month. Why four? Two are normal, since they seem incapable of combining mail to Yvonne and me. But the other two were interesting: they stated that they had received information from the Germans on the current value of our pension.
What's wrong with this? What they should have done:
Ask the Germans what the current payments are, and adjust our Australian pension if needed.

Inform us, preferably in one envelope to save on postage.
What they did:
Ask us for the information, despite inherent insecurity and personal inconvenience, and throwing economy to the wind and using two envelopes.

Despite having received the requested information, repeating the request under a different title, throwing economy to the wind and using two envelopes.

Calculate new payments, inform us, throwing economy to the wind and using two envelopes.

Ask the Germans what the current payments are, and adjust our Australian pension if needed.

Calculate new payments, inform us, throwing economy to the wind and using two envelopes.
I've received mail from coypu, an email ID without a matching real name (domain removed to avoid spam) about my trouble building NetBSD. He made some suggestions, reminding me that NetBSD has also abandoned the simple build mechanism of the last millennium, and now uses a script called build.sh. One of his build suggestions:
Problem: it doesn't work for me. RTFM time, which shows that build.sh is required for crossbuilds, and the old make build is still supposed to work. But the documentation concentrates on build.sh, so in the end I used this invocation, based on something I read in the documentation:
How do I build the kernel? Again, let me count the ways. Later.
House photo day again today, and finally I remembered almost everything. I just forgot to adjust the bracket correctly. I think I really need that checklist...
Fortunately I was close enough, and the only photo that didn't work was this one:
Why that? That wasn't parallax: the cord moved between individual images. With masking I can improve on it, but not completely eliminate it on the left:
And the GPS locations? Still no go. This time three images all had the same "location", -37.8002917,143.7513139:
How could that happen? Some problem with the GPS receiver? OK, I have more than one of them. Let's take some photos with the two GPS/camera combinations, and of the car GPS navigator.
That was one of the most painful things I've done in a while. How do you take a photo of a device with a shiny screen in sunshine? With great difficulty:
It proves that the camera in my ALDI tablet (the subject of the second photo) doesn't save Exif data, so it was of only marginal use. But here we have three different GPS locations, converted to fractions of degrees:
| | | | | |
| --- | --- | --- | --- | --- |
| Device | | latitude | | longitude |
| Phone | | -37.80015° | | 143.75152° |
| Tablet | | -37.80017° | | 143.75157° |
| Navigator | | -37.80018° | | 143.75156° |
The tablet and the navigator are closer to each other than to the phone. But what sort of distances are we looking at here? 1° latitude round here corresponds to round 88 km, so 0.00001° corresponds to about 0.88 m. The difference in latitude is thus about 2.6 m, acceptable enough. Similarly, 1° in longitude corresponds to about 111 km, so the maximum difference of 0.00005° corresponds to about 5.5 m. Not excellent, but an order of magnitude less than the 50 m between the first and the third photo above (the trees on the left in the first photo are also barely visible on the left in the third). So what's the issue? More investigation needed.
In passing, it's interesting to note the coordinates in the Exif data: they're 7 places of decimals, not 5, so they correspond to about 8.8 mm and 1.11 mm. That's so far beyond the accuracy of the devices that it's not even a joke.
We've been planning to cook Hainan chicken rice (clearly a dish from Singapore) for some time now, but I'm still working on the details of this very simple dish. In the meantime, Yvonne decided to cook poule au riz instead. What's that? Pretty much the same dish, chicken with rice. But instead of Chinese flavourings, they're French. This will become the recipe page.
After dinner this evening, I offered Chris (Bahlo) some more wine. Half a glass, she said. I started pouring, and she said no, that's more than half.
It's difficult to know where the halfway mark is in a spherical glass, so how about measuring it. How about that, it is less than I thought:
That's water. The glass on the right has 206 g of water, the one on the left has 103 g. At least I now know.
The photo of the water glasses wasn't the first I took. I took them with available light, camera sensitivity set to 24°/200 ISO, and the camera was set to aperture priority, f/8. Result: 2.5 s exposure time.
Not much to be seen there of the superb image stabilization of the Olympus OM-D E-M1 Mark II. Admittedly I hadn't been expecting it, but how well can I do in P mode? ½ s, f/3.8:
On the face of it, that looks OK. But comparing it with the final image, there is still marginal camera shake, as the reflections show:
Until proof of the contrary, I'll assume that the unsharpness of the second image is due to focus.
Since I have digital thermometers, I've had great difficulty getting consistent readings. There are at least three explanations, all of which can be responsible:
The sensors in the devices convert differently.

The measurement method differs. This appears to be the case even with the same kind of device, such as infrared thermometers.

The temperature varies from one place to another.
Tonight the Bureau of Meteorology forecast a "severe frost", -3°, something that would make our friends in Germany laugh: there -10° are normal at some point in winter. But by the time Chris Bahlo left, the outside temperature reported by the weather station was round +1°, and Chris expected to find frost on her car.
She was right. Out with the infrared thermometer, which registered temperatures varying from -3° to an extreme of -11° on the roof of her car. I think that's the lowest temperature I have ever measured in Australia.
As of yesterday, I wasn't much closer to establishing the cause of my GPS location inaccuracies. One photo was interesting. Here the complete photo, then crops:
That was taken with my Olympus OM-D E-M1 Mark II, which normally records local time. But exiftool's -geotag function adds information. Here the tags, bold from exiftool:
Looking at the photo, though, it seems that the two GPS receivers disagree. The difference in longitude (0.018') represents a distance of 2.6 m, about 10 times the width of the two devices.
But the tablet is showing 3 seconds in the future, 14:39:02 instead of 14:38:59! How did that happen? The time display at top left still shows 14:38, so this must be some bug. But where? The time in my camera's Exif data comes from two different sources: the first is the camera clock, synchronized at some time in the last few days, and the second is from the GPS log, which came from the phone. Both agree to the second. Everything points to an issue with the tablet.
Looking at the logs for the time shows something else. After trimming, here are the last three trackpoints:
In passing, it's interesting to look at the elevation that I left in the first entry: 347.79998779296875 m. That's not far off the mark, but what a ridiculous precision: to the nearest 10 femtometres, less than the diameter of the nucleus of a gold atom! The general accuracy of GPS altitude measurements is in the order of 10 m. Where do people get these ideas?
More important, though, are the readings themselves. They're 60 seconds apart! What about the phone?
Strangely, though the app is the same, the output format is different. In this case, the obvious difference is the precision of the coordinates: instead of "only" 9 digits after the decimal point (a precision in the order of 1 mm), it's 14 digits (a precision in the order of 10 nm) in most cases. I've already voiced an opinion on the precision, but why is it different between two devices running the same software? And why does the first set only have 7 digits? The result is surprising. Here the first two trackpoints in more detail:
The first one states "<src>network</src>". What network? How can my network give locations accurate to 10 mm? There's a lot more to understand here.
In any case, here too we have readings only once a minute. No wonder things are inaccurate. Looking at the app itself, I found:
Not surprisingly, the interval was set to one minute. Next time I'll try it with the interval set to 0, though I take the warning seriously: even under current circumstances the GPS receiver drastically shortens battery life.
And then there's the second setting:
What does that mean? Again something to try out.
Yesterday evening Chris Bahlo and Yvonne asked me to take some video of them on horseback today. Not a thing that I'm very experienced in, but how hard can it be? Put the camera on a tripod with a ballhead, point, shoot.
The horses were coming to me, requiring constant focus correction. That's one of the things at which the Olympus OM-D E-M1 Mark II is supposed to be very good. But somehow it just didn't work for me. I had this problem before, though I chose not to show the videos: the "tracking" of continuous autofocus got lost and went off looking at unrelated things. So today I tried continuous autofocus without tracking.
The results were underwhelming. In every single case I lost focus somewhere in the middle, like here:
Why? Is it maybe because I have only one focus point active? That works well for stills (for me, anyway), but maybe it's counterproductive for video.
The other issue is the tripod. It really doesn't help much. I think I should try hand-held next time. One way or another, I'm going to need some image stabilization software, of which much is available.
There was a discussion recently on the Unix Heritage Society which diverged towards FORTRAN, discussing why it was such a horrible language. I had input on that:
I think the arithmetic IF was put into FORTRAN because it was easy to implement with the CAS instruction. It doesn't make much sense from a mathematical point of view.

... my guess is that the authors of FORTRAN were looking for the cheapest solution, not the fastest one. For decades to come, the fastest solution was assembler.
More input, including document pointers from Paul McJones, who maintains an interesting list of historical documents on FORTRAN. One was a number of documents related to John Backus' paper on "The history of FORTRAN I, II and III" from 1978. A very interesting read, and it completely disproved my claim that they weren't too interested in performance. It was the other way round: they wanted to write an optimizing compiler, and the language definition was secondary. I suppose that explains a lot about FORTRAN.
And arithmetic IF? Another document was the Specifications for the IBM Mathematical FORmula TRANSlating System of November 1954. It's interesting because the language really didn't change much between then and the first release some time 2½ years later. One thing that did change, though, was the arithmetic IF: it originally only had two labels.
And the use of the CAS instruction? It stands for "Compare Accumulator and Store" ("Store" a noun meaning "storage"). But that's not the semantics of IF: first you evaluate an expression, and presumably the result is in the accumulator. Then, depending on that result, you decide where to go. No need for "store", and the IBM 704 had plenty of conditional branch ("transfer") instructions. So basically both of my claims are wrong. My best guess now is that CAS may have been a godfather to arithmetic IF, but almost certainly not a parent.
Yvonne bought some Mandarin oranges recently, of a kind that is no longer common. Here's what was left from only two of them:
It brings home how far plant propagation has come: pipless fruit can't exist in nature.
We've been looking for replacements for our aged lounge-room suite for years now, and we still haven't found anything we both like. Recently Yvonne found something in a Harvey Norman catalogue that she liked: a double recliner armchair joined together with a "table" area in the middle, and very wide. Off today to take a look. Yvonne likes it. I find it comfortable, but not what we're looking for. In particular, the width doesn't really add anything. And there's no other matching furniture.
While in town, also looked for a new battery for Yvonne's watch. $10, and afterwards it looked as if the battery was on its last legs: the display showed considerable shadows in the segments that should have been "off". Back to the bookshop where she had it replaced, and was told that the watch had passed its "use-by" date. OK, it's 15 years old, but it worked normally up to that point, and the mode of failure doesn't appear convincing. But it's not easy to disprove the claim. In the end, Yvonne bought the cheapest watch that she could find, particularly ugly and apparently with only a 12 hour display, as a stop-gap. Now to look for a real watch. But the days of digital watches are long over, and there's almost no choice.
The trip into Ballarat gave us the opportunity to get a more detailed GPS log, this time with log delay set to 0. The result?
Again, src is "network". What does that mean? The coordingates show that we were outside The Good Guys, which is correct. So what network does it mean? And why is there no speed information in the log file?
The other thing to note is that the log entries are roughly every 4 seconds (with a noticeable gap in the middle). Is this due to "network", or is this the maximum that the receiver can deliver? Still more puzzling.
Back home, and before I had discovered these details, I went around the house and took some photos with the phone from the places where I do my house photos. The difference in quality isn't surprising:
Conveniently, the file names of the photos include date and time. This one was 20170821_175106.jpg. But all the photos had the same location and the same incorrect timestamp (20170821, 17:50:10, up to 5 minutes off the real time. Looking at the date information, I find:
So the first issue is that it seems I'm using the wrong time; "Date/Time Original" seems to be the one to go by. Why the discrepancy in the GPS position and time stamp? The log shows updates every 4 or so seconds, as before, and exiftool -geotag happily sets the locations.
Somehow this is all a can of worms.
Spring is on its way, and Mick the gardener came along today to do some preparations.
I've been thinking about a new kitchen slicer for nearly a year. There's almost nothing available in Australia. They're available in Germany , of course, but up to now I've been put off by the high prices, especially for freight, and the fact that most people aren't prepared to send them to Australia. I sometimes forget how provincial people are in Germany.
Finally I found one, a Bosch MAS9454M, from the eBay seller grooves-land, and had it sent here. Once again the puzzling tracking details, including nearly 9 days from Frankfurt airport to Sydney airport:
Where do they store these things for such a long time? And doesn't that add to the transport cost? But by German standards the shipping was cheap ("only" 27 €), and I was clearly in no hurry.
How does it look? As expected. They even added a free Australian power plug adapter, which I thought was a nice touch. But one detail was less pleasing:
The side panel on the carriage is not mounted correctly: there's a gap at the top left. How could that happen? Not a transport issue: it was well packed and undamaged. Another thing to follow up on. At least eBay ensures that I won't have to pay any more postage.
On the way home from Napoleons I drove down Misery Creek Road and Berringa-Misery Creek Road looking for flowers. I wasn't disappointed. The whole area is covered in Epacris impressa, though more so at the east end. And, as I have noted before, the colours change as you go along. At the east end they're the canonical red colour, and towards the other end they go via pink to white:
There's also an Acacia species that I don't recognize:
And then there are a Drosera species that I don't recognize. They're clearly successful:
What I didn't expect was a large amount of Hardenbergia, probably Hardenbergia violacea:
But what are these? A different species of Hardenbergia?
They're right next to each other, and clearly different.
Then there's this plant, which I feel I should recognize. It's clearly a legume of some kind, but there are so many similar ones that I don't know which. The whole eastern end of the road has what appear to be the same plant, but not yet in flower. I'll have to go back some time.
One of the side roads was called Orchid Track (or Orchid Trak according to the maps in my GPS navigator). The sounded like a good idea, so I went down there. And yes, I saw some orchids:
That's Pterostylis, and I have more in my back yard. But there are signs that more might pop up in the next few weeks.
I had wanted to continue down there—it's not far from home, though it's not clear that the roads marked on the map are navigable. This one suggests not:
That's one of the few signs I have seen threatening penalties for continuing. The barrier is open, so what does this mean?
I returned via the Dereel-Berringa road, past the Mount Misery Creek bridge, which has further deteriorated. And I still can't get a good photo of the place: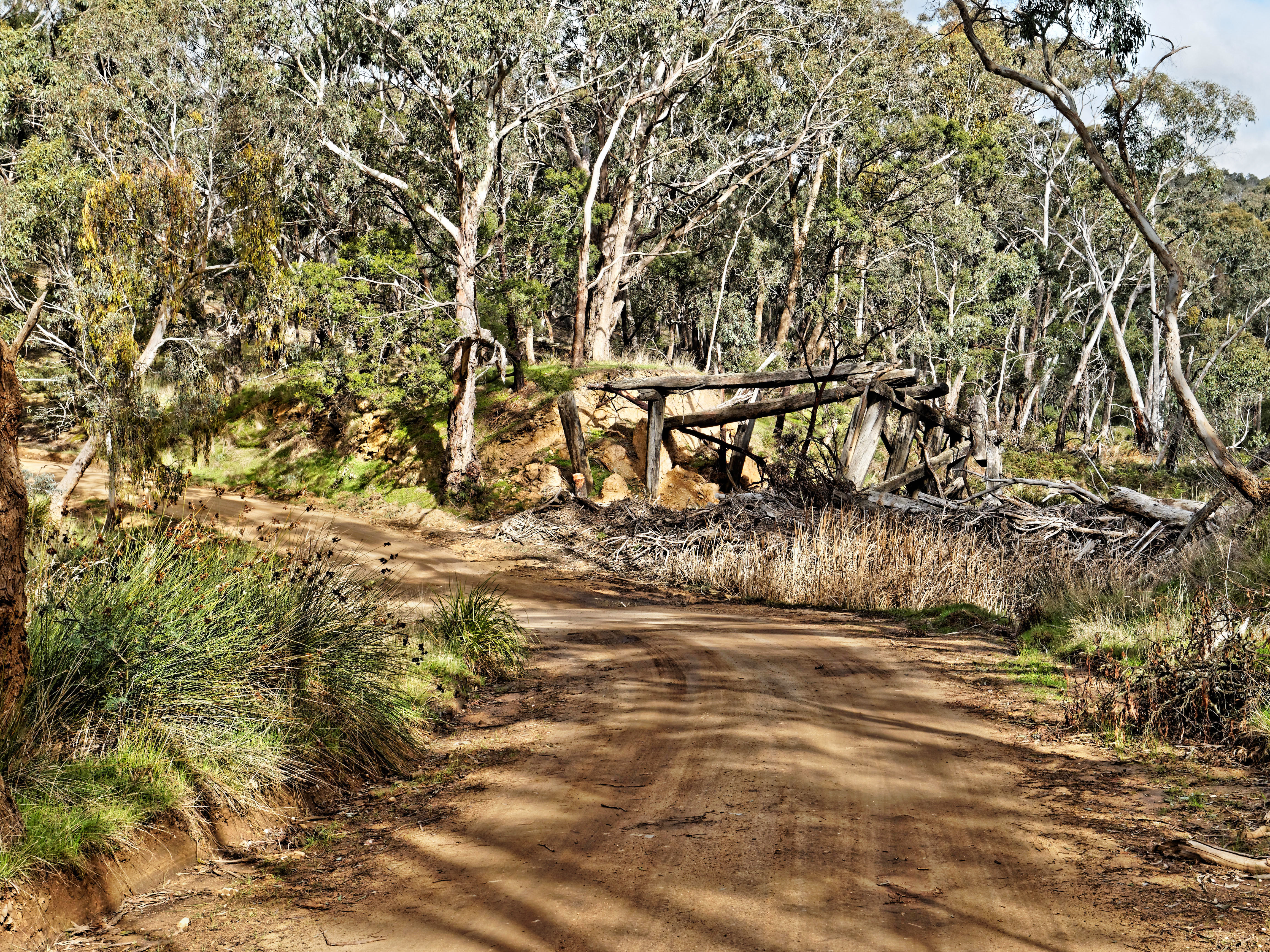 After that I stopped at the place where we had seen the spider orchids last November. None to be seen, though a number of other plants, including different Drosera species with a surprisingly large flower:
Then there were other flowers that I can't identify. Is this some kind of Grevillea?
And what about the holly-like plants round the Hardenbergia in this photo (shown above)?
Is that the elusive Grevillea bedggoodiana? If so, there are plenty of them. I should go back and look from time to time when the buds in the second image are flowering.
There are still more mystery flowers:
One way or another, it looks like I need to go down there at least once a week to see how things develop, and also to get better shots of some plants.
I had my GPS receivers enabled when I went down Misery Creek Road, of course. In the process I discovered a number of things.
First, a step back: how do you interface a GPS receiver to a program? That looks like a variant of a typical operating system task: the operating system presents the receiver as a device, and the program reads it. If it wants to reconfigure the device, the operating system should mediate.
After leaving Napoleons, I checked my devices. The tablet was working fine. I had set tracking on the car navigator, but it seems that it forgets that when it powers down, so I had to restart it. That's a pain in cases like today, where I stop in many places. Never mind, I still don't know how to process the data.
But the phone was a completely different matter: after 20 minutes in the open, it still couldn't detect any satellites. So it seems that whatever it did yesterday might really have happened without the aid of GPS, though I can't see how any other method of navigation can be nearly as accurate. I rebooted the device, which may or may not have helped. I also disabled and reenabled GPS. Finally the GPS status showed something. So I started the mendhak GPS Logger for Android. And the satellite fix went away!
Why? It came back again after a minute or two, and started logging normally, at one point every 4 seconds. This seems to be the fastest that the phone GPS receivers can do; by comparison the car receiver gives at least one fix a second. But the off, then on, suggests that the logger is doing the configuration itself, rather than letting the OS do it. But then, this is Android, so I don't suppose I should be surprised.
After that, the tracking seemed to work alright, and I got relatively accurate coordinates for all my photos. But I still need to find a way to compare the results from the three receivers, and this will require quite some research.
The other issue is battery usage. The old Samsung GT-I9100T really suffers when the GPS receiver is enabled. When I got back home, it was noticeably warm, and the battery (charged when I left) was down to 24%. The charger couldn't even charge it with the GPS receiver enabled: an hour later it was down to 13%, and I had to turn the receiver off. The tablet did much better, dropping only to 87%. Should I get a new phone? Indications are that I should get a new dedicated GPS receiver instead, if I can find one that logs properly.
Yvonne really doesn't like the watch that she bought yesterday, and I can't blame her. When I was a lad, there were lots of dainty lady's watches (fully clockwork, of course), many with jewels and things. Maybe they still exist as analogue watches, but there's nothing that even comes close in digital watches. They still seem to cater mainly to prepubescent boys.
What about the new generation of "watches", really a small computer with a display, designed for wearing on a wrist? Clearly the things can be used to display time. Peter Jeremy sent me some screen shots which omitted the most important part: what does the entire thing look like? I went looking and found a number. This page may be indicative: they're all far too big, and some of them look like classical watches. If people want classical watches, there are easier solutions. This one looks as if it might be a possibility: But the shape belies the size. The information states that the display is 1.56" (presumably in diameter), or 4 cm, roughly double the diameter of the old watch. And this is one of the smallest. Somehow I'm left with the feeling that smart watches are (still) a solution in search of a problem. I can answer that one: Android is the problem. It's a breach of Occam's razor: why use something complicated when there's a simple solution that has been around for ever?
While looking for an old watch, Yvonne came up with a number of things that we had forgotten about. One of them was a Minox C that my father had given her years ago.
Unlike me, Yvonne loves small things—witness the pain she's going through at the moment with her watch. And she complained about the size of her Olympus E-PM2 when I bought it. So how do the two compare? Here's the E-PM1 (essentially the same size) alongside:
From above, apart from the lens, there's not too much difference. But clearly the Olympus is an order of magnitude bigger. What do you get for that?
| | | | | |
| --- | --- | --- | --- | --- |
| | | Minox | | Olympus |
| Autofocus | | No | | Yes |
| Autoexposure | | No | | Yes |
| Maximum aperture | | f/3.5 | | f/1.7 |
| Image format | | 11×8 mm | | 17×13 mm |
| Resolution | | ? | | 16 MP |
I'm lying about the Olympus resolution; that the resolution of the E-PM2. But that's the one she uses. And the resolution of the Minox? Depends on the film, of course. Scanning my old 35 mm films from the 1960s, I haven't seen anything that warranted more than about 10 MP. That's from a 24 × 36 mm negative (864 mm²). The Minox has roughly 10% of this, so I wouldn't expect more than about 2 MP.
The real issue, though, is the lack of autofocus and any kind of exposure metering. To take correctly exposed photos, you really need an exposure meter.
And then you have to fiddle with the shutter dial and focus. What a pain! I never understood my father's fascination with the Minox, not even when he first started talking about it 50 years ago, and my opinion hasn't changed.
Woke up round 5:50 this morning to discover that the power had failed. Really? Looked outside and saw the LED on the water pump still running. Into the garage to the "fuse" box. All breakers on. Out to the meter box. Meter dead. Clearly we no longer had power. But why was the LED on? It normally fails (understandably) with the power. My best guess is that it was not a total power failure, and that some residual voltage remained, sufficient to run the LED, and presumably nothing else.
The power came back at 7:17, and I went out to restart the computers. By the time I had really got up, round 8:30, all was back to normal. Started my web browsers, and the system froze. No reaction from keyboard or network. OK, big red button time. The usual eternal fsck, and then:
The revenge of firefox? It took me another two runs of fsck before things were over, a total of 1½ hours.
What caused that? The fact that things froze while I was restarting suggests that it was related to the power failure, and the fact that a firefox-related file was involved suggests that there was breakage in the file system somewhere.
Things weren't over with that. I had lost much of my firefox configuration, and though I had a backup (to be more precise, six of them), the complete backup file from the start of the month was not exactly tiny:
That's a compressed file, so bunzip2 ran at 100% of (one) CPU, limiting throughput from the disk to about 15 MB/s. That's a little over 2 hours to read the file. Instead, I discovered that I had the all-important ~/.mozilla/firefox/profiles.ini in RCS, so I checked that out instead.
Somehow that wasn't enough. All sorts of settings were gone, probably to /home/lost+found/. It brings home to me how difficult it is to configure firefox sanely. I suppose I'm going to have to rebuild the .mozilla/firefox hierarchy after all. Joy.
I've been using UFS for nearly over quarter of a century, during which time it has been polished, bugs removed, performance improved. I have a good feeling about it.
But our continual power failures bring home that it recovery is really fsck based, meaning lots of time lost on days like today. Yes, there's a journalling option, but it never seems to have caught on—probably old fogeys like myself help there—and I'm not convinced that it's as reliable.
Every time this happens to me, people on IRC get up on their hind legs and chant "ZFS! ZFS!". And yes, it's probable that I'd be better off with ZFS in this particular case. But it scares me. Part of that is that almost every time I hear about it, it's reporting a bug. And then there are resource issues. To quote the chanters:
Still, I suppose I should do something. My experience this morning gives reason to believe that there are cracks in my file system structure that fsck can't detect (and thus doesn't repair). A solution to that problem would be to create a new /home file system on a new disk, and then I could try ZFS on it first.
I now have two GPS logs of my journey along Misery Creek yesterday. How can I visualize them? Went looking on Google, and as expected, found a number. The first I came across is wikiloc (which my fingers insist on spelling "wikilog"), which allowed me to upload a logfile (from flachmann.lemis.com, my tablet). The map is visible here, but I still haven't had time to play with it, and it's not clear that it's the best choice. At the very least I need to find out how to edit things better than their almost non-existent documentation explains. And it would be nice to compare the track recorded by talipon.lemis.com (my phone). But it was a very good first attempt.
In parallel with the day's events, I'm still entering my old paper diaries from the 1960s. Today I got to 1 March 1965, where, by coincidence, I discovered the only other real reference to Minox:
In lunch, Akhavan said that he was willing to lend me his

Minox

spy camera if I would show him some of the photos I took with it, as he thought there was something wrong with it.
I wonder if the "something wrong" was just the poor image quality. I may discover more as I continue entering the diary.
The other mention of Minox was less direct, in a rant about Metz on 26 September 2011, where I wrote:
Germany was once the world's leading producer of photographic equipment. Where are they now? Where is

Rollei

?

Minox

?

Edixa

?

Voigtländer

? I've had this kind of treatment from Edixa decades ago, when they still existed. How long does

Metz

have to go?
Prophetic words. They filed for insolvency on 19 November 2014, and the photographic part of the company has been reformed as Metz mecatech GmbH. I wonder how well they will do.
Into town today again for a neck massage ("physiotherapy" in Australian). Somehow my neck is still stiff, and it looks like I'll at least have another couple more sessions.
On the way home, drove down Misery Creek Road in Enfield again for a few more photos. The total distance from the Ballarat-Colac Road to Berringa is about 7.5 km, but it seems that the most interesting stuff is between Ballarat-Colac Road and Orchid Track, only about 2 km away. That also makes it much closer to return home.
More photos of what I'm sure is the Grevillea bedggoodiana, still not quite in flower, but with a surprising number of flower spikes:
I also came across a couple of other plants that I hadn't noticed last time. This one is inconspicuous enough that I might just have missed it:
It'll probably look different in a few weeks. But this one has clearly only just come into flower, otherwise I would have noticed it on Tuesday:
It's on the corner of Misery Creek Road and Orchid Track.
And then there's this one again, which Peter Jeremy thinks might be a Bossiaea scolopendria:
The flowers (from Tuesday) look like this:
That still seems to be the only flower stalk, but the buds show promise. On the other hand, according to Wikipedia, it only grows in New South Wales. Possibly there's something very similar round here.
One issue with today's flower photos is that they're not as sharp as they could be. They're all hand-held. I took a tripod with me, but how does that help if there's any wind at all? What I need is a second stand of some kind with a clip that I can connect to part of the stem to keep it relatively stable. There are similar things for electronic work, like this one from Jaycar, which they have allowed to rot: That's far too small for what I'm looking for, but the idea of a rod with arms and clips is good. I wonder if they're available, and if so, what they're called.
The other possibility is flash, of course, but that leaves the background dark. Not necessarily a bad idea, but another thing to experiment with.
After our discussion of smart watches recently, it was interesting to note this statistic about the uses to which people put their smart watches: All sorts of things. How can anybody possibly read email on a watch? The mind boggles. The most important use is conspicuous by its absence: telling the time!
Did some more half-hearted searching for software to display GPS logs, and came up with GPS Visualizer. At first it looks very complicated, but maybe that means it offers functionality that wikiloc doesn't. One way or another it looks like a can of worms.
On my way into Ballarat, saw this at the front gate:
By chance the map is oriented with north upwards. The correct direction was via Grassy Gully Road, to the south-east and just visible at bottom left in this view, and it's about the only way out of our area. Yes, I can drive the length of Progress Road, turn left into Rozenstein Road, left again into Bliss Road, left again into Stones Road, and then right into Grassy Gully Road, a distance of about 3.3 km. Judging by the colour of the road on the map, I think that's what the navigator wanted to do. Why? Because it hates to turn you around, and it thought I was pointing north. That's understandable up to a point, but there should be a way to override it.
Grevillea rosmarinifolia is a strange bush. I can't make up my mind whether I like it or not. By comparison with showier grevilleas, the flowers are relatively small and sparse, and in Kleins Road we pulled one out because it was so boring.
But there are a few on the corner of Progress Road and Stones Road that flower relatively profusely, but only for a relatively short period. Here's one that's flowering right now:
I've grumbled about the poor insulation of Australian houses for some time, even our new "6½ star" house. But recently somebody pointed me at this article: it seems that more people die of cold in Australia than in traditional cold countries like Sweden or Canada.
Some years ago we started the Dereel History Group, run by Julie Donaghy. I managed to get Scott Weston to put up a Wiki, but it proved too modern for the others. Gradually things faded, and in the end Julie was doing the research by herself.
I hadn't heard anything for a while, but today she staged a "Dereel History Day" in the Hall:
She charged $5 admission. Yes, it included tea, but who wants tea? I didn't. I also got a sheet of paper entitled "The Ghost's of Dereel Town - by julie donaghy".
I was a little concerned that that would scare people off, but in fact it was relatively well visited, and she also had many more documents than I had expected. It's still very much a work in progress, but I understand that the result will be a book. I'd have far preferred something online, but that difference of opinion was the reason I left the project in the first place.
Some of the more interesting documents: the proclamation of the Town of Dereel on 28 June 1875:
From the text it's clear that the settlement had existed for some time previously. This document is more legible:
So the earliest mention was a pastoral run in 1843, at a time when there were no towns at all in this part of Victoria. The earliest mention of other activity was in the Spring Creek area. That's considerably north of the current town of Dereel, and not far south of where we are in Stones Road. Spring Creek shows up again in the entry in the Australian Handbook of 1903 (from the image above):
DEREEL (37° 45' S lat., 143° 45' E long.), (co. Grenville, shire Leigh), a postal townsiop, on Spring Creek, 98 miles W. of Melbourne. ... Primitive Methodist and Roman Catholic places of worship. Good rabbit shooting. Mining and farming pursuits.
It's interesting that the location specified, 37° 45' S lat., 143° 45' E long., is towards the north end of Enfield State Park, and about 18 km from Dereel.
This document refers to the gold diggings round here:
I still need to analyse it.
And then there's this collection, somewhat difficult to interpret:
It seems that in general the post office was nowhere near the current centre of town. From 1885 to 1895 it was really just round the corner from our house in Stones Road, in the position noted (not surprisingly) on the Dereel map of 1889:
The map is interesting for other reasons. Like the 1887 map, it shows continuous habitation between here and the town centre, but it also shows Grassy Gully Road and Stones Road, though it doesn't state any names. And at top left of the last photo it shows that our area (the three parcels that belonged to Garry Marriott until he sold the northmost one to us) belonged to a T. Speary.
Walked a little further with the dogs today, almost down to Spring Creek. That had nothing to do with the history display: I hadn't read those details by the time we went there.
There's just a single track through the reserve. Normally we go as far as what we call the Große Linde (really a conifer of some kind), but today we went further. And there was no obvious way back!
Despite the relatively cool weather lately, spring is on the way. Found another couple of plants. No idea what this one is:
But this one is clearly an Amyema pendula:
And then there's this plant along Stones Road.