Checking my video downloads before breakfast this morning, I discovered that I had created a directory /spool/Series/Fisk/02. But why? Surely I already had /spool/Series/Fisk/01. Oh. It's a series with 30 minute episodes, so the correct directory name is be /spool/Series/30-min/Fisk/02, and that exists. So delete the new hierarchy:
=== grog@tiwi (/dev/pts/2) /spool/Already/Series 123 -> rm -rf /spool/Series/
=== grog@tiwi (/dev/pts/2) /spool/Already/Series 124 ->

AAARGH! Something must have interrupted me before I finished typing, and I removed all of my active series, some 2.5 TB of them!
How do I recover? Of course I have a backup, but copying 2.5 TB over a gigabit Ethernet would take an eternity. But even apart from that, there's a second issue: for most series I keep a matched tree of all episodes, even the ones I have watched, in /spool/Already/Series. They're linked, of course, so they take up almost no space, just the directories. But if I restore from backup, I'll end up with a copy of every file, another 2 TB on top of what's already on the disk. Apart from other considerations, it wouldn't even fit.
So: mklinks to the rescue. What's mklinks? Oh. I've mentioned it several times in this diary, starting 21 years ago, but referring further back, probably to the early 1990s. I built a port, but never committed it.
Still, of course I have it here. Recreating the /spool/Series hierarchy from /spool/Already/Series was trivial:
=== grog@tiwi (/dev/pts/11) /spool/Series 11 -> mklinks clone /spool/Already/Series /spool/Series
It was also so fast that I didn't think it had worked.
But there's more on the backup, and not everything in /spool/Already/Series belongs in /spool/Series. How do I remove the files that shouldn't be there? I feel that there should be a mklinks option for that, but currently there isn't. And how do I restore the remaining files without overwriting the ones I already have there? There should be some rsync option for that, but I've shot myself in the foot so many times with rsync that I don't want to try that route.
Ultimately I came up with five miniature throw-away shell scripts, foo, bar, baz, zot and zotd.
foo
#!/bin/sh
for i in $*; do
if [ ! -d /videobackup/spool/Series/$i ]; then
rm -rf $i
fi
done
/videobackup/spool/Series is the backup directory for /spool/Series, mounted on an external drive on eureka. In /spool/Series I enter:
=== grog@tiwi (/dev/pts/11) /spool/Series 10 -> find . -type d | xargs ~/foo
This removes all the directories and contents in /spool/Series that are not present in /videobackup/spool/Series.
bar
#!/bin/sh
for i in $*; do
if [ ! -f /videobackup/spool/Series/$i ]; then
rm -f $i
fi
done

=== grog@tiwi (/dev/pts/12) /spool/Series 10 -> find . -type d | xargs ~/bar
This does the same things for the files in the directories that remain.
baz
#!/bin/sh
# run in /videobackup/spool/Series
for i in $*; do
if [ ! -d /spool/Series/$i ]; then
mkdir -p /spool/Series/$i
fi
done

This one runs in /videobackups/spool/Series and creates any directories that aren't already in /spool/Series:
=== grog@tiwi (/dev/pts/13) /spool/Series 10 -> cd /videobackups/spool/Series
=== grog@tiwi (/dev/pts/14) /videobackups/spool/Series 10 -> find . -type d | xargs ~/baz
zot
#!/bin/sh
# run in /videobackup/spool/Series
for i in $*; do
if [ ! -f /spool/Series/$i ]; then
echo cp -p $i /spool/Series/$i
cp -p $i /spool/Series/$i
fi
done

=== grog@tiwi (/dev/pts/9) /videobackup/spool/Series 42 -> find . -type f | xargs zot

This is the one that does the real work: restore missing files. All the previous ones ran in seconds. This one ran overnight, for two reasons: firstly, there was a lot of data to transfer, but secondly the transfer rates dropped off dramatically, with seconds on end with no transfer at all (here ada0):
=== grog@tiwi (/dev/pts/13) ~ 11 -> iostat 1
tty ada0 da0 cd0 cpu
tin tout KB/t tps MB/s KB/t tps MB/s KB/t tps MB/s us ni sy in id
0 37 53.4 20 1.0 63.1 4 0.3 0.0 0 0.0 0 0 0 0 100
0 115 855 37 31.1 0.0 0 0.0 0.0 0 0.0 0 0 0 0 100
0 77 0.0 0 0.0 0.0 0 0.0 0.0 0 0.0 0 0 0 0 100
0 133 0.0 0 0.0 0.0 0 0.0 0.0 0 0.0 0 0 0 0 100
0 94 1024 30 29.8 0.0 0 0.0 0.0 0 0.0 0 0 0 0 100
0 77 32.0 1 0.0 0.0 0 0.0 0.0 0 0.0 0 0 1 0 99
0 77 0.0 0 0.0 0.0 0 0.0 0.0 0 0.0 0 0 0 0 100
0 82 0.0 0 0.0 0.0 0 0.0 0.0 0 0.0 0 0 0 0 100
0 79 0.0 0 0.0 0.0 0 0.0 0.0 0 0.0 0 0 0 0 100
0 79 0.0 0 0.0 0.0 0 0.0 0.0 0 0.0 0 0 0 0 100
0 141 96.8 14 1.4 0.0 0 0.0 0.0 0 0.0 0 0 0 0 100
0 98 0.0 0 0.0 0.0 0 0.0 0.0 0 0.0 0 0 0 0 100
0 130 0.0 0 0.0 0.0 0 0.0 0.0 0 0.0 0 0 0 0 100
0 114 0.0 0 0.0 0.0 0 0.0 0.0 0 0.0 0 0 0 0 100
0 99 365 53 19.1 0.0 0 0.0 0.0 0 0.0 0 0 0 0 100
0 78 0.0 0 0.0 0.0 0 0.0 0.0 0 0.0 0 0 0 0 100
0 149 0.0 0 0.0 0.0 0 0.0 0.0 0 0.0 0 0 0 0 100

I've seen this earlier this year with the same disk. It seems that it's it's an SMR disk, and it can't sustain continuous writes. Still, I hadn't planned to do this kind of transfer too often.
The delay had another danger, though: every morning at 4:00 I back up /spool to /videobackup/spool. And I delete anything from the backup that isn't on /spool. So if it weren't finished by then, I would overwrite the remaining backup.
The solution is clear: disable the backup. But is it sufficient? In the end I remounted /videobackup read-only just in case.
I still haven't got completed the webcam setup that I started a week ago. How do I test it? We're using Zoom, and how about that, I'm already set up for it. Started zoom and... no picture. But I've seen that before too: I was only able to start cheese as root.
All this requires more keyboard access to the machine than is bearable on this mutilated keyboard on bde.lemis.com: due to only partially successful keyboard remapping, I don't have a control key any more, and I can't restart X easily, since it has lost its vtys.
OK, that's what x2x is for. Fire it up, but... no connection. This stupid default of not allowing TCP connections to the X server! OK, try to restart with -listen tcp from eureka. That should work if I set DISPLAY correctly. And it sort of did, but I got hundreds of:
ld-elf.so.1: /usr/local/bin/fvwm2: Undefined symbol "locale_charset"
ld-elf.so.1: /usr/local/bin/fvwm2: Undefined symbol "locale_charset"
This also meant that I couldn't get a display. What's causing them? I suspect that it's related to the issues I have with starting xterms on more modern systems from eureka.
OK, nothing for it. Time to upgrade bde to the latest and greatest, in the process taking note of a couple more setup details that I hadn't thought of before. And that failed with an NFS error! OK, create /etc/obj on the local disk and try again. Literally mañana.
Off shopping in Ballarat today. I'm gradually getting used to it, but it still tears the day apart.
Once again took a look at the new Coles supermarket in Sebastopol. They even make the choice of parking places difficult. We're used to places reserved for invalids, but at Coles there are also places reserved for wheelbarrows and couples:
Unfortunately, they don't have anything much of interest there. I went through with my entire Woolworths list and found nothing. Cheese crackers? Yes, of course we have them, in 10 different flavours. Want plain? Yes, we have them, but you have to buy a pack of half plain and half beetroot. Cheese? Yes, brightly shining, but nothing that looks serious. That's a pity; I wonder if things will change. Yvonne apparently looked in a few weeks back and came to the same conclusion.
At Whiteys I was served by Tim's wife Regina, who told me that Tim had had a go at improving his leg with a chain saw and would be out of action for a couple of weeks. Compared to Yvonne's or Pene Kirk's accidents, that sounds like nothing, but why have there been so many accidents lately?
I'm gradually getting to understand how the Woolworths POS machines work. Here (finally) a photo:
It's not clear (neither to me nor to Woolworths' staff, as I discovered last week) what the right-hand part is for, but you must put your purchases on the left-hand one after scanning and before doing anything else. If you have a bag, you must put it there first and confirm on the display. You must also scan your items one by one and place them on the platform before scanning the next one. This is to ensure that you really do place them where you say, but it makes life much more difficult for the customer, especially since there really seems to be a performance problem with the scanners (you often need to wait a few seconds between scans). The checkout people don't have these disadvantages.
And what happens if your bag fills up? No, you can't do that.
In fact you can just press "I'm using my own bag" to work around it. I wonder if that opens avenues for abuse. In passing it's interesting to observe Woolworth's language abuse: the list on the right shows "A/dan Shmp 200 ml" and "Castelo [sic] Wht 300g". In English, this translates to "Selsun Blue Shampoo" and "Castello Brie".
In passing, I discovered that I addressed this issue almost exactly two years ago. They don't seem to have fixed anything since. As I said at the time, they should send their programmers to use the things themselves, and then to stand around for a day or two looking at the problems that customers have with their system.
On the way home, dropped in the post office for what I was sure was a rain gauge that I purchased recently. But no, a somewhat crumpled parcel from the Kuala Lumpur Kuala Lumpur City Hall:
Inside was a small book of nearly 200 pages about Jalan Ampang, a road close to a lot of my life in the 1960s, along with an equally crumpled form letter dated in April:
Ah! I seem to remember something, and sure enough, on page 23 I found a photo that looked familiar:
But it's in colour. My photo was in black and white: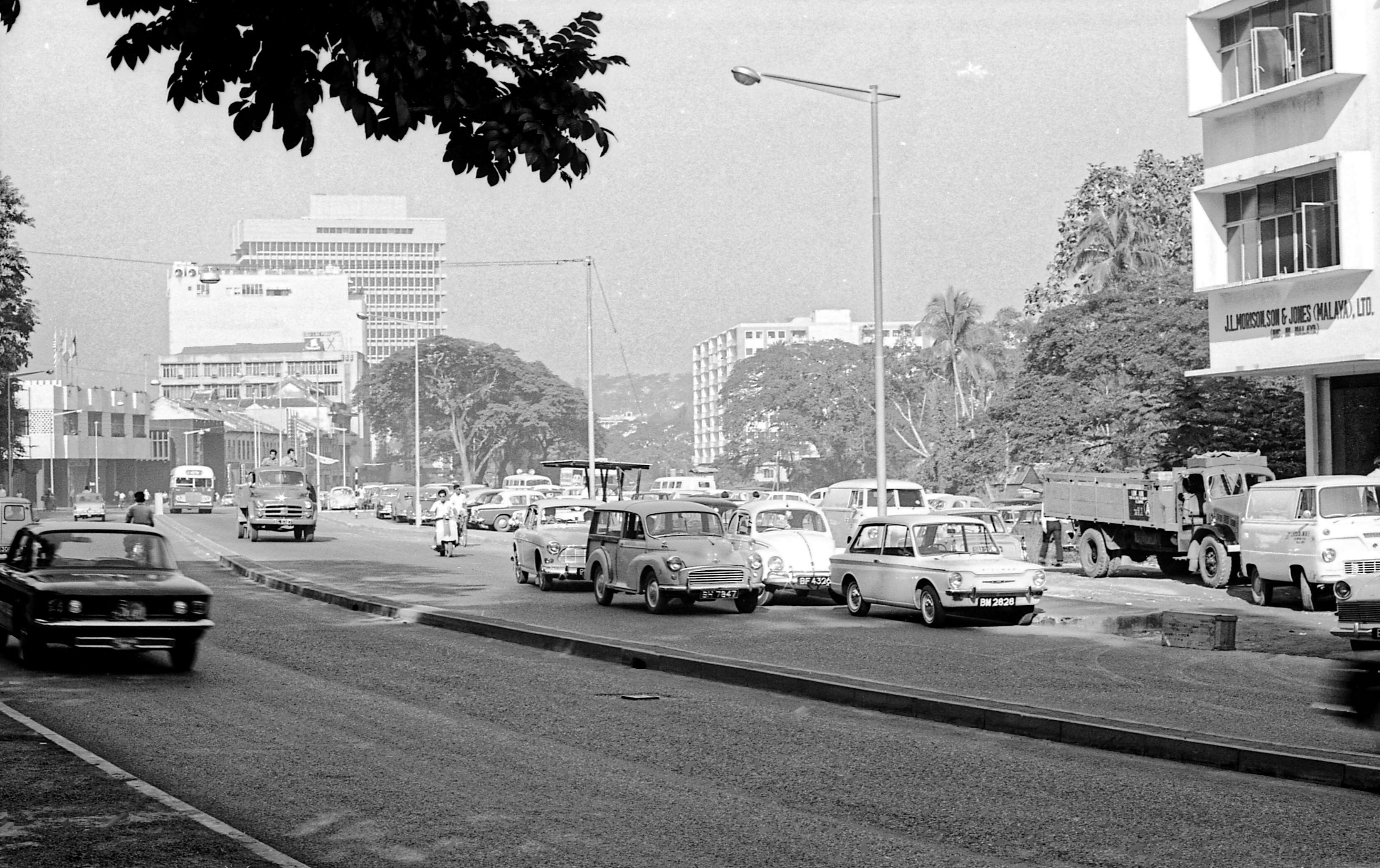 But clearly it's the same photo, as the credits confirmed. Somebody has gone to the trouble of colouring it.
I'm gradually accumulating quite a number of publications of my photos of Kuala Lumpur in the 1960s. Just by chance, I'm talking with somebody else about this photo, taken 6 days earlier :
That's one of the prefabricated "settlers' houses" that my father built in the FLDA settlement in Kulai.
It also lessens the dominance of my old Diaxette: both of these photos were taken within a week of me buying my first SLR, the Asahi Pentax SV. But it's high time that I collect information about the publications.
Petra Gietz dropped in just after I got home. We haven't seen her for a while. She hasn't exactly had an accident (I think), but she has serious problems with her feet. Hopefully she'll find somebody to help her recover.
She also brought some seedlings with her: tomatoes, courgette, pumpkin, cucumber. And that after I had planned not to grow any vegetables any more. Now I'll have to plant them...
By the middle of the night my reconstruction of tiwi:/spool/Series was complete. But things didn't look quite right:
=== grog@tiwi (/dev/pts/3) /spool/Series 240 -> l -rt
total 1
drwxr-xr-x 4 grog home 512 1 Nov 12:31 Call-the-Midwife
drwxr-xr-x 5 grog home 512 1 Nov 12:31 Morden-im-Norden
drwxr-xr-x 3 grog home 512 1 Nov 12:31 New-Gold-Mountain
drwxr-xr-x 3 grog home 512 1 Nov 12:32 Doc-Martin
drwxr-xr-x 2 grog home 1,024 1 Nov 12:32 Jewel-in-the-Crown
drwxr-xr-x 4 grog home 512 1 Nov 12:32 HIP
drwxr-xr-x 6 grog home 512 1 Nov 12:32 Rentnercops
drwxr-xr-x 13 grog home 1,024 1 Nov 12:55 30-min
drwxr-xr-x 3 grog home 512 1 Nov 12:55 Dr-Kleist
drwxr-xr-x 10 grog home 512 1 Nov 12:55 Koeter-Rex
drwxr-xr-x 6 grog home 512 1 Nov 12:55 Vier-Frauen-und-ein-Todesfall
drwxr-xr-x 3 grog home 512 1 Nov 12:55 WaPo-Bodensee
...
drwxr-xr-x 3 grog home 512 1 Nov 13:09 Paris-Police-1900
drwxr-xr-x 3 grog home 512 1 Nov 13:09 Fartblinda
drwxr-xr-x 10 grog home 512 1 Nov 13:09 Rumpole-of-the-Bailey
drwxr-xr-x 2 grog home 1,536 1 Nov 13:15 Labaule
Of course: the directories were all new, so their modification timestamps were "now" (at the beginning of the process). But I use those timestamps to recognize new series. Now they're broken.
But only in the new hierarchy. They're still correct on the backup /videobackup/spool/Series. So, a fifth mini-script which sets the modification timestamp in /spool/Series to match /videobackup/spool/Series:
# run in /videobackup/spool/Series
# find . -type d | xargs zotd
for i in $*; do
if [ -d /spool/Series/$i ]; then
touch -r $i /spool/Series/$i
else # this shouldn't happen
echo > /var/tmp/missing No /spool/Series/$i
fi
done

And of course I caught something in /var/tmp/missing:
=== grog@tiwi (/dev/pts/3) /spool/Series/All-Creatures/03 335 -> cat /var/tmp/missing
No /spool/Series/./Heartbeat/16

But that's correct: we had watched the last episode of series 16 of Heartbeat last night and removed the directory. So things now look like they did before. Hopefully.
The rain has stopped! Today we had none at all, and yesterday it was only 0.6 mm. But in the last 31 days that makes a total of round 300 mm, not far shy of half a year's rainfall:
Date
Gauge 1
Gauge 2
4 October 2022
15.9
15.4
6 October 2022
11.2
13.4
7 October 2022
6.2
6.6
8 October 2022
5.0
5.0
13 October 2022
29.0
30.5
14 October 2022
56.1
55.7
15 October 2022
5.2
4.5
16 October 2022
4.1
4.2
22 October 2022
72.5
73.3
23 October 2022
4.0
4.8
24 October 2022
6.0
8.7
25 October 2022
10.6
13.3
26 October 2022
2.0
2.0
27 October 2022
9.5
10.4
28 October 2022
19.0
19.0
29 October 2022
6.7
6.2
30 October 2022
10.0
10.0
31 October 2022
1.5
2.0
1 November 2022
8.0
8.1
2 November 2022
9.6
8.6
3 November 2022
2.9
3.0
Total
295.0
302.7
Even without this month's 20 odd mm of rain so far, it must be an all-time record. The ground is still sodden. Hopefully we won't see that much rain again too soon.
Another statistic from Statista today: Now if they would only say where they would find those extra Joules.
And no, it's not a one-time typo. It pervades the article.
In principle I have completely recovered my video data. This morning the daily cron backup job ran, and I got up a little apprehensive of what I might find: if I had forgotten to restore some files, the backup job would ensure that they were lost forever.
But no, quite the opposite. Lots more files got backed up than I had expected. Old files that I had already seen. It almost looks as if my scripts foo and bar missed some files. But how? It's interesting to note in that connection that there is 50 GB less free space on /spool than there was at the beginning. That suggests that the files weren't in /spool/Already, otherwise they would not have taken up any additional space.
It's not overly serious. By plan I have backups of all these files, and removing old files is a continuous process. But I'm puzzled that it could happen at all.
Yvonne heard from Julie Donaghy: our old house in Kleins Road is up for sale again as 47 Kliens Road. Barry, the owner, has already had the house on the market once, but I don't seem to have noted it here. At the time was asking round $650,000, but now the price is up to "$800,000 - $850,000".
Will he get it? I'll be keeping my eye out. We sold it to him for $360,000 seven years ago. At first it looks as if, say, $820,000 would be an enormous appreciation, but in fact it represents only about 12.5% per annum. That's very good, but not extraordinary.
It's interesting to look at the property description:
LOVELY UPDATED HOME SET ON 20 ACRES FOR HORSE & NATURE LOVERS

MAKE AN OFFER

47 Kliens Road for Sale

Located in the tightly held and privately located township of Dereel, around 20 minutes from Ballarat and under an hours drive to Geelong, we offer to you this beautiful bespoke large four-bedroom weatherboard home featuring 2 bathrooms including a huge master bedroom with walk in robe and ensuite, which has been updated over the years and set on approx. 20 acres of prime land.
And yes, the spelling error is original "Kliens Road", and it permeates the description. Doubtless the times from Ballarat (30 minutes, not 20) and Geelong (70 minutes, not "under an hour" are more intentional.
We were thinking of going to take a look—by coincidence the house was open for inspection about an hour after I saw the listing—but the photos told me most of what I wanted to know. It seems that the only additions to the house in the last 7 years were a slow combustion heater in the kitchen (though there's already one there, along with an air conditioner) and a TV antenna in the garage:
The other thing that's surprising is that the house appears to be empty. Has he already moved out?
The photos are also interesting. They really make the place look big; I suspect a very wide angle lens, something I didn't have in those days. These photos suggest something corresponding to an 18 or 20 mm "full frame" equivalent lens:
Still, something worth studying.
Jesse Walsh along today to continue working on the garden. I got him to plant the seedlings that Petra Gietz brought, thus ensuring that any savings I make by growing my own vegetables are amply offset by the cost of planting them.
Finally got round to upgrading the installation on bde, slightly complicated by the installation process that I'm developing, a completely unrelated issue. How do I install the packages? ntpd needs starting, and it needs a local configuration file. To start it, I also need the cuse module, along with a very specific invocation of webcamd:
=== root@bde (/dev/pts/2) ~ 7 -> webcamd -N Chicony-Electronics-Co---Ltd--HP-HD-Webcam-Fixed -S SN0001 -M 0
webcamd 1783 - - Attached to ugen1.4[0]
webcamd 1783 - - Creating /dev/video0
webcamd 1783 - - Creating /dev/video1

But the good news was that it worked, as did x2x, though it ran glacially slowly in a Zoom browser window.

=== grog@eureka (/dev/pts/17) ~ 125 -> DISPLAY=:0.3 x2x -east -to bde:0 &
[1] 67501

And Zoom has a number of strangenesses that I still don't understand. But it seems to be working; I'll look at the details tomorrow.
I've been making KL Hokkien Mee for over a year now, and I'm relatively happy with the results. But it occurred to me that a lot of these recipes may now show up on YouTube. Off to take a look. Yes, indeed, a number of them. In general, they expect caramel, and no dark soya sauce at all. Nearly all want some kind of flaked fish (ikan bilis if you can't get flounder, made all the more confusing by the fact that I really don't know what they mean by flounder). And all of them boil the noodles. But then, I'm using bucatini, not Hokkien noodles. None of them mention the brand of caramel, though one recipe shows a bottle that's clearly the Cheong Chan caramel that I use:
This one talks about importing foodstuffs from Malaysia, because they're not available locally—in Singapore! Clearly not an overly reliable source, though he does manage to advertise a particular kind of noodle made in Woodlands.
This one is interesting because it comes from Nyonya Cooking, one of my sources, and indeed the title photo is the same. But the recipe isn't!
This one is a little brief. Somehow the title "super easy" doesn't quite do it for me.
This one is by the MARION of MARION'S KITCHEN, a range of spice pastes that wouldn't be that bad if they were not so expensive. But it seems that she's also a cooking programme hostess. Her recipe was not convincing: it's the only one that doesn't mention caramel and insists on sweet dark soya sauce (add sugar if you can't get sweet sauce). It also doesn't mention fish, and the end photo shows the noodles cut into lengths of about 8 cm. Anything but authentic.
This one is 100% authentic, though: it's taken in a hawker stand in the Sea Park Restaurant in Petaling Jaya. Unfortunately it's just a video of the cook cooking a dish that ends up looking surprisingly unappetizing. It's not clear what he does and doesn't do, though he does seem to use two different kinds of noodles: apart from the Hokkien mee there's also some thin white (rice) noodles.
In summary, I'm happy enough with my recipe, though I should reinvestigate the use of fish. And it goes to show that flashy video clips are no real substitute for good recipes.
The last month gave us some of the worst weather that we've had in a long time. Apart from the unbelievable amount of rain, temperatures were also low. But that seems to be over, at least for the next few days.
Today the sun shone most of the day, and the temperatures reached 27.7°. And we have flowers!
Walking the dogs, we found a particularly large Solanum laciniatum ("Kangaroo apple") bush:
I wonder if the wetter-than-usual spring helped there.
Looking out on the front lawn today, saw Larissa looking at a lump on the ground.
No doubt about it: it's an echidna:
Of course, there wasn't much either could do to the other, and I left them guarding it. Coming back half an hour later, though, it seems that the echidna had not been happy and had tried to dig its way into the ground:
So I took the dogs inside, and next time I came out, the echidna was gone.
Why is it that everybody knows a platypus, and nobody echidnas? Echidnas are far more common.
It's high time that I get my act together with Zoom: our meeting is very early on Tuesday morning. OK, fire up again. Things are glacially slow, and top shows:
PID USERNAME THR PRI NICE SIZE RES STATE C TIME WCPU COMMAND
1832 grog 41 27 0 28G 952M select 2 282:38 309.53% firefox

Maxing out 3 CPUs! And that on a relatively modern laptop. Is this a firefox issue? Tried starting chrom*, but that didn't help. As I have noticed before, the HOST tab fires up a firefox, even if the default browser is Chrom*.
OK, put up with that. No video:
Ah, down there on the bottom left:
Click on it, and get another tiny message that is so ashamed of itself that it only stays there for a couple of seconds, not long enough to position the lethargic mouse pointer on it:
A bit more searching showed that for some reason the webcamd was no longer running. Start it again, and then
OK, that looks OK. What's Zoom complaining about? Tried a test conference with Juha Kupiainen. Perfect video? No, just what Zoom considers acceptable. But no audio! What a pain this stuff is! And somehow the user interface is counter-intuitive. Juha tells me that he can't get audio with FreeBSD either, just with Linux.
That's it. While I need to find out why it doesn't work, I probably wouldn't be able to fix it by tomorrow. So Microsoft it is, much as it pains me.
"Jenny's Lammtopf" for dinner tonight. Looking at the recipe, I decided that we needed more water, and Yvonne always eats only half, so I used a smaller pot:
I also used more water: previously it had been a little dry. And the result was still too much! We had had an entrée, which might have been part of the problem: we need even less when there are other courses.
Yesterday's tests of Zoom on FreeBSD were a complete waste of time. Try as I might I couldn't get any audio.
So today, painful as it was, I tried on Microsoft. Surprise, surprise! First, it wanted to install an app, and then it presented an almost completely different interface:
My guess is that under FreeBSD a firefox plugin provides the equivalent functionality, thus explaining why I always get firefox even when I'm running Chrom* and it's my "default browser". And under Microsoft the app doesn't max out the CPUs.
But it still wasn't plain sailing. As the image indicates, I had difficulty with audio (but not with video). That proved to be due to my use of remote desktop. It seems that under these circumstances Microsoft refuses to use the system audio, though it's happy with the webcam. After selecting the native display and a lot of messing around, I got it to work, and was able to establish contact with Daniel O'Connor. So at least that "works", though I find it particularly irritating to have to use Microsoft.
The other issue is the image quality. It's really not good. Would a dedicated webcam do better? This is the second laptop I've tried, and in each case the image looked equally washed out. I should try connecting my camera.
Walking the dogs today, even more spring flowers:
I've forgotten what they're called, but they're common enough. Only this year there are so many of them, presumably because of the extreme rainfall.
And the rainfall isn't gone yet. We have had a couple of dry days, but today we had 6 mm again, and the forecast is for much more. Of course, today's forecast was for 0-0.4 mm rain, so who knows what will happen. Clearly the Bureau of Meteorology doesn't.
Up early this morning for a 7:30 teleconference to discuss a charter for the FreeBSD Core Team. Not my idea of fun, but despite my objections I found that we came up with some useful results. I still think that we could have done better with more conventional means, but that requires the others to also be prepared to use these means (email discussions, for example). Certainly the ability to write up a collaborative document during the meeting was interesting, in particular because it was relatively tidy; my drafts look really messy, maybe because they can.
The other thing that I hadn't expected was less positive: somehow the whole day was out of sync as the result of my early rising. I still really don't like these things.
I wasn't at all impressed by the image quality produced by my laptop during the teleconference. But then, it's a toy camera. And I have at least two real cameras that claim to be able to function as a webcam, as I noted a couple of years ago.
Off to look at the details. Not encouraging: Olympus is gone, OM System is here, and the app is apparently still in Beta. And it doesn't run on Microsoft "Windows" 7, the version running on eucla, my Microsoft laptop.
OK, not that much of a problem: I can connect my Olympus OM-D E-M1 Mark II to distress. Download the program. Install it. No sign of it anywhere, and the Microsoft search function finds nothing useful.
OK, follow the instructions. Connect the camera to the computer, set USB mode, start Zoom and... it found it!
That's what's intended, of course. Presumably it's just a driver, but it's still a surprise. And yes, the image quality is better. But it made up for it by this stupid default laterally inverted image. Yes, I can fix it, but it's just another one of the many reasons why I hate Zoom.
And that's as far as I got: as advertised, it doesn't do audio, so I need a microphone. I know I have (had?) at least two, but I couldn't find either, and somehow it seems wrong to just go and buy another one.
The weather is gradually getting warmer, and I've been keeping an eye on my one remaining Clematis "Edo Murasaki". And today it suddenly came out with multiple blooms: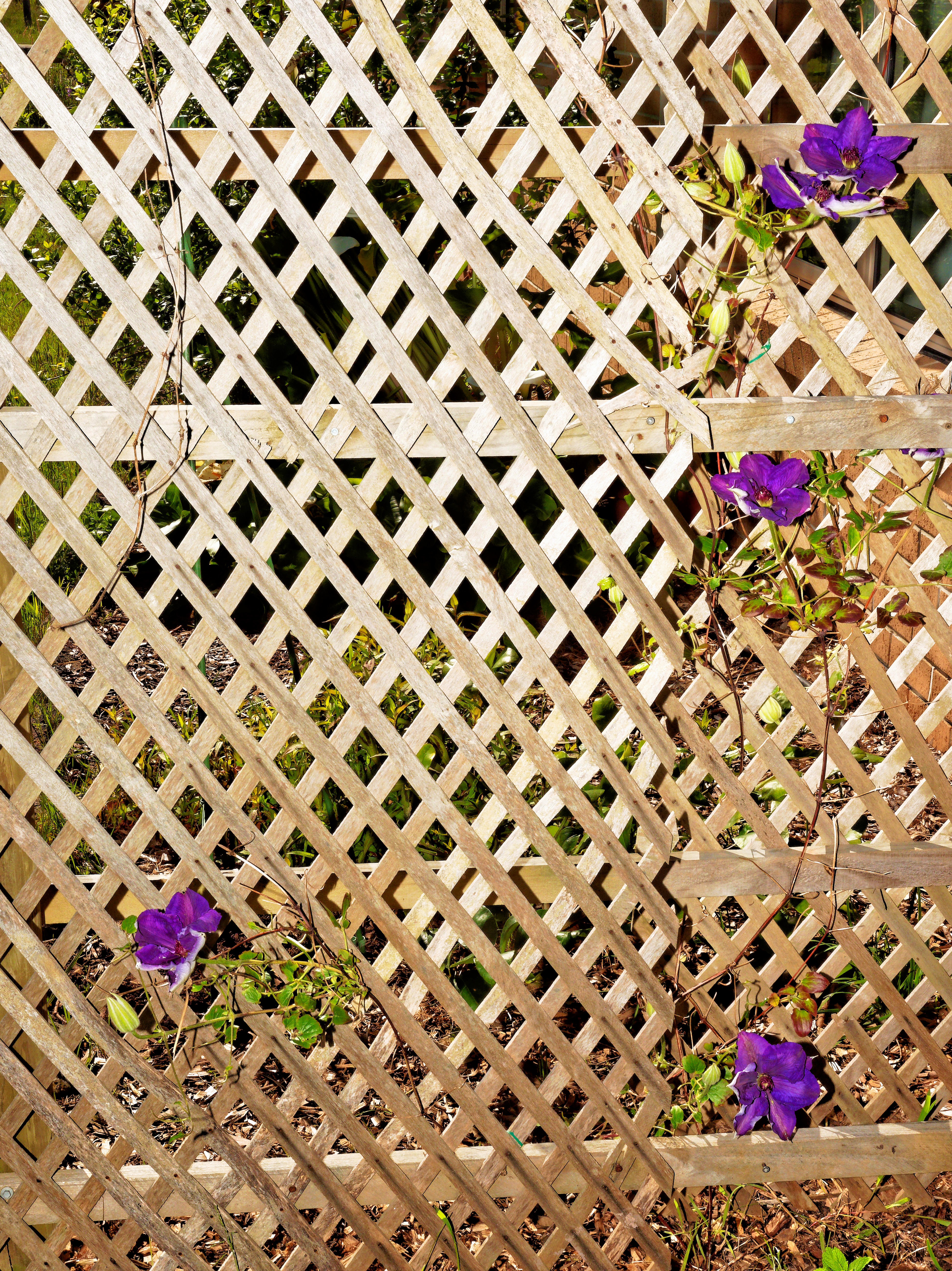 It'll still be a while before it covers the lattice.
Two letters in the mail today, both apparently identical. From AAMI, the car insurers of Helen Miller. They want me to compensate her for the damage I did on 18 October.
What damage? And why didn't she talk to me? She had just finished cleaning and was about to leave, so I asked her why she didn't talk to me about it first. She claims that I had said that I didn't have time (which I didn't), and that I would talk to her about it later. But she apparently put in the claim the same day. Not an amicable way to go about resolving issues.
OK, show me the damage. Now it seems that the whole rear of the car is damaged, including the boot lid. Nonsense! Let me get a photo. No, I won't let you take photos of my car. I have my own (maybe carefully taken to avoid evidence of prior damage?). So all I got was:
And yes, that's the corner that she claims is damaged.
Helen says "you're insured, right, so the insurers pay". Is she trying a fast one to get the insurers to pay for a prior (also very minor) damage? Who knows? We won't have anything more to do with her, and she's going to have to come up with some damn good evidence that I did any damage at all to her car.
A total lunar eclipse this evening, from moonrise to round midnight. And for once the sky was relatively clear. Took a number of shots which will require a significant amount of processing. Here one of the last, of the total eclipse:
Probably the biggest takeaway is that this doesn't really work with conventional cameras. Firstly, the image was taken at 1/4 s, really too slow for a moving object, and the sensitivity was cranked up to 3200/36° ISO, causing a lot of noise. And at 400 mm focal length (800 mm "full frame" equivalent), camera shake was evident despite the tripod, as evidenced by this star:
Yes, maybe my panorama head didn't help; next time I need a really steady mount I'll remove it. But somehow the equipment is inadequate.
Off to Ballarat for the weekly shopping. Gradually I'm getting used to it. No lost ATM cards, no forgotten bread, and I was home much earlier.
And then I discovered that I had given Chris Bahlo the wrong bag of chicken frames. Sigh.
While in town, I stopped in for a six-monthly blood test. Normally the test is free (in other words, paid for by Medicare), but today Paul had wanted an "active Vitamin B12 (Holotranscobalamin)" test. And that's not free. On the contrary, it costs $45!
Why? Clearly it's an expensive test. But surely I've had it before: eight years ago I was diagnosed with a B₁₂ deficiency, and that must have been the result of tests. Or was that a marginally different test? In any case, postponed the test until I discuss it with Paul.
Email from B&H today, with a mention of "fast glass". Well, they don't come much faster than my 25 mm f/0.95 Voigtländer Nokton. Yes, there are a couple of f/0.85 lenses too, but that's it. Read on out of interest.
Oh. Voigtländer now have a "Super Nokton", 29 mm f/0.8. It looks surprisingly similar to my lens. Do I want one? No, I don't think so. Firstly the (non-super) Nokton doesn't have spectacular image quality when wide open (the only time I would use it; otherwise the Leica Summilux 25 mm f/1.4 is a far superior choice), and secondly it doesn't even seem to be a genuine f/0.95, at least based on the exposures my camera chooses with it. But it's interesting to note that it exists.
It's also interesting to compare prices. Apart from the three lenses I mentioned, Leica also do a Noctilux-M 50mm f/0.95 ASPH (maybe; see below), but only for the M series, which seems to automatically add a 0 on the end of the price. Currently B&H sell the 25/1.4 Summilux for $698 (both with or without UV filter for the same price), the 25/0.95 Nokton for $799, the 29/0.8 Super Nokton for $1,749 and the Noctilux for $12,995. And those aren't even the cheapest; they offer a 7Artisans "Photoelectric" 50 mm f/0.95 for $209.
But does the Noctilux even exist? The search for it didn't show Leica from its most professional side. It seems that https://www.leica.de/ belongs to a domain squatter who can't be bothered to serve https://leica.de/, and https://leica.com/ doesn't show any lens details, just a couple of PDF documents about f/1.2 variants. But there are test reports out there, such as this one, and lots of people are offering it for sale. I really hadn't expected Leica to be so sloppy.
Into Sebastopol early this morning to have an X-Ray done at Sovereign Radiology. Some issues with "paper"work: they had lost the referral. Judging by the slip of paper that Andrew, the radiologist, had with him, they didn't find it but got an image sent from the hospital.
The X-ray itself was relatively straightforward. This time I wasn't allowed to stay in the room, so I couldn't sneak photos of the results, but to make up for it he was completed much more quickly.
Back home, discovered that Mr. Peter Turner, the surgeon, didn't want to even look at the results until Tuesday, because they weren't due until then. That makes no sense to me, but it does mean that Yvonne will have to wear her brace for another 5 days.
Yesterday I found some chicken "kababs" (as the sign outside said) on special at Sinclair Meats. Instead of $2.20 a piece, there were 10 for $10. OK, can we mix and match marinades? Yes, we can:
What an incredible amount of single-use plastic! Surely they can improve on that. In passing, it's interesting to note the label:
I think there must be a group of people out there trying to mutilate English texts in the most creative way.
Received in my mail this morning:
From: World Wide Web Owner <www@lax.lemis.com>
To: groggyhimself@lemis.com
Subject: FAILURE: /booquoo/nooquyj.php <- http://www.lemis.com/grog/diary-sep2008.php

Referrer: http://www.lemis.com/grog/diary-sep2008.php
Referenced URL: http://www.lemis.com/booquoo/nooquyj.php
Request URI: /booquoo/nooquyj.php
Remote IP: 151.237.184.66

Surely I didn't have a reference like that? No, I didn't. Coincidentally it was another strange mismatch. This time is easier to understand: some over-eager bot has decided not to check if a URL-like text is really a link before trying to resolve it.
It's still raining! So far this month, the third in spring, we've had 34 mm of rain, and Paul Donaghy called off the appointment to mow the lawn.
But Will Tattnell came. Yvonne wanted some old railway sleepers laid at the bottom of the walls of the arena shed:
Problem: it's still soaking wet, and ground is sodden to a degree reminiscent of eight years ago. And we don't really need it now: Yvonne is still in a brace, and it'll be weeks before she can do any kind of horse work.
But no, it had to be today. The good news: Will managed what he came to do. The bad news: it took about 50% longer, costing us money, and it made a real mess of the lawn:
That, too, will cost money to fix.
But the best was the current entrance to the arena area, where there's still a gate (to be removed in the near future):
I still wish we had never started with this project.
Following some discussion on IRC, once again tried to connect my Olympus OM-D E-M1 Mark II to distress as a webcam. The main issue I had last time was that I didn't have a microphone.
But of course I do: the Saramonic UWMIC9 wireless microphones that, I discover, I have had for over 4 years. They're not suitable for continuous use, since they're heavy on batteries and too polite to use rechargeables, but for a test they should be more than sufficient.
So: first recall what I need to do to connect the camera.
Focus mode to C-AF (continuous) to keep my face in focus. Don't use C-AF+TR, an invitation to the camera to wander off and focus on something in the corners.

Set the mode dial to "Mickey Mouse":

Set the USB mode (D4) to Hookah

The instructions say to set it to Auto so that you'll get a prompt and have to remember to set it to Hookah, but that's too modern for me.
And with that, Zoom has no trouble using the camera.
But sound is a very different matter. First, where do I plug the microphone into? The pink jack, it seems. But oh yes, Microsoft won't do it with remote desktop. OK, off looking for cables and a mouse for distress—at least I have a spare monitor there. Ten minutes later, fire it up and discover that the display is offset to the left, and the start of the display is missing. I've never seen anything that extreme before. Never mind, just a test. Test speaker. No go. Oh, right, it's plugged in to the selector for the amplifier. Select the correct input. No go. Plug into dereel (FreeBSD), which is located on top of distress. Works fine. Try other things on distress. Still no sound. So maybe there's something wrong with distress, possibly a BIOS setting.
And the microphone? Nothing I could do would recognize it.
In the process, found even more irritations with Zoom. Somehow the interface is completely different from anything I'm used to. And why should I even bother? I'm sure that nobody else has any issues with the image quality from euroa, the laptop. So, once again: I just can't be bothered.
In passing, though: the difference in image quality was really significant. A pity that this stuff is so difficult to use.
Jesse Walsh along today to move the fence from one side of the arena shed to the other. He clearly wasn't counting on the force with which CJ Ellis had put them in 7½ years ago. By the end of the day he had only removed 2 of the 4 posts, and was having great difficulty with the third, not made easier by the water collecting in the hole:
I wonder if it wouldn't be cheaper to cut them down and buy new ones. But will I ever be happy when these continual expenses finally stop.
Uploaded yesterday's short video clip:
Straightforward, right? Well, yes, but then I had to answer a question: "Is this video made for kids?".
Well, no. It's also not made for lambs or calves. Of course, what they mean is "Is this video made for children?". So why don't they say so? Yes, I know that "kid" is slang for, as OED puts it, "A child, esp. a young child", but what about the many people for whom English is not the native language? And why don't they use the correct term? Is it possible that people in the USA no longer understand "child"?
OK, enough grumbling. But I really can't answer the question. According to this page, which threatens to change its URL without notice, "made for kids" means
Children are the primary audience of the video.

Children are not the primary audience, but the video is still directed at children because it features actors, characters, activities, games, songs, stories, or other subject matter that reflect an intent to target children.
Well, no, my video is not made for children. But that does "Not made for kids" mean?
Content that contains sexual themes, violence, obscene, or other mature themes not suitable for young audiences.

Age-restricted videos that aren't appropriate for viewers under 18.
No, it's not "not made for kids".
People, what is this nonsense? Probably more than 99% of all content doesn't fit either of these categories. In the end, I selected "not made for kids" and gave an age limit of 0. But why should I have to worry? After some digging, found this:
General audience content

General audience content is content that could appeal to everyone, but isn't intended specifically for children, or content that is intended for a teen or older audience. General audience content should be set as "not made for kids."
So it seems that I did the right thing. But it was guesswork, not help.
In passing, they also say "The age of a "kid" in the United States is defined as anyone under the age of 13." That's very different from the OED definition. And does US law really use the term "kid"?
When my mother died, I received a surprising number of photos and other old documents, so many that I have barely scraped the surface. Many relate to places and people that I don't know, but one document stood out:
That's a photo album showing my father's architectural work from about 1950 to 1957. Today I finally stopped tripping over it and took a look inside. It's in poor condition, and many of the photos have fallen out, but it's still interesting. I feel that I should recognize this building, possibly a government facility in Kota Bharu
But I most definitely don't recognize this one, which must have been built round 1953:
And then there's this one:
This was at my school of the time, the Sultan Ismail College, and it would have been built round 1955 or 1956. But I don't recall the construction, just another building nearby for the girls' school. And the faded colour print shows one advantage of black and white photos: they last.
The real question, though: how do I digitize it?
Chris and Melanie Bahlo and Melanie's husband Tony had originally planned a barbecue at their new property today, but for various reasons it didn't happen. Melanie and Tony's friends found it far too far from Melbourne, and the Bureau of Meteorology had promised up to 25 mm of rain!
What did we get? No rain all day long. I'm sure it won't be long until it rains again, but the last-minute adjustment in mid-morning still didn't come close to the truth:
Time
Possible rainfall
Chance of any rain
11:00 am - 2:00 pm
0.2 - 2 mm
50%
2:00 pm - 5:00 pm
0.4 - 2 mm
60%
5:00 pm - 8:00 pm
0 - 0.4 mm
30%
8:00 pm - 11:00 pm
0 - 2 mm
40%
Reading back in my diary, came across this article on watching TV. Jamie Fraser had bought a Chromecast box, something that I found far too limiting. How do you single step? How do you take a screen shot? Can Jamie live with it? Asked him on IRC.
Yes, it seems. Single step? No. Screen shot. No. As others said, who needs them? Somehow people are all stuck in their boxes.
It may not have rained during the day yesterday, but we had heavy rain during the night. 10 mm? 20 mm? Out in the morning to look at the rain gauges:
One of the few times that the green gauge (really its predecessors) overflowed the scale. And this was even worse than 15 years ago.
How much was it? For that I needed to pour some out into another container, measure the rest, discard it, then pour the water back from the other container. And in the process I managed to spill some of it. But still 60 mm!
But then, what's the other gauge for? Squinting, maybe:
It took a bit of processing to even recognize the level:
70 mm! But that's not what I read before. Just a few seconds earlier it was 66 mm! More investigation showed that the reading depended strongly on the way I held the gauge. Normally I took it out of the holder and lifted to eye height. But depending on the way I held it, I could get values between about 62 mm and 70 mm, presumably even more. I have to guess that the way it is on the photo is the correct way, since it's mounted in its holder. And clearly this is a partial answer to my paradox that the two gauges so frequently showed different values. So either I kneel in front of the gauge or I take a photo of it.
Into town today to discuss my blood test results with Paul Smith. Nothing of any great concern. Earlier in the year he decided to have me tested for PSA, and this was the second result. Also well inside the normal range, but considerably higher than the first. So I'll do a third in three months' time. To make up for that I don't need to do the "active Vitamin B12 (Holotranscobalamin)" test.
On the way into town, took a look at Dagtrap Creek, which, as expected, is swollen:
That's more than it was It's probably even better seen from the other side, but when I returned it was pouring with rain again.
I've already commented on the fact that Woolworths distinguish between noodles and pasta, to the point of putting them in different aisles. Today I wanted to buy some bucatini, so I went to the noodle aisle. No bucatini. In fact, no normal noodles of any kind, just instant complete noodle dishes:
OK, what do they have in the pasta aisle?
There are the bucatini, along with all the other noodles I know and love, as long as they're not Asian (which are elsewhere again).
What goes on in the minds of Woolworths planners?
For decades now I've been using toothpaste in convenient pump dispensers: They last a while, but today I needed some more. For once I found it quite easily, along with hundreds of different types of tubes. But look at those prices! The pump holds 130 g and costs $6, or $46.15 per kg. The same paste comes in tubes of 180 g, costing $3.50, or $16.67 per kg. That's make the pumps more expensive by a factor of 2.37! And while thinking about it, it occurred to me that the pumps are also more of a burden for the environment. So it's back to tubes, old-fashioned as they may be.
While watching TV this evening, an Emacs popped up over the film we were watching. "Reconnecting to lax.lemis.com". Dammit, another network outage? No, only lax wasn't reachable. OK, finish the film and check. Yes, lax is there again. But:
=== grog@lax (/dev/pts/1) ~ 1 -> uptime
10:51AM up 25 mins, 2 users, load averages: 0.26, 0.33, 0.24

Oh. It crashed! And that after being up for over 15 months:
Date: Mon, 14 Nov 2022 03:03:36 GMT
From: Charlie Root <root@lax.lemis.com>

lax up 478+08:07, 0 users, load 0.57, 0.47, 0.45

Still, it's not as bad as if ffm.lemis.com had gone down:
=== grog@ffm (/dev/pts/0) ~ 7 -> uptime
1:31AM up 1744 days, 10:34, 2 users, load averages: 0.48, 0.40, 0.26

That's nearly 5 years; hopefully I'll make that.
But why did lax go down? Looking through the reboot log showed nothing useful, but in /var/log/messages I find:
Nov 14 10:12:30 lax qpopper[46819]: Stats: jerryd 0 0 0 0 99-23-195-227.lightspeed.austtx.sbcglobal.net 99.23.195.227
Nov 14 10:26:16 lax syslogd: kernel boot file is /boot/kernel/kernel
Nov 14 10:26:16 lax kernel: ---<<BOOT>>---

The first message repeats on a regular basis, every 6 minutes. So the fact that there was none at 10:18 means that the system must have been down by then. And it doesn't take 8 minutes after a crash before the system begins booting. So it looks as if Vultr had a crash (and didn't inform me).
Everything OK? The web server was working, mail seemed to work. What about the name server?
=== grog@lax (/dev/pts/1) ~ 8 -> host ffm
Host ffm not found: 3(NXDOMAIN)

Oh.
=== grog@lax (/dev/pts/1) ~ 9 -> ps aux|grep named
bind 612 0.0 0.6 41488 23732 - Is 10:26 0:00.30 /usr/local/sbin/named -u bind -c /usr/local/etc/namedb/named.conf

That looks better. What's it doing?
=== grog@lax (/dev/pts/1) ~ 10 -> host ffm.lemis.com
ffm.lemis.com has address 45.63.116.55

Ah, a suspicion...
=== root@lax (/dev/pts/1) /home/grog 1 -> cd /etc/
=== root@lax (/dev/pts/1) /etc 2 -> cat resolv.conf
# Generated by resolvconf
nameserver 108.61.10.10

Something (clearly resolvconf, whatever that is) has overwritten my /etc/resolv.conf. In fact, it's in resolv.conf.bak:
=== root@lax (/dev/pts/1) /etc 3 -> cat resolv.conf.bak
search lemis.com
nameserver 45.32.70.18
=== root@lax (/dev/pts/1) /etc 4 -> cp -p resolv.conf.bak resolv.conf
=== root@lax (/dev/pts/1) /etc 5 -> host ffm
ffm.lemis.com has address 45.63.116.55

Looking at the man page for resolvconf, it seems to be a linuxism. I must read more carefully and configure the thing to leave me alone.
Another teleconference for the working group to establish a charter for the FreeBSD Core Team this morning at 7:30. Last time I was quite impressed by how it ran, maybe because I had few positive expectations. But today was less positive. One of the "participants" showed up at the start, said a word and disappeared. Another one had difficulties once again with the video interface throughout the call.
I did too at the start, but fortunately Adam (the coordinator) set me right before the meeting got started. But clearly the technology is getting in the way, and I'm not sure what it adds to the meeting. And by the end of the meeting I wasn't sure what we had achieved beyond moving our working document from one external platform (HackMD) to another (Google Docs). And there's still a requirement for a multi-day meeting in the USA at the end; I certainly won't be there, and it's not clear who else will.
Today was supposed to be a busy day. Apart from the Core Team meeting, Yvonne had no fewer than two doctor's appointments. The second was with Rodney Reddy, the cardiologist, this afternoon. But during the teleconference I got a phone call: he has tested positive for COVID-19, so the "consultation" was done over the phone, and the planned ECG was postponed to some later date. After the call it seems that the call was more a routine checkup than anything else.
Yvonne's other medical consultation today was planned to be by phone, and it came in the middle of breakfast: she can remove her body brace! (Run the cursor over an image to compare it with its neighbour).
There's more to come, of course: she still can't drive a car, and there's another X-ray in 3 weeks time. But she's (almost) jumping for joy.
I had planned to have "before" and "after" photos of Yvonne taking off her brace, as above, so I mounted the camera on a tripod. But the results weren't quite what I expected. In these (uncropped) photos the background moves, mainly vertically (run the cursor over an image to compare it with its neighbour):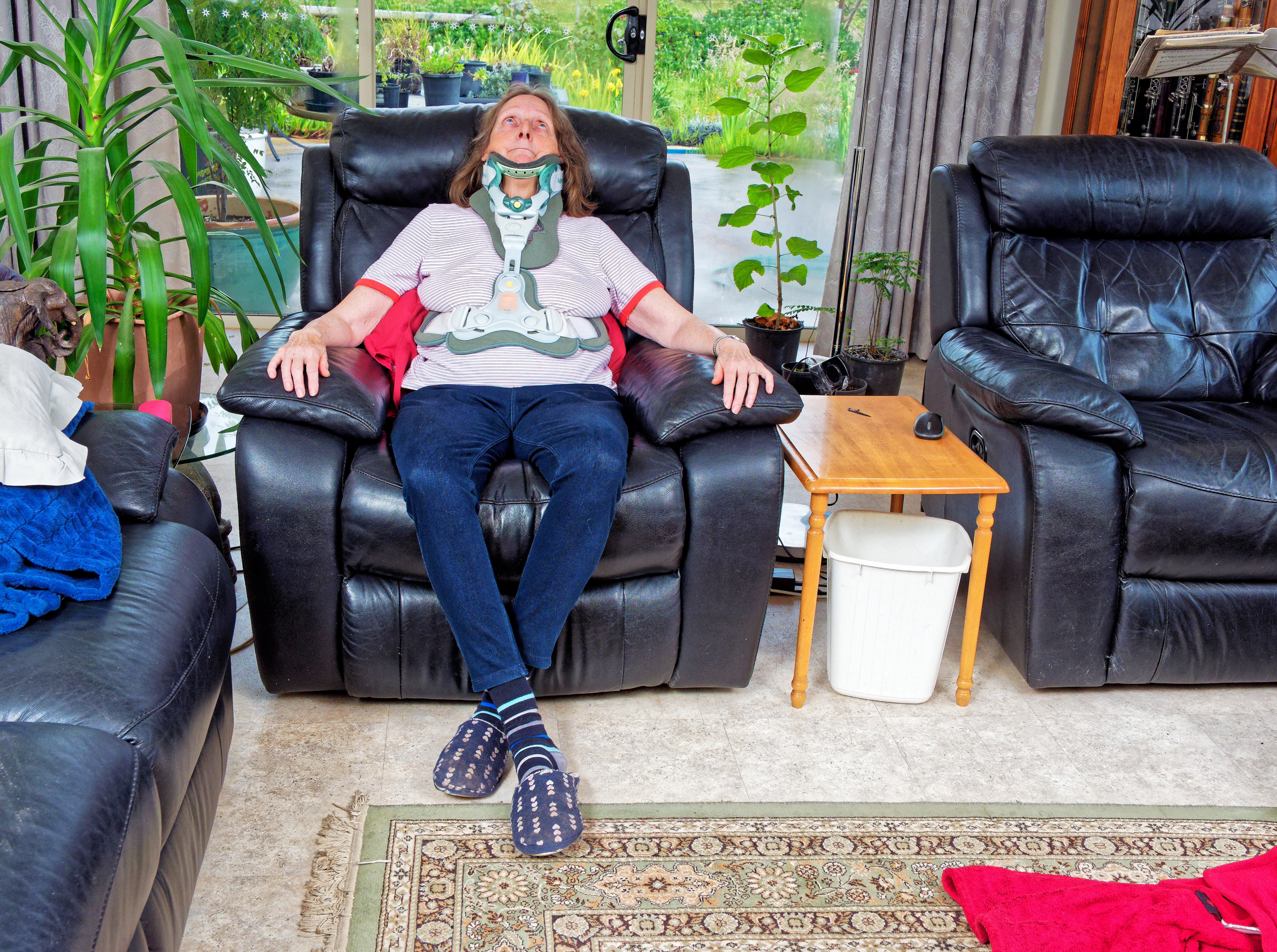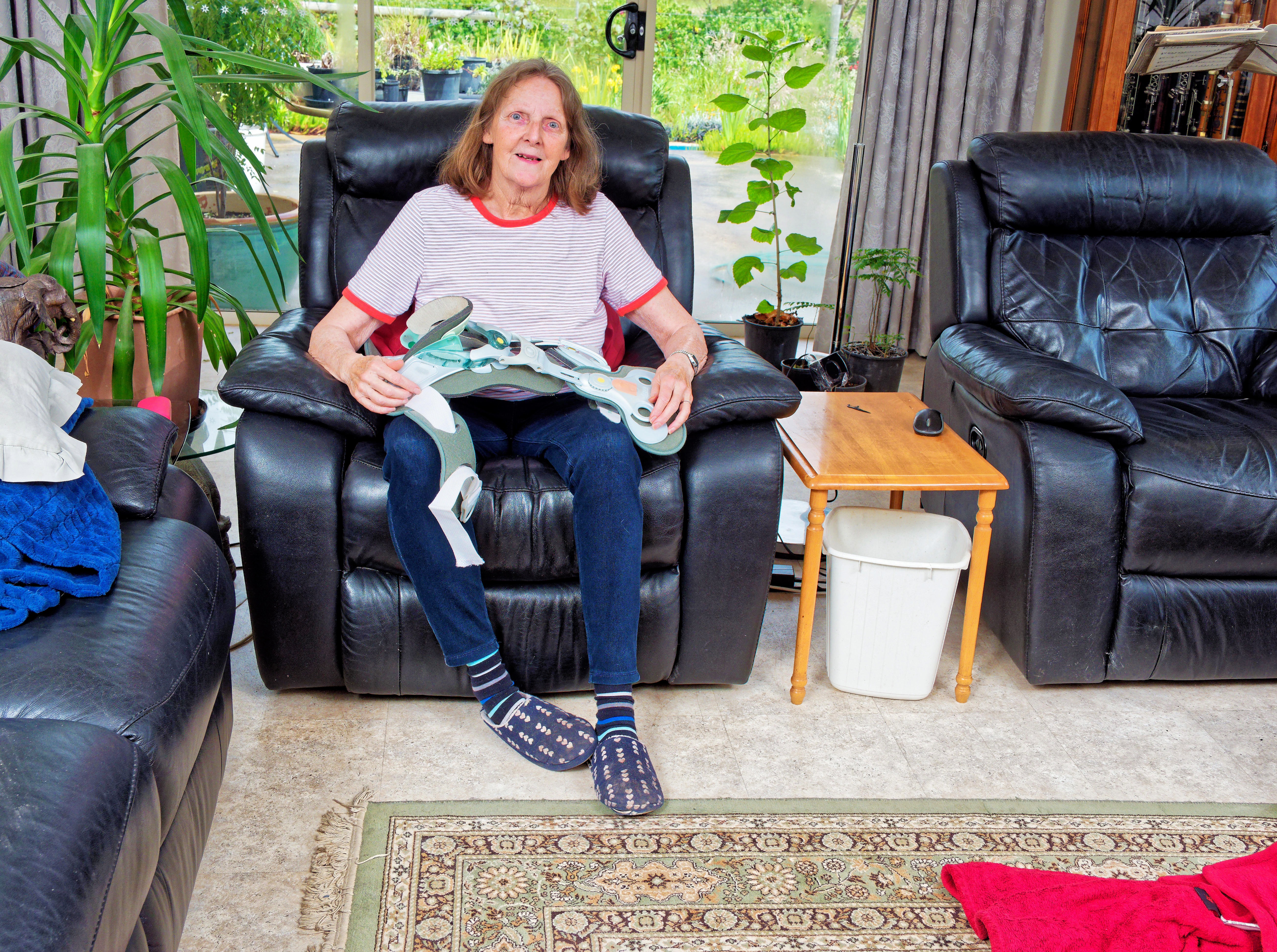 Despite my efforts, the photos don't quite align. Why? I had a similar issue last week with the eclipse photos, but that was different for a few reasons: firstly I was using the panorama bracket, which is less stable than just a tripod, secondly the angle of view was far smaller, about 0.7°, corresponding to a focal length of about 2,400 mm on a "full frame" camera, and in addition the subject (moon) was moving. Today I did have a macro bracket on the tripod, but the effective focal length was only about 60 mm, and the subject (room) wasn't moving.
So for the final photos I first had to align them with Hugin, something I do seldom enough that it was a bit of a nuisance. Next time I'll remove all additional stuff from the tripod and use a remote shutter release.
I've replaced one of the rain gauges with a new, easily read one, but for the sake of comparison I have mounted the old one on the same post:
Isn't it easier to read? I had started to think that my eyes were no longer up to it, but clearly it's the gauges themselves, as this (enhanced!) view of the third gauge shows:
But there's another problem here. Both the old gauges show 5.0 mm of rain. The new one shows 4.3 mm. That can't be due to the shape of the gauge, since the new one is almost identical to the old one. What's the issue this time? It can't be the slight tilt of the gauges. Still more investigation needed. But in the meantime it seems that our rainfall has been:
| | | |
| --- | --- | --- |
| Month | | Rainfall |
| October | | 286.4 |
| November | | 126.1 |
| Total | | 412.5 |
That's roughly ⅔ of the average annual rainfall!
It's been a disastrous spring. First a couple of very cold nights to kill off the foliage on the Hibiscus rosa-sinensis and stop the Alyogyne huegelii from flowering, and then no less than 412 mm of rain in the last 6 weeks to soak the soil. Two months ago I put some cable ties round a couple of dead-looking branches to see how they develop. They haven't: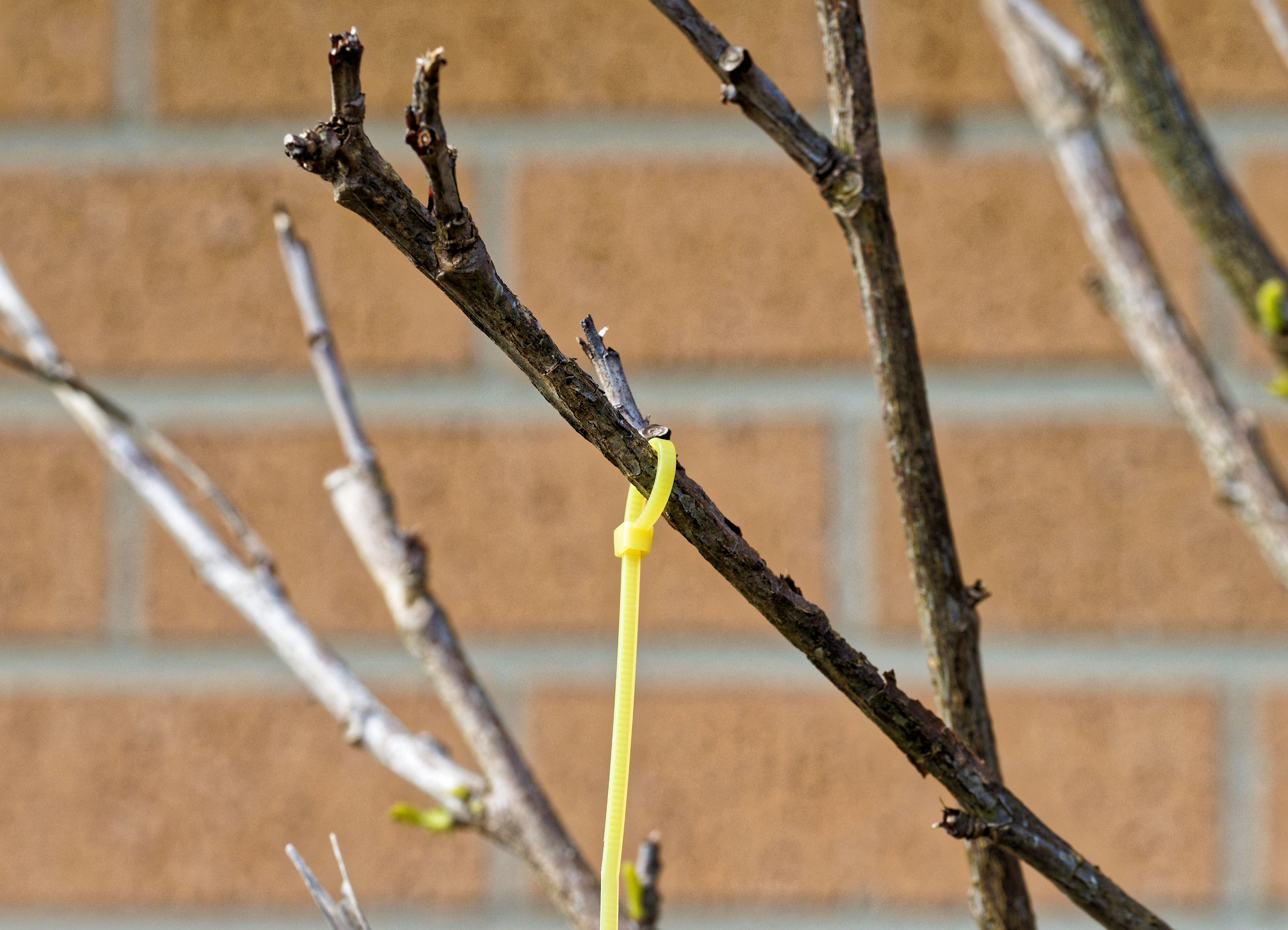 But things aren't all lost. There is new growth, just elsewhere:
In fact some is visible out of focus in the first image.
And the Alyogyne has recovered well:
But that makes it clear that I need to protect the Hibiscus next winter.
Into town today for the weekly shopping. Yvonne is out of her brace, but she's not allowed to drive a car until after her next X-ray in the middle of December. Things are getting easier, and I was done by 13:30.
Still, there's pain. Yvonne likes a particular kind of tomato called (probably wildly incorrectly) "Mini Roma", which comes in particularly unstable plastic boxes. They open at the slightest provocation, and the tomatoes fall out. I had complained about this last week, but I suspect that the manager put the complaint into the "cranky old man" basket, not considering that both ALDI and the grower suffer as a result. Today the top layer of the display was empty, so I had to remove the cardboard to show the next layer. And in spite of the covering, one of the packages was already open:
OK, take one that looks more stable, and handle considerably more carefully than raw eggs. No luck. At checkout, it escaped:
Yes, of course I was able to change it, and in fact I ended up with a few more tomatoes as a result. But surely they can do something about it.
Now that Helen Miller is no longer coming, we need a new cleaner. Today Victoria Caulton came along. She makes a good impression, and she'll be starting next week.
A couple of weeks ago I watched a number of YouTube videos about Malaysian "street food", notably KL Hokkien Mee. I cooked it again today and made some changes as a result:
Change the quantities of sauces: 20 ml light soya sauce, 15 ml dark soya sauce and 20 ml caramel sauce.

10 g crushed ikan bilis.

More cornflour: 14 g instead of 12.
I also ran out of baby octopus (32 g instead of 50 g), so I made up for it by using 65 g prawns.
The result? I really don't see the advantage of the ikan bilis. The change in sauce wasn't obvious, but the cornflour was: too much! I think I need more liquid, something that I had noticed in the videos, and maybe the sauce should be less viscous. But in principle all was pretty much the same, so for the moment I won't update the recipe.
Reading the nightly log summaries this morning, I saw:
Checking setuid files and devices:
find: /usr/local/lib/bonobo/monikers: Input/output error
find: /usr/local/lib/colord-sensors/libcolord_sensor_argyll.a: Input/output error
find: /usr/local/lib/colord-sensors/libcolord_sensor_argyll.so: Input/output error

That was from teevee. Oh. What's in /var/log/messages? Lots of:
Nov 17 04:00:33 teevee kernel: g_vfs_done():ada0p4[READ(offset=3944546304, length=32768)]error = 5
Nov 17 04:00:36 teevee kernel: (ada0:ahcich1:0:0:0): READ_FPDMA_QUEUED. ACB: 60 40 28 8f f5 40 07 00 00 00 00 00
Nov 17 04:00:36 teevee kernel: (ada0:ahcich1:0:0:0): CAM status: ATA Status Error
Nov 17 04:00:36 teevee kernel: (ada0:ahcich1:0:0:0): ATA status: 41 (DRDY ERR), error: 40 (UNC )
Nov 17 04:00:36 teevee kernel: (ada0:ahcich1:0:0:0): RES: 41 40 48 8f f5 40 07 00 00 40 00
Nov 17 04:00:36 teevee kernel: (ada0:ahcich1:0:0:0): Retrying command, 3 more tries remain
...
Nov 17 04:00:48 teevee kernel: (ada0:ahcich1:0:0:0): Error 5, Retries exhausted

Yes, I knew that the disk was dying, but so far it only affected the old /spool file system, which is no longer mounted. Now there are errors in the root file system.
So: why haven't I fully migrated to tiwi? Two main issues: mouse mapping and bash input. I can survive without fixing either, but it's unpleasant. I can work round the mouse mapping by carefully pressing the scroll wheel, but once again it proved difficult. And I had noted a potential solution to the bash interface last month.
Oh. Yes, I mentioned that it was on a NetBSD mailing list. But I didn't keep the link! Another loose end to chase up.
Still, let's at least prepare a migration. Start up X on tiwi. That requires connecting a (wireless) keyboard. There are so many! Which talks to the dongles in the machine? None, it seems. After some playing around, managed to get a mouse to talk, but neither of the matching keyboards produced any results on the screen.
Much more messing around. I could change vtys, but I couldn't get any response from vty0. Finally it dawned on me: I had pressed ScrollLock, so normal input didn't work.
After that, things still weren't easy. Note for Groggy: kldload nvidia-modeset, not nvidia. After that I was able to use the screen at a pinch. If teevee finally gives up the ghost, I can move to tiwi without excessive pain. But it's really high time that I fix things.
One of the consequences of teevee's problems was that it was no longer a good idea to run firefox from teevee. OK, start from tiwi. But it didn't respond to invocations from mutt on eureka. Instead it started a local firefox.
After analysis, it seems that this is a fixed bug. In the past you couldn't start a separate firefox from two different systems on the same display: the second attempt would just attach to the first, even if it was running on a different system. Now, it seems, it is possible, but that means that a mutt running on eureka can't attach to a firefox running on tiwi and displaying on the same display; instead it tries to start a new instance.
OK, the obvious thing is to finally upgrade eureka. After all, I've been planning for something like 5 years.
But in the meantime I copied the firefox configuration (~/.mozilla/firefox/Brave-New-World) to bde (the laptop) and tried it there, intending to run mutt there as well. Yes, firefox worked, sort of, but at a snail's pace. After considerable time it finally recovered all the open tabs, but top showed:
PID USERNAME THR PRI NICE SIZE RES STATE C TIME WCPU COMMAND
85992 grog 103 27 0 12G 1023M umtxn 3 6:59 37.62% firefox
86008 grog 21 21 0 2732M 436M select 0 0:17 2.01% firefox
86011 grog 20 20 0 7286M 629M select 2 0:25 0.33% firefox

Look at the size! That's an order of magnitude more than before. And that umtxn state looks suspicious. But alright, let's try dereel, displaying on eureka:0.2. And that worked, modulo issues with mimetypes. But that can be fixed, and hopefully it will only be of short duration.
Reading a recent UK statement to the OSCE: "Putin has only achieved isolationism and humiliation for Russia ". A good viewpoint. But then he writes, referring
Under orders from the Kremlin, our Russian colleagues have sought and failed to reframe Putin's unprovoked and barbaric attack on Ukraine as an act of 'self-defence'. Most recently, they have even spoken of creating a new world order. Well, as the playwright George Bernard Shaw once put it: "The reasonable man adapts himself to the world: the unreasonable one persists in trying to adapt the world to himself."
Oh. He shouldn't have said that. The complete quote goes:
The reasonable man adapts himself to the world: the unreasonable one persists in trying to adapt the world to himself. Therefore all progress depends on the unreasonable man.
And he certainly didn't want to suggest that Russia's actions were justifiable because they lead to progress.
The last of the three video conferences about the charter for the FreeBSD Core Team today. At least I managed to get my thoughts across about the usefulness of this kind of discussion as compared with email, but I don't know to what extent the others agreed.
After the video conference I barely had time for a quick bite to eat before we had to leave for Ballarat to take Yvonne to Ballarat for an MRI scan. That was fasting, and she was also due for a fasting blood test, so I had to drop her off to pick up the referral and have the test.
Where do I park the car? There are new parking places round the corner in Sturt St., and one was free. But I had to interact with a parking meter, and once again I just couldn't read what it was trying to tell me. Once again they have installed meters with low-contrast displays and mounted them with a bright background. I couldn't recognize any kind of text on the display. Took a photo of the meter, but I couldn't recognize the image on the camera display either, though it probably would have been OK with a real viewfinder:
So I left it. Just as well: as I had expected, Yvonne hadn't had time to have the blood test, so took her off to St John of God for the MRI, discovering in the process that they have destroyed the car park to build yet more buildings.
Back to Sovereign Radiology for a DEXA test, which went relatively smoothly, and despite my concerns, I was back at St. John of God long before Yvonne was ready.
Back home only a little after noon. What a morning!
Between radiographs went to the Fruit Shack, where I got most of what I wanted. While there came across this strange packaging:
What's that? Google Translate can't make up its mind either, though in the various translations the word "louver" crops up, something that I thought was part of a US American window. And the OED doesn't know what it is. But I'd like to know how they came across the term "bible".
I don't think I've eaten a mango in this millennium. Probably the last time would have been in the 1960s. I'm not overly fond of them, and they're messy.
But this week ALDI was out of papayas, and I didn't want to look elsewhere. So I bought some nice-looking mangoes:
How do you prepare them? Like an avocado, I thought: cut round the stone, rotate and it comes apart. But no, either my recollection is different or these are different mangoes:
Taking photos for my analemma project today (for once the sun was shining), and I discovered that I had forgotten to turn on the remote control. OK, press the shutter. Did I move the camera? How can I tell? Take a second image with the remote control, 26 seconds later, by which time the sun should have moved about 0.11° W, about ⅕ of the 0.52° subtended by the sun. What did I get?
Run the cursor over an image to compare it with its neighbour. Close enough, I suppose. The horizontal movement is approximately what I would expect, but the vertical motion was unexpected. At first I thought "That has to be wrong", but of course it was taken at 13:25:0, mean solar noon, not necessarily real solar noon. And a check showed that actual solar noon was at 13:9:56. So the elevation should have been decreasing: the second image should have been lower, not higher.
So: yes, it seems that pressing the shutter does make a difference. But no, it's not big enough to falsify my planned analemma montage.
Why is the sun not circular? Must be a deficiency either in DxO PhotoLab or my specific lens. Why is there different chromatic aberration between the two images? Maybe a function of the haze round the sun? That would require more investigation than I'm prepared to undertake.
Both Paul Donaghy and Jesse Walsh along today, Paul to mow the lawn (which he just managed before he nearly got drowned by the rain), Jesse ostensibly to finish work on the fence. But somehow the condition of the soil wasn't appropriate:
So he worked on the weeds in the succulent garden, which really needed it. At least he got halfway:
He was stopped not by time but by a full dustbin. But things are looking better, even if some of the plants in the bed are also showing the effects of the frosts of winter.
I've taken a long time to understand the immense variety of noodles available both for European and East Asian food. But I don't seem to be the only one. Yesterday I bought some new Jack Hua noodles. The noodles are the same, but the packaging isn't. Here a package I bought last year and the ones I bought yesterday:
The biggest difference is that they are now tied in bundles of roughly 60 g; previously they were one big mess:
It's very rough: the first three I checked weighed between 55 g and 73 g. Still, the idea is good. And they have also changed the information on the label. Now the French version no longer claims « Préparation alimentaire a base de riz », but « Nouilles De Style Oriental » ("Noodles of oriental style"; their capitalization).
More important, though: they have specified how to prepare them. Don't boil, just soak in hot water for 5 to 8 minutes. "Ready to be mixed with soup stuck [sic], meat or vegetable".
And for some reason the serving size has changed; previously it was 17 servings per kilogram, or about 59 g, which matches quite well with the portions I weighed. But now it's 20 servings, 50 g, which doesn't match. It'll be interesting to see how many portions there really are in the bag.
The news of the month is how Elon Musk bought out Twitter and proceeded to dismiss more than half of the work force. Latest rumours are that he requires his employees to produce voluminous new code to show their worth. Some discussion on the UNIX Heritage Society mailing list. As Dan Cross put it,
Well, if I ever go to work for Twitter, I know how I'm initializing large arrays.
But of course Elon is following the old adage "when in a hole, dig faster". And I can now reveal that the few remaining employees have resigned en masse and have started a new platform, "Idiot".
Remember, you read it here first.
For some reason I have had lots of problems with cooking legs of lamb. Based on prior experience, I decided that a meat temperature of 57° would be best, and that it would take 50 to 55 minutes at 180°.
But I have this wireless meat thermometer from ALDI, and I can't make up my mind whether to return it or not. It's designed for semi-illiterate people who can, however, identify farmyard animals. Start with an image of a cow:
Press the MEAT button until I get a sheep. And it sets the temperature accordingly: 78°!
Ah, that's for WELL, not a term I would associate with that temperature. Press the TASTE button and it changes terminology, finally to M RARE. It's too polite to go any further, but it offers 58°:
Given that I had started with a too-warm 63° and guessed at 57°, that's close enough. There is a way to modify the temperature, but that's for next time.
So: 1(.004) kg of boneless lamb at 22°. Cook to 58° in an oven at 180°. And yes, my guess of 50 to 55 minutes was pretty much exact: 54 minutes.
But: for my way of thinking, it's still overcooked:
So: next time 55°?
A few days ago I thought I had solved the issue of the differing rain gauge readings. But no, not at all. Mercifully we had a couple of days without rain, but now I have a number of readings that show that the old rain gauges are still not completely in agreement. But the two green gauges (new one and the corresponding old one) differ by 10%!
The old one measures 21 mm, the new one 19 mm. Why? They both have the same shape, so they should have the same amount of water in each. Poured out the water from the new one and poured in the water from the old one. It displayed 19 mm. It lies!
Why is this all so difficult?
Last month I saw question on the German Quora recently: "What experience have you had with induction cookers with touch interface?".
I've pondered that for some time. I have never seen an induction cooker that doesn't have a touch interface, but it's an Interesting question. And of course I have "experience", and I took a couple of photos to illustrate my point. There are a number of issues:
The markings on the zone are clearly designed for laboratory environments. In a normal kitchen where the cooker is up against a wall, all light comes from behind, and the markings are far too polite to jump out at you:





They're there, of course, but you have to look for them:





This makes it extremely difficult to find the controls without additional illumination.

To make things more difficult, the controls are not well defined. You need to touch them in exactly the right place to get them to work, and there's a real danger of locking the cooktop (the "key" area next to the on/off button).

To change the power to a cooking zone, you press the - and + buttons to the right of the on/off and lock controls at the bottom. Things go at a snail's pace, about one power level per second. Since the levels go from 1 to 9 and b, this can take up to 10 seconds! By contrast, any old-fashioned cooktop can be set in a fraction of a second.

This particular cooktop has a very poorly designed user interface. The controls only apply to one zone at a time. You select the zones with the deformed + symbols at the top (this cooker only has 3 zones; the one on the left is oversize). That makes it easy to change the settings on the wrong zone.
To be fair, not all induction cooktops have this brain-dead interface. Even Bosch has better things for its (much) more expensive models, though even then you first have to select the zone. It's not a question of cost: other makes have much cheaper models with better interfaces.
What would I do next time? Even more research. Individual controls for each zone seem to be a must, though there are also questions about how the zones are controlled, and whether they should be more flexible.
Four years ago, while ranting about Tony Northrup's idea that the Micro Four Thirds system would be dead in 5 years, I observed that the word "bokeh" was so new that even the OED hadn't heard of it. But that was 4 years ago. A good 12 months later they put it in the dictionary. They confirmed my dating: their first attestation was in 1997. And the etymology is fascinating:
Etymology: < Japanese boke (20th cent. in this sense, apparently only in specialist use), apparently shortened < the widely-used pinboke state of being out of focus (1931 or earlier) < pin- (in pinto focus, focal point: see note) + boke blur, fuzziness (18th cent. or earlier), nominalized stem of bokeru to lose focus, to be out of focus (20th cent.; earlier in sense 'to become blurred, to fade (especially from a darker to a lighter colour)': 1603 as boqe, boquru, boqeta in Vocabulario da Lingoa de Iapam, glossed 'the colours appear as red'), specific use of bokeru to become befuddled, to become senile (late 12th cent.), variant of hokeru (derogatory) to become senile (10th cent.).

Japanese pinto focus, focal point (1880 or earlier) is a borrowing < Dutch -punt (in brandpunt focal point, lit. 'burning point' < brand burning, fire (see brand n.) + punt point n.1, apparently rendering classical Latin focus fireplace, in its post-classical Latin sense 'focal point': see focus n.). Slightly earlier use of the Dutch word is attested in a Japanese context, transcribed as burandopyunto (1867).
That's almost as interesting a derivation as the etymology of "average".
It's a month before the solstice, time for my monthly garden flower photos. It has been raining now almost continually since the beginning of October. In that time we have had 444 mm of rain, nearly ¾ of an average year's rain. And it shows:
More and more I'm becoming convinced that many of the plants are suffering because of the wetness. The Corymbia ficifolia is looking worse than ever:
The Schinus molle is also fading:
And the Abutilon that we got 2 years ago, and which was growing well, now looks decidedly unhappy:
I think that it will survive if it ever stops raining. By contrast, the other plant, which we hadn't planted into the soil, and which looked much worse than this one, is looking better, though it, too, needs to go into the soil:
This one was flowering until the recent winds came along.
And even the lavender has died:
The Clematis "Edu Murasaki" has recovered from Bryan Ross, though it doesn't look as good as it should: apart from the rain, we've also had a lot of wind, which has destroyed many of the flowers:
And the Persicaria odorata (daun laksa) has now completely recovered from Bryan:
The Hibiscus rosa-sinensis clearly suffered mainly from the frost. It's still anything but well, but it appears to be recovering:
The Alyogyne huegelii next to it is recovering, though the rain and wind have taken their toll on the flowers:
I'm still having trouble with the Buddleja x weyeriana that has given me so much concern. One has now been planted, and the other is in a pot. Neither looks good, but I have hopes for the one in the ground:
On the other hand, the wet weather seems to have suited some plants. The Adenanthos sericeus bushes are growing well and bearing fruit:
And various grasses are flowering. Some even look good:
One puzzling thing is the Banksia serrata, which is bearing more and more of these things:
They're not typical flowers. Are they fruit?
Then there's the volunteer Acacia, the one they call "blackwood" round here, though it's not an Acacia melanoxylon. It's now flowering relatively profusely:
And the Tropaeolum near the front door is growing nearly 2 m high:
On the other hand, the Fuchsia (the last remaining one) next to it is not:
I suspect it's time to repot.
The Strelitzia nicolai suffered bad leaf burn from the frost, but it doesn't seem to have stopped it flowering:
And the Strelitzia reginae is looking as sad as ever:
What kind of conditions is it looking for?
Watching a video clip by Robin Wong today:
"Super Fun With Olympus 17mm F2.8 [sic]". That's interesting simply because I had found the M.Zuiko Digital 17 mm f/2.8 Pancake to be a singularly uninteresting lens, and in particular that the image quality wasn't spectacular. I sold mine years ago. By comparison the Panasonic Lumix G 20 mm f/1.7 was much better. So I watched the video to see what he had to say.
Surprise, surprise: almost nothing! About the only thing he said was that the image quality wasn't spectacular. The clip was really about a group of photo bloggers walking round Kampung Baru in Kuala Lumpur. And that was fascinating. Kampong Baru (as it was spelt 60 years ago) was a sleepy Malay settlement in the middle of town. My flute teacher and friend Mahmuddin bin Ngah and his son Ahmad lived there in Jalan Khatib Koyan, and I visited them a number of times. The area was bounded roughly by the Klang river, Jalan Campbell, Jalan Batu and Jalan Raja Muda. Apart from Mahmuddin's house, the periphery included the Odeon Cinema and Yuens, the people who serviced our cars. And I took my driving test just across on the other side of Jalan Batu.
But I didn't recognize anything in the video. Even the names of the streets have changed. Jalan Batu was even then in the process of reluctantly being renamed Jalan Tuanku Abdul Rahman, and Jalan Raja Muda (Prince's road) has been clarified as Jalan Raja Muda Abdul Aziz. Jalan Campbell has become Jalan Dang Wangi.
Google Maps to the rescue. The Odeon cinema building is still there, but I can't recognize what it is; it doesn't seem to be a cinema any more. The place where I took my driving test is now the site of a skyscraper, and though the area round Yuens looks vaguely similar, there's no car repair there any more. Only Jalan Khatib Koyan is still there, and even (it seems) Mahmuddin's house, though there's a multistorey building next door. But the back yard is gone. Instead it's a series of roads:
I don't know if that's the same house in which Mahmuddin lived, but it could be. Somehow I almost wish I hadn't seen what it looks like now.
The Australian Government has discovered that there are a number of companies with fake directors. The solution: register them based on their known identification, a "Director ID". And their preferred method is this horribly insecure myGovID, which was used last year to steal money from Centrelink, who made me pay for their mistakes.
No way I was going to do that again. What are the alternatives? Can I get my accountant to do it for me? No, says Peter O'Connell, they're not allowed to do it. I must do it myself, and the easiest way has proven to be by telephone.
OK, what do I need? From this page, conveniently hidden behind a tab "Live in Australia":
To apply by phone, you'll be asked to verify your identity. You'll need:

your tax file number (TFN) – optional but it will help speed up the process

your residential address as held by the ATO
What are the identity documents? Too much to include on the same page, of course. Even the link doesn't divulge them until you click yet another tab. And there I read:
Primary documents

Australian full birth certificate (extracts and commemorative certificates are not acceptable)

Australian passport (including passports that have expired in the past 3 years)

Australian citizenship certificate or extract from a Register of Citizenship by Descent

Foreign passport
For people born Australian citizens, only the first two apply. But my passport expired 14 years ago, and I don't have a birth certificate. Still, Peter says that it's easy, so called up on 136250. Option to be called back in not less than 30 minutes, which sounds the way to go. I wonder how much longer than 30 minutes...
20 minutes later I got a call back from mumble, who repeated his name as what I wrote down as "Marcio", though he was too polite to presume that I wouldn't know how to spell it. Gave him my tax file number, and he asked me for a secret question. What secret question? Ah, that's secret. After I clarified that I needed some context, he asked me "have you been hacked in the past?". Clearly he meant whether my details had been compromised, and somehow he made it clear that it was related to my tax number. Yes, indeed, this time last year. And yes, at the time they had asked for a secret question. But why didn't he ask it? Maybe he was too embarrassed because of the nature of the question. But I found it and gave him both question and answer to his satisfaction.
OK, lots more checking, and apparently referral to more senior members. Was I born in Australia? Yes. Do I have a passport or full birth certificate? No.
Oh. Much discussion. What does he really need from the full birth certificate? Just the number! Well, date of birth and name, but it seems not even the place of birth, something that normal German documents require. So: to get a director ID, you collect:
Name.

Address.

Driver license details.

Date of birth (on driver license).

Birth certificate number.
Yes, I also supplied my tax file number, but it seems that that's not absolutely necessary. With the exception of the birth certificate number (a requirement only added because of the recent Optus security breach), all of these are things that people use to identify themselves to complete strangers. So any vestige of security rests on the difficulty of finding the registration number on the birth certificate. I wonder how difficult that is.
In my case, I can get a referee to confirm who I am. He sent a form to be filled out. Referee must be somebody not related who has some standing in the community and who has known me for at least a year. He suggested my doctor; I wonder if Peter O'Connell (accountant) would do. Presumably the details are in the form, but for today no director ID.
To be fair, there's one additional potential security check: the "voice imprint" that I mentioned last year. I wonder what would happen if somebody else came up with all the correct information but a different voice. But even that appears only to be an additional layer of security added because of my compromise last year.
While I had Marcio on the phone, I got him to issue an ID for Yvonne, who had never heard of the thing. Similar questions: tax file number (which I had ready), Medicare number, passport number. Wait a while, the passport expired in 2014. Never mind. To identify yourself with an Australian passport, it needs to be valid or to have expired not more than 3 years ago. For foreign passports, that's not a requirement, as long as she entered Australia on it. He didn't even want the visa number, which is what I would have expected, and he didn't ask the nationality of the passport, which is presumably encoded in the number. And apart from that the "have you ever been known by another name", so Yvonne had to spell out "Ködderitzsch" to him. How do you say "ö" in English? I suppose he misspelt it as "o", but whatever tests there may have been succeeded. So Yvonne got her director ID number.
Later did some searching. And almost without trying, I found not one, but three copies of my birth certificate, hidden behind the livret de famille. Call back? No, that was exhausting enough. Try again tomorrow.
Last month I puzzled about the way the charger for my electric toothbrush gets dirty, apparently from the water that dries on it after I clean my teeth. Some people on IRC thought that this might be our house (rain)water. And indeed, the water does contain some solids, mainly dust that lands on the roof and then gets washed into the tanks. And the colour matches. Could that be it? Or could it be, as Leela Movva thought, due to the toothbrush itself?
Since then I've compared three different things: my toothbrush charger, as before, a second toothbrush charger with an old toothbrush, and a saucer with pure rainwater. Every time I clean my teeth, I rinse both toothbrushes and put them on the chargers, and I put enough water in the saucer to fill the depression for the cup, which is much more than ends up on the chargers.
I was expecting only my active toothbrush charger to get dirty, but that's not quite the case. Here is what I had two weeks ago, after three weeks of running the experiment: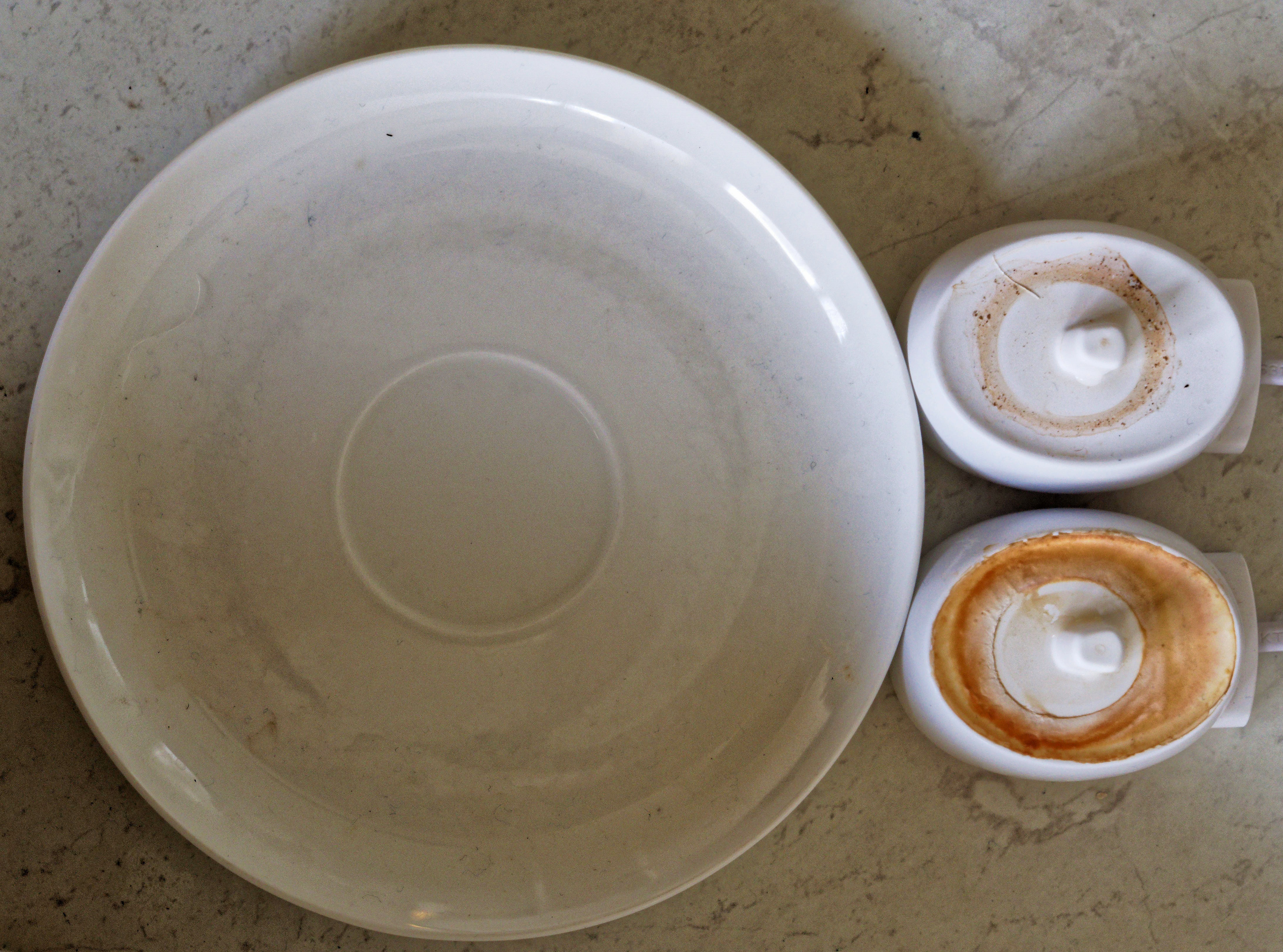 Why is the other charger dirty? Could it be remains on the old toothbrush? Today it was:
Now, after 5 weeks, there's some slight discoloration of the saucer, but nothing like as much as on the chargers. Interestingly, though, the unused charger is also getting dirtier. Why? Where does it come from? Is Leela right that it could be from the toothbrush?
Off shopping today, and for the first time I didn't have to go beyond Sebastopol. I had a haircut at 12:00, and I went to ALDI first, arriving at 11:25. Enough time? No, not quite. I got my food and went to the checkout by 11:50, in the car at 11:56. But it took me nearly 10 minutes to get to the hairdressers: I didn't arrive to 12:04. Not a worry for Lynn, who took another 4 minutes to arrive. Still, now I have a basis for planning: 45 minutes for a normal shopping day at ALDI.
While in the area of the hairdressers (the junction of Victoria Street and Albert Street), took a look at what had happened to Kerry's old barber shop. They seem to have converted it into a gift shop or some such. I can imagine that the rent is cheap, but I don't see them surviving there long. I don't buy gifts, but if I were to need to do so, I'd probably go into Ballarat to Bridge Mall. And even Bridge Mall is suffering.
Then to Woolworths. I'm gradually coming to terms with the place, but today I needed to find mashed potato mix, not something that we eat very much. Fortunately I found an assistant, who led me to the next aisle, searched for a while and then pointed me to it:
Those are canned foods! Ah, yes, mainly. Look more carefully near the floor:
Isn't it obvious? In passing I notice that they also have pedestal fans on the top shelf. It's a wonder people find anything there.
On the way home, saw this warning sign, not for the first time:
I think that this is a flooding warning. But why is the sign there? It's 32 km from Rokewood, it's the only warning, and there's almost no way that anybody on this road would want to go on the Rokewood—Shelford Road: it would be better to go by Mount Mercer. But I've heard that that road has been blocked during to flooding, and there's no warning about that.
But is it really flooding? They don't say so, but Google Maps shows that the main road in Rokewood is closed (and shows a ridiculous 20 km diversion, when the real diversion is about 1 km long). Strictly speaking that's the Rokewood—Shelford Road, but I'd call it the town of Rokewood.
ALDI had fresh "chevaps", clearly their spelling for ćevapi, on offer today. They looked good, so I bought some.
I really shouldn't do this. There's something about Australian mincemeat products that is thoroughly disgusting. They seem to have some kind of glue in them. There's a reason why I started making my own sausages years ago. Hopefully I have now learnt my lesson.
I was just getting up this morning when we had a total power failure, at 8:07. Damn! I should really check the power before turning on the air conditioner in the morning. Out to check: yes, power really out, battery charge 6%. It turns off at 5%, and if I hadn't turned the air conditioner on 10 minutes earlier, I might have weathered the outage: photovoltaic power was coming in, and I estimated that we'd hit the 20% charge needed in about 30 minutes.
Off to do other things, feeling how lucky I was that I wasn't in Kyiv, and sure enough, at 8:41, the power came back. Not my power, but Powercor, which beat my PV array to the punch by about 30 seconds: the inverter log showed that battery state of charge was 19.7% when the power came back.
Looking at the statistics, it seems that the power was only out for less than an hour (pink line at the bottom):
If I had checked, it wouldn't have happened. But that's because I turned on the air conditioner at 7:56. If I had checked 20 minutes earlier, the power would have been on, and I would still have had a failure. The real answer is to only run the air conditioner when we have grid power, and so far I haven't found a relay that will do that for me. But clearly it's something I should be thinking about.
Suddenly everybody is talking about Black Friday. What's that? Fortunately there's Wikipedia, which gives me many explanations, but it seems that it's a shopping day the day after Thanksgiving.
OK, what's Thanksgiving? Again Wikipedia helps: Thanksgiving is a federal holiday in the United States, celebrated on the fourth Thursday of November. That's today. Well, maybe tomorrow, given the time difference.
But what does that have to do with us? We don't give thanks in that manner, and today was a normal working day. But tomorrow, it seems, is now Black Friday. Why? Yet another artificial commercial "festival". Does anybody care?
It's clear that the disk on teevee is deteriorating rapidly. Time to catch up with my installation of tiwi. In principle there were only two issues: Alt key bindings on bash on xterms, and the lack of an Emulate3Buttons on the mouse.
I had already found, and lost again, some suggestions for the bash issue. More searching, and came up with this page, which suggested two steps:
Add these entries to my ~/.Xdefaults file:

! Make alt key work again (20221124)
*VT100*utf8: 1
*VT100*eightBitInput: false
*VT100*eightBitControl: false
*VT100*eightBitOutput: true


Add these entries to inputrc (no path specified):

set input-meta on
set output-meta on
set convert-meta off

Updating .Xdefaults was straightforward enough, but where's inputrc?
=== grog@tiwi (/dev/pts/1) ~ 15 -> locate inputrc
/compat/linux/etc/inputrc

Another Linuxism. That's not going to help much. OK, don't forget the xrdb -load .Xdefaults and start a new xterm. Success! But somehow it doesn't seem right. I wonder if I will run into problems further down the road.
And the mouse? I had noted a number of issues with Emulate3Buttons in my diary, but the important part (how I solved them) was missing. But there was a suggestion that xinput had something to do with it. So, off searching again, and came up with this page, which shows that there's a function "Middle Emulation" separate from other button mappings, and how to use xinput to set it. TL;DR:
xinput to find the index for the mouse
xinput list-props 13 13 is the index found above
xinput set-prop 13 284 1 284 is the index for Middle Emulation, enable

In more detail:
=== grog@tiwi (/dev/pts/1) ~ 3 -> xinput
⎡ Virtual core pointer id=2 [master pointer (3)]
⎜ ↳ Virtual core XTEST pointer id=4 [slave pointer (2)]
⎜ ↳ System mouse id=6 [slave pointer (2)]
⎜ ↳ DaKai 2.4G RX id=11 [slave pointer (2)]
⎜ ↳ Logitech product 0xc534 id=13 [slave pointer (2)]
⎣ Virtual core keyboard id=3 [master keyboard (2)]
↳ Virtual core XTEST keyboard id=5 [slave keyboard (3)]
↳ System keyboard multiplexer id=7 [slave keyboard (3)]
↳ Power Button id=8 [slave keyboard (3)]
↳ AT keyboard id=9 [slave keyboard (3)]
↳ DaKai 2.4G RX id=10 [slave keyboard (3)]
↳ Logitech product 0xc534 id=12 [slave keyboard (3)]
=== grog@tiwi (/dev/pts/7) ~ 4 -> xinput list-props 13
Device 'Logitech product 0xc534':
Device Enabled (153): 1
Coordinate Transformation Matrix (154): 1.000000, 0.000000, 0.000000, 0.000000, 1.000000, 0.000000, 0.000000, 0.000000, 1.000000
libinput Natural Scrolling Enabled (275): 0
libinput Natural Scrolling Enabled Default (276): 0
libinput Scroll Methods Available (277): 0, 0, 1
libinput Scroll Method Enabled (278): 0, 0, 0
libinput Scroll Method Enabled Default (279): 0, 0, 0
libinput Button Scrolling Button (280): 2
libinput Button Scrolling Button Default (281): 2
libinput Button Scrolling Button Lock Enabled (282): 0
libinput Button Scrolling Button Lock Enabled Default (283): 0
libinput Middle Emulation Enabled (284): 0
libinput Middle Emulation Enabled Default (285): 0
libinput Accel Speed (286): 0.000000
libinput Accel Speed Default (287): 0.000000
libinput Accel Profiles Available (288): 1, 1
libinput Accel Profile Enabled (289): 1, 0
libinput Accel Profile Enabled Default (290): 1, 0
libinput Left Handed Enabled (291): 0
libinput Left Handed Enabled Default (292): 0
libinput Send Events Modes Available (293): 1, 0
libinput Send Events Mode Enabled (294): 0, 0
libinput Send Events Mode Enabled Default (295): 0, 0
Device Node (296): "/dev/input/event7"
Device Product ID (297): 1133, 50484
libinput Drag Lock Buttons (298): <no items>
libinput Horizontal Scroll Enabled (299): 1
libinput Scrolling Pixel Distance (300): 15
libinput Scrolling Pixel Distance Default (301): 15
=== grog@tiwi (/dev/pts/7) ~ 6 -> xinput set-prop 13 284 1

And that worked. It's interesting to note that you need to do this for each mouse.
Done!
Well, almost. I often read mail on the TV computer. Previously I could display web pages from Mutt (email client) when running in an xterm from eureka. But firefox is now too polite to do that, so I need to run it on tiwi. And that causes a surprising number of issues. First the mutt initialization files, then the linkage between mutt and firefox. A mimetypes file? Went looking, found nothing useful. Not until much later did I discover that there's a mailcap file. But that's for another day.
Finally I have brought up enough courage for another stab at applying for my Director ID .
This time the call back promised less than 18 minutes. It barely made it: after 17 minutes I got a call from somebody who eventually claimed to be Ariana (again, my spelling). And, as I feared, she wanted all the information over again.
First, will you answer a secret question? Yes, prepared for that. Long silence, then "what is your home address?". My guess is that she didn't want to ask "what's the purpose of all these silly questions?". So I have tricked the system.
Next, which bank has paid you interest recently? I haven't had any. If I had, which bank would it have been? Mentioned one bank. Any more? Yes, the other. Thank you.
Ah. That makes sense. Yes, I have a couple of savings accounts with the other bank. They pay interest in the sub-$10 range, but it gets reported to the ATO, so it's something they can confirm.
Finally the question of the birth certificate. Gave her the number. Do I give her permission to check the validity? Of course, that's what the call's all about, and I grant her permission to check the validity of any further information that I give her. But that wasn't in her script, and she was completely confused.
This time she wanted my Medicare card number, not my driver license number. That makes sense. But something confused her there too. Is my middle name on the Medicare card? Told her, and she asked if she had permission to check. Yes, as I had already said. Off for a longer period of time, and when she came back she asked if I was born in Victoria. Yes, I had just given her my birth certificate details. Another 5 minute hold. And then finally I got my director ID. Done!
Thanks. Anything else I can help you with? I thought that all you did was issue director IDs. At least that got a laugh out of her.
The whole thing took over 53 minutes in two separate calls, not to mention the stress of the matter. But it's done!
Is it secure? I suspect that there are various details that help, like voice recognition. But there must be a better way to address identification.
Walking the dogs this afternoon, Yvonne saw a mobile phone on the side of the road. Looks just like my enzian. What make? I couldn't see anything obvious. It has clearly seen better days. There's a piece of adhesive tape on the left, and the screen protection is peeling off:
OK, put it on charge. That worked. Fire it up. That worked too, showing that it's a Samsung Galaxy A11 and that the display has damage:
And that's basically as far as I got. It wanted a PIN to continue. I couldn't even turn it off without a PIN! But is there a SIMM card in it? Yes:
It's also interesting to note that the SIMM card drawer is almost identical to the one in enzian. Put it into enzian and found that the SIMM card is still registered. Called myself and got the number. And after putting it back in the Samsung, I was able to call it—it doesn't want a PIN for that.
So: whose is it? Posted the information on Facebook. Now to wait for somebody to contact me. I wonder if we can trace the owner via the phone number.
It didn't take long for my post on Facebook about the mobile phone I found yesterday to bear results. I got a call on the phone itself, from Kerrianne Frost, who lives around the corner in Progress Road, and whom we know from horsey stuff. Yes, it belongs to her son, and it was lost 12 days ago, and GPS logging showed that it was last seen at the junction of Swamp and Ferrers Roads, 3 km away, and that it had a red cover on it. So how did it end up where we found it? Much discussion, in the course of which two other people mentioned that they had seen it, but thought that it was broken. My guess is that somebody stole it but couldn't break into it, so he threw it away. But somehow it's a pity that the thing was so damaged as a result.
Call from my General Practitioner, Paul Smith, today. The results of last week's DEXA test are in: a T-score of -1 for the lumbar spine, pretty much normal for my age and representing osteopenia. But the femoral neck had a value of -2.4, barely better than the borderline -2.5 representing osteoporosis. And my wrists are apparently also affected, though he didn't give me a score for that, and I didn't even know that they had been measured. Suggested various exercises that I need to understand better, mainly intended to apply pressure on the bones. I think I'll have to have a chat with Heather Dalman.
So now tiwi is set up well enough that I don't really need to run teevee any more. Shut it down. tiwi died!
Huh? It took me longer than it should to realize that I had started X on tiwi from teevee, so when it went down it took tiwi's X with it. But by that time I was rebooting tiwi, showing that I didn't get a console display. That must be related to the BIOS settings for the display, something that I should examine Some Other Time. But at least the cutover is mainly complete. Now I just need to address the mail interface, and next time I reboot I should set the BIOS correctly.
State election today, interestingly 4 years and 2 days after the last one. Off early to beat the crowd. But not early enough:
Look at the group of people in the background:
That's an unstructured queue of people waiting outside to vote. Presumably there were more inside. It would probably have taken me 20 minutes, so I annoyed the representatives at the front before postponing voting to this afternoon. This one advertises with a photo of Daniel Andrews, the current premier of Victoria representing the Australian Labor Party.
So what's this "Liberal" on the T-shirt? Ah, these are the people asking you to vote Liberal by showing only negative things. I asked him if they were promoting anarchy, but of course he didn't understand. The real Labor representative was off to the right, looking remarkably like the trade union stereotype:
I couldn't find anything to annoy with him, so back home.
Back again in the afternoon, where almost nobody was left. That's clearly the time to do it. On the way home went down Swamp Road to Kleins Road, past where we used to live. The roads have deteriorated considerably as a result of the recent bad weather, and I had to move a fallen branch to even get through:
The rest of the way was just as bad. Going down Harrison's Road there was a trench about 40 cm wide and 40 cm deep across the road, and I had to drive around it. I wonder how things will proceed. Is this the "new normal"?
Walking the dogs, once again we came across the Goodenia bush that we had admired this time last year.. It's flowering even more profusely now:
But it seems that Yvonne's attempt to propagate one last year wasn't successful.
Into the lounge room to watch the news today. Oh. No recordings. Run the script again? It failed:
=== grog@tiwi (/dev/pts/9) /spool/Docco 35 -> /home/local/bin/aljaz AlJaz-16-1 1080
[youtube] -upyPouRrB8: Downloading webpage
[youtube] -upyPouRrB8: Downloading android player API JSON


ERROR

: [youtube] -upyPouRrB8: Private video. Sign in if you've been granted access to this video

What did I do wrong this time? Nothing, it proved. They have just changed their stream ID, like they do about twice a year, and they chose the time that caused the most confusion. On the other hand, to make downloading more attractive, they seem to have broken the "position" function, so there's no way to position back to the beginning of a programme. The line is still there, but it doesn't react.
On the other hand, I also got this:
=== grog@tiwi (/dev/pts/9) ~ 37 -> ssh freefall.freebsd.org
agent key RSA SHA256:S7sZHLcY4dgw53/rF70vrScdPuGef3enHdJzuYA1WDo returned incorrect signature type
grog@freefall.freebsd.org: Permission denied (publickey).
Disconnected at Sun 27 Nov 2022 13:01:18 AEDT

What went wrong there? I've seen that before, but only from eureka. Yesterday it still worked from tiwi. Do I have some sort of ssh rot?
No. It worked from dereel, and my guess is that this current problem was the result of starting X from eureka yesterday. I'll check when I put tiwi in the shelf where it belongs.
While writing up the story of the lost mobile phone yesterday, I went back to Facebook to see what I wrote.
Nothing! It has been wiped off the face of the earth, it seems. It doesn't even show in "my content". My best guess is that somebody thought it appropriate to remove both the thread I started and the thread that Kerrianne started a couple of weeks ago.
How this irritates me! Here I am keeping records for decades, and things I have written are removed without even asking. Really not my kind of platform.
I've been substituting bucatini for Hokkien noodles in various breakfast dishes for some time now, most notably KL Hokkien Mee. They look pretty similar, and in principle I'm happy with them. But of course I can also get real Hokkien noodles, and that's what I did the week before last. Today I processed them. They're fresh, but prior experience suggests that they can do with a little cooking, and that they increase in weight by about a third. I had 1 kg of noodles:
My preferred serving size is 180 g, which would mean 135 g of "raw" noodles. That's 7.7 portions. So I went for 142 g (7 servings), used one and froze the others.
They certainly look different from the bucatini (second image). They also look different from the "Fantastic" (brand) noodles that I bought last year (third image):
Unlike the "Fantastic" noodles, they don't stick together, but they're much shorter and crooked. They don't taste noticeably different from the others.
I've seen this flower a couple of times in this particular place, close to the junction of Stones Road and Progress Road:
What is it? I really should find out.
More very little work on tiwi today. Spent some time looking for a mailcap file, and came up with the obvious /usr/local/etc/mailcap. Yes, the file on eureka has invocations for firefox, and there was none on tiwi. So copy it across and try to access a web page from mutt.
Nothing. "For every problem there is a solution that is elegant, obvious and wrong", to (apparently) misquote H.L.Mencken.
More searching. Ah, there's a ~/.mailcap. That, too, was missing, and when I added it, things worked as expected. So: what's /usr/local/etc/mailcap there for?
In the evening, just before going to bed, firefox hung up on me, to the point that the display became inaccessible. Took a look from eureka: both firefox and Xorg were using 100% CPU! What's firefox doing to my poor little X? Shot it down and things gradually came back to normal, though the display still didn't look right: it seems that the window manager was misbehaving. But that's for another day.
First thing this morning I took a look at the display from tiwi, which had looked completely messed up when I went to bed. But now it was fine.
Then into the office to check the overnight logs:
tiwi.lemis.com kernel log messages:
+NVRM: GPU at PCI:0000:01:00: GPU-85983119-e9ef-ac66-6817-fbed5657b871
+NVRM: Xid (PCI:0000:01:00): 32, Channel ID 0000000f intr 80040000
+NVRM: Xid (PCI:0000:01:00): 39, CCMDs 00000010 000090b5
+NVRM: Xid (PCI:0000:01:00): 31, Ch 00000001, engmask 00000101, intr 10000000
+NVRM: Xid (PCI:0000:01:00): 31, Ch 00000001, engmask 00000101, intr 10000000
(hundreds of repeats)
What's that? It looks like some kind of problem, and GPU suggests that it's related to the problems yesterday evening. Possibly it's a hardware issue. Is it working normally now? Off to take a look. Started displaying a video file. Hang. Spontaneous reboot.
But how about that, the /dev/ttyv0 display appeared on the TV! I thought I would have to change the BIOS to get it to do that. Great. And I can display videos again.
What was it? If it was a hardware issue, it could still be hiding. It would be better to power the machine down and check the BIOS while I'm at it. So I did that, with another monitor connected to the motherboard display. It came up, but without a display! How can I even try to debug that? I was able to start X again via the network, but somehow this is all more complicated than it should be. One thing's clear: I should postpone my intention to put tiwi in the cabinet in place of the old teevee. If it fails again, it would be easier to have it more accessible to change the display card, and in the meantime I could use teevee to display the videos.
Later I found this page, which confirms that it was a GPU issue and gives me some details about the messages. The number in the middle of the output line is a code:
32 means "Invalid or corrupted push buffer stream" and can be a driver error, system memory corruption, bus error, thermal issue or frame buffer corruption".

39 is "Unused". Could that mean "no longer used"? This is a driver for older hardware. In any case, it doesn't help.

31 means "GPU memory page fault", a silly term for an addressing error on a device that doesn't have paging support. And it could be a driver error or user error.
One thing that doesn't show up there (unless it's the Xid 39) is hardware. I suppose that's some small comfort, if I can believe it.
And I also have a dump, though I didn't have time to look at it today:
Nov 28 10:17:28 tiwi savecore[1071]: reboot after panic: page fault
Nov 28 10:17:28 tiwi savecore[1071]: writing core to /var/crash/vmcore.0

40 years ago today I engaged in wife-swapping. I hired a van, loaded all the belonging of my wife Doris into it and moved them to her new flat. Then I drove to Yvonne's flat, loaded all her belongings into the van, and drove home. What an exhausting day!
And it was 40 years ago! Time flies when you're having fun.
Into town today to visit Mr. Kontoku Shimokawa to hear about the results of the MRI that Yvonne had done the week before last. Probably the most interesting thing was the interest he showed in the book I had brought to read in the waiting room: Washoku, by Elizabeth Andoh, about Japanese cooking. The results of the MRI themselves were uninteresting: no change, so it looks as if the issue with her pancreas is no longer a concern. But of course there will be monitoring. The next MRI will be in a year's time.
Then a bit of shopping at ALDI and on to UFS to have a fifth COVID-19 vaccination, as Paul Smith had recommended.
Are you immunocompromised? No. Oh, sorry, no jab for you. We went and talked to a second person, a nurse, who checked our specific details. Yes, no jab for you. It's interesting to note that while COVID-19 cases are on the rise, the place was almost empty. Probably everybody eligible and willing has already had all the vaccinations they're allowed.
Four years ago I bought a "digital air fryer", which is of course a silly name for a small forced convection oven. I was relatively happy with it, though not for the reasons for which it was sold, but it is a little small and has a maximum temperature of 200°. So six months later I bought a larger one that went to 230°. And yes, the temperature difference is real: I can bake beans in it, but the coffee machine doesn't get hot enough. To distinguish between them I called the old one (first photo) a "coffee machine" and the new one a "hair dryer" (here a photo from ALDI's: catalogue): But while tidying up the pantry, I found this:
That's not an "air fryer": it was sold as a convection oven. And I bought it on Sue Blake's recommendation 13½ years ago. I didn't comment much about it here, but it seems that I was relatively satisfied with it, but then stopped using it.
So: how does it compare with "air fryers"? Clearly it's the same thing with an old, worn-out magic name. Here it is (on the right) with the "hair dryer" on the left.
Clearly it's not "digital":
But apart from the irritating timer, it has a temperature scale that clearly goes up to 250°. It's also bigger: the basin is 31 cm in diameter and 16 cm deep (12 l), compared to 28 cm diameter and 13 cm deep (8 l) for the "hair dryer". The difference is significant: I've had a couple of times when the hair dryer was barely too small. They're both are rated at 1300 W, so it seems that if I had remembered the the old one when I bought the hair dryer, I may not have bought the hair dryer after all.
And the name? Both Yvonne and I independently came up with the term "bathtub". But somehow the controls remind me of an animal head, and Yvonne of a fly.
Tried it out for rewarming shepherds pie in the evening. It didn't power on! It took some time to discover that the carrying handle for the top also includes a switch that only turns on when it is pushed all the way down. The position in the middle image is still too high:
After that it seemed to work well enough. I'll have to do more checks, including whether it really can reach 250°.
Jane Ashhurst recently tidied out her garden and had something like 25 "walking iris" (probably Trimezia northiana) plants over, so she sent them to us. And while I was waiting for somebody to plant them, the cuttings started flowering!
Nothing for it. They want shade or part shade, so we don't have many places to put them, so planted a few in front of the house. I'll have to put more on the south side of the house.
One of the good things about eBay is that it's relatively easy to return merchandise if it's defective or not as described. But when I tried to return the defective rain gauge, I got a different reaction. First a message titled "Some issues with your recent orders" with a lot of vague stuff about ensuring that things work for everybody, but with a link to their abusive buyer policy, and then one telling me to buy a return label.
What's all this nonsense? Has some artificial stupidity program decided that I have returned too many items? That should be a feature, not a bug. And just as I was beginning to thing that eBay was getting better. So how do I get in touch with them? "Chat"? To my surprise, that worked, though of course it took some time. And within an hour or so I had received the return label that I had expected. They didn't explain why I had received the messages, but I got the impression that something had gone wrong on their side.
Still, sometimes these people are more trouble than they're worth.
While searching for COVID-19 vaccinations on Google, got this helpful information:
OK, Google, I'll bite. How are those diseases related to COVID-19?
Walking the dogs today, Yvonne found this:
Until proof of the contrary, that's the casing of the mobile phone that we found last week. It wasn't far from where we found the phone: I'd guess 20 m. It doesn't look as if it'll be much use. I wonder how the pieces got there.
Into town again today for the weekly shopping, or at least the rest of it: we managed most of it on Monday. About the only thing of interest was that Google Maps suddenly stopped reporting in mid-message. And that proved to be because I no longer had mobile phone reception!
Drove like that from Sebastopol to PETstock in Latrobe Street. Still no signal. That can't be right. Power down the phone, pop the SIM card and replace, reboot. And yes, I had reception again. What caused that? The phone had recognized the SIMM card before I powered it down, so probably a simple power cycle would have done the trick. Is this indicative of the general reliability of mobile phones, or is this one dying?
Off to Dan Murphy's to buy beer and sherry. They've rearranged things again, and I couldn't find it, so I asked an assistant. "Is that red?". No, it's sherry. "Chevy? Don't know it". I had to explain that it was a fortified wine, and she knew that, but only because it was the heading of the area, which is about as far from where they used to be as they could manage in that building.
Somehow drinks in Australia are different from in the rest of the world. While walking through another area, where I had once hoped to find Kirsch, I saw a bottle of "Pear Schnapps". That might be interesting. But it's not Schnapps at all: it was about 14% alcohol, and who knows what is in it. Paint thinner, like Baitz?
While in town, sent off the rain gauge that I finally got round to return. Next step: report it as sent and give the tracking number. But:
It's worth reading the fine print, which contradicts the coarse print. Found a way to access the information after all and enter the tracking number. But what's wrong with these people? A change of generation? It's interesting to note that all people who communicated with me via "chat" said things like:
Hello Greg. I see you opened this account 23 years ago, thank you for your loyalty.
Have I been interfacing with people who are younger than my eBay account?