Mick Solly (there, I have finally found out his surname, after only 3½ years), the gardener, along today to mulch the garden beds.
This month I have increased my Internet link speed from 20 Mb/s down, 5 Mb/s up to 50 Mb/s down, 20 Mb/s up. It doesn't really seem to make much difference: for most things, including video downloads, the limiting factor is upstream. Downloads from ARD run at between 184 kB/s (1.5 Mb/s) and 700 kB/s (5.6 Mb/s), while downloads from SRF run at between 1.2 MB/s (9.6 Mb/s) and 2.65 MB/s (21.2 Mb/s). The extra $10 for the higher speed just aren't worth it, and next month it's back to 20/5.
But today I found a case where it does make a difference, uploading photos to DigitalOcean:
s3cmd sync /home/grog/public_html/Photos/20150503/big/ s3://lemis/grog/Photos/20150503/big/ -P --delete-removed
upload: '/home/grog/public_html/Photos/20150503/big/driveway-nw.jpeg' -> 's3://lemis/grog/Photos/20150503/big/driveway-nw.jpeg' [1 of 19]
12288363 of 12288363 100% in 8s 1483.51 kB/s done
upload: '/home/grog/public_html/Photos/20150503/big/garden-centre.jpeg' -> 's3://lemis/grog/Photos/20150503/big/garden-centre.jpeg' [2 of 19]
14733364 of 14733364 100% in 14s 1022.73 kB/s done

Those are speeds between 8 and 12 Mb/s, clearly only attainable with the higher speed. Is it worth it? Still no, but it's certainly noticeable.
Yvonne over to Julie Donaghy's place this afternoon to check on Wotan. He's doing well, fortunately.
Then she went to Chris Bahlo's place to feed the horses: Chris herself is at the World Jousting Championships in Lardner Park. Catastrophe! One of the young stallions escaped from his pen, damaged various fencing, and Brana seriously injured her hind leg:
Worst of all, we couldn't budge her from where she was, outside Chris' garage (the photos above were taken later). The whole issue wasn't helped by problems with my horrible "smart" phone, but finally we established contact with Chris, who didn't want a vet; she'll be back tomorrow and will take a look then. But somehow we had to find a way to get Brana to move. After initial total failure, she gradually did start moving, and we were able to get her inside.
What a weekend!
The whole affair with Brana was made worse by my Android "smart" phone. I've come to the conclusion that it is next to useless for making phone calls.
The first pain came when trying to contact the vets. Hit a recorded message saying that they were closed and specifying an emergency number to call. OK, we can do that later. Hang up. How? Press the ON/OFF button?
Wrong, fool. That doesn't turn it off, but it does get rid of the correct screen from which you can hang up. So I got the opportunity to test Tim Bishop's suggestion from yesterday: swipe downwards from the display at the top. Nope, nothing like a phone display. The recording just kept repeating, and in the end I found only one solution: power down the phone.
Similar issues occurred when I was on site and talking to Chris. Some popup ("Courtesy notice: your credit is only $9.98") obliterated the screen, and I couldn't hang up. Fortunately Chris did.
This is stupid! What gets me is that neither Tim nor Oliver Musch seem to have the same issues. Is that good luck or good management on their part? Is the phone app that came with my Nokia 3 deficient? In any case, I'm thinking of reverting to my old steam-driven mobile phone: at least I can always make calls and terminate them without scratching my head. About the only alternative is to find a saner phone app.
After today's fun and games we didn't feel much like a good meal, but we had the food prepared, so we did so anyway. Beef skewers, this time lovingly hand-made by Yvonne on the metal skewers that came with the bigger "air fryer", the one we call the "hair dryer".
Problem: how do you mount them? In the cutouts beside the holes, once again putting them at an angle:
Next, how long? How hot? Decided on 200° and 15 minutes. But things didn't go well: the bows of the skewers fouled the edge of the vessel, and I had to reposition the whole thing. Here's the way it shouldn't be:
I should leave at least 3 cm of the shaft protruding to avoid that kind of problem.
And to make things easier for me, the device continued to turn the rotisserie even when the lid is open. To stop it I had to power it down, losing all the settings that it makes so hard to set (long power on, menu, select temperature, +/-, select time, +/-, select start).
Finally it was done. Probably too long, maybe not hot enough. Next time I'll try 10 minutes at 220°.
Over to Chris Bahlo's place this morning to check on Brana, who seems to have survived well enough. I hope that Chris is right that she didn't need a vet.
It's been pretty wet lately—we've had more rain so far this month than in January and February put together—so took a long walk with the dogs today to make up, 3.58 km according to my drunken GPS tracker:
Halfway down Bliss Road came across what is apparently an attempt to create a convertible the easy way:
What is it about Bliss Road? At the junction of Stones Road there's another one, apparently display pieces:
When I was young I messed around with cars and had similar collections:
But that was (at least in theory) to work on them, while these seem to be ornamental.
Winter has only just begun, but already the first snowdrop has bloomed: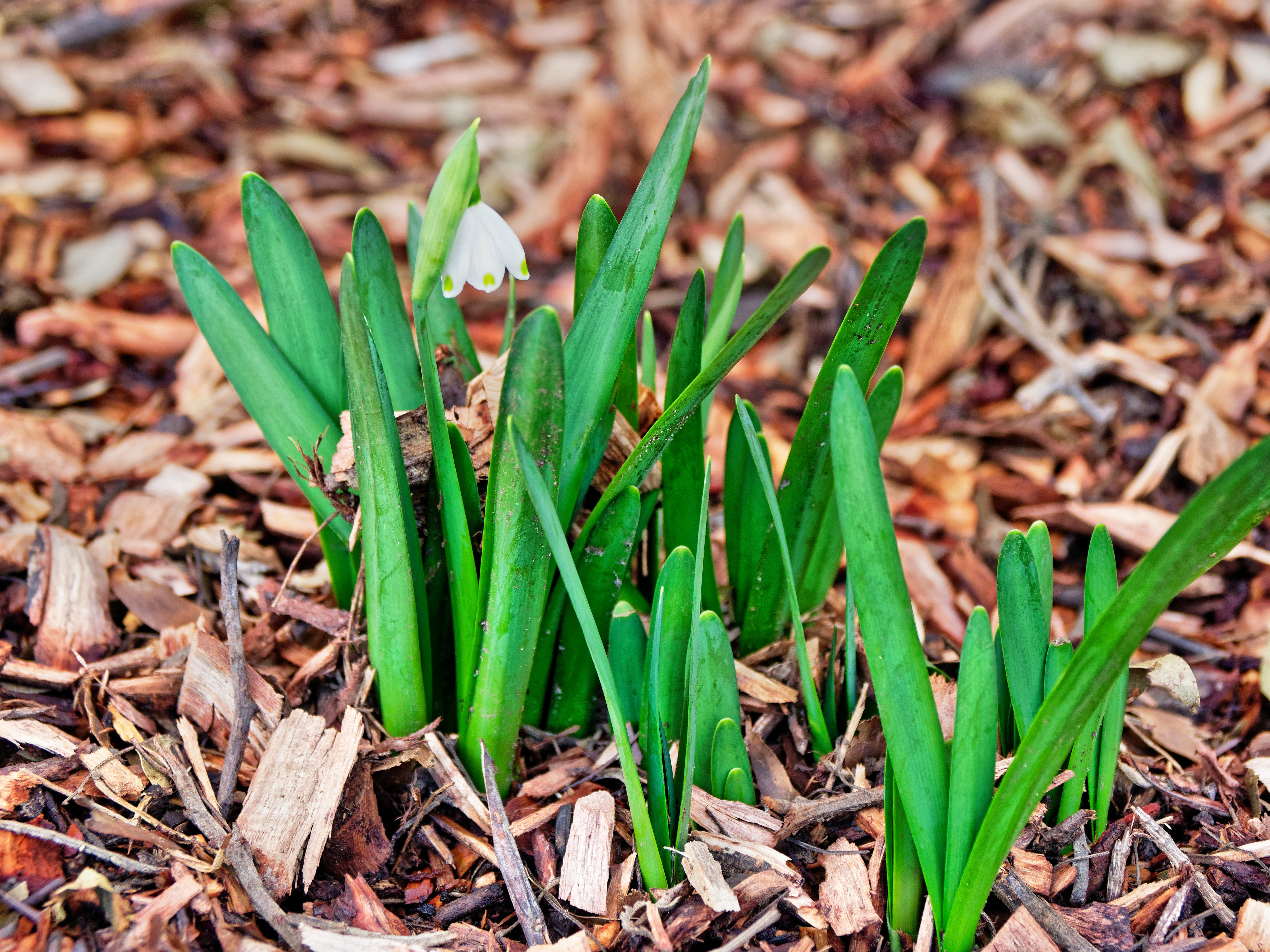 We may live out in the sticks, but this part of Dereel has been populated for at least 130 years. In 1889 a map was made, possibly still the most detailed map of the area. Interestingly, it seems that the place was much more populated at the time. Stones Road didn't exist yet, but this map shows Bliss Road (running East/West) and Harrisons Road (North/South in the middle of the image). The block at the top left of the detail, 1000x500 links (about 200x100 m) in size and marked "S. School", has the beginnings of Stones Road on its East side, and on the East side of Harrisons Road, just the other side of the unnamed creek (now Spring Creek) there was a post office.
There's no sign of any construction on the East side of Harrisons Road now; it's just a sheep paddock. But of course we still use these terms when we walk the dogs.
Of course, there are still road signs:
That's on the corner of Bliss Road. How did it fall over? I don't know, but it had been like that for a while when I took the photo 3½ months ago. Is a sign even necessary there? The road is pretty much unused, and Google Maps still claims that both sides are Stones Road. But yes, they've repaired it, with reinforcements:
Is that really worth it? If so, they could have thought of a sign for Bliss Road while they were at it.
So Donald Trump is in the United Kingdom on a state visit, one that they clearly couldn't postpone any longer. He's really welcome: Once again he avoided the streets of London, apparently on advice of his hosts, and landed his helicopter in Buckingham Palace. And he made himself popular because of his superb manners, walking ahead of the Queen to show her the way: Admittedly, it's worth looking at this in more detail:
I think that Hanlon's Razor applies here. Not malice, but stupidity.
He applied his malice elsewhere, tweeting insults towards Sadiq Khan, the Lord Mayor of London, and even misspelling his name in the next blob, in the process showing his preference for Jews over Muslims:
.@SadiqKhan, who by all accounts has done a terrible job as Mayor of London, has been foolishly "nasty" to the visiting President of the United States, by far the most important ally of the United Kingdom. He is a stone cold loser who should focus on crime in London, not me......

....Kahn reminds me very much of our very dumb and incompetent Mayor of NYC, de Blasio, who has also done a terrible job - only half his height. In any event, I look forward to being a great friend to the United Kingdom, and am looking very much forward to my visit. Landing now!
What a man!
I've done a lot of travelling in the last few days—just ask Google location services. While looking for something on the web, I was given a price in New Zealand dollars and a phone number to call, also in New Zealand.
But that's gone now. Now I'm in South Yarra.
How does it make these mistakes? Yes, the GPS receiver on my phone is pretty useless, but it's not that bad. Why can't I set the location myself?
Winter has already begun, but apart from a solitary snowdrop, we haven't seen much.
But now the first jonquils are flowering too:
And other flowers are doing surprisingly well, notably the Salvia microphylla (first image below), which normally doesn't look good at this time of year. But this one looks better than it ever has done.
The more I look at this issue with the car accident three months ago, the more I wonder what's going on. We have:
On 12 March the other side got a quote for repairs, for $706.20 including GST.

They did nothing until 10 April, when Bruce called me and told me that the repair would cost (from memory) $990. I asked him to send me details by email.

On 17 April I got an email with the details of the insurers, only.

On

30 April

, after fun contacting my insurers, I made a report and sent a reply to the other side.

On 15 May, after no reply, I sent a reminder.

On

29 May

, still without a response to my email, I got a call from their insurers. On my request, they sent me the details I had asked for 6 weeks earlier.
The photos in the quote were interesting. Firstly, I had thought that the car had been white. Why had I not taken photos myself? More importantly, though, was the damage:
The damage occurred when I reversed into the car, hitting it with the tow bar.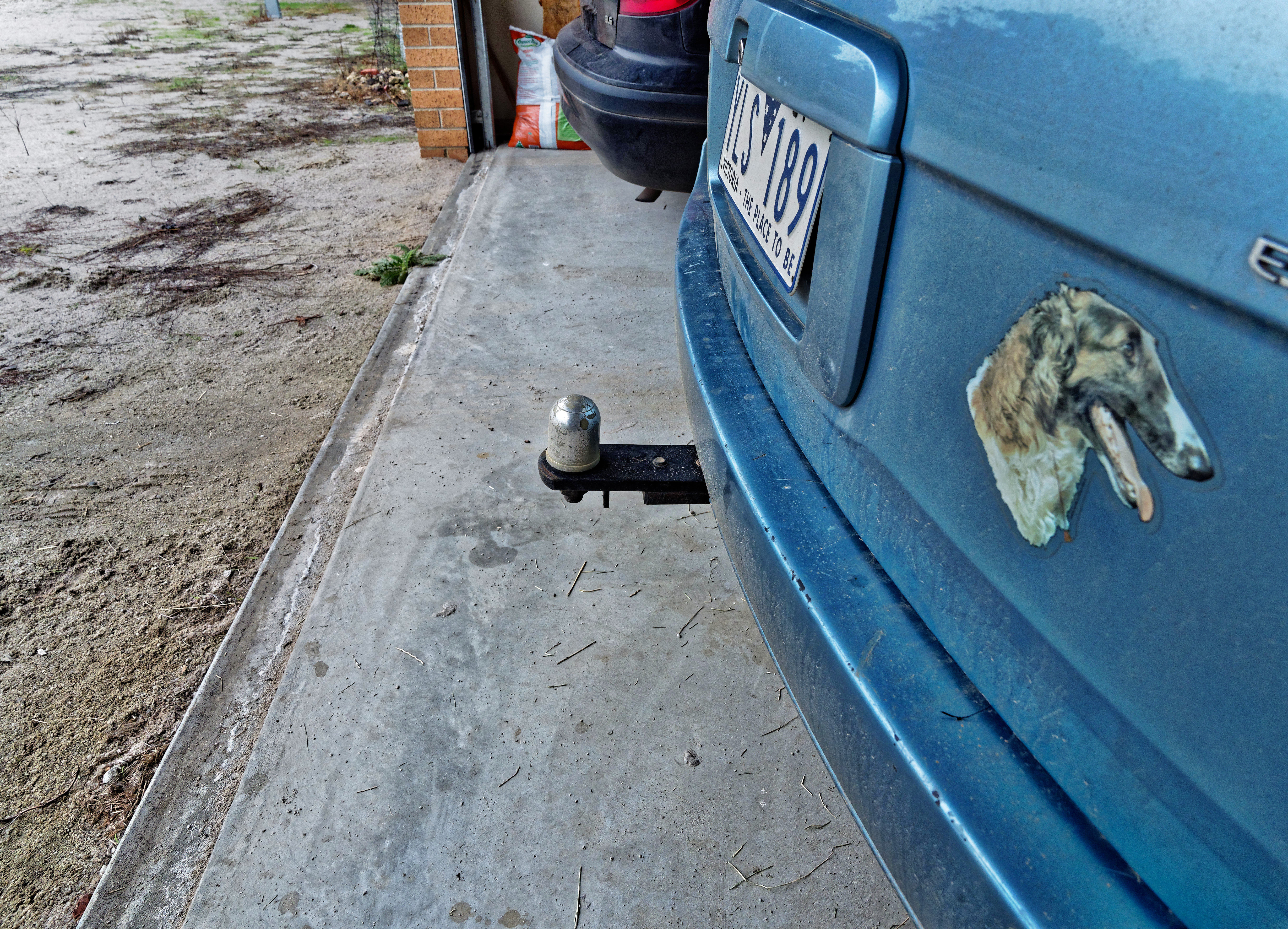 I don't recall it being as bad as it looks in the photo, but that could be, at least for the largest scrape in the middle.
And the other scratches? The one on the extreme right must certainly have been there before. And it's really hard to see how I could have caused both of the scrapes in the middle. At the very least I would have had to have had two impacts, which certainly wasn't the case, and even then it's not clear how one could be that much higher than the other.
So: time to contact RACV. Did that, fought my way through 2 minutes of menus, and got connected to Laura pretty soon after that. It seems that they have a preliminary notice from the other side, but not the documents that I have. But no matter: in all probability they have already approved the payment, in which case there's nothing I can do, except potentially engage in litigation with the insurer. No way. I know when I'm beat.
ALDI had a 10.1" Android tablet on offer today for the attractive price of $100 (or, as they put it, $99.99). OK, that might be an interesting alternative to my aging car GPS navigator, so I got Yvonne to pick one up for me.
What features does it have? The packaging and minimal instructions are far too polite to irritate me with technical details. Clearly it doesn't have a phone—it doesn't have a SIM card slot—and that's almost a reason to reject it anyway. But still, how about trying it out?
Does it have a GPS receiver? On IRC, Jari Kirma was sure that it would have, but I've had one from ALDI before that didn't. OK, simple, check the pull-down status page.
That doesn't look good. What should it look like? Checked on taskumatti, my Nokia 3 mobile phone, and saw:
No GPS mentioned there either! Why not? Once upon a time, I had this, on talipon (Androd 4.mumble):
Clearly that was too obvious. People need a challenge to find things.
OK, look in the config pages. Nope, nothing there either.
OK, try to install a GPS app. GPS status seems appropriate. Installed, success! But it didn't show me much in the way of status. At least it didn't tell me that I didn't have a GPS receiver.
OK, try my old favourite, GPS Logger for Android. "This app may not be optimized for your device". What does that mean? Installed it anyway, and it found my location, though I didn't check on the accuracy. But how? Despite the name, GPS Logger also checks Wi-Fi and mobile cell info, neither of which are very accurate. And how about that, when I disabled that, I didn't get any fixes any more. Comparing the results on the tablet and taskumatti, I got:
It's not clear why it is requesting cell and "wifi" location updates when they have been disabled, but it doesn't even try to "request GPS location updates" on the tablet.
It's beginning to look more and more like it doesn't have a GPS receiver. But how do I have certainty? How about GPS Test? OK, install and start it up:
That doesn't look good, and it's very different from the display on taskumatti:
What does GNSS mean, and can I rely on it? At the very least I'd expect a clear message like "no GPS receiver on this device, fool".
By this time it's fairly clear that the device doesn't have a GPS receiver. But why, oh why, can't I get a clear statement? Some GPS software works and pretends one is there, others don't work (just like they often don't work on devices with GPS receivers, for reasons they're too polite to explain). Why doesn't the configuration screen show what the device has?
Ah, says Jari Kirma, I can help there. Install (yet another) app, Droid info (and not Droid info, which I accidentally installed on the second device). It produces a report on the hardware it finds, and in true Android fashion it sends it to my email server in the USA, because it's too polite to access a file system.
Still, finally I got the information I had been looking for. On taskumatti:
FEATURES
Bluetooth: Yes
Bluetooth LE: Yes
GPS: Yes
NFC: Yes
USB Accessory: Yes
WiFi: Yes
WiFi Direct: Yes

And on the tablet:
FEATURES
Bluetooth: Yes
Bluetooth LE: Yes
GPS: No
NFC: No
USB Accessory: Yes
WiFi: Yes
WiFi Direct: Yes

Only a little over an hour. It seemed much longer.
There's a lot of other interesting stuff to look at in the reports. The one that sticks out is (on the tablet):
PRIMARY CAMERA
Resolution: 1.9 MP
Flash: No
Video Resolution: null
Supported Resolutions:
Image:
1600x1200
...

Video:

SECONDARY CAMERA
Resolution: 0.3 MP
Video Resolution: null
Supported Resolutions:
Image:
640x480
320x240

Video:

If I understand that, it has no video whatsoever, and a resolution that was out of date 10 years ago. What a piece of crap! And it also seems to be slow even by Android standards. I'll put off analysing more of the output for another day.
Following Donald Trump's tweets yesterday wasn't easy, especially as Twitter has decided that it doesn't like my firefox. OK, there are other alternatives, bringing with them typical silly messages:
Date: Wed, 05 Jun 2019 03:30:29 +0000
From: Twitter <verify@twitter.com>
To: Greg Lehey <twit@lemis.com>
Subject: New login to Twitter from Chrome

We noticed a recent login for your account @Twit.
Device: Chrome
Location: Traralgon, Victoria
*Location is approximate based on the login's IP address.
If this was you
Great! There's nothing else you need to do.

Traralgon is one of the more popular locations, probably because Aussie Broadband is located only 12 km from there, close enough for Twitter. But it's 300 km from here, and the theoretical possibility exists that somebody there is really trying to crack my account. OK, fool, if you're basing the guess on my IP address, why don't you even tell me what it is? Sigh.
I've been moaning about the inaccuracy of the GPS receiver in taskumatti, my current Nokia 3 phone. How about some comparisons? The new tablet proved to be a non-starter in that respect, since it doesn't have a GPS receiver. But what about talipon, the old Samsung GT-I9100T? Tried that out today, with both phones next to each other in my shirt pocket.
The results were surprising but inconclusive. First taskumatti, then talipon:
The first is from taskumatti, and the second from talipon. Both are inaccurate, but talipon surprised me by giving up in the middle. And inspecting the logs showed that it thought the date was 10 October 1999; it clearly has the 1024 week bug.
And on the way? We stopped on the way to talk to Lorraine Carranza, who happened to be passing. Again first taskumatti, then talipon:
On careful examination both appear to be equally inaccurate, but talipon looks less so. Still, there's small choice in rotten apples, even if they're not Apples. Would a higher-end phone do better? I have my doubts.
So how far did I walk? My guess in advance was about 2.5 km, but taskumatti suggested 4.08, and talipon (clearly incorrect) still 2.74 km.
On Wednesday I received a new sprinkler relay controller, this time with a housing: But that was all that came with it. No instructions of any kind! How do I use it? I had sent a message to the seller and received the reassuring reply:
Sorry for troubles caused to you.

We will contact our supplier for help.
Please kindly wait 2-3 days, thanks.
Don't worry, we will be responsible for this issue.

Tips:1.We need to deal with thousands of emails every day,in case we forget to inform you,kindly please remind us 2 days later,thanks for your understanding!

Tips:2.Could you please do not leave the neutral feedback even negative feedback on our store during this period?it will be bad effect for our store,we know you are a good buyer,right?

In summary: We have no idea, and we might get back to you if we don't forget, but please don't downvote us.
OK, we've seen this before. What's that chance that the IP address is in the 192.168.0.0/16 address space? That happens so often that I have an alias in my interface configuration:
em0: flags=8843<UP,BROADCAST,RUNNING,SIMPLEX,MULTICAST> metric 0 mtu 1500
options=4019b<RXCSUM,TXCSUM,VLAN_MTU,VLAN_HWTAGGING,VLAN_HWCSUM,TSO4,VLAN_HWTSO>
ether bc:5f:f4:c9:9b:bf
inet 192.109.197.137 netmask 0xffffff80 broadcast 192.109.197.255
inet6 fe80::be5f:f4ff:fec9:9bbf%em0 prefixlen 64 tentative scopeid 0x1
inet <b>192.168.123.123</b> netmask 0xffff0000 broadcast 192.168.255.255
nd6 options=29<PERFORMNUD,IFDISABLED,AUTO_LINKLOCAL>
media: Ethernet autoselect (1000baseT <full-duplex>)
status: active

Off with nmap, and sure enough, I found something responding at 192.168.1.4. But no ports accessible.
Further investigation showed that my firewall configuration was overly cautious:
ipfw add 00010 allow ip from 192.168.20.0/24 to any

Change that for the entire /16:
ipfw add 00010 allow ip from 192.168.0.0/16 to any
And then, how about that, I can access it with HTTP:
Address: http://192.168.1.4/Port
Well that's informative, isn't it? Tried http://192.168.1.4/Port and got an error 401. OK, what does Google know? Quite a bit, but not obviously related to the relay board. Finally Address: http://192.168.1.4/Port relay brought some results:
I really must learn Chinese. But the rest of the document was in rather brief English, and it showed a whole range of URLs, showing that the programmers only marginally understand HTTP. The "Port" was a metavariable, not for a port, but for a sub-URL (why?). By default it's 30000, and the commands are two digits. For example:
1: Default IP: 192.168.1.4 Port: 30000
Open the browser and enter the address bar: http://192.168.1.4/30000 to enter the
control interface.

2: Relay control HTTP command:
Relay 1-8 way command:

http://ip/30000/00 Relay-01 OFF
http://ip/30000/01 Relay-01 ON
http://ip/30000/02 Relay-02 OFF
http://ip/30000/03 Relay-02 ON

And how about that, that worked. There are some other strangenesses, but the biggest issue that I see now is just installing and testing the device.
Email from Powercor today:
Date: Wed, 5 Jun 2019 04:58:49 +0000 (GMT)
From: CitiPower and Powercor <econnect_no-reply@powercor.com.au>
To: "groggyhimsef@lemis.com" <grog@groggyhimsef.com>
Subject: Notification of works completion for 29 STONES RD, DEREEL VIC 3352
Message-ID: <jwsug000000000000000000000000000000000000000000000PSM0I100X04Ra6oRStmO2WuOVAzfFw@sfdc.net>

And the content? None. Ah, it's "multipart/alternative", except that there's no alternative to HTML. But that doesn't matter, because it's doesn't say much more than the Subject: line and the request number. My meter is now configured for power feedin, only a little more than three weeks after application and 7 weeks after installation.
But it comes at a good time. Yesterday was sunny, and we generated a record amount of power:
5.518 MWh! That's worth $745! At this rate I'll pay off the system within months!
A while back we bought two enormous jars of sauerkraut. We do this too often, but this time I had really planned to make choucroute garni out of them. Today Melanie Bahlo, Chris' sister, was in town, and Yvonne managed to interest both of them in the idea, and Yvonne came up with the idea of a flammekueche as first course.
Somehow my heart wasn't in it. We don't seem to have made it very often: my recipe page dates from 22 June 2002, and since then I only have records of making it on 30 March 2003, 3 April 2004 and 29 March 2007—the last time over 12 years ago, before we moved to Dereel!
Modified the recipe, of course, in the process finding some smoked pork fat dating to the very first time I made it, 17 years ago! It was deep frozen, of course, and to my surprise it tasted perfectly good, and there's still some left over. But I made a number of blunders, and wasn't really happy with the result:
In passing, it's surprising how pale the dish looks. Here's a comparison with 17 years ago:
Once again there was the question of the quantity of potatoes. For 1.5 kg of sauerkraut I wanted 250 g of potatoes. The original recipe wanted 750 g. With Yvonne's encouragement we compromised on 600 g, which I still think is too much.
The flammekueche turned out quite well, but also quite filling:
Walking the dogs to the end of Grassy Gully Road today was not a good idea. Saturdays seem to have more traffic than during the week, and this time I was passed by no fewer than 12 cars, not all of them considerate, but including Lorraine Carranza and Chris Bahlo, the latter bearing horses.
Halfway down saw a surprising sight:
Nothing obvious in that view, but on a short mown area, a solitary Amanita muscaria, here just behind Nikolai:
And at the other end of the road, some tiny flowers (about 3 mm across) that proved to be photo-resistant:
Coming closer a bit helps, but not much:
What are they? I thought they might be a kind of Grevillea, and they appear to be growing wild. Next time I'll come with secateurs and bring some back with me.
Chris Bahlo took some photos of a ride that she, Melanie and Yvonne went on yesterday, on her Samsung SM-G930F phone (why does Samsung have phone descriptions that have nothing to do with the marketing name?). They were on Google Drive, another Google offering that I find hard to navigate. A total of 26 photos and 4 videos. How do I download them?
Simple: double click with the on the minuscule little fingernail image to the left of a file name, or on the file name, wait 4 seconds, and you get a popup:
Select Download and it loads the image for you. 28 times and you're done! A good thing that Chris took so few photos.
Surely there must be an easier way. But how? Google makes it hard to guess. Spent some time randomly clicking on various parts of the display before hitting pay dirt:
OK, select Download. "Zipping 1 file". Zipping? These are JPEG files. They can barely be compressed.
Ah, says Peter Jeremy on IRC, ZIP is a convenient way of combining multiple input files into one output file.
Now doesn't that make sense? It spent something like 5 minutes "compressing" the files, using so much effort that it didn't update the "Zipping 1 file" display until it started the download.
And how much did it compress? -88%! The archive was 310 MB, while the uncompressed files took up 165 MB:
=== grog@eureka (/dev/pts/31) ~/Downloads 94 -> du -sck /Photos/yvonne/20190608/orig/JPEG/*
6304 /Photos/yvonne/20190608/orig/JPEG/20190608_133238.jpg
...
5472 /Photos/yvonne/20190608/orig/JPEG/20190608_141017.jpg
165248 total
=== grog@eureka (/dev/pts/31) ~/Downloads 95 -> du -sk Melanie\ Visit\ June\ 2019-20190608T234049Z-001.zip
310016 Melanie Visit June 2019-20190608T234049Z-001.zip

Is that really the best that the Microsoft space can do? As Peter Jeremy pointed out, zip has one other advantage over tar: it has an index of the files. But that's deliberate in the case of tar, which is designed for sequential access media. It stands for tape archive, and it's a derivative of ar, which has been around since before most people in the Microsoft space were born. And of course it has an index.
After processing Chris Bahlo's photos, Yvonne came to me with a problem: the photos weren't all there when she tried to put them through Ashampoo photo optimizer.
Why? She had processed 24 photos, and there were 24 photos there. No, half were missing. OK, more checking, and discovered that though there were 24 images, some of the images had been created from the wrong source image, photos that she had processed earlier. This is in the convert target, where I convert from the original image in the orig subdirectory to an image in the main directory. The mapping is described in the file Makejpeg, where the entries look like:
20190608_134405_DxO Ride-9 0
20190608_140257_DxO Ride-17 0
26081524_DxO Ride-8 0
26081536_DxO-1 Ride-37 0

The first column is the name of the source file (implicitly in orig), the second in the current directory (implicitly ending in .jpeg), and the third is a rotation parameter that I no longer use.
The first two images are clearly timestamps, the way Samsung saves its images. The second two are modified Olympus filenames (the initial 2 is the camera number, which I have set to easily identify the Olympus cameras we have; 2 is Yvonne's E-PM2). The next three digits, 608, are an encoding of month (6) and day (08), while the last 4 digits are a running number. But when I looked at them, Ride-17.jpeg was a copy of Ride-37.jpeg! How could that happen?
OK, remove everything, convert and optimize. Now Yvonne was happy. But of course I couldn't resist producing examples of the difference in quality between the real camera and the phone:
Those are Ride-8 and Ride-9. Clearly you can hold any camera at an angle, but the image quality and flare reach out and strangle you.
But what do I see?
Image: Ride-9.jpeg
Date taken: Saturday, 8 June 2019, 3:44:08 UTC
Location: 37.83333° S, 143.72694° E
Exposure: 1/320 sec, f/7.1 (EV 14.0), 200/24° ISO
Camera: Olympus E-PM2
Lens: Olympus M.Zuiko Digital ED 14-42mm f/3.5-5.6 EZ
Focal length: 14.0 mm (full frame equivalent: 86.8 mm)
Focus: S-AF+MF ∞ (1.84 m - ∞)
Crop factor: 0.36 (0.56 horizontal, 0.65 vertical)
Effective FL: 23 mm (FF: 146 mm)
Field of view: 12.6° horizontal, 11.1° vertical, 16.8° diagonal
Meter mode: Center-weighted average Program AE
Stabilization: On, Mode 1
Original size: 5747.5 kP (2559 × 2246 pixels), 2311 kB
Copyright: Yvonne Lehey

That's clearly wrong, not once, but at least four times. Firstly, the photo is of Yvonne, who had her camera on her. From Makejpeg it's clear that it the source file should have been 20190608_134405_DxO.jpeg, from Chris' camera. The "full frame equivalent" focal length is clearly not from a Micro Four Thirds system camera. And the location can't come from Yvonne's camera, which doesn't have GPS. Somehow the Exif data has been mixed up between two images.
How did it get there? It seems to be a remnant of whatever happened before. The images all have the correct Exif information, but the copy that I keep for quick access on the web hasn't been updated.
How do I track that now, after all the shouting's done?
CJ Ellis along today to finish off the stable alterations that he had started a month ago. I thought it would take him an hour or two, but Yvonne went to help him, and it kept them both going all afternoon. The result was rather different from what I had understood:
CJ has now received a new Analogue Telephone Adapter, a Cisco SPA112, with which he is well pleased. It worked out of the box, and now people answer the phone much more quickly than before. I tried to explain that the answers didn't depend on the ATA, but it seems that maybe they did: previously the connection would drop on occasion, and I don't trust the ring tone to really correspond with a ring at the other end.
I had suspected the power supply, since I had lent him an alternative, and he hadn't had any problems with that. My alternative supply only delivers 12 V at 1.5 A, whereas his old Mitron MV1 (MNFMV1?) needed 12 V at 2 A. He brought back my power supply, the Mitron ATA and its power supply. 0.4 A! How can that work? But then I checked the ATA again, and there's no mention of the current requirement. I was sure I saw 2 A somewhere when I lent him the power supply.
Google searches didn't help. It seems that the only person ever to use the Mitron was CJ, to go by the hits, mainly from this diary. OK, I can play around with it and see what I find.
But one of the links was useful: my diary entry for 13 August 2014, where I noted that the Mitron ATA was almost identical to the Netcomm V210P. Another search brought me to this particularly emetic link to the Netcomm V210P User Manual. It, too, was too polite to include specs in its 56 pages, but the "Package Contents" include:
DC12 volts/0.6 A Power Supply Unit
OK, so the Mitron probably doesn't need 2 A. Is 0.4 A enough, or just scraping through?
Watching TV this evening, we finished one programme and tried to watch another.
=== grog@teevee (/dev/pts/8) /spool/Series/Matula 441 -> mmp Matula---Der-Schatten-des-Berges-20180330-211500.mp4
bash: /home/local/bin/mmp: Input/output error
=== grog@teevee (/dev/pts/8) /spool/Series/Matula 442 -> df
Filesystem 1048576-blocks Used Avail Capacity Mounted on
/dev/ada0p4 64,456 40,374 18,925 68% /
devfs 0 0 0 100% /dev
/dev/ada0p2 64,456 53,785 5,514 91% /destdir
/dev/ada0p5 5,568,407 5,359,841 152,882 97% /spool
linprocfs 0 0 0 100% /compat/linux/proc
eureka:/videobackup 5,722,572 5,408,413 256,934 95% /videobackup
eureka:/Photos 7,629,565 5,558,618 1,994,651 74% /Photos
eureka:/dump 1,907,067 1,715,950 38,551 98% /dump
eureka:/home 3,705,520 1,757,915 1,651,163 52% /eureka/home
=== grog@teevee (/dev/pts/8) /spool/Series/Matula 443 -> l /home/local
lrwxr-xr-x 1 root wheel 18 6 Jan 2015 /home/local -> /eureka/home/local
=== grog@teevee (/dev/pts/8) /spool/Series/Matula 444 -> l /home/local
ls: /home/local/bin: Input/output error

What happened there? Clearly some NFS issue, which also affected eureka:/, the root file system. Force umount, restart mountd (that was necessary), and all was well again. There were some messages in dmesg, tripping over themselves.
nfs server nfs server eueureka:/dump: not responding
r
eka:/dump: not responding
nfs server eureka:/dump: not responding
nfs server eureka:/dump: is alive again
nf<6>nfs server eureka:/dump: is s server eureka:/dumalive apgain
:
is alive again
nfs server eureka:/dump: is alive again
<<6>6>nnffs s servserver eurer eeureka:/kadump: :i/dump: is alive again
s
alive again
nfs server eureka:/dump: is alive again
But they proved to date from 1 May; no further issues. What caused that?
Last week I went to a lot of trouble to try to decide whether my new tablet had a GPS receiver or not. But after thinking about it, it occurred to me that I had had issues with OI.Share, which wouldn't install on a device without a GPS receiver.
Is that still the case? Tried downloading. "This app may not be optimized for your device". But it installed, and of course it couldn't find my camera. Take me to the Settings menu? OK. But it couldn't find that either; presumably the tablet has hidden the Settings menu somewhere where OI.Share can't find it. I note that it has hidden the screen shots elsewhere (in fact, in a more logical place, something like /storage/emulated/0/Screenshots/ instead of /storage/emulated/0/Pictures/Screenshots/), so maybe it has done the same sort of thing with the Settings menu? Do I care? Not really. I have long since decided to return the tablet, and the only thing of interest is the incompatibility from one device to the next.
It's been a while since I did any serious macro photography, but now our Schlumbergera is flowering, and it cries out for focus stacked photos of the flowers.
But how many? Once again, it's just plain guesswork. I set it up with the closest part of the flower at 25.5 cm from the M.Zuiko Digital ED 30 mm f/3.5 Macro—once again the optically better M.Zuiko Digital ED 60 mm f/2.8 Macro was just too long—and erred on the side of caution with 200 shots at f/5.6. That proved to be correct: it stopped after 57 shots with focus at ∞.
But the shots weren't sharp. Not focus: movement. The exposure proved to be 1/15 s, and the flowers weren't completely stationary. OK, a case for my Olympus STF-8 macro flash unit.
Frustration on frustration. It's bad enough that the camera (Olympus OM-D E-M1 Mark II) can't handle focus stacking ("bracketing") with a monitor connected to the HDMI output, but I couldn't find any way to get it to take more than a single shot with the flash. It wasn't until I had given up in disgust that I recalled that I had run into this problem before. At the time I had guessed that the electronic shutter was incompatible with TTL flash, though I don't know why that should be. At any rate, it makes the STF-8 useless for exactly the kind of work for which it is sold. On the other hand, web discussions suggest that it should work. What's wrong?
Yvonne off shopping today, as every Wednesday. But this time there was a difference: not only would the car (Holden VZ Commodore) not start, it displayed strange indications in on the dashboard while trying.
Why? In principle the symptoms pointed to a flat battery, but there was no obvious reasons, and the display on the dashboard (notably indicating the high beam warning light) made no sense. But yes, the voltage was down to 12.02 V, whereas on my car it was about 12.5 V. So Yvonne took my car, I put the Holden on charge, and sure enough, it started after a bit of charging.
So why was the battery flat? No obvious reason (leaving lights on, doors open, etc.). How old is it, anyway? It seems that we haven't replaced a battery since we bought the car on 23 September 2013, coming on 6 years ago, and there's no reason to believe that the battery was new then. So it's looking like a change in the not-too-distant future.
Now that we have battery-backed photovoltaic power, I need to set up a cron job to monitor the grid power to the house: we don't notice any short outages. Today I checked and found:
+---------------------+------+----------------------+------+------+---------+--------+-------+--------+------+
| tstamp | Pac | Status | SOC | VBat | PacGrid | PacBat | PacPV | FromPV | W1 |
+---------------------+------+----------------------+-----+------+---------+--------+-------+--------+------+
| 2019-06-01 10:17:07 | 599 | Waiting to connect t | 25 | 264 | 0 | -924 | 1934 | 0 | 0 |
| 2019-06-01 10:17:08 | 1232 | Waiting to connect t | 25 | 264 | 0 | -488 | 1766 | 0 | 0 |
| 2019-06-01 10:17:09 | 1227 | Off-grid | 25 | 264 | 0 | -589 | 1816 | 0 | 0 |
| 2019-06-01 10:17:10 | 1207 | Waiting to connect t | 25 | 264 | 0 | -634 | 1840 | 0 | 0 |
...
| 2019-06-01 10:18:10 | 684 | Waiting to connect t | 25 | 263 | 0 | -731 | 1424 | 0 | 0 |

Why two "Waiting to connect to grid" messages before "Off-grid"? My guess is that the inverter is too polite to complain for a couple of seconds until it's really sure that the grid has gone away. And the total time between the first and last "Waiting to connect" was 63 seconds. On another occasion I had only "Waiting to connect", and a total time of 61 seconds. So until proof of the contrary, I'll add 3 seconds to the outage times.
OK, it seems that my Olympus STF-8 macro flash unit doesn't want to play nice with the focus stacking modes of my OM-D E-M1 Mark II. Time to get out the old "Viltrox JY-670 Macro Ring Lite", which I haven't used for a while.
And it looks like I won't use it again. I can't get it to power on. Damn, why do I have so much trouble with flash units? Apart from exposure and compatibility issues, this is the third unit that has died on me in the last 6 years.
OK, time to look for a new ring flash. I fear, though, that I won't find anything except a replacement Viltrox.
So I still don't have any good image series of the Schlumbergera. For the fun of it, tried stitching the ones I had, with the unsharp stamens. The results, stitched with Zerene Stacker were interesting: one ("PMax") looked quite good, the other ("Dmap") was singularly useless:
The "PMax" looked better than I had hoped for, but clearly still not good enough. Still, the difference between the two methods was amazing. I must read up on the background.
Call from CJ Ellis today. But his name didn't pop up on the phone; instead I saw a number starting with 09, an internal number used by MyNetFone. And he was complaining that people would call him but just get voice mail.
OK, he now has two lines. Was the external number (which, I discovered, is called a Direct inward dial or DID) attached to the other? Got him to call me on it. No, still a (different, clearly) 09 number.
Config issues with MyNetFone? Found my way into CJ's page on their web site. Yes, now he has not two, but three numbers, and the DID is attached to his old Mitron Analogue Telephone Adapter. OK, they offer the option to change on the web site, so did that. No "submit" button, just an ominous "Confirmation Code".
The "Help" didn't, but it's my guess that they want to call the old number to confirm the change. Fat lot of good that will do with a non-connected and possibly non-functional ATA.
Called up their phone support, got lots of voice suggestions like "Hang in there" (presumably different from "Hang up") and "Consider this: (silence)". Finally, after about 4 minutes, I got the message, first in the confidence-inspiring male voice "currently our wait times are", then in a panic-stricken female voice "over an hour!". I could have asked for a call back, but it was too late already. Mañana.
One of the issues with my focus stacked photos of the Schlumbergera is the wear aspect: how many photos can you take with a flash tube before it dies? It's easy to take a couple of hundred frames to build a single image. How long would a cheap (or even expensive) flash unit last under those circumstances?
So how about revisiting LED lights? Did a bit of research on eBay and elsewhere and discovered the Travor RF-550D ring light, a device without a manufacturer who wants to own up to it. I also haven't been able to find trustworthy reviews. The Amazon customer reviews are what you might expect: "too bright"; "not bright enough". Clearly the first of these were written by people who haven't RTFM: you can adjust the brightness down to 1/32, and if the claimed guide number 15 is correct, this would reduce it to 2.7, which would give f/16 at 17 cm. But I have a sneaking suspicion that the guide number is specified in feet, which means a real guide number of 4.6, even weaker than the Olympus STF-8, and an issue if you go beyond, say, 50 cm distance.
Still, the price is right: $36, so I ordered one. We'll see if that is any easier to use.
Called up MyNetFone support today to ask about changing the DID for CJ Ellis' phone. This time I timed things. 3 whole minutes of various announcements, and then the confidence-inspiring male voice "currently our wait times are", then in a stressed female voice "25 minutes". So I was able to request a callback, which took another minute, because they were too polite to assume the number on which I called (one of their numbers), and then they wanted to read it back to me and get me to confirm.
It didn't help much. They didn't call back, so after a couple of hours I took another look. Was this confirmation code really for a call back on the old number? I have the old ATA, so it was worth plugging it into the network (behind NAT) and see if it works. Yes! Tried again, but received no call.
Then I took another look at the configuration display:
That wasn't quite the same as the display. There the number was above the What is a DID? line. Maybe an Overstamped Caller ID is something else. Tried "Add DID", but it told me I had no numbers.
OK, what happens if I remove the DID from the other number? Potentially I lose it. But basically I had nothing to lose, so did that, added it to the new number, and finally I had:
And that worked. A good thing too, since it's almost impossible to get to MyNetFone support.
I've heard a new FLAT (Four Letter Abbreviated Term) today: DSLM. As I guessed from the context, it expands to "Digital Single Lens Mirrorless".
What a stupid term! We already have "MILC", for "Mirrorless Interchangeable Lens Camera", a term that is better but not good: it applies to all old Leica-like cameras as well, though that's not the intention: like most digital cameras, they all have electronic viewfinders. I personally liked "EVIL" ("Electronic Viewer, Interchangeable Lens"), but it seems that that is too whimsical for certain Christians and people with no humour, though it does offer the advantage of being expandable to "DEVIL" (D for Digital, of course).
But somehow current terms don't make sense. "Mirrorless" isn't a description of what the camera has, it's a description of what the camera doesn't have. DSLM has only the marginal advantage that it sounds like DSLR. But why "single lens"? It would suggest that the lens is not interchangeable, quite the opposite of the intention.
OK, I'll have to give up on EVIL. But what would make sense? Digital is not important enough to mention. Single Lens has no meaning any more. Mirrorless is a negative feature. The things do have electronic viewfinders and interchangeable lenses. Interchangeable lenses will remain a distinguishing feature; electronic viewfinder won't. But try as I might, I can't think of a better description than EVIL. Maybe rearrange the letters? VILE? LIVE? "Lens interchangeable, viewfinder electronic"? None really work. Maybe retrofit "MILC" to mean "Modern Interchangeable Lens Camera", then gradually drop the M?
There's an Arum in front of the laundry, and it's just coming into flower. But how to photograph it? Clearly I wanted the background out of focus, something that the "full frame" people think that they have invented. So clearly I need a wide aperture lens. The Leica Summilux 25 mm f/1.4?
Maybe this is one of the few cases where I could do with less depth of field. Before I go and buy an extreme f/0.95 or even f/0.85 lens, how about longer focal length? The M.Zuiko Digital ED 75 mm f/1.8, which I bought a year ago and have hardly used? Bingo! Finally a use for the lens:
I like the tips of the flowers.
Mick Solly along again today to finish the mulching. Certainly the garden is looking the better for it, and finally we have it in a condition that he doesn't need to come every couple of weeks. Next time early August?
Yesterday I wrote:
I personally liked "EVIL" ("Electronic Viewer, Interchangeable Lens"), but it seems that that is too whimsical for Christians and people with no humour, ...
A gentle rebuke on IRC from a Christian participant. Yes, that's valid. I have nothing against most Christians, just the militant kind who tell me how to live my life. Like most adherents of other religions, most are good people. Sadly there are too many people of any religion who use it like a weapon and thus do discredit to their religion. "ISIL" comes to mind for the Muslims, but there are certainly too many militant Christians too.
In the case in point I was thinking of the people in the FreeBSD project who decided that the logo was unsuitable, and changed it. Here before and after. The former image is copyright Marshall Kirk McKusick, and the latter of the FreeBSD foundation, which stipulates, inter alia:
Don't:

Alter the logo in any way.

Use older versions of the logo
The punctuation is original. I interpret the first stipulation to include not removing the indent (which looks silly) nor the size. But then, this is probably the only time I will use this logo. The second stipulation clearly doesn't include Kirk's emblem, which predates FreeBSD and doesn't belong to it.
But then, that's only part of the pain. The log archive is in ZIP format and has spaces in the path names! What a pain just looking at them! Fortunately nothing in the conditions prevents me from assigning a sane name. O tempora! O mores!
Clearly little of this has to do with Christians. I've changed the article to read "certain Christians".
From time to time I quote web pages, which don't always play nice with the their title. For example, the NOAA Solar Calculator has a heading "ESRL Global Monitoring Division", which doesn't help much. And when I quote from my diary I get (for example, for this month) "Greg's diary--June 2019".
That could be easier. Each article in my diary has its own URL fragment (the part after the # symbol), a coding of the date and time when the article was written. For some time now they have had their own title, like this one, "More web page mods". Why not put that in the window heading?
I had this bright idea of an auxiliary file with an array of fragment (index), title and topics. Read it in at the beginning of the page, use the fragment to get the title, and simultaneously build up a new array to write out at the end. That way I wouldn't need to do anything special to keep it up to date. It would also allow me to create an index for the page, though with in the order of 100 articles per month it's not clear how that would work out. I can't think of any use for the topics, but it's cheap and a use might appear.
Problem: it seems that there is no way for the page to know what fragment the client has passed. Damn! After a while, though, it occurred to me that I could include the title directly in the URL, so this page, instead of having the URL /grog/diary-jun2019.php#D-20190615-035614, would have the URL /grog/diary-jun2019.php?subtitle=More%20web%20page%20mods#D-20190615-035614. The page could then extract the subject parameter and use it in the heading.
That proved to be surprisingly simple, only about 10 lines. Do I now need a list of topics? That would also not be that difficult.
While watching TV this evening, the screen went blank. Only relatively briefly; then I got a startup display. teevee had paniced!
That almost never happens. It had been up for 47 days, thanks mainly to the solar electricity system. What caused it?
Jun 14 21:34:09 teevee savecore: reboot after panic: page fault
Jun 14 21:34:09 teevee savecore: writing core to /var/crash/vmcore.4

OK, that shouldn't happen, so it's worth a look.
=== root@teevee (/dev/pts/8) /var/crash 4 -> kgdb /home/obj/eureka/home/src/FreeBSD/svn/stable/11/sys/GENERIC/kernel.debug vmcore.4
GNU gdb 6.1.1 [FreeBSD]

Unread portion of the kernel message buffer:

Fatal trap 12: page fault while in kernel mode
cpuid = 1; apic id = 01
fault virtual address = 0x0
fault code = supervisor read data, page not present
instruction pointer = 0x20:0xffffffff829d83a4
stack pointer = 0x28:0xfffffe010f85c720
frame pointer = 0x28:0xfffffe000215de00
code segment = base 0x0, limit 0xfffff, type 0x1b
= DPL 0, pres 1, long 1, def32 0, gran 1
processor eflags = interrupt enabled, resume, IOPL = 0
current process = 12 (swi4: clock (0))
trap number = 12
panic: page fault
cpuid = 1
KDB: stack backtrace:
#0 0xffffffff80b4d6e7 at kdb_backtrace+0x67
#1 0xffffffff80b068e7 at vpanic+0x177
#2 0xffffffff80b06763 at panic+0x43
#3 0xffffffff80f8939f at trap_fatal+0x35f
#4 0xffffffff80f893f9 at trap_pfault+0x49
#5 0xffffffff80f88a9c at trap+0x29c
#6 0xffffffff80f68f6c at calltrap+0x8
Uptime: 47d3h46m30s

In passing it's interesting to note that the stack backtrace is as good as useless: the functions are all called as a result of the problem. To find the real cause you need to dig deeper:
=== kgdb -> bt
#0 doadump (textdump=<value optimized out>) at pcpu.h:230
#1 0xffffffff80b064fb in kern_reboot (howto=260)
at /eureka/home/src/FreeBSD/svn/stable/11/sys/kern/kern_shutdown.c:383
#2 0xffffffff80b06921 in vpanic (fmt=<value optimized out>, ap=<value optimized out>)
at /eureka/home/src/FreeBSD/svn/stable/11/sys/kern/kern_shutdown.c:776
#3 0xffffffff80b06763 in panic (fmt=<value optimized out>)
at /eureka/home/src/FreeBSD/svn/stable/11/sys/kern/kern_shutdown.c:707
#4 0xffffffff80f8939f in trap_fatal (frame=0xfffffe010f85c660, eva=0)
at /eureka/home/src/FreeBSD/svn/stable/11/sys/amd64/amd64/trap.c:904
#5 0xffffffff80f893f9 in trap_pfault (frame=0xfffffe010f85c660, usermode=0) at pcpu.h:230
#6 0xffffffff80f88a9c in trap (frame=0xfffffe010f85c660)
at /eureka/home/src/FreeBSD/svn/stable/11/sys/amd64/amd64/trap.c:438
#7 0xffffffff80f68f6c in calltrap () at /eureka/home/src/FreeBSD/svn/stable/11/sys/amd64/amd64/exception.S:231
#8 0xffffffff829d83a4 in _nv008794rm () from /boot/modules/nvidia.ko
#9 0x0000000000000001 in ?? ()
#10 0xffffffff829d83b9 in _nv008790rm () from /boot/modules/nvidia.ko
#11 0xfffff800852e9b80 in ?? ()
#12 0xffffffff829d8237 in _nv008791rm () from /boot/modules/nvidia.ko
#13 0xfffffe000215de00 in ?? ()
#14 0xfffffe000215de78 in ?? ()
#15 0x0000000000000000 in ?? ()

nvidia.ko! For which, of course, we have no source. Should I even bother to report it to Nvidia? They'll just ask me to install the latest version of the driver and try again, I fear. But for some time I've been pondering the Radeon card that I got a few months ago and which worked out of the box. A far cry from Nvidia: teevee is down-rev because the latest version didn't work well with my hardware.
So for the second time in a few weeks, somebody has attacked oil tankers in the area round the Sea of Oman. Who is to blame? Iran, of course. Just ask Donald Trump. They even have videos to prove it. It seems that the Iranian Revolutionary Guard attached a limpet mine and then removed it again when it didn't explode.
Is this plausible? Why should Iran want to antagonize the USA further? If the images really show the Iranian Revolutionary Guard, why didn't they follow them back to where they came from? Why didn't they apprehend them? Why did the owner of the ship say that it was some kind of projectile? Why didn't the US soldiers who rescued some of the crew check for damage before leaving?
I'm involved with Quora, so I asked the question Who benefits from the current attacks on tankers in the Gulf of Oman, and how?. It didn't get many responses, but this one makes a lot of sense. As I suspected, it boils down to what Jawad Zarif calls "The B team": Bibi, John "Weapons of Mass Destruction" Bolton and Mohammad bin Salman, none of whom I would trust further than I could throw them.
But no, though it makes no sense, Iran is to blame. I'm reminded of a section in the OED:
5. to trump up (trans.).

c. To get up or devise in an unscrupulous way; to forge, fabricate, invent.

1695 W. W. Novum Lumen Chirurg. Extinctum 64 His Pouder being..disgraced, he was obliged to trump up another Medicine to supply its Defect.

1726 C. D'Anvers Craftsman No. 3 (1727) 22 They..forewarn us to beware of impostures trumpt up in imitation of their approved remedies.

a1774 A. Tucker Light of Nature (1834) II. 328 Their very existence is mere hypothesis, trumped up to serve a turn.

1794 W. Godwin Caleb Williams III. xi. 191 If..those servants could trump up such accusations.

1809 B. H. Malkin tr. A. R. Le Sage Adventures Gil Blas II. iv. vii. 167 You have trumped up a cock and bull story.

1885 W. D. Howells Rise Silas Lapham viii She had not..courage to confess..why she had come, but trumped up an excuse.
Of course, Iran does have some part to play in this matter. It could be more conciliatory. But looking at the B team, it's not clear that that would help. It's time for the world to finally take a more neutral view and address these extremists.
Middle of the month, time for my monthly flower photos.
It's the beginning of winter, but there are some positive surprises, unfortunately also some negative ones. On the positive side, some of the native plants are looking very good. The Alyogyne huegelii that I planted in the spring, and which gradually developed over the summer, is now in full bloom:
The Banksia integrifolia continues to flower (if that's the word). There must be 50 flowers in various stages of bloom:
The Grevillea bronwenae that we bought two years ago has survived rather than flourished, but now it has new flowers:
In that connection, it's worth noting two plants that, as I feared, have clearly died:
The three plants are in a line, and I've been wondering whether there is something in the soil that caused the last two to die. Could be just be that, despite everything, there was just not enough water?
One discovery that suggests that is in the eastern garden:
This particular Hebe is in full flower, while others are struggling:
In addition an existing Leptospermum near the Hebe is also flowering, out of season:
I think that there was a water leak near the flourishing Hebe, and it also caused the growth in the "lawn", really the ground-cover like legume with the small yellow flowers that I've been trying to cultivate. They're also taking over the central garden bed; I think that they're the same:
If I'm right, I'm going to have to apply even more water than I thought, and spend more time ensuring that there are no leaks in the dripper system.
Apart from the Grevillea Bronwenae, the one remaining ground cover Grevillea in the central bed is flowering happily:
The other Hibiscus variants are doing relatively well. The Hibiscus syriacus near the house still has buds, but I don't think that they will flower:
On the other hand, the "Uncle Max" Hibiscus rosa-sinensis has a nice bud that might still flower:
The Paulownia kawakamii certainly did better this year. It still has a leaf, but in particular a number of buds:
The Buddlejas to the south of the house are not looking good, though they're still (marginally) flowering:
I think that this time it's a matter of fertilizer: the area is relatively moist.
The Clematis "General Sikorski" that nearly died continues to pick up. Here two months ago, last month and today:
That doesn't seem to be much difference until you look at the dripper line for a scale. But it's now completely the wrong time of year for it. We'll see what happens in the spring.
One surprise was the Vietnamese mint (Daun laksa). It's flowering!
I can't recall seeing that before. And more spring flowers are coming out, if somewhat slowly. Here an Iris:
The roses are still carrying on, though it's clear that I need to pay more attention to pruning this winter:
While walking the dogs, saw some excavation work in Harrisons Road:
Nothing overly interesting, but it's very close to a property that we looked at nearly 6 years ago (the same day we first saw our present property), and which we found uninteresting. I wonder what they're planning to do there.
Yvonne has been wanting to go to the Ballarat Market, which is only open on Sundays, mainly to buy Dutch food. I came along with potential interest in even more bulbs, which seem to be about the only kind of plant that grows reliably in our garden.
The place was almost deserted! In the past, both this hall and the road had stalls on either side: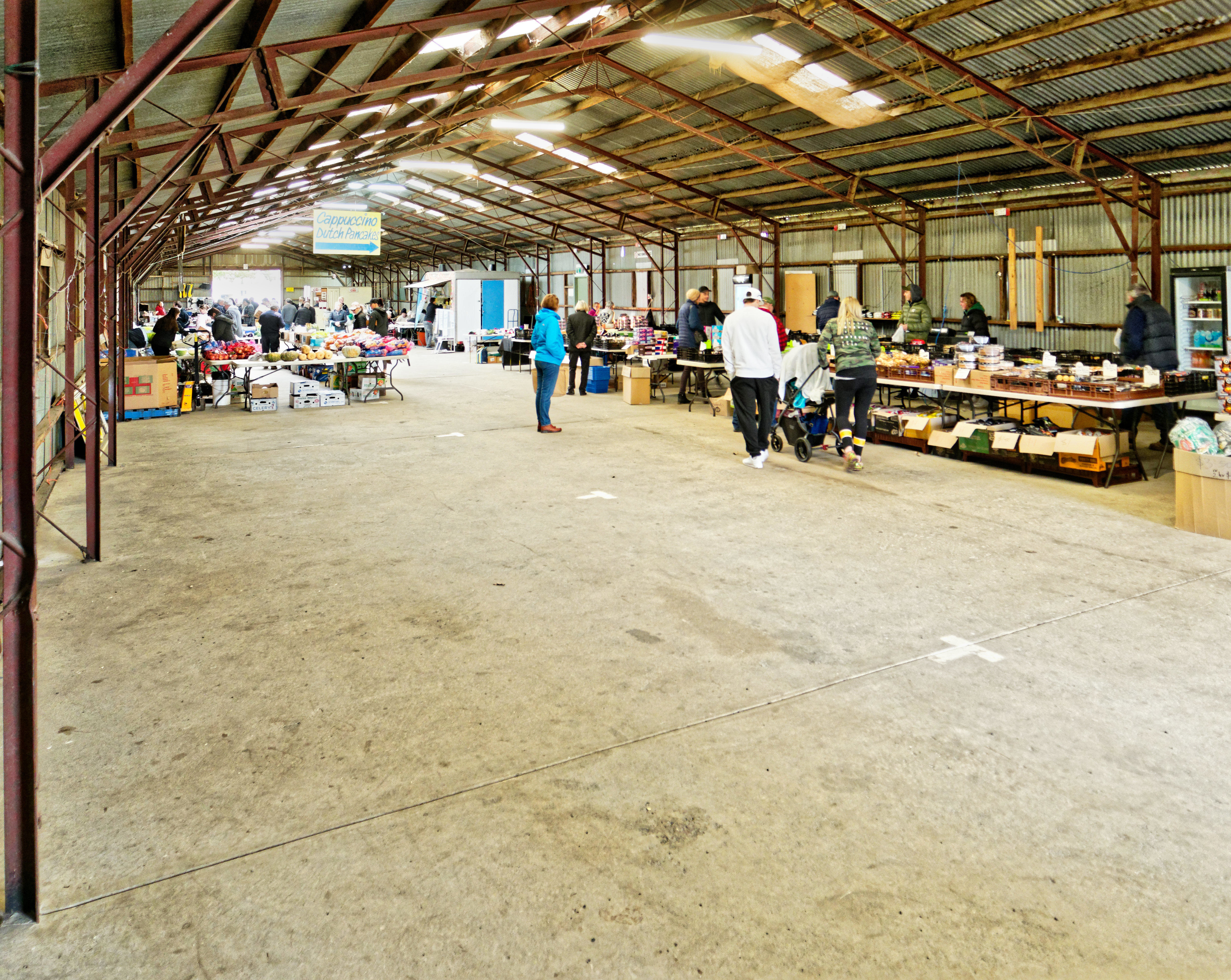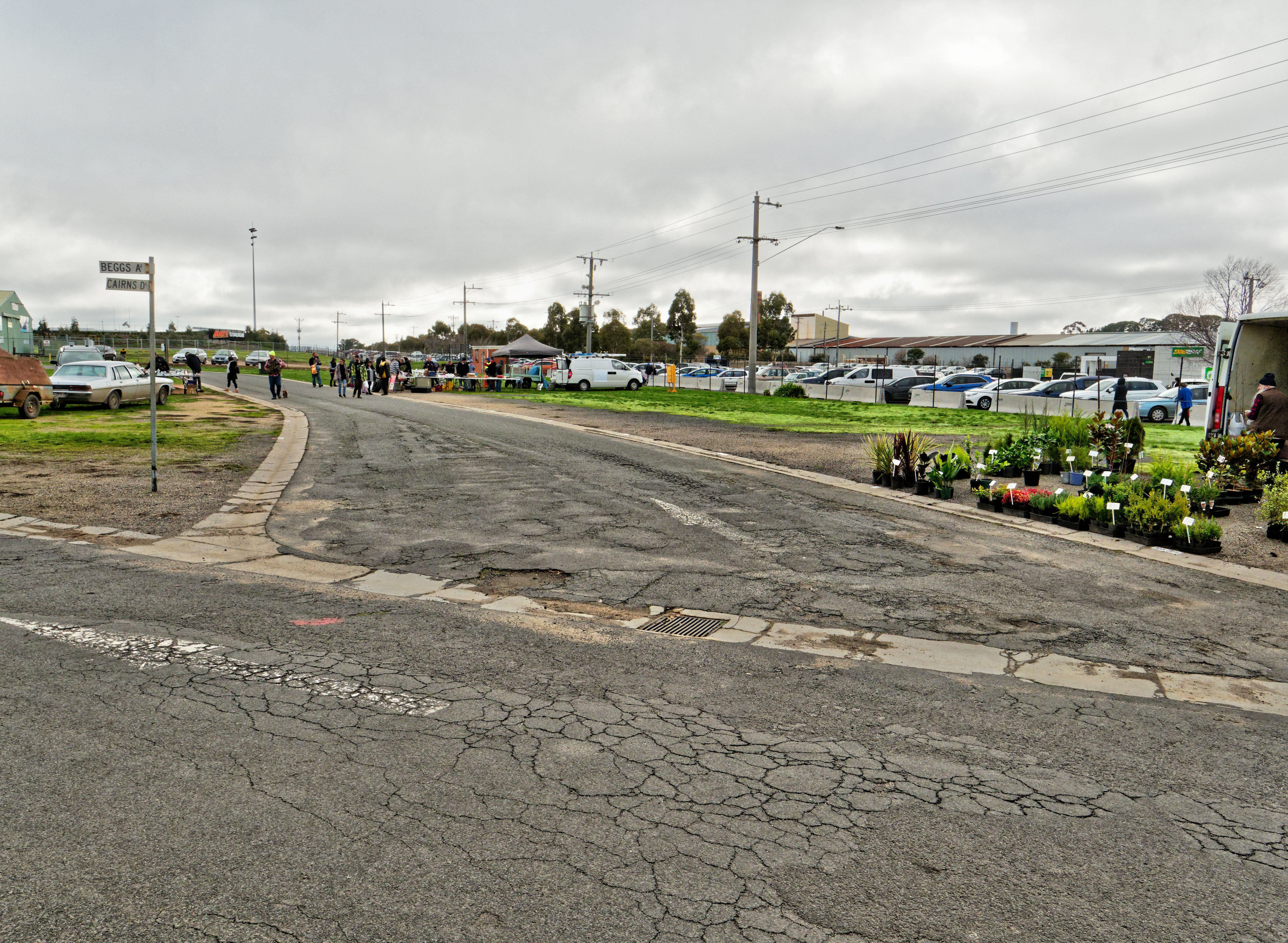 Bumped into Julie Donaghy while we were there, and she commented on how much was going on there. It seems that things were even more deserted a couple of weeks ago.
Yvonne found her Dutch food (mainly sweets) and also some dumplings ("Knödel halb und halb"), despite my protests that we already had some. At least I got a promise from her that we would soon cook a Sauerbraten to use some of them.
No bulbs at all! But we did find some other plants: a Grevillea robusta, growing up to 30 m high and 20 m wide, an unspecified red-flowering grafted gum, hopefully Corymbia ficifolia, two Grevillea thelemanniana "Covergirl" which claim to be ground cover growing no more than 30 cm high, and two Grevillea olivacea x Grevillea preissii "Sea Spray". Yvonne wants to plant the last in the spaces left by the dead Hebes, and I want to put the Grevillea thelemannianas in the north garden bed next to the existing Grevillea ground cover. The Grevillea robusta will need careful consideration, probably to the west of the house where we have space. And the Corymbia? It could fit somewhere in the front yard, but we'll have to check.
Also another Salvia microphylla ("Hot lips"), which will probably end up next to the current one, and a Agonis flexuosa "Westland's Burgandii" to satisfy Yvonne's love of interestingly coloured foliage. I have no idea where to put it.
We hadn't brought the dogs with us—Yvonne thought that they might not be allowed in—but that proves not to be the case:
I wonder what the image is intended to mean. "Dogs may urinate here"? "Dogs may not urinate here"?
Another one-second power failure this morning at 7:17:10 (since installing the photovoltaic system I can get the times exactly). And of course only discovered by checking my database; even the daily reports are too polite to mention such things.
I still haven't resolved the Hugin startup bug that was reported against FreeBSD nearly 2 months ago. It's puzzling: Hugin crashes on startup with one complaint too many. After the usual Gtk bitching and moaning, he gets:
(hugin:6057): Gtk-WARNING **: 19:18:30.940: gtk_window_present_with_time() should not be called with 0, or GDK_CURRENT_TIME as a timestamp, the timestamp should instead be gathered at the time the user initiated the request for the window to be shown
zsh: segmentation fault (core dumped) hugin
The problem is, nobody else does. Thomas Modes of the Hugin project says that the function gtk_window_present_with_time() isn't called from Hugin, but of course it could be called internally. I've tried various suggestions, none of which seem to help. Standard installation as far as I can see. Library sensitivities? The only different libraries are libboost, hardly likely to cause this kind of problem. Incompatibility between the binary package and his version of FreeBSD? No, he built the package from source, same problem.
OK, he's running FreeBSD 12, and I'm using 11. Time to install a FreBSD 12 system. That itself was enough pain to describe separately. But after installation, Hugin ran as expected. No problems.
What now? Could it be his display hardware or window manager?
Installing a FreeBSD system used to be a significant undertaking. 21 years ago I did an all-day tutorial at AUUG 1998 and didn't even finish installing the base system. No way I want to do that again.
The standard way to install a system used to be to get a DVD image and install from that. But who uses DVDs any more? USB? While I was looking, I found a collection of virtual machine images, including one for VirtualBox. Just what I need! Download it and install.
First step: install X, Emacs and Bash.
WHAT? The virtual machine image was just big enough for the files that it contained. What can you do with that? Added a second "disk" for /usr and moved stuff over there, then tried again:
What's that? Do we really have problems in the packages repository? OK, mount eureka:/src and build from source. That failed too, with an error that I have never seen before:
bash: /usr/bin/xargs: cannot execute binary file: Exec format error
Did something go wrong copying /usr to the new "disk"? No, the original one (/old/usr/bin/xargs) was also broken.
How can that happen? I didn't have time to check, but what I see so far suggests that the virtual machine images aren't worth the paper they're printed on. Discovered that I already had a 12-RELEASE DVD image on eureka, so installed from that with no further issues.
So now Yvonne has accepted that we will cook a Sauerbraten in the near future. What recipe? I have one, but are there others?
Off to ask Google about Sauerbratenrezept (Sauerbraten recipe). No hits! They were all for "Sauerbraten Rezept". People, that's wrong! You don't tear words apart like that! But it seems to be a case of "Was weißt du denn?".
Strange how English and German are going in opposite directions in this matter. In English words get put together, like filesystem and dishwasher, while in German the correct "Dateisystem" is increasingly becoming "Datei System". I haven't seen "Spül Maschine" yet, but that's at least because "Spül" isn't a noun.
And the recipes? Little variation. The one I have wants to have the marinade boiled before marinating, and the others I have seen don't. But the nicest touch was "Preparation time: 30 minutes", followed by "After a week, take the meat out of the marinade...".
Into Ballarat today for yet another physiotherapy session. Things are looking better, and just as well: it seems that my medical insurance thinks that it's time to stop paying for my treatment, and today I had to pay a whopping $5.60 instead of the usual $2.60.
It's been four weeks since Mike Simpson installed the cooktops. The next step is finishing off the electrical installation, and true to form, I've been dragging my heels.
One more consideration: how much light do we need in the kitchen? And from where? We bought a light for the other side of the kitchen island (the continuation of the hallway) months ago:
But now I'm wondering whether I shouldn't put two in. Somehow lighting is particularly dingy since the advent of LED lighting. So I picked up another one at Bunnings, also looking for strip lighting for below the overhead cabinets to the left and right of the range hood:
But I couldn't find anything even remotely suitable. This one looked best, but the more I look at it, the less I like it:
Why is this all so difficult?
Mail from Harald Arnesen today, referring to yesterday's article on German spelling. It seems that Norwegian is going the same way as German in this matter, and there's even a web site devoted to this matter. Unfortunately I discover that my understanding of Norwegian is even worse than I thought, and I can't make much sense of it. But it seems that meanings change as a result of tearing nouns apart: "Ananasringer" is a fairly clear word meaning, well, "Ananasringe" in German: rings of pineapple fruit. But "Ananas ringer" translates into English as, well, "pineapple rings" (on the phone). Somehow these problems don't translate well. As usual, Google Translate makes a real cat's breakfast of it:
In the past year, a completely new way of mistreating the Norwegian language has become more and more common, namely, hyphenation , or special writing as it is actually called. Words such as dining room turn into eating living room , lamb's leg becomes lame thighs and cough juice turns into cough juice . We at the AMO believe such language vandalism should be fought with all legal means, since special writing can make a text difficult to read, can lead to misunderstandings and is a step closer to an even stronger assimilation of our language.
Of course, there are other ways to change meanings. German hyphenation rules are very different from those in English, and a long time ago I learnt an important consequence: "Urinstinkt" (basic instinct) hyphenates as "Urin-stinkt" ("urine stinks"). Other that I have come across are "Schweinelende" → "Schwein-elende" ("pork loin" → "miserable swine"), and recently "Klößen" (dative plural of "Klöße", dumplings), written alternatively (only if you don't have the right letters to hand) as "Kloessen". That can hyphenate to "Klo-essen", "toilet food". Admittedly that's incorrect hyphenation, but I've seen it, apparently unintentional.
We're coming up to the middle of winter, and it is gradually getting cooler, but it's still quite sunny. And today the "Uncle Max" Hibiscus rosa-sinensis in the garden came into flower:
It's not much to look at as the flowers go—the clone in the lounge room looks much better:
But still it's good to see it doing this well at this time of year.
While taking photos of the Hibiscus rosa-sinensis, ran into low light conditions. What to do? Trust the image stabilization (camera and lens together), or set the sensor to higher sensitivity? Why not both?
The first was at 1/8 s and 200/24° ISO, while the second was at 1/125 s and 3200/36° ISO. Not much to choose from, right?
Well, wrong. Looking in more detail, they look like:
That's actually rather disappointing for the image stabilizer. My old rule of thumb from the 35 mm days was "minimum shutter speed 1/f, where f is the focal length. This photo was taken at 100 mm focal length, so that would imply a minimum speed without stabilization of 1/200 s. Modify by 5½ stops of stabilization and you get ¼ or ⅕ s, slower than this shutter speed. And it wasn't the only attempt at that speed.
Bought some more wine online today, and got the usual confirmation. Well, relatively usual:
Guaranteed delivery:
Tue, 25 Jun

Your order has been processed. Please expect it in 7-10 working days if you live within metropolitan areas or at least 14 working days if you live in Australian regional centres and outside metropolitan capital cities.

It'll be interesting to see what happens, and what recourse I have if the guarantee has to come into operation.
Walked the dogs to the very northern end of Stones Road today, about 1 km away. It peters out into two gates:
I had taken note of the one on the right before:
What's the quotation?
65:10 And Sharon shall be a fold of flocks, and the valley of Achor a place
for the herds to lie down in, for my people that have sought me.

Nothing that rings a bell, though the relationship is clear.
More to the point, though, the fire track on the other side of the other (open) gate seems to be new. Where does it lead?
It's barely recognizable on that photo that there's a house or similar at the far left:
And that's not on Stones Road: it's on Peppermint Track, which I only know from my visits to Misery Creek Road. I wonder if I can get through there, and if I'm allowed to.
I've tried "air-fried" chicken skewers a number of times, most recently six weeks ago. On that occasion I decided to do them for 20 minutes at 230° "next time".
That's definitely too much:
Maybe 15 minutes next time, still at 230°?
Interestingly, there wasn't really enough food. The five skewers weighed 450 g together, which for a steak (150 g for Yvonne, 300 g for me) would have been more than enough.
Walking the dogs to the main Ballarat-Colac road brings us to an interesting curve:
As Krausé's map of 1889 suggests, the road originally had a sharp bend, which is now the side road:
But for a long time we've been aware of a shelter, here seen from the west:
I had taken it to be a bus shelter, and today while walking the dogs I looked at it more closely for the first time:
Yes, looks like a bus shelter, complete with concrete base and obligatory graffiti. The problem is, it's on neither road. It can't be that old; have they re-routed the road twice? Or did there use to be a side track for buses?
The Travor RF-550D LED ring light that I bought last week has arrived. Coincidentally Olympus has brought out major new firmware for the OM-D E-M1 Mark II, including modifications to focus stacking (though of course no "bug fixes"; we don't have no steenking bugs).
So, a number of things to consider relating to focus stacking:
Assuming that I haven't, check whether focus stacking will work with a flash in manual mode. I could use the STF-8 for that, but it doesn't have a flash test button, so I can't measure the exposure!

If that does work in manual mode, go back and try the STF-8 anyway to see whether it's causing the problem.

Try the RF-550D and see if that works, either in manual mode or in continuous LED mode.

Install the new firmware and try everything again, and also check whether focus stacking will now work with the monitor attached.
Off to Napoleons to pick the thing up. Back home, the first disappointment: either there is no way to do a test flash, or the "test flash" from the button is nothing more than turning on continuous LED not for the specified 1/100 s flash time, but for about half a second. But the brightness is nothing like what I'd expect even from a guide number of 15 feet. It's closer to 1.5 m at ISO 200/24°, or 1.0 at ISO 100/21°.
That might still be useful for some purposes, but if that's the case, the "flash" setting is useless. But clearly I need preparations before I even try it on a camera.
Yesterday I came within sight of Peppermint Track in Enfield State Park from the south. How far down can I get from the north? Tried on the way back from Napoleons, but didn't get very far, less than half the distance shown on the map:
It looks more like Peppermint Creek than Peppermint Track. The furrows must be 40 cm deep. I wonder if they'll repair it come springtime.
Mick Solly, the gardener, along today with a few tons of topsoil to plant our new plants. We replaced two of the dead Hebes with the two Grevillea olivacea x Grevillea preissii "Sea Spray":
The first one is further east, as in principle the GPS location information should show.
The Agonis flexuosa came at the end of an arc of trees including the surviving birch, the Paulownia kawakamii and the Japanese cherry:
At the other end we put the Corymbia ficifolia:
And up against the north fence, where the lilacs died last year, Yvonne decided on a row of some Artemisia species that she had found at Kryal Castle: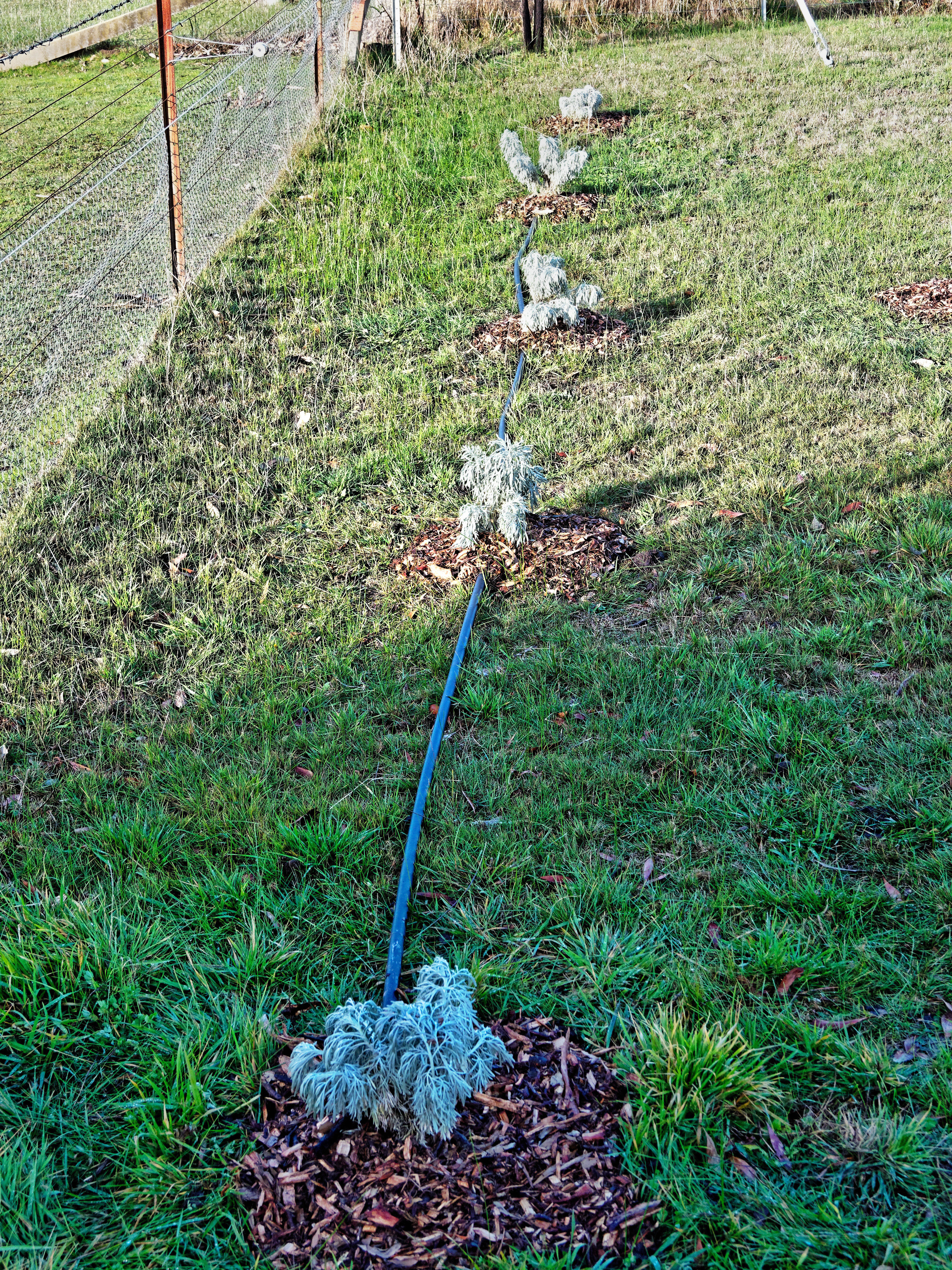 They're hardy, but are they hardy enough? We'll see.
Finally also found a place nearby for the volunteer birch from the middle bed in the north garden: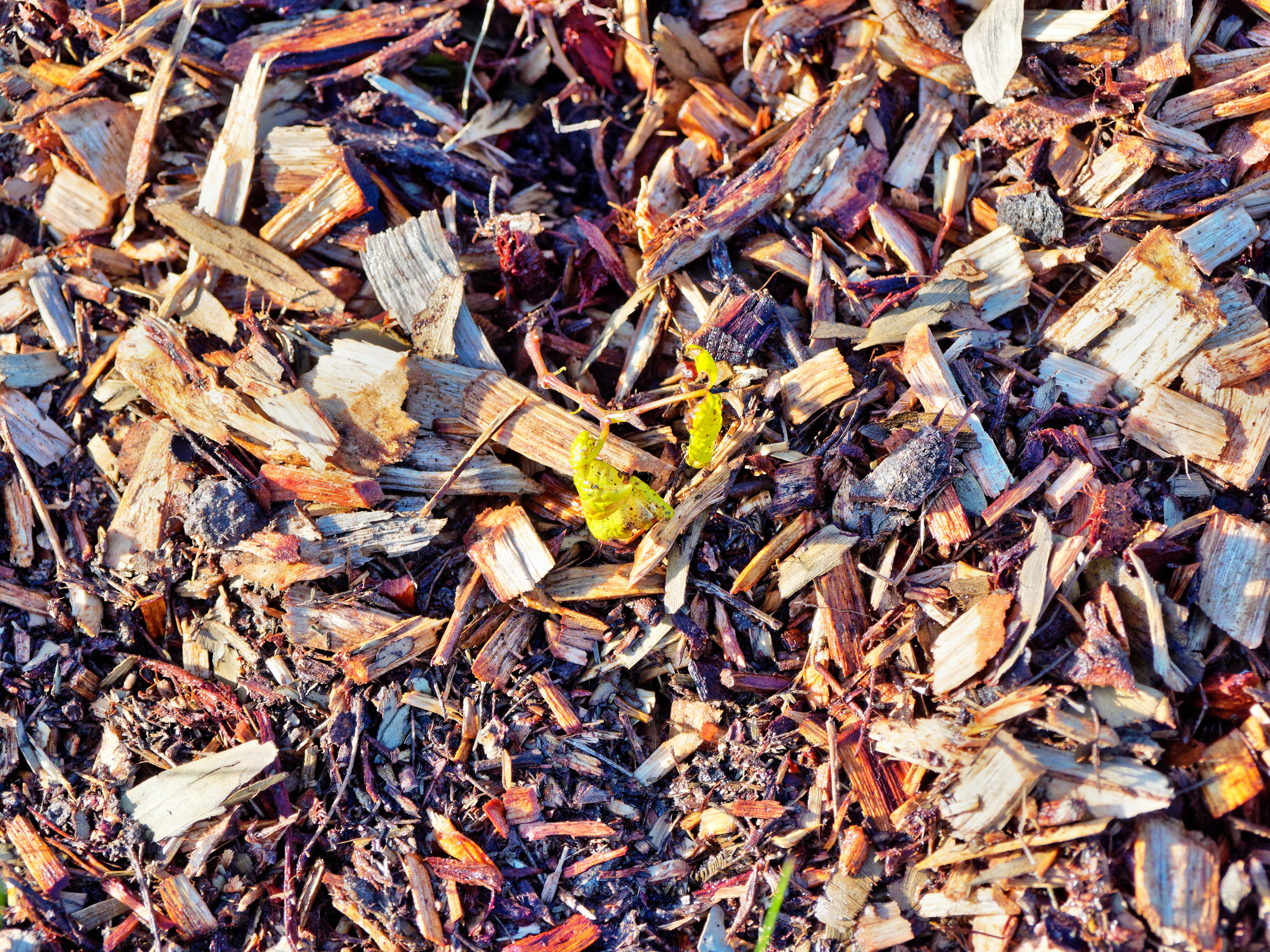 And in that middle bed we planted the two Grevillea thelemanniana "Covergirl":
The Salvia microphylla came in the north side of the north garden:
I had originally intended to put it in the foreground of the first image, but Mick tells me that the existing blue-flowering salvia is not completely dead, and so there's a good chance it will return. We'll see.
Finally, planted the Grevillea robusta to the west of the house, in the "sewage paddock", not too far from the soakage for the septic tank. We already have a couple of Acacia melanoxylon there:
I've already commented on recipes for Sauerbraten, but that was mainly about the linguistic aspects. What about the procedure?
"Sauerbraten" is a typical German dish—I think. Maybe it's regional, but it seems that most regions have a variant. And that makes it really difficult to find a typical recipe. Potentially it doesn't matter, but it would be nice to get something representative.
I have one recipe in my ancient Time-Life cookbook "Die Küche in Deutschland", a translation of a 1969 English language book whose title they decline to mention. In general the series isn't bad, but some of the details puzzled me, so I went looking elsewhere.
What a mess! Once again I came to the conclusion that it's really difficult to find a good recipe on the web. In the end I came up with this recipe from Chefkoch, which has its own strangenesses ("½ litre raspberry vinegar, preferably home-made"). And like the other recipe, it wanted the marinade boiled.
The quantities are always an issue, but in this case they're extreme. Time-Life shows its origins by using tablespoons and cups, and it wanted to brown the meat in fat before marinating, which seemed wrong to me. So I started with the other one—and it, too, wanted a tablespoon each of salt and sugar. The other quantities were even more unbalanced:
Time-Life
Chefkoch
Meat
2 kg
1 kg
Wine for marinade
125 ml
750 ml
Vinegar for marinade
125 ml
500 ml
Water for marinade
500 ml
Marinade (total)
750 ml
1250 ml
Marinade (per kg meat)
375 ml
1250 ml
Marinate for
2-3 days
3 weeks
I'm sure that the spice quantities are different too, but since they go by count rather than weight, it's hard to say. In the end I went for the Chefkoch recipe and modified it to my liking (including considerably more spices) and with a view to consistency.
Ingredients
quantity
ingredient
step
750 ml
red wine
1
500 ml
vinegar
1
250 g
onion, sliced in rings
1
100 g
carrot, in slices
1
5 g
juniper
1
2 g
allspice
1
2 g
cloves
1
2 g
bay leaves
1
25 g
salt
1
25 g
sugar
1
1.4 kg
beef topside,lean
2
Preparation
Slice onion and carrot as described, crush the juniper in a mortar. Put all ingredients in the liquid, bring to boil and simmer for 5 minutes. Allow to cool.

When the marinade is cool, add the meat and ensure that it's covered by the marinade. Leave in the fridge for some while.
So now I need to decide how long to marinate it. In principle we're aiming for next Saturday; 3 weeks really seems excessive.
A bit of finger trouble switching tabs on one of my firefox instances today, and I got this message:
OK, two questions: why do I need a "supported" browser, and why did I only get this message today? Off to try on another instance (firefox tries very hard to ensure that I only run one instance, but it doesn't understand X displays). Oops, wrong password: I hadn't logged in to Google since the repair of my Nokia 3 phone 4½ months ago, and of course I had changed the password. OK, enter the new password, log in—no "Unsupported browser" message. Clearly Google has been confused.
That wasn't the end of it, of course. It seems that every time you have a password failure followed by success, Google tells your phone about it:
How about that, it came with some useful and correct information. I think that's the first time Google has claimed that I'm in Dereel.
That wasn't enough, of course. I also got an email:
Date: Sat, 22 Jun 2019 00:16:23 +0000 (UTC)
From: Google <no-reply@accounts.google.com>
To: groogled@gmail.com
Subject: Security alert
Message-ID: <P8F-fmJ-HQcs_JTszIyZ1w.0@notifications.google.com>

New device signed in to

groogled@gmail.com
A new device just signed in to your Google Account. You're getting this
email to make sure it was you.
Check activity
<https://accounts.google.com/AccountChooser?Email=groogled@gmail.com&continue=https://myaccount.google.com/
+alert/nt/1561162583000?rfn%3D31%26rfnc%3D1%26eid%3D3892960885526096440%26et%3D0%26anexp%3Dgivab-fa--mdv2-f
+a--hsc-control_b--ivab-fa>
You received this email to let you know about important changes to your
Google Account and services.
© 2019 Google LLC, 1600 Amphitheatre Parkway, Mountain View, CA 94043, USA

That's the entirety of the message. Google, you know how to format emails, and it should be relatively simple to complete sentences with useful information. Why don't you do it? Why do I need to go through this rigmarole to find out what it's all about? Not even the HTML version contains the useful information that gets sent to the phone. Come on, it's not hard to do it right.
Yesterday's article about the garden plants took up the equivalent of 3 pages of printout. Why do I go to the bother?
It's not for other readers of this diary, though they're welcome to read it. It's for me, and today I had—by coincidence—a good reason for it. 14 months ago we planted a bed in front of the "shade area" in the north garden:
What was planted there? In general, I have a reasonable idea, since it's all still there: the bush at rear left is an Osteospermum, the one in the middle lavender, and front right is Carpobrotus. Only the plant at front left—a Pelargonium, I think—seems to have died, strange for a pelargonium. Everything else has grown immensely; if the rest of the garden did as well I would be really happy.
Only the plant at the rear right is a mystery. It is bigger than any of the other plants, in fact far too big. Here today:
Clearly it has to go. But what is it? When we planted it, I didn't even mention what Mick did; I had to look at my weekly house photos to find when it happened.
Here are more details of the plant:
I have some recollection of a yellow flower, and that we kept it on the south side of the house before planting. But I can't identify it.
And that's the reason that I write down so many details. This particular incident is just a coincidence, but I started keeping a diary over 56 years ago, and again and again I've found that I haven't written enough detail. Some time during my school time Peter Pears came to our school and gave a private concert. I was there, mentioned the concert—one of many—but not the performer.
Interesting article from Statista today: as a result of climate change, many parts of the US coast are at risk of flooding. The solution: "seawalls" to protect the coast. Donald Trump has always wanted a wall in the south of his country. But why stick to the original concept, especially since Vicente Fox divulged a way round the concept: a ladder. Instead, build multiple walls in the sea.
Think of the advantages: the Democrats would probably agree to the financing. You can't easily get over them with a ladder. It's never been done before. If Trump can convince his moron followers that a border wall is necessary, surely he can convince them that many sea walls are even better, many big, beautiful walls, the best ever. He just shouldn't mention "climate change", or they might no longer believe.
Walking the dogs takes us through some pleasant countryside. For some reason I have always found this view particularly pleasant, but I don't know why:
That's a view south-west to the "schoolyard", where indeed there was a school 130 years ago, on the corner of Bliss Road and what became Stones Road, at the top left of this section of the Krausé map:
But why is it pleasant? I don't know. I'm not even sure I have captured it there, but Yvonne tells me that she finds it a pleasant view too.
It's been some time since I discovered some flowers at the east end of Grassy Gully Road, and I've been meaning to take some focus-stacked photos of them since then; I now have three cuttings in various states of decay.
In the meantime, I have a number of other issues: the problems with my Olympus STF-8 macro flash unit and focus stacking, the failure of my Viltrox JY-670 Macro Ring Lite, the arrival of the RF-550 "MacroLED Ring Flash" and the availability of new firmware for my Olympus OM-D E-M1 Mark II. Today I finally got round to trying out what I had planned to do when the LED "flash" arrived.
In each case, I planned to run a series of 8 images with what Olympus calls "focus stacking", in other words with in-camera stacking (straight series for focus stacking are called "focus bracketing). The first one was with available light. Damn, forgot that the camera was set for manual exposure, and took a series underexposed by 8.2 EV. Miraculously, DxO PhotoLab managed to extract something:
OK, now set the exposure correctly.
Yes, the focus depth isn't enough. One of my pet peeves is that setting the number of steps is left to guesswork. Clearly I'm going to have to come back and do this photo another time with more depth of field (100 images?). But it doesn't look that bad.
That's with available light, though. What about with the flash units? First, take individual test photos with the LED flash, which wants 1/100 s instead of the 1/250 s for real flash units:
The first was at f/5.6, the second at f/4. Clearly f/4 is better. That's with full power, subject distance: 6 cm. That corresponds to a guide number of 2.4! And that's at ISO 200/24°. A normalized guide number (ISO 100/21°) would be 1.7! In fact, it seems that the whole idea of "flash" and shutter speeds is nonsense: the "flash" is no brighter than the normal LED light. Here "flash" and LED light with the same exposure settings:
So given the camera constraints, I should get double the light at 1/50 s, but the subsequent photos didn't bear that out. And of course with focus stacking, there are other issues as well:
Oops, the camera wants 1/50 s, but is too polite to say so. Try again:
Next, try the STF-8. Yes, this time it tells me in its own inimitable way: no TTL flash with focus stacking! What a useless piece of hardware, especially since it doesn't even have a flash test button for me to do an exposure measurement. Tried anyway, one stop down from the "LED flash":
In the past I have complained about the weakness of the STF-8. It has certainly met its match. Tried again and again and got good results at 1/16 strength:
So the STF-8 is 5 stops brighter than the "LED flash". Based on that measurement, and knowing the guide number of the STF-8 (6.5), the guide number of the "LED flash" is 1.2, even less than what I calculated from my images above.
But wait, there's more! Next I had to upgrade the camera firmware. Connected up and started the Olympus Viewer software, which of course first wanted to upgrade itself. Then connected the camera and saw a popup. something like "The E-M1 Mark II setting is not supported". While I was setting up a screen grab, it reconsidered and let me upgrade the firmware, with the usual misleading comments.
Try again. There were two things I wanted to check: does focus stacking now work with the monitor connected, and can I now use TTL flash with focus stacking? In each case, the answer was "no". No difference.
What's causing that? My guess was electronic shutter, but no, that still seems to work (and it limits the shutter speed to 1/50 s, as one would hope). Time for a bug report.
And the RF-550 "flash"? What a useless piece of hardware! Less than one-tenth of the advertised guide number, applicable in equal proportions to the use of foot guide numbers in specs otherwise in metres, and just plain lying. Should I return it? It cost almost nothing, and maybe it could be useful.
It's been a fairly mild winter so far this year, but last night made up for it. The weather station, 3.5 m off the ground, measured -0.9° at 6:14, but when I got up and went outside, round 8:30, I found temperatures as low as -3.7° to the south of the house.
And the air conditioner couldn't cope. When I got up the temperature in the lounge room was round 18°, and the temperature in the office didn't reach 20° until about 10:00. Why?
I've complained about this in the past: it's the ridiculously long time that the air conditioner rests after de-icing. I've measured up to 14 minutes, and today I counted 13 minutes on one occasion. Now that we have the photovoltaic power installation, I can see more exactly:
The spikes between 6:00 and 8:19 are where the air conditioner was running. The troughs in between are where it was de-icing: nearly 50% of the time! Coupled with the reduced efficiency of the system when it's cold, it's no wonder that it couldn't cope.
And the missing spikes between 7:30 and 8:00? I puzzled about this, but then it was clear: the system was drawing power from the battery (the sawtooth pattern). Unfortunately the system doesn't show a total power consumption in this graph.
Walking the dogs today, saw a strange sight:
It almost looks like the tomato sauce or whatever they use in films to depict a murder, and there are clear car tyre tracks in the liquid. But what is it?
This seems to be a particularly bad area for kangaroos; I hit one myself almost exactly there four years ago.
It's clear that I'm no fan of "smart phones", and I've grumbled at length about "smart TVs". But now there's a new source of pain: "smart homes". I've read various articles about them, mainly dealing with things like talking to your devices and remote controlling power points, but mainly the choice of a "system" (clearly "interoperability" is an old, worn-out magic word).
It's not as if I don't have various parts of the house connected to my local network. My article above about the air conditioner is one example, and then there's the network-connected sprinkler system. But I don't want to be tied to one vendor, and remote control of power points seems rather pointless to me.
But now there's a new level of pain: smart bedrooms. What on Earth do you need in your bedroom? The article explains: turn your TV off when you go to sleep (never mind that we watch TV in the lounge room). More "smart lights", ultimately remote-controlled power points, but of course expensive and hard to use:
Smart lights are great for control from the comfort of your bed. You can create timers, turn them on and off with your voice or phone, and if you use smart bulbs, you can dim the or change colors to something less harsh for the evening. And with a few routines, you can create a sunrise effect without having to buy an expensive clock.
With your phone! Instead of pressing on a switch, you swipe your phone a couple of times and you're done! Or you use voice and wake up your partner. So much more practical. And for only $140 (a starter kit recommended in a link), you can save the cost of an expensive $10 clock.
But clearly the people who wrote this article live in a different world:
Your bedroom likely has a myriad of electronics, whether that be chargers, fans, heaters, humidifiers, or TVs. Smart plugs are a great way to give those devices intelligence without having to buy a new TV or rewire an outlet.
No, my bedroom has none of those items whatsoever. There's a thermostat for the air conditioner, but that's not interoperable, and it's not part of that list. Dammit, a bedroom's for sleeping in! What kind of daily rhythm do these people have? Maybe no lounge room? No partner?
What could I use in the bedroom? About the only thing that I can think of is an Internet-connected radio and a phone. I suppose the idea of a real phone doesn't occur to the authors because they only use mobile phones, but they take that as a given, not part of a "smart bedroom". Still, when building the house I did have network cabling installed in the bedrooms, so maybe an Internet-connected radio might not be such a bad idea. Only there is absolutely no overlap with the "smart bedroom" described in this article.
Yvonne takes a lot of videos, mainly (perversely) with her monopod tied to a fencepost rather than using a tripod. And since she's alone, she needs to cover a wide angle to avoid going off the field of view. In the past I've offered her my Zuiko Digital 9-18 mm f/4-5.6 to take the videos, but for some reason she didn't want to do it.
Today she came and asked me for a wider angle lens than her standard M.Zuiko EZ 14-42 mm f/3.5-5.6. What can I offer? Various zooms starting at 12 mm, the 9-18 again, or an 8 mm fisheye? Clearly the fisheye isn't appropriate for video, and the 12+ mm zooms would probably not be wide enough. So (without reminding her), the 9-18 again.
The results could have been better:
That's completely out of focus! A combination of the old Four Thirds system lens and the E-PM2, which doesn't play nicely with phase-detect autofocus.
What to do? One possibility is to set manual focus, and I went looking for how to do that, using the designated AEL/AFL button to focus. It seems that you can't in video mode! But I could use video in normal still mode, and that would work.
Would that be sufficient? I have already got rid of one lens (the Zuiko Digital 18-180 mm f/3.5-6.3) because of autofocus problems with the E-PM2. Why not again? After all, I've had the 9-18 for over 10 years. A Micro Four Thirds 9-18? Or maybe a 7-14? Right now, before the end of the Financial Year, might be a good time to find one.
Donald Trump is remaining true to form. He may have held off military strikes on Iran—prompting some people to see him as an angel of peace—but now he has put financial sanctions on its supreme leader, Ayatollah Khomeini (1902-1989). Better late than never?
This is at round 20 seconds into the clip. Why is it in French? It seems that the English-language versions have dried up, which makes you wonder about press censorship in the USA.
Still, I found one English-language report.
Ayatollah WHO?!?! Trump Announces Sanctions On Long-Dead Iranian Leader

Twitter users call out the president for naming the wrong ayatollah.
But then, what would you expect of that bumbling idiot?
It's been (coincidentally) almost exactly a year since I last bought a lens, and then mainly to use up an eBay voucher. Still, it's clear that we need a better wide-angle lens, so spent a considerable amount of time this morning investigating the M.Zuiko DIGITAL ED 7-14 mm f/2.8 PRO. Like the other PRO lenses, it's not cheap. B&H offer it for US $1,199, corresponding (currently) to AUD 1,713. But we're not done yet: they also want $30 for shipping (admittedly, much cheaper than it used to be), though their calculations are strange:
| | |
| --- | --- |
| | |
DHL Express delivery (4-7 days) for $30.01, or DHL Express freight (7-10 days) for $212, a little more than 7 times the price for a significantly slower delivery. And what's this "Duties and Tax"? It should be 10% of the total price. Ah, it's over $1,000, so there's not just GST, but also customs duty. OK, let's accept their $163 as a reasonable (3.3% duty?). That would more than explain the different sum for the slower and more expensive variant. So at the end I would be looking at about AUD $2,003.
OK, but that's why I don't buy from the USA. What does eBay have on offer? They're still hard to compare, because they only sometimes mention GST, and never mention duty. The cheapest I could find was for $1,239, but from Hong Kong, so really about $1,400, still much cheaper than the American suppliers.
Can I do better? Years ago I bought from eGlobal, but they closed down in disgust after Australia started charging GST on web sales. Asked on the and Brenton Schluter came up with an offer of $1184 from CameraPro. Much better!
But then it occurred to me that there's this company DigiDirect, from whom I bought Yvonne's E-PM2 some years ago, and with whom I had pain last year. How about that, $1,137.30, and in addition they have free shipping on orders over $99:
OK, seems good. Add to cart:
Huh? That's on the same page!
The first two images are cropped from that page. OK, one good thing they have is another thing on the same page:
Did that, spoke to Eivind (if I remember correctly), who after some experimentation told me that I had to press on "Proceed to Checkout", and then the shipping costs would go away. And so they did. Next, I had to log in, not helped by the fact that it no longer wanted to know my password (typically, a comment on what I thought of their web site last time; I should have been warned).
Reset password, get presented with an almost illegible CAPTCHA. Wrong, fool! Try again, get a new password, repeat login. Not only the shipping costs were gone: so was the item. Empty cart.
OK, try again, and finally it worked. That's really not bad: local Australian stock with Australian warranty for $1,137.30, more than a third cheaper than the B&H list price and 43% cheaper than having it sent from the USA. What are the eBay prices like in the USA? The cheapest that I could find was refurbished for $850 (AUD 1,245), and the cheapest new one was $1,055 (AUD 1,518). We seem to be much better off here. I wonder if Donald Trump's trade war has an effect on that.
While talking to people on Facebook, discussed my pain with focus stacking and TTL flash, specifically my little-loved Olympus STF-8 macro flash unit. As always when making claims, I checked them on the camera. Things were different again:
No flash on camera: all flash modes available.

mecablitz on camera, turned off: only manual selectable.

mecablitz on camera, turned on: all flash modes available.

STF-8 on camera, turned off: only manual selectable.

STF-8 on camera, turned on, RC mode: only manual selectable.

STF-8 on camera, turned on, setting 1/1: only TTL selectable.
Clearly I need to check this stuff again. So I tried another focus stacking row with the STF-8. Ha ha, only joking. Set the unit to 1/1 and that's what I got: full flash.
The display on the camera is just playing with my mind. Once again I had to set it to 1/16 to get a useful image:
What is wrong with this stuff?
Yvonne clearly liked the chicken skewers that we had last week, and bought some today as well. OK, try at 15 minutes as planned last time. Here last time and today: