First day of winter today, and the Bureau of Meteorology had forecast lots of rain. But no, nothing but sunshine—and a bud: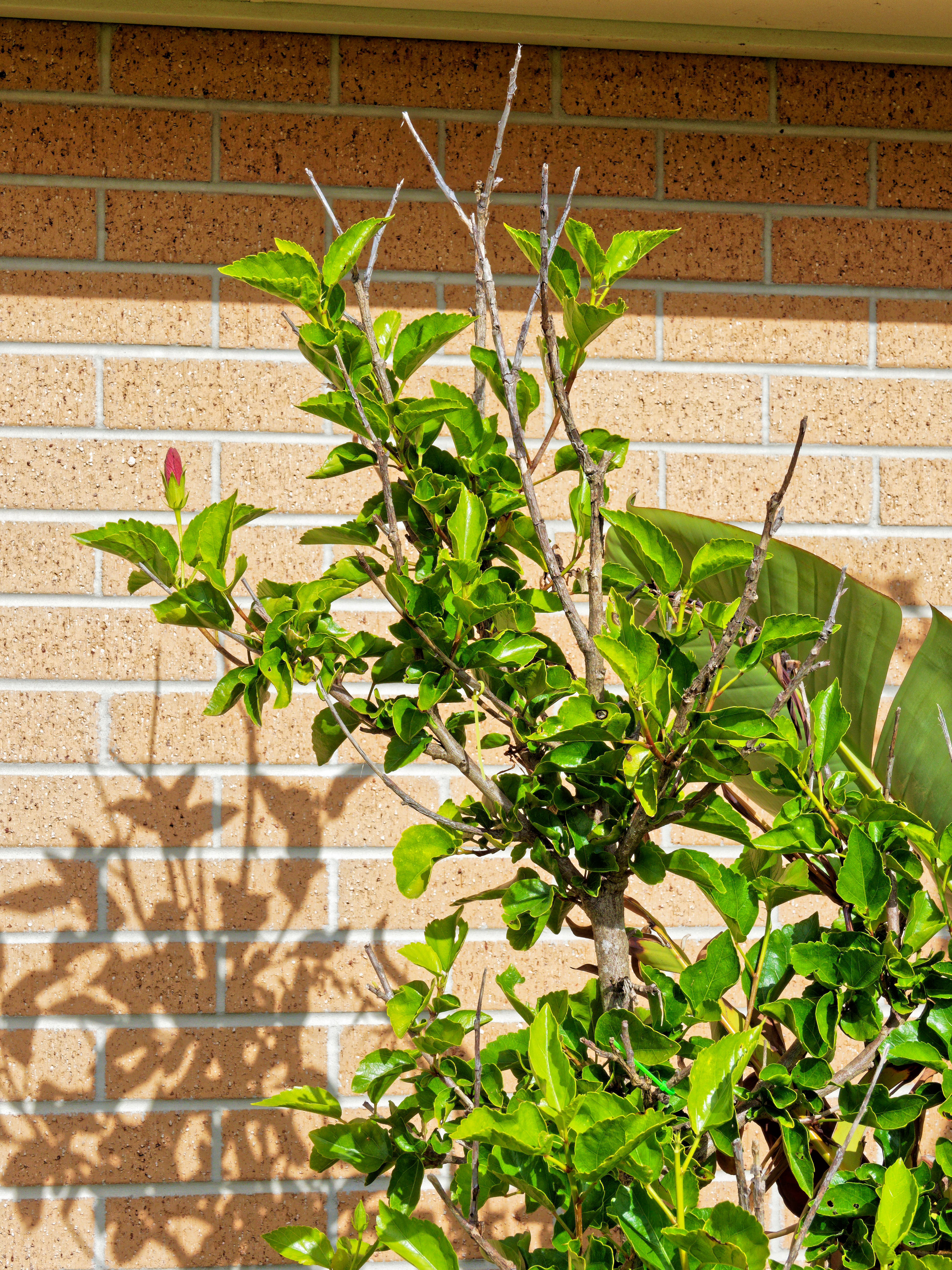 That's the Hibiscus rosa-sinensis "Uncle Max" that hadn't flowered at all throughout the summer. And come winter, there's every sign that it will flower.
Why did our expensive electric mousetrap fail? Part is doubtless because the mice are very wary, but clearly one has walked over the sensor and lived to tell the tail. Time to bring the thing back?
I had noted in the past that the design is very (too) sensitive to battery voltage. That's why they explicitly state that you should not use rechargeable batteries. OK, how about Nickel-Zinc batteries, with their 1.75 V? Took the batteries out—they had been brand new alkalines when I put them in—and discovered that the voltages were round 1.48 V. That's not typical of a new battery. Were they too old, or did the trap discharge them so much in such a short period of time? Unfortunately I don't have any more in the pack to compare with.
Put in 4 NiZn batteries and some more bait. Let's see how that works out.
And in the garage, to my surprise, found a dead mouse in the live mouse trap: it must have been in there for days and died of thirst. And I hadn't noticed.
After refitting the mouse traps yesterday, I had hoped to catch more mice. No go. But it occurred to me that Bruno might be interested. Typically he wants to be fed before I get dressed, so we decided that he can spend that time in the garage.
Got up, dressed, prepared his food, and let him out of the garage. Took him to his feeding place. He took one look, walked away, and purred. Had he caught his first mouse? We'll have to keep an eye on that.
Phone call from Rodney Reddy today to give Yvonne the results of the tests she had done last week. Short and sweet: cholesterol and calcium levels well within limits, few extrasystoles, no deterioration of her heart valve issues. In other words, as close as we could come, a clean bill of health, at least from a cardiology viewpoint. Only an indication that there could be some emphysema, so it looks like she'll have to have that looked at.
Interesting article in the Washington Post today about life expectancy in developed countries. It included this interactive graph, here a snapshot:
It's not easy to read, even when enlarged. Here the salient points:
Life expectancy (according to a criterion that I didn't investigate) of 84.8 years in Japan, 84.5 years in Australia, 82.5 years average (that's the unrelated number at the right).
And only 77.2 years in the USA, nearly 10% lower! And dropping! What an indictment! The article mentions 5 reasons:
unhealthy behaviors, such as our diets and use of firearms
inadequate health care and public health systems
poor socioeconomic conditions
unhealthy and unsafe environments
deficient public policies
And to think that, in the mid-1990s, I was thinking of moving to the USA!
Since Tuesday I have the ability to transfer maintainership of my NIC handle GL3-RIPE to somebody who can bring it up to date. How do I do that? Mark Price tells me that I can do it myself, which makes a lot of sense.
Worked my way through the relatively copious RIPE NCC documentation, and before long I had a maintainer: LEMIS-MNT. And along with that I got a new personal handle, exactly what I was trying to avoid: GL12456-RIPE. The number of digits shows why I want to keep GL3-RIPE, but it's amusing to note that the digits in the new handle are almost, in sequence, 123456. Only the 3 is missing—because I already used it? Still, it's progress, and presumably I'll be able to get the rest done once I'm certain that I haven't broken anything.
On Wednesday Yvonne bought some pre-prepared chicken product, called "Boneless Chicken Kiev". Apart from the arguable misspelling of Kyiv, what does "boneless" imply in this connection?
There were 4 of them, two of which we froze for another time. Cooking times were given only for ovens, but I thought (correctly, as it proved) that it would work in an "air fryer" as well. Even the times seemed to be correct:
And the taste? Lies, damn lies and ALDI. Chicken "Kiev" has garlic butter inside. This had some kind of béchamel. Not good. And we have two more to bear.
Fiona Drayton is building another shed:
Apart from the fact that it's the same colour as ours (presumably a requirement by the council), what's it for? Yes, we could ask her, but we haven't seen her lately The three sides we can see have no opening, so it must be on the other side. How big is it, anyway? We guessed somewhere between 12 × 9 m, about half the size of ours, and too small to ride in. Hayshed? How can I estimate the size?
Ah! It's normal corrugated iron. The corrugations are 3" (7.62 cm) apart. So I just need to count the number of corrugations. Do I want to? No, but maybe I'll find an automated method to do it for me.
Due to a number of mistakes over the last few days, we had to change menus this weekend, and today I made another batch of pork spare ribs. Last time I was quite happy, but thought that I might have cooked the meat a little too warm (70°). So this time I cooked at 65°, not helped by my brain-dead sous-vide cooker, which turned off in the middle of the night, waking me in the process. But the meat no longer fell off the bone. So maybe 68° next time?
If there is a next time. Somehow it's boring. It's interesting to note that I had another recipe that I seem to have forgotten. It's very similar, and so are the comments.
I still haven't resolved the issue with Vonex, and somehow I'm concerned about Zadarma. In principle I want to sit out my subscription to MyNetFone Vonex until the year's prepayment expires some time in August. But Vonex's erratic nature means that I could end up with unexpected issues. The sooner I get rid of them, the better.
So: called up Aussie Broadband and asked them to port my other number as quickly as possible, hopefully far faster than the month it took for the first number.
And Vonex? Maybe Joey just can't read. Started my latest reply with
This message contains 6 items, all of which require your response.
Please read the entire message and act on them.

I wonder if that will help. But it's interesting to note that the TIO gave Vonex two weeks to resolve the reported problems, during which time I have raised the issue multiple times. The only response, after multiple attempts, was:
As for the TIO complaints, we have the proper team who's dealing and
investigating it.
Well, tomorrow's the deadline. Let's see what happens then. For a total of $65 odd they owe me, it might be worth losing it just to lose these idiots too.
While loading the dish washer, felt a sudden pain in my back, possibly a pulled muscle. But why? It's not overly painful, but it would be nice to avoid it happening again.
Strange message on distress, my Microsoft 10 box, today. Backup failed. OK, why? A typically stupid message, something like "error 0x8000017a". Discovered that, for some reason, the backups for distress (on eureka:/dump) were gone. Recreate the path. Different 0x8000.... error message, and a text that could barely be understood to mean EACCES, permission denied. OK, chmod and try again. A different error message, but it still didn't want to work. Much searching for a solution, but somehow Microsoft administration is a book with seven seals. By accident I had closed the "retry" window, and setting up backups seems to be completely orthogonal to my way of thinking. Finally I found a way to get it to go out looking for "drives" (why can't I just tell it what I want?), and offered only lagoon:/Photos and eureka:/Photos. Is there maybe not enough space on eureka:/dump? There should be.
OK, install EaseUS, not for the first time. But I couldn't get it to connect to the (already mapped) external file systems! It didn't seem to want to know about my passwords. Now I need to fight my way through Samba and check the passwords again. I really should write this stuff down somewhere.
What's this spider?
Yvonne found it while we were walking the dogs. It's about 4 cm long.
Since Piccola died, the number of mice in the garage seems to have exploded. And so far the new "Big Cheese" mousetrap has not caught a single mouse, though it seems to have fed a couple.
What are they eating? The only food-like substance is the dog food, but they left it behind in the trap. Still, move it out of the way and see what happens. And this time I'll record the amount of food (here chickenfeed) in the trap beforehand:
In today's system log messages:
Jun 5 16:29:34 eureka kernel: Failed to contact local NSM - rpc error 3
Jun 5 17:40:32 eureka kernel: Failed to contact local NSM - rpc error 3
Jun 5 17:47:18 eureka kernel: Failed to contact local NSM - rpc error 3
Jun 5 17:48:49 eureka kernel: Failed to contact local NSM - rpc error 3
Jun 5 22:08:20 eureka kernel: Failed to contact local NSM - rpc error 3
Jun 6 09:21:17 eureka kernel: Failed to contact local NSM - rpc error 3
Jun 6 09:28:45 eureka kernel: Failed to contact local NSM - rpc error 3
Jun 6 09:36:04 eureka kernel: Failed to contact local NSM - rpc error 3

What's that? I've never seen it before. A web search didn't bring much help, just this thread, which effectively only acknowledges that it exists and what people did, without any clear indication that it fixed the issue. One answer blamed a bad chassis fan, which sounds highly unlikely.
So what is NSM, anyway? A search wasn't overly helpful beyond pointing me to this paper "The State of Network Security Tools on BSD". But how does this relate to a sudden occurrence with a kernel that has been running for nearly 8 years? And man -k nsm shows nothing of use.
But then there's this strange problem I've been having recently with the Microsoft boxes. Were they connected when the messages appeared? In any case, after the daily photo processing I disconnected distress. Let's see if they happen again. They didn't today, but that's not sufficient proof.
For reasons I don't understand, DENIC wants to know my old address. But they have it: it's in the network handle GL3-RIPE:
person: Greg Lehey
address: LEMIS Lehey Microcomputersysteme
address: Schellnhausen 2
address: D-36325 Feldatal
address: Germany
phone: +49 6637 1488
fax-no: +49 6637 1489

So what kind of proof do they need? I thought of the original mail from Unido, round March 1992, giving details of my connection, but I couldn't find it. I'm sure it's there—I had it a few weeks back—but until I know that they will be satisfied with it, there's not much point searching further.
What I did find was the June 1992 issue of UNIX Magazin, of which this is page 107:
That could have been the first LEMIS advertisement. It's a mess, but it contains something of historical interest:
Mail lemis%lemis@Germany.EU.net
Yes, a long-forgotten kind of email address, but more to the point, the only email address in the magazine. Nearly every advertisement had a fax number (so did mine), but this is the only one that I found with an email address. And of course web URLs were a thing of the future.
Call on my mobile phone this evening round 21:00. Michael of Aussie Broadband to tell me that my number had been completely ported.
What, already? I only asked for it yesterday. Oh, no, he knew nothing of that, just that the first number. OK, the only issue there was that Vonex still hadn't fixed their internal configuration. Have they now? Who cares?
But more to the point, this is the fourth time that they've called me on my mobile phone in the evening, though I've asked them not to. How do I get them to stop?
After my back pain a couple of days ago, things were getting better. But it seems that it caused changes in posture, and now I have pain all the way down the left side of my body to my shin. Hopefully it'll go away soon.
Found in the garage this morning:
The "BigCheese" still had nothing in it. But Bruno was delighted, of course. Let him eat it? Sure, but first we need to work out how. We can't let the mouse loose in the house in case it escapes, and we don't want to let Bruno outside without some kind of control. In the end I decided on a large horse feeding bucket. Put the mouse in there, put Bruno in on top, and let them have it out.
But that was in the afternoon, and the mouse was decidedly groggy. This was the best shot: Bruno wasn't interested,and he jumped out of the bucket. In the end I let Larissa have a chance. She wasn't interested either, but after some time she wandered off with it, and I didn't see it again.
As expected, the deadline for my complaint with the TIO against Vonex expired without any contact at all from them. OK, renewed complaint to the TIO.
> * What outcome would resolve your complaint?

They should immediately refund the sum of $34.70 that they illegally deducted from my credit card.

They should expedite the porting of my second phone number (currently pending) to another carrier. The last one took over a month, which I ascribe to their incompetence.

Once I agree that the numbers have been transferred, they should immediately terminate all services and refund the remainder of my balance, including pro rata the yearly subscription.

This will not resolve my police report.
Sent these requirements to Joey of Vonex, asking for a specific response to each point, along with the 6 that she still hadn't responded to last week. And how about that, I got a response! As far as I can tell, it's a copy of one she sent last week, and it adds nothing to the discussion.
So was Michael correct yesterday when he told me that my phone number porting was complete? In principle I didn't care, since it was accessible everywhere except from the Vonex network.
But a quick check shows: yes, even Vonex has relinquished the number. Not before time.
Message from DENIC this evening:
GL3-RIPE wurde wie gewünscht geändert.

Maintainer ist jetzt LEMIS-MNT.
And yes, how about that. whois 192.109.197.0 gives me, with no privacy:
person: Greg Lehey
address: 29 Stones Road
address: Dereel 3352
address: Australia
phone: +61 3 5318 4210
nic-hdl: GL3-RIPE
mnt-by: LEMIS-MNT
created: 1970-01-01T00:00:00Z
last-modified: 2023-06-07T08:51:24Z
source: RIPE # Filtered

Another step completed.
Into the garage this morning. Pay dirt:
Three mice in the same trap! But what do we do with them? Again they were quite groggy, and it didn't seem to be worth the trouble to try it with Bruno. Yvonne contacted Graeme Swift from next door: his dogs are trained mouse hunters. Took them over there, but they weren't interested either:
Graeme suspects that they have been poisoned. But by whom? It certainly wasn't on our property. It seems that poison bait is a slow, painful death, and they could have walked some distance since being poisoned. I still need to get my head around that. Graeme kept the mice to shoot them; he tells me that that's more humane than a blow with a hammer. I'm reminded of the German saying "Mit Kanonen auf Spatzen schießen": shooting sparrows with cannons.
On Tuesday I put some bait into the "Big Cheese" electric mouse trap and took a photo to be able to determine if anything had been taken. Today I took a look. No need for a photo: no mice trapped, all the bait gone. Clearly the thing isn't working.
But while I prepared to take a photo (I didn't), something strange occurred: I hadn't turned it off, and it started sparking across the "death trap" plates. It seems that there's some kind of intermittent failure in there. Time to change it.
The whole Russian invasion of Ukraine is a horror story, but it's hard to understand what's really going on. The Ukrainians are the good guys, right, and the Russians are the bad guys?
Well, yes, up to a point. Certainly it's hard to see anything good in what the Russians have done, except maybe pointing to structural problems in the United Nations that it make it hard to condemn them. But how good are the Ukrainians? Volodymyr Zelenskyy is an amazing person, and he always has the right word for every moment. But there are indications that Ukraine was responsible for the 2022 Nord Stream pipeline sabotage, and somewhere I have read that they tested the defences of the Kakhovka dam by firing missiles on it—exactly what the Russians are claiming.
Only: the dam was extremely robust. It couldn't be destroyed by shelling. It seems that the Russians (who occupied it) had mined it with what are claimed to be tons of explosives. Why? Maybe to deter the Ukrainians from shelling it?
And who stands to gain from the destruction of the dam? Nobody. Both sides of the Dnipro are badly flooded, water is not available for either side. But particularly, the water supply for Crimea is now in jeopardy. So it seems unlikely that either side would have willingly destroyed it. My guess is that it was really a rare Russo-Ukrainian cooperation. Hopefully they won't repeat it at Enerhodar (which the media persist in calling "nearby").
Of course, one thing points at the Russians: why was the dam so full? It was apparently 17 m above the normal level. That certainly added to the volume of flood water.
Call from Zaf of the TIO today. It seems that they have heard from Vonex, a certain Sonya who was too polite to contact me. And they have refunded the money! Would I check, please?
No, nothing in my account. And he found fault with the fact that I didn't explicitly tell Vonex that I would not give them the account details for which they had asked. It seems—he says—that the Australian banking system really does provide for companies to be able to deduct money from people's credit cards, but not refund them. So I had to write another letter asking them explicitly to send me a cheque if they can't access the credit card. And that by COB on Tuesday, and the TIO will get involved again if they haven't done anything by Thursday next week.
It seems that there's also a title "Situation Manager", which he thought was Joey's job. It looks more like Sonya's, though it's not clear whether anybody is managing the situation from their side.
As expected, my Hibiscus rosa-sinensis "Uncle Max" has finally produced a flower. It's not much to look at, but it's a flower:
Today I had an appointment with Paul Smith to discuss the result of my colonoscopy and also the blood test results from last month. But round 13:00, while loading the dish washer (again!), I got a pain in my left leg that just wouldn't go away. Yesterday's hope was in vain. OK, call the physio. No appointment available. Cancel the other activities, just get Yvonne to take me to the appointment with Paul.
But that was another 45 minutes, and during that time things got so bad that I couldn't walk. Forget Paul, off to the Ballarat Base Hospital, despite the expected wait.
Things at the Base Hospital were worse than ever. First, they didn't have anybody to wheel me in in a wheelchair, so Yvonne had to do it. And then at the entrance door nobody opened!
After a bit of banging, a Claire came out and complained that I was there. Why? Did I want to see a doctor? That's for her to say. But it seems that, with the loss of the accompanying nurses, the entry for patients was the other door, and the "patients bell" has no discernible function.
The emergency room is really not laid out for people in wheelchairs, and there was nobody to help. In addition it was so full that there was barely room to move. A completely frustrating experience. But that changed in 2 hours, by which time everybody who had been there before me had been seen to. After another ½ hour I went to the Clerk counter and was told that there were 14 people waiting before me, and that it would take a considerable time. It looked as if I wouldn't get any attention until after midnight. The triage nurse confirmed that, though he gave me some pills for the pain.
And what about this sign that was all over the place?
The Ballarat Priority Primary Care Centre, run by UFS, phone 4320 0820. "Severe back and muscle pain" sounds just like my kind of symptom. But no, said the triage nurse, they don't have a scanner, so I'd have to come to the hospital for that. But there's also the alternative of St John of God, though they're probably overworked too.
So, somewhat unwillingly, Yvonne came to pick me up. A whole afternoon wasted, and I'm still in pain!
Managed to make it through the night without too much pain, but in the morning things weren't much better than yesterday. In particular, walking is still very painful. We tried to get the physiotherapist again, and we were put on the waiting list, but no appointment became free.
How do I move around? For the first time I regretted that we didn't buy the wheelchair that ALDI had on offer last year. Moving around with my office chair proved to be quite difficult, but later in the day I discovered that I could walk with minimal pain if I bent forward.
Later a call from Kerry of the Ballarat Base Hospital, apologizing for the delays and offering a couple of suggestions about how to handle the situation. One that I had forgotten was the heat pack that I bought last time. Tried that later, unfortunately without any significant improvement.
And what about a self-diagnosis? Off to search the web. There are significant indications that it could be sciatica, but a number of the symptoms were wrong. Sciatica can cause pain down the back of the leg, but my pain was the same as in February, round the front of the leg, which Heather had attributed to my morning exercises. But last time only the legs were affected, and this time I have (much less) back pain as well.
And differential diagnoses? Lots of hits, but nothing that was easy to read. About the best I could find was this online check. Went through the whole process, and then discovered that they wanted $6.99 for the results! Yes, looking back, they said so on the front page, but it wasn't obvious. And sorry, online tests are interesting, but I don't see that they're reliable enough to pay money for.
On 2 July, the monthly backup told me many:
(da2:umass-sim2:2:0:0): WRITE(10). CDB: 2a 00 0a 93 c7 2e 00 00 10 00
(da2:umass-sim2:2:0:0): CAM status: CCB request completed with an error
(da2:umass-sim2:2:0:0): Retrying command

/dev/da2 is the /dump file system for all systems except eureka. Does that mean a hard error? I would expect to see a "retries exhausted" for that case, and there were none. But clearly the disk is not in the best of condition. Time for a replacement, and while I was kicking my heels at the Ballarat Base Hospital yesterday, Yvonne picked up a new 10 TB backup disk from Officeworks: $359, and that for the equivalent of 6,250 fully equipped IBM 3330 systems. So far it's the largest disk I have, and it's big enough to replace both /dump and /backups, the disk I use for backing up eureka.
Setting up was straightforward enough. It came with a GPT partition table, but I recreated it anyway. This time I didn't try to optimize the inode count, with the result that it has nearly 2,500 times as many inodes as /backups (here after copying the contents of /backups):
=== grog@eureka (/dev/pts/7) ~ 763 -> df -i /backups /dump
Filesystem 1048576-blocks Used Avail Capacity iused ifree %iused Mounted on
/dev/da0p1 3,815,019 2,673,056 1,103,812 71% 37,319 502,967 7% /backups
/dev/da2p1 9,238,060 2,727,849 5,771,165 32% 1,865,538 1,220,754,364 0% /dump

On the other hand, this list also shows that I needed more inodes. I have decided to keep some directories as trees rather than archives. In particular, /src/FreeBSD contains 160 GB of relatively constant data, and that takes hours to back up. If I use rsync I can update a tree in minutes, and there's better access to it. But it also has round 6.3 million inodes, round 40% of all files on the system.
And Microsoft? /backups had a number of backups from distress, and the fact that distress couldn't find any disks on Monday might have been due to the fact that none of the other disks had enough space for a backup set. That would explain why it only found disks with lots of free space.
OK, what does it say now? No disks available, even the ones it found on Monday. What a mess! No wonder Microsoft users don't do backups.
Yvonne had to go into town today to buy some pain killers, so it seemed a good idea to come with her and visit the Ballarat Priority Primary Care Centre, run by UFS, and see if they could help.
Hard to say. At the entrance there was a person dispensing one of the most complicated face masks that I have seen. I had to sit down and take a couple of minutes to put it on. The dispenser agreed: "They're a pain in the arse".
Inside there were two receptionists, 4 people waiting for the only doctor, a general practitioner. Waiting time? Not allowed to say, of course. But it seemed reasonable to expect at least an hour. Would it be worth it? Paul Smith is also a GP, and a good one, but he has never wanted to have anything to do with that kind of problem, though he is into martial arts and things. So I didn't expect that it would help, and we went again. I can see the Centre being of use for other things, but I don't think that this is one of them.
In the course of the day things got marginally better, but it's a long way from being good, and I still can't guess whether I'll be able to go by myself to my appointment with Heather on Wednesday. About the biggest discovery I had was that the Voltaren that I put on my legs during the night greatly reduced the pain. I had used an old tube before, but it didn't have the same effect; either it was too old, or there was no active ingredient in the last drops in the tube. The difference in appearance (clear in the old tube, cloudy in the new) suggests the latter. By evening I was feeling relatively comfortable as long as I didn't try to walk.
The other thing of note is that I have almost no appetite. I'm only eating about half my normal quantity.
Yesterday Yvonne found 3 dead mice in the trap. Today it was four:
And they're all dead! We haven't seen a single really active mouse in the trap, and so far there have been 11. I can't believe Graeme Swift's assumption that they were poisoned. It seems more likely that there's something about being in the trap that kills them. But what?
Paid particular attention to the backups today after the change of backup disk configuration. All seemed to have run well, though I had disabled the eureka backup while rsyncing /src/FreeBSD.
But the daily kernel log messages showed:
(da0:umass-sim0:0:0:0): READ(10). CDB: 28 00 84 c5 b2 a8 00 00 40 00
(da0:umass-sim0:0:0:0): CAM status: CCB request completed with an error
(da0:umass-sim0:0:0:0): Retrying command
There are subtle differences from yesterday. That was writing to /dev/da2, the old /dump disk. Today it was reading from /dev/da0, the /backup disk that I used for backing up eureka. Again no hard failures, but it's a good thing that I'm migrating to the new disk.
So: there's plenty of space on this disk. Is distress (Microsoft "Windows" 10) now happy? No. The disk is available on the network, gets mapped automatically on boot (which I tried as a typical Microsoft "solution"), but the backup setup doesn't offer it to me even when I ask it to look at all disks ("Show all network locations"), and not just the ones that it wants me to use. What's wrong with this thing?
Alastair Boyanich came up with an alternative: use PowerShell. It seems to offer an alternative backup method, and he pointed me to this guide. Well, the idea of a text mode configuration looked good, so I took a look.
Aaargh! Why is it so complicated? What's the Microsoft equivalent of tar cf /dump/Microsoft/filth .? I'm in enough pain already. Maybe I should read it, but not today. There's also this page, which might be better structured.
Over the last few days we have caught a surprising number of mice in the garage. But not today. None at all. The garage also no longer smells of mice. Have we caught them all? That's a very different situation from 3 years ago, where almost all the mice were in the electronic trap. But looking back, I'm not sure that we used the cage on that occasion.
Is my pain getting better? It's hard to say. If it is, it's certainly not a miracle recovery. It's been 3 days now, and I still can't walk without pain standing up. And my appetite is greatly diminished. As a result, did very little. Most of the day was in the lounge room interacting in some way with the TV.
It's been over a year since we first watched Sluga narodu ("Servant of the People"), a TV series from 2015 about the future of Ukraine, with Volodymyr Zelenskyy in the main role. But during that time we've paid a lot more attention to what's going on in Ukraine, and one of the questions I had was: what language is it in? The credits are easy to recognize: they use Ukrainian letters that don't occur in Russian, notably і, where Russian would use и, and the title is Ukrainian Слуга народу (Sluha narodu), not Russian Слуга народа (Sluga naroda). And at the time I had written that it was in Ukrainian.
But is it? I can't tell the difference between the sound of the two languages, though I did learn a little Russian in school 60 years ago.
So: watch the first episode again and see if I can recognize anything. Yes! "Good morning" is "доброе утро" (dobroye utro), not "добрий ранок" (dobryy ranok), and "I am your uncle" is "я твой дядя" (ya tvoy dyadya), not "я твій дядько" (ya tviy dyadʹko). Assumption proven.
But then Yvonne came along and wanted to watch too. And we found a number of details that we had missed before, or not paid enough attention to. It looks as if we'll watch the whole series again.
I get the feeling that my pain is getting less, though it could just be wishful thinking. But it's certainly not happening fast, and once again I didn't do very much today.
On a more positive side, it has now been 2 days since we caught any mice in the garage. Given the large numbers before, that's a positive sign: are they gone?
Today was the King's Birthday public holiday, the first I have experienced in over 70 years, and the first that I can remember. Somehow it still seems strange to have a king as head of state.
I still haven't got round to committing mklinks, but today, when I needed to reinstate Servant of the People, it occurred to me that it's exactly what I needed, but in the past I had always done it manually.
I keep video series in a directory hierarchy two deep. The top level is the name of the series, the second the year. So for "Servant of the People" I have:
=== grog@tiwi (/dev/pts/13) /spool/Series/30-min 198 -> ls -l Servant-of-the-people/01
total 6399
-rw-r--r-- 2 grog home 300,212,123 8 Apr 2022 01-02.mp4
-rw-r--r-- 2 grog home 333,550,378 8 Apr 2022 01-03.mp4
-rw-r--r-- 2 grog home 302,893,643 8 Apr 2022 01-04.mp4
...
It's in the directory /spool/Series/30-min because of its length. Alongside that, for series that I want to keep after watching, I have a second hierarchy /spool/Already/Series with the same files (thus the link count 2 in the listing above). As I watch the episodes, I simply delete them from /spool/Series, and the file remains only in /spool/Already/Series.
To reinstate the series, I simply need to duplicate the hierarchy /spool/Already/Series/30-min/Servant-of-the-people as /spool/Series/30-min/Servant-of-the-people. And that's exactly what mklinks does. To be careful, I tried with the -z ("show, but don't do") option:
=== grog@tiwi (/dev/pts/6) /spool/Already/Series/30-min 227 -> mklinks -z Servant-of-the-people /spool/Series/30-min/
-rw-r--r-- 1 grog home 533145683 Fri Apr 8 16:45:16 2022 /spool/Already/Series/30-min/Servant-of-the-people/01/01-01_-_Pilot.mp4
*** Can't stat /spool/Series/30-min//01/01-01_-_Pilot.mp4: No such file or directory
+++ Symlink /spool/Already/Series/30-min/Servant-of-the-people/01/01-01_-_Pilot.mp4 to /spool/Series/30-min//01/01-01_-_Pilot.mp4
-rw-r--r-- 1 grog home 300212123 Fri Apr 8 16:55:30 2022 /spool/Already/Series/30-min/Servant-of-the-people/01/01-02.mp4
*** Can't stat /spool/Series/30-min//01/01-02.mp4: No such file or directory
+++ Symlink /spool/Already/Series/30-min/Servant-of-the-people/01/01-02.mp4 to /spool/Series/30-min//01/01-02.mp4
...
Oh. Not what I expected. Firstly, it didn't try to create the directory /spool/Series/30-min/Servant-of-the-people: it tried to create the subdirectories directly in the destination directory. I need to look at that. And it doesn't handle the trailing / in the destination directory name correctly. More importantly, it wanted to create symlinks! Why? The man page implies (and I recall) that by default mklinks creates real ("hard") links. And that's important. If I create an Already directory using symlinks and then delete a file in the primary directory, it's gone, turned into a broken symlink.
But why symlinks? mklinks automatically switches to symlinks when hard links wouldn't work, and it looks like it's doing so here for some reason. A bit of UTSL (which Wikipedia agrees is an old, worn-out magic word) is needed.
Somehow this pain just isn't going away. Potentially it's getting slightly better, but it's certainly taking its time. It's interesting to note, though, that it varies through the day. At night the pain in my leg is agony, but in the daytime it's the back. And at some points towards the evening it's almost bearable. But looking back at the injury I had in September 2010, it looks as if it'll be at least a couple of weeks more. On that occasion I took Diclofenac tablets. I wonder if they will help this time.
I still have no idea what is causing messages like these:
Jun 13 22:04:28 eureka kernel: Failed to contact local NSM - rpc error 3
Jun 13 22:04:42 eureka kernel: Failed to contact local NSM - rpc error 3

One thing's clear, though: it wasn't dischord (the Microsoft box), which was disconnected from the network at the time. So what is it?
Our mouse problem was clearly still not over: we found another in the trap today, but only one. I think we've caught most of them.
Off to Ballarat in the afternoon to see Heather Dalman, who was concerned. She went through a number of questions and tests, some of which I'm getting to recognize, both from the Ballarat Base Hospital and various online information: incontinence? No. Numbness? No. Pins and needles? No. And then a couple more, like walking on tiptoes (painful) or heels (not so painful):
She taped me up, for reasons I don't quite understand:
Her assumption is either a compressed disk (vertebra L4 or L5), or a sprained vertebral process, though she used a different term that I kept forgetting. So I need to have at least a CT scan and probably an MRI scan as well. In addition I should get better painkillers (Paracetamol and Ibuprofen don't cut it, very much my observation). She can't prescribe them, so for both reasons I need to see a doctor as soon as possible.
That's clear: Paul Smith. But the next appointment I could get would be on 1 July, over 2 weeks away. After some discussion, got an appointment for tomorrow with Jenny Lou, also of Health First. Heather also wants to see me next week, but she, too, doesn't have a free appointment until next month. But she hopes for a cancellation, and she got me put at the top of the waiting list.
My surviving PAP2T VoIP adapter has failed! Another red LED, just like last time with the other device. That means that I only have one adapter. Is there anything I can do? Off searching and found this page and also this one. Some suggestion that it's the power supply, not the device, but that seems unlikely, since one worked with the power supply I was using, and the other didn't. Now both don't. I suppose I should go looking for another power supply and see if that helps. But I don't really need them once this pain with Vonex is over.
And, of course, once again Vonex did not respond to my deadline beyond saying that they wouldn't send me a cheque, that they wanted bank account details. Now I need to get the TIO involved again.
Yesterday Heather Dalman recommended that I try to walk more upright. It seems that I overdid it, and the night was agony. Maybe it will be better with better pain killers.
Into town in the afternoon to see Dr Jenny Lou about my back and leg pain. Unlike Heather, she went through the full diagnosis procedure. She certainly didn't seem overly concerned, though at my age (a description she repeated a couple of times) things can always be worse. In the end she gave me a referral for a CT scan, though she didn't think that an MRI scan was needed at this point. She also prescribed me a week's worth of Tramadol, though she doesn't want a follow-up appointment unless the CT shows something bad. So what happens when my pills run out?
Called up Sovereign Radiology, who had an appointment for me tomorrow. Back home things seemed to be getting significantly better with the help of the pill.
Last month the RIPE NCC saga finished with a survey questionnaire. And of course I answered describing my pain.
To my surprise, today I received a detailed response with explanations and acknowledging that there were things that they could do better. But the real issue was that, years ago, they had decided on specific procedures, one of which is that
we are in general not able to transfer internet number resources from already closed legal entities. Followed by

a resolution

from the RIPE NCC Executive Board we can only transfer internet number resources from closed legal entities to the legal successor and only if the legal successor is confirmed with documents from 'a national authority'.
Yes, this is what they've been saying all along. My issue is that the procedures are overly bureaucratic, and they don't match (Australian, at any rate) reality. Still, it's nice to see that they have taken the time to reply.
The tablets that I received yesterday did a reasonable job of keeping the pain at bay during afternoon and evening, but once again the night was agony. In the morning called up Health First and asked for Jenny Lou to call back. She finally did just as we were in Enfield on our way to Sebastopol. And there's an area there with really poor mobile phone coverage, and we were disconnected before anything useful happened.
Finally contacted her while I was waiting for the scan, and she prescribed Oxycodone, once again not telling me that it's an opioid. How do I get the script? By mobile phone! She sent me a message with a link to a prescription:
Gave the phone to Yvonne, who took it round the corner to UFS, who were able to fulfil the prescription, and she got back before I went in for the scan. One good use of a mobile phone, I suppose.
Received a car registration renewal notice today. OK, fire up Bank of Melbourne's "Internet banking".
What's up there? These are the same saved details that I have been using for months. OK, send me a "Secure Code". A warning: it can take up to one minute to arrive.
But it didn't. Clearly the message in red (The login details entered don't match those on our system) is only partially relevant, since it knows (I think) my phone number.
OK, has something in my saved password file been corrupted? Log in manually. "Please match the requested format" against the "Security number" (a 6 digit PIN). I've seen that before on several occasions. Clearly a program bug that they haven't been able to fix in over 5 years. Past experience has shown that the phone consultants have little idea of the problem, nor how to fix it, but that it has gone away after a day or two.
Dammit, I have another bank account with ANZ. Let's do the transfer with them. But they want to send a code to my phone too! OK, did that. Again no code.
Dammit, what's wrong with this system? Called up their help line, 133502, and fought my way through their HORRIBLE voice non-recognition system. I don't think that I have ever had a useful response from this thing, and they don't seem to have improved it since I first grumbled about it 15 years ago. By comparison, Google's system is now reasonably usable. Part of that is the context, of course. What do I tell the ANZ system? What did the programmer expect?
Finally got past that and into a "we are experiencing more than usual demand" waiting loop until we had to leave for town and my CT scan. Just paying a normal bill took over an hour, and so far I haven't been successful.
Into Sebastopol this afternoon for the planned CT scan. It took nearly an hour to be called: they had had not one, but two emergencies, for which they were very apologetic.
Lawrence, the radiographer, was the first to use the word sciatica. He tells me that they do a very large number of such lumbar scans, 6 or 7 a day. In my case it was painful! I was barely able to keep in the position needed for the scan.
Finally it was done, and though he hadn't had time to look at the results, he confirmed that I seemed to have a particularly bad case, and that I should see a doctor as soon as possible. He would ensure that the results were available by Monday morning.
OK, urgent appointment with Jenny Lou. Not before Wednesday: she doesn't work on Monday or Tuesday. So instead I got an appointment for Monday afternoon with Matt Pilkington, with whom I have had to do four years ago,
I have always hated Two-factor authentication, at least in the form that I know it: it's clumsy and means that I can't automate things. Today was a particularly bad day, but coincidentally I read this article: 'Invisible robbers' stealing millions in phone porting scam labelled as 'terrifying'.
But the common practice of having a one-time code sent to your mobile phone number has enabled hackers to access thousands of people's personal information.

...

Cybersecurity expert Ronnie Lowe said the measures did not go far enough and there was little people could do to avoid a sim porting attack.
That's a little bit one-sided, but the issue is what I have already grumbled about: steal a mobile phone and you have access to much of a person's identity. That's even the case if the thing is secured: you just need to steal it while it's unlocked, and to avoid it going to sleep before you have done your deed.
And that's exactly what we had done this afternoon: Yvonne doesn't have the password to my phone, and I can't find out how to forward a message, so she took my phone with her, being very careful not to lose the QR code on the display. Of course that also shows the weaknesses of the Android user interface.
So what's a more reliable means of authentication than with a mobile phone? I don't know, but I've never seen any connection between mobile phones and security. Somebody needs to come up with a completely different concept. One day it might be related to DNA fingerprinting, but if that ever happens, it will be a long way in the future. Or how about implants like the "microchips" that are implanted in domestic animals? It seems that they already exist, but if they take off at all, it won't be for some time to come.
Yesterday our garage mouse trap caught another mouse. Based on prior experience we left it overnight to die, but this morning it was still quite active, so Yvonne took it to Graeme Swift, whose dogs were much more interested this time.
Is that the end of the mice? There are far fewer droppings in the garage, and the scratching in the ceiling is also gone. I had assumed that the scratching came from a separate family of mice, but it seems that they could just be very mobile.
Is my back pain getting better? Hard to day. It's certainly not a sudden improvement, but in the course of the day it doesn't seem to have been as bad as yesterday.
And yes, it seems that this kind of injury is very common. Watching TV this evening ("Die jungen Ärzte"), one of the patients in the episode was to have a replacement disk between vertebrae L4 and L5, exactly the ones that people suspect I have damaged:
Hopefully I'll get by without an operation.
This morning things didn't seem to be quite as bad with my pain. It definitely hasn't gone away, but I can stand more upright, and I was able to do without pain killers for 12 hours. Hopefully it's a sign that Heather Dalman guessed correctly with her "10 to 14 days".
I recently answered a question on Quora: what's the successor to the Canon 60D?
Well, that's the Canon 70D, of course, but that came out 10 years ago and has had multiple generations since then. If the poster wants to replace the 60D, it wouldn't be a 70D. 90D maybe? But maybe the Canon EOS R7? The only thing that the poster wanted was compatibility for his lenses, and the R7 is "mirrorless". Will it work? I don't know, but my experience with DSLR lenses on Olympus "mirrorless" cameras was less than spectacular. So I included a caveat about DSLR to "mirrorless" adapters in my response.
Comment from Dave Haynie: "The adapters work perfectly. The RF and EF lenses speak the same electronic "language"". Dave knows his stuff, and he's also an Olympus user, so I followed up. Another comment, summarized: the older "mirrorless" micro Four Thirds system cameras only do CDAF, while the DSLR lenses all do only PDAF.
OK, I can check that. Get out an Olympus E-30 DSLR, an E-PM1 and a E-M1 Mark II and tried them with a Zuiko Digital 40-150mm f/3.5-4.5 and a Zuiko Digital ED 50 mm f/2.0 Macro.
The results? The only definite one was that the 40-150 failed in mid-test. On the newer bodies it no longer displayed anything, and on the E-30 it wouldn't focus. It looks as if there's some electronic issue with the lens. Cleaning the contacts didn't help, so it looks as if that's my second lens with an electronic defect. Fortunately, like the M.Zuiko EZ that failed 3½ years ago, coincidentally (or is it?) while I was comparing lenses, it's a good thing that I don't need either lens. It's interesting that in each case the camera doesn't display the image coming through the lens, though the E-30 does.
Apart from that, though, I can't see anything that contradicts Dave's claim that DSLR lenses with adapter work just as fast on PDAF "mirrorless" bodies as they do on DSLRs. Things can be glacially slow with the E-PM1, but it's fine with the E-M1.
Mail from Aussie Broadband this morning:
Date: Mon, 19 Jun 2023 09:07:28 +1000
From: Aussie Broadband <no-reply@team.aussiebroadband.com.au>

Thank you for being patient while we wait for your VoIP number to be transferred over to us.

We've received confirmation that the port will be completed on **2023-06-16**.

But that should have happened 3 days ago, and I still had connectivity from Vonex. Should I reconfigure the ATA anyway? There are thousands of configuration parameters, and even the obvious ones (user name, password, SIP server) have strange names. Tried to call the existing number from my mobile phone and the other ATA, both with the same result: timeout. So yes, maybe it had been ported.
Set up the ATA accordingly, and how about that, it worked. Done!
Well, I could make calls from the phone. But I couldn't call in. Mail to Aussie, attaching screen shots of the parameters, or at least the first three of what would have been round 6 pages:
Are they really the same as for the other Aussie VoIP connection? No. One parameter needed changing from Vonex:

Somehow NAT traversal has to be set to "Keep Alive" for Aussie, but not for Vonex. After setting it, things worked as expected. And almost immediately I got a call on that line from MCPhysio with an appointment for tomorrow. I forgot to ask whether they had tried earlier, but it seems that the port was really only done today.
Thank God! Hopefully I'll now get my money back from Vonex and finally be rid of them!
While configuring the ATA, also did a new other changes: set the web login timeout from 10 minutes to 60 minutes (the maximum; why do people do these things?) and also log to eureka. I'm not sure that the latter is a good idea: even the smallest amount of logging (LOG_INFO) produces a ridiculous amount of information:
Jun 19 12:01:14 homephone HT802 [c0:74:ad:37:66:d8] [1.0.21.4]ATACtrl::processPhoneOffHook on port 0:0, status = CALL_IDLE/CALL_IDLE, reg'd:1, allow calls w/o reg:1
Jun 19 12:01:17 homephone HT802 [c0:74:ad:37:66:d8] [1.0.21.4]Call(2)::Call, Creating Call object 2 at port 0:0, caller 1, mswUF 0
Jun 19 12:01:22 homephone HT802 [c0:74:ad:37:66:d8] [1.0.21.4]Call(2)::run, Dialing 53090418, disableCW =0
Jun 19 12:01:22 homephone HT802 [c0:74:ad:37:66:d8] [1.0.21.4]RTP::openSocket: Layer 3 DSCP for RTP set to 46
Jun 19 12:01:22 homephone HT802 [c0:74:ad:37:66:d8] [1.0.21.4]SIPStack(0)::cb_snd_message: Transaction 56 , state=0
...
Jun 19 12:02:19 homephone HT802 [c0:74:ad:37:66:d8] [1.0.21.4]TR069 WARNING [1.0.1.141] UDP Connection Request Changed event been droped, tr111 dormant: 0

That was a total of 71 messages, of which only the third was useful, though possibly I have missed something.
What I really wanted was just information on calls, and this goes far beyond that.
After yesterday's improvement in my medical condition, I had hoped that things would improve, hopefully dramatically. But they didn't. If anything, this morning was worse than yesterday. Why? Am I trying too hard to recover?
Into Ballarat again today to speak with Dr. Matt Pilkington about my test results. Not surprisingly, a disc bulge in the between the L4 and L5 vertebrae, and apparently no indication of any particular danger. And the blood test showed nothing of interest. He gave me another script for Oxycodone, and also one for Amitriptyline, which apparently will be a good substitute for Oxycodone.
Another mouse in the garage today. That makes a total of 14 or so. It's clear from the almost complete lack of droppings that there can't be many more, so we can just leave the trap there more or less permanently.
How happy I was to be finally rid of Vonex yesterday! But today an unfamiliar sight arrived at our doorstep: CJ Ellis, whom I haven't seen for a couple of years.
And of course he had trouble with Vonex. I had recommended MyNetFone to him years ago, and of course he's suffering from the pain with the transition to Vonex. OK, at least I'm in practice: he's also with Aussie Broadband, so I just need to set up the configuration. Getting his money back from Vonex may be a different issue, of course.
Two days ago I had the impression that my back pain was on the mend, but since then things seem to have got worse again.
Into Ballarat to see Heather Dalman. She was of a different opinion: I had been sitting in the waiting room with my legs crossed, something that I wouldn't have been able to do last week (and which, she stressed, I shouldn't be doing). She had a copy of the CT scan report:
At L4/5, there is a broad-based posterior disc bulge with a superimposed left foraminal disc extrusion resulting in moderate to severe left neural foraminal narrowing and likely impingement of the exiting left L4 nerve root. Mild left lateral recess narrowing at this level with potential contact of the descending L5 nerve root also noted.
What does that mean? "Foraminal" is a term I haven't met before. Neither has the OED, even after I stopped spelling it "foranimal". This page is probably as good as any::
The space between the arch and the vertebral body is the spinal canal. The spinal canal houses your spinal cord. There are other openings on the stacked vertebrae called the foramina (singular foramen), where the nerve roots branch out of the spinal cord. At every level of the spine, a pair of spinal nerves exits the spinal column through the foramina.
It derives from Latin foramen (neuter), meaning "hole" or "opening", I suppose that's fair enough. So pretty much exactly what we expected. The extrusion doesn't sound good, though. Heather gave me a massage round the hips, which was agonizing. She kept claiming that it would get better, but it didn't until after she stopped. But arguably it got better later. I'll see here again this time next week. Hopefully life will be bearable by then.
I'm still in pain. Is it better? I don't know. I managed to make it through the day without any painkillers, but it's always the nights that are the problem. Heather tells me that the Amitriptyline that Matt prescribed should work if I just keep at it—apparently it takes a while to ramp up. But I haven't seen much effect, and since I'm not allowed to take the Oxycodone at the same time, the first couple of hours of sleep are really painful.
So how do I port CJ Ellis' phone number? Another hour waiting on the phone to talk to Aussie Broadband? First I went to the web site and discovered that all I needed was CJ's password and access to his webmail. So I was able to add a user so fast that I didn't realize that I had done it. But I wanted to port, so I entered the number to port, and after some searching discovered that CJ now has two VoIP lines, the first apparently already provisioned. All I need now is access to the ATA.
Later CJ got mail from Aussie Broadband:
Our Service Delivery has been trying to contact you in regards to your NBN order that we currently have in place but unfortunately haven't been able to reach you.
Now doesn't that say a lot? Firstly, they have contacted him, but it's not an NBN order, and they don't say what they want to know. They presumably tried to contact him by phone, but that doesn't work—thus the porting effort. In any case, CJ is deaf, so phone contact is not desirable. I left him with instructions about what to say to them. But how I wish this were over!
I've been sleeping a lot lately, doubtless because of my injury. But today I felt tired all day long, and went to sleep round 19:50. Is that because of the medication? It seems unlikely: I didn't take any at all between 9:00 and when I went to bed.
How I wish this were over!
My leg is getting better, I think. At least during the daytime. At night it can still be agony. Tonight I slept as badly as ever and spent 13 hours in bed. I see no evidence of any function of the amitriptyline tablets, and the oxycodone (4 times a day) only last for about 4 hours. Somehow I manage to bridge the gap during the night with some paracetamol, but it makes for a painful and restless night. By contrast, I don't seem to need any painkillers in the daytime.
CJ Ellis along today, unannounced, and proving that our doorbell has failed. It's not even a year old! He brought his ATA with him, a Cisco <mumble> that looks quite like the non-functional PAP2T. He didn't bring the power supply, so I tried the power supply from the PAP2T, which has the same specs. No go. No red LED, of course, but no function either. Looked for the other power supply, but I couldn't find it.
CJ back home to pick up the power supply. And it worked! So it does seem that the power supply is defective, and that I might be able to revive the PAP2Ts.
But how do I talk to the ATA? Finally found the documentation, which confirmed that I could talk to it in the same way as the PAP2T, once I found the IP address. And yes, it had grabbed an address with DHCP, and I was able to ping it. But it persistently refused to talk via HTTP.
I recall seeing something like that before. The box isn't just an ATA: it's also a router (NAT box). Which interface did it want to talk on? I have some recollection that it was the local interface, which makes sense: you don't want people coming in from outside and changing your configuration. But when I connected to it, I had no signs of life at all.
Dammit, I've seen this before. But how did I fix it? Looked back through my old notes, maybe a little too impatiently, and found nothing. And then there's the question: will this ATA even work with Aussie? I did find an indication that it was locked in to MyNetFone (now Vonex). Does CJ need a new ATA as well? The obvious thing to do is to put it back in circuit at CJ's place and I play around with it with TeamViewer. Sent him off home, where he discovered that his old (Vonex) phone is currently working, but mine wasn't: I hadn't reconnected the network cable. And then he was called out for an emergency, so that was it for today. But if Vonex is working, does he really want to change?
My back and leg are continuously getting better, I think. Well, at night it's still painful, but during the day I continue to need no pain killers. Hopefully things will continue.
For a month now I've been puzzling about why my Microsoft boxes dischord and distress keep waking up for no obvious reason. I've established that it must be something to do with the network: on distress, where I can get at the back of the machine easily, it doesn't happen if I disconnect the network cable.
Yes, there's a "Wake on LAN" setting that is presumably behind that, but where is it? In the past I've been through all the power settings, but I couldn't find it. Google to my aid. FOOL! You've gone through power settings, and of course it's a network setting. To change the settings, press the "Windows key" and X to bring up a menu.
"Windows key"? I don't have no steenking "Windows key". But with a bit of experimentation with the cog menu, discovered what to do:
Select the cog ("Settings") menu from the icon at bottom left.

Select "Network & Internet.

Select "Ethernet" on left.

Select "Change adapter options" at right.

Right click on the adapter icon.

Select "Properties".

Select "Configure".

Select "Power Management".

Ensure that both "Allow this device to wake the computer" and "Only allow a magic packet to wake the computer":
And for some reason, "Only allow a magic packet to wake the computer" was not set. I'm sure I had set it at the time; I blame an automatic update for the change. And so far, that seems to have worked. I first tried it only on distress. After that I was able to wake dischord with a ping, but not dischord. I'll let the other shoe drop tomorrow.
It's the winter solstice, time for the monthly garden photos. This month was special: due to my back injury on 5 June I was unable to take photos outside at all for a few weeks, and Yvonne took this series for me.
This also meant that I wasn't able to watch the progress of the sole Hibiscus rosa-sinensis "Uncle Max" that flowered this month. To my surprise, it lasted nearly 3 weeks:
Not pretty, of course, but interesting, given that conventional wisdom has it that they only flower for a day.
I continue to be surprised by how well the Abutilon in front of the laundry door is doing. This time last year it was much smaller, but looking healthy. And then in the spring it nearly died. Here in June and December 2022:
One half did die, but the other has come back with a vengeance:
I suspect that it got too wet last spring. We'll have to keep an eye on that.
Apart from that, there's not much to see. Once again the spring bulbs have caught out with the last roses, this time with an Iris as well:
What is Artificial Intelligence? I've known the term for over half a century, and from time to time I have been amused by how the media react.
Now it's ChatGPT, a particularly good linguist. I looked at it 6 months ago and ran into problems with the user interface. In the meantime, according to the press, it seems that it is leading to Armageddon.
I couldn't be bothered to try again, so I tried Bard, from Google, instead. What is a Cleveland Bay? Well, there's a place called Cleveland Bay in Queensland, but Wikipedia prefers to talk about a horse of that name, a breed even less common than the Paso Fino. How rare? Fewer than 1000, it seems.
How does that compare with Paso Finos? Bard doesn't offer the option to modify the question, so I cut and pasted it, accidentally including a nearby icon. Bard didn't like that at all. In fact, it liked it so little that it kept on complaining after I removed the icon from the query, and even after I entered a completely new one.
So, Bard, don't you understand plain text any more?
Now I certainly hadn't expected that.
Last night I took my amitriptyline tablet an hour before going to bed, as I had seen recommended somewhere, and then the oxycodone on going to bed. And I slept for 5 hours without waking!
But then I had some pain, and I needed 6 hours until the next oxycodone, so I took paracetamol instead. Another oxycodone 7 hours after the previous one, and then nothing for the rest of the day! It's still not good, but it's clearly getting better.
In April I commented about CellOpark, a mobile phone app that allows you to pay for parking via the phone—and that requires credit card details. Sorry, CellOpark, why should I trust you?
And today I see that I was justified in not trusting it, though not for the reasons I expected: this article (probably hidden behind a paywall) reports that many people have been charged for parking that didn't occur. Now how do you prove that? Supply a GPS log to prove it? In dubio contra reo?
Interesting report in the news this morning: Евге́ний Приго́жин (variously romanized as Yevgeny Prigozhin, Evgueni Prigojine, Jewgeni Prigoschin and even E. Prigozhin), the leader of the Wagner Group fighting Putin's war in Ukraine, had left his post and marched towards Rostov-on-Don, where he took over the military command, apparently without a fight.
Why? He has been complaining in public for some time now, and it's clear that his troops are some of the most effective. His most recent complaints were against the Russian military, that they were killing Russians instead of protecting them, and even his own troops. But what is he going to do about it? He wants the military leaders (Сергей Шойгу/Sergei Shoigu and Valery Gerasimov) to come to Rostov, or he would go to Moscow and get them. Getting clear information is difficult, with various news services supplying vague but potentially contradictory information.
What will happen? Who knows? But Putin has had to announce the occurrences on TV, threatening all sorts of things, of course. But somehow the Emperor's New Clothes look a little threadbare. How much more will the Russian people take? Is this the beginning of a revolution or a civil war?
I still haven't fought my way through the mess of logging information that my Grandstream HT802 produces, but lately I've been seeing:
Jun 24 07:12:53 homephone HT802 [c0:74:ad:37:66:d8] [1.0.21.4]SigCtrl::SigRemoteConnect, Cannot take the call because SIP Incoming UID (100390237920793) does not match my UserID (09751721)
Jun 24 07:13:18 homephone HT802 [c0:74:ad:37:66:d8] [1.0.21.4]SigCtrl::SigRemoteConnect, Cannot take the call because SIP Incoming UID (1000390237920793) does not match my UserID (09751721)
Jun 24 07:26:23 homephone HT802 [c0:74:ad:37:66:d8] [1.0.21.4]SigCtrl::SigRemoteConnect, Cannot take the call because SIP Incoming UID (901146162016058) does not match my UserID (09751721)
Jun 24 07:47:03 homephone HT802 [c0:74:ad:37:66:d8] [1.0.21.4]SigCtrl::SigRemoteConnect, Cannot take the call because SIP Incoming UID (100) does not match my UserID (09751721)
Jun 24 08:12:50 homephone HT802 [c0:74:ad:37:66:d8] [1.0.21.4]SigCtrl::SigRemoteConnect, Cannot take the call because SIP Incoming UID (801146162016058) does not match my UserID (09751721)
Jun 24 08:59:12 homephone HT802 [c0:74:ad:37:66:d8] [1.0.21.4]SigCtrl::SigRemoteConnect, Cannot take the call because SIP Incoming UID (0046162016058) does not match my UserID (09751721)
Jun 24 09:01:03 homephone HT802 [c0:74:ad:37:66:d8] [1.0.21.4]SigCtrl::SigRemoteConnect, Cannot take the call because SIP Incoming UID (0016094029596) does not match my UserID (09751721)

I recognize one of those numbers: the 100 is one of the numbers from the phantom calls that I received last month.. It's interesting to see how much they resemble each other. The first two are almost the same except for an additional 0 in the second. I wonder what they're trying to do.
Seen on a shell running on lagoon:
ERROR: RDPSND: Extra RDPSND_NEGOTIATE in the middle of a session
disconnect: The session was replaced.

What does that mean?
Another day has gone by since I fixed my power management network configuration on dischord. Now neither of the systems wake at random.
Finally!
Another night with relatively little pain: an Amitriptyline an hour before bed, an oxycodone when I went to bed, and another round 7:00. Hopefully things will continue to improve.
Yesterday I was wondering whether Yevgeny Prigozhin was in the process of starting a revolution in Russia.
But that was yesterday, and just today everything looks different. Today we hear that he had advanced his troops north towards Moscow and got within 200 km before turning back. Alyaksandr Lukashenka has brokered a deal by which Prighzhin will move to Belarus, and Vladimir Putin will drop all charges against him. His mercenaries will be allowed to join the Russian military.
What's wrong with this picture? Once again, of course, we don't know the details. But Prigozhin is one of the most adept leaders in the Russian military establishment, and his main complaint was that he didn't want his mercenaries joining the Russian military. But now they're allowed to do so, and it seems that Prigozhin is no longer in that picture. Some talk of exile, which might be the case. But how could Lukashenka and Putin achieve that? Once again more questions than answers.
One of recent news item that I found less interesting was the 2023 Titan submersible incident, where 5 people died. The press coverage was enormous, in contrast to the continual refugee boat sinkings where many more people died.
But then there are new words involved. I learnt the word submersible, used to describe what I would have called a submarine. But others, who presumably have never smashed a cathode ray tube, learnt the word "implode".
And now an ABC reporter found a use for that word in an article on Progozhin: How Prigozhin's relationship with the Kremlin imploded. He seems to have thought better of it, since it's not in the article itself any more. That's good: it really didn't fit.
Finally I'm feeling good enough to do some cooking, with the aid of an important utensil borrowed from the Nyaris:
Arguably I should buy a stool like that.
It's been a year since we last ate choucroute garni. Today was the day (and an indication that I'm gradually becoming more mobile). I had made a number of changes after the last time, and I did my best to keep the proportions as in the recipe. I used 660 g of sauerkraut instead of the 500 in the recipe, so the total meat should have been 450 g, but in the end I put in 540 g. It showed:
Yes, there's some sauerkraut underneath, and in the end things didn't look too bad:
I'm trying to decide whether it needs more tuning. The originally intended meat proportions seem more appropriate.
In general my pain is subsiding, and it's only an issue during the night. But last night was worse than the previous two nights, and I needed a total of 3 oxycodone tablets over 11 hours. Why? The cooking I did last night, maybe?
Not one, but two letters from ANZ Bank today,referring to Vonex' abuse of my credit card. "Unfortunately, the outcome of this dispute has been unsuccessful. We will send you further details regarding the investigation separately".
Huh? But then there's the second letter: "Unfortunately, we have not been able to continue our investigation as we have not received the information we requested from you. This concludes our investigation, and the case is now closed".
Huh? What's wrong with this response?
They shouldn't need any information from me. If I dispute a transaction, it should automatically be reverted, leaving me responsible for any disputes from the payee.

I didn't receive any request for further information.

If the request had somehow got lost, they should have repeated it.

Rather than close the investigation, they should have given me a way to reopen it.
Somehow I am really annoyed with Australian banks.
It has been over a week since I tried to pay the registration fee for Yvonne's car, and failed because the Bank of Melbourne's web site was broken.
OK, try again. This time I got:
Oh. They're still broken, And once again I didn't receive a "Secure Code". Call them up on 1300 555 203 and fight my way through Yet Another Voice non-recognition system to be asked for my card number and key. Then the usual "We are experiencing a higher than usual volume of calls. You will be answered within 40 minutes!
Held on for 43 minutes, by which time it was time for breakfast, and the announcement on the phone told me that it would only be another 15 minutes. Nothing for it, hang up and try later. This time it was "only" 30 minutes, But after 28 minutes the phone battery was discharged.
Followed up on an announcement I had heard: "To reset your password, go to www.stgeorge.com.au/help/password-reset. Now isn't that an interesting URL? A different bank! But it has the advantage that I can access it:
What's a Customer Access Number? Nothing that I have stored. I guessed the number given just as "Access", and that seemed to be right. Then it asked to send the "Secure Code" again, and then immediately, without waiting for a call,
Dammit, nothing for it. Take a new, fully charged phone and try again. This time the advertised wait times were shorter, and after "only" 27 minutes I was connected with Natasha, who wanted to identify my by recent bank transactions. I had to make several attempts before she understood that that means of identification didn't work. Spent some time looking for alternative methods of identification, and finally the account numbers found her favour.
OK, what happened? There's a good chance that Vonex was responsible for the problem, though by the time I started I no longer had anything to do with them. Equally likely is that their "voice call" authentication is broken, so I gave her my mobile phone number, not exactly the most secure thing to do under the circumstances. But that worked, she sent me a new "Secure Code", and I was able to reset my password to something that found favour with the Bank of Melbourne's security departments limited set of passwords. Finally, after 3½ hours! And I received many mail messages, including a confirmation of a complaint I am said to have made. What complaint? Ah, they're too polite to mention it.
What went wrong here? None of this would have been anything like as bad if it hadn't been for these excessive wait times. It does seem that they were worse than usual today. Natasha tells me that they aim for less that 2 minutes. On the news I heard that Commonwealth Bank of Australia had a computer outage today. That's a different bank, but could it have been related?
In passing, I amusingly received a call on my "silent" phone number from a caller giving the number 0393404579, to warn me that I had had a sum in the order of $1,500 debited from my Visa or MasterCard (they couldn't decide) credit card. My first phone call scam! Given my pain with banks, it was worth checking, but of course it was nothing.
While trying to pay my vehicle registration, noted that I could sign up for direct debit with VicRoads. That sounded like a good idea, so went to the site to fight yet more bureaucracy. One thing they wanted, of course, was my driver license number. OK, got that...
So nice, so nice, we do it twice! There were two identical driver licenses in my wallet! Yes, I lost my license last month and had to have it replaced. But of course while looking for the old one, the first place I looked was in my wallet. And now there are two of them!
How could that happen? I suspected that Yvonne had put the old one back there, but no. My best guess is that it got hidden in the folds which have developed in the wallet in the course of the years—it must be over 20 years old. Time for a new wallet?
After signing up with VicRoads, discovered that I could only authorize direct debit for my own car, and that much of their functionality is vapourware ("Coming soon: the VicRoads app"). The idea of going through all that again with Yvonne's credentials was more than I could bear. So this time I paid via the web again. We'll see how things look when my rego is due.
Started watching a new TV series this evening, Hudson & Rex. It's a remake of the old Austrian series Köter Rex, but replacing Viennese charm with North American violence. Even the dog remained a German Shepherd Dog, and not a Labrador Retriever, which would have been more appropriate for a series set in St. John's. It wasn't good, and we won't watch any more of it.
But what blew my mind was this forensic photographer:
That's a ring flash mounted on the flash shoe of the camera, when it should be round the lens. I've seen lots of stupid things in TV series, but I've always thought that it was a lack of understanding of the topics. But surely any photographer would know how stupid that is, especially since they would have had to build an adapter: ring flashes don't fit in flash shoes.
And yes, the image quality is all that the stream supplied. "High density" indeed!
Into town today for yet more examinations of my back. First to Heather Dalman, who was pleased with my progress, but wanted even more: much more walking, at least 100 m 3 or 4 times a day. That will be fun. She also gave me the same massage that I had last week. But last week it had been excruciating, and today it was quite acceptable. So on that basis things are looking up.
Then round the corner to see Matt Pilkington, who didn't want to prescribe oxycodone until he had examined me. During the examination he pointed out the disadvantages of oxycodone, including tolerance, something that I hadn't thought of. Still, it would be a good idea to get off the stuff as quickly as possible. I'm already down from 4 pills per day (maximum dose) to 2. Can I go further?
While there, also had my somewhat-delayed annual influenza vaccination Was that a good idea at this point? Matt didn't seem to have any concerns. Also a new script for telmisartan, requiring blood pressure measurement, a very low 116/73. Was that due to the injury? Pulse was 96, much higher than I would have expected.
Back home, tried the first 2 100 m "walks". Not comfortable, but bearable. And maybe I am feeling better. But there's still a long way to go.
Last night I tried a change in the medication for my back pain. As Matt Pilkington had suggested, I doubled the evening dose of amitriptyline and left the oxycodone until the pain became too much.
It didn't. No oxycodone any more. Yes, I'm still sleeping badly, and I didn't feel overly bright this morning. But was that the lacking painkillers or the influenza vaccination? In any case, things are looking better, and I managed 3 "100 m" walks in the course of the day, though they were painful. It does seem that things are improving.
Interesting article in the Washington Post: mobile phones have long taken over from fixed ("landline") phones. 70% of the US population use only mobile phones, compared to 1.3% who use only "landline". 25% have both.
That's not quite what I predicted nearly 10 years ago in The Internet in 2034. In fact I didn't even mention mobile telephones. But it's interesting to note that two-thirds of "landline" connections are really VoIP. I wonder how long we have to go before they start shutting down the POTS.
While sitting in the armchair in the lounge room, I started something on dereel. No reaction. Into the office to take a look, which required connecting a monitor. Oh:
How did that happen? I also connected a keyboard, but the system didn't want to know. So that's one that got away.
Yes, my back is getting better. I can now walk upright for up to about 80 m, though it still hurts at the end. But that was advertised.
But I still don't feel well, and in the afternoon I had to lie down and get 1½ hours' sleep. Is that due to the injury or the combined effects of the injury and the influenza vaccination? I should really have postponed just to be able to know which side effects came from what.
Mail today from Harald Arensen about yesterday's artice about the demise of the "landline". This article described the end of the Norwegian copper network, which took place at the end of December last year.
My Norwegian's not very good, but the translation refers to the delivery technology (copper), not the switching technology. But maybe that's not important. I'd be more interested in knowing how the transition was handled. Presumably VoIP would have caused the least disruption.
Norway's not the only country doing this, of course. And while looking at web reports, I found this British document makes things clearer, though it contradicts itself in its definition of "landline". But this section comes closest to what I was thinking of in my essay:
If you don't have broadband and you don't want a high-speed internet connection, some providers will still offer the option to use a simple internet connection just for making calls. You'll still be able to have a landline in your home, but the technology that underpins it will be different.
To add to my confusion, this article states
UK provider BT/OpenReach is planning a copper PSTN switch-off in 2025 and a full network switch-off by around 2030.
Still, one way or another my prediction is likely to come true.
The pain that I've had for nearly all the month is gradually lessening, but not nearly as much as I would like. Again a restless night, though without any additional medication. But strangely round 4:00 I got a sharp pain in my stomach. It only lasted a few seconds, but repeated twice and then was gone. Does that have anything to do with the injury?
On the other hand, Yvonne was also not feeling too bright, and we each had a slight cough now and then. Maybe a slight cold to add to the misery?
We've had Bruno for nearly 3 months now. In that time he has had a voracious appetite and grown considerably, of course—he's now 6 months old. But now he's eating much less. Is that an indication that he has reached his final size? He doesn't look in the slightest unwell.
We've had problems with our horse drinking trough since we moved it nearly a year ago. Yvonne is worried, and she wants it repaired now—just what I need in my present condition. So we called in UPI to find out what was wrong, and today Jarrod came and took a look.
He can't repair it either. We'll need a new float assembly, and that won't be until next week. At least that makes me feel a little better about not being able to do it myself.
The US Democrats are up in arms. The US Supreme Court has ruled that affirmative action at universities is unconstitutional.
Huh? What's affirmative action? It proves to be a kind of racial discrimination. So of course it should be unconstitutional.
But it's in favour of the "Blacks", and it's intended to level the playing field, which is slanted against such people. That's a nice intention, but the wrong tool. You don't get a level playing field: you get a corrugated playing field.
The correct way is to completely ignore racial differences. Yes, it will take the US a long time—they've been trying (well, many of them, anyway) to do that for 160 years, and they haven't been overly successful. But other countries get by much better without curiosities like "affirmative action".