Continued playing with the Linux development environment, and installed kgdb rather more quickly than I had expected—so quickly, in fact, that I found my main problem was that I needed a serial cable between the two machines. Contacted Robert Bickle, who said he would find out about it, and turned back to Vinum.
Bruce Evans has been complaining for some time about Vinum's messed-up header files, and Peter Wemm doesn't like the visibility of kernel data structures in data returned to userland, so set to fixing that. That turned out to be more involved than I thought. I wonder what I was smoking when I wrote those headers; half the external declarations for vinum(8) were in the kernel header files. Didn't get finished.
To Yana's school to talk about her university entrance, and took her laptop to see if we could connect it to the school and library network. We had the usual problem: find a live Ethernet jack. The obvious thing to do was to disconnect a running machine. Before doing so, I looked at the screen. That didn't look like Microsoft. In fact, it looked like an unconfigured X display with Netscape running. On a hunch, I pressed Ctrl-Alt-F1 and read:

FreeBSD/i386 (dhcp1299.strathalbyn.edu.au) (ttyv0)

login:

I laughed so hard that Yana tells me I went bright red in the face. And of course we had no trouble connecting to the network. It was handy, though, to have the Netscape on the FreeBSD box to tell us how to set the proxy.
More work on Vinum and the Linux development environment today, also preparations for tomorrow's AUUG executive meeting. Had a discussion with Ceren which suggested she's working on some conspiracy. Power to BSD!
Somehow a mail message from Network Solutions came through. They didn't understand the issue (of DNS configuration) and asked me to spell it out to them. I can't believe how bad these people are.
Up in the middle of the night to fly to Sydney. Managed (finally) to get hold of Henry, who was in a train, while we took the taxi into Sydney. The concept of mobile communications is good, but the implementation still leaves something to be desired.
Seems I wasn't the only person staying in Sydney tonight: David Newall was as well. With some difficulty managed to change hotels.
The exec meeting itself was uneventful. I wish we could conduct more of our business via Email, but Peter Gray is of very different mind.
In the evening to Cockle Bay for dinner. Quite pleasant, but noisy.
Up late this morning and off to the airport. Met Anna Potter in the Qantas club; she was just getting over a rather gruelling trip back from Chicago. I spent a couple of hours in the club and managed to catch up on my mail.
Somehow I'm tired. Maybe I'm trying to do too much. When we got home, had another 2½ hour power failure, which didn't help.
More catching up today. Somehow my idea of catching up on my mail when travelling doesn't work any more. Maybe I need to stay away longer. My mail system helped by bouncing all received mail older than about 3 weeks. Seems to be a bug in the interaction between postfix and fetchmail.
More phone calls this morning. Called Alan Nemeth, who is going to be my "shepherd" for the USENIX paper. They're certainly a lot more interested in the SMPng work than they were in the Vinum paper two years ago. I wonder if that is a reflection on the topic or the program committee.
The big news of the day was that the Sun disk array has finally arrived. It had been sitting round in San Francisco since early April last year. Had some fun unloading it, since the crate was too big to go through the door. Here are some photos.
Hugh Blemings started working on a slogan something like "Ozlabs: Power from the the Outback". Discussed the possibility of porting Linux to the RAID controller on IRC with Anton Blanchard and Martin Petersen, but came to no conclusion.
Later in the afternoon, noted that Stephen Rothwell was looking for a tuner for his TiVo, so spent some time looking for a dead VCR. It's good to have the ability to put photos up on the web at a moment's notice.
Off to Canberra today. Didn't meet up with Alan until we were on the plane again.
Not many people there this time; many are still on their way back from LinuxWorld. Spent some time talking with Anton about porting Vinum to Linux, but didn't get finished. Then I discovered that Anton won't be there tomorrow, and Chris Yeoh won't be back in time, so another chance for Aviator interoperability testing bites the dust.
Later talking with Rusty about some SMP work he has been doing, and ended up showing him my draft paper for USENIX. He came up with a lot of interesting points.
In the evening, people faded quickly. Had dinner with Alan and early to bed.
Not many people in the office today. Anton was in Sydney doing his tax returns, Rusty was busy, so spent most of my time catching up on things I could just as well do at home. Set up an rsync setup to put my web pages on front, but ran into firewall problems, so decided to continue from home.
Phone call from Henry today with some important news: they're going to lay me off. It's interesting to note the reasons then and now: I was hired as a BSD guru. Now they're laying me off because I'm a BSD guru. Well, I suppose that's fair: in the 11 months I worked for Linuxcare, they never got round to starting their BSD campaign.
Spent a bit of time removing Linuxcare from my system configuration, and then back to looking at the Storage Array. After a lot of playing around, discovered that the trays are differential SCSI; hopefully I didn't blow a host adaptor finding that out.
So now I don't have a job, I don't have anything to do, right? Wrong. I didn't do too much today, but that was mainly because I couldn't be bothered. My mail queue is growing again.
In the afternoon, Darah reminded me that she hadn't been ridden for quite some time. Yvonne's still getting over some back strain she got last week, so she didn't join me, and I spent 20 minutes riding Darah in the arena. She's remarkably hot: I was able to stop her from cantering all the time, but it took a bit of work. I need to ride her more regularly, especially since Bill Reid is concerned that she might founder.
Another lazy day. Found a reason not to ride Darah, but did find time to do a bit of driving practice with Yana, also in the arena. She discovered that a car is not as manoeuvrable as a horse.
In the afternoon, for no good reason I ported sceptre to FreeBSD. This is a circuit design system which used to be proprietary, and Pedro Giffuni had asked if somebody wanted to port it. Why did I do it? To use it? No, I have no intention of using it. To do Pedro a favour? Well, to a certain extent. But the real reason was that the source archive is in Friedberg, just north of Frankfurt and about 5 km from Rosbach, where I used to live 10 years ago. Silly reason.
Many phone calls today. I must have spent 2½ hours on the phone. It's surprising how much sympathy I got for being laid off, when in fact it doesn't bother me too much.
Did a bit of work on the tutorial for Singapore: I'll need to commit the "instant-server" and "instant-workstation" ports by the end of the month if I want to get them into the 4.3 release.
The LinuxWorld in Singapore is drawing closer, so spent most of today preparing for that. That also requires rewriting parts of "The Complete FreeBSD" and creating ports for installing frequently used workstation and server software.
It's beginning to look like I might have to go to the USA next week. Spent a bit of time thinking about that. Also into town to find out about mortgages. Didn't get too much done on the documentation front.
Round lunchtime to Rosemount in McLaren Flat to buy some wine. Turns out that the Grenache/Syrah/Mourvèdre I got on my last flight back from the US was much more expensive than I had expected: $29 a bottle. We managed to decide against that, and bought a rather light Grenache/Shiraz instead, also a dozen each Semillon, Chardonnay/Semillon and Chenin Blanc.
Visitors late this evening, Chris and Dave Yeardley of Narrawin Stud, and also Pam Hay. We're planning to create a Paso Horse Registry of Australia this weekend. I didn't stay up for them.
Spent some time working on my résumé today, not a thing I like doing. It never comes out the way I want it, but I suppose there's a need.
Did some riding with the guests in the evening. First time I ever rode Orlando. Yvonne was expecting me to really like him, but I found him rather boring and unresponsive.
So it's definite, I'm off to the USA on Monday. Shades of the old days before I joined Linuxcare.
Spent a lot of time on the phone today. We're living in interesting times.
In the evening, Jorge de Moya arrived and took us to dinner at the Manse in North Adelaide. A very nice place, good food, good ambience.
Today was The day for the Peruvian Horse Registry of Australia. Originally we were going to call it the Paso Horse Registry of Australia, but Jorge wasn't happy with an organization which catered only for Paso Finos and Paso Peruanos: he wanted an association for all gaited horses, and we didn't think we had a mandate for that. Registered our domain during the meeting via wireless Ethernet; it should be a day or two before it's active.
Not mentioned at the time was that Jorge talked to Chris and David about working at Olivaylle, resulting in Chris working there for about five years. David also went there for a while.
More heavy eating tonight. Not everybody wanted the Normans Grenache, so we had the Rosemount Grenache/Shiraz as well. Not nearly as boring as we remembered it from Wednesday.
Preparing for a journey is always like a lull before the storm, and today was no exception. At least we got things well prepared so that we could get to bed early and not be too stressed.
Up early and to the airport this morning. This time via Melbourne, where I had a surprising number of phone calls and even a possible change of schedule. It looks like it might make sense to go to Austin instead of San Francisco this weekend.
On the early flight to Los Angeles. Too early, somehow. It was still light after dinner, and I had difficulty sleeping. It wasn't made any easier when the captain woke us at 3 am telling us that we had a problem and we had to divert the flight to Honolulu: the toilets were blocked.
Got the toilets sorted out pretty quickly: we were only on the ground for 50 minutes, a third of which was taxiing. Landed in Los Angeles only 2 hours late, and was still able to catch my onward flight to Atlanta, where Mike Smith met me and we went off to dinner together.
Shimon Shapiro was there to meet me too, but they wouldn't let him into the airport because he always carries a gun.
Spent most of the day talking about our secret project.
The secret was a file system project that Shimon Shapiro was trying to get off the ground. It never eventuated. Mike Smith, who Shimon had planned to become my boss, moved on to bigger things at Apple, where he was to head the team porting Mac OS X to Intel, something that didn't sink in to me for quite some time.
More secrets. Interesting stuff, but it doesn't make for interesting copy.
The secrets are coming to an end. Off to Boston in the evening, being delayed at the airport and found it snowing when we arrived. Got out of the airport at midnight and drove to Henry Hall's place at Concord, where I was promptly given a beer, one of Maddog Hall's Big Organs. Plenty to talk about, and didn't get to bed until 3 am.
Woke up to the sound of Henry shovelling snow off the footpath: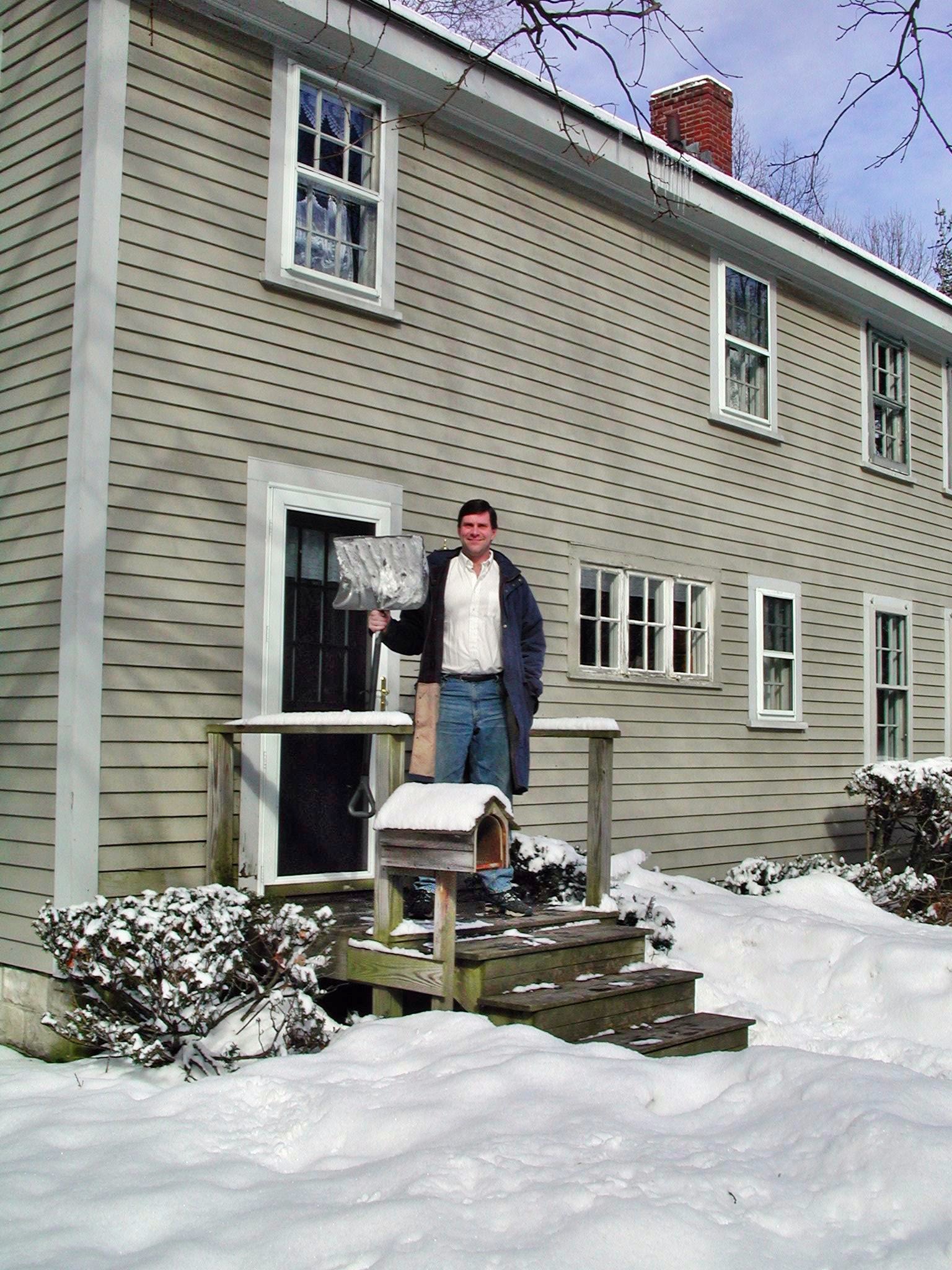 Ah, the things we miss out on in Australia!
A leisurely morning. We went out for breakfast, and I caught up on my mail. Wireless networking is a really civilized thing. After some consideration, decided to go to Austin rather than to San Francisco this weekend, and after discussing the matter decided to postpone the journey until Sunday.
Finally got on to Santa Wiriyaman and went to talk to the people at Sitara in the afternoon. I suppose it's a good sign that nearly all the old people are still there after over a year, and the climate still seems to be good, though at 200 people they're going through the usual growing pains. Even the receptionist asked me if I was coming back.
In the evening with Henry, not to Martha's Vineyard, but to Martha's Brewery in Nashua NH. Met up with John Lockhart, though not with John Hood, whom I had forgotten to call. A good time was had by all.
Somehow managed to oversleep, despite my alarm, for the first time in years, and didn't wake up until 11 am. To lunch down the same general direction as breakfast yesterday, and had pretty good American Chinese fare. After the terrible food I had in Maynard in autumn 1999, that's refreshing.
Did some shopping in the afternoon, along with an attempt to book a car in Austin. The person on the reservation line at Hertz had the IQ of a chimpanzee, so tried their web site, which was no better. Then tried Yahoo!, which found me a car with Alamo for only $19.95 a day. Of course, I had to sign up, and they wouldn't take just any credit card, it had to have a US billing address. One negative point for Yahoo!. So I tried on Alamo's web site, but they wouldn't give me anything under $60 per day. One negative point for Alamo.
In the evening, into Somerville to meet up with Geoff Steckel, who hadn't been at the meeting yesterday, also John Hood and Henry. Good food, but these places are all too loud to hold a conversation. Geoff seems to be doing some interesting work, and I'm seriously considering getting involved.
Up early to get to the airport this morning. I gave myself plenty of time, and that was a good thing, too: the airport was in Providence RI, and about halfway there it started snowing. By the time I got to the airport, there was about an inch of snow on the entire surface of the freeway. Ah, what joy that I don't have to put up with this at home any more.
A slow journey to Austin, three hops, but relatively relaxed. Michael Wu picked me up at the airport, and off to his place. Had dinner with Michael and Jerry Dunham. Seems it's difficult to find a restaurant in Austin on Sunday nights: the first two we tried were closed, and we ended up at the County Line on the Lake.
Up late and off to Denny's for breakfast. Austin doesn't seem to have changed much, though I see they're improving the junction of the I35 with the 2222. Then to to look for Stephanie Keene, without knowing which building she was in. As luck would have it, the first place I went to was the right one, not a mean feat considering the number of buildings they have.
Turns out that Stephanie is ex-Tandem. We had a long and interesting discussion which definitely increased my opinion of the company. One thing's for sure: IBM is engaged in the Open Source business with its usual thoroughness. I was almost disappointed: it would have made my decision a lot easier if it had not been. As I left IBM, I decided to go home to Australia and think it off, but on the way to the airport I reconsidered. IBM can wait; Sitara can't. So I flew back to Boston, arriving even later than last Thursday, and having more difficulties finding my way to the hotel.
Woke correspondingly late today, and tried calling Jie Yao, only to find he was out of the office. Finally got hold of Charles Richmond and in to talk about things.
Almost immediately to lunch with Charles (who hadn't had any breakfast) and Santa, and came to the conclusion that I would do all of the projects with a different level of participation. Looks like we can rope in Benno Rice.
In the evening out to see Henry Hall, who painted a remarkably plastic picture of IBM and Poughkeepsie which somehow, and somewhat incongruously, reminded me of the coal miners in the Ruhr Valley after the war. Took a Big Organ with me. Henry had only just discovered that it was really titled "Peculiar Greg's Big Organ", and he considers me the most peculiar Greg he has met. Must ask Maddog if there was an ulterior motive.
Then to a liquor shop to buy some wine. Rosemount were featured, so for the fun of it bought a 2000 Grenache-Shiraz. Really not a bad wine.
I had intended to get up earlier today, but somehow I seem to be more tired than I expected. At work found a number of people in need of my help. It's really nice to see how little the staff has changed since I was here over a year ago, and how pleasant the work atmosphere is. Charles rounded up a QosWorks 8000 for me, which in time-tested manner I intend to take back home with me. Peter also found a 24 port Cisco switch, somewhat overkill, but it seems I need a switch and not a hub for performance testing. It looks as if I'll need more hardware, but they didn't have it handy.
In the evening to the steakhouse in Moody St. Their house red wine was a Rosemount Cabernet-Shiraz. Amusing for a vineyard from just down the road from home.