For once I wasn't able to surprise Yvonne on 1 April; indeed, she tried it on me first with some claim about Johnnie Howard committing suicide.
Another quiet day catching up with odds and ends. In the afternoon over to Diane's place with Yvonne and Yana to look at the kitten, whom we have tentatively called Perdita. She's quite an enigma: looking more carefully now, she's possibly not chinchilla, though the hair is lighter in some points than in others. But she is blue-cream, which can only happen if both parents carry blue. Hardly any moggies do, so it really does look as if she's pure-bred. She was also quite comfortable with us around, so I'm pretty sure that she is used to humans. But how did she get in the shed?
Why do Vinum bugs have to show up just before releases? It seems we have yet another hang condition in lockrange. I've had more bugs in that one function than in most of the rest of the program. It looks like missing wakeups: a process ends up waiting on vrlock even after what it's waiting for has become available. Put in a workaround (check every second when waiting), but that's not ideal.
More work on the O'Reilly book. I need to get back to the Sitara code.
Somehow I got almost nothing in the way of work done today. Finally made the decision to move the web site offsite, to Safeport Network Services in Bethesda MD, USA. For reasons I don't really understand that took most of the day. Admittedly, I did find that I needed to weed out a lot of stuff. It seems that my public_html directory contained 750 MB of data, but only 110 MB was in use. Also discovered the dangers of using home directory relative pathnames (http://www.lemis.com/~grog/). It worked fine for me after I added a symlink to the web pages, but currently Yana and Yvonne are unreachable that way.
More work on the web site today, and got most of the data moved across. There are a surprising number of broken links. On the other hand, it's nice to have less network traffic.
Also got the Vinum bugs sorted out and committed. There's an interesting issue here: wakeup_one appears to be much better than wakeup for synchronizing processes where a large number are waiting and only one can get the resource (the "thundering horde" syndrome), but tsleep and friends use a global name space for their wait channel. As a result, it's possible that another process sleeps on the same address, that it gets woken instead of a Vinum waiter, and the Vinum process doesn't get woken. Result: deadlock. Fortunately, this problem will go away in 5.0, where lockrange uses a mutex.
Spent the rest of the day working on the Sitara code. It's less painful now.
I was planning to spend the whole day on the Sitara code, but big news got in the way: BSDi's software interests have been bought out by Wind River Systems, the makers of VxWorks. That kept us talking for a while, and in addition they had a teleconference on the subject. Nothing of great interest in the teleconference, but it was interesting to see the simultaneous comments on the IRC channel.
More Sitara work, nonetheless. It's tough.
Somehow I thought it was Thursday today, and that I had plenty of time to the weekend. sigh.
Spent most of the day working on the Sitara merge. On the FreeBSD architecture mailing list, solicited opinions on a loadable ddb debugger module, and to my surprise all answers were in favour.
I've been working too hard, so tonight I decided to sleep through, nearly 12 hours. Did little work: it's good to do other things once in a while. Didn't get up the energy to ride Darah, but I did mow the lawn.
Another quiet day. Spent some time setting up an rsync script to update the remote web site.
More work on the Sitara project. To my great satisfaction, I managed to complete my analysis of the patches, something I thought would take the rest of the week.
More updates to the web site. There are still plenty of broken links. Let me know if you find one.
Getting the AUUG-SA chapter started is taking up some time now. We're supposed to have a meeting tomorrow, and I did send out a message about it last week, but we are still missing things like venue and agenda. sigh.
More work on the Sitara code. Also did some expenses, which I always hate.
So, come the morning we had an AUUG-SA meeting planned somewhere in Adelaide sometime tonight to elect a 3 man committee with only two candidates. I sent out a message suggesting that we postpone the whole thing to next week, but Sarah wasn't happy with that, and we had a surprising amount of mail exchange and three new candidates, including Sarah. Finally gave in and decided to have a the meeting tonight at Marcellinas. They have a 150 seat dining room in the rear, which should be big enough for the next few months.
In the afternoon, Diane brought Perdita over. Yvonne took her down to the vet, who found a grass seed in her ear, conjunctivitis and ear mites, but nothing serious. He also gave her her first round of shots and proclaimed that she was probably only about 8 weeks old. She's still pretty timid; I hope that gets better soon.
The meeting was fun. I had guessed that 20 people would turn up, and by 7 pm sharp we already had 12, so I was expecting to go over the number, but in the end we only had 16. Signed up 5 new members today, including Daniel O'Connor, who only a few hours before had been saying it was a waste of money, and had an election in which we decided to take all candidates and just elect the positions. We ended up with David Bullock as chairman, David Lloyd as secretary, Ben Close as treasurer and Andrew Rutherford as dogsbody. Sarah had wanted to be secretary, but lost against David Lloyd, and decided not to be on the committee at all. Looks like we have the momentum to keep going for a while.
Finally I have the AUUG SA thing off my back. What a relief. There's still enough other stuff, including obviously Sitara, though.
Yana got her mobile phone from Mobile Innovations today. They have a pretty good offer: a phone, accessories, 200 minutes of off-peak time per month and two years of service for a total of $217 Australian (about US $ 105). They charge like wounded bulls for outgoing peak calls, of course, but that can be avoided.
It's Yana's first experience with mobile phones, of course, so I gave her the box with its myriad attachments and said "RTFM". Well, that wasn't that easy. It seemed you needed to call a phone number to activate the thing and agree to the tariff plan, which was rather underdocumented: there was a brochure mentioning the plans, but not which one Yana got. That didn't come until we called up to activate it. Even then, there was no information on things like SMS and voice mail, so I assumed they weren't available, but they appear to be.
Reading the FM was interesting. You have to guess which of the documents is the manual, since it doesn't say so until about page 4, where in passing it refers to "this user guide". I find it very badly laid out. In addition, it makes all sorts of noises when you turn it on. To quote the Ericsson web page,
"The Ericsson A2618s features a number of innovative features, including the unique "Start-up/Shutdown Show"which makes turning the phone on and off a real experience. There is no other phone quite like it!"
Fortunately, we found a way to turn it off.
Later decided that the current Ethernet setup on sydney, my laptop, wasn't too good, so upgraded to the latest version of FreeBSD-CURRENT and actually got the 100 Mb/s support working. Of course, it broke the Aviator support in the process. sigh.
Quiet day today. Didn't do too much work, but spent a bit of time trying to acclimatize Perdita.
Spent some time investigating the Aviator problems. It seems that the driver needs to be converted to NEWCARD. sigh
This morning Yvonne wanted to go to the Meadows Easter Fair. We'd been there a year or two ago, but this time it hit home particularly how much of it was just a junk sale. Plants could have been interesting, but we had agreed not to buy any plants.
Since we were under way anyway, we decided to investigate the new winery in Meadows—I forget the name. I wasn't very impressed by the wine, so on to Normans Wines in Clarendon, where we bought a total of 42 bottles, cleaning them out of their Chais Clarendon Chardonnay. I've decided their reds aren't spectacular: they had an unfiltered Grenache on special, and well it should be. Almost completely tasteless.
In the afternoon, having found the maintenance manual for mojave (which Yana calls firefly) online, finally got round to changing the display, which has been causing problems for over a year now. I'm glad I had the manual: even so it wasn't easy. To replace the display, you first need to remove the keyboard, the hard disk, the back of the unit and the palmrest. Particularly the palmrest was a problem: if I got it right in the end, you need to lift it at the back first, and then slide it out forward, since there's a tab which hangs over the back, just above the parallel connector in the photo below: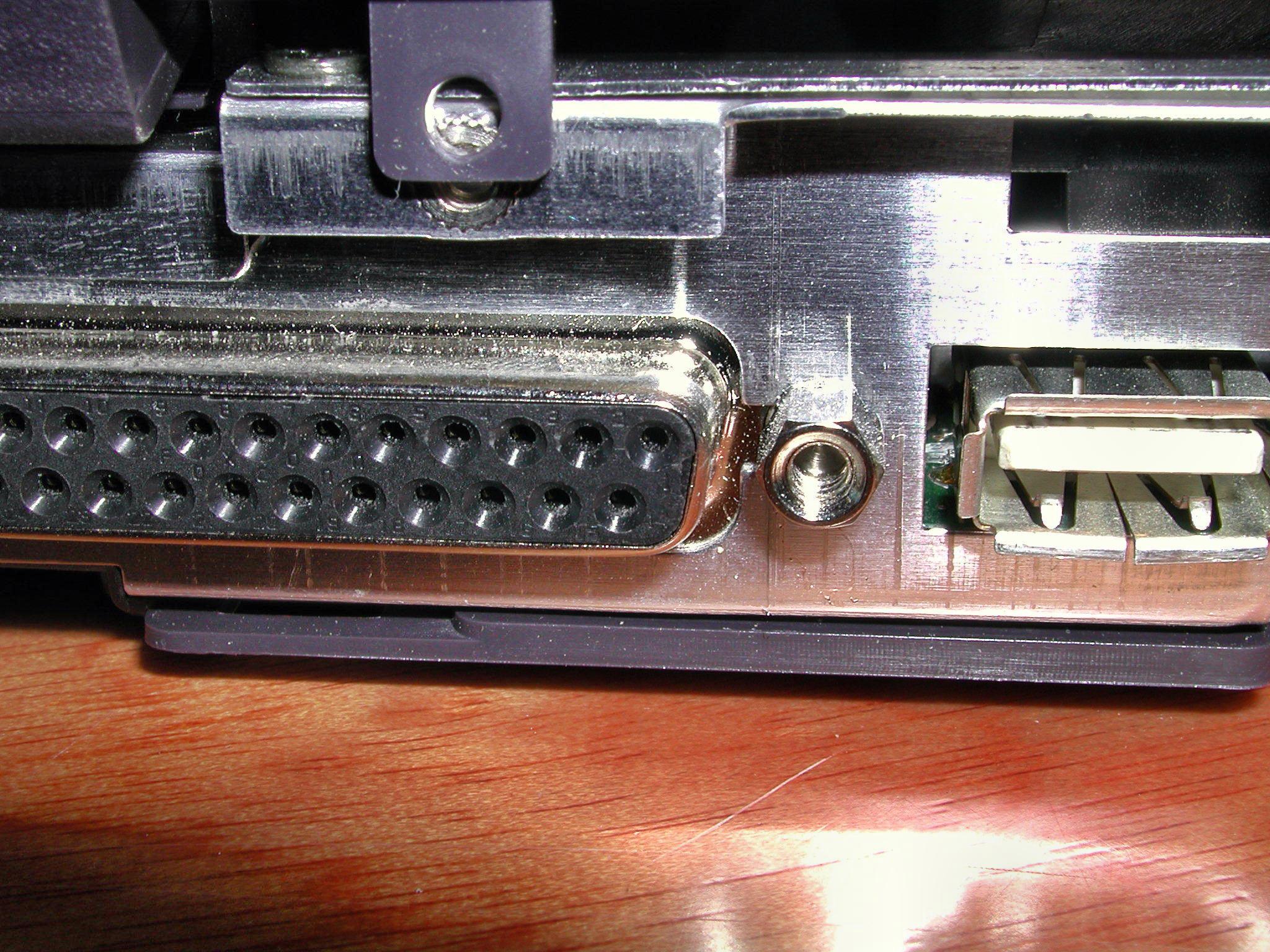 Easter Sunday today. Went to Adelaide to pick up my aunt Freda and my father:
They were staying at my other aunt Audrey Schaedel's house. Audrey is already in the process of moving out, and it seems somewhat sad. It's been nearly 50 years since I first stayed at that house.
Spent a quiet day. At least things aren't as hectic as they have been. While trying to download some photos from my digital camera, discovered that the flash card support is broken in NEWCARD: it causes an immediate panic. sigh.
Nothing much of interest today. Spent most of the day trying to get my paper for USENIX finished, and wasn't very successful. Small consolation that others are in the same boat.
Spent most of the day working on the USENIX paper. Why is it so difficult to write 10 pages about stuff I know?
In the evening, Yvonne took my father back into Adelaide, and was delayed on the way back, so I had to feed the horses. In the process I had an opportunity to observe equine intelligence. They were in the South-East paddock, which is adjacent to the North-East paddock, with a gate between the two at the West end. I put some hay out for the horses in the shed on the middle of the fence between the two paddocks. They came over to the fence and wanted to go through, but of course they couldn't. I opened the gate, about 50 metres away, but they wouldn't come. Finally Pebbles went, but I had to get a halter and lead Tiquita through. La Tigre followed, but Larissa stayed stubbornly on the wrong side of the fence. I finally got her and led her into the paddock. When I let go, out of gratitude she turned around and kicked me in the stomach. Good luck to whoever gets her.
Amusing incident at breakfast this morning: we saw a fox running across the paddock. That was unusual enough, and not very welcome: foxes are really dangerous animals in the relatively fragile Australian ecosystem. But what made this one interesting was that he was running backwards and forwards so fast. Then we saw why: he was being chased by four magpies. No wonder we see so few of them.
Spent most of the day working on my USENIX paper, but since Yana was off to Perth today, also tried setting up a PPP connection for her on her laptop. That kept me busy, but it looks as if it works. Even wrote a short document for her to explain what to do in Perth.
Finally got the USENIX paper done, at least reasonably. I'll doubtless tidy it a bit over the coming week.
Long talk on the phone with Larry Macfarlane of Wind River Systems. He has some interesting ideas.
Yana called from Perth. She's having trouble with PPP. I can't work out why, but the connection keeps dropping. I wonder if she's having trouble with the phone line.
I have the USENIX paper behind me, right? So why didn't I get anything else done today?
Finally got back to the Sitara stuff. Merging patches is a real pain. I wonder if there's an easier way.
I have significant issues with my mouse. For reasons I don't understand, it sometimes generates a button 2 event ("paste") when changing screens. Today it vomited the password to the FreeBSD-announce mailing list (something reserved for the Core Team) all over the #BSDCode IRC channel:
Date: Sun, 22 Apr 2001 15:45:06 +0930
From: Greg Lehey <groggyhimself@lemis.com>
To: FreeBSD Core Team <core@FreeBSD.org>
Subject: Grrr. I've accidentally given out the key to -announce

I *hate* this mouse. It just went and did this all over #BSDcode:

> o post to announce (as I'm
> sure I have said on a couple of occasions, the first line needs to be:
> Approved: letmeout
> and it should go. Don't cc: ot bcc: it. Send a seperate copy if you want
> to.
<cmc> groggy: Space before a period?
* groggy-P murders his mouse, grinds it up and swallows the remains.
<green_> nice paste there
<kkenn> groggy-P: just commenting
* groggy-P blushes crimson.

We'd better change the password as soon as possible.
Jordan Hubbard reacted quickly:
Date: Sat, 21 Apr 2001 23:23:17 -0700
From: Jordan Hubbard <jkh@osd.bsdi.com>
To: core@freebsd.org
Subject: new announce password

Oh yeah, for those too lazy to look in the config file on
hub, the new -announce approval password is "groggydidit"

It'll take me a while to live that one down.
Summer's over. The rain's really coming down now, and the temperature only made it to 14°.
More Sitara stuff. I'm gradually getting through the conflicts. Also installed FreeBSD 4.3-RELEASE on daemon, which was much more difficult that it should have been.
Finally I'm making headway on the Sitara code. In the process found a conflict between the address families used in 3.2-based Sitara and now. It will require changing the address family for two Sitara-specific protocols, with the corresponding binary compatibility issues. To ensure it won't happen again, committed a change to the source tree reserving the numbers.
Poul-Henning Kamp saw this and noted an anomaly in sys/mount.h: it redefined AF_MAX and included another unrelated header file. We thought about it, and I went and checked the userland sources: only referred to in usr.bin/fstat and usr.sbin/pstat. Fixed that, did a make world with no problems, and committed the changes. Then I realised I had forgotten to test the kernel...
After frantically patching about 60 source files, bde replied, suggesting that this was not the way to do it. Sigh. Another pointy hat.
Gradually I'm making progress on the Sitara merge. Nearly got as far as a kernel build today; only 13 files didn't compile, and I'll fix them soon.
ANZAC day today, but that didn't stop me from working, of course.
Spent most of the day working on the Sitara code. Somehow managed to leave out one the most important parts, but managed to merge that later.
More work on the Sitara stuff. It's coming ahead nicely now, and I should be on target to finish at the end of the month. Tiring stuff, though.
Why does everything seem to happen at once? Maybe because I plan it that way? After a week of relatively mundane stuff, today was different.
Into town, first to the accountant for my tax returns, which proved to be less of an issue than I had expected. Then to the ADUUG lunch, this time at Boticelli's in Flinders St. Food wasn't bad, and the place looked quite nice, but it's surprisingly noisy. We couldn't work out why, and decided that it must have something to do with the decorations, though there was nothing obvious.
After that to Internode to set up the machine that they have generously donated to AUUG as the new web server:
That was fun: we had a few hardware issues, and it took over an hour to install the system. Still, we had it up within the time I had allocated, and I can spend the next few days populating it.
Back home, got a phone call from some people in Queensland who had somehow managed to install a new (4.3) kernel and not the 4.3 userland, and they were concerned because they could no longer get Vinum up and running. Spent half an hour and got their mail volume back up again. It's interesting to see the problems others run into.
Back to the same old drudge today. I'm coming closer to building a kernel with the new Sitara code, anyway. Only 7 files to go.
Still more work on the Sitara code. The end is near, though. Today I got as far as the kernel link before it died with the inevitable undefined symbols. I'll be glad when this is over.
The last day of the Sitara code! And only one file to revise. Unfortunately, it was a big one, and I didn't get it finished. Grrr.