Summary
The Kenwood Chef is the standard by which kitchen machinery is measured—or it was. It has the reputation of being indestructible and flexible, and the fact of being very expensive.
My experience has been very different. I have had two mixers in 5 months, and they have been the two most unreliable devices I have ever had in my kitchen. I believe that the manufacturer—in Australia it is De'Longhi (who sometimes also spells the name "DéLonghi")—has drastically dropped his standards, including service, and is living on the reputation of the name. At the time of writing, a little over 5 months after I received the first unit, both the first unit and its replacement have failed, and I have had over a month waiting for De'Longhi to repair replace the first unit, where they showed no reaction whatsoever. Whatever the outcome of the repair or replacement of the second unit, I no longer have enough confidence in the brand to continue using it. I'll look for a more reliable alternative.
In more detail
In January 2009 I decided to replace my aging Bosch mixer with something a little more powerful and with a higher volumetric capacity, in particular for mixing bread doughs. After a few experiments with toys, finally accepted the opinion voiced from several sides and bought a new Kenwood KM 300 from an on-line auction.
It arrived on 13 January 2009, and I used it to bake about 3 loaves of bread. Then, on 20 February 2009, it broke catastrophically: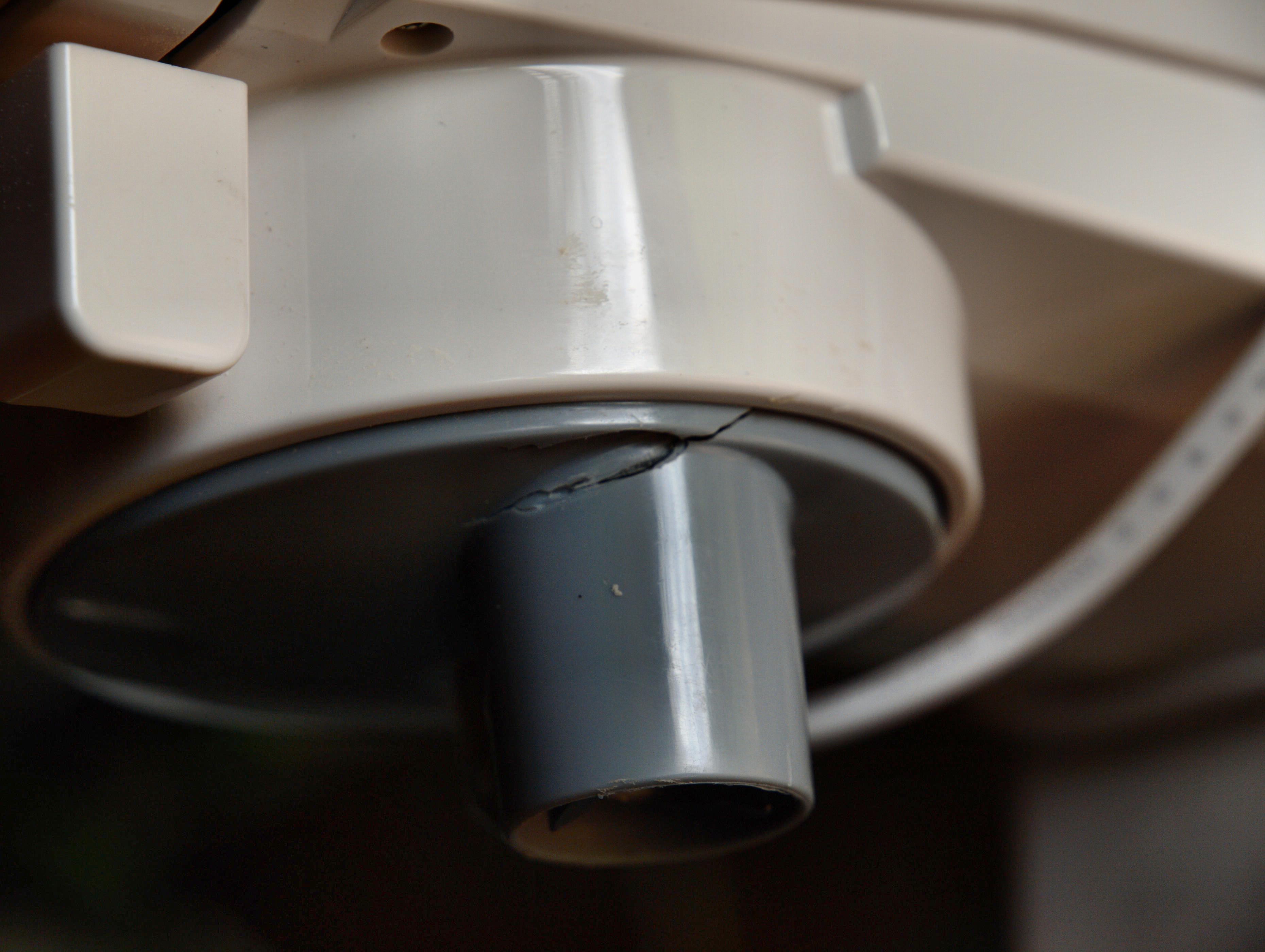 On 24 February 2009 I took it to the local Kenwood agent, who made a lot of fuss about the warranty, though I produced the paperwork. They told me that Kenwood was not very fast in supplying spare parts, and that I should expect to wait at least a week.
That was an understatement: after three weeks I had still heard nothing. I called up and was told that they were trying to "source" a replacement part. "Source"? You'd think that they had never needed to do a repair before. What kind of service is that, regardless of the quality or price of the device? I asked her for a date, and she called back later: not before June, in three months time. I got quite upset, and they finally agreed to replace the unit.
Even the replacement unit took its time, and I didn't get it until 25 March 2009, after another nine days, and 30 days after taking it in for repair. That is completely unacceptable, regardless of the price.
That should have been the end of it, but it wasn't. On 27 June 2009, only three months later, the replacement unit also failed: it looks like the electronic speed control has failed, and it randomly speeds up way beyond the speed to which it has been set. I'm writing this on the following day, the Sunday, so I don't have feedback from the repairers. We'll see what happens.
And the quality?
The one thing that everybody agrees about regarding the Kenwood Chef is that it's built like a tank. But is it? Certainly my experience doesn't bear this out, but there are other things too. It doesn't compare well with my 27 year old Bosch mixer.
What about the functionality? That could be better too. It needs a lot of manual help to mix doughs. On at least one occasion I have completely ruined a (Yorkshire pudding) dough because most of the flour didn't get mixed in. That's common enough, of course—my Bosch needed help too—but I get the feeling that the Kenwood is worse than most.
The details also show lack of care. 34 years ago, the predecessor to my current Bosch already had a cable storage roller and a cut-out switch which turns the unit off if it falls over:
The Kenwood has neither, and the cable hangs messily around the unit:
The control wheel is also loose:
I don't know if this is part of the reason it failed, but I can't recall any change in this looseness. Certainly the way it sticks out from a plane surface is asking for some kind of damage. It would have cost almost nothing to recess it.
In addition to all that, the motor doesn't seem to run as smoothly as a high-quality motor should, and it smells of ozone or similar. After 25 years, the Bosch still sounds better, and it doesn't smell. But it seems that modern motors do make more noise, for some reason.
My conclusions
I bought a Kenwood mixer, despite the high price, because I didn't want to have any problems. I lost badly. The manufacturer appears to be unwilling or unable to supply even a semblance of good service, and the appalling quality I have experienced suggests to me that they're just living on the reputation. The Kenwood is a British design; I'm reminded of the demise of the British car industry. I'll give the manufacturer a chance to explain what has happened, but I can't see how he will be able to do so to my satisfaction.