| | | |
| --- | --- | --- |
| | | |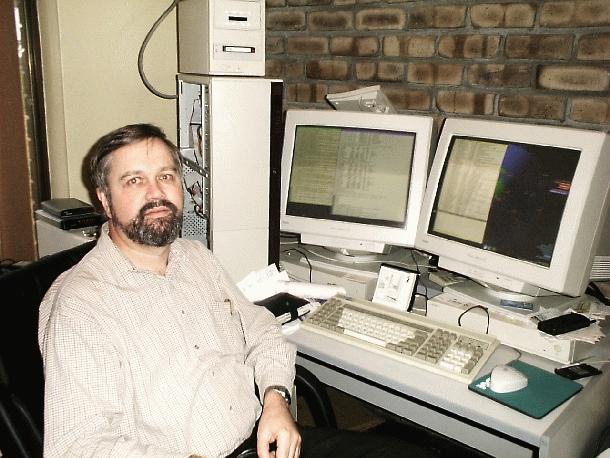 The photo shows me in my office in Echunga in front of two computers and an X terminal. It was taken in September 1998. This page reflects the situation then. Since then, I've moved to a new office.
In this office are a number of machines:
freebie.lemis.com, an AMD K6/233 based machine (since upgraded to a K6-2/333) with 160 MB memory running FreeBSD 4.0. The motherboard is a RISE Mustang-AGP R581A, which uses the SiS 5591/5595 chipset. This is the machine to the right of my head. On top of the machine is a shoebox with the Exabyte and Conner tape drives, and on top of that, off the top of the photo, is a Nakamichi CD-ROM changer.

iskra.lemis.com, a SPARCStation 2 which sometimes runs SunOS 4.1.3_U2 or Solaris 2.2, but which is mostly just a prop for the left-hand monitor.

papillon.lemis.com, an AcerNote Lite laptop running FreeBSD 3.0. It's not much of a machine, but it's useful when I'm travelling. You can barely see a hint of it behind my right shoulder.

panic.lemis.com and daemon.lemis.com, a single machine I use for developing and testing vinum. It's a 133 MHz original Pentium with 64 MB of memory (far too much, it takes too long to dump) and lots of disks. panic runs FreeBSD 3.0, and daemon runs FreeBSD 2.2.7. I choose the system by booting from a different partition (/dev/da0a for panic, /dev/sd1e for daemon). The keyboard is propped up on top of the drawer of four old, slow SCSI disks which I use to test vinum. The monitor is a NEC 5D, about 9 years old.

On the desk you can see two printers: on the left a Hewlett Packard LaserJet 6MP (with PostScript), which is connected to freebie, and behind the mess of papers an Epson Stylus 740 Color connected to panic.

raptor.lemis.com, an SGI IRIS 4D/25 running IRIX 5.3, but with covers which claim it's a Control Data Cyber 910. You can see it on the right-hand side of the photo below. The keyboard on the desk in this photo, taken in December 1998, is the Avant Stellar. See that horrible inverted T? The coffee isn't there any more. The rest of the mess has changed, but the quantity is roughly the same.





x-rated.lemis.com, a Labtam X terminal, under the right-hand monitor. The box is the same size as the SPARCStation, so it props up the monitor.
The monitors are both 21" iiyama VisionMasters, which I can heartily recommend. Unfortunately I don't know where they are available outside Germany, though I'm told they're available in the United Kingdom [of Great Britain and Northern Ireland] as well. They are both connected to two machines: the left-hand one has a BNC connection to iskra and a D-Sub connection to freebie. The right-hand one has a BNC connection to raptor and a D-Sub connection to freebie. freebie is running an ancient version of the XI Graphics X server, which can handle some combinations of display cards.
The keyboard is a Northgate OmniKey/Plus, now retired. It was the best keyboard I ever had, but after 8 years of constant pounding it wore out. I'm now using an Avant Stellar keyboard, which is very similar, but which has this damn silly inverted T cursor pad invented by some marketeer who didn't know how to type. If anybody knows where I can get a new OmniKey/Plus, please contact me.
To the left of my head you can see two external modems on top of a UPS. The UPS supplies freebie.lemis.com and iskra.lemis.com.
---

$Id: old-office.php,v 1.10 2016/06/08 06:31:53 grog Exp $