A third of a century of FreeBSD?
It looks as if I'm going to write an article for the FreeBSD Journal about the Early Days. And by way of encouragement, they want the article by 15 February.
I've been using BSD since 19 March 1992, but that was BSD/386, a commercial sibling. It wasn't until the following year (19 June 1993, it seems) that FreeBSD was born (or forked, or whatever). From the calendar.freebsd file:
06/19 Charlie Root <root@FreeBSD.org> born in Portland, Oregon, United States, 1993
The original suggestion was that I should write about the issues relating to writing "The Complete FreeBSD", in the assumption that it would have been particulary difficult in those far-off days. Yes, it wasn't easy—writing a book never is—but the issues weren't related to the technology of the time, though I did have issues with the time it took to format the book.
The real issues are elsewhere: how to write what people want to hear, how to structure it logically. And that was quite a problem, with the result that I changed the structure of the book from one edition to the next. I submitted the fourth edition for publication almost exactly 20 years ago, and it had taken me well over a year and a number of missed deadlines. Things would be no different today.
In fact, if anything, they're worse this time: explaining how to install or use software is fairly well defined. But what historical events are of interest to the readers? I decided that the history of the book was unintersting and started writing something about my experiences. And of course I was immediately unhappy with it. This article will be mainly thinking and only a little writing.
Keeping distress asleep
It seems that my attempts to get distress (Microsoft "Windows" 10 box) to stay hibernated were not successful: it keeps waking up, and I can't tell it not to. But there's another possibility: get it to sleep, like I do with dischord ("Windows" 7). That only goes via a secret menu, but it seems to work.
Only: it still keeps waking up, apparently every 30 minutes. I had found a way to disable the timers, via a link "change settings that are currently unavailable". But it didn't seem to work.
The rider or the horse?
Do what I may, Yvonne is dead set on riding again. I hope the "dead" is only figurative. She seems to think that if the horse is calm, there will be no problem. But it's not the horse that's the issue: it's the rider, and she's fragile. She could seriously injure herself just trying to mount the horse, even if it didn't move at all. Five years ago the accident was understandable: the horse stumbled (hurting herself as well), and Yvonne was thrown onto a rocky path. The result was ugly:
But the next time was very different. It was in the arena, she was wrapped in cotton wool, and the horse just bucked. And despite that she was more seriously injured than the first time:
In principle that's the kind of fall that every rider has at some time or another. Even without any protection, most people just get up and get back on the horse. What's going to happen next time? Death or "just" paralysis?
No lawn mowing
Paul Donaghy along today to mow the lawn. He didn't.
Before starting the mower, he always looks underneath. What he saw surprised him. One of the pulleys guiding the drive belt had been displaced, and a tie bar for the front axle had been dislodged: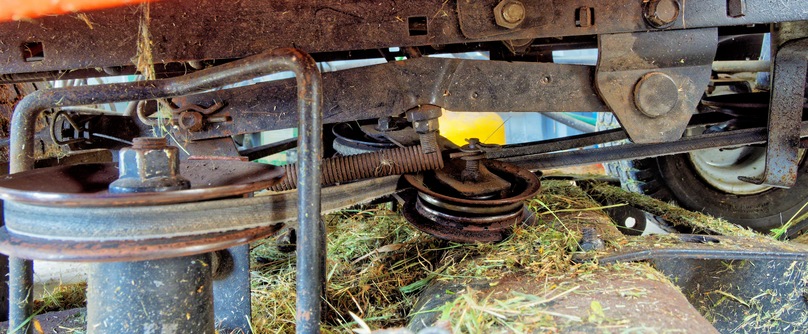 How did that happen? Paul is fairly sure that he can get it repaired at the Men's shed on Saturday, but for today it was back to looking at the sprinkler system. He found a number of leaks, but not the connectors required to repair them. I'll have to go and buy some more. Dammit!
"Asian" food again
Various older dishes for dinner today: ikan goreng and spiced green beans. It's been a while since I cooked them, and I had minor tweaks to the beans. Also took a couple of photos.
And the taste? Fish was OK, but the (required) snake beans were too tough, maybe because they had been frozen for so long. But next time I'll take normal green beans.