| | | |
| --- | --- | --- |
| | | |
I studied chemical engineering at University, so it's not surprised that I got into brewing beer at that time: brewing is the world's oldest application of what we now know as "chemical engineering", and it held a particular fascination for impoverished students. After university, I moved from England to Germany and stopped brewing: not only was home brewing illegal in Germany at that time, but the commercially available beer was better and cheaper than what was available in England at the time (the quality issue has changed; the price issue has not). As a result, I didn't brew any more beer until August 2003, after over 30 years.
With this background, I'm still more interested in the techniques than faithful reproductions of well-known beers. On these pages, I maintain a brewing log and also some odds and ends which I find useful. Some of them are of no use to anybody else (the weights of my brewing utensils, for examples). You may find some of the other ones interesting.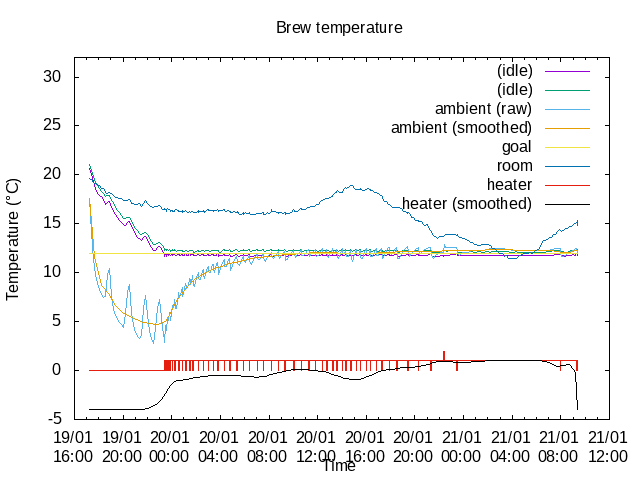 Fermentation temperature graph of my brewing fridge. It's updated about once a day. This is the system referred to in the slashdot article on 13 January 2005 and described in more detail here.
Other plots
---
$Id: index.php,v 1.91 2008/08/28 02:41:57 grog Exp $