These photos document the latest in a long series of problems with the phone line from my house to Telstra's Echunga telephone exchange, 4.5 km away. On this occasion, we had a total failure of all five pairs after heavy rainfall. It's not clear that this temporary fix was the place where things failed, but it certainly looks like a good place to start, and under those circumstances you'd expect somebody from Telstra to have got there before me.
The outage was still ongoing on Wednesday, 26 February, when I took the following photos. I had been told a number of reasons for the delay:
There was no line fault, it must have been my telephone.
It was an exchange fault.
The line fault was physical damage caused by a third party, so Telstra was not liable to perform the repair (this from Deena, the high-level complaint person).
The damage was related to an E71 repair (see the photos above). From a previous fault description I discover that this is a code for ``cable fault, longer duration''. In other words, there is already work in progress on this cable.
Due to contractual obligations, the line fault had to be repaired by a contractor.
The first contractor was not equipped to perform the repair, since the cable ran under a road.
The photos below show the truth: all these claims are incorrect, with the possible exception of the need for a contractor to perform the final repair. There is no road, and the people performing this emergency repair (laying a slave cable) are Telstra employees, not contractors. There is nothing out of the way in this repair: the cable is old (lead mantle, paper insulation), and things like a tree root can rupture the mantle, after which water can get in and cause the fault.
I spoke to the linesmen on site, and one of them told me that they were having great difficulty sounding out the lines. They suspect other problems in the cable on both sides of this damage.
Fault site. The fault lies between the tent behind the Telstra truck away to another tent about 150 metres away, near the cars on the road.
The slave cable runs along the ground to the left of the fence.
Looking back from the other tent.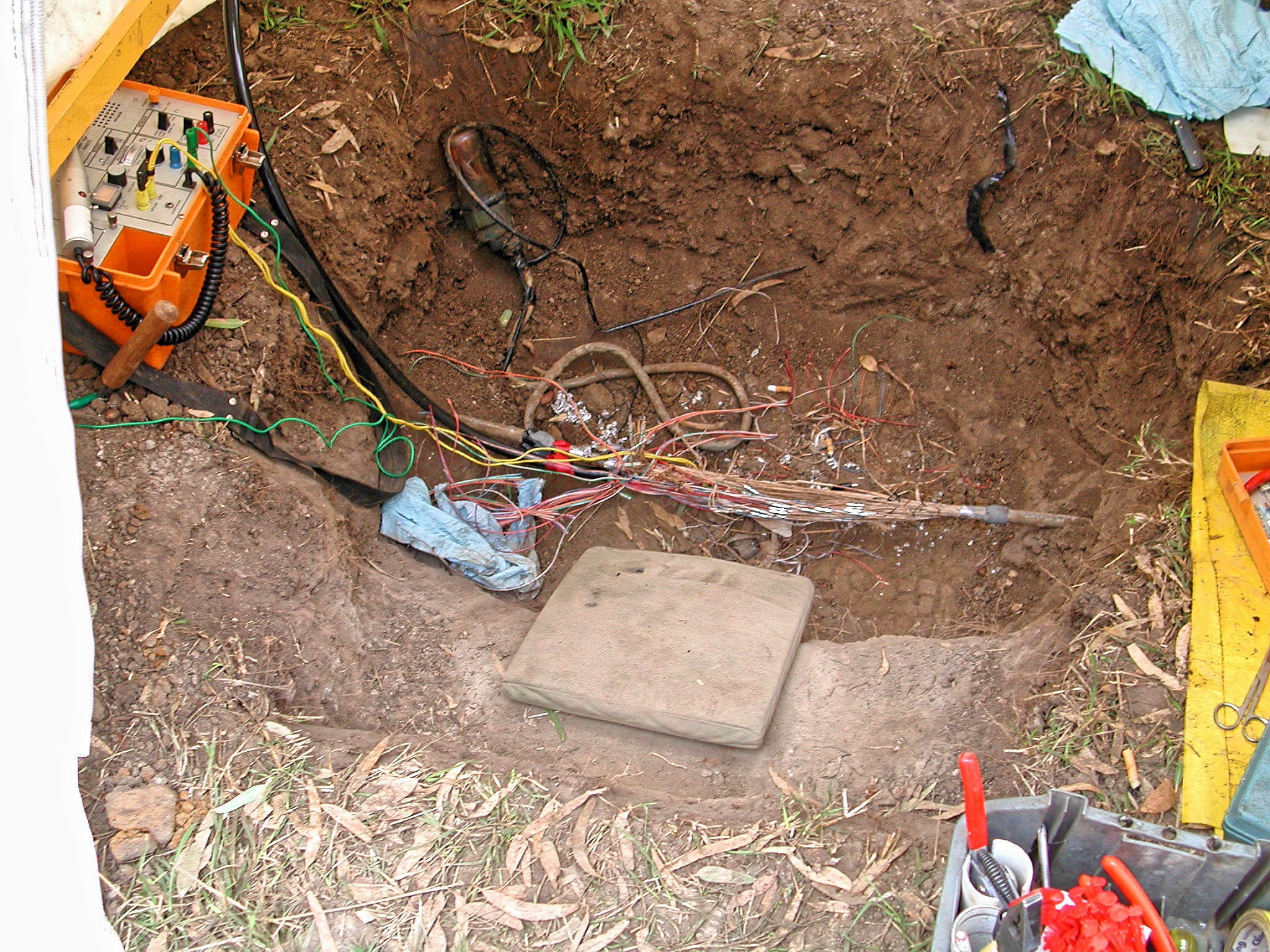 The state of work in the first tent. The work was complicated by poor line quality in the remaining cable.
Close up of the existing cable, showing the lead mantle/paper insulation technology.