And another year has gone by, and here's our excuse for a Christmas card. It's been a funny year: it started off slowly, with little to report, and then in the in the last three months things sped up, and the last month has been really hectic.
A thing that we didn't mention in last year's letter was that we're thinking of moving to a more modern house. Particularly the strange layout and poor insulation of the current house are getting on our nerves. The problem was finding appropriate blocks of land to build on.
In March we finally found what we were looking for, a block of land in Enfield, not far from the NBN fixed wireless Internet tower (important for Greg). We signed a contract, and then spent a lot of time considering where to put the house. Then, after comparing maps, we came to the startling discovery that we couldn't put it anywhere on that plot: the estate agent had sold us the wrong property! All that work for nothing, but at least we got out of it before we incurred any expense.
As the year wore on, Yvonne got more and more desperate, and even wanted to buy the house across the road when it came onto the market. Finally, at the end of November, we found a plot in Dereel which looked good. And while we were looking at it, two other properties came on the market! Finally, on 11 December, we purchased a block of land in Stones Road, Dereel. And then on 17 December we signed a contract to have a house built on it. Current estimates are that it will take about 9 months before we can move in, but things are under way.
In other news, the weather this year has been really strange. We had one of the hottest summers on record, but the following spring was very cool, and even in the beginning of summer things are cooler than usual. Also in March somebody lit a bushfire in Dereel, and 16 houses were destroyed, including one belonging to our friends Peter and Victoria Dilley. Fortunately we weren't at risk, but it severely shook Yvonne.
In April, our daughter Yana graduated from the University of Adelaide, and of course we went to the ceremony:
It was the first time Greg had been out of Victoria since we moved here nearly 6 years before.
In September we replaced both of our cars. That's doesn't sound particularly unusual, but for us it is: Yvonne had had her car for over 13½ years, and Greg had had his for nearly 12 years. Yvonne's car is a station wagon, primarily for transporting big dogs, but it has space for passengers too:
One topic that has kept us occupied is our connection to the Internet. We don't have ADSL here, so we had the choice of satellite or mobile phone technology, both of them flaky. The National Broadband Network started planning to install fixed wireless in mid-2011, and the presented their plans to the people of Dereel two years ago. But a small number of vociferous Luddites put in objections that took 12 months to overrule, with the result that the tower was only completed in late November, and we didn't get a connection until 12 December. We now have connections to two different ISPs with a total bandwidth of 50 Mb/s down and 10 Mb/s up.
Our animals have given us some reason for concern. In August Greg's mare Darah was diagnosed with liver degeneration, and two months later we had to put her down. She was only 21. And in the meantime, our dog Zhivago (in the photo above) was diagnosed with bladder stones and had to have an operation. He's a lot perkier now.
The cats are doing well. Piccola, our Siamese Chocolate point, is in her prime. She is the most beautiful cat we ever owned and we never get tired admiring her. Lilac, our lilac Burmese, is now nearly 17 years old and is starting to show her age. But her appetite is still good and she loves to sit on our knees and bellies and spreads hair all over us.
In September there was also a new addition to our horse herd: Bjoska NS, half Icelandic, quarter Paso Peruano and quarter Saddlebred. She is a lovely 7 year old mare from Chris Bahlo's Narrawin Stud. She needs some more training, but is wonderful to ride and has a heavenly comfortable gait, just like Yvonne's other beloved riding horse, Carlotta NS.
Zhivago seems to be doing well now after his bladder operation, and he's much perkier than ever before. But he's now 7 years old, and who knows how long he will last? So just yesterday, we bought not one, but two new Borzois: Zagar, a 7-month-old male and nephew of Zhivago, and Tanya, a 9 week old bitch and granddaughter of Zhivago: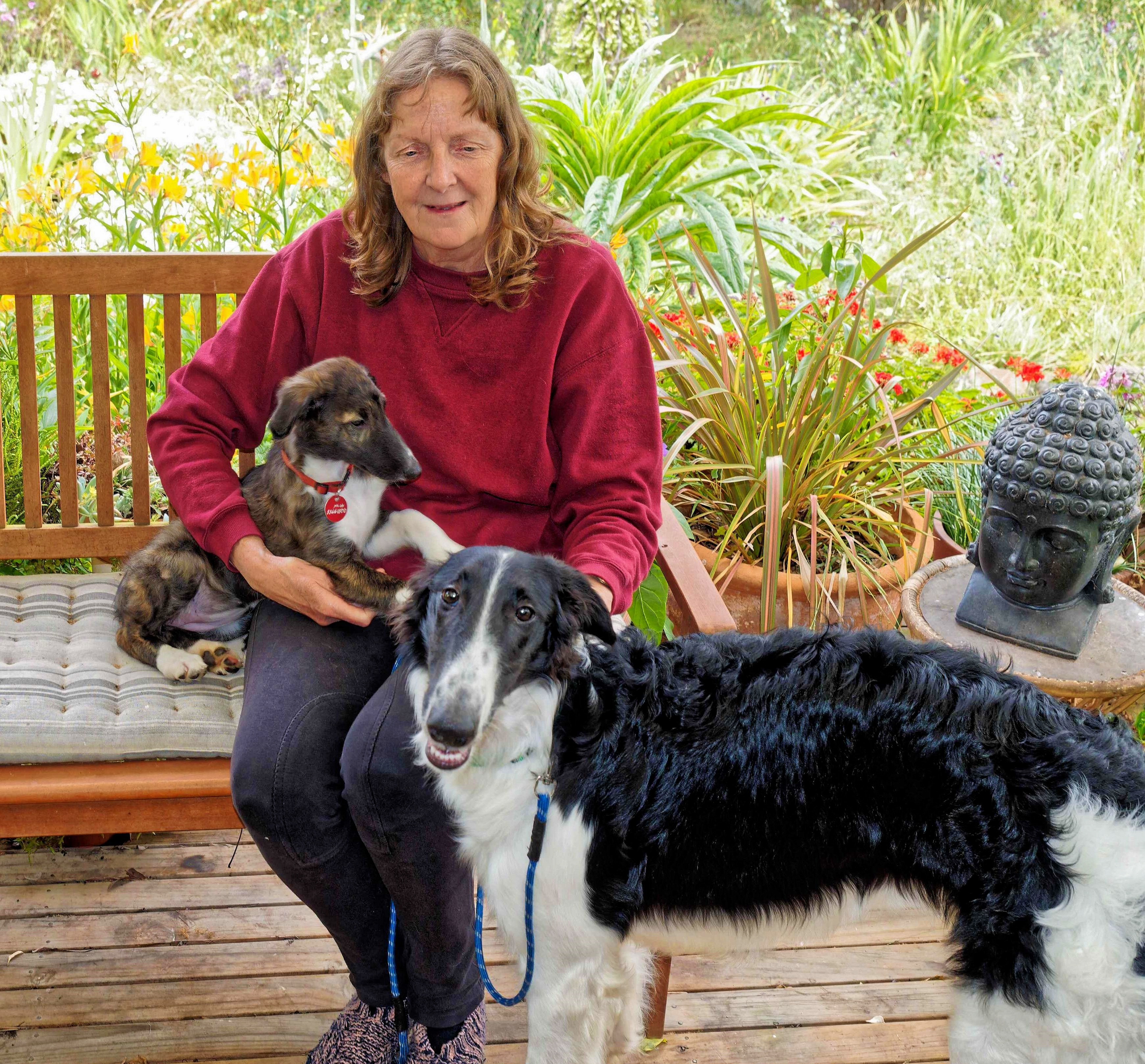 Wishing you all a beautiful, peaceful Christmas and a successful, Happy New Year.
Greg and Yvonne and their four-legged friends, Vago, Zagar, Tanya, Lilac, Piccola, Bjoska, Carlotta and Wotan.