Yvonne Lehey
Last update: 6 September 2003
Unsorted pictures, many of horses
Welcome to my home page! Have a look around and, hopefully, enjoy my story.

This is my Peruvian Paso mare, Flamenca, my pride and joy.
Born in 1949, since 1985 married to Greg, the Wizard of Oz, who is very well known and respected in the computer world, and an author of computer books. Our daughter Yana was born in 1985. She is currently studying at Adelaide University, and has not inherited my passion for horses, which I find quite sad, but Greg does share my love for them, and from time to time, when he can get away from his computer for an hour or two, comes with me for a little ride.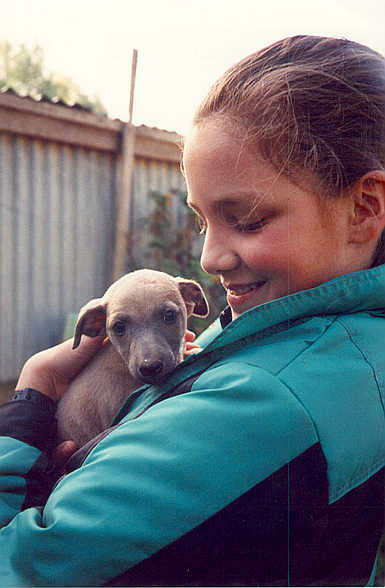 After many years in Europe, we were looking for a new place to live, and decided to move to Australia in 1997. For a few decades (sounds horrible, doesn't it?!), I had worked in France and Germany as a trilingual secretary and translator. Now I am retired, which is really wonderful. (I wonder why I am still so busy....).
Not working anymore gives me the opportunity to do the things I really like, such as spend my time with the horses, dogs, and cats, do some painting or sculpting, train our young horses and even go riding from time to time.
I have done drawings and paintings of horses almost as long as I can remember, and become fairly skilled with it over the years. I use all techniques, from charcoal and sanguine drawings, to pastels, water colour, acrylic or oil. I also do wax models for bronze moulding. My favourite subjects are, of course, horses, and here especially Arabians and Gaited Horses, but I have done many other breeds as well for my clients and friends, and enjoyed it. It happens to me to paint dogs and cats as well, as you will notice when visiting my art page, cavall'art
We live in South Australia, 45 km south-east of Adelaide, on a 50 acres property near Kuitpo Forest, a beautiful State forest - a real riders' paradise. Other family members are Tina and Tony, two fawn whippets, Lilac, a Burmese cat, whose colour doesn't have to be mentioned, and Fluffy, our long-haired rescue cat.
I have always loved horses, but had to wait until I was 21 before I could afford to own one. But from then on, there have always been horses around me. I started with Haflingers (the blond Tyroleans) which I rode and bred in France for quite some years. Then moved to Germany, taking with me , my Borzoi, and Nouira, my beautiful, gentle Purebred Arabian mare who was in foal then. Her filly, Nur-al-Dahr, became Greg's horse, and they had a great partnership for many years.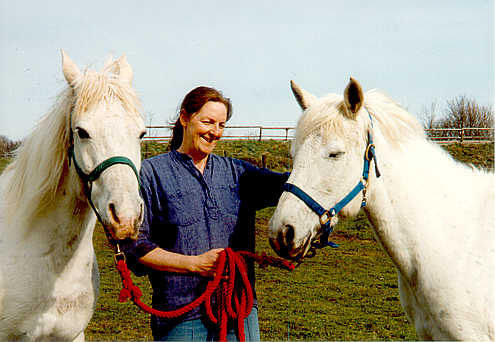 Nouira is on the left, Nur on the right. Nur doesn't always look that stupid.
When, in 1996, I got my Peruvian Paso mare, Magia Negra, Yana took over Nouira as her own horse, and they had a lot of fun together.
When we moved to Australia in early 1997, we had planned to take all the horses with us, but unfortunately this has not been possible after all. So we left the horses in Germany with my sister who has good facilities to look after them, and where they are ridden by my niece who has always loved them. But after over a year of waiting, we were at last able to bring Magia Negra over here. She arrived in October 1998, and we bred her to Precioso ("Sam"), a beautiful black Peruvian Paso stallion, belonging to my friend Christiane Yeardley, owner of Narrawin Stud in Kaniva/Victoria. Estrella Negra, the black filly out of this breeding, was born in October 1999, and stayed as a broodmare at Narrawin. She has been bred to Don Cristobal Mako and had a very pretty brown filly.
Much to my despair, Magia became seriously lame shortly after her arrival in Australia, and couldn't be my riding horse anymore. So we decided to breed her to Don Cristobal Mako, our friend Jorge de Moya's stunning black Paso Fino stallion, and she has since given birth to Mucho Macho, a seal-brown colt, in November 2000, which Jorge has kept, and in 2001 El Mago Negro who is now with us. She had another colt, Soberbio , from Christiane's Peruvian Paso stallion, Domingo and is in foal again to Domingo.
Shortly after our arrival in Wantadilla, we bought Talquah Seren, a 13 yo Purebred Arabian mare, liver chestnut, an ex-show champion. She stayed with us for a couple of years, I did my start with Parelli Natural Horsemanship on her, and then she went to Narrawin as a broodmare, as she showed quite some gait under saddle. Now that she is almost 20 and ready to retire, she will come back to our place.
In exchange for Seren, Greg chose Clarendon Darah, a young, greenbroke Purebred Arab mare. The two of them get along very well and have lots of fun on their trail rides.
We then bought two young Purebred Arab mares, Amzar Miss Teak, and Balara Shalima. Miss Teak had to be put down after a bad accident at Christmas 1999, and Shalima was sold to a friend who was looking for a quiet horse, when Yana lost interest in riding. For about a year, I had a Standardbred gelding who had finished his harness racing carreer. It was very easy to retrain Orlando as a pleasure horse, but we could not keep him, as his presence created too many problems with our herd of mares. Orlando is now with a friend who loves and pampers him. But in the meantime, my friend and neighbour Diane and I had lots of beautiful rides together. She owned at that time the young American Saddlebred gelding Rebel Run Maverick ("Harry") from Narrawin. Her new horse is now Melado, a young Saddlebred-Paso cross who is very promising.
But I still missed my comfortable Peruvian Paso rides. I travelled all over Australia to try to find a new PP, but in vain. The very few that were for sale, were either inconvenient or didn't pass the vet check. So Greg suggested that I fly over to the USA and find one, which was so sweet of him. In May 2000, I visited half a dozen pre-selected Paso breeders in several states, and finally, after a lot a thinking and hesitating and worrying, decided for MGR La Tigre, a seal-brown PP filly, born in April 1997. When we bought her she wasn't even broken in which was rather risky, as I wanted her for my personal riding horse and intensive use! But she got started under saddle before she left, things looked quite promising, and my decision turned out to be a good one.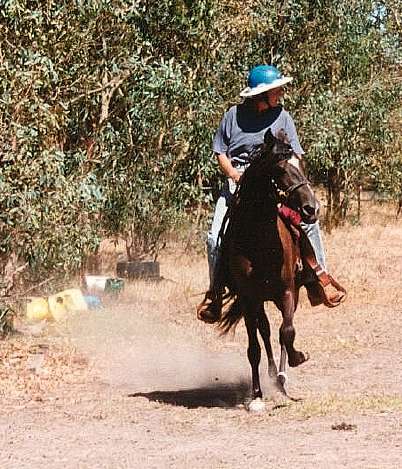 Flamenca, as I named her, arrived in Australia in early November 2000 and settled in very quickly. I started her with groundwork, then started riding her 3 weeks later, and I am absolutely charmed by her personality and intelligence. Here is the diary I have written about our work together.
Having ridden Flamenca for about a year, I thought that she was too young to be ridden on a regular basis (you know how it is: when you have a wonderful, eager horse who offers himself so willingly, it is just too easy to overdo things!). So I decided to give her some time off and took her to Christiane, who was very keen on having a foal out of her, and who bred her to her PP stallion, Domingo. On New Year's day 2003, Flamenca had a very pretty colt. A few weeks later, she got a very bad colic and, without Christiane's and her friends' and employees' around-the-clock supervision and help, she would have died. It was a _very_ close one, but she recovered. According to my wish, Chris bred her to Cali (Don Cristobal Mako), as I would love to have offspring from this combination. Seems she didn't take, so will have to breed her again in spring.
In the meantime, she is back home, and we have the most blissful rides together. Flamenca is still the same pocket rocket as she has always been, but just my dream horse, with the most delightful paso llano. She is also a very nice and gentle stepmom to El Mago and Serafina, a daughter of Seren and Cali, who are my next generation Pasos. Will be entertaining to break these two in in a couple of years....
Our latest acquisitions are Narrawin's First Lady, an Amercian Saddlebred filly, and Josť, a Peruvian Paso gelding, who, due to some fear issues, needed gentle retraining. Yes, after years of trying to convince me that Saddlebreds are wonderful horses, Christiane finally succeeded, and we bought our own ASB! Chris gave her some basic "green-breaking", and then I did the rest here. It is a lot of fun and a nice learning experience. Here she is:
And this is Josť:
A few more words about my "career" as a rider: I started learning to ride in a conventional riding school in France, got to the first degree and then quit, as I hated the way horses were treated and ridden. Without really having any precise ideas about it, I was sure that I wanted to ride and handle horses in a more gentle and relaxed way than I had seen it in so many places around. We rode our Haflingers mainly on trail rides which was great fun. I attended a course as trail riding guide, and got the corresponding degree. For several years we had a little trail riding business which stopped when I moved to Germany.
When I met Greg, he was interested in getting involved into horses, too (a shame that he is always so very very busy with his computer business that he has hardly any time for riding). He learned to ride at 35, on his hot young Nur-al-Dahr (an ideal combination, isn't it? But he survived!). Then came Yana, and I could hardly wait that she became old enough to go out riding with us. Well, at about 8, she took a lot of riding lessons and became quite good, but was never a real enthusiast, maybe because she had too easy access to horses, who knows. Anyway, she loved Nouira, and it has been quite a shock for her to have to leave her behind in Germany. Since then, she seems to have more or less lost interest in horses, and I have bueried any hope that she will come back to it one day.
During our search for better methods to treat and ride horses, we got into contact with Linda Tellington-Jones and her TTEAM and TTOUCH. We did several clinics with her, as well as some clinics at the FS-Testzentrum in Reken/Germany, a very good, "alternative" riding school. Then, here in Australia, we discovered Pat Parelli's Natural Horse-Man-Ship which was a real eye-opener to me. I also did some clinics with Steve Brady, who is an excellent horseman, as well as Mark Rashid and Gincy Bucklin. I use parts of all these methods in my horse training and riding, with nice success.
Over the last couple of years, I have started working with Andrew McLean's method. Andrew is a famous Equine Behaviourist and brilliant horse rider and trainer, located in the Melbourne area, who gives clinics twice a year in our area. A perfect opportunity to book in for his clinics and get more advanced in our dressage work!
But what I love most is riding gaited horses, as you may have noticed! So I studied whatever I could lay my hands on, and especially the articles and videos of Lee Ziegler and Liz Graves, picked my friend Christiane's and Jorge's brain whenever I had the opportunity, and had the pleasure to visit Mary Donald in Idaho, a famous Paso breeder and judge, and a wonderful friend. So, after several years of struggling, I finally am on the way of understanding how to ride and train gaited horses! :-)
Around 1998, on the Web, I discovered Alexandra Kurland's Clicker Training. Her early emails about CT caught my attention and interest and I spontaneously tried it out, and was thrilled by the success! I have used and piggy-backed it on the other training methods ever since. I start all my youngsters and new horses with CT, and it works perfectly for us. In July 2003, I have even had the honour of being invited to Alexandra's First Annual Clicker Trainer Instructors Clinic in Galway/NY. This was an extremely positive and very interesting learning experience for me, and another big step towards professionalism. I love helping people and horses who have problems, and all my past (and future) experiences help me with it. I am a member of EFFECT, the Education Foundation for Equine Clicker Trainers.
But, of course, most of the time, we are just having fun, doing trail rides in the forest. As soon as Greg will have a bit of spare time ;-), he is planning to start endurance riding, and I will accompany him, most likely with Lady, although my personal preference is mainly for my modest little dressage work and trail and pleasure riding.
Well, maybe see ya on the trails....
---