Once you have a functional MUA ("mailer") and you have it set up correctly, there are still things you need to do to send out a professional-looking mail message. They're quite closely related to the things that were dear to the heart of your English teacher at school.
Choose a line length that is comfortable to read. Nowadays most MUAs in the Microsoft space (to which I include people copying Microsoft's approach, like Apple and many Linux people) display text as wide as the screen will permit it. On modern wide-screen displays this can be particularly wide if you expand the window to fill the display. But even if you know everybody's terminals can display, say, 130 characters, it's not a good idea to make your text that long: one thing that doesn't change that quickly is the field of view of the human eye. That makes it most comfortable to read lines between 50 and 70 characters. That's why lines in books aren't wider. Newspapers, of course, limit the length even more and make multiple columns, and many web pages try limit the width for the same reasons. Columns are generally not suitable for email, and if you make your lines shorter than 50 characters, the reader will need to scroll unnecessarily to read the message.
Some Microsoft MUAs, such as "Outlook", are particularly obnoxious: they ignore the intention of the writer of a text/plain message and force the text to the width of the screen:





It does tell you if you look carefully:

If you right-click on that message, you can then restore the text as the sender intended:




When replying, ensure that you use a quote convention: include the relevant parts of the text in your message and place a flag character (usually > and a space in front of every line of the quoted text) to distinguish it from what you write. Most UNIX mailers do this for you. Place your reply text directly below the part of the text to which you are replying. Leave an empty line between the original text and your reply, and don't forget the space after the > quote character. Both make the message more legible. For example, compare these two fragments. First, a less legible reply:
Next, a more legible reply: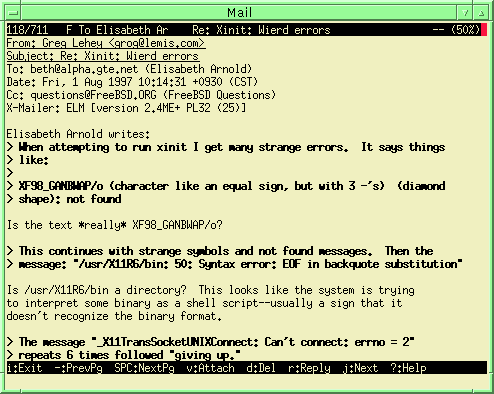 These examples were made with the mutt mail client, which also highlights the quoted text.
Messages tend to grow as more and more replies get added. If large parts of the original text are irrelevant, remove them from the reply. What about salutations? You'll see a lot of messages out there which don't start with "Dear Fred", and either aren't even signed or just have the name of the author. This looks rather rude at first, but it has become pretty much a standard on the net. It's on the cards that this will change in the course of time, but at the moment it's the way things are, and you shouldn't assume any implicit rudeness on the part of people who write in this manner. At the other end of the scale, some people add a standard signature block to each message. You can do this automatically by storing the text in a file called ~/.signature. If you do this, consider that it appears in everymessage you write, and that it can get on people's nerves if it's too long or too scurrile. Make sure that your user ID states who you are--your real name. It doesn't make a very good impression to see mail from foobar (The greatest guru on Earth), especially if he happens to make an incorrect statement. There are better ways to express your individuality. Format your message so that it is legible, and PLEASE DON'T SHOUT!!!!!. It's really painful to try to read a message written full of typos or without any line breaks.