This page was once a proposed addition to the FreeBSD handbook, but that was in the last century. The content has not been updated since 27 January 1998, and I do not intend to do so. I'm leaving it here as a relic, but it now is of little practical importance.

FreeBSD Handbook : Installing FreeBSD


As we saw in the section on installing, the most comfortable way to install FreeBSD is from CD-ROM. But maybe you can get it more quickly or more cheaply via the network? You can get FreeBSD from a large number of ftp sites.

But what do you download? We'll look at that question here.

FreeBSD is distributed as a number of distributions which are split up into handy chunks. This means that if you lose your ftp connection, and your ftp client doesn't support the reget command (FreeBSD does, of course), you never have to reduplicate too much. The largest file is the floppy boot image; all other files are a maximum of 240,640 bytes long.

Let's take a look at a typical ftp server. You'll see something like this:
If your browser doesn't support images, you will use ftp to download the software. You may find it more convenient to use ftp anyway. Click here to see how ftp displays this same directory.
The directories of interest here are 2.1.7.1-RELEASE, 2.2.5-RELEASE and 3.0-971225-SNAP. Unless you have a good reason, choose the most recent -RELEASE version, in this example 2.2.5-RELEASE. When you click on it, you see the complete 2.2.5 distribution: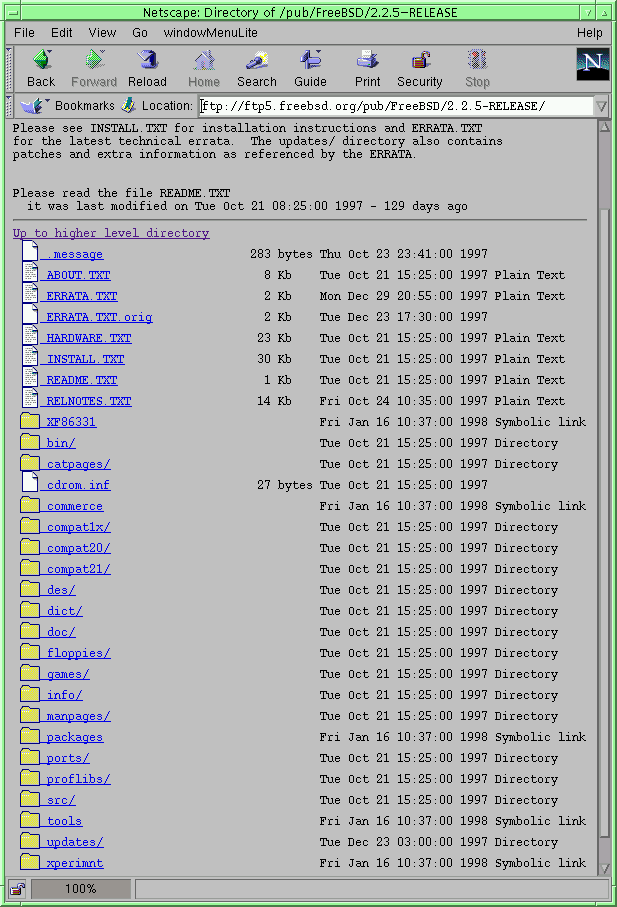 Click here to see the ftp version of this directory.
There are only three directories that you must have. We'll look at them first.
Required files for installing FreeBSD
ERRATA.TXT contains important information about the release. Please read this file! In the 2.2.2 release, we had at least 100 questions on the FreeBSD-questions mailing list asking about the file /etc/login.conf. The answer was in ERRATA.TXT.
bin/ contains the binary distribution, the core of the operating system. You need the complete contents of this directory.
floppies/ contains a couple of images for floppy disks. The one you definitely need is boot.flp. Note the size: it's 1440 kB, exactly the size of a 3½" floppy disk.

A floppy image is the exact content of the complete floppy, track for track. In UNIX, you can make this kind of copy with the dd program, but Microsoft doesn't have a comparable tool. If you're using Microsoft to install FreeBSD, you'll need additional tools--see below. Even in UNIX, you can't load floppy images directly from the browser to a floppy disk, because Web browsers don't write the correct format.
Check the sizes of your files after after copying with ftp: many Microsoft-based ftp clients, and even some UNIX clients, transfer in ASCII mode by default. This causes characters to be added, destroying the archive. If the size doesn't agree, this is probably the cause. There's no way to recover the archive when this happens: you'll need to transfer the data again in binary mode. On UNIX systems, you set binary mode with ftp's bin command. Check your documentation to find how to do this if you're using a non-UNIX system.
Other files
The other directories are:
XF86331 is XFree86, the Intel-based free implementation of the X window system. It's strongly recommended to install it.
catpages and manpages are the UNIX manual pages, the primary on-line help system for FreeBSD. manpages are unformatted and may take a little longer to access the first time you read them, since they first need to be formatted. In addition, they require the groff (GNU roff) package. It's in the bin distribution, but you may want to remove it to save space. In either case, you can install the formatted version, catman, instead of manpages.
The directories compat1X/, compat20/ and compat21/ contain older versions of some libraries. You'll need these if you want to execute programs written for FreeBSD 1.x, FreeBSD 2.0 and FreeBSD 2.1 respectively.
des contains security software. Before loading this, check if you're allowed to. At one point, the US Government prohibited the export of this software, but after a court decision in California in 1997, the situation is unclear.
dict contains various non-computer reference data, including the words (but not the meanings) from Webster's dictionary. This has been with BSD for ever. Don't count on it being much use.
doc contains supplementary documentation, including the online handbook.
games contains various old games, mainly of historical interest. Don't expect any great things from this distribution.
info contains the GNU info files for some GNU products. info is GNU's alternative to the man pages.
packages contains a large number of pre-ported software packages. Check out the file packages/INDEX for more details.
ports contains files needed to port the packages in packages and some others that couldn't be included in packages for copyright reasons. Check out the handbook section on the Ports Collection for more details.
proflibs contains profiled versions of the standard libraries. This is used in software development.
src contains the complete system source files. This directory contains multiple collections. In particular, the kernel sources are in sys/ssys.aa through (currently) sys/ssys.ar.
tools contains various tools you may need for installation from a Microsoft based system. In particular, you will probably need the file tools/fdimage.exe to create the boot floppy if you don't have a UNIX machine to do it.
updates contains source updates which have been written since the base system was released.
xperiment contains all the stuff that doesn't fit elsewhere.
---
Last updated January 27, 1998
$Id: what-to-download.html,v 1.4 2008/08/22 02:09:05 grog Exp $