I've been eating Laksa for breakfast for some time now, both curry laksa and Penang laksa. I make it from pre-prepared pastes, and in principle things work well. But I had a couple of jars of this stuff which I apparently hadn't used: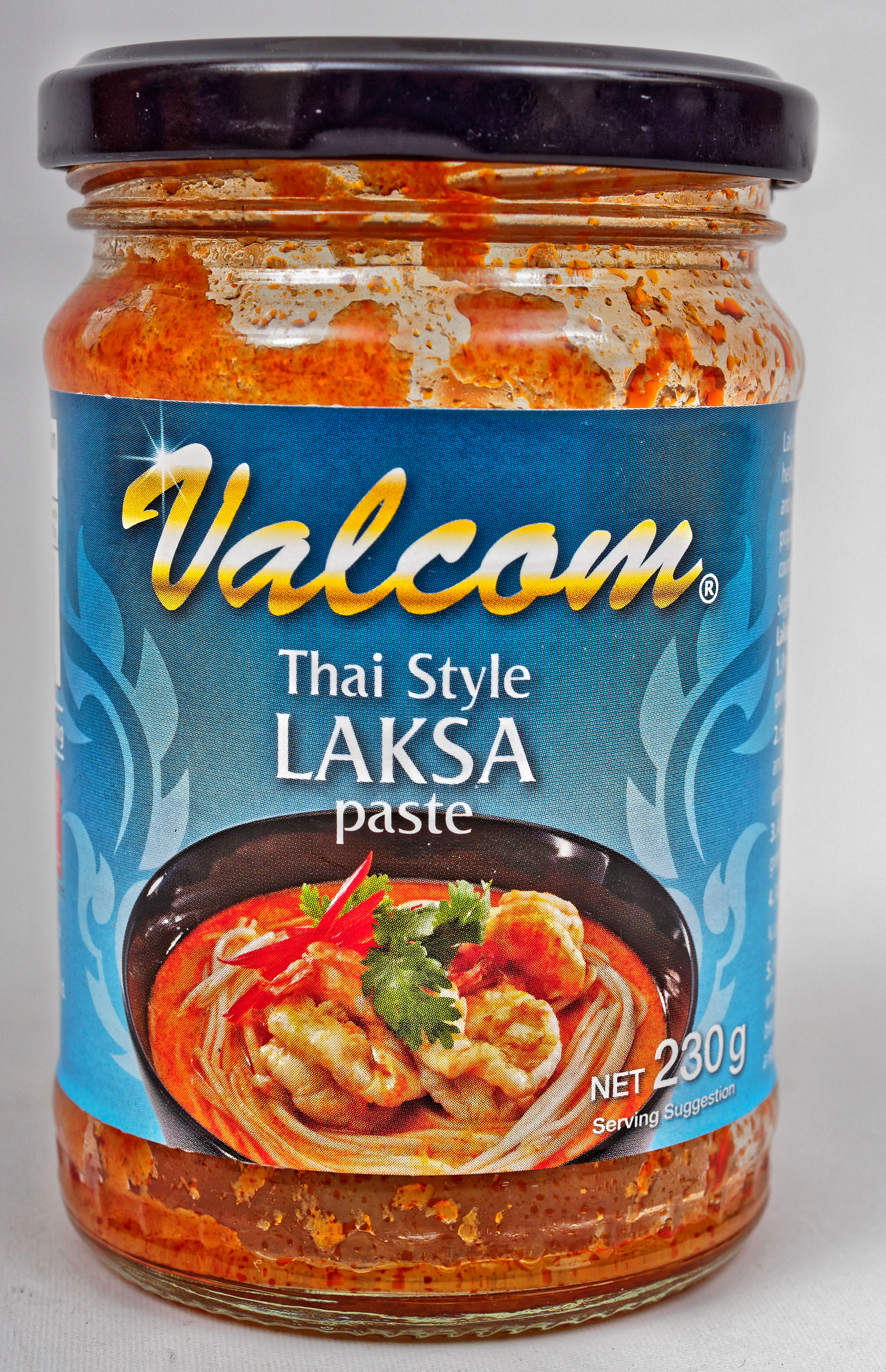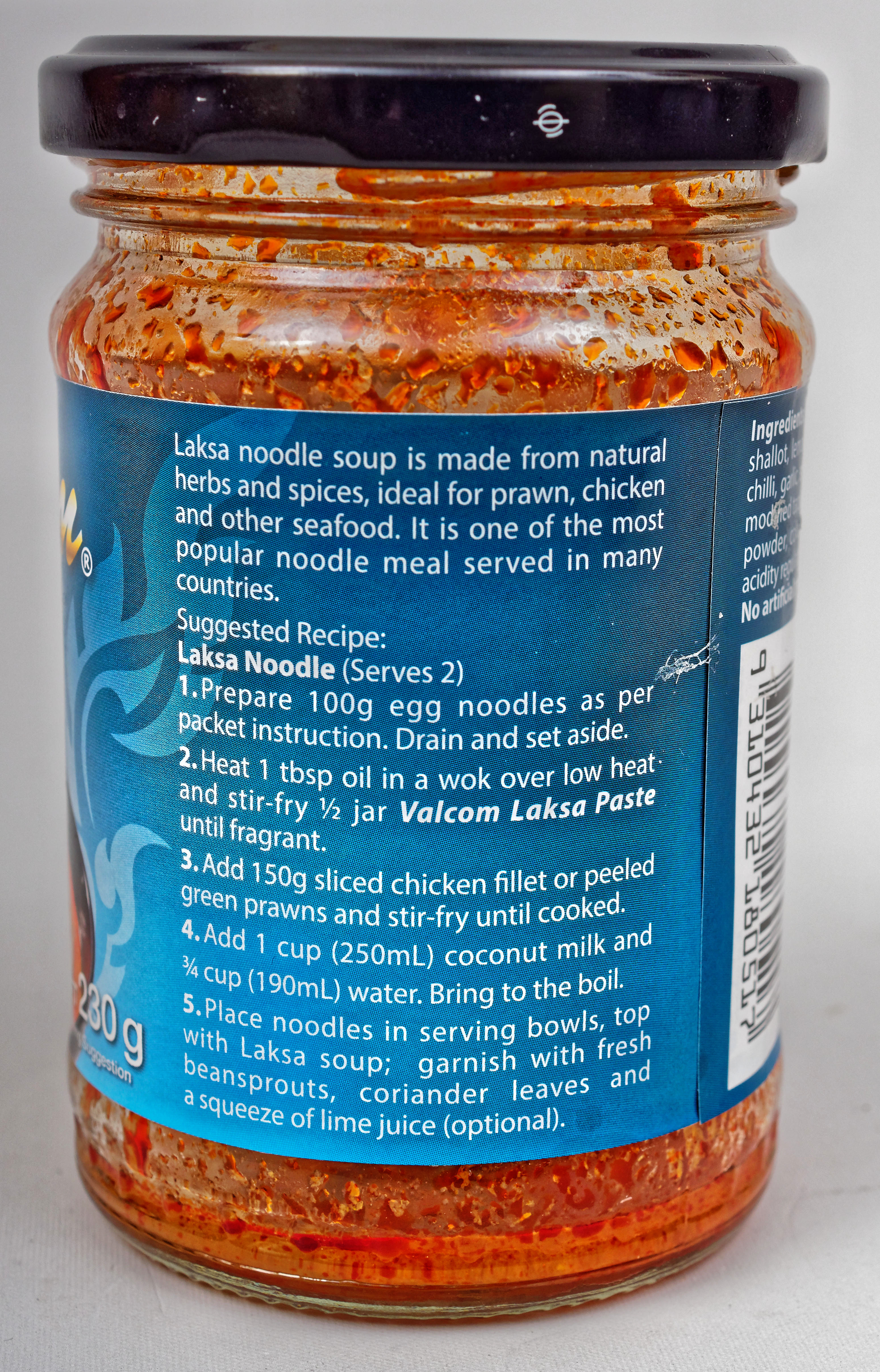 Maybe the label put me off: "Thai style Laksa"? It's Malaysian! The recipe shows that it's like a curry laksa, though the obfuscatory quantities ("use half a jar and add...") made it difficult to calculate. And of course there was no reason to believe that the quantities were correct. The jar contains a round 230 g, compared to 200 g for Tean's Gourmet paste, from which I get four servings. That matches the recipe only in the number of servings: they'd have to be about half the size of my portions. But for that, they wanted 2.5 times the amount of coconut cream, or 5 times for the same quantity!
OK, use the paste, with my quantities. Wrong! It tasted of nothing. Today I put in another jar of paste and a 400 g can of coconut cream into the remainder, leaving four portions. Yes, it didn't taste as bad any more. But definitely not like laksa. That's the last time I try that stuff, and using up the last jar turned out the be an advantage: now there's none left.
It wasn't until much later that I discovered that I had already had pain with this paste over a year earlier.
First day of spring today (and the 18th anniversary of keeping this diary online). And it rained, which seems to be a tradition: it's been 60 years since my mother told me that, as if it were a law of nature.
Mick the gardener along today in spite of the rain, finishing off the arches, and planting some Cannas on the east side of the shade area:
In the process, he discovered some grass bulbs. These things were under the soil, about 15 cm down, and on top there was grass, so they must be grass bulbs:
I wonder what they really are. I'll plant them and see.
As suspected, both tomatoes and roses have survived until the spring:
Some (most) of the roses made it into a bouquet for the evening meal, though Yvonne was reluctant to put in spring flowers as well, unlike seven years ago (first photo):
Apart from that, I've noted once again how badly Tropaeolum handles frost:
I wonder if this Buddleja would have looked better if it hadn't been for the frost:
The network connectivity continues to be bad, so updating my Olympus software wasn't an option. But I had to do something about my camera's configuration, so I tried to load my settings again. And this time it just worked!
Why? I'm guessing that the firmware update program doesn't store the firmware on the host computer: it connects the camera directly to the net and then downloads the software from the remote host. What happens if the net connection goes down during the transfer? Bricked camera? Hopefully it first stores the firmware on the camera and then updates it only when the download is complete and (hopefully) when the checksum is correct. But what a ridiculous way to do things! And there's absolutely no need for a network connection for loading the saved settings.
On the whole my transition to object storage has proceeded very well, but I keep coming up with strangenesses. Today is was the house photos. Yes, it works fine here, and it it works fine out in the global Internet. But there it claims that the last photos were taken on 18 August.
Why? Because those are the last photos that I uploaded to the server. My PHP scripts check for the presence of the files and look for the most recent one if necessary. Another thing that I need to fix, in this case by checking the photo lists for the day. Some time. Does anybody even look at these photos?
Last week Nikon introduced the Nikon Z7, its first serious mirrorless camera. There are plausible rumours that Panasonic and Canon are doing so too, and that they'll be here before the end of the month. And Olympus? More rumours, a new top-end camera before the beginning of next year. What sensor size? The rumours dry up.
I've been following this development with interest, of course. Now that the bottom has dropped out of the market (there are, effectively, no cheap point and shoot cameras any more), what has happened to the prices of serious cameras? I would have expected them to drop, but instead they're going up. Tony and Chelsea Northrup have come out with a discussion of where the market is going to go: MIRRORLESS WARS (their capitalization):
Their conclusion: The Micro Four Thirds system is going to go away, and Olympus and Panasonic with it. They see Sony as the survivor. I've noted in the past that Tony, in particular, is very negative about these systems, but it's worth bearing in mind.
Then I saw a question on Quora: As of 2018, which camera company has the best mirrorless kit (bodies + lens selection)?. That's simple, of course: the Micro Four Thirds system has by far the biggest choice of lenses, and it's the only system supported by more than one manufacturer. Started writing a reply, backing up with the list of lenses on sale at B&H, and came up with a surprising discovery: they list 124 lenses with Fuji mount, 142 with Micro Four Thirds mount, and 234 lenses with Sony E mount! That's a very big difference from what I saw last time.
Time will tell, of course. Why do people want "full frame" in the first place? As far as I can see it's more marketing than anything else. When I chose Olympus 11 years ago, it wasn't because of the (then unexpected) mirrorless support, it was because I thought the smaller sensor was the way to go. And I still do. My best guess at this stage that this is part of the reaction to smart phones killing off the bottom of the camera market.
And what does this choice really mean? Sony has two different sensor formats, APS-C and full frame. Yes, B&H list 155 full frame lenses. But what are they? The longest telephoto is the (impressive) Sony 400 mm f/2.8, not yet on the market, but which will be available for USD $12,000. And that's the longest that Sony make (along with a single 100-400 mm zoom). There's a Sigma 150-600mm f/5-6.3 DG OS HSM Contemporary Lens for Canon EF and MC-11 Mount Converter/Lens Adapter for Sony E Kit for only $1,238, but that's the lot. Nothing to compare with my Leica DG Vario-Elmar 100-400 mm f/4.0-6.3, which would have to be 200-800 mm in full frame format.
And other kinds of lens? Only a single fisheye lens, made not by Sony but by Rokinon. By comparison there are 10 for Micro Four Thirds, including one by Olympus and one by Panasonic. With macro lenses it's different: 14 listings for Sony compared to 7 for Micro Four Thirds (2 each Panasonic and Olympus). But here the three entries for Sony-made lenses prove to be only two different lenses.
And lenses with an aperture wider than f/1? For Sony there are 5 entries, which prove to be 3 distinct lenses, and all f/0.95. There are also two f/1.2 lenses, none by Sony. For Micro Four Thirds there are 5 distinct items with aperture f/0.95, and also the Handevision 40 mm f/0.85. And there are 8 lenses with f/1.2, including 3 by Olympus and 1 by Panasonic.
So maybe the comparison isn't so bad for Micro Four Thirds after all. My recollection is that Olympus was still the biggest shipper of mirrorless cameras, but that Sony was catching up. I wish I could find good figures. CIPA has some, but I haven't found anything by manufacturer.
Paella valenciana for dinner today. One of the things that I have never done "right" was to cook the paella uncovered, like you're supposed to: I was worried that the rice wouldn't be cooked properly. OK, time to risk it. In the oven with heat only from underneath and without a fan to dry things out. And within 5 minutes it started smoking!
Burnt from below? Hurriedly removed it, covered it, and heated normally. All was well:
Not a sign of burning. The smoke must have come from above (chorizo?). And this time I had put 2 g of saffron in instead of the 1 g I had originally intended. It certainly improved things, and I'm wondering if it can handle even more. When you consider that saffron is normally sold in packets of 0.4 g, 2 g is already quite a considerable amount.
The only thing that didn't work out was our guest, who insisted on drinking red wine with the paella:
Somehow I didn't get much done today, except for writing up yesterday's diary and moving some photos around. The network continues to be bad, which greatly irritated me.
Juha Kupiainen is idly thinking of buying a camera. He came up with the new Panasonic DC-LX100 II, for the princely sum of USD $999.
Why? It has a Micro Four Thirds sensor, but it only uses 85% of the area. It doesn't have interchangeable lenses. But then the price seems to be par for the course: Sony has a Cyber-shot DSC-RX100 V for $899, and Canon has a PowerShot G1 X Mark III (who sas that only Olympus can create stupidly long names?) at $1,299. Why are they all so expensive? After reading the reviews, I still don't know. The Canon lens is pretty boring at an FF equivalent 24-72 mm f/2.8-5.6. That compares badly to the standard Olympus 14-42 f/3.5-5.6 (28-84 mm FF equivalent), which is available for under AUD $100. Suggested the Olympus OM-D E-M10 Mark II, the one that Chris Bahlo has. They're only half the price, though without a lens. But at least they have interchangeable lenses.
Our area seems to be popular with off-road bikers, but functional exhaust systems seem not to be as popular. At weekends we're frequently assaulted by the noise of five or ten of them shattering past the house.
On the whole they're polite enough when we meet them on the road (usually walking the dogs), but today we had an exception: somebody came down Stones Road from the north (where, I suspect, he lives), drove down far too fast towards Yvonne and Nikolai, and then decided to go between them and the side of the road, just as she was moving to one side. He nearly hit them, and also nearly fell off his bike. When I shouted "Slowly!" at him, he made a rude gesture and shot off towards Bliss Road, where he turned around and gave me the finger.
I didn't get a photo—next time I'll turn the camera on when I see one coming—and he didn't have a rear license plate. All we got was his path:
What do we do now? Public shaming via Facebook? This kind of kid obviously has no understanding of social responsibility, and I don't overly like the idea of some retaliation on our property. Call the police? Clearly he has committed a number of offences, and the lack of registration would be the easiest to prove. But how do we find him? The best would be if his parents were to take some action.
The availability of the network over the weekend has been really bad, and some of the video downloads that I started yesterday morning didn't finish until 3:00 this morning. And then at 12:50:56 we went off the network completely for (just) over an hour.
Why? Things worked well after that, so maybe it was hardware maintenance on the radiation tower. But oh! for a reliable network!
Finally got round to filing away all my old pension paperwork. We have a total of 5 pensions between the two of us, and it's a lot of paper. And then another letter arrived. My pension card for the next two years: "BEND & PEEL TO REMOVE CARD". OK, do that. That's a funny back to the card, just rough paper. Look again. BEND & PEEL again. Get the other half:
Clearly a suboptimal way of doing things. In the past they were just glued to the sheet of paper, and it was easy to remove them. If they want to do it this way, they should at least make the cards out of plastic.
Should I contact Centrelink? That way madness lies. How important is it? I hardly use the card anyway, and I can just keep both halves. I wonder how many people will make the same mistake.
Interesting question on Quora today: In the metric system, why is a gram so tiny when compared to a meter and a liter?
Why indeed? Arguably a thing that made the adoption of the metric system more difficult were the relatively unhandily sized units. For all their faults, old systems had modified their units to have more handy sizes (thus possibly adding to their warts).
Went looking and came up with more questions than answers. It seems that the first draft of the metric system, in the law of 1 August 1793 (« Pour Hâter La Réforme, Des Mesures Provisoires ») had the metre we know and love, but the unit of volume was a pinte (a cubic decimetre), and the unit of weight was a grave, the weight of a pinte of water at 0°, corresponding to the modern kilogram. There was also a gravet (1/1000 grave, modern gram) and a bar (1000 grave, modern tonne).
It's worth considering what else was going on at the time. This law was not the only one passed on 1 August 1793. It was the beginning of the Terror, and the décret relatif aux mesures à prendre contre les rebelles de Vendée, the law designed to destroy the Vendée, was also passed on this day. More here. For some reason I can't find corresponding pages in English.
The name of the pinte changed first to cade (with the decree of 19 January 1794) and then to litre (law of 18 Germinal, year 3, 7 April 1795), here in more legible form. But the grave changed differently: the law of 7 April 1795 replaced it with a gramme, equal to the old gravet, so the grave was named the kilogramme.
I've found this in many places, but what I haven't found is: why? Clearly the people who thought out the decimal system of measurement (« Le système métrique décimal ») had originally thought that the grave was the more appropriate unit of mass. Why did they change?
In passing, it's interesting to consider « le système métrique décimal », from which we get "metric system". « Système métrique » simply means "system of measurement", like all the ones that preceded it, including the archaic system still in use in the USA. The important thing about this metric system was that it was decimal. And exactly that distinction got lost.
Other links I found include le système métrique décimal and l'histoire du mètre.
Since yesterday's outage the network connectivity has been back to normal. Finally got a reply from Aussie Broadband support: they've been overwhelmed by new customer calls. Hopefully that doesn't mean that their support will stay that way.
The explanation: problems with the Ballarat POI that were resolved on Friday. OK, what does that have to do with the problems I experienced on Saturday? About the only thing of interest was that in case of further problems they'd rather see an mtr (implicitly) to 8.8.8.8 or 202.142.142.142 (the latter of which resolves to dnscache1.wide.net.au).
Spent some time—too much time—modifying my PHP scripts for the house photos to modify the check for the presence of photos. The script contains the date of the most recent photo series, but I don't always take photos from each view. So it goes backwards through a second file, photo-dates.php, which despite the name is just a list of the dates on which I took any photos. For each photo it then checks if this photo was taken on that date.
Previous the check was simple:
The issue is that the files now don't exist. But there's another file in the metadata for each day, photolist.php, that contains entries like:
Those are the names of the photos, defining the order in which they are to be displayed, along with the dimensions (width, height and size in kB) of the "tiny", "small" and "big" images. So all I need to do is compare the file names from exterior.php with the names in photolist.php. How hard can it be?
To quote Rusty Russell,
I assume that DK is David Kaiser, but I have no evidence. In any case, how do you compare? Library function, of course. Which? strcmp ()? That only works if both strings are the same length. strncmp ()? That would have done it, but I missed it, maybe because the manual describes the functions in alphabetical order rather than by related function. strstr ()? Returns a string or NULL (or is that FALSE in PHP?). Might do it. Let's try,
The script looped, and it took 30 seconds to get... nothing. OK, a judicious application of exit () after the first loop. And somehow things just didn't work. By the time I gave up, I must have had 10 different print calls in the script to show what was going on. And basically it seemed that strstr () was misbehaving: even with this silly === construct I couldn't detect whether I had a match or not.
Finally, in desperation, I chose preg_match (), which worked, but I really don't like the overhead. Can I be bothered to go back and try strncmp ()?
CJ Ellis along today with his motorized hole digger to put in a couple of posts for another trellis at the other end of the bed at the north of the garden. Not much work, but a certain amount of thinking. I didn't want to hit the downpipe, so I put the first post a bit to the left, and the trellis will be at a slight angle. I could have made it straight, but then the entrance from the gate on the left would have been somewhat tight.
The other thing that was surprising was that the second post was beyond the boundary of the bed. At the other end, it was inside. But the post was in the right place; the bed is crooked, 30 cm shallower at the end than at the other:
While he was here, CJ complained about the fact that he couldn't find anything on Gmail any more. Where's the spam folder? Took a look. Indeed: Gmail has changed their appearance and navigation, and it's difficult to find things now. It took me a while to understand. CJ, non-technical and 80 years old, doesn't have a chance.
Why do they do these things? From my point of view, it's significantly worse than before. But nearly everybody in the Microsoft/Apple/Linux do this all the time. It seems that intuitive navigation isn't that intuitive after all.
I use a fair amount of software for special functions, but certainly doesn't do everything I'd like done. In particular there are two things I'd like to be able to do well: add text to images and remove irritating objects, particularly annoying in the case of these photos, which I won't be able to retake so easily:
A more important thing, though, was the photo of my pension card on Monday, where I tried to use DxO PhotoLab to obscure the card number. That was only marginally successful. Yes, it was obscured. But it was still legible, and I got a message from Tim Bishop pointing it out, so clearly people notice.
OK, what other software do I have? GIMP, of course. Out to search for gimp remove objects, which came up with a whole lot of hits, including a number of YouTube videos. Tried the first, which was Microsoft-centric. It required a plug-in, for which she obligingly gave the URL: registry.gimp.orgforward slashnodeforward slash27986. OK, let's get that first. No route to http://www.registry.gimp.org. More network problems? No, another web search suggests that it's been offline for months, but the (old) contents have been saved, so I downloaded them.
Finally found the plugin, resynthesizer.tar_0.gz, and downloaded it. How do I install it? The suggestion was to unpack it into in a specific directory, in this case ~/.gimp-28/plug-ins. Did that, but gimp wasn't interested. Why not? Round about here I started to lose interest.
OK, try another one, which doesn't need any plug-ins. But how horribly tedious it is!
I've tried to make friends with GIMP for over 20 years now, and I've continually found it frustrating. The fact that the plug-in registry has been down for months suggests that I'm not the only one. Time to look for something more powerful and less annoying. Another search, photo remove objects, came up with lots of hits bordering on the insane, like 5 Free Android Apps to Remove Unwanted Objects from Photos and Best 5 Apps to Remove Unwanted Objects on Your iPhone (I would have thought that a soft tissue would do the trick for the latter).
Finally came up with Zoner Photo Studio, which I have tried before. It pointed to this PDF document, which looked good, but of course it was only advertising. OK, try downloading again.
Install, and as usual I see a tasteful display of dark grey on darker grey and lots of puzzlingly named tabs, along with old non-favourites like import, export and develop. Also a link to http://learn.zoner.com/, promising all sorts of help.
But nothing that looks like my object removal. The PDF flyer talks of a "Fill with Surroundings tool". OK, search for that on the web site. 28 hits, arranged 9 to a page, and all false positives. Clearly this site can't replace the manual.
But where is the manual? Both the learn site and the main http://www.zoner.com/ are silent. But there's this "chat" thing, so tried that:
Something funny about the web code. Although I entered the email address, it didn't want to know. But finally I found a way in and asked:
Strange answer. Click on it?
Finally I got him (Jiří Kokeš, reduced to Jiri in the chat window) to send me the URL, http://download1.zoner.com/binary/zpsxhelp_en.pdf. That's 111 pages, so it'll take me a while to read it. Also got the chat, in which Jiří's first reply appeared as:
And yes, there is a link on that first page. Did I maybe load via a different page? In any case, looking back, I see that this isn't the first time that I've had problems with this. But maybe it's time to try a little harder.
Last week Nikon finally announced their first serious mirrorless camera, the Z 7, and I commented about my first impressions. Today it was Canon's turn with the Canon EOS R, first comments here.
How do they compare? Maybe I'm just losing interest, but the Canon seems boring. Slow—only 8 images per second. Yvonne's Olympus E-PM2 can do as much, and it's a 6 year old entry level camera. The touch screen is apparently glacially slow, which would concern people who used things like that, but it makes it rather silly to use it to try to set one of the 5,655-position (count them, 5,665! What can you do with that?) Dual Pixel CMOS AF positions.
There's a new mount of course, the EF-R mount, by no means as impressive as the new Nikon mount. For me, the flange focal distance and opening are the most important. Canon's 20 mm focal distance is the longest of any serious mirrorless camera, while the Nikon has only 16 mm. To add insult to injury, the EF-R and EF-M mounts are incompatible, meaning that there can never be adapters. And unlike Nikon, it doesn't have In-body image stabilization.
On the other hand, they have brought out some interesting new lenses: the Canon RF 28-70mm f/2 L USM and the RF 50mm f/1.2 L USM. These correspond directly to Olympus lenses, rhw Zuiko Digital ED 14-35 mm f/2.0 SWD , which I have, and the M.Zuiko Digital ED 25mm f/1.2 PRO, which I don't. It's interesting that they chose exactly these specifications, but it starts to become dangerous: it's (currently) clear that full-frame mirrorless bodies are not significantly bigger than the Olympus OM-D E-M1 Mark II. Here some comparisons from https://camerasize.com/:
But that stops with the lenses. Here are the Canon and Olympus with the f/1.2 lenses. The Nikon (currently) can't compete, but its 50 mm f/1.8 lens is bigger than the Olympus f/1.2, let alone the f/1.8:
And of course things are even more obvious with long telephoto lenses. I still can't find any native 800 mm lenses for Nikon (Sigma makes one), but Canon has one. So does Panasonic with the Leica DG Vario-Elmar 100-400 mm f/4.0-6.3. And there things start to look significantly different, even before you look at the price:
Adam Kranzel contacted me about this. Yes, Nikon does have an 800 mm lens, at least on paper:

Like the Canon, it's f/5.6, compared to f/6.3 for the Panasonic. It's also currently out of stock at Nikon, which suggests that it's not a big seller. The price could explain that. It's interesting to compare some of the basic statistics:

Clearly you can expect better image quality from the Canon and Nikon lenses—if you can get beyond the camera shake. But how many people can afford that sort of price?
To be fair, the Leica lens expands considerably at full focal length, but it's still much smaller than the Canon. So somehow the reasoning for the smaller 4/3 sensor still makes sense. Bodies can be made smaller (and I expect that Olympus and Panasonic are working on just that for their top-of-the range cameras), but lenses can't.
It'll be interesting to see where things go.
Spent quite a bit of time today trying to work out how to fix my kangaroo photos and the photo of my pension card with Zoner Photo Studio. I failed. What I did find was:
I can remove the serial number from my pension card quite easily with Hugin by simply masking the number out:





But that leaves a black field. It would be more elegant to replace the number with the background pattern.

Reading the documentation is like reading a man page. It describes every detail without explaining why it was implemented like that, or how to use it for any useful purpose. And either I have missed something important, or the program doesn't behave as described, in particular keyboard bindings ("shortcuts").

I found this video about the use of the clone tool, which I had thought would be useful. But no, it takes an area and allows you to smear it elsewhere—if you can find the correct key gestures. I couldn't. But the video was for version 12, an old, worn-out magic word. Now they have version X, which has a completely different interface.

I have licensed copies of versions 17 and 18 (the latter appears to be an error on the part of their license validator). This suggests that X > 18. They, too, have different interfaces from the others. Four different versions, four different interfaces. Only yesterday I ranted about the annoyance of continually changing user interfaces. Zoner seems to take it to extremes.

On the positive side, it found the GPS location information in my photos and produced map previews for them. That could be useful.
So: should I give up? Not yet, I think. But the combination of continuous change in appearance and the subscription-based model of version X tells me to stick with version 17 or 18 and forget any upgrades.
Into town for a number of things today, but on the way decided on yet another item: finally do something about the induction stove ("cooktop"). In principle I had settled—more or less—on the Bosch PIJ611BB1E with a large 3.7 kW element on the left. But so far I have completely failed in determining whether I can even connect it to my fragile "modern" electrical setup (only 50 A/11.5 kVA maximum). I would need to connect it to at least two 20 A circuits; the alternative would be very expensive rewiring. And Bosch is too polite to put such details in any of its manuals.
Dropped in at The Good Guys, though their pricing (round $1,600) was considerably more expensive than the prices I have seen on the web ($1,150 odd). So I said so. In the meantime the price was at $1,399, but she was prepared to give me one for $1.098, (written) offer good for a month. Surprisingly, they had exactly the model on display, so I asked about the power connection. No, sorry, can't lift the thing, but I'll check... And of course she couldn't find the details either. Called up some central information person and was told single circuit, don't know how many amps. That doesn't ring true. She called in a colleague, who lifted the cooktop up and showed me the underside. See? Only single phase. And there seemed to be no indication of the current needed.
Damn. Took a couple of photos anyway. That was well worth the trouble:
Yes, single phase. And dual phase. And three phase (400 V, still called 415 V in Australia):
Isn't it amazing how difficult it is to find these things out? Why?
On to Bunnings, where, to my surprise, I found everything I was looking for, mainly a couple of trellis panels for the garden. About the only thing of interest was the (self) checkout. I had just scanned a roll of drip hose, and I wasn't sure that I hadn't added two of them. Looking at the (tastefully obscured) display at first confirmed that I had two of them:
But no, those were the lattices that I had scanned in first. These idiots display the purchases the wrong way round! But only on the screen, of course. The receipt printout is the right way round. Why do people do these things? Is it just because it's modern?
Then on to get the ducted vacuum cleaner repaired. About a month ago it started making a lot of noise, and it smelt overheated. After cooling down it still didn't sound right, so I decided to call the suppliers, "Hi-Teq Communications", so hi teq that they don't have a web site, but whose phone number ((03) 9335 1033) was conveniently put on the side of the unit. They had given me the number of a Colin (Newitt), 0418 303 975, who is only sometimes in his shop, and I had arranged to take the unit along for examination. They also conveniently gave me the real model number: it's not an HT-600 as stated on the unit, but a rebadged Monarch 550. And the unit had a 3 year warranty, which has thus run out a couple of months ago.
Got there, and he wasn't there, but he arrived almost immediately. Took a look at the unit. Yes, motor has had it, might last another few weeks, but that's about all. Repair will cost $380. That's a whole lot more than the $270 that Hi-Teq quoted me, but they would also want $120 to come and fix it.
More thoughts. How much does a new one cost? $550. With 6 year warranty, compared to 12 months on a replacement motor. And then he puzzled about the model. They're made in various sizes, and this one (Monarch 550) was too big for my "20 square" house.
So why did JG King install it? Idiots, he says. Yes, I can agree with that, but it's not a sufficient explanation for them to install something bigger than needed. My guess is that they had a job lot of them, and so it ended up cheaper for them. It seems that the sizing is done not by size of the house but by the number and lengths of the ducts. So I pulled up the plans (isn't it handy to have everything on the web?), and he confirmed that not only would a (slightly) smaller unit do, it would be better.
So in the end I got the new unit for $500, including a few new bags, 5 years of warranty, and saving on picking up the repaired unit. That's still a lot of money. Why did the old one fail? Two reasons: firstly, it seems fairly clear that the builders used the thing to clean up the floors before moving in, and they didn't have a bag. Thus this silt in the bottom of the unit (here seen from below):
It seems that builders like to do this, and so Colin refuses to install them until the house is ready for handover.
But there's another possibility too: there's a switch on the unit to turn on the motor. That's handy when connecting a hose directly to the unit, which doesn't have a switch contact. But what nobody told me is that if you turn it on without a hose, you can burn the motor out pretty quickly: it needs the air flow to keep cool. But where's that on the device? All I see is (old and new units):
And in the "instructions"? That's even simpler: they don't even mention the switch. So how can any poor consumer to know of the dangers? It would be as simple as writing (preferably in legible, non-reflective script) WARNING do not run motor without a hose connected. The motor will overheat. They could also, of course, add We're too cheap to include overload protection.
My world view is very much tied to the four dimensions: time and place. This diary is an expression of the former, but place is also very important to me. For me, one of the nice things about watching films on TV is to find out where they happen, and having a computer as a TV means that whenever I see anything on TV, I can check it on a map.
A couple of weeks ago, we were watching "Die Kanzlei", and I got a better opportunity:
OK, that's still not that easy. But by chance I recognized it: "I used to live round the corner from there!". And indeed, I moved into lodgings in the Winterhuder Weg 114 in Hamburg, roughly where the upper thumb joint is in the photo, almost exactly 51 years ago:
But I had never been in the area shown on the phone map, nor did I recognize any of the buildings. So how do I know? I really don't know. Maybe the names of streets named after composers helped jog my memory.
Yvonne saw an advantage, of course: "Where did we buy that hay in Ross Creek a while back?". Yes, I recalled that, and with after a while found that it was on 27 November 2009. But that was only once. How did we get there? Somewhere from the north, down Sobeys or Lacys Road, south along a road that went through some light forest, then right, and along a long curved driveway to the house with a barn opposite. Can Google Maps help? Yes! Here's the driveway and the house in the SW quadrant:
Put the coordinates into my GPS navigator and off there today, without any difficulty beyond the normal map bugs. Found the husband at home, but I needed the wife (Stephanie), who wasn't there. He gave me a phone number to call. Yvonne can do that.
Off back home. Which way? The map clearly shows that this is a junction of four roads, and the one I came on was the least obvious: it led directly in the opposite direction from where I wanted to go. OK, that's what GPS navigators and Google Maps are for. I had already noticed the first discrepancy: the road to the west of the junction, Stonier Road, is supposed to be 1.44 km long; in fact, it only reaches about 130 m to the entrance of the property. Beyond that it's a track that would probably not pose any problems to people on horseback. Here the view west:
OK, two more choices. First, Thorpes Road to the east:
That way madness lies. What about to the south?
Not inviting, but passable. For a (slow) kilometre or so:
OK, back north, once again being offered Thorpes Road and an alternative:
That alternative went down Stoniers Road, the first attempt. I took Sobeys Road east, but it really didn't want to leave me on the that road:
Why are these maps all so inaccurate?
Google Maps was no better, at least yesterday: it wanted to take me down the same roads. When writing this article they had disappeared. It would be nice to believe that it was because it now knows that the routes are impassable, but I suspect it's more likely to be a function of the phase of the moon.
I took two photos of the induction cooker with my Olympus E-PM1. But when I read them in, I had one raw image (as set) and one low-resolution JPEG image, only 1280x960. How did that happen? Hardware malfunction? I took more photos (of the Bunnings checkout and the vacuum cleaners) after that, and they were all correct.
As if the new announcements from Nikon and Canon weren't enough, Fujifilm has now announced the new camera, the X-T3. Do I care? I don't think so. Nikon and Canon were interesting for two reasons: first, they're the world's two biggest manufacturers, and secondly they're each their first serious mirrorless camera, ones destined (I think) to replacing their DSLR lines. Fuji's latest has neither of these distinctions. About the most interesting thing about it is how much it looks like a 1960s SLR: I feel rather sorry for Fuji because of the timing. Clearly they weren't expecting Canon's announcement. I wonder how many more cameras will be announced in the near future. There are vague rumours of Panasonic and Olympus jumping on the bandwagon, Panasonic maybe later this month.
This would have been the "full frame" bandwagon. Panasonic did, Olympus didn't.
We had brochettes for dinner this evening. What's the English word? Spit? Skewer? Wikipedia likes "skewer", but like "spit", that really relates to the rod that you put the meat on, not the dish itself.
More to the point, though, how do you prepare them properly? Probably the best way is over a charcoal grill. We've been using the toaster oven in the past, but this time Yvonne chose skewers too long to fit. OK, big oven. Heat to 180° on grill, then turn up to 200° and insert the brochettes near the top. They didn't brown very quickly, and in the end I left them in for about 11½ minutes, after which they still didn't look very brown:
I had grilled from one side only, and the top two brochettes show the side that was grilled. They're barely any browner than the other three, where the underside is up. But they were cooked enough, possibly fractionally more. Maybe I should really get some kind of grill for them.
I frequently geotag my photos, though it's seldom that important. But clearly yesterday's navigation attempts were a problem. And of course the geotagging worked fine—except for exactly those photos. "Time out of range" or some such.
Dammit, what's wrong? Checked the logs. This photo was taken at 15:12:41 local time, corresponding to 5:12:41 UTC.
And in the track logs I have:
What's wrong with that? Some subtle format error? Tried downloading the log from the car GPS, but that didn't help either, though it did greatly irritate me. I really need to find a better way to convert these formats than GPS Visualizer, which is a typical clumsy web application.
Much more checking. Finally I looked more carefully:
The dates are all in 2019! And then it became clear: I had adjusted the camera's time this morning (off by many seconds), and had accidentally set the year to 2019. All the rest was correct, so it wasn't immediately apparent. Thank God for resetdate.
A couple of months ago I made steak and kidney pie, and we had plenty of filling left over, which we put in the freezer in individual portions. Today we thawed out two portions and baked them, this time will puff pastry.
The big issue with any kind of pastry in a form is: how do you get the base cooked properly? This is also an issue with pizza, where you put them directly on a pizza stone. That doesn't work here. Tried it on the induction cooker with a metal plate underneath:
I kept it like that at round 200° for 10 minutes. I'm not sure it helped much. Then into the bottom of the toaster oven for another 10 minutes or so:
After that, the pies were unevenly browned, only towards the middle of the oven. Here after rotating by 180°:
Another few minutes, and they looked OK:
Yvonne wanted to take the pie out of the form. Not a success:
Eggs Benedict for breakfast today. Well, sort of. It seems that it requires English muffins, in my experience an American food item (with which Wikipedia concurs), ham and sauce hollandaise. The way Yvonne makes them, we have none of those. Toast instead of American English muffins, sauce mayonnaise instead of hollandaise, and salmon instead of ham. In fact, apart from the eggs, there's not much in common. Here's how Yvonne and I served them:
But that's OK. The French aren't sure either. Œufs Bénédicte? Œufs bénédictine? I think I'll go for the latter, simply to be different.
Some days, like yesterday, I seem to do an enormous number of things. On others, like today, it seems that I did nothing.
Well, one thing that I try to keep transparent is the amount of time I spend writing this diary. Clearly it takes time, and it's one of the reasons why there tends to be a lean day after a fat day. But it's worth (for my sake, anyway) thinking of how I spend my day:
8:00—9:00
Get up. Read mail, random things in the office.
10:00—11:15
Prepare and eat breakfast.
14:00—14:30
Walk the dogs.
15:00—16:00
Watch TV news.
18:30—19:30
Prepare and eat dinner.
19:30—22:00
Watch TV. Go to bed.
That really doesn't leave much time for anything else. Do I care? No. But it's worth understanding.
Received an email from Fotozones today. What's that? I thought it was the makers of Zoner Photo Studio, but it seems to have nothing to do with them. It contained a link to a lens review, but when I selected it I got:
Why that? Not even the opportunity to log in. Found the contact form and had to put up with the CAPTCHA to end all CAPTCHAS:
And when I was done, all I saw was "Banned" again. I was rather surprised to get a response from the person who runs the site, showing that he was unaware of such problems, and we exchanged head-scratching a couple of times. He has now remove the emetic contact form, replacing it simply with the email address. But I still keep getting BANNED!
Mail from Dallas, the person behind Fotozones, suggesting that my IP address might be in a spam list. OK, even before checking, that's easy: I have two browsers running on different displays (and thus circumventing firefox's "There can only be one rule") that use proxies on different continents. And how about that, it worked!
So: who's blocking my IP address (180.150.113.90)? https://whatismyipaddress.com/blacklist-check finds no blacklisting, but the almost identically named https://whatismyip.com/blacklist-check shows that I'm blocked by http://all.spamrats.com and http://dyna.spamrats.com, names that don't resolve, but http://www.spamrats.com/ does. Why am I on the list? It seems that they have had lots of spam, not from me (obvious: my ISP blocks outgoing SMTP), but from "the class C block", which extends to neighbouring addresses and which is so serious that the whole address block has been blocked as a Worst Offender, and I can't even apply to have it removed! Sent them a message via their emetic web interface. Will I get a response? One way or the other, I find their acceptance of collateral damage to be unacceptable.
I'm updating some of my old photos, and once again I've had issues syncing them to DigitalOcean:
That's 8 minutes to transfer what should have gone through in seconds!
It's been over 8 years since Peter Jeremy brought me some cuttings of his Curry tree. Most of them died, but one survived and has had a somewhat chequered life. Once again it's suffering from mites, and it occurs to me that it might be a lot happier outside. Peter says that they will survive outside, but that's in Sydney, where it's generally warmer, and also in a town, which is usually warmer than in the country. But I'm not going to risk it, and I don't have to: there are plenty of suckers waiting to be transplanted. Tried to remove two of them, but ended up with four, so I put two pots indoors and two outdoors:
Once again the water isn't really hot in the morning. That's not the first time: it seems to happen at the end of every summer, though on closer examination it didn't happen this year. But this time it happened in early spring.
Out to examine the circuit breaker on the hot water system. No, it had not tripped. This flaky switch? How do you tell? First you need to provide power to it. Off to the meter box to turn on boost, carefully avoiding the resident redbacks.
Back and tried. Still nothing. Was it this flaky rotary switch that doesn't quite ratchet "on"? How do you tell when the boost is on? After some messing around, discovered that the low-contrast LCD display briefly displays on or off, thus proving that I can turn it off as well. But more to the point, discovered that the solitary circuit breaker, for the hot water, had tripped:
Why does this happen? Clearly if the system trips two different circuit breakers, there's something wrong with it. How long was the warranty?
John Bolton got up on his hind legs today and pronounced horrors: the USA would personally sanction the judges of the International Criminal Court if they dared to investigate the USA for war crimes in Afghanistan. At the same time he announced the closure of the Palestinian delegation in the USA.
This is horrifying! The USA has (tried to) put itself above international jurisdiction! And it seems that the closure of the Palestinian representation is in retaliation for their attempts to get the ICC to look at Israel's human rights violations.
The US Americans are very proud of their government and its separation of powers. The executive has no say over the judiciary—in the USA, and despite Donald Trump's attempts to change the status quo. This statement from Bolton it tantamount to a declaration of war against the international community. No wonder China and Russia are currently playing war games, though clearly the timing has little to do with Bolton's threats. Why is the international press taking it so lightly?
The first really warm spring day today, with a maximum temperature of 25.1°. Our Gallipoli rosemary is flowering more strongly than I have ever seen one flower in our garden:
The neighbours' Hardenbergia are in full bloom, and our first yellow Carpobrotus is in flower:
More searching for ways to remove object from photos brought me to this page, describing Inpaint, and suggesting that things would go relatively easily. Downloaded, and yes, indeed, without any RTFM I was able to transform my kangaroo photo: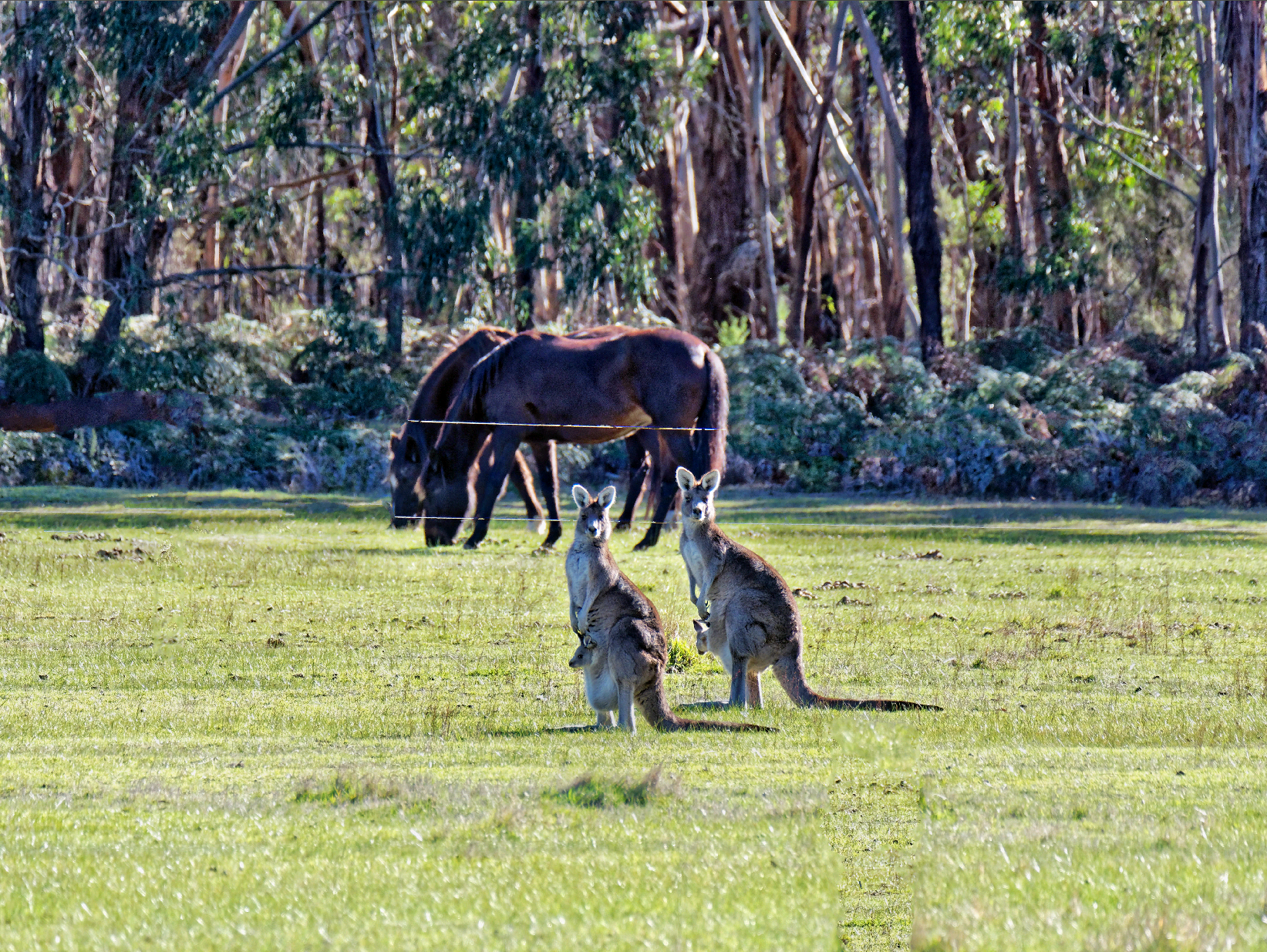 Run the cursor over an image to compare it with its neighbour. It's not perfect by a long way: the fence line in front of the horses is still there (a first attempt to remove them removed much of the legs as well), and the replacement for the post in the foreground is less than convincing:
But for a first attempt, it's not bad, and it looks as if there are answers to the remaining problems.
I've been planning to migrate my web server for some time, but there hasn't been any particular urgency (apart from the US $35 that I pay for it every month, which I can reduce to $5). But maybe one's coming up: Hurricane Florence is due to hit the Carolina coast tomorrow. www.lemis.com is in Raleigh NC. Will it be hit? Probably not. But it won't do any harm to be prepared, so today I tarred up those parts of the system that I need and moved them to ffm.lemis.com, at a snail's pace:
Why did it take so long? I'll find out: I'm planning to set up another server as well, probably near Los Angeles. I would have preferred somewhere in Silicon Valley, but ping says no. Here ping times in milliseconds:
To
From eureka
From www
From ffm
sjo-ca-us-ping.vultr.com
196
74
156
lax-ca-us-ping.vultr.com
177
64
148
OK, setting up a FreeBSD system is becoming easier all the time. But migrating the infrastructure is something that I still haven't simplified enough. What I see at the moment is:
Copy /etc/ and /usr/local/etc/ for the configuration.
Walking the dogs today, came across these first spring flowers:
What is it? I have seen other similar flowers, but not this one with spike-like leaves.
Got a reply from Spamrats today:
Translated, this means: "Tough, we're not going to do anything about it". They don't seem to have considered the fact that the presence on the list is negative enough by itself, even if it doesn't affect operations. I had mentioned in my message that I am not using that IP address for email, but who reads messages? And what's wrong with the reverse mapping? Nothing, according to their own web page:
Somebody should find some rat poison.
It's been nearly a month since I migrated my photos to DigitalOcean, and it has been relatively easy. But today I got a flood of:
Between 12:15:04 and 14:09:06, 6842 seconds, the server generated 5501 such error messages, an average of one every 1¼ seconds. That's amazing, especially since the check is only for a comparison image in those few cases where I have a mouseover alternation. But looking at the code, it seems that I check in any case. So it seems that I get about 50 image requests a minute! I really need to get logging working again.
Why did it happen in the first place? To make the tarballs, I set the permissions for the (still existing) photo directories to 0 so that they would not be included in the tarball:
The files are still there, but this PHP code doesn't care:
OK, put in a quick fix:
Yes, that did it. I'll tidy up the code when the transition is complete. A good thing this didn't happen overnight.
One of the strangest differences between food in Germany and Australia is the colour of potato skin. In Germany, it have a relatively uniform beige colour independent of type. But in Australia the skin is frequently reddish, even in varieties that I know from Europe. Today I started cooking some huevos a la tigre, and found that I needed to open a different bag of potatoes, of noticeably different colour:
But not only are they ostensibly the same variety, Désirée, they're even from the same supplier. So why the difference in colour? And why is the image on the Wikipedia page show potatoes with red skin? The first image appears on the Google search result for the Wikipedia page: But then I read the Dutch Wikipedia entry:
Het is een middenvroeg tot middenlaat rijpend consumptieaardappelras en heeft lichtgeelvlezige, langovale, vlakogige knollen met een rode schil.
... with a red skin. OK, I give up: they're a Dutch variety. But why this confusion in the first place? I can't recall them ever being red in Germany.
Arne Koets is coming to town at the beginning of next week, and Yvonne will be participating in a clinic. She has asked me to take some video. OK, fine. I bought some Saramonic UWMIC9 microphones especially for that sort of thing over 2 months ago, and I have never used them. High time to practice.
A good thing, of course. The big thing that worried me was volume control. They have a scale between 0 and 30, with a default setting of 27. But trying them out, they didn't seem to make much noise: the receiver showed only about 3 out of 5 bars. OK, set to 30 and see what happens.
I mounted the camera on the new ball head that I bought only a little later. The image looks good:
But that's by itself. On the tripod, it looks a little underdimensioned, and the lock lever fouls the base:
It also proved not to be as smooth as I had hoped. Do I really need to spend Big Money for a good ball head?
But the real problems were very different. Apart from the jerkiness in this clip, thanks to the ball head, what happened to the focus? Irritatingly, the Exif data contains no useful information about the camera settings, but it was set on C-AF (constant autofocus) with the single central focus point. But it lost focus and couldn't find it again:
I took two other clips, not really worth keeping, and it didn't happen again. But why?
And the sound? Better than we have had, but still too much rustling. Also, Yvonne found that the transmitter was obstructive; we'll have to find a better place for her to put it, possibly in a pocket or pouch.
The real issue, though, was that my transmitter powered down after the second clip, and Yvonne's had a temporary dropout in the middle of the third clip. Looking at the batteries, they're all NiZn, and though my transmitter showed full voltage both before and after, and indeed it was over 3 V for two batteries, one of the batteries was showing only about 1.45 V, while the other was showing 1.7 V. I think it's time to decide that NiZn batteries need to be recharged long before the devices show "low battery", maybe round 1.6 V per cell. In the meantime, I should take along a number of backups, including normal non-rechargeable batteries. The transmitters don't like NiMH batteries: even when fully charged they show a "battery low" indication.
Finally the rest of my web data has been transferred from www.lemis.com to ffm.lemis.com:
That's remarkably slow, but it won't stay there: I need two more machines to be the new www. And then I'll have the opportunity to compare the transfer rates.
Mail from Tim Bishop today:
Later he added:
That's interesting. If he's correct and anybody can remove the block, can anybody set the block? Blocking an entire zone like digitaloceanspaces.com could wreak havoc.
Over the last few days I've been trying to make a new batch of huevos a la tigre. It's a surprising amount of work: I've calculated that I need 170 g of potatoes for a single serving, so that's only 6 per kg. Just cutting a kilogram of potatoes into small cubes is work. And how do I cook that much? I tried in a kuali, but that didn't cook them through, even though I covered it. So I put them in a big pot and cooked them in the oven at 180° for an hour. That was too warm, though they survived: next time I'll do 130°.
Next, the eternal question: how to cook the eggs? I've established that grilling them creates leather (thus the rationale for splitting from huevos a la flamenca). Past attempts in the microwave oven have been equally unsuccessful. How about steaming?
After 10 minutes, I had partial success:
But the albumen between the yolks was still uncooked. OK, microwave it is, 2 minutes at 600 W:
Still not the Egg of Columbus. The whites were (finally!) OK, but the yolks were cooked through:
What next? Poached? I think I'll have to accept fried eggs.
Now that I'm receiving spam again, some attempts stand out. The most interesting was this one:
From: Accountant <czbxpo@uniconlogistics.com>
Subject: Payment Confirmation

Please find attached our payment confirmation which we paid yesterday.

Kindly check and confirm if you received the same.
Thanks and best regards

Clearly spam, right? But then look at the attachment:
-- Mutt: Attachments
I 1 <no description> [text/plain, 7bit, windows-1251, 0.3K]
A 2 PAYMENT-04.tar [applica/octet-stre, base64, 2.0M]
PAYMENT-04.tar? Is this really a tar archive? Yup:
Yes! Why that? Its (only) content looks like a Microsoft executable, and it wasn't compressed, so there's no obvious reason to tar it up. And what Microsoft system can understand that?
Some discussion on IRC. It seems that WinRAR and 7-Zip both understand tar, so it could work after all. And possibly virus scanners don't investigate tar archives, so this could be a way to bypass them.
Yesterday was a really nice, mild day, with a top temperature of 22.8° (purple line):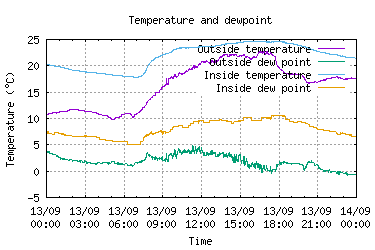 But that was yesterday, and just today things changed dramatically:
The highest temperature of the day was 18.1°, but that was in the early hours of the morning. From 7:00 on the highest temperature was 10.1°, and a couple of times it dropped under 2°, reaching a day's minimum of 1.4° in the late evening. There was a lot of rain and worse:
That's not really snow, more like fine hail. But in September?
Despite the terrible weather, I managed to take my garden photos for early spring.
The frosts at the end of the last month have done their damage, notably to the Tropaeolum, though the Pelargoniums have also suffered:
The Banksia has no new flowers, though the ones growing out of the trunk are gradually maturing:
I continue to be surprised by how well the Euphorbia handled being transplanted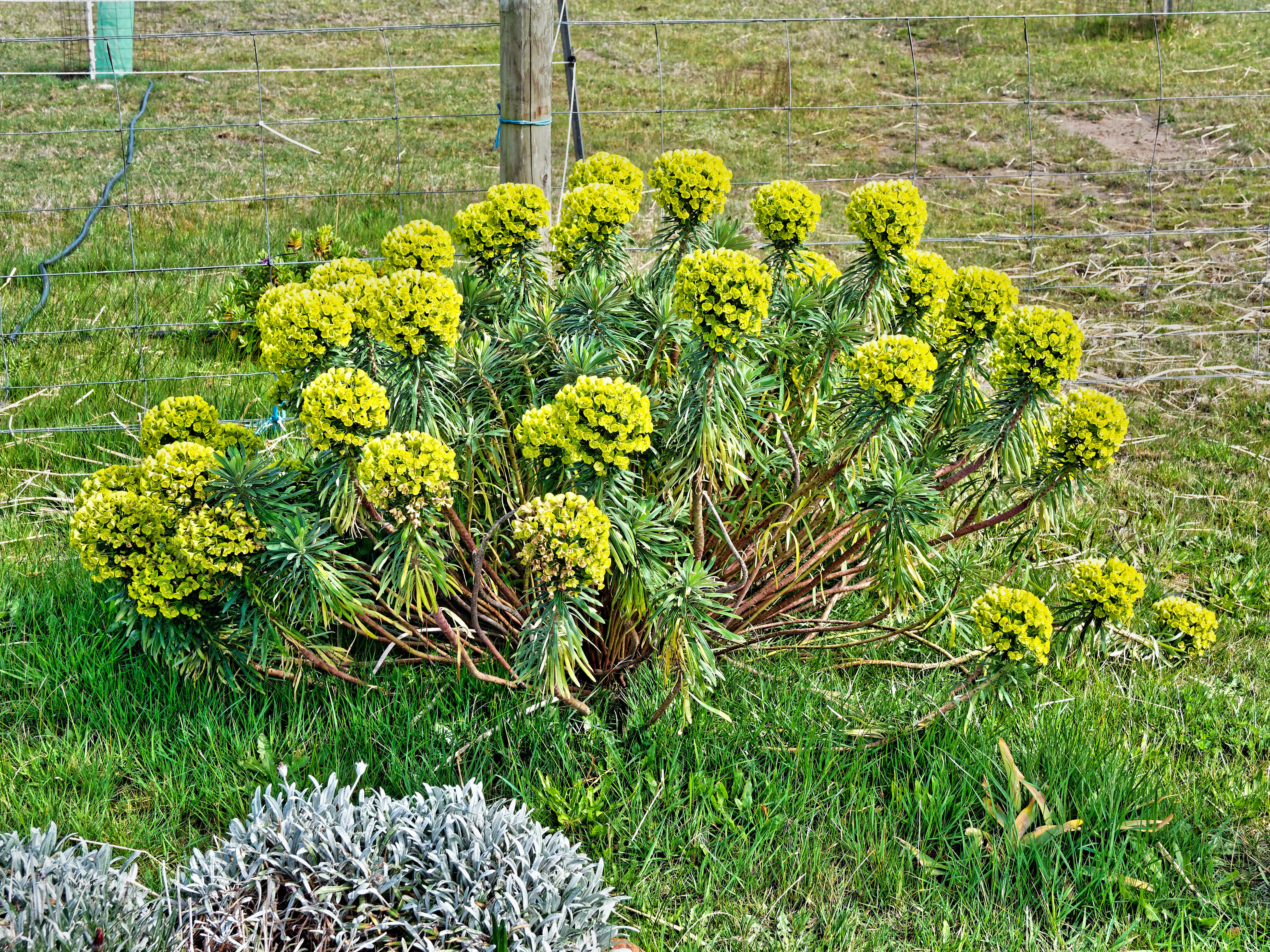 Then there's an Iris of obscure origin:
I thought that maybe we had got it from Petra Gietz, but she was here today and denied all knowledge.
The D-shaped north bed is now full of spring flowers, probably as many as we need:

And that's about all. In particular, a couple of plants are missing: the Phalaenopsis that was blooming so well last year, and the Cyclamen in front of the house:
Why? The Phalaenopsis is barely showing any growth this year, and it'll be a while before the Cyclamen shows any flowers. And I had thought that this winter had been milder than last year.
The Clematis that I planted last spring are coming, but very differently. While the one on the trellis in the north (Edo murasaki) is growing happily and sprouting leaves, the one on the fence to the west (General Sikorski) is barely showing any growth:
I wonder why.
Margaret Swan is in town again, another excuse for Indian vegetarian food. I had intended to make masala vada, and I started before I discovered I was supposed to drain the stuff for 24 hours before continuing. So I put the pulses aside and made alu tikka instead.
And that, too, was much more work than it should be. There must be an easier way: after all, they're just fried vegetables.
Today was one of those strange days with lots to do and little to show for it. Somehow cooking Indian food makes the kitchen look like a bomb has gone off, and by the end of the evening things weren't looking too much better. That's at least partially because of the preparations for tomorrow: Yvonne is feeding not only herself, but also Arne Koets and friend, and also Chris Bahlo and Margaret Swan at tomorrow's clinic. Today she prepared the food.
And I still have the job of taking video. That's nothing new; we've been taking (lots of) video since 1984, but those were clips, and I've decided to take a whole 40 minute session of Arne teaching Yvonne. How do I do that? I still don't know. Probably badly, or at least, not to my satisfaction.
Off this afternoon to Three Barns in Smythes Creek to take some video of Yvonne's riding lesson with Arne Koets. I was concerned about problems, and my concerns were justified.
I had already decided to take videos with two cameras:
The first issue is the venue itself: a covered arena, open at all sides. I've been there before, and it makes exposure almost impossible. Today the sun was shining, so things were even more extreme. Manual exposure? How do you even do that with video? Dragged out the E-M1 manual and discovered that yes, indeed, it works pretty much the way it does for stills. It wasn't until I got to the venue that I discovered that this doesn't work for the E-M1 Mark II, because the menus are different, and the "Super Control Panel" doesn't allow you to set this detail. So for that I tried an exposure compensation of +2 EV, which looks like it worked well enough.
The first surprise: the 45 mm lens was far too long. Fortunately I had my Olympus E-PM1 there with the Panasonic Lumix G 20 mm f/1.7, so I put that on the E-M1.
The rest still didn't work well. Despite all my attempts, Yvonne's microphone scraped against her clothing, making unpleasant scratching noises. And once again I had problems with both microphones. Yvonne's stopped working for no obvious reason; when I checked it was still on, and after power cycling it worked again. Later, Arne's powered down. Once again it showed full battery on being powered up. But back home I discovered that one of the cells was showing about 0.9 V. Could it be that something similar but not so catastrophic happened to Yvonne's microphone? I tested it and found no issues.
That was with NiZn batteries. Last week I established that NiMH batteries are not an option: even when fully charged they show a "battery low" indication, though a repeat test showed no problems. Admittedly, some of the NiZn cells are getting rather long in the tooth: I started using them seven years ago, and some may be getting tired. But I can't rely on them if they fail so silently. So it looks like I will have to use non-rechargeable batteries in the future, at least for the transmitters.
Apart from that, it was anything but plain sailing. I'm gradually coming to the conclusion that the much-hyped autofocus of the E-M1s is inadequate. Tracking doesn't: on some occasions it jumped to a different horse in the distance. There should be heuristics that make that less likely. On other occasions it got completely lost in the corner of the image (outside the AF sensor area?) and stayed there, presumably something like the problems I had last week. About the only good thing is that I discovered that, despite disabling the touch screen, I was able to touch the area I wanted in focus, and it worked immediately. But what kind of algorithm leaves you with a red square in the corner of the viewfinder ("I can't get into focus, and I'm not going to try")? Under those circumstances, and given single focus point mode, you'd expect it to always be better to go back to that focus point and try to focus there. I'm very impressed, but not positively.
Was that all? Of course not. For some reason the E-M1 (the one that I just left running) stopped recording for no obvious reason after 22 minutes, 3 seconds. Start again and it worked. And on one occasion the E-M1 Mark II got so annoyed, presumably because it was completely out of focus, that it stopped reacting at all, and I had to remove the battery to stop the bloody thing. One way and another, not the smooth recording that I had expected.
And finally, I lost the lens cap to the M.Zuiko Digital 45 mm f/1.8. Where did it go? My best bet was in the corner of the arena where I put up the tripods, but search as I might both there and elsewhere, I couldn't find it. But when the others came home, they had the cap with them. Yes, it had been in that corner. Presumably it had been covered in sand.
A few weeks back I planted a daun kesum plant, better known as Vietnamese mint, one of the key ingredients for Penang Laksa and thus also known as daun laksa in Malay.
But it was too early, and it died. I had got the plant from Avalon Nursery, not far from Three Barns, so I dropped in there on the way back. No, sorry. Picked up a Alyogyne huegelii that smiled at me, and that was all.
The week before last I got an offer from The Good Guys, valid for a month, for a Bosch PIJ611BB1E for the surprisingly good price of $1,098 instead of the standard $1,399. And then I got a special offer email for kitchen gear from them. OK, check what they're offering. How about that, exactly my chosen cooker—for $1,089. OK, time to buy. Dropped in today, but they didn't have them in stock. Ordered one, and was rewarded with a price of $1,050.
The list price is $1,699. Why are they selling them (and only this model, it seems) so cheap? Because there are only 3 cooking areas? To make up for that, the one on the left is 28 cm in diameter and can deliver up to 3.7 kW. That doesn't sound very big, but it's much larger than the standard 16 or 18 cm, and the heating surface of my largest frying pan is only 26 cm. But maybe people don't think that way. On the other hand, it could be a coincidence. The best price I can find on eBay is still $1,159.
While waiting to be served, the person in front of me came along with a 4 handset Panasonic cordless phone like the one that I had been looking at a couple of months ago. Price $139. Doubtless I could get one cheaper on eBay, but here I could get better customer service and return it if I had significant problems. So off to get one, but couldn't find it. The only one they had was the display model, which they sold me for $115 as a result. It wasn't until I was on my way home that I realized I hadn't checked the specs. And at home I discovered that it doesn't have mobile phone coupling, the only reason I wanted a new phone. So it'll have to go back after all.
For the past few days I have noticed that the coffee machine has been leaking water, mainly after being turned off. It came from the right side, where the complicated mechanism is:
But where? The thing needs cleaning at some interval or another, but I had already removed it and cleaned it. And still it leaked. Time for closer investigation.
What I found was this:
Two rectangular holes that drain into the tray underneath the machine. And they had been clogged by coffee remains. I'm left amazed by how leaky these things are.
The videos that I took yesterday may not have been good, but they were voluminous, a total of 15 GB. Some were completely useless—the test clips at the start—but most were worth uploading to YouTube:
Image number
YouTube
19171661
1
19171662
2
49171257
3
49171258
4
49171259
5
49171260
5
49171261
7
It took all day! It's easy to forget how much 15 GB are, but at my upload speed of 5 Mb/s it's nearly 7 hours. The good news is that the upload speed was nicely pegged at pretty much exactly 5 Mb/s. Less easy to understand is why the third clip, "only" 860 MB, took all day, while others uploaded much more quickly.
The 15 GB were only my contribution. Yvonne took even more. Together we took 31,781 MB of photos. That's about a quarter of all the digital photos I took in the first 10 years.
In passing, it's interesting to note that Yvonne is gradually learning the advantage of better lenses that she usually has on her camera. Yesterday she used the Leica DG Vario-Elmarit 12-60 mm f/2.8-4 and the Olympus M.Zuiko Digital ED 14-150 mm f/4.0-5.6. For some reason she preferred the latter because it had a longer maximum focal length. But on checking I discovered that only one of the 214 photos she took had a focal length greater than 60 mm, and then only 63 mm.
The other day I commented that the cyclamen hadn't flowered yet this year. But yes, it had, just not visibly:
Since then, the first tulips have also shown their faces:
While walking the dogs, also found these flowers.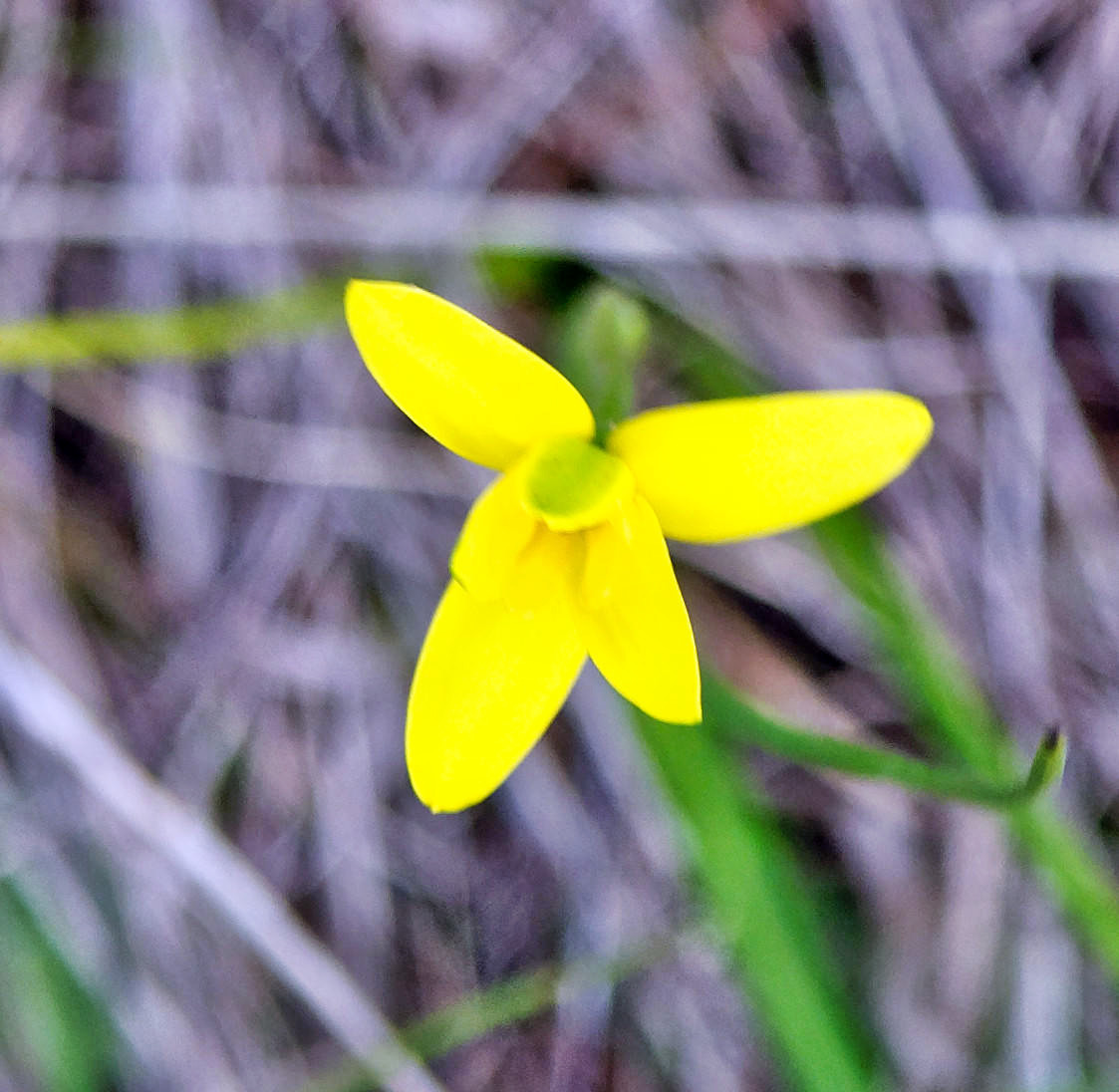 It's possible that I've seen them before, but I don't recognize them. High time to categorize what I have seen round here.
So it seems that Linus Torvalds is taking time off from Linux. You can understand that, considering that it has been his life since he was 21 years old, well over half his life. But it seems that his main issue is anger management.
Elsewhere I've seen another example, not so much anger as offensiveness: Thomas Modes, (now) the lead and maybe only developer of Hugin. Somebody on the mailing list asked for information on scripting Hugin, something that I had looked at in some detail a few months ago. So I answered:
Rather to my surprise, I got an answer from Thomas Modes, with whom I have had issues before:
OK, Thomas is German, but "is wrong" is not even correct German. Most of it is OK, or so he claims. OK, do away with diffuse statements: I checked about half-way through the page and found that there are references to autopano-sift, match-n-shift, ptoinfo, ptscluster, ptoclean, ptovariable and panostart, as well as to the file pano.mk that no longer exists. In the "Full list of command-line [sic] tools", only 5 of the first 10 tools still exist. The page also currently contains the line:
Well, I'm confused. Beginners certainly will be. Maybe Thomas has a different definition, but for me this is very out of date.
The real issues, though, are Thomas' attitude: he's trying, come what may, to defend the status quo, in the process being rude about it. He comes across as offensive and inaccurate. This attitude also greatly reduces people's willingness to cooperate in the project. A few years back a whole lot of people were involved in the project. Now he seems to be the only one. It would be easy to get the impression that his attitude has something to do with this.
This isn't the first time I've had issues with Thomas. Looking back, I find it's been going on for years: in February 2013 he changed a document that I had written to refer to a different, not-yet-released version of Hugin, meaning that it was useless to any end user. Later he introduced a kludge that broke building under FreeBSD: the object hierarchy must be distinct from the source tree. Why? To fix an issue with building one part of the documentation. It could have been solved correctly, but for Thomas, this was good enough. And in general, every time I mention an issue, he finds a reason why the current situation is preferable—to him.
That's enough for me. I don't need this kind of treatment. I'll let somebody else fix the document (which probably means it will never be fixed). My issues with relatively normal panoramas will need extremely good documentation to be accepted as real problems. After all, these two photos are equivalent, aren't they?
Recently I've seen interesting comparisons between PTGui (success) and Hugin (fail). Doubtless the willingness to accept bugs tilts this in PTGui's favour. I should investigate further.
After the government introduced taxes on online sales, I discovered shortly later that eBay doesn't indicate the correct pricing for such items, and to my surprise many people agreed with them.
But now eBay (though possibly not their sympathizers) has discovered the errors of their ways. Today I bought some batteries from Hong Kong, and was warned up front:

Finally! Of course, we're not done yet. Where's the final price? And where's the information once you go to look at the item?
You'd really think that once they had identified a problem and a fix, they'd apply it in all appropriate places.
Fired up Virtualbox for the first time in months (hint: you need the kernel modules /boot/modules/vboxdrv.ko and /boot/modules/vboxnetflt.ko), and was greeted with this error message:
Now isn't that informative? Yes, you can show the details:
But why should you have to?
The amplifier in my office is flaky: from time to time one or the other sound channel drops out. And somehow I regret having paid the princely sum of $30 for it. So when today I saw an offer for a "Sanyo Stereo (with 2 large speaker, it has a turntable, tape deck and FM radio)" on Freecycle, I jumped at it. Left my phone number, got a call back. Yes, it's mine, in Learmonth.
Where's that? Over 50 km away, onn the other side of Ballarat. The last time I went there was 7 years ago, where coincidentally we went to pick up a piece of furniture that proved inappropriate. Looking at the map, it seemed that it might even be the same house as last time.
Off there anyway, and was left being led through a particularly untidy garden to the house next door. The system is definitely not what I expected:
Still, the loudspeakers look good, and it might come in handy, though it's clearly not suited to propping up a monitor.
But while I was there, I found various other things outside the house, with a sign "Free" next to them. A couple of corner stands and a wicker stool similar to one that Yvonne already has, and something like a miniature grandfather clock, only 50 cm high. Here first the old stool, then the new:
So I took the lot, with the exception of a vase of which I didn't like the look. On reflection, I should have taken that too and left the choice to Yvonne. Clearly my choice was good: Yvonne didn't notice that the new stool was different, and asked why I had moved it. And the clock proved to be battery-driven and functional. We don't know where to put it yet.
My main purpose for the excursion today wasn't the stereo system: I had lots of things to pick up in Ballarat. But by the time I got to Bunnings, I had forgotten nearly all of them. All I found on my shopping list was herbs, gas and duct tape.
Duct tape was no problem, but gas was an insurmountable one: I had left the old cylinder at home. Herbs were also an issue, not helped by Bunnings' signage:
A good thing that I wasn't looking for roses.
Finally left with some tomato seedlings and a far-too-large pot of Vietnamese mint (daun laksa), the only one they had. Somehow it seemed like a wasted day.
Mick the gardener along today to do some more work, notably planting cannas and laying irrigation. We now have the second trellis in place:
The plants I bought yesterday are already in the soil: the Alyogyne huegelii and the Vietnamese mint:
The basil that Yvonne bought on Wednesday is also in there, but I have my doubts about its viability:
These pots with white gravel (quartz?) in them seem to be designed to be eaten immediately, and I fear that it won't take root properly.
Last Saturday I gave up on making masala vada because I didn't have the time. Miraculously, the soaked pulses hadn't gone bad by today, so I finally got round to completing the dish. But it's so difficult! I'm supposed to grind the pulses in a food processor. What was I thinking of? I noted to add enough water. How much is "enough"? Today I measured it: 275 ml water. What does that do to the consistency? Surprisingly, it turned out not to be too bad. I had previously given up on deep-frying them, and the recipe showed my attempts:
But that was nearly 3 years ago, and when I tried it today the patties burnt on the surface and didn't cook through. OK, alternative: in the oven.
That came out quite well, though I think the whole thing needs more spice. But I've come quite a long way from the original recipe.
Watching a film about the Stasi on TV this afternoon. They mentioned the Minox "spy camera", carefully omitting any reference to the fact that it made in West Germany. And some detailed photos. It was a Minox A, with one wheel less than my Minox C: In fact, the first image isn't a Minox A. It's a "Minox Riga", made in Riga before the war. And mine was made some time in the 1970s. If that's all the progress they had in that time, it's no wonder that they folded.
But why the third dial? Opened the thing up and discovered a battery. It does have an exposure meter! And the battery (nominally 5.6 V) still shows a voltage of 5.4 V. How old is it? I don't think we've ever used it. My father gave it to Yvonne years ago—he's been dead for nearly 10 years—and I don't think she ever used it. But not only does it contain a battery, it also has a film in it! Of course, opening it doesn't help, but it's a cassette, so maybe we should finish it and find someone to develop the film.
I have now downloaded PTGui. Time to try it out with some of the images with which I had had trouble with Hugin. First one of today's panoramas:
All the videos I have seen show PTGui to be very much like Hugin, but that must have been a previous version. Now it's even more Microsoft-like. Still, the "Load images..." tab was clear enough. Reading in the images was straightforward enough, but then I got this strange popup:
PTGui needs to know whether the images were taken with a fisheye lens or a regular [rectilinear?] lens, but this could not be determined from the EXIF [sic] data. Please tell what kind of lens was used:

Exif Lens: Generic 8 mm f/1.8 fisheye on E-M1MarkII
OK, PTGui, what's generic about the Exif information "Olympus M.Zuiko Digital ED 8m f/1.8 Fisheye PRO"? And what's unclear about both the original Exif data and the interpretation? It seems that PTGui has issues with Exif that go beyond the spelling and spacing.
Told it what it already knew, and it went off and detected the control points correctly and in about a tenth of the time that Hugin's cpfind takes.
Next to crop it. It offers me a "Panorama Editor" tab. It must be in there, but how can I tell?
What's that disk emblem? Or the square next to it? Hovering the mouse cursor over the symbols gave surprising results:
And this one blows my mind:
Why would I ever want that? And why is it trying to be a window manager? The answer's simple, of course: Microsoft still doesn't have one.
And how to crop? I still don't know. Moving the image seemed to move in the opposite direction from what I would have expected, and it was quite slow compared to Hugin. And I couldn't find any way to crop it.
In the end, I gave up and saved it as-is, putting up with silly names with spaces in them and ending in .jpg. When I later tried to save an image as foo, it disobeyed my instructions and called the file foo.jpg. Here compared with the Hugin result:
Later I went through the tutorial videos, part 2 of this link, for which they're too polite to supply a direct link (it's https://youtu.be/bEI1CJoMLcY). They show a very kludgy way to crop by changing the appearance of the display image (sliders to left and right), but that keeps the image centered in the same place. Surely there must be some better way; in principle I could just crop it later, like I used to. But not a very professional impression for something for which they want at least 99 €.
Next, how about this panorama?
Loaded it, and it found the control points correctly, again in record time. But I need to mask it, and PTGui masks completely differently from Hugin, at least as far as I can see, and as far as the tutorial tells me: wipe over the area you want to remove, with a very nervous and fuzzy brush. That could make sense, but in this case it proved very difficult. At the very least I need to know how to slow the brush down.
Looking at the features list, it seems that only the PRO version of PTGui offers any kind of masking. And that costs double the price of the base version. So far I haven't seen anything that justifies that cost.
Comparing Hugin and PTGui, the main issue (apart from speed) seems to be the unreliability of Hugin's control point detectors. I wonder if the project files are still compatible enough for Hugin to process a PTGui project file. I can't check that: the trial version doesn't save the project file in canonical form, which suggests that yes, Hugin would understand it.
If there's one thing that defines a camera system, it's the interface between camera and lens, the lens mount. Cameras and lenses may come and go, but the flange remains.
Now that new mirrorless cameras are coming out thick and fast, it's worth getting an overview. There are two important things about the flange: the distance from the focal plane and the diameter. The smaller the distance, the better, and within reason, the greater the diameter, the better. But where do I get the details from? This page gives the distance, but I need to look up the diameters myself. Here's what I have:
It's interesting to note how much wider the newcomers are. The Micro Four Thirds system seems positively archaic by comparison. And the Leica L-Mount is interesting because there rumours are circulating that Panasonic and Sigma are going to produce cameras with that mount. No mention so far of Olympus.
A while back I bought a lot of pre-mixed East Asian spice sauces from ALDI. Some were OK, others less so, and I'm still left with a couple. This one suggested breakfast with the egg on the image:
The recipe suggested (only) 300 g of chicken breast for two servings. That seemed too much for me, and I ended up with 200 g of mixed chicken and pork, and added some chopped spring onions. Still too much. But it didn't taste too bad. Also, despite the description, it is not hot at all.
Yesterday Yvonne drew to my attention that one of our birch trees is not showing any signs of recovery from the winter. It's difficult to get a photo, but clearly the one on the left has new leaves, while there's little to see on the other one:
Took a look and noted that the Paulownia kawakamii is also showing little sign of spring. And I've noted for some time that the buddlejas in the south garden are not doing at all well.
Why? Could it be the soil? Five months ago I had an issue with a Hellebore producing shoots that then died off again:
I got Mick to dig out the soil and replace it with good topsoil, and that has definitely made a difference:
But they still haven't flowered in the nearly 3½ years that we have been here.
So could it be that the soil is the problem with the birch and the Paulownia? The birch that is suffering is considerably larger than the one that (still) looks OK. Could it be that its root system has grown down and struck granite clay, and then given up? We know that there's clay 80 cm down, but could that kill a tree?
Closer examination and comparison came up with a different potential solution, though: the Paulownia doesn't produce leaves this early; last year they started round the beginning of November, only to get frozen off by a late frost:
And looking at the Paulownia and birch in more detail, it seems that there's still hope:
One thing that this does say is: it's too early to plant the Hibiscus and tomatoes that I had planned to plant soon. Instead, prepared some pots with soil for the tomato seedlings. I'll leave them inside to warm up and then plant them tomorrow.
After yesterday's recognition of the dangers of planting out too early, decided to pot the tomato seedlings that I bought last Thursday. I had only really needed two, maybe three plants, and clearly there were more here. But I was still surprised to find that there were 12 of them!
They're a cultivar called "Sweetbite", early maturing cherry tomatoes, presumably the same thing as Yates "Sweet Bite", which are sold as seeds. I wonder if they're any different from the volunteers we got last year. Yates claim that they're "smaller than normal cherry tomatoes, fruit is produced in clusters on long branches". We'll see.
Seen on IRC today:
That was a reference to my article on Minox on Saturday. And sure enough, they weren't visible on the external web site. Normally that's because I forgot to sync my local copy, but in this case the images were from WikiMedia.
So why did they display locally and not on the external site? My guess was that it was due to the lazy display code I use:
The display looks like this until the Javascript functions load the real image (after the page has been uncovered on the screen):
But I had set the access mode for all /grog/Photos/*/tiny/ to 000, so clearly that couldn't (and didn't) display. But why should that stop the display of the external image? Reset the permissions of /grog/Photos/20120628/tiny/, and all was well. I still don't understand why.
I have a number of images in these hierarchies to which I refer explicitly in my code, notably my photos at the top of the diary pages. Time to go through the code and fix the references.
What's a Wonton? It's not a word that I hear much any more, and it seems to have a US American overtone to it. In fact, it is a valid word, referring to a kind of dumpling like the yum cha dumplings that I bought recently in Geelong.
We had no less than two packages of Wonton skins in the deep freezer, and today Yvonne decided to make some Wontons. I had my doubts: Yvonne tends to approach cooking from a decidedly European viewpoint, and the use of things like Noilly Prat didn't reassure me. But the results were good, even if she insisted on baking hers:
Robert Hill from the CFA along this morning with a couple of colleagues to burn off the rubbish that we had acquired over the last 12 months.
By the time I got down there, the story was pretty much over:
Letter from Juries Victoria today. Letter? No, a summons. "You have been summoned for jury service and are required to attend".
In principle I'm rather looking forward to the idea. But looking at the details dampened that enthusiasm: It's in Geelong, 80 km away, and I have to be there by 9:30 in the morning. That would mean that I would have to get up in the middle of the night. And it starts on 11 October; the following week we have two medical appointments, one of them in Melbourne and requiring significant advance booking. The summons makes it clear that I should have 5 to 7 business days available for the duty.
Why can't they give me jury duty in Ballarat? That's what I would have expected.
They include a form to apply for deferral, requiring a signature by a Justice of the peace. That would require a trip to Ballarat! But they have the alternative of a web application, designed to annoy with one of these particularly emetic CAPTCHAs:
After running that gauntlet, I discovered that I had multiple reasons for deferral, some sufficient for permanent exception: I'm more than 60 km from Geelong (something that their choice algorithm should have been able to determine), I'll be over 70 years old (called simply "advanced age" on the paper form), and I have the medical appointments.
But that doesn't interest the form. There can only be one. It took the first one I entered (more than 60 km away), and that was that. No modifications, no additional questions, apparently no way to modify the entry. If they decide that that's not enough, I have to go. And if I do, I face additional issues:
I might be able to get a parking permit. Otherwise I'm liable for parking fees of $6 a day, along with the costs of running the car, which I estimate at $0.60 per km. That's a total of $112 a day, which far exceeds the $40 that I get paid. I can't afford it!
People, it's difficult enough to get people who are prepared to be jurors. Why chase away the ones who want to do the job?
Read today, the story of stupid thieves. They stole GPS tracking devices! And if that wasn't enough, one of them also managed to cut himself while stealing some drinks from the company fridge, leaving blood samples and fingerprints. If you're going to be stupid, go the whole way!
A particularly pretty Amyema pendula in Grassy Gully Road:
Yvonne has a new riding helmet and new boots, both of which arrived today:
Our new Bosch PIJ611BB1E induction cooktop has arrived, including the installation instructions which I had searched for everywhere, clearly designed for illiterate electricians:
Is it really so difficult to add text and real photos? No. The instructions are in 15 languages, but they're all represented elsewhere in the document, requiring the installer to page back and forth.
It also included a 5 conductor cable to connect it to whatever power source I choose, so it's puzzling that the person who installed the display model at The Good Guys thought that it was a single phase model.
Starting with the first image required removing what proved to be a cable clamp, held in place with a Torx screw. That proved to be more complicated than I thought: none of my bits fitted. It wasn't until I looked more carefully that I discovered that some of my bits were for 5 lobed Torx, something that even the Wikipedia page doesn't describe.
Finally interpreted the instructions and put in the cable in single phase configuration:
The Earth conductor is longer than the other, which makes sense given the position. But the ends are all too long, resulting in having to bend the wires to fit. Surely they could have adapted the cable to its intended position.
Closed the connections and off to try it out. Bang! It tripped the RCD in the garage. Coincidence? No, it happened a second time. Was it really the RCD and not the circuit breaker? Yes, tripped a third time and checked the flag.
Damn. What could have caused that? Yes, connecting a device like that via a 10 A connector is not exactly appropriate, but it worked for the last one, and as long as I don't use more that 10 A it should work. I could even overload the plug and draw the 20 A for which the circuit breaker is rated. But tripping an RCD when I just connect it? Can that be right? Checked the connector to the plug, but there's nothing obviously wrong there:
So what is it? I'll have to talk to Bosch tomorrow.
So today (or yesterday at the other end of the world), Donald Trump got up on his hind legs before the UN General Assembly and preached... isolationism. And of course he couldn't resist making the claim that his administration had achieved more in two years than "almost" any other administration. That's ridiculous, of course, and that's what happened (20 seconds in):
World leaders laughed openly at Trump! Sadly, it's not clear that he understood.
Yesterday I complained about the cost of getting to Geelong for jury duty. The good news: today I received email telling me that my request for deferral has been accepted. I wonder if the next request will require me in Geelong (since the distance was the only reason that I could state in my request).
I guessed at $0.60 per kilometre for the cost of getting there. What's a good sum? In Germany that's simple: the taxation people recognize a specific sum to be deducted from the tax. A Google search for Werbungskosten Kilometergeld brought me immediate results: 0.38 € in Austria, 0.30 € in Germany, along with the information that the correct term is Kilometerpauschale
And in Australia? I couldn't find anything useful. The sites I found calculated incremental distance and fixed costs separately. In principle that makes sense, but it doesn't help me determine what price I should specify to the Authorities. And some of the sites are clearly badly wrong. https://www.budgetdirect.com.au/car-insurance/research/car-owner-cost-statistics.html states:
The average fuel consumption for a luxury car is 2.5L/100km
How can any self-respecting web site publish such nonsense?
Our burnonff pile burnt for two days: there was a big tree stump in there that we started burning two years ago, and which Robert Hill of the CFA had suggested was a "20 year project". But today it was gone:
Part of installing the new induction cooker is to replace the worktop around it, and also to find a 30 cm wide gas stove for things that the induction cooker can't do easily. Yvonne had brought some samples of worktops, but it sounded like a good idea to go into town and take a look together.
Off to Ballarat Joinery Supplies in Old Creswick Road, where we saw lots of stuff, none of it inspiring. But Yvonne might be right this time in wanting a light-coloured surface: I just need to be sure that it won't mark too easily.
Then to Bunnings to look for random stuff: pyrethrum, a ceiling light and a replacement gas cylinder. I've already established that pricing for pyrethrum can range by a factor of 100:1, and I had already established that Hortico was the best. "No, we don't carry that". But I bought it last time. So no purchase today.
The same thing happened with the ceiling light. None fitted my relatively simple requirements: "oyster" shape, two E27 sockets. They had oysters with fluorescent tubes, oysters with LEDs, oysters with one E27 socket, and a single one that would have fitted the requirements had it not been so ugly. Again no sale. Back home, somewhat frustrated, and intent on searching the web. Now if only the web vendors would provide the information I need!
On the way home drove down Misery Creek Road as far as Orchid Track. This time last year there was a lot to see, but this year there's much less, maybe because it has been so dry. I was mainly looking for orchids, but found none. It's interesting to see the fresh Eucalyptus leaves against the sun, though:
Looking at the photos I took of the induction cooker wiring yesterday was instructive. Clearly I had done everything as the instructions said: