Mick Solly, the gardener, along this morning to tidy up the garden. He got round to trimming about half the edges of the lawn, and spent the last hour planting the lime tree we bought last week. There were problems with the wheelbarrow, and he had to remove a Valerian bush. Here the lime: Somehow I have difficulty understanding why it took too long. But everybody tells me that I'm too impatient. And Mick won't be back for 2 weeks. Clearly I'm going to have to do something myself. Planted one more tomato, a black cherry tomato I think: I'm still concerned about the wind, but it's clear that I'm going to have to do something with the rest. Round the arches maybe? That's all we have to show for two years of planting. On the left of each arch are some sweet peas, which look better this year than previously. And the jasmine on the right is also acceptable for something planted this year (which it wasn't). That leaves the right side of the left arch. Tomatoes can't do much worse than what I have there now.
Not all flowers that grow wild are welcome. I've already noted the Disa bracteata (South African weed orchid), of which I got more photos today: And then there are the wild Watsonias, now also in flower: On the other hand, there are still more that I don't recognize. A couple of days I mistook this one for a Thelymitra pauciflora, though clearly it's not: The shakiness is indicative of the wind we had today. Hopefully I'll get better ones later, but who knows if they haven't already stopped blooming. I have little hope of seeing another Thelymitra rubra flower this year.
And then there's this one, which I should be able to identify some time: There are really two parts of setting up email on the new server: sending mail (using Postfix (software) and receiving it (using not only Postfix, but also some POP3 client).
Receiving is critical because it's very easy to lose mail if there's some configuration issue. And maybe I should try using eureka as the lowest-order MX. If something goes wrong, I can redirect the MX elsewhere. In the meantime, though, how about getting POP3 working? I'm using fetchmail on eureka and qpopper on the server.
OK, try that. No joy:
=== grog@eureka (/dev/pts/50) ~/public_html/net 18 -> fetchmail -p pop3
fetchmail: Connection errors for this poll:
name 0: connection to www.lemis.com:pop3s [45.32.70.18/995] failed: Connection refused.
POP3 connection to www.lemis.com failed: Connection refused
fetchmail: Query status=2 (SOCKET)
fetchmail: Server certificate verification error: unable to get local issuer certificate
fetchmail: Broken certification chain at: /C=AU/ST=VIC/L=Dereel/O=LEMIS (SA) Pty Ltd/OU=Certificate Authority/CN=www.lemis.com/emailAddress=groggyhimself@lemis.com
fetchmail: This could mean that the server did not provide the intermediate CA's certificate(s), which is nothing fetchmail could do anything about. For details, please see the README.SSL-SERVER document that ships with fetchmail.
fetchmail: This could mean that the root CA's signing certificate is not in the trusted CA certificate location, or that c_rehash needs to be run on the certificate directory. For details, please see the documentation of --sslcertpath and --sslcertfile in the manual page.
fetchmail: Server certificate verification error: certificate not trusted
fetchmail: Server certificate verification error: unable to verify the first certificate
fetchmail: Warning: the connection is insecure, continuing anyways. (Better use --sslcertck!)
5 messages (5 seen) for groggyhimself at oldwww.lemis.com (822984 octets).
fetchmail: No mail for groggyhimself@gmail.com at pop.gmail.com

Isn't that clear? I can't even decide which messages relate to which server, beyond the fact that the last two clearly don't.
But inetd.conf is set correctly, I think. Oh, we need a configuration file? OK. On oldwww it's 717 lines long! But it's nearly all comments and empty lines. A quick grep shows that it's really only 2 lines:
set tls-private-key-file = /etc/mail/certs/pop3key.pem
set tls-server-cert-file = /etc/mail/certs/pop3cert.pem

The lack of those entries certainly explains some of the messages. OK, what's in /etc/mail/certs? None of above. OK, copy the certificate and key across from oldwww. Still no joy. Somehow all of this security stuff seems designed to cause maximum pain.
Back to look at when I set this stuff up, 10 years ago. I wrote a lot about it at the time, but not the information I need now. On the other hand, I did note a suggestion from Mads Martin Jørgensen to use dovecot instead of qpopper. At the time I didn't bother, because I had it working. Should I now investigate that? A line in the Wikipedia article suggests yes:
Qpopper is no longer maintained. The final version was 4.1.0 released in 2011.
Another potential grid power failure today at 14:59:54 or so. Was it real? It certainly wasn't longer than one second.
Our induction cooker has a polished dark glass surface, just what you need to show every possible mark. Today we found marks that we didn't expect: At least it's unlikely that she'll get hurt on the cooktop.
The Disa bracteata (South African Weed Orchid) in Stones Road is now flowering. High time to remove it before it spreads seeds. And, of course, an opportunity to take photos of the flowers themselves.
That's a challenge in itself: they're about 4 mm across. And I've decided that focus stacking and flash don't mix. Still, this is a completely static view, so long exposures should be OK. Here a couple, taken with the M.Zuiko Digital ED 60 mm f/2.8 Macro and 26 mm of extension tubes, for a frame size of 9 x 12 mm: But what about diffraction? I really need to read up more about that. Today I took most of my photos at f/8, but I also tried two at f/11 and f/22. Here a comparison (run the cursor over an image to compare it with its neighbour): The most obvious difference is the prominence of the black spots in the background. Where do they come from? I had decided that they must be dust on the front of the lens, but at f/22 they're so sharp that I'm wondering if it isn't on the sensor. But after some examination, yes, there's dust on the surface of the front element of the lens.
I've known the factors that affect depth of field for decades:
The closer you come, the shallower the depth of field. This is very evident in today's macro photos.

The longer the focal length, the shallower the depth of field.

The wider the aperture, the shallower the depth of field.
Sometimes (all the time, if you ask a "full frame" afficionado) shallow depth of field is a Good Thing. That's why I'm considering buying a lens with f/0.95 aperture (apart from being ahead of the Nikon crowd). It seems that Voigtländer (a confusing way of spelling "Cosina") are the best choice for the Micro Four Thirds system. But they make 4 different lenses of that aperture, with focal lengths 10.5 mm, 17 mm, 25 mm and 42.5 mm. Which should I choose? In principle it would make sense to take the 25 mm ("standard") lens. But clearly I would get less depth of field with the 42.5 mm lens.
Or would I? There are other aspects in play here too: with a longer focal length lens at a specific distance, the angle of view is narrower. To get the same field of view, you need to go further back. (1) giveth, (2) taketh away.
Who wins? It would be nice to think that they cancel each other out. After all, it's plain triangulation. But before I spend a lot of time thinking it through, how about putting it through my depth of field program? So I did that and got:
=== grog@eureka (/dev/pts/48) ~/src/photography 107 -> ./dof 25 0.95 5
Lens focal length: 25 mm
Subject Focal plane Magnification Exposure Near Far Depth of
distance (m) distance (mm) comp (EV) limit (m) limit (m) field (m)
5.00 25.126 0.01 0.0 4.713 5.324 0.610
Field of view: 3.44 x 2.59 m
=== grog@eureka (/dev/pts/48) ~/src/photography 109 -> ./dof 42.5 0.95 8.5
Lens focal length: 42.5 mm
Subject Focal plane Magnification Exposure Near Far Depth of
distance (m) distance (mm) comp (EV) limit (m) limit (m) field (m)
8.50 42.714 0.01 0.0 8.206 8.815 0.609
Field of view: 3.44 x 2.59 m

How about that, they really do cancel each other out. Focal length makes no difference at all between the depth of field at a specific aperture when taking the same field of view. Who would have thought that?
Over the past three years I've spent quite a bit of time answering questions on Quora. Some were quite interesting and helped me learn things that I would otherwise never have considered.
But there have been problems. Their policies for downvoting are non-transparent and offensive. I grumbled about this earlier this year, and it has happened again since. Downvoting is instant. Reinstating takes an "appeal", and that takes days. In every case so far, my replies have been reinstated, so the downvoting was clearly incorrect. But a little more even-handedness would go a long way.
In addition, over the course of time the signal to noise ratio has dropped. Quora is to blame for this: people get paid a (minimal) sum for every question that is answered. The result is a whole lot of inane questions. Yes, there's a procedure to report them, so when today I got lots of questions like Where can I clean a Canon camera?, I reported them, and mentioned it in the reply. That's painful enough, but then later all my replies were downvoted!
Quora Moderation collapsed your answer for violating a policy on Quora.
Your answer may need improvement

"May need improvement"! I effectively copied the report. Yes, of course this was probably done automatically, and may be reversed on appeal—still more work. But it makes me wonder, yet again, what I'm doing here. I'm reminded of the remarkably evocative French « de quoi je me mêle? », literally "what am I getting mixed up in?", but in fact has an insulting undertone. Once again I think I'll stop Quora altogether.
Instead, spent most of the day catching up on other things.
Now that qpopper no longer seems the way to go, started looking at setting up dovecot. That's no easier. Yes, there's a sample configuration file, but every line needs to be considered (and this time it's many more than 2), including all kinds of encryption to be done. Why? All this mail is transported in plain text via SMTP. Wouldn't it really make more sense to accept incoming SMTP on eureka? Why is this all so difficult?
The problem with SMTP on eureka is that it doesn't solve Chris Bahlo's problems. But then it doesn't need to. She has a .forward file that forwards to her Gmail account. That leaves David Yeardley, who was once on this server, and who is still collecting spam, but who hasn't accessed the account for over 5 years. And I never liked POP. I just need to sort out yet another series of configuration files.
OK, I have given up the idea of POP for the moment. Let's deliver mail directly to eureka and bypass this POP stuff. This is a long article, so there's a TL;DR.
Why didn't I do this before? I did. It wasn't until I moved to Dereel and disappeared behind NAT that I had to give up direct delivery, because my external IP address keeps changing. But that's no longer the case: since I've been with Aussie Broadband, nearly 6 years, the external IP has only changed 3 or 4 times. So it makes sense to have the mail delivered directly.
OK, what do I need to change? Firewall rules, of course. Allow SMTP. What else? DNS: add an A record for mx0.lemis.com. On the old server (oldwww.lemis.com, alias mx1.lemis.com) tell it not to accept mail for lemis.com locally. In main.cf:
mydestination = $myhostname, localhost.$mydomain, localhost, narrawin.com,
- pasocentral.org, lemis.com, lagoon.lemis.com, w4.lemis.com
+ pasocentral.org

In the process, rediscovered another switch, soft_bounce:
# The soft_bounce parameter provides a limited safety net for
# testing. When soft_bounce is enabled, mail will remain queued that
# would otherwise bounce. This parameter disables locally-generated
# bounces, and prevents the SMTP server from rejecting mail permanently
# (by changing 5xx replies into 4xx replies). However, soft_bounce
# is no cure for address rewriting mistakes or mail routing mistakes.
#
soft_bounce = yes

Just what I want. And it soon proved its value:
Nov 4 01:59:40 oldwww postfix/smtpd[47327]: NOQUEUE: reject: RCPT from minnie.tuhs.org[45.79.103.53]: 454 4.7.1 <groggyhimself@lemis.com>: Relay access denied; from=<tuhs-bounces@minnie.tuhs.org> to=<groggyhimself@lemis.com> proto=ESMTP helo=<minnie.tuhs.org>

But why that? Ah, I have to say what I want to accept mail for. By default it's just for mydestination, and I had just removed lemis.com from that list. Instead:
@@ -296,7 +296,7 @@
# list this system as their primary or backup MX host. See the
# permit_mx_backup restriction description in postconf(5).
#
-#relay_domains = $mydestination
+relay_domains = $mydestination, lemis.com

OK, try again. That didn't quite work:
Nov 3 22:10:49 oldwww postfix/smtp[44859]: 78E521B72850: to=<groggyhimself@aussie-gw.lemis.com>, relay=aussie-gw.lemis.com[167.179.139.35]:25, delay=490, delays=486/0.01/0.89/3.3, dsn=4.3.5, status=deferred (host aussie-gw.lemis.com[167.179.139.35] said: 451 4.3.5 <groggyhimself@aussie-gw.lemis.com>: Recipient address rejected: Server configuration problem (in reply to RCPT TO command))

What's wrong there?
Nov 4 09:10:45 eureka postfix/smtpd[47836]: warning: hostname www.lemis.com does not resolve to address 208.86.226.86
Nov 4 09:10:45 eureka postfix/smtpd[47836]: connect from unknown[208.86.226.86]
Nov 4 09:10:46 eureka spawn[47928]: fatal: spawn_comand: execvp /usr/bin/perl: No such file or directory
Nov 4 09:10:49 eureka postfix/smtpd[47836]: warning: problem talking to server private/bld-policy: No error: 0

In passing, times on oldwww (and the other servers) are UTC, and times on eureka are local (UTC+11), so there's an 11 hour difference between the log entries.
What's that? A quick grep through the /usr/local/etc/postfix directory showed, in master.cf:
# Blacklist Daemon
bld-policy unix - n n - - spawn
user=nobody argv=/usr/bin/perl /usr/local/sbin/bld-pf_policy.pl

That's not one, but two problems, one a bug in the postfix port. FreeBSD doesn't use a /usr/bin/perl: it's /usr/local/bin/perl. But why was this being sent to a putative blacklist daemon? Something to do with the source, maybe? What's in mynetworks?
mynetworks = 192.109.197.0/24, 203.20.68.17
A bit of blame(1) shows that this line was last modified in revision 1.37 on 28 December 2006. There's nothing obvious in the commit message, but my diary shows that at the time I was having difficulty getting Apples to understand networking and DNS. 203.20.68.17 proves to be the IP address that Yana's Apple insisted on using. Clearly those days are long gone, so:
# Dereel oldwww w4
mynetworks = 192.109.197.0/24, 208.86.226.86, 45.32.70.18

OK, try again. This time, to be on the safe side, just send the mail locally:
Nov 4 09:21:26 eureka postfix/smtpd[49998]: connect from teevee.lemis.com[192.109.197.158]
Nov 4 09:21:26 eureka postfix/cleanup[50046]: 3ABB826358C: message-id=<20191103222126.32FB2897FC@teevee.lemis.com>
Nov 4 09:21:26 eureka postfix/qmgr[47278]: 3ABB826358C: from=<groggyhimself@lemis.com>, size=513, nrcpt=1 (queue active)
Nov 4 09:21:26 eureka postfix/smtp[50173]: 3ABB826358C: to=<groggyhimself@aussie-gw.lemis.com>, relay=none, delay=0.03, delays=0/0.02/0/0, dsn=5.4.6, status=bounced (mail for aussie-gw.lemis.com loops back to myself)

Huh? OK, I need to be aussie-gw.lemis.com as well. Add that to mydestination and try yet again. Finally some semblance of functionality.
Next, we have some messages hanging about on w4.lemis.com. With a correspondingly updated main.cf, I should be able to bounce them to mx0. Here unraveled to show individual messages:
Nov 4 15:48:34 eureka postfix/qmgr[83278]: AF2C126358E: from=<groggyhimself@w4.lemis.com>, size=1286, nrcpt=1 (queue active)
Nov 4 15:48:34 eureka postfix/local[18384]: AF2C126358E: to=<groggyhimself@lemis.com>, relay=local, delay=0.22, delays=0.2/0/0/0.03, dsn=2.0.0, status=sent (delivered to command: exec /usr/local/bin/procmail -t 2>>/home/grog/Mail/procmailerr || exit 75)
Nov 4 15:48:34 eureka postfix/qmgr[83278]: AF2C126358E: removed

Nov 4 15:48:34 eureka postfix/cleanup[18549]: BF05126358F: resent-message-id=<20191104044833.GB34461@w4.lemis.com>
Nov 4 15:48:34 eureka postfix/cleanup[18549]: BF05126358F: message-id=<201911040119.xA41JvdO031201@w4.lemis.com>
Nov 4 15:48:34 eureka postfix/qmgr[83278]: BF05126358F: from=<groggyhimself@w4.lemis.com>, size=1647, nrcpt=1 (queue active)
Nov 4 15:48:35 eureka postfix/local[18384]: BF05126358F: to=<groggyhimself@lemis.com>, relay=local, delay=0.23, delays=0.2/0/0/0.03, dsn=4.4.6, status=SOFTBOUNCE (mail forwarding loop for groggyhimself@lemis.com)

So the first one got through, and the other two (second not shown here) cause a mail forwarding loop? What's in the headers? Here the one that got through, then one that didn't:
From groggyhimself@w4.lemis.com Mon Nov 4 00:50:33 2019
Return-Path: <groggyhimself@w4.lemis.com>
X-Original-To: groggyhimself@w4.lemis.com
Delivered-To: groggyhimself@w4.lemis.com
Received: from w4.lemis.com (localhost [127.0.0.1])
by w4.lemis.com (Postfix) with ESMTP id 27C4F28129
for <groggyhimself@w4.lemis.com>; Mon, 4 Nov 2019 00:50:33 +0000 (UTC)
Received: (from groggyhimself@localhost)
by w4.lemis.com (8.15.2/8.15.2/Submit) id xA40oXLF030827
for grog; Mon, 4 Nov 2019 00:50:33 GMT
(envelope-from grog)
Date: Mon, 4 Nov 2019 00:50:33 GMT
From: Greg 'groggy' Lehey <groggyhimself@w4.lemis.com>
Message-Id: <201911040050.xA40oXLF030827@w4.lemis.com>
To: groggyhimself@w4.lemis.com

From www@w4.lemis.com Mon Nov 4 01:19:58 2019
Return-Path: <www@w4.lemis.com>
X-Original-To: groggyhimself@lemis.com
Delivered-To: groggyhimself@lemis.com
Received: from w4.lemis.com (localhost [127.0.0.1])
by w4.lemis.com (Postfix) with ESMTP id 5176928114
for <groggyhimself@lemis.com>; Mon, 4 Nov 2019 01:19:58 +0000 (UTC)
Received: (from www@localhost)
by w4.lemis.com (8.15.2/8.15.2/Submit) id xA41JvdO031201;
Mon, 4 Nov 2019 01:19:57 GMT
(envelope-from www)
Date: Mon, 4 Nov 2019 01:19:57 GMT
From: World Wide Web Owner <www@w4.lemis.com>
Message-Id: <201911040119.xA41JvdO031201@w4.lemis.com>
To: groggyhimself@lemis.com

The only obvious difference is that the first message was to groggyhimself@w4.lemis.com, and the second was to groggyhimself@lemis.com. But if one were to bounce, you'd expected it to be the first one.
I still can't work this out. All further messages have got through.
Next, why is all my mail still coming through oldwww.lemis.com (mx1)? It should come in directly to mx0 (the external interface that I call aussie-gw.lemis.com, and Aussie calls 167-179-139-35.a7b38b.mel.nbn.aussiebb.net. Ah, of course, firewalls. Open firewall and see what happens:
Nov 4 17:03:48 eureka postfix/smtpd[33363]: NOQUEUE: reject: RCPT from mta-83-69.sparkpostmail.com[192.174.83.69]: 451 4.3.5 <newyorktimes@lemis.com>: Recipient address rejected: Server configuration problem; from=<msprvs1=18211ZGlSGTCe=bounces-1@bounce.nytimes.com> to=<newyorktimes@lemis.com> proto=ESMTP helo=<mta-83-69.sparkpostmail.com>
Oh. newyorktimes@ is a virtual address for mail from, well, the New York Times. And I the virtual addresses (and a number of other databases) aren't up to date on eureka, to put it mildly:
=== root@eureka (/dev/pts/11) /usr/local/etc/postfix 292 -> l *.db
-rw-r--r-- 1 root wheel 65,536 2 Jan 2013 accept-to.db
-rw-r--r-- 1 root wheel 163,840 30 Dec 2012 access.db
-rw-r--r-- 1 root wheel 344,064 3 Jun 2015 client-access.db
-rw-r--r-- 1 root wheel 65,536 9 Jul 2012 helo-access.db
-rw-r--r-- 1 root wheel 65,536 30 Jun 2013 transport.db
-rw-r--r-- 1 root wheel 65,536 22 Dec 2014 virtual.db

Checking all that is another can of worms. Mañana.
So what have I established today?
While doing this kind of test, soft_bounce is your friend.

mydestination must include all domain names where mail is to be accepted.

mydestination overrides the MX priorities, so on the higher-order MXs it must not include the local domain.

Don't rely on Postfix configuration files to be correct or up to date. In particular check path names in master.cf.

In lower-order MXs, set mynetworks to include the addresses of the higher-order MXs.

Firewalls are good. When I ran into trouble with local mail delivery, I just needed to remove general access to mx0, and everything continued to come via mx1.
In passing, it's interesting to note some of the messages I got on the way:
=== root@w4 (/dev/pts/6) /usr/local/etc/postfix 79 -> /usr/local/sbin/postfix reload
postfix: Postfix is running with backwards-compatible default settings
postfix: See http://www.postfix.org/COMPATIBILITY_README.html for details
postfix: To disable backwards compatibility use "postconf compatibility_level=2" and "postfix reload"
postfix/postfix-script: refreshing the Postfix mail system

That's on a brand new install of the port. But the backwards compatibility message is the same as what I get on eureka, where the port is over 3 years old. Why are there still old-fashioned configuration files?
Off walking down Grassy Gully Road today. Recently we've been letting Leonid run free, and it has worked well. But today he shot off as fast as he could to the first corner, not listening to our calls, and we were afraid that he would disappear round the first corner.
Well, at first he didn't listen. After about 150 m he turned around and ran back just as fast. And ended up on a leash for his pains.
On the way back, he found a bone. He really loves playing with bones, jumping all over the place. Under the circumstances I thought that he would probably not run away, so we let him loose again. More running up and down:
And sure enough, he didn't run away, though he dropped and broke the bone, and in the end Nikolai got the largest part.
This is the time of year for wildflowers, but this year we seem to have more than usual, like here down Grassy Gully Road: It doesn't look like much, but normally you'd only see a couple of flowers.
I've been subscribed to Academia for some time. A number of interesting papers appear there, and the ones I see are free, though clearly they're a commercial venture. From time to time I get a mail saying "The name 'Greg Lehey' appears in a document". That's interesting, of course, but every time I follow up I find that I have to pay to find out what the document is. And somehow there are too many references. Yes, I show up in various places, but (not surprisingly) mainly in computer literature, not quite Academia's focus. And I'm pretty sure that there are no false positives for my name. So so far I have resisted, in the hope maybe of finding a subscriber who can follow the references for me.
Today, though, I got a new offer: "We created a Personal Website for you, powered by your Academia Profile". OK, what's that? In fact, they hadn't: I had to go through a few steps to choose appearance and a couple of other odds and ends, and then I was presented with: Not very interesting. The most interesting part was at top right:
I get the feeling that Academia is a bona fide web site, but this kind of money-grabbing attempt seems to detract from their value.
Ten days ago I noted a plant in the garden that I couldn't identify:
Yvonne posted it on Facebook, and Margaret Swan recognized it immediately: Echium plantagineum, better known as "Salvation Jane" or "Patterson's Curse", one of the most noxious weeds I know. I think it's the first I've seen since moving to Dereel. And of course, it had to come out immediately before it seeded:
A pity it's a weed. It's quite pretty, and only recently Yvonne was mourning the death of our last Echium.
Kim Stanley along today along with her old greyhound mix dog Davy (or is that Davey or Dave?). Since her other dog died, Davy has been lonely when she was away, and she's looking for company for him, and when Yvonne offered our vicious hunting dogs, she jumped at the offer. All went well until they wanted to play together. In the 8 seconds between these two photos Davy felt threatened, and we had to pull them apart: At least we have the photos. It seems that Davy started things, and ours went along. But they calmed down again, and we brought him inside, where he behaved remarkably well. So he'll be back on Saturday for an hour without Kim.
Another grid power failure today at 12:00:45, this time 4 seconds and thus long enough to be genuine.
The Register reports a more than usually interesting US Air Force contract award today:
US Air Force inks deal with Raytheon on Windows 10 (and other) support for ARSE
This reminds me of the Rolls-Royce projected car "Silver Mist", renamed "Silver Shadow" after the marketing team discovered what "Mist" means in German. Clearly the US military are not linguists.
Other sites had a field day, like US Air Force inks deal with Raytheon to insert Windows 10 into ARSE. But maybe it's fake news? No. It took me a while to find a plausible web site, but those in the .gov. domain seem to fit the bill. Advanced Medium Range Air-to-Air Missile Remote Support Equipment (ARSE) states:
Advanced Medium Range Air-to-Air Missile Remote Support Equipment (ARSE)

Solicitation Number: FA8675-16-C-0067_P00036

Agency: Department of the Air Force

Office: Air Force Materiel Command

Location: AFLCMC/EBAK - Eglin
Now wasn't that a nice way of recognizing the Greatest President who Ever Has Been?
The house that we have been watching in Harrisons Road is now being erected: Looks like it's being built by JG King.
I have a daily cron job that sends me email showing the passage of my life, fraction by fraction, along with significant events that match the dates. From today's message:
A third of my life already! How time flies.
My Disa bracteata (South African Weed Orchid) has survived the exhumation and being put in a pot, and is now flowering more than on Saturday. Time for some more photos, in particular further from below. This photo (from Saturday) suggests that there's more to be seen from that angle: OK, do it properly. Prepare for focus stacking, attach the external viewfinder, position. Dammit, I can't even recognize or locate the individual flowers! And the controls for the camera are in a position that I can't see, and which I certainly can't reach. In addition, the size of the camera and rail are such that I can't even position correctly. What do I do? Cut the flower stalk and place it differently? That would work, but I'm reluctant to destroy the stalk. So I did what I usually do: procrastinate.
I'm still dragging my feet about my software update, both on eureka and on the external servers. Today xkcd brought comfort: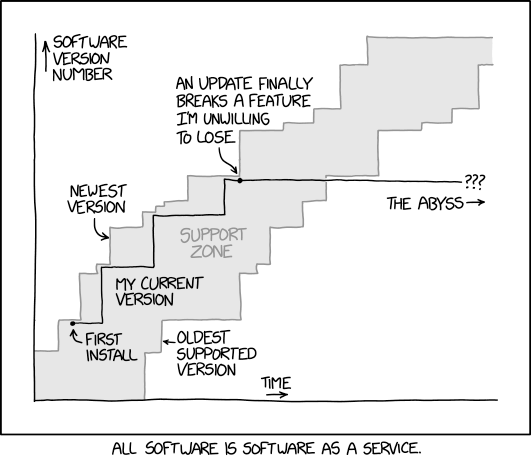 In particular, "An update finally breaks a feature I'm unwilling to lose" reminds me of the breakage that firefox introduced a few releases back, meaning that I can no longer use Emacs bindings.
It's been several days since Quora "collapsed" my replies, and I decided that I couldn't be bothered with them any more. I "appealed" anyway, but didn't get any response.
My "couldn't be bothered" certainly seems to be appropriate. I still get messages asking for a personal response to questions, and I'd still be prepared to answer ones that are appropriate to my knowledge. So far, none of them appear to have been worth reading. Here are some, including the one that I think the best question:
Is it safe to unplug a gas stove?

How did Hitler gain access to color video recording?

Is it expensive to travel around the world?

When preparing a sourdough starter, can I use a different flour such as kamut? What should I use for making bread from the starter?

Are you interested in buying an original DSLR or a digital camera?

Do sunflowers turn to face each other on cloudy days?

What is the wealthiest city in Nauru?

What is the best lens for an iPhone 11?

Why do I look really bad on camera?
The good one? The one about sourdough. But I can resist that.
But one thing that Quora does is pay for questions. Not much, but in the course of many months I accrued the princely sum of $1.82, certainly helped by the fact that I never got answers to the few questions I asked.
But today I suddenly discover:
Partner Program: You've earned $0.34 this week and $2.16 all time.
Why that? The previous week I earnt nothing at all. You'd almost think that they're trying to lure me back with their $0.34.
Message today from Lena G. (she's too polite to mention her surname). It's strange for a number of reasons: it's in German, and it refers to a personal page http://www.lemis.com/grog/notes.php?page=Notes/radio, basically a list of download links. But she calls it an article and asked me to link to her page on YouTube download alternatives. There's another issue: I don't mention YouTube downloads at all on that page.
OK, let's follow her link and find what it's all about. Two issues: how to download, and "is it legal?". She mentions a surprising number of download programs that I have never heard of, all with some limitation. She does mention youtube-dl (which I didn't find at first because she calls it YouTube-DL), but it, too, has disadvantages: spartan "layout" and command-line interface.
Those are disadvantages? It does exactly what it claims to do, and I've never had much in the way of issues with it. The ones that I have had are because it's continually chasing web interfaces, and they're almost always fixed by the time I find them, requiring only an update. And even the port always installs cleanly.
Never mind, if you want lots of eye candy and mouse-pushing you can install YouTube-DLG. But only, it seems, if you run Microsoft.
Somehow we're living in different worlds. All the things that I find good about youtube-dl, she finds bad. And she's prepared to go through intense pain to avoid a command line.
The other part of her article is about the legality of downloading from YouTube. It seems that there are laws that govern that, though she doesn't mention the countries for which her conditions apply (I'm sure that the laws in Switzerland are different from those in Germany, and potentially the laws in Austria differ from both), and her primary reference to legality refers to a torrent site kinox.to.
She concludes that: The green part, in English: "It is legal if you are not logged in and if the videos are only for your personal use".
"Not logged in"? What does that mean? Again, I think we're living in different worlds.
And yes, not only do I have permission to quote that image, she specifically asked me to show it.
Into town today for the results of last week's blood test. How long does it take to get there? It's in the middle of Ballarat, and I've found in the past that it takes (a little) more then 30 minutes, and that only 15 of them are outside Ballarat. Today I timed myself again: 25 minutes in relatively slow traffic to the corner of Doveton St and Dana St, about 150 m from the clinic.
But first I needed to park the car in the park house across the road and walk to the clinic. That took a total of 5 minutes! And it wasn't an exception: it took just as long in the other direction. That certainly confirms my decision to have blood tests in Victoria St, where, if I'm lucky, I can park directly in front of the clinic.
Blood test results weren't alarming, but not as good as they have been. Random fluctuation? Cholesterol and blood pressure higher (137/81 IIRC). I'll have to keep an eye on that, and he wants another test in 3 months.
Also compared ear thermometers. Both of mine were surprisingly in agreement at 35.8°. Paul's professional device measured a far more plausible 36.9°. As we decided almost exactly 30 years ago, Triple Modular Redundancy determines that Paul's thermometer was wrong. As I said at the time,
This shows a) the follies of TMR with multiple failures...
On the way home, also finally had my hair cut. After over 4 months it was certainly high time.
More attempts at macro photos of the Disa bracteata today. In the end I gave up trying to focus and took shot-gun photos, up to 220 at a time. No time to process them, and it's clear that I took far too many. But it will have to wait until after the processing to decide whether they're any good.
Another power issue today: the main house RCD tripped, not once, but twice.
Why? The first time seemed related to the use of a microwave oven, but the second seemed unrelated to anything. It was a wet day; could it be that that resulted in enough leakage current to trip the RCD? In any case, it wouldn't have been as bad if each circuit had had its own RCD, instead of one for everything in the house except the UPS. High time to finally fix the house wiring, but I've been trying to get Steve White for months now, without success. Where do I find another good sparkie?
Finally got round to processing the extreme macros of the past couple of days. In the end I generated 57 GB of images, mainly TIFF. The first two didn't seem too bad: The last two images had 195 and 175 frames. How many did I need for the final images? None of them! Somehow I had set my start position incorrectly (reminder: coming closer does not make closer things sharper), and the series were useless. What do I do? I hate throwing away any image, no matter how bad, but something like this makes no sense at all: OK, start again. In the meantime it has occurred to me to use a small mirror to look up the stalk. But once again the mechanics of the matter got the better of me, and in the end I gave up.
There must be an easier way.
We've been trying to watch an Austrian series, "Vier Frauen und ein Todesfall". Problem: it's in Austrian, and we really need subtitles to understand the finer points. OK, it comes with a subtitle file (in fact, depending on where I get them from, two, one ending in .ttml and the other in .de-AT.ttml). But mpv wants subtitles in .srt format.
No problems, there's a program ttml2srt, which I have used a couple of years ago, not without pain. I got over that particular problem, but for a couple of weeks now I have been wrestling with this problem:
=== grog@teevee (/dev/pts/5) /spool/Series/Vier-Frauen-und-ein-Todesfall/02 6 -> python3 ttml2srt.py 02-03-Schlachtfest-14562238.de-AT.ttml > 02-03-Schlachtfest-14562238.srt
Traceback (most recent call last):
File "/home/local/bin/ttml2srt.py", line 169, in <module>
print(content)
UnicodeEncodeError: 'latin-1' codec can't encode character '\u2013' in position 31: ordinal not in range(256)

And it aborted at that point (about 7 minutes into the file). Try as I might, I couldn't get rid of that message. Until today, when I read the message more carefully: for some reason the program was converting UTF-8 to ISO 8859. Why? There are no flags for the program. Was it looking at the locale? That's arguably incorrect, but possible. Try again:
=== grog@teevee (/dev/pts/5) /spool/Series/Vier-Frauen-und-ein-Todesfall/02 7 -> LC_ALL=de_DE.UTF-8 python3 ttml2srt.py 02-03-Schlachtfest-14562238.de-AT.ttml > 02-03-Schlachtfest-14562238.srt
=== grog@teevee (/dev/pts/5) /spool/Series/Vier-Frauen-und-ein-Todesfall/02 8 ->

So simple! Time to wrap it in a script. Yes, maybe I should have chosen de_AT.UTF-8, but this should work for other German-language stuff too.
After breakfast this morning, as usual, I pressed the button on the coffee machine to make a cup of coffee. No: What does that mean? Certainly it's not an encouraging sign. Get a spanner? No, it's a way of telling illiterate coffee drinkers to look up the symbol in the instruction manual, if you can find it. About the most interesting thing in the image is the 1 at the bottom right. Off to drag out the PDF of the "instruction manual" about which I grumbled so long and loud four years ago. There I read:
No explanation what it might mean, just how to try to work around it. Doesn't that fill you with confidence? Try several times, it might recover. And no mention of the number at bottom right, arguably the most important part of the "message". About the only thing that I did find was this display, immediately on powering on: It went away by itself, and the "instruction manual" has information on that too:
That's a reasonable thing to expect on power on. But it wasn't there before, and it seems reasonable that it is related to the red spanner.
OK, what do I do? Today's Saturday. The earliest I can contact the service people would be on Monday, and it will probably require repair. Round here, that's at least another week, probably two. I had bought a second-hand coffee machine for exactly this eventuality, but it needs ground coffee, and I don't know where it is. On the other hand, I had not expected the machine to last long. It cost me $599, because Philips refused to honour their cashback offer. Compared to the capsule machine I had before, it saved me about $0.80 a day, or about $1,140 over the life of the thing. So the coffee machine has done its work, the coffee machine can go.
And what do I buy? And where? Off to an incredibly slow Good Guys web site to discover only three comparable machines, all from De'Longhi: the "Magnifica", the "Magnifica" S, and the "Magnifica" S, conveniently accompanied by photos taken from different angles:
It looks as if the second and third models are the same except for the colour. What does their compare function say? No, completely different feature set. Do I believe it? No, I'm pretty sure that the comparison page is broken.
OK, who else has coffee machines? Harvey Norman? Harris Scarfe? Target? Only Harvey Norman had similar (in fact, the same) models, for $50 more.
OK, off to the Good Guys to ask them the differences. Only the first two of the models there, the second one marked $699 instead of the promised $649. Had some difficulty getting picked on by a salesperson, who checked the price on her phone, but didn't tell me what it was ($649) until I asked some time later. The differences? She called another salesperson and they explained that the more expensive one was newer and more compact: they moved access to the internals from the front to the side, a clear disadvantage. Oh no, just a matter of taste, they said: they've clearly never had to access it in real-life situations. Still, the size made a difference, so I took it.
And the difference between the silver and black ones? They couldn't say: they had never seen a black one. I had to check when I got back home: the model numbers on the web site are ESAM04110B, ECAM22110SB and ECAM22110B. That suggests to me that the last two are really identical except for the colour.
The difference between the silver one and the one next to it for $1,699, $1,050 more? The expensive one had Bluetooth, so you can control your coffee machine with your mobile phone! Just what I need! It also froths milk automatically: it seems that my last one and the one I was looking at require you to stick the nozzle in the milk to heat it up, but the expensive one comes with a container for the milk. Otherwise they're the same, in particular the "brewing" mechanism.
Somehow there are many appliances made for people with more money than sense. For $150 more I can buy a capsule coffee machine. And there are real coffee machines for up to $3,000 (OK, they call it $2,999).
Interestingly, there were no Philips coffee machines at all. One of the salespeople told me that she hadn't seen them round for years, and a look on eBay confirmed, once I got round their current web site breakage. I wonder how easy it's going to be to get the old machine repaired.
Back home, the usual fun with the instruction manual, clearly written from the perspective of a developer rather than an end-user. But the thing works, and it makes less noise than the old one.
Three hours to make my after-breakfast coffee!
While at the Good Guys I took a look round the shop for other things of interest. Not much to be seen, though I see there are "air fryers" from Philips that look very much like the el-cheapo versions from ALDI: Are they bigger? Yes, maybe a little, but they're like our small one (the "coffee machine"). And the prices are exciting, especially from a maker who doesn't seem to be in it for the long run.
Then on to fridges, where once again they have a Samsung "smart fridge" on display, this time with the display working: That shows clearly that the cameras are in the front corners. While taking this photo, a salesperson came along and we discussed the issues: the cameras just plain Do Not Work in real-life situations. Put my handbag in the fridge to make the point, and he put his pen and keys behind them: Of course, the keys and pen were not to be seen. Ah, says salesperson, you don't normally put anything that small into the fridge. Be that as it may, you do put bigger things than my bag into the fridge, and only this morning I discovered a jar of sateh sauce that had worked its way to the back and long since gone bad.
But then there's a list of what's in the fridge: Yes, that would work, but it needs to be a little more specific than "in fridge" or "in freezer". And how do you get that data? You type it in on the horrible glass display!
On the other hand, a wand for scanning things would help a lot. Do they have them? Of course not. Smart fridges must smart!
Yvonne and Chris Bahlo back from town shortly after me, with a package for Yvonne: the PIXIO "Robot Cameraman" that we had ordered on 24 October, with promise that the excessive € 72 would result in delivery in 5 working days. But they reckoned without DHL UPS Startrak Australia Post. I received a notification from UPS on Wednesday that the item would be delivered the following day, and based on my experience with UPS I wasn't surprised when they didn't. But it's still surprising that the item should have ended up at Napoleons post office without any further notification; they only went there at all because Chris had something to pick up.
So, what's it like? Even more explosion in the dining room: That's the sum of the PIXIO, the new coffee machine and some "smart home" stuff that I bought at ALDI in a fit of madness a couple of weeks ago, and which I still haven't tried out.
The PIXIO came with a 5-way USB charger that might be useful elsewhere, which also had the distinction of having the only documentation of any kind, a cut-to-size 7x9 cm laser printer printout. The complicated PIXIO itself arrived with no documentation whatsoever, unless you count the wrapper round the box, which barely documents anything. I've found cause to complain about poor documentation on frequent occasions, but this subpasses anything that I have seen.
OK, I had downloaded the documentation, such as it is, before buying the device, so I could confirm that it also arrived with the wrong cable. That's not a big deal: the cables only work with specified video cameras, and we don't have any. But the standard cable is also the most expensive and the most likely one for us to need, so it's annoying.
Reading the instructions for the PIXIO "Robot Cameraman" was not easy. They're a little unstructured, and at one point I thought that important things were missing. But in fact it's not as difficult as the instructions make it look. There are five items: three "beacons", the tag carried by the person to be followed, and the control unit that turns the camera.
About the most complicated thing is the position of the beacons. They're used for triangulation so that the control unit can determine the relative position of the tag, so clearly they should be as far apart as possible. The instructions include: That's clear, right? Well, left: put beacon 2 to the left of beacon 1. But the thing turns (it can, indeed, rotate freely). At some point, when it's pointing at beacon 3, beacon 2 is to the right of beacon 1. And the illustration says to place beacon 1 as far as possible from the camera, but that's not where it's shown. In this scenario, very similar to mine, it would be at the right rear corner.
Then there's this illustration:
What is it really saying? About the only obvious thing is the last scenario: don't place the camera exactly between two beacons. The other "no-no" suggests that you should put them further apart.
In the end I chose none of those layouts. Instead put beacon 1 on rear right (furthest from camera), beacon 2 on rear left, and beacon 3 on a fencepost halfway up the right side.
Why? I was puzzled myself until I discovered that the manual included another choice, not offered on this page. On the previous page there was: Problem: If I place them like that, I can't put the camera in the middle of the arena without being in a direct line between beacons 2 and 3. Thus my choice of putting it half way down.
OK, how do I do it?
Place the beacons at appropriate places (see above). Power them on.

Place the PIXIO where you want it. Turn on the camera and aim exactly at beacon 1. Only then power on the PIXIO.

Turn on the tag. When the PIXIO starts following it, start recording.
"Start recording" is a kludge, of course. The PIXIO has the ability to remote control specific video cameras from the tag, but I haven't got my head round it yet. And other cameras that I have may be controllable with an infrared remote control. The E-PM2 understands the remote control too, but it always takes a still photo, even when set to video. That's probably not an issue: the E-PM2 doesn't have a microphone input, and we're going to need one of them, so my guess at this stage is that she'll use the Olympus OM-D E-M1 (Mark I).
Here are today's results:
The interesting thing is that the control unit does very well even when one or even two of the beacons are powered down (towards the end of the clip).
Apart from that, there are some strangenesses about the device. It's not easy to place the camera on the device. There's a very cheap connector there, something that (like the toy tripods) they could really improve on: Mail from Lena G. again today, explaining that youtube-dl is far too complicated for beginners. As I said, parallel universes, but I suppose it's more complicated if you've never been allowed to be in charge of a computer rather than having it in charge of you.
And the question of being "logged in"? She agrees, it doesn't make any sense: it comes from this video clip:
Or does it? That clip (now 3 years old) doesn't mention "logged in" at all, just the question of breaking copy protection. That's clearly illegal if it can be proven, but it's a different kettle of fish.
By chance I also received mail from YouTube today, announcing new terms and conditions. Being logged in? Not mentioned. They did link to this explanation page (which I suspect will rot quickly), where there's no mention of being logged in. The closest I can come is this paragraph:
Google Accounts and YouTube Channels. We've provided details about which features of the Service can be accessed without a Google account or YouTube channel, and which features require one.
But that's not a question of legality: it's a question of whether you can access the content at all.
And then there's this:
You are not allowed to: ... access, reproduce, download, distribute, transmit, broadcast, display, sell, license, alter, modify or otherwise use any part of the Service or any Content except: (a) as expressly authorized by the Service; or (b) with prior written permission from YouTube and, if applicable, the respective rights holders;
But that's circular. Still no mention of "login", but also no mention of where the express authorization is described. Given that this is a US company, my understanding is that any perceived abuse must be clearly prohibited ("due diligence"), and I don't see any such prohibition.
OK, after yesterday's success with the PIXIO "Robot Cameraman", Yvonne wanted to do it in earnest. Out to help, but in fact things went pretty well:
Things that need improvement are:
Make sure the thing is level! Maybe I should put the old Manfrotto level underneath it.

Sound is terrible! We definitely need to do something. The simplest for this kind of video would be simply to remove the sound track. But for next week, when Anke Hawke is coming, we'll need to have the remote microphones working.

Distance is wrong. That was to be expected, given the lack of zoom capability. I had set it to be correct when Yvonne mounted, but that put her too far away for the rest of it.
Still, we were expecting some learning issues. On the whole I'm quite happy.
Today I received a used Voigtländer Nokton 25 mm f/0.95 lens, serial number 8140610. Why? GAS is one thing, and maybe the satisfaction of being able to show the Nikon users that they're not by any means the first with a standard lens with an f/0.95 aperture. And of course, for more practical reasons, the reduced depth of field, for example here: The problem is that it's a completely manual focus lens, which doesn't make things easier. The Olympus OM-D E-M1s have focus peaking, but it doesn't work very well at close distances, and in fact this image is slightly out of focus. That could be due to movement: the depth of field is round 8 mm at this distance.
Apart from that, the lens looks OK. I don't see myself using it very much: I don't even need to stop down. For that I can use the Leica Summilux 25 mm f/1.4, which has autofocus and probably better optical qualities.
Apart from that, this is the first lens that I have ever seen that writes the maximum aperture incorrectly: instead of "f/0.95" it is inscribed with "F0.95". I fear that this dumbing down will continue across the industry.
While having breakfast this morning, saw this outside the dining room window: What terrible image quality! I took them through the window of the dining room. I hadn't expected it to be excellent, but I wasn't expecting such poor quality either.
Into Ballarat for my six-monthly dental checkup, which translated to $120 for cleaning my teeth. Nothing wrong with my teeth, but I forgot to clean them before coming, so Mario went through them with dental floss. He needed four lengths and considerable effort to complete the job, and left a strand hanging between two teeth. And that's somebody who knows what he's doing and can see where he puts the stuff. Another confirmation that interstitial brushes are a better choice for me.
I've been developing (not a pun) my photo workflow for nearly 20 years now, and I'm currently at revision 1.138 of the Makefile. A lot has clearly happened in that time.
One of the central parts is a translation table in a file called Makejpeg. Its format has changed over the years: initially it was makejpeg and contained source file name, destination file name, rotation value and gamma correction value. Since I've been using DxO PhotoLab the last two are redundant, and I've been dropping gamma for some time. And makejpeg contained only photo information; I had a second single line file description that contained the description of the photos. That made no sense, so I merged them into Makejpeg. In principle:
cat description makejpeg > Makejpeg
In the meantime, however, came the issue of scans: three years ago I added a whole lot of data to Makejpeg, so now a typical entry might be:
img225_DxO Taj-Mahal-3-cropped 0 A c 2 F 5 f 11 s 125 l 11
The additional information are: A (set me as author), c 2 (camera 2, the Asahi Pentax "Spotmatic"), F 5 (Film 5, Medium Speed Ektachrome), f 11 (f/11), s 125 (1/125 s shutter speed), l 11 (lens 11, 28 mm f/3.5 Super-Takumar).
Some of this can be useful for other photos as well. The new Voigtländer Nokton 25 mm f/0.95 doesn't supply any lens information, so I was able to add that by the same means. In the process I discovered that my kludged exposure details popup doesn't display UTF-8 characters correctly, so I had to call it Voigtlaender instead of Voigtländer.
The decision to be made: how? Though it uses the Makejpeg file, I hadn't integrated it into my workflow. On the other hand, things like setting the author need to be done for every photo, and so far I've cheated by setting my name in every image I read in, thus also modifying the original file—a no-no.
Currently the workflow is:
Read in original files, unchanged:

syp

. I have already stopped modifying them.

Prepare images for

DxO PhotoLab

:

fordxo

. This links only those files needing conversion to a directory

/Photos/2-grog/

, which DxO can find and select en masse without too much mouse-pushing.

Process with DxO.

Get the files back again with

fromdxo

.

Create "contact prints" (a web page with small versions of each image, 6 to a line), with

mkcontacts

.

Process the contact prints, creating the Makejpeg file.

Add missing

Exif

information, including missing lens information and maybe author and GPS location. This is done by

setauthor

,

createexif.php

and

geotag

, clearly a tacky approach, especially as it's not (yet) in the

Makefile

.

Build the web page, using scripts in the Makefile.
So: at what point should I add the additional Exif data? Step 10 is already untidy. Can I somehow combine it with creating the JPEG images? That would fall flat if I were to remove step 8, Ashampoo optimizer, and convert the files directly to JPEG. Can I at least put step 10 into the Makefile?
The good side of all this is that I have the choice. If I were used Microsoft-based off-the-shelf software, the choices would have been made for me, and I probably wouldn't like them.
We've had an Internet link from the National Broadband Network for nearly 6 years now. When it was installed we were overjoyed. As Yvonne put it:
But that was six years ago. During that time, you'd think that the NBN had done everything to erode this positive sentiment. Today, once again, we had an extended "planned" outage, nearly 6½ hours. I suppose I should be grateful: they had promised three outages of 10 hours each.
But what on Earth are they doing? In those 6 years we've had a total outage duration of over 5 days, or about 3.8 hours per month. It seems that things are getting worse. We've had three day-long outages in the last 7 weeks. Looking at the issue from a daytime availability perspective, that's 3 out of 34 work days, or 25 hours in 87 days, a rate of 14.4 hours per month.
High time for that TIO complaint.
What do you do when you've been forcibly disconnected from the Net for a whole day? There are plenty of things; the garden needs attention, or I could finally try to tidy up my office.
What did I do? While looking for something else, found this entry in my diary: problems getting good HDR images. But now I have Photomatix PRO, and in principle I'm happy with it. How does it fare with those images? Here the images I made then, first enblend, then HDR Projects 4. Run the cursor over either image to switch to the other image: Clearly the HDR Projects 4 results were useless. I was able to improve on them, but I don't want to have to hand tune every image.
And with Photomatix? Much better. Omitting the useless HDR Projects result, I ended up with (first enblend, then Photomatix): There's not really much obvious difference at first. As usual, the devil is in the detail. I had already noted that the contrast of the enblend image was too low, and certainly the details show that. Once again run the cursor over an image to compare it with its neighbour. But the gradation of the panorama is actually darker than the enblend version. Maybe this is really a kind of image that needs special treatment.
Walking the dogs today, saw a kangaroo sitting in a paddock, about 20 m from the road: Normally they'll get up and hop off when approached that closely. But this one just looked. He was still there when we came back 20 minutes later. Another dying kangaroo?
There's a broom bush on the corner of Stones Road and Progress Road, and once again it's in flower: The colour seems different this year. Previously there was much more red in the flowers: While researching, though, it occurred to me that it's exotic and thus potentially invasive. Is it? The Wikipedia link suggests yes, but that bush has been there for several years now, and I haven't seen any others pop up. My guess is that our landscape doesn't offer the conditions for invasion.
I've made several batches of steak and kidney pie, most recently started on Saturday, but we discovered that we had so many kidneys left over that we ate them first, so it wasn't until today that we got round to making it. That required a number of adjustments to the recipe: more water, more salt.
And this time we considered and dismissed making it in the "air fryer", and did it in the oven instead.
The eternal question: how long? In the end, we did them at 210° for 25 minutes, after which they looked like this: In particular, the gravy started coming out of the vent hole, so clearly it was boiling. But on taking them out of the oven, it seems that they could have had a little longer: Probably they need 30 minutes, followed by at least 10 minutes cooling down.