Called up Olympus Australia today and spoke to John about the missing WiFi symbol on the viewfinder of my Olympus OM-D E-M1 Mark II. He couldn't explain it either, though his guesses were interesting: no SD card in the camera, only one SD card in the camera, SD card too fast. None of them proved to be the case, though he said "it works for me". Asked him to forward the request to Japan, and he said he'd be back to me within a week.
Into Ballarat today to talk to Dr Paul Smith about my finger. As expected, there wasn't much that could be done, though it's interesting that the report he got was more detailed than what Mr Csongvay told me.
To make it worth my while, he found another vaccination to give me, Influenza. And he has a new poster on his wall:
I also showed him my mouldy lasagne:
He suspected that the orange areas were of bacterial origin, but couldn't tell me where to take the stuff. It seems that there's nothing in Australia comparable to the German chemisches Untersuchungsamt.
Another lens sold, the Zuiko Digital ED 70-300mm f/4.0-5.6. By coincidence, I got it 9 years ago today .
First fun was printing the shipping label. When I had finished the web form (and had my money deducted), no label arrived. eMail? No. Tried reprinting a couple of times. Each time it looked as if it would work, but nothing came out of the printer. Printer problem? Printed a packing slip with no trouble, but the next attempt to print the label failed too.
Finally I discovered that the page was too polite to send the document to the printer without my explicit request, and had stored multiple copies in ~/Downloads. Why couldn't it say so, or, better, give me the option?
After the fun I had last time I sent an item via eBay, I called up Australia Post to find out how to handle the satchel question. That in itself was fun: just finding a phone number is at least as difficult as any other web site, and then they play silly buggers hiding the phone number:
From within Australia

13 POST •• •••• Show numbers

From overseas +61 3 •••• •••• Show numbers
The •••• hide the real number, and you have to click on "Show numbers" to display the numbers. Well, really. Who is going to steal the phone number of Australia Post? At least they gave me a landline number (which proved to be +61-3-8847-9045), though they didn't seem to give any priority to it. And I had some difficulty explaining to the person I reached that I had an eBay shipping label and just wanted a satchel. Finally she said "Yes, you can get them at the post office. They're white instead of red. $2". I asked her if that were exactly $2. Yes.
At the post office, I asked for an unfranked satchel. It seems that the verb "frank" is not in their vocabulary, but I made it clear what I wanted. Yes, over there on the wall. Nothing comparable to the 3 kg satchel that I had paid for, nothing at all for $2.00, but in the end found a possibly better padded envelope for $1.45.
Why is this all so complicated? Hundreds of people must send this stuff every day. But nobody at Australia Post seems to know about it.
Olympus provides lots of software of various kinds, ranging from camera firmware to processing software to remote control software. Where's there a summary? The only place I know (now) is my own Olympus photo software summary. And that's still a work in progress.
In the process, it's interesting to note that http://www.olympus-imaging.com/ is homeless: no home page, and any attempt to access it will result in a 403 error. A medal for that webmaster!
Every time I've tried to use OI.Share I have been frustrated beyond belief. But then it occurred to me: a while back I had tried (and discarded) Olympus Capture. One of the reasons was that it required a Microsoft computer, which at the time would have tied it to dischord, my desktop Microsoft box. But now I have euroa, a Lenovo ThinkPad T430. Maybe that's worth using.
Installed it—it no longer "stops working", and modulo instructions looks reasonable.
Isn't it an indictment of the current state of the art that toy phones and computers have such a completely different interface, especially since the newer technology is so markedly inferior?
Yvonne took our discussion on Saturday for a decision, and she's been merrily trying to get rid of Rani all over the place. I'm not that convinced, but Rani is helping: today she crapped in the bathtub, again although the door to the laundry and the cat toilet was open. You'd think she was trying to make a point.
But why is this our fault? We contacted the breeder, as agreed for this kind of situation, and she implies in her answers that we didn't "potty train" her correctly, and that this kind of behaviour is usually due to stress.
OK, she hasn't seen the cat, and in general she might have a point. But Rani is definitely not suffering from stress. Breeder forgot that she had herself identified Rani as a little unusual, and sold her to us considerably cheaper as a result. But I find it upsetting that she should blame Rani's behaviour on our treatment of her.
That's not the only issue, of course. Yvonne is particularly unhappy about the way Rani treats Piccola, and she may have a point.
Kelly Daly has identified a relative in Melbourne who would like to have her, and a mutual relative in Sebastopol who is visiting them over the weekend, so Rani could be gone as early as Friday.
Read in my calendar yesterday:
That's not quite exact. My employment with UNIVAC started on 1 May 1973, but that was a public holiday, so I really started work on 2 May 1973. But those events were 16 and 43 years ago, not multiples of 10 years. Coincidentally, I do know where I was 10, 20, 30, 40, 50 and even 60 years ago:
Apart from the fact that I was almost always not at home, it's interesting where I was. Twice in Madras/Chennai (they changed the name of the city between the two occasions), and Vaduz, Holzkirchen and Kempten are all quite close together (272 km total distance apart). But I've only been to India three times; somehow the snapshot is misleading.
A discussion on the M43 Australia Facebook group today: a claim that the Olympus OM-D E-M1 Mark II is slow.
Huh? If there's one thing that stands out about it, it's the speed. But the original poster claimed that it would freeze when the camera buffer was full. Long discussion, demonstrations, and finally the agreement that it wasn't slow after all.
My part was investigating reviews, and in the process I found this page, which confirms that just about everything about the camera—even startup speed, which I find slow—is state of the art. And then of course there's Camera Memory Speed, which shows that the camera with my Lexar Professional 2000x UHS-II 32GB should reach 160 MB/s write speed. Unfortunately they don't have many cameras in their list, but the fastest Canon they tested (the EOS 5D Mark IV) only manages 112 MB/s. Only the Nikon D5 XQD manages faster rates (at nearly 300 MB/s), but it uses XQD cards.
Reply from Olympus Australia today, presumably not John:
Dear Mr Sir,

With the WiFI not showing on the LCD screen, if you go to the spanner (Setup Menu).

Goto to the WI-FI setting and select Private.
Well, it's faster than advertised. But of course I had tried that. Back into their court.
Jamie Fraser pointed me today to a YouTube video about an Android app for identifying plants. Two of my hot buttons, But after some searching, came up with this link, which might be useful.
I've decided I really don't like Android, but I have to live with it. In the course of the day came up with this page describing how to install Android on Intel.
For some reason I have a significant number of items I bought on eBay that are taking forever to come. None of them are important: USB cable, flash shoe cover, USB hub...
USB hub? It no longer shows anywhere. I received a package nearly two months ago, but it was the wrong article. I had asked for a replacement, and they confirmed that they had sent it. But the first article arrived within 3 weeks, and now it has been nearly another 7 weeks. Where is it?
It doesn't show on my eBay pages either. Not under "purchased". Not under three different categories of problem items. Finally I found it under "purchased" after selecting all items for 2017. That shouldn't be hidden. Clicked on the "involve eBay" setting and explained the situation. We'll see how that pans out.
Another response from Olympus Australia about my display problems on the Olympus OM-D E-M1 Mark II:
Before you need to reset you camera body, does this happen on all setting for i-Auto, P,A,S & M?

This will need to be done via the menu and a full reset.

Unfortunately you will lose custom settings.
What a copout! As I replied (paraphrased):
Clearly this is an Olympus problem, either a documentation problem or (more likely) a firmware problem. Either was it needs to be fixed, and only Olympus can do that.

If I reset my camera, I'm going to have to spend hours re-applying the settings. At some point this may re-introduce the bug, so it would make sense to check after every change in settings, even ones that seem to be completely unrelated.

Under the circumstances, I would have thought that Olympus Japan would be interested in correcting the problem, not working around it. It's disappointing that they don't seem to care. In case they do, I'm attaching the current settings of my camera for them to play with.
It'll be interesting to see whether they follow up on this. It's also interesting to note that they didn't mention the option of saving the settings. Sadly, it doesn't help much here: since I don't know what setting is causing the display to go away, it's really a question of trying every setting individually.
Another Rani crap in bathtub! Why is she doing this? But things are coming to a head: it looks like she'll be gone on Friday.
Another of my lenses has sold, this time the EC-20 teleconverter, interestingly enough to France. He even paid the postage in advance. Was it correct? Off to look at the Australia Post web site. At the top there's a link Parcels & Mail with submenu "Sending overseas", which leads you to a Calculate postage & delivery times which conveniently defaults to "within Australia", though the image of the Arc de Triomphe and Tour Eiffel suggest the country (if not the mentality) I was looking for.
OK, the cheapest appears to be Economy Air, prices from# [sic] $21.48, a denomination not supported by Australian currency, which has a granularity of 5¢. The adapter and packaging have a weight of about 350 g, but the page has a click menu to enter the weight: 2 (default), 1 or 0 kg. And 1 kg costs $36.95, exactly the price the buyer paid. OK, so this is the one he wanted. But why did the previous page offer $21.48? Discovered that I could set it myself to 0.5 kg, and sure enough, it came up with $21.48.
Talk about obfuscation! Anyway, it seems to have brought me $15 extra, and it offers the all-important tracking, so that's the one for me.
Next, the shipping address. According to eBay, it's 53 Allées du 8 mai 1945, toulon Provence-Alpes-Côte d'Azur 83000, France. That doesn't look right. Toulon is the town, but French addresses don't include the Région, and presumably there's only one Allée du 8 mai 1945. Off to take a look with Google Maps, which confirmed my expectation.
While I was there, I saw other references to the address. Flats to let, 56 m² for 690 € per month! But then, maybe that's what flats in French cities cost nowadays. But the most interesting thing about the offer was the post code: 83200 instead of 83000. Which is right?
Off to look at La Poste. After 20 minutes, I couldn't find anything better than to tell me that the whole of Toulon has the post codes 83000, 83100 and 83200. Nothing to help me find the post code for a specific address. Clearly the national postal carriers of the world are united against transparency. It also suggests that the different post codes aren't of much use.
My anniversaries a couple of days ago were interesting mainly because of where I was and the fact that I could track them in the first place. But today there's a more significant one: 20 years ago I returned to Australia for good:
Off to Ballarat today with Nikolai, Sasha and Yvonne to the Eureka Village Hostel and the Geoffrey Cutter Centre, as I do every other Friday.
This time we had an additional passenger on the way in: Rani, whom we left with Kelly Daly's grandmother in Sebastopol. That's probably the last we'll see of her. I can't say I'm happy, but it was clear that she was too much work.
At Eureka, Bill was up and about, but still not very active, so again I did the rounds by myself. Bob Carr is no longer in his room; I didn't see him at all, but forgot to ask what happened to him. It's quite likely he's been moved to hospital.
Off to the post office to post the EC-20 teleconverter to France. It went relatively smoothly until I asked where the tracking number was. Sorry, no tracking number with this service, said Tim, who handled the transaction. I pointed out that the web site had claimed that there was tracking, and that that was very important to me. He scanned the item, it was accepted, and he said "Ah, there must be one after all, it's there", pointing to a number on the receipt.
Back home, I checked:
What does this mean? It means that Australia Post doesn't know what services they provide. What do I do now? eBay allowed me to enter the "tracking number", and it's clearly the shipment method they buyer wanted, so for the moment I'll just grumble.
I've been chasing the case of the lost WiFi emblem for some days now, and after the last exchange I wasn't expecting anything more. But today I got:
When you turn off the touchscreen via J1 menu setting, it actually removed the WIFI icon.

If you have done this deliberately, you can still deactivate the touchscreen by using the icon on the left hand side of the live view touchscreen, which will keep the WIFI icon active.
How about that! They're right. And in fact, that makes sense: the WiFi icon is a touch screen function. And they've given me a usable alternative.
In addition, it looks as if they really did look at the dump of my camera settings. Now wouldn't it be a nice addition to Olympus Capture to have a settings editor?
There's been some discussion about macro photography on the M43 Australia Facebook group, with the interesting discovery that a large number of people do it hand-held. The moderator, Kev Russell, seems to have hands of steel: he takes surprisingly good macro photos, and he recently published a photo taken hand-held for 60 seconds. I'm talking about equipment, and people don't believe me, even saying that focus rails are a problem with focus stacking; I'd think exactly the opposite.
By chance my Hibiscus rosa-sinensis bush has produced another flower, so it seemed to be time to take some more photos:
Once again nothing to be proud of. Firstly, the menu system foiled me Yet Again: when do you press OK, and when do you simply return out of the menu? Time to assign the settings to a custom setting.
But even then, things didn't work out the way I expected. The one series that succeeded didn't seem to alter the focus. Here the first and last (8th) image:
According to the EXIF data as reported by exiftool, the first one has a focus setting of 0.185 mm, the last a setting of 0.190 mm. The problem is that exiftool only reports the focus setting to the nearest 5 mm, and so far I haven't found a way to interpret the numbers (perl tells me that they're rational, whatever that means in this context, but looking at a dump I can't interpret them). The other thing is that the total change in focus must be less than 10 mm. This was done with focus step 1 and the M.Zuiko Digital ED 60 mm f/2.8 Macro macro. At this distance and aperture, the depth of field should be 1.1 mm, so 8 steps should have made effectively 1 cm:
I have a feeling that the Olympus OM-D E-M1 Mark I had larger steps. High time to get back to analysing the EXIF data.
Despite all this, the merged image didn't look as good as any of them:
Maybe this is due to motion. I took these photos without flash, so the exposure times were 0.4 s. I won't be able to use this lens with ring flash until my adapter rings arrive. But even with flash, there could be differences between the individual images. Maybe I should just put this into the "too hard" basket.
Mick the gardener was due at 9:00 this morning, so up in plenty of time. I was just going into the office when I saw him arrive, at 8:20, apparently thinking that he was too late.
Finally got round to planting the Camellia japonica that has been in a pot since we bought it over six years ago. Surprisingly, we got it out of the pot with little difficulty and no damage. Also found a surprising number of plants for Chris Bahlo:
Somehow the Camellia ended up closer to the entrance than expected:
I've had a surprising number of problems selling my lenses on eBay:
eBay finds reason to believe that my account has been compromised, but doesn't give any reasons. Instead I just get my password reset.

They change their password regulations from time to time without telling, so I have

trouble

logging in. They don't tell in advance what the password requirements are, so it's a matter of trial and error.

Printing labels doesn't work. They end up in the ~/Download directory instead, with no indication as to what has happened.
Still, I managed to work around the bugs and send my items. But today I got a surprise:
Huh? In April I sold one item, and that's nearly 25% of the value. And why $9.01 for shipping? Firstly it's a completely unlikely sum, and secondly I had already noted that the shipping cost $7.35. Where are the details?
After a couple of hours searching for the details, I still couldn't find them. Going online to "my account" showed nothing more. Going to the "Sold" category in "My eBay" didn't even give me the opportunity to view the transaction. Somewhere I recall seeing a sum of between $10 and $20 commission, but if it's still to be found on the web site, it's well hidden.
Still, there's a glimmer of hope: the link "We're here to help!". But that just gives generic information, nothing at all to relate to my transaction. And the "Help & Contact" page offers a "Contact Us" button that first requires me to choose from a menu to describe exactly what my problem is. And then it doesn't offer the option of email, only phone call (not usable in evidence) or "chat":
But when I press "Start chat", I get taken back to the grandparent page. After over an hour, I couldn't contact anybody about the problem. On Monday it'll be Consumer Affairs Victoria.
Things didn't use to be like this, but one thing's clear: that was the last thing I try to sell on eBay until they change their tune. It would seem that they don't want any "casual sellers" any more.
I was going to take the other two items down, but maybe I get charged for that; that is one potential explanation for the discrepancy. So instead I've significantly increased the price, and we'll let them either sell or expire on their own.
Chicken with chestnut stuffing for dinner tonight. The main ingredients were oranges and the chestnuts that I processed a week ago, a recipe from Georgina Horley's "Good food on a budget", roughly:
| | | | | |
| --- | --- | --- | --- | --- |
| quantity | | ingredient | | step |
| 350 g | | cooked chestnuts | | 1 |
| | | water | | 1 |
| 100 g | | soggy English-style bread, torn into lumps | | 1 |
| 1 | | orange | | 1 |
| 15 g | | salt | | 1 |
| 1 | | egg | | 1 |
| 30 g | | beef dripping | | 1 |
Bizarrely, she also asks for cayenne pepper, something that I left out.
Things didn't go well. Somehow I was sidetracked, and I started far too late. The chicken weighed 2.4 kg (the weight of a turkey 100 years ago), and by rights should have taken about 130 minutes with 30 minutes rest afterwards. And I started 90 minutes before we started dinner. To make up for the late start, I cooked the chicken at 180° instead of 170°, first laying it on the breast, and turning it over after an hour, in the process tearing the skin off the flattened breast. After 2 hours the breastbone temperature had reached 80° (I was planning to go for 82°), and I decided to serve it.
The good news: the chicken was relatively well cooked and tasted good. The less good news: I managed to spill the gravy over the table, and spent some time scraping it up again. And the stuffing was boring. No chestnut flavour at all, and the orange tasted bitter, something that I've experienced before.
Not to be repeated.
At my request, Chris Bahlo brought her Olympus OM-D E-M10 Mark II with her in the evening to try out the wireless control from a smart phone (OI.Share), about which I most recently grumbled a week ago. Apart from the fact that it might be interesting for her, I was interested to see how well she got on with it.
Surprise, surprise. It worked well. Even the problems that I've always had with networking didn't occur. And she's quite happy with the app, and has an application for it, taking photos of herself in the riding arena when she's alone.
So why doesn't it work for me? The networking issue is particularly puzzling: she was connected to our home wireless network when she turned it on. My camera claimed immediately that there was no camera to be found. Hers just connected.
Sometimes I think that I'm part of the problem, but I really don't understand this one. Of course, we took some silly photos:
After modifying my remaining eBay listing, got another password reset:
We have reason to believe that your eBay account has been used fraudulently without your permission. We've reset your eBay password. Any unauthorized activity, such as buying or selling, has been canceled and any associated fees have been credited to your account. Any listings that we removed are included toward the end of this email. We assure you that your financial information is securely stored on a server and cannot be seen by anyone.
Why don't they give me their reasons? If there's really a breach (which I greatly doubt), it's in my interests to find out how it happened. What a mess!
Over to Chris Bahlo's place today, I thought to take some wide angle videos, but I ended up taking photos of her and Yvonne training horses. Here some that Yvonne liked best, along with one that I found amusing:
So why is eBay charging me so much money for last month, and why can't I find a detailed invoice? Their "chat" is still broken, so selected "please call me" on the web page. Quite quickly I got a call with the typical telemarketeer ploy of a long delay—in this case, nearly 30 seconds—after which I heard a recorded message "When Valued Customer is on the line, please press 1". Yes, literally "Valued Customer", and I don't recall them mentioning eBay.
Then "Please continue to hold". Another 2 minutes, and I was connected with Mark (or was that Marc?). I told him of my issues, and he picked on the easiest one: why couldn't I log in to eBay? I had to repeat that the password had been invalidated, and that I had had already created a new one and logged in. But then he took me to the invoice page. Exactly the one that I was complaining about, in particular that I wanted it itemized by transaction. "Sorry, that's all we have". I pointed out that this does not satisfy Australian legal requirements. In the process, I discovered that the invoice is worse than I thought: it's in USD, not AUD. Why that? And why was there no indication on the invoice?
He started searching, and I told him that I required in writing, by close of business on 10 May:
A detailed written invoice.

An explanation for the use of USD.

The nature of the fraudulent use of my account.
About the only useful information I got was that yes, indeed, cancelling a listing did not involve any charges. In meantime, I asked him to ensure that the sum was not booked from my credit card.
I got an answer quite quickly:
Your account is currently registered under USD. You can change the setting back to AUD once you've paid the remaining balance which is $64.57 and when you've paid that you can go ahead and change your currency back to AUD. And also regarding your password, since the system detected your account is at risk so the system automatically changed your password to protect your account from fraud.

I hope I answer all your questions.
No, he didn't answer any of the questions. Where's the issue with the invoice? And the reason for the alleged fraudulent access? And why is my account in USD, when I changed to an Australian account nearly 2 years ago? Sent off an answer repeating my requirements, and received a response indicating that it could take them up to 3 days to respond. And no recognition of the fact that I had prohibited them from accessing my credit card.
Dammit, another callback. This time I spoke to Vince, who again wanted me to wait while he scratched his head. I once again said that they must not access my credit card and asked him to get back to me. He left me with a case number. Later I got a reply:
I have checked that your account was originally registered in US which means that your billing currency is in USD.

You have requested for change of your registration site to AU last 2015, however. the currency was not updated and this does not get updated or changed automatically.

You may change your billing currency here:
OK, why doesn't the billing currency get changed automatically? Why didn't they tell me? Sorry, eBay, this is your fault, not mine. And that link doesn't help at all: it's generic help, and I couldn't find anything leading off it that would help me change it.
More to the point, however, I found what I was looking for on the nth look at the invoice, which neatly fits into the too-small subwindow they provide. Underneath are the usual footnotes:
But underneath that are the details that I required:
I'm not sure if they were there before, but I'll give them the benefit of the doubt. So, the problems were:
The invoice is structured in a way that nobody could expect to find the details. Neither Mark nor Vince did. I suppose if I still lived in the 20th century, I would have printed it out and found it. That might also have happened if they hadn't hidden the invoice in a subwindow.

Without telling me, they did not change my billing currency from USD to AUD. And they blame that on me!

Their "April" is US Pacific Daylight Time, to which they refer as "Pacific Time" in the invoice. Of course, the name is inaccurate, and the term could equally well apply to Australian Eastern Standard Time. And given that they write the date the right way round ("01 April - 30 April Pacific Time"), it would be easy to assume that that's what they meant.

By chance, I sold the Zuiko Digital ED 70-300mm f/4.0-5.6 on 1 May before 17:00, when it was still April at the other end of the world, so the charges were included in the April invoice. I wonder whether this is related to the incorrect currency setting.
Would they be this bad if they had significant competition?
The Olympus OM-D E-M1 Mark II has been on the market for nearly 6 months now, and already we have the second firmware update. And what a whopper: 87 MB!
Somehow the last few days have had a number of anniversaries. Today's was less monumentous:
Still, 2 years. And we haven't really achieved that much. I think we had done more
Making some nasi lemak (literally just the rice) today. The recipe calls for 800 g rice, and when it's done I freeze it in portions.
But how big should the portions be? In the past I have decided on a weight round 140 g, but that's very unlikely to be an integral quotient of the total weight. Wouldn't it be better to weigh the pots and use that information to determine the total weight after cooking?
Did that, and came up with a weight of 2160 g total. Deducting 10 for the daun pandan left me with 15 pots of 144⅓ g each. But when I came to the last pot, I was short by about 25 g. That's too much for sloppiness on my part. I suspect it's a non-linearity in the scales. I've seen something similar when making tortillas: the sum of the parts is less than the whole. I'm not sure how to handle that, beyond noting it.
Chris Bahlo along in late evening, too late for me to do anything with it, with my latest new lens, the Leica DG Vario-Elmarit 12-60 mm f/2.8-4. Once again it came in record time: picked up in Hong Kong on Friday after close of business, delivered in Ballarat at 11:09 this morning:
Modulo time zones (I'm assuming local in each case), that makes a total time of a little over 74 hours. In terms of "working days", it's 2 hours, 41 minutes. Compared to other courier services and especially Australia Post, that's really quite good.
eBay has responded with lots of stuff requiring investigation, but one that seems particularly dubious is that they can't stop booking from my credit card. It appears that they did so, as well. In Germany, at any rate, this would be illegal. I'll wait and see what happens, and then put in a formal complaint.
Unpacked and took a look at my new Leica DG Vario-Elmarit 12-60 mm f/2.8-4 this morning, including the obligatory first test photo:
That was taken hand-held at ¼ s, and it's acceptably sharp.
So why the new lens? It's a 12-60 mm f/2.8-4 zoom, and I already have an Olympus lens with those parameters. There's even reason to believe that it might be better; certainly a comparison of the maximum aperture is interesting: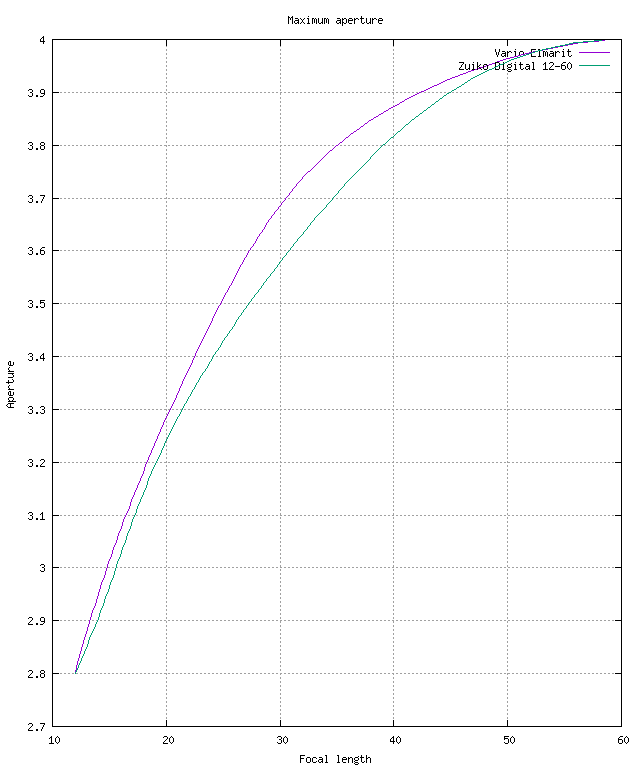 Looking at the raw data, it's not clear how much of this shows real differences in the optics, and how much is inaccurate reporting in the EXIF data. When I got the Zuiko lens over 8 years ago, I noted discrepancies in the reported focal lengths.
More important, though, is the size of the lenses. Here at 12 mm and 60 mm:
Is that that much difference? It becomes apparent when you look at the way they hang from the camera:
That corresponds to the difference in weight: 320 g for the Vario-Elmarit, and 617 g (575 + 42), nearly double, for the Zuiko with the MMF-3 adapter.
Still more anniversaries today:
I had been aware of the first two, but not the coincidence of the last one. So now the whole family has been in Australia for 20 years.
Processing my first images with the Vario-Elmarit 12-60 brought a surprise from DxO Optics "Pro":
Huh? That's a Leica, not an Olympus. Yes, focal length and aperture are the same, but that's not a way to identify the lens, even if it's unknown: Makernotes tag 0x201 contains a code that identifies the lens, and if it's not known (like the Vario-Elmar), exiftool reports the code:
Time for a bug report, which DxO keep confidential.
Since the most recent update, I've been having random crashes "stopped working" while processing my photos with DxO Optics "Pro". While I was entering the other bug report, I reported this one too, asking what information they needed. The result blew my mind:
No suggestion at all about how to trace the bug, just "remove, reinstall, reboot". What kind of confusion can give rise to that kind of idea?
Taking my photos of the new and old 12-60 lenses was much more difficult than I thought. I stood in front of a blank wall and used the Olympus E-PM1, and the lenses didn't want to focus. So I tried manual focus, the problem being that I had to be in two places at once. So I put a chair where I would be and focused on that. No focus peaking, of course, but where's the magnification? After fighting my way through the "instructions", discovered that the only way was to set automatic magnification when I turned the focus ring, not quite what I wanted.
The results were not quite sharp—presumably I didn't position myself correctly—and the slow shutter speed (1/6 s) gave some motion blur too (me, not the camera).
OK, a good application for SHARPEN projects professional, the first time I've used it. It's even harder to use than the others! What I finally got made very little difference to the sharpness, but it greatly accentuated the grain. Run the cursor over either image to compare with the partner, and click to see a larger version:
In this case, the solution is clear: take the photos again under better conditions, and that's what I did.
Many people in the "Western" world are prejudiced against Islam. Why? To a large extent, the Western world is to blame because of the way it has collectively treated Muslims. But the result has been the arising of a subculture that has reinterpreted the Qur'an to incite to violence, something that's completely wrong.
But still, most terrorist attacks outside the USA tend to have a radical Islamic background, and that doesn't help people who get the impression that all Muslims are like that. High time for some public relations.
But in some cases, the official position doesn't help either. Some years ago a Malaysian court ruled that no non-Muslim could refer to his god as "Allah". That's deeply disturbing, especially for Arab Christians who have no other word.
And now a Christian has been convicted of blasphemy because he quoted a verse from the Qur'an.
Certainly in the latter case there's every reason to believe that the incident was politically motivated. But that's not the point. By passing this verdict, the court has once again put Islam in a bad light in world opinion, just as the court in Kuala Lumpur did.
Whatever the background, this kind of action does not help the Muslim cause. When Malaysia was founded I read the constitution, and noted with approval that Islam was the state religion. I have changed my mind. This has nothing to do with Islam specifically: Christians and Jews have also abused their religions for political purposes, and even such supposedly peaceful religions as Bhuddism show an ugly side in Myanmar, where they're persecuting the Muslims. Martin Luther was right when he demanded separation of religion and state, and this has been proved again and again.
I've been eating baked beans for breakfast for some time now, and it's time to cook a new batch.
It's clear that I need some kind of pulse to go with the meat, but somehow baked beans seem too British (though they're really US American). There are so many good Indian bean and (especially) lentil dishes. Can't I adapt some of that? The real question is how that goes with bacon and eggs.
Today I started with Julie Sahni's "Classic Indian Vegetarian Cookery", which was rather disappointing: it's over 450 pages long, but the only reference was in the overview on page 43, a single paragraph on Rajma dal. Still, that was enough to go googling, and I found this page. In many ways it's close to what I've been doing already.
So I modified my current recipe, carefully adding a couple of details from the new one. Differences in bold:
quantity
ingredient
step
375 g
dried white beans
1
200 150 g
onion
2
20 g
garlic
2
10 g
ginger
2
10 g
chili
2
5 g
cumminseed
2
1 g
turmeric
2
38 g
oil for frying
2
240 g
tinned tomatoes (400 g can)
3
30 g
tomato purée
3
1.16 g
dried rosemary
3
10 g
beef stock powder
3
250 390 ml
water (to cover)
3
10 g
salt
4
I think that the additional water was a mistake, but we'll see.
Strangely, the beans were cooked in 90 minutes; I really can't understand the cooking times. I ended up with 1610 g of mixture, so I aimed for 10 portions of 160 g—and was short by 40 g. I should do some more rigorous testing of the scales.
Kev Russell has offered me a Zhongyi Mitakon 20mm f/2 4.5x Super Macro lens at a good price: Do I want to bite? Not at the moment, I think. But it's worth thinking about. The few images I've seen (not from Kev) haven't been convincing. What's the depth of field?
The first thing to do is change my viewpoint on distance. Typical depth of field programs measure based on subject distance, but that's not even stated in this lens, just a magnification of (only!) 4× to 4.5×. Time to update my depth of field program. And while I was at it, I improved focus stacking support. So now I can, for example, see how many images I would need to take a stack with a depth of field of 1 mm (!) at 4× magnification and f/8 (presumably the best for a compromise between depth of field and diffraction):
And already I see another issue. How do I determine what 1 mm depth of field is? I need to suck it and see. Time for yet another enhancement.
From a photographic point of view, it's clearer: such a razor-thin depth of field (even at f/16 it's only 0.4 mm) effectively limits the lens to flat objects, and that's what all the sample photos show. If Kev doesn't sell it, and if he's willing, I might borrow it for a couple of photos, maybe to compare with the photos I took with the SMC Macro-Takumar 50 mm f/4 7 years ago, but I don't see it getting much use.
Just when we thought that US politics was settling down, Donald Trump does it again: not only dismissing James Comey, the director of the FBI, while he was investigating an affair that could possibly involve Trump, but also giving contradictory explanations for his actions. Yvonne showed me this cartoon, published without copyright information on Facebook: Will this be Trump's Watergate?
I've been trying for some time to get good photos of the dogs running. In the past it was hampered by the focus speed and accuracy of my Zuiko Digital ED 70-300 mm f/4.0-5.6, but now that I have the Leica DG Vario-Elmar 100-400 mm f/4.0-6.3 things should be different.
And they are, but I'm still not there. The "wrong" way round zoom ring didn't help, but neither did the dogs themselves: they didn't run about very much. And once again I had too slow a shutter speed:
Still, I'm making progress:
The good news is that the 400 mm maximum focal length seems to work for most things.
Woke up to the news that Microsoft boxen round the world had been hit by a ransomware attack. Could it happen to my computers? No way!
When I got up, found more information, later summarized in this CERT report: it was a known vulnerability that had been fixed a couple of months ago, and it relied on network accessibility. Yes, I use network facilities with my Microsoft boxen, but they're hidden behind NAT and a firewall. And I don't run email on them. So yes, it didn't happen to my computers, for all the above reasons.
And of course ransomware relies on lack of backups, something that hasn't happened to me since long before "Windows" came in to existence, though it did give me cause to consider whether the default weekly backup is frequent enough, and I've changed it to daily to match my real computers.
So basically there's no threat to well-organized people, right? This kind of exploit can only compromise individual users who don't perform updates, who don't secure their systems even remotely, and who don't do backups. Far from it. It seems that the British National Health Service was the hardest hit, but also the Russian Interior Ministry and FedEx. What does that say about the systems administrators of those entities? I would expect a thorough purge and lots of rolling heads. It makes you wanna cry.
My older Hibiscus bush has produced another flower. Time to do some more experimentation with focus stacking.
First (re)discovery: the M.Zuiko Digital ED 60 mm f/2.8 Macro is far too long for this sort of thing. Even the M.Zuiko Digital ED 30 mm f/3.5 Macro was on the long side:
When I was a lad, the standard macro lens for my Asahi Pentax "Spotmatic" was the Macro-Takumar 50 mm f/4, corresponding to a 25 mm lens on my Olympus cameras. And I still don't know why macro lenses have got so long.
This time there was almost no movement; I used a second tripod (in the middle above) to keep a branch out of the way, and set initial focus well short of the closest part of the flower. Using in-camera merging, ( finally I have something that looks worthwhile:
It's interesting to note that in the second image I really needed f/16 to get enough depth of field, even with 8 shots. This is possibly a reason to move to focus bracketing (flexible number of photos, and image processing on a computer), but for the moment it should be one step at a time.
It's been a little over a month since we repotted our old Hibiscus rosa-sinensis, which had been spectacularly lop-sided. And new growth just added to the problem: one side just didn't grow at all.
The stem is now vertical, but the branches still come mainly to one side. But it looks as if things are changing, as these shoots on the main stem show:
Presumably the lack of root space on that side had something to do with it.
Last night I cooked Sauerkraut, for which I needed 2.5 g juniper berries. And that was all I had. The jar is finally empty.
What does "finally" mean? Nowadays I write the date, and where appropriate the use-by date, on the label:
And yes, it's typical that the spices have passed their use-by date. I always put them in sealed glass jars, and they keep well. But this didn't have a date:
Looking back, though, it's clear that I've been through several iterations of label. First, a bit of background.
In the time from about 1979 to 1981 I was responsible for the rollout of Karstadt's first ever computer ordering system. It was what we called "on-line" in those days: the orders were entered directly into a computer in the department store. Only then did the paper trail start.
As a result, I had much contact with Egon Göke, the High Priest of the Computer Centre back in the head office in Essen. The Computer Centre took up a whole floor, including big computers with enormous banks of disk drives. Can you say 1,600 MB in only 8 drives? The computers were protected by two levels of physical access control (badge readers). Outside were (still) punch card operators, and inside (the "Holy of holies"), apart from the computers, there was a room about 150 m² in size for paper processing, including document readers and fast laser printers. And for direct marketing, they printed adhesive labels that were then automatically attached to envelopes.
One day, while walking through, Egon pointed out boxes of these labels and said "Can you use one of those?". I asked what for, and he said "Oh, don't you have a deep freeze?". I was Enlightened, and took one. It has proven to be a lifetime supply:
That was about 37 years ago, and apart from proving that the adhesive can last that long, it has dwindled to about half the original quantity.
I've been using these labels for all food things in that time, so when I look at this jar, with its cut-to-size label, it's clear that it's more than 37 years old:
On more careful examination, though, I have been through several changes:
The very oldest, possibly including the juniper, were on labels cut to size, with the description first in German, then in English.

Then I still have one which I wrote only in Malay, and my wife Doris augmented:





I'm guessing that this one, still over 37 years old, is newer than the juniper.

Then the Karstadt labels start, still with the same nomenclature:





After meeting Yvonne, we went through a phase of writing in four languages (English, French, German and Malay). I also added a date, exceptionally with only 2 digit year:





In this case, the only one left, the French and German word is the same.

At some point I changed from (fountain) pen to ballpoint pen, and also managed a label without date and with three languages, English first:





It's not clear when this was written; it looks somewhat anachronistic.

And finally, about 15 to 20 years ago, I got to the point where I started writing both fill date and use-by date:




The interesting thing is that the old spices still seem perfectly usable.
Tim Corin posted some images of Sydney Harbour today, taken with Olympus in-camera HDR. Two of them were quite good, but the third shouted "Look! I've been taken with in-camera HDR". During the discussion I pointed to my investigations shortly after I got my Olympus OM-D E-M1. But I was sure that I could do better, and I came up with these images. The first two are taken with "HDR1" and "HDR2":
Then I took three as an HDR sequence, with exposure spacing 3 EV. The first image was taken with "normal" exposure, not something I normally do:
Even the "normal" image looks better than the in-camera "HDR" variants. That puzzles me, and I really can't find an explanation.
Then I merged them in my standard way with align_image_stack and enfuse:
Somehow I'm not overly happy with the results, but clearly they're better than the in-camera results.
A lot more Yellow-tailed black cockatoos around today, making a lot of noise, but not really coming close: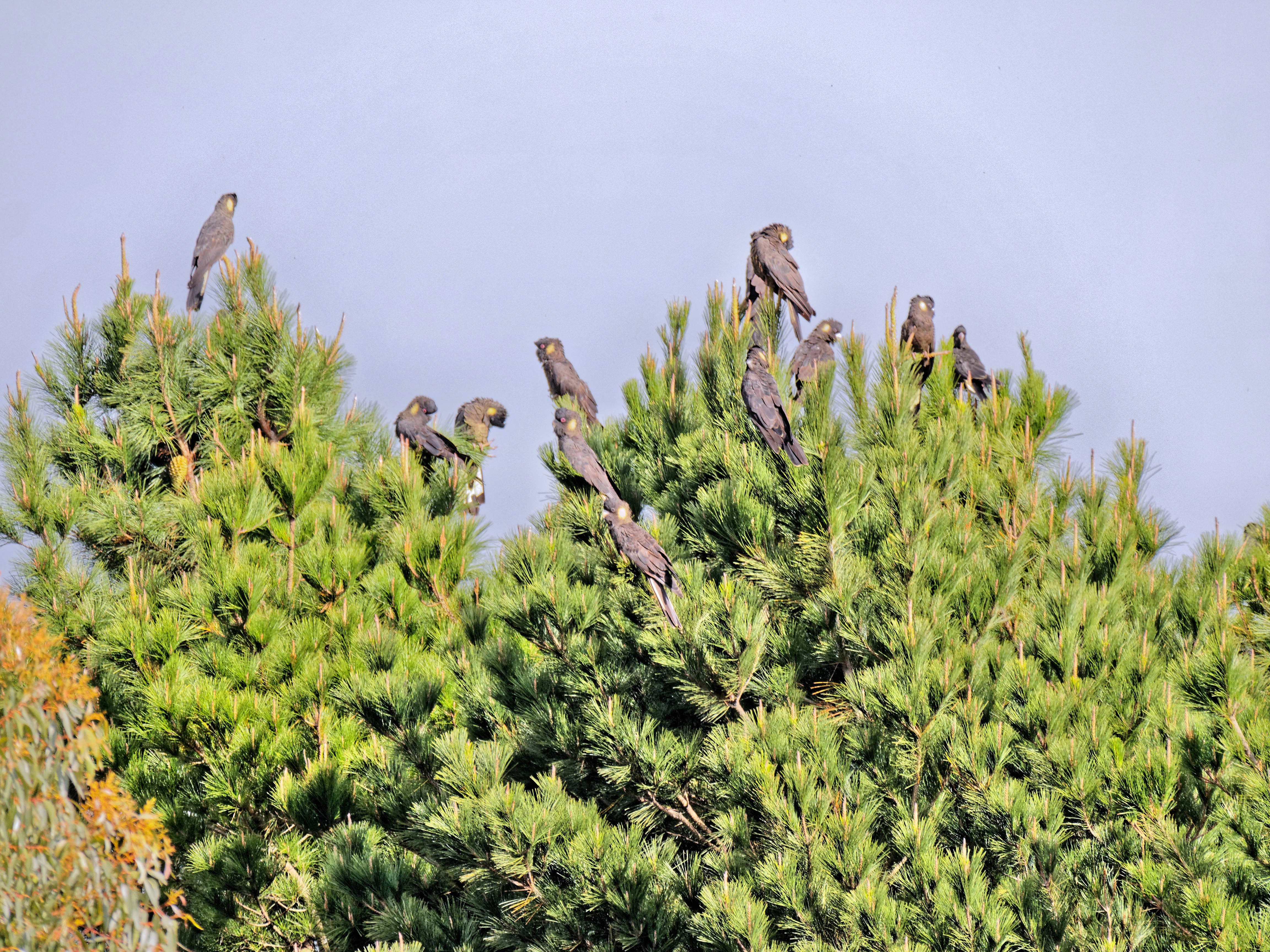 Yesterday Yvonne and Chris brought Chris' mare Candileja over to our place in the latest horse swap. Today they put her together with the other horses, Carlotta and Gabriela. I went along mainly to get some practice with the new Vario-Elmar:
In the process, discovered a couple of things: the 100 mm shortest focal length can sometimes be a little long, the zoom ring has a very long (and not very light) travel, and in the process you can get your fingers caught in the tripod mount.
While looking at this, one of the clips holding the camera strap came undone. If I hadn't been holding the camera by the lens, it would have hit the ground. How could that happen? The clips look like this:
They're only designed for lanyards holding name tags, but in fact they're pretty solid. I can only imagine I accidentally pushed on the open lever, but it would still have been quite a coincidence. As I commented over a year ago,
they're really too small and fiddly to open.
Seen on IRC: a rejection letter for a novel.
Yesterday's Hibiscus rosa-sinensis photos didn't come particularly close. Today I continued. This time the construction of the M.Zuiko Digital ED 30 mm f/3.5 Macro showed itself from the other side:
That was without extension tubes, and gave a roughly 1.25× field of view (about 10×14 mm):
With the M.Zuiko Digital ED 60 mm f/2.8 Macro and extension tubes I had a calculated 1.43×:
This was all done with focus stacking, and it's showing the limitations of the method. When my adapter rings for the ring flash finally arrive, I hope to be able to improve on things.
Tuna for dinner tonight, as a favour for Yvonne. I don't like the ecological implications, but I suppose once a year or so isn't going to do too much harm.
But what accompaniments? In the end we came up with a mushroom risotto, using precooked rice, and pan-fried courgettes:
Mick the gardener along early this morning to complete the garden bed he started digging last weekend. At least he got all the road fill out, and started to fill in some garden soil:
Yes, it's not very deep, but it's pretty soggy under there in the winter semester, so we're planning to put (mainly) shallow-rooted plants in there. I'm hoping that the Camellia japonica will be able to handle the conditions.
Also spent some time trying to debug the extraction pumps. Mick had tested it last time, but again it wasn't running, and this time it wasn't a blockage. He replaced it with the spare that we have, in the process discovering that it wasn't the same model: it's bigger, and probably as a result stops pumping when the water is at a higher level than the old one.
Spent a couple of iterations swapping pumps, with the final result that neither of them would pump. I suspect an airlock, but I can't work out how to remove it. Further research needed. In the meantime, I hope that we won't have any heavy rain.
While figuratively head-scratching, Mick also planted the remaining Buddleja cuttings that Lorraine Carranza gave us, along the fence line to the Swifts:
The main reason was so that they wouldn't die. But now that we have somebody to do it for us, it costs much more than the value of viable saplings just to plant them, so the free cuttings hardly come into the equation.
In the afternoon we heard a repeated bark from the bathroom ("en suite") of the main bedroom. Not loud, not long, but repeated. And it didn't sound like Leonid, the only dog we have who normally barks. It proved to be Sasha, who had found this in the bathroom:
Clearly he had identified it as some kind of intruder. Yvonne promptly took the opportunity to try to teach them to bark on command:
Unfortunately it was too late. Sasha barked once, but there wasn't enough to reinforce the behaviour.
My macro processing is progressing, but I still have an issue with these tiny flowers:
People don't quite understand why, so it's time to show just how tiny they are:
I've had an infrared thermometer for a few years now, and in the course of time it has accumulated a fair amount of grime, to which function the plastic surface seems particularly conducive. Today I tried cleaning at least the display. Here the result afterwards:
But even the slightest bit of moisture was too much. After cleaning it, I turned it on and it showed random error displays. Some moisture must have got in between the display and the frame. With luck, it'll be OK again when it dries out, but how long will that take? A new one can be had for under $10, so I ordered another.
It's mid May, the last month in autumn, and time for my monthly flower photos. We've neglected the garden in the last few months, and it shows. But the roses are still doing surprisingly well:
The Banksia has grown considerably, and is now round 1.5 m tall, with many new shoots:
And that's about all. More photos in the flower photo page.
Saw what looked like a misty sunrise this morning, but the camera saw it differently: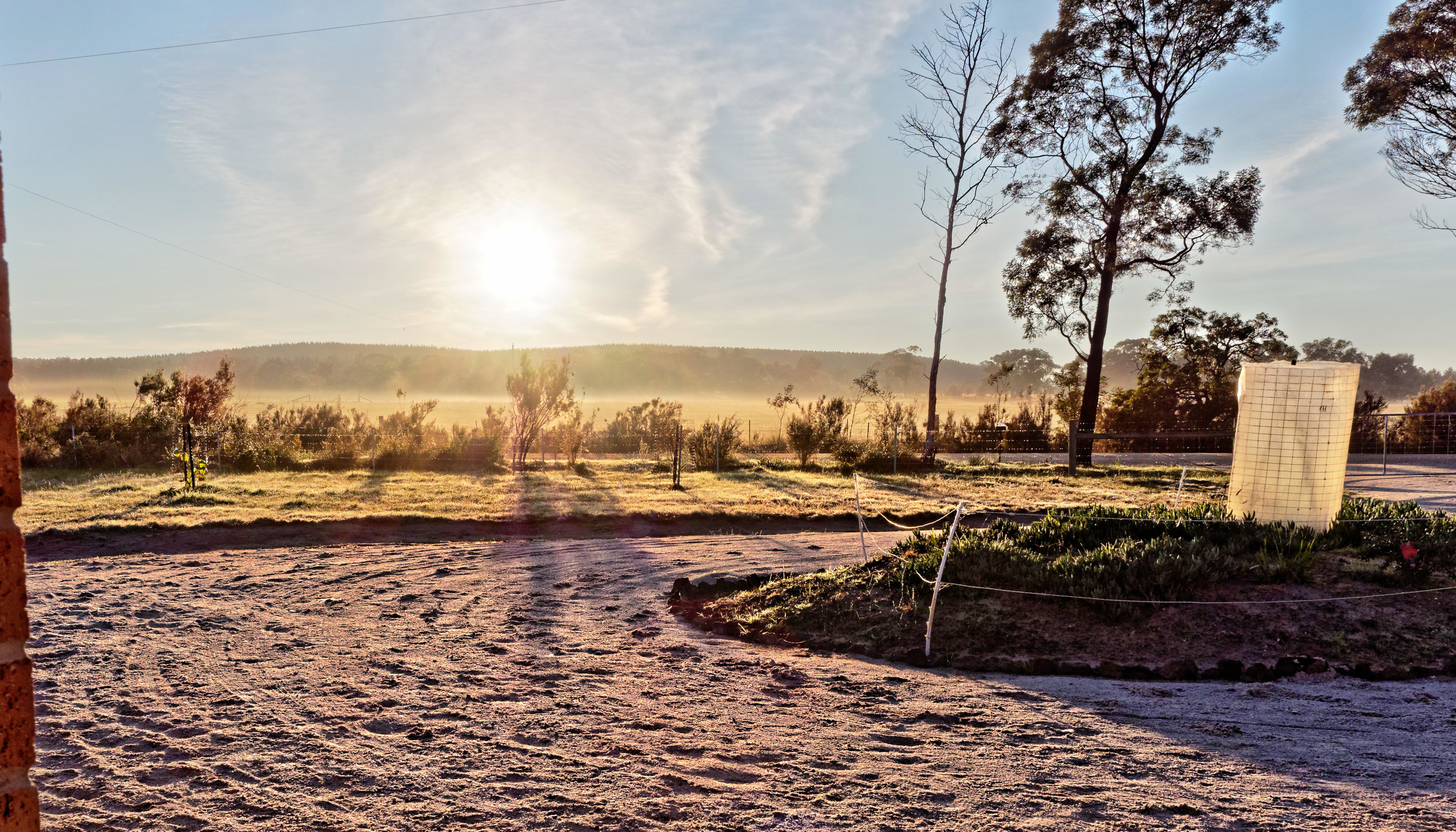 Still, it was a good comparison for a number of reasons. Firstly, this is a shot directly into the sun. How much flare? I compared the results with three lenses: the Leica DG Vario-Elmarit 12-60 mm f/2.8-4, the Zuiko Digital ED 12-60 mm f/2.8-4.0 SWD and the Zuiko Digital ED 14-35 mm f/2.0 SWD, here in sequence:
Considering that they're looking directly into the sun, that's remarkably good. But it also shows that the Olympus 12-60 is better than the other two.
Another thing that was obvious in the photo taken with the Vario-Elmarit is the curvature of the wall on the left. That's partially due to the fact that, despite EXIF data to the contrary, DxO Optics "Pro" thinks it's an Olympus lens, but in fact that just improves it. Until they add support for the lens, I'll have to do it manually, so I created a profile ("preset" in DxO parlance) to apply the appropriate corrections. That worked nicely. Here with other processing:
But the next image looked distorted again. More comparison shows that the distortion is remarkably dependent on focal length:
There's clear barrel distortion at 12 mm, but at 36 mm it changes to slight pincushion distortion, and stays that way, slightly weaker, at 60 mm focal length. Nothing much I can do about that except correct every image individually. I'd rather wait until DxO supports the lens.
I've been keeping a careful eye on my old Hibiscus rosa-sinensis bush to see when it blooms, and so far it's done a very good job of tricking me. This morning I came in to find a new, hitherto undiscovered bud opening:
That was taken with available light at 1/10 s, and it gives the lie to the claim that the image stabilization of the Olympus OM-D E-M1 Mark II allows you to take photos up to several seconds without camera shake. So I went back and got a different lens and ring flash:
That was taken 5 minutes later, and already it has unfolded somewhat. It was complete after rather less than 2 hours (run the mouse curor over the image to see the times):
This one was positioned particularly conveniently, so I had the idea to try a really close shot with flash and my SMC Macro-Takumar 50 mm f/4 on bellows. That, unfortunately, was not to be:
The second image is taken from below and shows the damage to the clamp on the front of the bellows. I've had difficulties with these bellows before, and I think this is probably the end, though possibly I could just glue the front part together and adjust with the rear. I could also buy new bellows, but I wonder how many successful photos I have ever taken with bellows. Certainly my attempts of 50 years ago were nothing to write home about.
Lately we've had a lot of birds around. The yellow-tailed black cockatoos have been irritating me by being present in large numbers, but always too far away for good photos. Today I took a couple of pot shots, finding some sulphur-crested cockatoos as well:
The best thing I can say about the images is that they're in focus. But that's a great advantage over the old Zuiko Digital ED 70-300 mm f/4.0-5.6. Sooner or later I will get some good photos.
The cockatoos weren't the only birds around. I also found a number of crimson rosellas in the garden:
Clearly weeds have some advantages.
Clearly Donald Trump's actions in the last week have woken many concerns, and it's not over yet. And of course people have been asking for his impeachment almost from his inauguration. But this article, with a ridiculously long and possibly fragile URL, is different: it's by Laurence H. Tribe, Carl M. Loeb University Professor and Professor of Constitutional Law at Harvard Law School, and published by the Washington Post, the newspaper that sparked the Watergate affair. I suspect it won't be the last call.
This year's anniversaries are frequently a multiple of 5 or 10, and today's another example. From my calendar:
35 years ago! But that's only one of three:
It's amusing that I stayed exactly 6 years at Karstadt, all the more so because Germans always start and end employment at the beginning and end of a month.
As if that wasn't enough, in 1975 my fiancée Doris and I had wanted to get married on 17 May, but that was a Saturday, and the registry offices were shut. Yes, we got married in a church, but in Germany you still need to go to the registry office (Standesamt) as well, so in the end we put it forward by 8 days.
Yvonne went shopping today, and she called me from Ballarat: flat tyre.
Once upon a time that was routine, and if I had been there, I would have changed it myself. But that's not for Yvonne, so I called up Bob Jane, where Mick promised to attend to it (it was only a couple of blocks away), though it might take up to 20 minutes.
Another call from Yvonne, over an hour later: yes, they had repaired the tyre (and taken 40 minutes to get there), but discovered that the wheel studs were damaged in some undescribed way, and she had to leave the car for repair.
Off into town and picked her up, completing her shopping on the way.
Yvonne bought some beef stock cubes in town today. Or so she thought:
That's right, isn't it? I was more interested in the size of the concentration of the cubes, but in the process I came across the well-obfuscated texts:
Why do they do that? It's clearly deliberate misrepresentation, and probably prohibited by Australian law. And what advantage does it bring them? I'll now remember the name Massel, and to give them a wide berth.
At Davies they had some pretty looking "Mini Beef Wellington", apparently individual portions, so we bought a couple. Back home, we discovered that they weighed over 300 g each, presumably more than 200 g of it filet. So we only cooked one (for the record: 25 minutes at 180°, convection). Surprise, surprise! It wasn't a piece of filet after all:
It seems that there were small pieces of beef in there, possibly filet, along with ham and some undescribed sauce. It wasn't that bad, but why does pre-prepared food in Australia have to be so strange?
The laksa pastes that I've used in the past have run out, and the Ballarat supermarkets don't have them in stock. The only thing I found was this:
Creamy Thai Laksa? What's that? Wikipedia tells me that it's a curry laksa influenced by red curry. But does the photo bear any relationship to the contents? It's supposed to be two servings, which normally converts to 3 for me. But it's only 200 g, and they only want 350 ml of water, and no added coconut cream. That looks like a single serve. And sure enough, it was:
To add to the problem, it didn't taste any good. It certainly doesn't fit the Wikipedia definition of Thai Laksa. Goodbye, "Wokka".
Should I buy new bellows? I use them so seldom, and the likelihood of that changing is relatively slim. How about just screwing the front end of the bellows to the rail? There's even a hole in the base that looks like it could be used.
Looking at the unit, it seems that I've had this idea before:
That also suggests that getting a hole through the rail is non-trivial. Another item on the tuit queue.
To Central Mechanics and Suspension (a company currently without a web site) today to pick up Yvonne's car. $100 for two wheel studs! And why did they need replacement? Stripped threads.
And only on that wheel. The blame points strongly towards Mick of Bob Jane, who also managed to mislay (and subsequently replace) the hub cap. It somewhat relativizes the $50 we paid for the repair.
To the Ballarat Pump Shop today with one of my submersible pumps to discuss what I thought was a priming issue. Yes, says the bloke, who remembers repairing the dog bath (and confirms that he did remove the pump from the bath). But neither he nor his colleague could offer a solution to keep it primed. The pumps are designed to always have some water at the bottom, and they didn't really have a solution for a situation where the water dries out in the summer.
Worse, on talking about the instructions for the bore pump, which was installed almost exactly 2 years ago today. The entire instructions they could drag up were a single sheet of paper, ⅓ sheet of A4 paper, and that in 3 languages. How to reduce the pressure? You can't. That's what the pump delivers, and it should be allowed to run free, otherwise its life will be significantly reduced.
Back home, less happy with the Ballarat Pump Shop that I have been. Why are there no instructions for the pump? We had a whole folder from them last time. In any case, it's beginning to look like we'll need the kind of header tank and pump that we had in Kleins Road after all. But why didn't they tell me that at the time?
Off to Coles looking for Laksa paste today. Found some that I'll describe when I try it.
This is the first time I've been to Coles in years, and in the meantime, of course, they've introduced self-service checkouts. But in contrast to other companies, nobody seems to use them. I tried it out and found out why: the method of use is completely unintelligible. An eager employee came to help me, and I made my point. He told me that they had just changed the software (he didn't say "upgrade"), but on questioning told me no, it hadn't got worse. They could at least provide instructions.
The road through Enfield State Forest is currently lined with lots of Victoria's floral emblem, Epacris impressa.
That looks like very little, but it's typical for Australian plants. The ones here are all red, while the official one is pink (a hybrid, I think, with a white version with a defective gene). Somehow I can't find a good way to take photos of it:
Yvonne has discovered a surprising number of Amanita muscaria on the north side of the property, and was concerned about the toxic effect on the horses. As a result, she went and collected them:
We ate the other "Beef Wellington" this evening. It seems ridiculous to heat up our enormous 90 cm oven just for one small piece of pastry, so this time we did it in the small toaster oven. For the last time:
There's just not enough temperature control.
I took a number of photos with on-camera flash today. Without exception, they were bad.
The first issue is vignetting:
That's my fault. It was taken at 12 mm focal length, and I should have folded a diffuser in front of the flash head. But that's a kludge: it has a focal length adjustment, and doesn't warn when it's too wide for it.
Then there are the photos of the food, which I took with on-camera flash mainly because it was there:
This time the issue is parallax: even pointing downward, the head didn't cover the subject area correctly.
Somehow, after well over 50 years, I still haven't made friends with on-camera flash.
Off again to Ballarat today with Nikolai, Sasha and Yvonne to the Eureka Village Hostel and the Geoffrey Cutter Centre. This time Bill accompanied me on my rounds, but he's definitely fading. And it seems that Bob Carr is really gone to a better place (hopefully a hospital): there's somebody else in his old room now.
Another new lens arrived today, after only 4 days from Western Australia (Australia Post had estimated 8 days): a second-hand Panasonic Lumix G Vario HD 14-140 mm f/4.0-5.8 super-telephoto, serial number 09042052629, and intended for Chris Bahlo. Of course I had to take some photos first.
One of the questions I still haven't answered is: which image stabilization should I use? Olympus uses in-body image stabilization (IBIS), while Panasonic equips certain lenses, including this one, with their own image stabilization. And of course they have buzzwords which don't really say anything. This one has "Mega O.I.S.", while my two Leica lenses have "POWER O.I.S.", which, based on the price of the lenses, is probably better.
So I took photos with both kinds, and also with the corresponding Olympus m.Zuiko Digital ED 14-150 mm f4.0-5.6. The images, taken at 0.3 s (Panasonic) or ¼ s (m.Zuiko) were interesting:
Yes, 0.3 s is a very slow shutter speed for a 280 mm equivalent lens. My old rule of thumb was that the slowest shutter speed was the reciprocal of the focal length, so in this case 1/250 s. ⅓ is more than 6 stops slower, so it's hard to expect no camera shake. But the Olympus IBIS managed it, and the Panasonic OIS didn't. I took a couple of shots in each configuration, and they all show the same difference.
Off to "Federation University" (a modern name for the too-obvious previous name "Ballarat University") today. Based on previous experience, I left well in advance to be able to find where I had to go. There's a campus map, but it's too polite to show gory details, so all I had was an overview that didn't even tell me where to park.
I wanted to go to building F, at the east end of the campus. Found a car park, but it told me it was for building G. On to the next, E and F. Into the car park, and found a place next to Chris Bahlo's car, which seemed right. Then looking for the building. No sign posts at all. Down past this faceless façade and unmarked entrance:
At the other very end found partial confirmation that it was building F:
But there was no real entrance there. I wanted to room F200. How do I find it? Round the other side of the building and found an entrance with ample signage which, however, didn't tell me the name of the building:
For that, I needed to look much more closely (and yes, it's in the previous photo if you look carefully enough):
While taking a photo of the other side, a man approached me, here inside on the left:
When I went back inside, he introduced himself as the facilities manager, so I gave him my opinion, which he took readily. He also pointed me to F200 in a manner that was so ambiguous that I walked straight past it. It, too, had only a tiny sign on the door (which I had to shut to see anything at all):
It turned out that the unmarked entrance that I went past at the beginning was in fact the correct entrance: F200 is on the left in that photo.
Chris later told me that there are enough people complaining about the lack of signage ("People go into building S and never come out"). In all probability, the facilities manager is in complete agreement but unable to do anything about the situation.
The reason for my journey to Federation University was a presentation by Chris Bahlo, her application for candidacy.
I've spoken with Chris about her topic a number of times, but it was interesting to hear the presentation. She kept impressively to her 20 minutes allocation, but the panel didn't keep to their 10 minutes or so: it sounds like they were quite interested, and the discussion went on for another 20 minutes.
Then we were all thrown out while they discussed the matter. Clearly Chris was Enlightened, to the amazement of all:
I off home after that. We later heard that Chris' candidacy had been confirmed, and to celebrate she and Margaret decided to come to dinner with us. Time for Champagne. In fact, it seems, high time for Champagne. The cork was so tight that I needed a pipe wrench to get it out:
Fortunately it didn't fall apart. I had visions of having to remove the cork piecemeal, like I've had with other wines.
And clearly it was time to crown Chris:
Mick the gardener along again today and spent yet more time doing the front bed, without finishing it. I'm left wondering if it wouldn't have been cheaper to get somebody with machine tools to do the job.
Donald Trump is feeling sorry for himself, and also showing a complete lack of understanding of history, as a Google search for no politician in history demonstrates: "no politician in history ... has been treated worse or more unfairly."
And, of course, the comments are out there: Visit from Sharryn Jenkinson and her mare Isabel, for brunch and horse training:
I've been trying for a really good focus stacked image of a Hibiscus rosa-sinensis for some time now. One thing that was missing was flash: focus stacking only works with specific lenses, in this context the M.Zuiko Digital ED 60 mm f/2.8 macro and the M.Zuiko Digital ED 30 mm f/3.5 macro. But they have 46 mm filter threads, and I didn't have an mounting ring for the ring flash in that size.
A couple of days ago I received a couple of filter adapter rings, so now I have rings that will fit both lenses at the same time. All I needed was a Hibiscus, and that appeared today.
Success? No. I couldn't get the flash to work At All. Once again I'm fooled by the technology. At the very least I have:
I have my focus bracketing stuff stored under custom settings 2, but it is set for aperture priority (appropriate for available light). How do I set manual exposure? I still don't know. So for today I switched to M.

You need to turn the feature on in two different places. First go to camera menu 2 and select Bracketing (and not Multiple Exposure), and before moving on, be sure to press OK. Then go to "Focus BKT" [sic] and select it, again confirming with OK.

How do you select focus magnification? I've done it before, but this time I only got 3x magnification, not enough. Turning knobs didn't help. It wasn't until later that I discovered: first press the button to select the magnification frame. You can't select the magnification here. Then press it again to magnify. Then turn the front wheel to select the size, which remains selected when you go back to normal view.

But how do you turn flash on? I had a flash precharge set to 1 s, but nothing I could do would enable flash. I thought it might be related to the shutter speed: on the Olympus OM-D E-M1 Mark I I had to select 1/13 s or less. On the Olympus OM-D E-M1 Mark II I'm guessing 1/60 s or less, but I couldn't get it to work at any shutter speed. I still don't know.
Clearly the answer is RTFM, but the thought of fighting my way through the "instructions" turned me off.
Received mail from the FreeBSD ports machines today: the Hugin build is broken. Something to do with GLEW, whatever that is (it claims to be the "OpenGL Extension Wrangler Library", but I've never seen a need to wrangle any kind of extension).
OK, remove Hugin and GLEW and build it from scratch. Works fine. Do I have an environment issue? I did this on eureso, which, as the name suggests, is a future eureka. Time for a build VM, so spent some time setting that up.
Another attempt with another alleged Thai laksa paste today:
Like the last, it was boring, and to get any semblance of flavour, I needed to add a lot of sambal. But I'm coming to the conclusion that the portions mentioned on the packages are—exceptionally—about half to three-quarters what I need. This jar was supposed to be enough for 4 portions, but I've nearly finished it with two. I'll be in Geelong next month, and I can buy some real Malaysian stuff there to compare.
We use the area between house and shed for a number of purposes. It has the external unit for the air conditioner, the dog bath and clothes lines. And it would be a good place to leave the dogs to dry out when it's raining—if it were covered.
We can do that, so I submitted an online request, promising 3 quotes within a week, a while back. Result: one reply with the name of a company, and a call from a Mark, who may be the same or a different company. We arranged for him come by between 10 and 11 this morning.
On the dot of 10:30, a truck showed up with two people. Mark? No, Callum and his mate Dave. Started taking them round to show them the area, but they wanted to know whether they should erect it or just deliver it.
After a bit of confusion, it turned out that they had nothing to do with Mark, and nothing to do with me: they had just had difficulty distinguishing the text 39 from 29, and they were really delivering a shed for Graeme next door.
And Mark? I called him up later, and it seems that he was off sick. He should be here on Wednesday.
I've had trouble with congestion in my nose and throat for decades, and a little over 25 years ago I consulted the professor at the University clinic in Frankfurt am Main. When he had no better idea of finding out what was going on inside my head than to cut me open—at an excessive cost only disclosed when I was about to go in for the operation—I gave up on him and consulted a professor at the University clinic in Gießen. She was a little more up to date, but she wasn't able to find much wrong with me. In the end, I gave up.
Lately things have been a little worse, and I thought that maybe the state of the art had advanced since then. On Dr. Paul Smith's advice, into town today to see Mr. Mark Guiguis, an ear, nose and throat specialist at St John of God hospital in Ballarat. As a specialist, he no longer uses the title Dr.
Based on my experience last month, I left myself plenty of time. A good thing too. Once again there were no signs, nobody at the information desk, just a disinterested receptionist with a long queue in front of her. When I got to the front, I asked her if she would take a suggestion that they put some signs up so that people could find their way without standing in a queue asking. "But that's what I'm here for". She really didn't understand, but promised to forward my request.
And Mr. Guirguis? Not here. He's at 701 Sturt St. Sturt St is the main road in Ballarat, about 20 km long in all. Where's 701? Off back to the car, asked the GPS navigator and found my way—it turned out to be only barely further away than the car had been—and fought my way into the building: it's on a street corner and has four doors, three of which are locked; you have to go in via the rear entrance, the furthest from Sturt St. Somehow I arrived only about 5 minutes late.
First I showed him the Bisolvon tablets that I had been taking. He said they wouldn't work, because they dry things up rather than loosen the phlegm. But they do, leaving me somewhat puzzled. And to quote their web site,
Bisolvon® Chesty Forte thins and loosens the mucus that causes a chesty cough, making it easier to cough up and clear chest congestion.
But sure enough, the state of the art has advanced. The first thing he did was stick a flexible endoscope up my nose and down my throat, where he found little of remark, but decided that it was all a bit dry, and prescribed me Flo sinus care, a bottle of about 100 ml to be filled with decongestant and inhaled twice a day.
I bought the kit, but on consideration, I'm beginning to wonder whether the cure isn't worse than the complaint. Maybe I should just bring it back and forget the whole matter. In addition, on comparing their web site, it's not clear that I have the right stuff; it's labeled "post operative", which doesn't quite match my situation.
Yesterday my attempts at focus stacking with flash were frustrated because flash wouldn't work. As planned, today was RTFM time. And how about that, on only the second reading I found what I was looking for, on page 94:
· If compositing fails, the image will not be saved.
Not so. It saves a broken image.
But other stuff was more interesting:
· To use the flash, select [Allow] for [Silent [♥] Mode Settings] > [Flash Mode].

→ [Silent [♥] Mode Settings] (P. 98)
Aha! And on page 98, almost as an afterthought, I found:
Silent [♥] Mode Settings
Choose [Allow] or [Not Allow] for each of [◾)))], [AF Illuminator], and [Flash Mode].
What's ◾)))? No idea, and they're not telling. It's likely to be as intuitive as this ♥ symbol for the electronic shutter. But after finding the menu position, remembering to press OK in the right places, and discovering that it all goes away again when you change the position of the mode wheel, I was finally able to take my photos with flash. Well, almost:
The flash delay was set for 1 second, and it wasn't quite enough, so the 6th time round the flash didn't fire. Increasing the delay to 2 s (there's no setting in between) fixed that.
The flower itself was also past its prime:
Still, the results are an improvement, though it's clear that the choice of JPEG as output format for the in-camera images is suboptimal. Here one of the partial images where the flash worked correctly, but the exposure was a little on the low side, and the in-camera result (second image) shows it clearly:
So now that I have flash working with electronic shutter on the Olympus OM-D E-M1 Mark II, how fast can I go? I had guessed 1/60 s (coincidentally the flash sync speed of the Pentax Spotmatic, because that's the maximum image repeat rate. Put the mecablitz 58 AF-2 on the camera and tried. 1/50 s (coincidentally the flash sync speed of the Asahi Pentax SV). Not documented anywhere, and with studio flash it's trial and error.
After yesterday's visit to St John of God for an endoscopy, what better way to start the day than get up early in the morning and travel to St John of God for an endoscopy? This one was planned, however: a colonoscopy for Yvonne, effectively the same procedure as I went through last year. I was happy with that procedure, which went through Medicare, but it took 4 months to get an appointment, so this time we took the private health care approach.
What else do you get for $600 out-of-pocket (not including what the medical insurance covers)? Different laxatives, though it's not clear that there's an advantage either way. Got Yvonne to the hospital at 7:40. It's a good thing that we had been told where to go:
That's the main entrance hall, completely deserted (the figure in the background at left of centre is Yvonne), and clearly depicted with a mobile phone. We had been told that the procedure would take about an hour, and that I would get a phone call about 30 minutes before she was ready for discharge. I left Yvonne and went off to take some photos.
I had expected her to be ready 2 hours later, round 10:00, but still no phone call by then. On the chance that they had (more) difficulties with my phone number, went back anyway, and was waiting for her by 10:20:
I was told that she had been operated (for actinic keratosis) in the main operating theatre, and it would be between 45 and 60 minutes before I could see her ("they're not as fast over there"). A good 15 minutes later, I was taken in to see her:
A far cry from my treatment: after the procedure, I was pretty much ready to go. The difference seems to have been the removal of the actinic keratosis, though that had been performed under local anaesthetic, and the stitches look remarkably primitive:
By comparison, my actinic keratosis had been removed with cryotherapy, but presumably hers was too large for that. To quote Wikipedia:
Excision should be reserved for cases when the AK is a thick, horny papule, or when deeper invasion is suspected and histopathologic diagnosis is necessary. It is a rarely utilized technique for AK treatment.
The colonoscopy had discovered a single polyp, 7 mm in diameter, the same size as mine.
The monitor on her right was beeping away complaining about low pulse rate:
Nobody seemed to be concerned about the warning beeps. I checked and found that the arm cuff was loose, so whatever it was, it was historical. Shortly later an obese nurse came in and I asked her about the cuff. She said "that's her blood pressure". I suggested that it might once have been her blood pressure, but she didn't understand. It seems they do a few spot checks. All well and good—I didn't have any blood pressure measured at all—but the sound of a warning beep from a monitor signals an emergency, and if they don't do something about it, one day they'll miss some real emergency.
Finally we were off round 11:00, Yvonne feeling maybe a little less normal than I did last year. I'm left wondering to what extent, if any, the procedure was done better than mine last year.
I've been taking photos for well over half a century. My very first photos, which I hope I'll find one day, were taken in mid-1956. I recall one of my bicycle and one of myself in a mirror: even then I was trying tricks. Ask me about the technical side of photography and I'll usually have a good answer. But I've never really learnt the artistic aspect of photography.
Today, while Yvonne was in hospital, I walked and drove around Lake Wendouree. It's a pretty area, and it seemed a logical place to find some good motives.
Somehow, I failed. Yes, lots of pretty snaps, but not a single one I'd be proud of. On the other hand, I learnt a few things I didn't know about the place.
Here the south-east side of the lake:
Further round, at the south-west end, I found a memorial to the 1956 Olympic games. It seems that the water sports were done exactly there. The memorial is hard to photograph, but my attempts seem to be a complete failure:
And then there's the war memorial. War memorial? No, that's elsewhere. This is an Ex-Prisoners of War Memorial, a name so unique that it's the only hit on Google. It's quite pretty, and some of the photos show promise:
In passing, it's interesting to compare my photos with those on the web site. Maybe I can learn something from them.
After that, on to the Botanical Gardens, where I haven't been for a while. The fernery is further dilapidated:
But there are signs that things are to improve:
In passing, http://www.fbbg.com.au/? It used to be the much more appropriate http://www.fbbg.org.au/. Looking at the registry, it seems they now have both domains, though the org domain only redirects—coincidentally—to the sign above. What on earth made them do that?
Apart from that, a couple of photos that I almost like:
The second was hand-held HDR, which seems to have been successful.
From there round the north of the lake, trying framing with foreground trees:
Somehow none of it looks right. About the only thing of interest was in the distance, from the last photo: