Another power failure in the morning. When will things improve?
We've had problems with mice in the pantry for some time, and we've laid several mousetraps of varying functionality. When we catch a mouse, Lilac doesn't mind that it's dead; she'll eat it just the same. Today was the first time, though, that we caught two—one for Lilac and one for Piccola? Piccola didn't really know what to do with it, of course, but she played around with it happily until Lilac stole it from her and ate it.
To Melbourne today to visit the Melbourne International Flower and Garden Show. Made good time to Melbourne, and down Grattan St to the Exhibition Gardens, where I discovered that, at 11:00 in the morning, the car parks were full. How can such an important venue have so little parking? Out looking on the streets, where we found a maximum of 2 hours parking in Cardigan St. It took us, and the people who had parked next to us, several minutes to work out how to pay. The parking meter itself offered even less information than when it had been installed, presumably decades ago:
In particular, there was no indication of how much it cost, which proved to be $2 an hour. I suppose my provincial roots are showing, but I find that offensive.
To the garden show, where for the first time I was able to get something useful from my Seniors' Card, a $5 discount on entry. I don't know what I had expected, but the flower show seemed to be mainly a market for plants and equipment. There's currently a particular emphasis on plants with low water requirements, and we found a number of things. Ended up buying a Carex morrowii varieagata, a Liriope muscari, a Sedum "gold mound", an Iris japonica variegata and a Ledebouria socialis, the last of which isn't frost tolerant:
| | |
| --- | --- |
| | |
Also picked up some cuttings of other succulents. These were cheaper, of course, and we got 6 cuttings for $10. But given the number of such cuttings that you can get from a single plant, I suspect that this was particularly profitable. This also shows the advantage of having a camera with me: I was able to get photos of the descriptions of most of the following plants. Top to bottom, left to right they are: Crassula "Springtime", Haworthia, a dark Sempervivum, another Haworthia (presumably a Haworthia fasciata, though the label didn't say so), a Sedum americanum f Cristata, and another Sempervivum:
Also saw an interesting ground cover of Banksias, a cultivar called "birthday candles", which think I might copy:
Inside the Exhibition Building, I was rather disappointed. There were plenty of competition results, and some live presentation, but nothing I found of interest, except maybe the building—though I grew up just round the corner, I can't recall having been in there before. In the current state, though, there was not much point in taking any photos.
We had been there about 90 minutes, and our parking meter was about to run out, so decided to look at the remaining exhibition outside and go. On the way, bought a number of loose Narcissus bulbs ("normal" yellow and "Erlicheer", which looks German to me, but here they pronounce it "early cheer"), and also some tulips (4 each of cultivars "Negrita", "Avignon", "Maureen", "Kingsblood" and a yellow one whose name I can't decipher from my own handwriting).
Was it worth going? I don't know. I didn't really know what to expect, so I couldn't be disappointed. But it's a lot of time, and we didn't really see all that much. I suppose it was worth it this one time, but I don't see myself visiting many such exhibitions.
It was still early, so off to brave IKEA and buy some things we had been planning for a long time, mainly bed linen. On the way found a surprisingly cheap garden table—only $99 with four chairs. Also decided that it's high time to replace our daily use crockery and wine glasses: we've had the crockery for nearly 25 years, and it's looking tatty, and there are almost none of the wine glasses left. Wine glasses are a particular issue for me: most of the glasses available in Australia have a pronounced rim, which I don't like. We had found some reasonable wine glasses in a shop in the same shopping mall, for prices round $35 for 6, but at IKEA I found some which looked pretty much the same for $8 for 6. The crockery was a different matter: found something we liked the look of, but the shelves were empty. A computer enquiry showed that they had stock of 19 sets, and they had been there for several days, but they were in the warehouse, and they couldn't get at them until tomorrow at the earliest. This is the fabled IKEA efficiency?
Finally paid and set off home, only to find that they had overcharged us. I suspect it's going to be fun to get a refund. Next time I'll stay at the checkout and examine the bill in minute detail before paying.
Back home and put the table together—the temperatures are still so high, and we were able to eat on the verandah again. That's probably the last time for several months: even if it stays warm, it'll be dark in a few days, when daylight savings time ends.
What makes file deletion so slow under Linux? My MythTV creates many multi-gigabyte MPEG-2 files, and deleting them can take a significant amount of time. People told me that this was a function of ext[23], which seemed reasonable. It's amusing that one of the prime reasons for implementing soft updates in ufs was because ufs was traditionally so slow at deleting large directory trees, requiring synchronously rewriting each individual inode before continuing to the next file.
So I created an XFS partition for my recordings. The results are interesting: sometimes it deletes things relatively quickly, other times it's very slow. Here one of the better examples:
=== root@cvr2 (/dev/pts/0) /recordings 7 -> l 2008_20090329153000.mpg.orig
-rw-r--r-- 1 mythtv mythtv 10155303724 Mar 29 18:30 2008_20090329153000.mpg.orig
=== root@cvr2 (/dev/pts/0) /recordings 8 -> time rm 2008_20090329153000.mpg.orig

real 0m0.679s
user 0m0.000s
sys 0m0.024s

That's still 0.7 seconds, long enough to be obvious. By contrast, ufs on FreeBSD 7.1 on a tree with 190 GB—nearly 20 times as large—really is instantaneous:
=== root@teevee (/dev/ttyp4) /spool/dump/dereel-FreeBSD/0 11 -> echo $BLOCKSIZE
1048576
=== root@teevee (/dev/ttyp4) /spool/dump/dereel-FreeBSD/0 12 -> du -s tars/
193110 tars/
=== root@teevee (/dev/ttyp4) /spool/dump/dereel-FreeBSD/0 13 -> time rm -rf tars

real 0m0.002s
user 0m0.000s
sys 0m0.002s

du uses the environment variable BLOCKSIZE to specify the size units, so the 193110 is the size in megabytes. That's not the end of it, of course. It spends the next 90 seconds flushing data to disk. But that isn't obvious to the user. What's the reason? Buffer cache implementation? I don't know yet, but I'm keeping my eyes open.
Into town today, bringing back more second-rate equipment from ALDI, the electrically dangerous mulcher and the "1200 W" generator that wouldn't drive a 550 W angle grinder (it's really a 1000 W generator, and the 1200 W is an absolute maximum rating: the instruction manual points out that an angle grinder draws about 1800 W on startup, which apparently would trip the circuit breaker). To be fair to the generator, the documentation could be wrong, and I didn't actually try it: to do that I'd have to put oil and petrol into it, and then I'd have safety problems bringing it back.
Then on to JB HiFi and bought the Sherwood RD-6513 Audio/Video receiver that I had been looking at. It cost $258, which I thought quite reasonable. But it's a 5.1 system, and I'm replacing a stereo amplifier, so I need at least three more loudspeakers. And the cheapest speakers cost $350.
Found a better way: the CD drive of the mini-HiFi system in the kitchen/dining room is dying, and it was already clear it would need replacement in the near future. Found a Sony system with its own speakers for $94, thus liberating the big speakers I had connected to the old system. So I now have four speakers on the new amplifier.
Also took a look at an Olympus E-420 they had on display, with the hope of trying out my xD card in it. The vendor of the card had asked me to try the card in a different camera, but where do you find a second camera which uses an xD card? It didn't work here either: the camera didn't have a battery in it, something that I had expected, but the spare battery I brought with me didn't fit: the E-420 takes a noticeably smaller battery.
Instead, to a digital camera print facility in Bridge Mall. You take your card and put it in the machine, then select the photos you want. But not this one:
The first photo shows the "please insert card" prompt: the machine didn't recognize that it was in the slot. So it's definitely broke.
Back at home, installing the receiver was interesting: you'd think that "Audio/Video receiver" means that the system can receive TV. But apparently Sherwood don't. It handles video inputs and outputs (including HDMI), but it doesn't have a video tuner system. Maybe that's what the industry understands, but it's not how I would interpret the term. Still, I had no need of the functionality (you could hardly expect a unit in this price range to output MPEG-2 streams), so it's nothing more than an irritation.
On the positive side, the thing comes with a microphone and inbuilt software for balancing loudspeakers, which I hadn't expected. It seems that balance controls are no longer used; I have a fair amount to learn about modern audio systems.
The Sony system came with an offer of an extended warranty (4 years instead of one year). The cost? $127, more than a third more than the purchase price. I wonder how many people take advantage of such extended offers.
There are two kinds of irritation: one is the kind that annoys you all the more every time you use them, like an infected splinter in your toe or badly designed GUI software which makes life so much harder than it was before. The other kind is the kind you can get used to, and I fear that spam is in that category. There was a time when I spent lots of time fighting back at the spammers, especially since so many are easy to catch, like the subject lines with random repetitions of letters, such as today's crop:
20 N 03-04-2009 Torivio Beckem To grog@ozlabs. ( 35) N Can She Have MMultiple Orgasms?
44 N 03-04-2009 Flint Asai To osa-nominati ( 35) N Can She Have Multiple OOrgasms?
107 N + 03-04-2009 Nehmer Peloquin To greg.lehey@a ( 35) N + Can She Have Multiple Orgasmss?

A procmail rule like this will catch them all:
:0 H :
* c+a+n+ +s+h+e+ +h+a+v+e+ +m+u+l+t+i+p+l+e+ +o+r+g+a+s+m+s+
/home/grog/Mail/Caughtspam/regexspam

But I'm getting fed up with creating more rules like this. My .procmailrc now has 774 lines, many of them relating to long-forgotten repetitive spams, and it's just too much trouble to keep updating it. It's easier to delete them.
Still, some spam is even more annoying: it tells me to change my MUA, because I can't read HTML:
Date: Fri, 03 Apr 2009 09:22:28 -0400
From: Domus Robótica Ambiental S.A. <lguevara@grupodomus.com.ar>
To: <grog@>
Subject: Domus Robótica Ambiental
X-Mailer: DMS v3.0.1 (http://www.fromdoppler.com/source)

Your mail reader does not understand HTML. Please use a HTML enabled email reader.

That gets me back to one of the first kind of irritations, people who send email in HTML. How can you reply cleanly to that? It just encourages sloppy mail writing. More and more, I'm just deleting such messages, even if they potentially contain useful information. And yes, of course I can read HTML email messages; sometimes, like when they consist of a web page, it makes sense.
Satellite IP woes, continued
Finally I found an interesting lens on eBay, a Pentax 500 mm f/4.5. It's in average condition, but I found a web site, manualfocus.org, that describes how to repair lenses, including this one. Decided to have a go at it, and as the price was still under $300 just before close, decided to have a bid. And, not for the first time, my satellite connection dropped out, and my bid didn't make it before the auction closed. Damn! But it also shows how serious this unreliability is. Took another look at the alternatives—HSPA is certainly a lot more reliable, but every time I look at Telstra's web site, I get annoyed. They have all sorts of special offers, and on the face of it their current offer of 10 GB for $64.95 per month doesn't look bad—it's the same price I'm paying now. But it doubles after a year, and you're locked in for three years. What does it cost to break the contract early? Not a word on that subject. If only Optus would get their phone tower installed here!
We filled Yvonne's micropond with water from the dam, which in retrospect was not a good idea. It's high in iron, and a film forms on the surface:
Evaporation and plant growth mean that we have to keep topping the pond up, adding to the iron and presumably the surface film. Decided that, for this one at any rate, we'd use our precious rainwater, and drained the pot and refilled with rainwater. That wasn't helped by the fact that it emptied the rainwater tank, bringing sludge too fine for the filters into the water. But the result looked marginally better, and hopefully it'll be even better once the sludge settles:
So our rainwater tank is empty. Given the almost total lack of rainfall this year, that's not surprising. Fortunately my Tandem background helped: some months ago, when the two tanks were full, I turned off the tap of one of them to guard against the possibility that the other one should run dry. So as far as I can recall, it must still be full. Turned over to the other tank, and we should be OK, assuming we get more than a few drops of rain sometime.
More mystery plants
Last spring my uncle Max brought me many plant clippings, including some of a Hibiscus rosa-sinensis that he has growing in front of his house. Two of the three clippings struck, and they're now looking OK—but only one of them looks like a Hibiscus. The other looks completely different. There's also a second plant that I can't identify. I made many notes at the time, but none of them seem to match either plant:
One of our new Grevilleas is not looking quite as happy as it should: one of the side shoots is going yellow. This could be normal, or it could be the result of inadequate drainage coupled with a dripper that, I suspect, significantly exceeds its rating of 4 l/h. I suppose I should check the latter; for the time being it's raining (1.2 mm overnight!), so until it gets dry again, I'll remove the dripper and keep my eye on the plant.
It's a third of the way through autumn, but one of our Cannas has just started flowering—what crazy weather we've had! It's surprisingly interesting:
The orange is on half a petal. I had only recently told Sue that I didn't like yellow Cannas, but I think I should reconsider.
I really need to brew more beer, but my HLT is giving concern again. I think I should give up and buy a new (and bigger) kettle. Now where do I find that at a sensible price?
Peter Jeremy pointed out that my recent comparisons of deletion speed on Linux and FreeBSD are not very well-matched, and that by running du against the FreeBSD files, I was priming the buffer cache. Both valid comments; I mentioned that they were just food for thought. Today I tried the same deletion of a FreeBSD directory tree without first running du. It's a daily backup, so it'll be approximately the same size. The result? Total time 0.017 s instead of 0.002 s. That corresponds to about 3 I/Os.
By contrast, ran a delete on a number of MPEG files under Linux:
=== grog@cvr2 (/dev/pts/2) /recordings 8 -> df .; time for i in *.orig; do if [ ! -e `basename $i .orig` ]; then echo $i; fi; done | xargs rm; df .
Filesystem 1M-blocks Used Available Use% Mounted on
/dev/sda1 188735 162726 26009 87% /

real 0m42.348s
user 0m0.012s
sys 0m0.916s
Filesystem 1M-blocks Used Available Use% Mounted on
/dev/sda1 188735 125776 62959 67% /

This is still the XFS file system. So for deleting about 36 GB of data, I needed 42 seconds, most of which was obviously I/O. That's different from last time, and I'd suggest that this is the real cache effect. But that suggests reading, not writing. I'll check what's happening with iostat next time.
Mail from a Clemens (no surname) in Germany asking about the issue of parasites when letting the cats eat mice caught in traps. Yes, we've considered the danger. But Lilac catches most of her mice herself, and she's lived a healthy 12 years, so I'm not too worried. In a more heavily populated area I'd be more worried about her eating a mouse which had eaten rat poison.
Clemens also suggests that we should cook the mouse in a pressure cooker for an hour before giving it to her. I suppose after that time it would be a purée. But the bigger issue is training her to bring them to us for cooking.
Thongs: footwear or underwear?
Clemens also comments on my use of the word "thong", suggesting that it normally means a kind of underwear which I would have called a G-string.
So: which is right? I turned to the Oxford English Dictionary, which told me some relatively interesting information: "Thong" goes back to Anglo-Saxon, and there's a reference to "ðuong scoes" in 950. By contrast, Australian thongs are thong sandals; so the use is very old.
There's no mention of the current US usage of the word in the OED (and that's not because it's an English dictionary; it includes most Americanisms). What it does quote is the "New Yorker" magazine in 1976:
Please, no clogs, Earth Shoes, or thongs
So the usage must have changed since then. The Wikipedia article gives no dates before 2000. My 1994 edition of a Webster dictionary states:
A strip of leather used for fastening something.
Clearly another case of a random change in meaning, as in the case of words like "gay".
The bloody kangaroos are here again, and have completely defoliated one of the ornamental vines I planted a couple of days ago:
Gradually we're enclosing the entire garden in mesh.
The change in the garden has suggested a couple of changes to my weekly photos. In particular, the north of the house will change rapidly in the next 6 to 9 months, so I need to expand my panorama: As the second photo shows, this adds problems with sunshine, and the exposure was also a significant issue: there were differences of over 3 EV between the darkest and lightest places. I'll probably have to change the time I take the photos to mid-afternoon, when any sun will come from the north-west.
On 3 January 2012 I reprocessed the second panorama with DxO Optics "Pro"
Chris along for dinner in the evening, and we pulled the stitches in Piccola's stomach (and no, we decided they were nylon, not catgut). The sterilization wound seems to have healed up nicely, and the swelling is receding.
Spent some time today playing around with panorama processing software. Yesterday's panorama from the north of the house had significant issues both with exposure and appearance—the left hand side was truncated at the bottom. I've been using hugin for this purpose for some time, but it's clear that the automatically generated panoramas need improvement.
First redefined my shooting angles, moving further to the east, and increased the number of shots from 9 to 11, so that I have quite considerable overlap. And still the program couldn't handle it. Found some tutorials on the PanoTools wiki, in particular the Hugin overview, and started working through that.
Gradually things became clear; I'm not sure yet how the automatically generated control points are chosen, but many seem to be in the same area, and many relate to foliage and stuff that can move from one photo to the next. Also, it seems that the software gets confused by points which overlap too much, and it creates control points between non-adjacent images. It's also interesting that this phase uses nearly all of the processor time in building the panorama.
Finally worked through that and came out with an improved version of yesterday's verandah panorama, but all attempts to create a panorama manually from today's shots of the north side of the house failed: initially it took the leftmost image as the "anchor", which appears to have to be in the middle of the panorama, so it wrapped around. After changing the "anchor" to the middle, it made no difference. I suspect a bug here.
All in all, I learnt a lot and improved a little; but the documentation and the general quality of the software leave something to be desired.
I had asked my aunt Freda to call me when my father was in better shape than last week, and today she called. Unfortunately, it wasn't for that reason. He's deteriorated further, isn't eating or talking, and they think it's only a matter of days before he dies. Sadness.
It's a lot cooler now. Last week we still had temperatures round 30°, about 10° more than usual for this time of year. Today we had a maximum of about 14°, and even an acceptable quantity of rain, so didn't do too much. Did take a look at the dripper on the Grevillea that I was worried about, and indeed it proves to be defective. It's rated at 4 litres per hour, but in one minute I collected about 125 ml, which corresponds to 7.5 litres per hour:
It's not as if Grevilleas need much water—I had just put in the dripper to establish it, and since it looks like it might be doing more harm than good, I suppose I should just remove it again. But it shows that it's worth keeping an eye on these things.
Also more hop harvesting. I didn't look for a couple of days, with the result that a number of hops have turned brown. Got the rest of the Pride of Ringwood, and I'll need to get the other varieties soon.
I have received a message from an ex-consultant for Telstra's "NextG" Wireless Internet. He had read my report about my experiences with the service, and he agreed almost completely. For me it's nice to know that I've interpreted the situation correctly. In particular, the lack of training and the ensuing frustration makes no sense at all, yet this person states that it's standard operating procedure. Who benefits from that? I can only imagine that it stems from complete incompetence in Telstra management, something that—despite everything—wasn't so obvious before.
More playing around with hugin, and made good progress. The trick seems to be to get good, solid control points at a distance (so that parallax doesn't confuse things), something that programs like autopano can't guess. In the following example, part of my weekly exterior panoramas, which is best viewed at natural size 1920x1080, I manually selected 10 control points, almost all at the edge of the frame of the verandah. The result was the error shown in the second photo:
The one control point that didn't fit the perspective was number 3, on one of the chairs. After removing it, I got:
I'm assuming that the average distance is not as important as the maximum; I'm looking at only two of 7 images here.
By contrast, autopano selected a point on another chair, one on the frame (number 3), and two in the garden (first image). It also generated control points between two non-adjacent images (second image). The result was a much larger error margin:
The result was a significantly worse registration. Here the automatic image, then the manual one: There are significant discontinuities in the columns and beams at the left on the automatically generated panorama. The manual one is much better, but still not perfect, as the right-hand column shows. The problem there is finding a good control point at the bottom, something that may affect the way I take these photos in the future.
Also continued the work on the northern panorama, which I started yesterday. That turned out particularly well; I can only see a small discontinuity in the second photo, and it's certainly a lot better than the one I took the day before, though that's due to more than postprocessing alone. Summary
So: what have I learnt?
Doing it manually takes more person time, but it's faster than it might seem.
Doing it manually is very much worthwhile, especially with images with flexible components such as trees, and with images with considerable depth of field.
There appear to be bugs in hugin. I've found that it makes sense to save a "project" and then reload it.
I've found a way to calibrate lenses, though this horrible GUI tries to save the configuration to /var/tmp. It's not clear that it saves much; I used the columns and the lines on the floor of the verandah in one of the preceding photos, but I suspect they're less straight than what the lens represents.
More hop processing today, and to my dismay discovered that the hops I picked last week had gone mouldy. The first image shows what they looked like when I picked them:
What now? On the face of it, I should throw them out. But they're Pride of Ringwood, bittering hops, and they still smell like hops. Put them in the deep freeze to consider. Maybe I can make some beer for Juha Kupiainen with them. The lesson here: dry them quickly, then freeze them. Picked the Tettnang hops, which are also a bit old. For some reason the Goldings didn't bear a single hop, which just leaves the Hallertau to do.
The place for the hops, up against the garage, isn't ideal. It's not high enough, and the hops only bore at the very top. It's also windy, which doesn't help. I need to find a better place soon.
Gradually Lilac is getting used to Piccola:
The fight's not over yet, but we're getting there. Checked back to last time this happened; we got Fluffy (then called Perdita) on 11 April 2001, but it wasn't until 18 May 2001 that I noted in this diary that Lilac had come to terms with her. That's over 5 weeks; so far we've had Piccola 10 days.
The problem with GUIs
I'm constantly ranting about GUIs. But behind that ranting, I'm trying to understand my aversion. On the face of it, GUIs have many advantages: in particular, they let you see what's going on—or at least, that's the intention, and what "good" GUIs do. So why do they annoy me so much?
I've presented such rants as papers with names like Why I hate OpenOffice, but there's more to it than I recognized at the time.
Two additional things are apparent:
It's much more difficult to write a good GUI application than a good command-line program. How do you arrange the menus? How do you present the output? Typically, you don't get this right first time in either GUIs or in command-line programs. But command-line programs appear to be easier to modify than GUI programs, so they are more likely to get refined in the course of their lives.

Command line programs have a richer environment. You can pass them information when you start them, and they inherit the environment of the parent. Clicking on a menu option makes it difficult to pass information—a pop-up box is so inconvenient that it completely counteracts the GUI concept—and though GUI programs inherit the environment of the parent too, there's little way for GUI programs to modify the environment, so this tends not to be of much use.

A good example of this is the current working directory. In UNIX, this is of such importance that it's handled in the kernel independently of the normal process environment. When I start a program which accesses files, I expect it to respect the current working directory, but most GUI programs don't: if they're started from another GUI program, it doesn't make sense, because that other GUI program (probably the window manager) doesn't have enough state to make it worthwhile.

All this changes if you start the program from a shell window. The shell has a specific, easily alterable working directory, and you can pass parameters to the program, just as if it were a command-line program.

What I find, though, with programs like hugin, is that they save the name of the last-used directory in their configuration, and then ignore the current working directory and change to that directory. This has two very serious problems: it's a nuisance, because you need to change the directory (usually with toy search trees instead of interactive file name completion), and it makes it very dangerous to start more than one instance of a program in different directories. But then, "There can only be one" seems to be the war-cry of the GUI generation.

In summary, then, the biggest issue is not so much the GUI application itself as the poverty of the communication between applications. The good news, I suppose, is that that can be fixed. The bad news is probably that it won't happen soon.
New Australian "broadband" network
The Australian Government has announced the plans for the new "broadband" network. To everybody's surprise, they've rejected all tenders and decided to do it themselves. Some of the ideas, including FTTH, sound really good. Spent some time reading various opinions, including that of Simon Hackett, whose opinion in this area I greatly respect. The good news: he's for it. Of course, it's very similar to what he proposed last year. Now just wait the ages it's going to be before it actually makes a difference. Maybe Telstra will drop its pricing for its wireless network in the interim.
More anecdotal observations of slow file deletions under Linux:
=== grog@cvr2 (/dev/pts/2) /recordings 40 -> df .; time for i in *.orig; do if [ ! -e `basename $i .orig` ]; then echo $i; fi; done | xargs rm; df .
Filesystem 1M-blocks Used Available Use% Mounted on
/dev/sda1 188735 171514 17221 91% /

real 0m45.726s
user 0m0.008s
sys 0m1.048s
Filesystem 1M-blocks Used Available Use% Mounted on
/dev/sda1 188735 92850 95885 50% /

I've lost the disk on tvremote, my ex-TV remote control, and now in the kitchen as a web browser. What I need is a 30 GB or 40 GB disk to replace it. What I have is a pile of 3 old disks with somewhat less than 1 GB between them, or the option to buy a new disk for $69—with 160 GB of space. Or maybe I should just boot from CD-ROM: I don't really need any local storage.
Into town in the afternoon to buy 500 second-hand bricks to line the garden beds. A lot of work unloading them.
Norman Lehey: Requiescat in pace
Sad news from Freda today: my father died yesterday evening, at the age of 86. He has been fading away for some time, and gradually he just went to sleep and didn't wake up.
Norman George Lehey was more than my father. He was a remarkable man, but not given to blowing his own trumpet. Many of the things I know about him I only gradually found out, mainly during our trip to Perth five years ago. Over the next few days I'll write a brief description of his life. He'll be cremated in Traralgon on Tuesday; my sister Bev has already found her way half-way round the world to be there.
Dad wasn't always that old, of course. Here are some random photos I already had on line, showing him over the last 45 years in many parts of the world: Kuala Lumpur, Bay of Bengal, Khyber Pass, Western Afghanistan, the Caspian Sea, Greece, Pyrénées, Châteauneuf-du-Pape, Adelaide, and the final one last year in Maffra. He's not the only one who has got older.
Into town for a routine blood test, which did not go well: the nurse had great difficulty finding my veins, and made a real mess poking all over the place. I must see whether there's a better alternative.
Then to buy some timber for the "last" work on the verandah, and on the way back stopped off at the Ballarat Public Library and signed up. They have a number of online offers, none of them overly attractive—I had at least hoped for online access to the OED—but managed to leave with a number of heavy gardening books.
On the way back from town, listened to part of an interview with Martin Lindstrom on radio, in which he stated that they had observed similar metabolic processes in devout Christians and users of Apple computers: it seems that it really is a religion!
In the afternoon, more work in the garden. I planted the succulent cuttings we bought last week, while Yvonne used some of the bricks we bought yesterday to create a rock garden to be populated mainly with succulents, including the ones I planted today. But first we need to moisten the soil—currently it's so dry that it no longer absorbs water, so we're sprinkling it for a couple of days.
More work on the rock garden today, and got it looking reasonably good already. I'd also guess that it's full:
Not all the plants go in now: the ones in the black pots are the succulent cuttings that I planted yesterday, and we also planted some daffodils and tulips, marked by the skewers in the soil. Barely visible here, but for future reference: the skewers with the pointed end up indicate tulips, those with the pointed end down indicate daffodils. And the one at the edge with the Canna petal is the location where we will later plant a solitary Canna.
Piccola had great fun in the garden. Hopefully she won't start digging things up:
Celebrate the feasts as they fall
There's an old German proverb "Man soll die Feste feiern, wie sie fallen"—roughly "Celebrate the feasts as they fall", though various translations come up with completely different ideas. The intention here is "take things as they come". But it relates to a certain understanding of the Christian calendar which seems to have been lost in English-speaking countries. For example, most English-speaking people have heard of Mardi gras, but few people know when it is, or what its significance is. Even the Wikipedia page was less than clear about the timing.
A case in point: today was Good Friday, so once could expect a Bach cantata or two. What did we get? BWV 208, "Was mir behagt, ist nur die muntre Jagd",—a secular cantata for the birthday of a Saxon prince! I've already noticed other incidents, such as Dvorak's "Carneval" overture in the middle of Lent, or Christmas music that starts in mid-Advent and stops about 2 days into Christmastide. You don't have to be a Christian to find all that inappropriate.
Our neighbours down the road have a number of horses, and for some reasons one of the keeps escaping. Horses can get out, of course, but today was the fourth time this week, and the horse is almost impossible to catch, so we have to spend a lot of time chasing it back—for some reason it always escapes when the owners aren't there. We're gradually getting fed up.
We're used to our cat Lilac catching mice and the occasional rabbit, but today she brought back a dragon:
This isn't the first time we've seen one here. I think they're harmless, but I saved it anyway. Like the last one, it stayed completely motionless for up to 20 minutes afterwards.
More work in the garden, mainly potting cuttings and spraying weeds.
When is a bug not a bug? When it's a feature. That's an old adage, of course, but it occurs to me that there's another way to see it. During today's photo sessions I ran into all sorts of strange problems with hugin, I still don't know if they're all bugs, or whether some might be features that I don't understand. In any case, I think a modification to Clarke's Third Law is in order:
Any sufficiently badly documented feature is indistinguishable from a bug
Photo day again today, and I'm continuing to overhaul my collection of photos in view of the way the garden is developing. Last week I changed the northern panorama; today I started a new panorama from the north-east: That starts on the left in the south-south-east and goes round 180° to north-north-east. It doesn't look much now, but hopefully it will change quickly.
Hugin: the pain!
That was the good news. The bad news is that it took me all day to stitch the panoramas together. In the process, noted a number of bugs became apparent—see the comment above. In particular:
When stitching images manually, I end up with a TIFF file consisting mainly of empty space, with just a little bit of image in the middle.
I'm still getting panoramas that start in the middle of the canvas and go off the right-hand edge, wrapping around to the left after losing part of the image.
This wrapping doesn't seem to relate to the "anchor" image; on some images generated with autopano the anchor image is the left-most, but it still gets put together correctly.
All of these issues relate to manual stitching. They don't happen when I use autopano, so maybe it's an undocumented feature. But I can't find any way to work around them. There are others that really do look like bugs, though:
There's a very nice feature which automatically searches for a match when adding control points. You select a place on one of the two images, position the cursor roughly in the same place in the other image, and it will find the exact match—19 times out of 20. If not, you can reposition. This saves a lot of effort and mousework. But in some cases the correction doesn't "stick"; the next time you try to optimize, the automatically chosen control point gets reinstated. The only way I've found to solve the problem is to delete the point and start again.

Sometimes after adding a control point, one of the images turns on its side. I don't know why, and I haven't found any way to turn it back again.
In the end, gave up on some of the images and used autopano. Isn't it nice having "open source" software that you can modify to suit your needs? I note that fewer and fewer people are touting this as an advantage of "open source", and with good reason: it's a monumental effort even if you do have the skills to do so.
One thing I did get round to doing was to write a wrapper for hugin that does some of the work. When started without any parameters, it frobs the ~/.huginrc file to point to the current working directory—the things you need to work around! If it has parameters, it takes the first as the name of the output file, and the remainder as the names of files to stitch. The convention is that you save the panorama to a file called p.tif. After hugin terminates, it starts xv to trim the file, then renames the resultant p.jpg to the specified name. This enables me to write commands like:
Hugin garden-ne-panorama.jpeg _Ashampoo_Photo_Optimizer_Backup/garden-ne-*

As if that wasn't enough work, discovered later that I had forgotten to put the clocks back when daylight savings ended last Sunday. As a result, all the photos of the last week have a timestamp one hour in advance. I can't even fix it, since it's included in the raw images, which I can't manipulate—I think.
Chris along for dinner in the evening, in the sense of the 6th movement of Christ lag in Todesbanden (BWV 4). Took more silly photos:
Lilac came to terms with Piccola about a week ago, but she'd rather stay away. These photos mark some progress in their relationship:
Yet another day spent mainly with photography. One of the things I've been unhappy about is exposure with digital cameras; the dynamic range is just too small. In addition, ufraw seems to have significantly incorrect defaults. The author also knows about it, but doesn't seem to think that it's a serious problem. In the end, took a whole series of photos of a surprisingly difficult view:
The issue here is that the shadow in the front is very much less exposed than the background in the sun; in addition, there's an Arum at the left that is much brighter still. This photo was taken with my Nikon L1, which doesn't do too badly. With the Olympus E-510, I have a plethora of options:
I can decide to take the photo in raw mode or as a JPEG.
If I take raw images, I have at least two different ways to process them: Olympus' own horrible "Master" software, or ufraw.
If I take raw images, I can also use the embedded JPEG from the raw image.
I have four different metering modes to choose from (well, six, but the other two don't seem to be much use).
I can set the "picture mode" to "muted", "normal" or "vivid".
In addition, I can put any of these photos through Ashampoo Photo Optimizer.
It took me quite some time to process these photos, and after a while they all look the same. In the following, the first photo is always the same unchanged JPEG photo from the camera, and the differences are clearer with the "small" size photos (click on the "tiny" photo).
On 4 January 2012 I changed these images so that moving the mouse over the first image will give the second image for a much better comparison.
I'll do some more detailed comparisons later, but at the moment it's worth noting:
Without exception, none of the photos correctly reproduce the brightness of the Arums.

There's a bug in the times in the embedded thumbnails in the raw images. From the same image, I get (along with much more):

EXIF tags in 'P4127387.JPG' ('Intel' byte order):
--------------------+----------------------------------------------------------
Tag |Value
--------------------+----------------------------------------------------------
Date and Time |2009:04:12 15:49:26
EXIF data contains a thumbnail (10806 bytes).
EXIF tags in 'P4127387.thumb.jpg' ('Intel' byte order):
Date and Time |2009:04:12 05:49:26


The camera has a time zone set for UTC+10, so it appears that the thumbnail has EXIF data set for UTC. This is a bit of a problem, since my processing scripts rely on the EXIF data and set the date and order accordingly. Solved that problem by editing the thumbnails with Emacs, but maybe I should just set the time to UTC all the time. That would solve the problem I had this past week where the date was set incorrectly.

By default, the Olympus JPEG (first photo) has less colour saturation and higher contrast than the Nikon:

As I mentioned above, ufraw makes really horrible photos if you use the default settings. Here the comparison (right image):

With appropriate frobbing, the ufraw output looks at least as good as the original JPEG, probably better:

The Olympus software makes JPEGs that look different from the JPEGs from the camera, and more like the ufraw frobbed photos. In particular, there's more shadow detail:

The Ashampoo optimizer does help in this case, again by producing more shadow detail.

Here the original JPEG from the camera, the optimized Olympus-processed image and the optimized ufraw-processed image:

In this case, moving the mouse over the images gives the next in sequence, wrapped around

Of the three, I think the ufraw one is best, but that's with manual manipulations, something that is presumably available on the Olympus software too. But that's so painful to use that I didn't try.

So what I'm doing does seem to improve things. But it starts off badly, and the end result is only marginally better than what I get from the Nikon with the same optimization. Here the optimized Nikon photo and the optimized ufraw output from the Olympus raw image:

The Nikon photo looks "nicer", but the garden isn't really that green.

What doesn't seem to make much difference is the "picture mode". Here are two thumbnails from a separate set of images, one "muted", and the other "vivid":

Maybe it would be more obvious with different motives.

In fact, I think I only kept the raw image, so there's no difference to be seen.
Mail from John Saint-Smith today, doubting my choice of response time in my rant on "speeding":
I was interested in your assumption of a two second reaction time, which effectively negated any advantage of reduced driving speeds, especially in urban areas. Seems to me that if it takes you that long to react, you are disabled and shouldn't be driving under any circumstances.
This was my fault, of course: I didn't describe my sources. Two seconds is a generally accepted response time, and I found several sources showing times in that area and updated the page. Interestingly, even if you assume a response time of only one second—probably unrealistically short—it doesn't make as significant a distance as I would have thought.
Apart from photography, did find a little time to harvest the rest of my hops, the Hallertauers. I should have done this a couple of weeks ago; I wonder how many of them will be usable.
My father's funeral is in Traralgon tomorrow, and we've decided that we'll go there and back in a day. That'll mean quite an early start, so decided to bite the bullet and go through Melbourne on the filthy expensive Citylink. Spent over an hour on the web comparing the options. Since it's in a single calendar day, we could buy a day pass for "only" $13 odd—this is for a total journey of about 15 km—but it seems that there are better alternatives if we use it more often, which I suspect we will do. In the end signed up for their "Access" system, which charges per journey with a few odds and ends on top, but even for the double journey it comes in as (just) cheaper than the day pass. To my astonishment, after doing the signup, I got the message:
Thank you. Your application for a CityLink Access account has been successful. Within the next fourteen (14) working days, you will receive an email confirming that you are able to travel on CityLink using your new account.
Fourteen working days! That's ridiculous! With Easter and the coming Anzac day holiday there are four working days this week, five next week, and four the week after, so I might have to wait three weeks, until Tuesday, 4 May. What kind of stupidity is that? If I had bought a day pass, I could have used it tomorrow. Are they trying to annoy people, covering their arses, or what? In any case, got a mail message from them, but again it referred to another mail message that should be coming. Their draconian terms and conditions don't say that I'm not allowed to drive before I use it, just that the message will confirm it.
What to do? Wait and see. If I don't get any confirmation that my account has been debited in a couple of days, I'll have to pay a day pass—there will still be time for that. But I'll certainly have some hefty complaints as well.
Citylink wasn't the only issue; finding the Traralgon Crematorium proved less than simple: a Google search brought nothing useful. It proved that it's called Gippsland Memorial Park, and they're nowhere near anywhere; they provided a map that is so inaccurate that it took me a long while to relate it to anything else. Tried calling the number specified, but got the voice mail of a Tim Murdoch, whoever he may be. Gave it up and decided that we'd have enough time to enquire locally.
Also washed the car, which needed it, and processed the hops, which I pick with stems and all; separating the flowers is quite a business, and I ended up with hands yellow from the resin. When washing them, the water goes bright yellow, more than I would have expected.
Up at 05:00 this morning to head for Traralgon, and managed to leave by 05:42. That's the time of day where Australia's traffic rules shine. From Dereel to Bannockburn, a distance of 56 km, we saw a total of 8 cars; but we weren't allowed to do more than 100 km/h. The same limit applied on most of the Prince's Freeway, until we got to the old part, which isn't a real freeway—it has normal road junctions, it's narrower, and the condition is not as good as the newer parts. There we were allowed to do 110 km/h.
Despite the speed limits, made good progress, certainly helped by Citylink: it took 7 minutes from Kingsway to Toorak road, compared to up to 45 minutes going via Toorak Road. Coming into Traralgon we found that there were signposts pointing across country to the crematorium (a name which was difficult to find on the web), and we got there with no trouble, arriving at 9:12—a journey of 3½ hours, getting us here nearly 2 hours before the service.
What is the purpose of a funeral service? Call me callous, but though I am genuinely sad that my father is dead, I had difficulty thinking that his body was beside me in the coffin as I read my last inadequate tribute. It would have helped if the coffin had been open, of course, but I think it wouldn't have been much. But all the women, especially my sister Bev, were full of tears. I suppose I think of death in a different way.
One of the things that stood out were the tributes read out by the celebrant. This must be a particularly English thing: they were from Bev's husband Jerry and her children, and also from my daughter Yana, who did it on Bev's request. Two things stood out in all the tributes: they remembered the old man Norman, after he was 70 year old; and they all mentioned his appetite for beer. That's all true, but somehow it left a one-sided impression.
The only other person who spoke was my uncle Max, who mentioned my father's work in Malaysia in the 1960s ("he should have received a knighthood!"). He also recited my father's favourite poem, "Clancy of the Overflow". I followed with the observation that most of the time we spent together we were travelling—the drive from Singapore to London, and even the fact that we were travelling together 40 years ago today. I referred to the incident in the Bay of Bengal 42 years ago where he told me to shave—a good introduction to another of his favourite poems, "The Man from Ironbark".
And that was all. I had another chance to say something at the end of the service, but I didn't. So nobody talked about the boy who, at the age of 10, built his own brick house in the back yard in Thornbury, the boy whom the Great Depression cheated out of a grammar school education, the man who fought in South-East Asia in the Second World War and who was one of the many sailors who witnessed the signing of the Japanese Instrument of Surrender on board the USS Missouri. Nobody mentioned the man who went to Malaya as an architect, to be looked down upon by Englishmen who thought him a damned colonial—until they got to know him. The only thing of this nature was Max's reference to the 10,000 or so houses that he built in Malaysia, at a price that nobody had thought possible. Nobody talked about the man who, in 1974 at the age of 51, ran me off my feet in a cross-country run. That's the man whom I want to remember, not the frail, blind and only partially mobile man he has been in the last ten years. That's what bring tears to my eyes, not standing next to his mortal remains and hearing fond recollections of his taste for British beer.
We had a short reception—we couldn't call it a wake—after the ceremony, and then set off back home again.
In Melbourne, to MSY in Clayton to buy some new monitors. MSY is one of the cheapest companies selling computer equipment, and after being there, I understand why. Their web site is pretty bare-bones, but that pales by comparison with the shop itself. You can't really enter the shop; it's mainly a warehouse. You stand in line and wait for service, which in my case took 45 minutes.
They had stock lists to peruse while waiting. That would have been useful had they been accurate. I had planned to by two BenQ monitors, another E2200HD and a larger G2400WD with the stellar resolution of 1920x1200—to get another 120 lines of vertical resolution I had to pay $77 more and put up with even larger physical dimensions—but they were out of stock of the E2200HD, and sold me a Sλmsung 2233SW instead for $15 more—allegedly it's better. I also wanted a replacement disk for tvremote, which died last week, but they don't have 2½" EIDE drives any more. They also didn't have USB sticks on their list, but they had them anyway. And they had 3½" EIDE external enclosures on their list for $15, but they weren't in stock either, and I had to buy a different one, which handles both EIDE and SATA, for $33, over double the price.
As it worth it? I don't know. If I go back, I'll do my ordering in advance via email and see how much better that works.
While I was waiting at MSY, Yvonne looked around outside and found a number of interesting looking bushes:
She took a couple of cuttings, and also seed pods from the first one. I suspect that the cuttings won't strike and the seed pods are too unripe, but it's certainly worth trying, and maybe we'll buy some of the plants as seedlings.
Back home without incident and found that the kangaroos have been at it again: they've chewed off some of the plants that we planted in the rock garden last week: They'll survive, but I wish I knew how to keep them away.
Started processing the photos from the reception—somehow every photo still needs to be processed individually. It doesn't help that people were wearing very subdued colours, of course; it's difficult to know how to process them. But if I can believe ufraw—a big "if"—the exposures vary by up to 3 EV.
Also mail from Tom Maynard and Michael (the one without the surname), both pointing me at High Dynamic Range photography as a solution to the problems I documented a couple of days ago. I'm aware of HDR, and I've had some links to it for a while in my photography links page. Michael also suggests better choice of lighting, which is good advice for producing good photos. But neither of these are the point here: what I'm looking for is the best way to process images, and this deliberately chosen photo ("a surprisingly difficult view") shows some of the problems that good postprocessing software should be able to help with.
There are other issues with HDR, of course: the most important one is that the subject needs to keep still between the individual shots. That's not possible in the image I chose: the leaves move constantly, even if there's almost no wind, and that could result in blurring in the final image. The real solution here, of course, would be for the sensor manufacturers to realise that they have pushed image resolution to a point where it's more than adequate, and that they should turn their attention to higher dynamic range. I seem to remember that somebody is already doing this; each sensor element has a small and a large sensor, so at least the raw images can include much more detail. But we're a long way from that point. Most software still processes 8 bit pixels, and even raw formats and camera spec sheets are very vague about the pixel depth of the sensors. I gather that my Olympus has only 10 bit pixels, many others have 12, and only the very expensive ones go to 14 bits.
Talking to people on IRC today about my first book, Porting UNIX Software, published in 1995. Looking at the documentation chapter I found the statement, which I probably wrote in 1994:
The World-Wide Web (WWW) is not primarily a program documentation system, but it has a number of properties which make it suitable as a manual browser: as a result of the proliferation of the Internet, it is well known and generally available, it supplies a transparent cross-reference system, and the user interface is easier to understand. It's likely that it will gain importance in the years to come. Hopefully it will do this without causing as much confusion as its predecessors.
Sadly, I fear my hopes haven't been fulfilled.
Spent some time today installing my new toys. I've decided to put the higher resolution screen (1920x1200) in front of me (:0.2), and the two 1920x1080s to my left (:0.0 and :0.1), leaving a 1600x1200 CRT monitor on the right as :0.3.
Unpacking and installing the displays is annoying. The Sλmsung monitor has one of the most stupid feet I have ever seen: there's no obvious way to install it, the pitiful excuse for documentation just shows arrows indicating where it should fit, but not how to squeeze it in there. In the end, laid it on the kitchen table and used some force, which seems to have worked. But when I picked it up again, the frame was badly scratched. Did I do it while on the table? The damage seems to be too much for that, but of course I'm no longer in a position to complain to MSY. Certainly Sλmsung is to blame the fact that there is no protective foil on the frame.
Both monitors have the objectionable "feature" that the controls are almost completely unmarked. The controls on the Sλmsung, including the on-off button, are on the right-hand edge, where you can't get at them because the next monitor touches. The individual buttons are marked: indent on black. To see them at all you need to get up and look from the side. The only redeeming feature is to know that the bottom one is the power button and top one is the menu button; if you press the menu button, you get an on-screen menu showing the location of all buttons. But it's a real nuisance.
The BenQ is marginally better: the power button is clearly visible, and the other controls are underneath, where at least they don't get in the way of other monitors. They're also marked—black on black with raised lettering. From in front you can't see anything, but if you look from the side you can barely make them out against the light:
Why do they do this? It's not as if the frames are unmarked. Both have the name of the manufacturer, of course, and the Sλmsung has additional stuff written across the top in a barely legible script. It claims a 15000:1 contrast ratio in a writing so dark and with such poor contrast that I needed an exposure of 1/20 s with EV -2 and 1600 ISO to take the following photo: On closer examination I found the model number at top left in the same low-contrast script. The BenQ has similar inscriptions, tiny but not quite as illegible.
Apart from that, the Sλmsung, which I have installed as my :0.0 monitor and which thus comes up as primary monitor at boot time, doesn't like the fact: it produces a menu which won't go away telling me to set 1920x1080. Possibly I should change the cables without changing the positions and use the older BenQ as the boot monitor.
The good news: the X configuration went smoothly, and I was up and running in about 30 minutes, most of it spent physically installing the monitors. It's interesting how different the settings are: the Sλmsung was so bright that it was almost painful to look at, and I had to turn the brightness down to 42%, while the BenQ was quite subdued and needed the brightness turned up to 90%.
Later tried the other toys. Put an old disk in the disk enclosure and tried to boot tvremote from it, but the version of FreeBSD didn't seem to like the idea.
Then tried the USB stick with a copy of the images from swamp. That caused more problems than I had expected: first, I wasn't able to run fdisk against it:
Should we write new partition table? [n] y
fdisk: Class not found
fdisk: Failed to write sector zero

Next tried sysinstall, which also had difficulty writing the label, and told me to set sysctl kern.geom.debugflags=16 and try again. That then worked; but why should I need to do this? Daniel O'Connor has been there before—the last things I committed were his work in this area—and he told me to use fdisk -BI da0 and bsdlabel -Bw da0s1, which I didn't investigate further, since I already had the label.
But it wasn't what I wanted: the file system was on da0s1d, and I wanted it as a root file system on da0s1a. Changing that brought further errors: the c partition was in the wrong place, and both it and the swap partition ran off the end of the device. Fixed that with the aid of a calculator, but I'm left with the feeling that there are too many loose ends here.
Finally booted the laptop from the USB stick—that's the good news. The bad news is that it tried to mount the root file system from /dev/d0as1d. I could have understood /dev/d0sa1d, which was the name of the boot partition when I wrote the bootstrap, but where did that transposition come from? In any case, it paniced after that, and I decided that was enough for one day. In one way, it's progress: it looks like I can run tvremote from a USB stick, which is a lot cheaper than even the cheapest disk.
Also tried, yet again, to communicate with Chris' video camera. She had told me that she uses it with Firewire, and now I have the right cable, tried that with the JVC software on pain, my Microsoft box. Complete failure: the software didn't even notice that anything was connected to the Firewire interface. It seems that the version I have wants USB only. I think it's time for Chris to extract the MPEGs on her computer. But why can't people provide a normal tape interface to these devices?
One thing that pain did notice was disconnected network cables:
This image was captured running rdesktop on dereel, connected to pain by the "disconnected" Ethernet (sorry, "Local Area Connection"; evidently Firewire (sorry, 1394) is not a Local Area Connection).
Still no confirmation mail from Citylink, so to save fines called them up and spoke to Belinda, who sounded as if she was in Kerala. She told me that my account had not been set up, and it could take 10 to 14 working days—pretty much what the email said. When I asked her why it hadn't been done already, she answered "That's the way it is". On further asking, she told me that their computers were overloaded.
Asked to speak to her supervisor—in contrast to Telstra, they have supervisors who are available. She told me that he wouldn't say anything different, but I pointed out that he could at least take a complaint. She connected me to Jarrod, who—surprisingly—told me that setting up accounts takes between 24 and 72 hours, and that mine had been set up an hour before. The reason why it took so long is because all these applications are done manually—and that from a company that has more or less rejected manual operations such as paying tolls when you travel. Still, he confirmed that my account had been valid since Monday, so yesterday's travel will be handled. Just in case there might be any trouble, he added a comment to my account.
5 mm rainfall in the last 24 hour, but it's still so dry. A lot of our projects are on hold until it finally rains abundantly; hopefully it will be soon, but it seems that all the rain is falling in Queensland, where they don't really want it.
Another power failure this morning at 4:02, lasting until 5:58, long enough to take out the UPS on dereel and boskoop. I woke at 4:30 to find it dark, and somehow I can't get back to sleep when this kind of thing happens. The power had barely come back when it went away again, fortunately only for a few minutes.
Power failure recovery
Recovering from a long power outage is still more trouble than it should be, though I'm getting plenty of practice. One of the most annoying things is the way this Apple changes its name when it comes up without a network connection to the name server; instead of boskoop.lemis.com it calls itself boskoop.local, which seems just plain brain-damaged to me:
Apr 16 09:18:01 dereel Synergy 1.3.1: WARNING: CServer.cpp,265: a client with name "boskoop.local" is not in the map
Apr 16 09:18:01 dereel Synergy 1.3.1: NOTE: CServer.cpp,1915: disconnecting client "boskoop.local"

Rebooted boskoop—maybe there's an easier way, but rebooting seems to be the canonical way to work around most problems with this kind of machine—and boskoop came back with the correct name:
Apr 16 09:28:55 dereel Synergy 1.3.1: NOTE: CServer.cpp,277: client "boskoop" has connected

But why does this happen in the first place? Maybe I'm doing something wrong, of course, but that's easy when there's no documentation.
Web bottom-feeders
One of the things my 404 document does is to send me a mail message if any internal link is broken. It shows some interesting things: firstly, there are many self-references, but some are more interesting:
Subject: FAILURE: /grog/P4127387.JPG <- http://www.lemis.com/grog/diary.php

Referrer: http://www.lemis.com/grog/diary.php
Referenced URL: http://www.lemis.com/grog/P4127387.JPG
Remote host: host671420033130.direcway.com

Clearly the referenced URL is wrong, and I went in to see what I had done wrong. Nothing. This is what the client looked at:
<p>
There's a bug in the times in the embedded thumbnails in the raw images. From the same
image, I get (along with <a href="http://wwww.lemis.com/grog/Photos/20090412/Centre&#45;weighted&#45;from&#45;camera.exif">much more</a>):
</p>
<tt style="text-align:left">
EXIF tags in 'P4127387.JPG' ('Intel' byte order):
<br />&#45;&#45;&#45;&#45;&#45;&#45;&#45;&#45;&#45;...
<br />Tag &nbsp;&nbsp;&nbsp; &nbsp;&nbsp;&nbsp; &nbsp;&nbsp;&nbsp; &nbsp;&nbsp;&nbsp; |Value
<br />&#45;&#45;&#45;&#45;&#45;&#45;&#45;&#45;&#45;...
<br />Date and Time &nbsp;&nbsp;&nbsp; &nbsp; |2009:04:12 15:49:26
<br />EXIF data contains a thumbnail (10806 bytes).
<br />EXIF tags in 'P4127387.thumb.jpg' ('Intel' byte order):
<br />Date and Time &nbsp;&nbsp;&nbsp; &nbsp; |2009:04:12 05:49:26
<br />
</tt>

To clarify this mess, due in part to the -s (a workaround for browser bugs that I've described before), it looks like this:
There's a bug in the times in the embedded thumbnails in the raw images. From the same image, I get (along with much more):

EXIF tags in 'P4127387.JPG' ('Intel' byte order):
--------------------+----------------------------------------------------------
Tag |Value
--------------------+----------------------------------------------------------
Date and Time |2009:04:12 15:49:26
EXIF data contains a thumbnail (10806 bytes).
EXIF tags in 'P4127387.thumb.jpg' ('Intel' byte order):
Date and Time |2009:04:12 05:49:26

There's no URL for P4127387.JPG there—it's just a text. Clearly this scraper thinks that anything ending in JPG is part of an image URL. What breakage!
We've had a bit of rain, but also lots of wind. Our hard-suffering rose bush, the one that I trimmed to the ground last year and has a tree branch fall on it a couple of months ago, has had all the flowers and buds blown off:
That's not too serious: it's coming out in the winter anyway. But it would be nice to have more wind protection.
Package from Sue Blake in the mail today: dried sourdough starter. Spend some time trying to resuscitate it, and ultimately, under Sue's guidance, put it in the TV cupboard heated by cvr2.lemis.com, where it didn't do anything spectacular by evening.
Spent a lot of time with cooking today. For decades I've been wanting to make a Penang Laksa like the ones that my father and I ate in Carpenter St, Kuching in the late 1960s. Nearly 20 years ago I collected a recipe for Laksa, but I still hadn't got round to doing it. Spent a lot of time working on the page, but didn't get finished. Then went into the kitchen and found a sachet of Hup Loong (brand) "Famous Assam Laksa" mix which I had bought some time ago and forgotten about. It comes from Penang, so should be authentic. Also found some Laksa noodles.
The results were less than stellar. As usual, quantities are an issue. They wanted 10 bowls (that's a new measure!) of water, corresponding to 3 litres, but the resultant broth was far too weak in everything except chili. Added some salt and tamarind extract and got it more or less right, but it still tasted a little insipid. I've had other mixes where the quantity of water was way off, notably a Channa Dal mix that was ridiculously salty. I think that in future I'll taste things in advance and adjust the water until the salt level is normal.
The instructions for the noodles were even less accurate: soak in water for a few minutes. That's enough for some kinds of noodles, but these weren't that kind. I had to boil for about 4 minutes before they were palatable. Clearly computers aren't the only area where documentation leaves much to be desired.
More feedback on my photographic activities. Michael (the one without the surname) had commented that Olympus sensors had less dynamic range than others, and sent me links to reviews of the E-510 (my camera) and the newer and better E-30 from Digital Camera Reviews to back it up. That's interesting documentation, and probably the result of the pixel depth of only 10 in the Olympus sensors, to which I had already referred. I suspect that people should pay more attention to this kind of thing. I have a subscription to Popular Photography, and they go to some detail in their camera reviews, but they don't do this kind of investigation.
I'm currently thinking of upgrading my equipment. Should I stay with Olympus, or go with a manufacturer with better sensor technology?
Michael also came up with some interesting comments about my choice of monitors. They, too, have limited pixel depth, only 6 bits, and better are available; he pointed to flatpanelshd in support of that.
Ian Donaldson also refers to my reference to dual-element sensors and write:
The sensor to which I think you are referring when you say "each sensor element has a small and a large sensor" is Fujifilm's SuperCCD sensor. This has been used in a variety of Fujifilm's compact and "prosumer" cameras over the last few years. They continue to develop this sensor technology and have started to emphasise the dynamic range capabilities of its latest incarnation. For example:

See here:

http://www.dpreview.com/news/0902/09020402fujifilmfinepixf200exr.asp

Samples from this camera:

http://www.dpreview.com/news/0902/09022304f200exrgallery.asp
This isn't quite what I was thinking of, though it may be the best that's available. It uses single-sized sensors, but combines the information from adjacent photodiodes to improve sensitivity. That almost looks like a JPEG trick: you could do most of that on any camera with appropriate (but currently maybe non-existent) raw processing software. The exception appears to be some kind of exposure bracketing; certainly it's worth keeping an eye on.
I've bought a new 80 litre stock pot on eBay—only $102.50. Problem: pickup only, but Daniel O'Connor will do that for me. But how do I transport it? Called up Pack and Send, who did a good job sending the 1826 Savary jeune to Venice, and was rather shocked to get a quote of $120 for the transport. I need something cheaper than that.
Just by chance, Yvonne called up Diane Saunders and found that only Lynn was there. Got her to ask if anybody was coming this way, and how about that! Her husband is leaving for Victoria tomorrow evening, and he'll be passing by Ballarat. So it looks as if we'll get it transported for free.
Mail message from Daniel O'Connor today: he's in Malaysia, heading for Taiwan, and he'll be back in about 10 days, so he can't pick up the stock pot for me. That wouldn't be that much of an issue except for the fact that Paul is leaving tonight. Daniel copied his wife Fiona, but didn't get a reply during the day.
Sent a message to the local free software links asking if anybody could pick it up for me—not made any easier by the fact that they had to fork out $102.50 on collection—and David Newall offered to do so. Also got a call from another person whom I don't know (I think—I didn't get his name, and he didn't follow up with details), who was also prepared to do it. I think he was a little upset that I already had somebody, though clearly it's good to have a backup.
Getting hold of Craig (the seller) was also an issue; ultimately, I didn't, and David just called up. Finally, by 20:00, David had delivered the pot to Di's place, so all I have to do now is drive to Ballarat in the middle of the night to pick it up.
My sourdough seems to have done its job; took a look into the HiFi cupboard this morning and found it looking darker, still the same size, but the sides of the bowl were coated in remains of the dough, so it must have risen during the night. I really need to read up more on how to use this stuff; at least I've already established that rye really needs sourdough rather than yeast, an interesting discovery after having baked rye bread for over a year.
More playing around with the USB stick on teevee. The mount failure (/dev/a0ds1d) was clearly due to a typo on /etc/fstab, but after fixing it I still got a panic. We've just changed the USB stack to a new one; possibly there's a bug there somewhere. It'll be fun debugging it.
More work in the garden, mainly mundane stuff like laying out bricks for new garden beds and putting in new netting to keep out the kangaroos, who have had another go at the Japanese cherry, and also chewed off a head from the Protea. Found another victim of the recent heavy winds—one of our succulent cuttings had been blown out of the pot.
Despite all promises, still no rain worth mentioning. The Bureau of Meteorology had forecast rain for four days in a row, but they've changed it after we've had less than 1 mm rain. When will we finally get some decent rain?
Up early this morning to wait for Paul to call me from the highway. He didn't, and after an hour I called him to hear that he was just passing Ararat. Off to the west of Ballarat, and with a bit of coordination found him and picked up the stock pot.
It's aluminium! The eBay description said stainless steel, which is a big price differential. I suspect that the seller didn't know the difference, but that's still annoying. It's also quite dirty, and somewhat bent—in significantly worse shape than any of my other pots.
On the way back, stopped in at Big W to look for some seeds, but didn't find what I was looking for. Did find a cheap friteuse—only $39. We've been looking for something like that to keep a second lot of fat for strongly flavoured things, so picked one up.
Dahlsens: misleading advertising
On to Dahlsens in Sebastopol, and found they had a 50% off sale of plants. In to take a look—many looked like they weren't worth even 50%, but found a number of tubestock which were probably worth it. They sell the tubestock for $2.95 each, or $10 for 4, so finally pieced 8 of them together and headed for the checkout. Instead of $10, she wanted $11.80: "the $10 for 4 price doesn't apply to the sale". I asked where that was stated, and of course it wasn't—just "50% off marked prices". Called for the manager and he confirmed: "take it or leave it". I told him I'd take it to the ACCC, and left the goods behind; it probably cost them more than $1.80 to restock.
$1.80 isn't that much of an issue, of course, but I've had annoyances at Dahlsens before—nearly every time I've been there—and this dishonest approach erodes public expectations of corporate honesty.
Back home, took the usual weekly photos. This time tried the alternative of automatic exposure of the panorama photos, something that I've been told is a no-no. But it seems that hugin handles it really well, at least this time in subdued light. The real test will be the next time I have to take them in the sun.
We're gradually getting into the routine that Chris comes along for Saturday dinner, and today we decided to try Cocido Bogotano, a dish out of the Time-Life "Latin America" cookbook. Nothing to do with Léon, the Columbian bloke I bumped into while waiting at MSY on Tuesday. The proportions in the recipe looked suspect—1 kg of beef and ¼ teaspoon of turmeric.
Went looking for alternative recipes and found a couple of surprises:
The entire text of "Die Küche in Lateinamerika", in German, the very cookbook I started with. There's no mention of Time-Life in there, but the text is word-for-word, and the recipes are all the same. I wonder what the copyright status is.
Many other variations on the same recipe, nearly all in German.
None at all in Spanish.

An English-language recipe, presumably related with the others, with some startling ingredients and instructions:

1/4 c. instant minced onion
1/2 tsp. instant minced garlic

In a custard cup, combine 1/4 cup water, onion and garlic; set aside to soften, about 10 minutes.

I wonder what kind of materials "instant" onions and garlic are if they take 10 minutes to soften. Maybe just dried? By contrast, real onions and garlic really are "instant": they're just there. Also, what's a "custard cup"? Does it reflect a different shape or a different size? Is the "1/4 cup" of water quarter of a custard cup, or quarter of one of the myriad other cup sizes?

Nothing much else.
So why were the recipes nearly all in German, and why wasn't there a Spanish recipe? It seems possible that the name isn't at all that well-known, and that it was more or less invented by the authors of the Time-Life book. But why are there so few English-language versions? Maybe it wasn't as appealing to American palates. In any case, we cooked it and annotated the original recipe. More experimentation to be done.
Created a new Album page about Piccola.
More playing around with my bootable USB stick. Built a new FreeBSD -CURRENT kernel, and it booted properly! But it didn't get any carrier on the wireless card. Has the wi driver become fussier about things like channel numbers?
The bloody kangaroos are at it again! Not only have they destroyed one of our still unripe tomato plants, last night they were up on the verandah and attacked the other one:
How can we get rid of them?
Took my camera to swamp to transfer the photos, and what did I get?
=== root@swamp (/dev/ttyp0) ~ 3 -> mount /camera
mount_msdosfs: /dev/da0s1: Operation not permitted

What's that? The device was correctly identified, but there's obviously something there that it doesn't like. Is it because the partition doesn't start on a "track boundary"?
Apr 19 09:09:25 swamp kernel: da0 at umass-sim0 bus 0 target 0 lun 0
Apr 19 09:09:25 swamp kernel: da0: <OLYMPUS E-510 1.00> Removable Direct Access SCSI-2 device
Apr 19 09:09:25 swamp kernel: da0: 40.000MB/s transfers
Apr 19 09:09:25 swamp kernel: da0: 977MB (2001888 512 byte sectors: 64H 32S/T 977C)
Apr 19 09:09:25 swamp kernel: GEOM: da0: partition 1 does not start on a track boundary.
Apr 19 09:09:25 swamp kernel: GEOM: da0: partition 1 does not end on a track boundary.
Apr 19 09:09:25 swamp kernel: GEOM_LABEL: Label for provider da0s1 is msdosfs/CAMERA.
Apr 19 09:09:27 swamp kernel: GEOM_LABEL: Label msdosfs/CAMERA removed.

Nowadays that shouldn't be an issue, and it wasn't with the last kernel. Somehow -CURRENT isn't in the best of shape lately.
Off with Chris today to visit Len and Sue Giddins in Mt Wallace (which for some reason isn't mentioned in Wikipedia) to pick up a weanling colt. It's not far away, but the road connections are pretty terrible—Google Maps chooses a roundabout way of 68.5 km. Chris has previously always taken a different route, which is nearly 15 km shorter, but it includes a steep river crossing on a dirt road:
Had a good lunch at the Giddins, and also ended up taking one of their horses, "Charisma", back for training. In view of the fact that we had the colt with us, decided to try a different way back, via Mt Egerton. The road was better, but not as good as the Google Maps alternative, which mainly went down main highways, and at 73 km it was even longer than Google Maps. Next time we should probably try the Google Maps route.
More correspondence with Michael without the surname. He took one of the photos I took the other day and passed it through Photomatix. The results aren't perfect, but they show significant advantages over the results I have been able to achieve. Here the original, my best optimization, and Michael's results (which are significantly lower resolution, but that's not important here):
Again moving the mouse over these images gives the next in sequence.
It looks as if I should look at this kind of software more carefully.
Wideband, my ISP, have introduced a couple of new services: one is a download speed increase up to 4 Mb/s, which doesn't even cost anything extra. Given satellite latency, it's not clear how much good it'll be, but since it's free, I've signed up for it anyway.
The other is an HSPA service via the Optus net. There are plenty of people who resell this service, and I've been eyeing them for a while; I had intended to sign up for one when the radiation tower gets built. The prices are dropping, almost below that of satellite access, and the main reason I haven't signed up before is because I don't trust Optus' coverage maps further than I can throw them. Wideband offer a 14 day satisfaction guarantee, which makes all the difference.
Called up and spoke to Kylie, who couldn't take an order over the phone. Talked me through the signup procedure, which went via Aussie Broadband, a company I investigated 16 months ago and turned down in favour of Wideband because of Wideband's more legible web site. That hasn't changed, although they have dropped the leading . in their name, but I also had a lot of difficulty logging into the site—I suspect they haven't quite harmonized their databases. Ended up signing up for a new account (which is more expensive), with Kylie's promise that they'd bend it to shape when they processed it.
Also rearranged my desktop, mirror-imaging the layout of the monitors. Now I have the Sλmsung monitor at the right, and I can at least get at the silly power button on the side. It also means that I have the 3 LCD screens in front.
Downloaded Photomatix demo for Apple, which is surprisingly generously licensed: it doesn't have any limitations beyond putting a watermark in some of the images. But the download itself was once again so complicated: after finishing, nothing happened, but "Safari" started using 100% CPU time. Went looking for the downloaded files—why are they always so hard to find?—and found several copies, one per attempt, in the directory .Trash. To actually do anything with them, I had to first move them out and expand them. Finally it ended up in /Applications, a global directory—how does Apple handle multiple users? Or did it only work because I have administrator privileges? What do users without such privileges do?
Running the program was another surprise. It didn't show anything beyond the title bar. Tried to import a raw Olympus file, which it seemed happy enough with, but then it went away again and didn't come back. Certainly not "intuitive", at least not for me. But there's a tutorial, so I suppose I should read that.
Autumn is in the air. The temperatures are only in the high teens, and gradually we're seeing yellow leaves in the birches. And the tomatoes still haven't ripened; but that doesn't seem to make much difference, since the kangaroos are eating them, along with the plants.
Spent some more time in the garden, mainly laying out bricks to define beds. We really need to grade the walking surfaces, and it seems a good idea to get CJ to contact us; but he's currently not answering his phone.
Woken up in the middle of the night by a noise outside. Out to find a wallaby on the verandah, having just managed to fight its way through the barrier to steal another tomato. Chased it off, but an hour later found two more kangaroos in the garden. What to do? Would an infrared sensor and flashing lights help?
LinkedIn: Ships that pass in the night
It's been almost exactly 5 years since Nathan Cochrane first introduced me to LinkedIn, an incident that I didn't note in my diary. I joined up, found it spectacularly uninteresting, and spent some time trying to get removed again. Later, other people caught up and asked me to link to them, and I ended up joining again.
What good is LinkedIn? I've been "linking" with people I used to know, and I now have a number of contacts. But that's all. I now have some understanding of what they're doing, but I've had very little direct contact as a result. Does that serve a purpose? I suppose for people who are looking for connections it might make sense, but it still seems a curiosity to me. And no, if you don't know me, don't try to link to me.
Oracle to buy Sun?
One of the people I am linked to on LinkedIn is Maria Oliviero, who stayed with her desk and phone number through five different companies: Tandem, Compaq, HP, Tantau and 724. It seems that this acquisition game is continuing: only last year, Sun Microsystems bought out MySQL. Then there was talk of IBM buying out Sun, which fell through. Now it looks like Oracle will buy out Sun, presumably not mainly for MySQL, though I understand they were interested earlier on, but MySQL was concerned that that would be a dead end. It'll certainly be interesting to see how the process pans out.
To my great surprise, received a package in the mail today with a Huawei E169 HSPA modem and a printout of the 19-page installation instructions, mainly screen shots, compressed onto a single page of postage stamps, and a letter telling me to call support as soon as I got the device. No other documentation. Called up the specified number and spoke to Jay, who told me he had never helped install one of these things, and that he would call me back.
While waiting, tried out the instructions. All for Microsoft, of course. Stuck the thing into pain and was told to expect a CD image to show up—apparently there's one in ROM on the modem. But nothing showed up, just the OED image I had in the DVD drive, which proves to be non-removable on this particular Dell laptop. Rebooted the machine, no change. After quite some time it occurred to me that the image had been mounted, but this horrible toy operating system reported it as a network share. It reported "drive" E: as "root on 'Samba Server (eureka)', but the directory listing shows clearly (at least when displayed at a larger scale) that it's the image in the modem:
It certainly can't be eureka, which has been down for several months, never intended to return.
Installed the software, and after a while Jay called back and told me the code to enter for the "SP" code, whatever that may be. It's actually on the instructions, but it's barely legible.
That brought a number of different messages, but the most persistent read "You can't connect before register an available network" (sic):
Jay said I shouldn't need to register a network. I'm suspecting that it's lack of coverage, though Optus claims (despite insisting on misspelling my street name) that we have "'yes'G" coverage, whatever that may mean:
Andys on IRC has one of these devices, and he told me that the LED on the device should flash green when GSM is available, blue when there is "3G" coverage, show steady blue when connected to a UMTS network, and bright "aqua" (which I think is cyan) when in HSPA mode. Mine showed only green, which suggests that, despite Optus' claims, there's no HSPA coverage here. Waited all day for a call back from Jay, but none came.
Andy thinks I should buy an external antenna, but that doesn't make sense. Firstly, Optus is planning to build a tower here, and after that I wouldn't need the antenna; and secondly, I can just send all this equipment back (which is looking likely) and get a full refund, which wouldn't work with the antenna.
Another slow deletion under Linux:
=== grog@cvr2 (/dev/pts/0) /recordings 20 -> df .
Filesystem 1M-blocks Used Available Use% Mounted on
/dev/sda1 188735 87264 101471 47% /
=== grog@cvr2 (/dev/pts/0) /recordings 21 -> time rm -f *; df .
real 0m22.262s
user 0m0.000s
sys 0m0.412s
Filesystem 1M-blocks Used Available Use% Mounted on
/dev/sda1 188735 15142 173593 9% /

Today was bread-baking day, and spent some time playing around with the sourdough that Sue Blake had sent me, and got a reasonable reaction. Here before and after:
Note the different level in the pot.
Baked some bread with mainly yeast and 100 g of the sourdough starter. Proofing went very fast, but then it didn't rise again, and I ended up with a rather flat loaf. Clearly there's still more experimentation to be done.
Smelt some smoke in the afternoon, and looked out to see the sun shining sickly yellow through a cloud of smoke. Yvonne checked the DSE web site and found nothing, so called 000, who were also not aware of any fire. Then they discovered that they were doing some controlled burning off in Enfield State Forest. So why weren't we informed?
More mail from Ian Donaldson. It looks as if I followed the wrong link when dismissing Fujifilm's sensor technology. According to Wikipedia, they do indeed have a sensor with cells of two different sizes. It'll be interesting to see to what extent this model takes over.
CJ and Sue over in the evening, and helped me put up some mesh at the south end of the verandah. I'm planning to train Clematis and climbing roses over it—the Clematis has been waiting for a while, so now I can plant it, as soon as I find a way to protect it from kangaroos. Also discussed some other issues, including levelling the walkways and the northern part, which will become a rock garden.
IceTV wins against Channel Nine
The High Court of Australia has ruled in the case of television Channel Nine ("ninemsn") against a small startup called IceTV. Channel Nine had sued them for copyright infringement because they were republishing their programme details. The High Court rejected the case, arguing that the copyright content of the programme details did not belong to Channel Nine, and that any added value from Nine's web site was negligible.
But why would Channel Nine ever want to restrict distribution of information about their programme content? I can think of two reasons: firstly, Channel Nine has a history of changing programmes at the last minute. I can only assume that this means they don't really care what the viewer sees. This leads to the second potential reason: they may not want the viewers to know what they're broadcasting ahead of time. That way they can't record them, and they have to sit through the commercials.
My own TV viewing almost never includes Channel Nine. That's not because I disagree with their policies (though I do), nor lack of information about their planned programme (which is available from other people whom Channel Nine has not seen fit to sue), but because they almost never have anything worth watching. But somehow the regulators aren't doing their job here: TV is supposed to be for the sake of the viewers, and there is only a small number of channels on the air (the government-run ABC with two separate programmes, soon to be three, and four commercial channels, including SBS, which isn't really supposed to be commercial)). Under those circumstances the regulators should pay more attention to the quality of the programme, and revoke licenses of those channels which fail to meet basic standards.
First taste of the bread with the added sourdough. It tastes good! The crust is crisper than with yeast, and although it didn't rise as much as a yeast loaf, it's more than sufficient. In addition, despite significantly more water, it's not soggy. Sue Blake thinks that the acidity of the dough (I measured pH 4.1) might be enough to kill off commercial yeast, which would explain why the dough proofed so quickly and then rose so slowly the second time. Clearly more space for experimentation.
HSPA: Not Available Here
Still no call back from Jay of Aussie Broadband, so did a bit of further investigation. Took pain (a laptop) around the house, and the double flashing green LED changed to a single flash and then went blue. According to Andy, this means the presence of UMTS network. The laptop was suspended at the time (lid closed), so opened it and—the LED reverted to two green flashes. Repeated this several times.
Round about this time, Callum Gibson came up with two pieces of information: firstly, a (badly formatted and just plain incorrect) troubleshooting guide, and secondly the information that the software installation includes a user manual, easily found at C:\Program Files\Wireless Broadband\usermanual\usermanual en-us.pdf, with the obligatory spaces in the path name. The latter proved to be information on using the software supplied with the device—not a word about the device itself, beyond information on how to insert it into a USB slot.
The former told me what the flashing lights meant. It roughly agrees with what Andy said:
Indicator Status
Description
Blinking twice every 2.7 seconds (green)
Device is searching for a network, or no network available
Blinking twice every 2.9 seconds (green)
The GSM network is normal
Blinking every 2.9 seconds (blue)
The WCDMA network is normal
So they expect people to distinguish between a duration of 2.7 seconds and 2.9 seconds? Clearly not; this is incorrect. The second line is a single green flash. The time is clearly the delay from the end of one flash sequence to the beginning of the next, and the 2.9 seconds are typical of a single flash. Just more broken documentation.
So what does this mean? Why does my WCDMA network disappear when I resume operations? It seems reasonable to guess that, when not connected to an operating computer, the dongle will respond to any network. When the computer specifies the SP (which proves to stand for "Service Provider"), it restricts itself to those networks. So this means that there is a WCDMA network in reach, but it's not Optus—probably Telstra, which I know is available.
Called up Aussie Broadband and was connected to Michael, who obviously had more experience in these matters than Jay. He relatively quickly came to the same conclusion I had done: no coverage.
So I was right when I said "I don't trust Optus' coverage maps further than I can throw them." Called up Wideband again to arrange for a return of the unit. Once again spoke to Kylie, who this time checked the coverage maps herself—a different map, not accessible to me. Result: no coverage.
So: Optus has two different coverage maps. One is for sales, is available to anybody, and lies. Despite the disclaimer, this image is centered exactly on my house:
The other is for technical staff, is available only to providers, and tells the truth. Time for a complaint to the ACCC. It's a good thing I waited for an offer with a satisfaction guarantee, though I'm less than satisfied that Kylie didn't do this check before involving us all in unnecessary expense.
Apple problems, revisited
Michael from SA sent mail relating to my problems with downloading and running Photomatix yesterday, telling me what to do—exactly what I had already done—so I tried it again to document it—and it worked. I wish I understood the difference. Certainly the 13 minutes CPU time used by Safari when starting up make no sense at all. In the process, was reminded of one strange thing:
I've told it to save downloads to /home/grog, which makes no sense, since my home directory on Apple is /User/grog. But it doesn't complain; it just saves it somewhere. More searching, this time with the -ctime option to find, along with the obligatory -print0 to get around these horrible path names with spaces in them, shows that it converts /home/grog into /Users/grog/Desktop/:home:grog. That's so ugly! And, of course, completely confusing. Michael says, with some justification:
Please don't take this the wrong way, but railing about these differences is all well and good at one level, (they can all be improved) but at another level it comes across that your complaints just might be based on a lack of acceptance and familiarity with those systems that are not designed the same as your favorite one.
He's completely right. Lack of acceptance is because I don't want to be told how to organize my system. Design should make things easier to use, and not lock you in to doing things the way the product team do it. My directory tree is quite well organized already, and I see no reason to change it just to suit Apple or their idea of what makes a well-organized directory tree—if, indeed, they think of the system in terms of those concepts. Lack of familiarity is a combination of general distaste and a lack of documentation. Nevertheless, I'm doing what I can to become more proficient: it's becoming ever clearer that there are too many artificial constraints: software that produces good results often requires you to use other software that drives you mad.
Now that the mesh is in place in the south of the verandah, I was able to plant the Clematis we bought a month ago. It wasn't made any easier by the presence of drain pipes in the ground:
White oil: what quantities?
Also took another look at the grapefruit trees: something is curling the leaves. It doesn't match any of the citrus diseases my clever books have—insects should produce mould, and there's none of that. But maybe that's because of the dryness. In any case, the traditional answer to this one is White oil, so went looking for recipes. Cups, tablespoons and even desertspoons in one case:
Blend two cups of vegetable oil and half a cup of detergent.
Why not "take four part of vegetable oil and one part of washing-up detergent"?
Take one tablespoon of concentrate and dilute to one litre.
Wouldn't it be easier to say "dilute 1:50"? It would certainly be less prone to misinterpretation.
In any case, that proved to be far too much, so made half the quantity. The detergent was green, so the white oil is too. Sprayed all the citrus trees—we'll see how it goes. In the case of the old grapefruit, this stuff is going to have to repel kangaroos too.
I really should read things carefully before writing things down as fact. Mail from James Andrewartha today pointing out that Fujifilm's two-size sensor design is a thing of the past, as the last link in the Wikipedia article shows. Presumably the effort of building this kind of sensor outweighs the advantages; but the new sensor still differs from conventional ones in the arrangement of the colour mask.
To the Dereel Hall in the evening for a discussion about bushfires. Some interesting stuff, but I'm still left wondering about the level of information, for example about the burnoff yesterday. While the chairman said that we should have been informed via a document in our letter box, the representative of the Department of Sustainability and Environment (DSE) said that that only applied to direct neighbours. It seems that the correct thing to do is not to call 000, but the Victorian Bushfire Information Line, 1800 240 667. I have several issues with this:
Whether it's the correct thing to do or not, most people don't know it. They really need a separate connection for bushfires from the 000 number.
The number's too long to remember.
If the DSE doesn't have it on the web site, why should they have it online?
The name doesn't suggest that it's there for reporting fires.
In any case, food for thought. Went away with a lot of documentation, but I suspect we still won't get the information we want unless the Royal Commission comes to some good conclusions in the area.
Last night's meeting had me thinking, so today I called up the Victorian Bushfire Information Line on 1 800 240 667. To their credit, I was connected within 30 seconds, but that's still outside what you'd expect for an emergency. I told the operator, Tom, that I could smell smoke, and asked if there were any planned burnoffs in the area. His answer: "Hold on, it's not coming up here at the moment", clearly referring to his computer system. Finally he told me that the last planned burn was last Sunday (19 April) in Anglesea, 112 km to the south-east. He then checked the CFA web site and came up with another planned burn in Mount Cole, 120 km to the north-west. He had nothing in our area, not even in the last couple of days. He then told me how to find out the information on the web, by navigating from one screen to another. That's probably the easiest way—the page has another stupid URL, http://www.dse.vic.gov.au/DSE/nrenfoe.nsf/LinkView/7A517F49FA458B0BCA257095003B10540E68DA2E977949B1CA2573B700174349—but it's certainly not the fastest. The page looks quite like the public bushfire site, but I can't be sure: it just displays a blank, presumably because of problems running flash.
What's wrong with this picture?
It's an exception to the rule. Apart from this, you have one number for emergencies, 000 or 112 (the latter for mobile phones only).
It's slow. Tom had to start a search, presumably because he's in a centralized location. The 000 number knew about the burnoff without having to check.
It's inaccurate. Tom didn't find yesterday's burnoff even after searching, though he did find one a couple of days ago.
I don't know what would have happened if this had been a real emergency. The correct thing to do would be for Tom to contact the appropriate CFA immediately; but does he have the ability to do that? In any case, I'm left with a feeling that this whole infrastructure is in great need of improvement.
One of the reasons I haven't done much with Photomatix is that my Apple is connected to an old, tired CRT monitor. Trying to calibrate that would be a waste of time. But all my LCD monitors (also not the highest quality, but much better) have both VGA ("D-Sub") and DVI connectors, and due to resolution problems with X I'm only using the former. So connected up the Apple via DVI to the 1920x1200 BenQ G2400WD and rebooted—this is a modern computer, after all.
It came up at 1280x1024, not even the correct aspect ratio! And it wouldn't let me choose anything higher. Juha Kupiainen had had this problem with his new low-resolution Dell monitor yesterday, but I was still surprised that it happened with the Apple. On reflection, it must be related to this ridiculous frequency limitation of DVI—single links only support pixel clocks of up to 165 MHz, which seems to be somewhere in the stone age, but it allows analogue (VGA) signals of up to 400 MHz. According to the Wikipedia article, single-link DVI will run a 1900x1200 display at 60 Hz, but that's just not compatible: according to gtf, that would require a mode line like
Modeline "1920x1200_60.00" 193.16 1920 2048 2256 2592 1200 1201 1204 1242

That's a pixel clock frequency of 193 MHz, way beyond the hard cutoff. There's clearly leeway there for tuning the line sync, but you can't do that with an Apple. So tried the VGA connector, putting an unused KVM switch, and got my full resolution. But calibration failed: I couldn't get the display bright enough to even start. Is this a problem with the KVM switch or the monitor? I had already noted that it's pretty dim compared to others. Still more work!
While on the phone, also called up the ACCC on 1300 302 502, spoke to Melissa and left a complaint about Optus' deliberately inaccurate web site. Judging by the way she handled the situation, I don't have a really good feeling that they're going to drop everything to investigate the problem.
While shopping, Yvonne found some bare-rooted "Climbing Iceberg" roses, the kind I had decided to plant at the south of the verandah. It's a bit early for planting roses, I think, but there must be some reason why they're on sale already. In the end she brought a couple home, and I planted them in the afternoon, not without more trouble with buried pipes (here just showing at the edge of the planting hole).
Judging by the size, this one must be a rainwater pipe.
Also ended up fencing off the entire rock garden area—the kangaroos are eating almost anything.
Had barely got up when we had another power failure. That's the 12th this year.
On a more positive note, it's raining! Not much, but at the moment every drop counts.
It's clear from my interactions with Michael in SA that I need to learn more about Apple: firstly, the photographic software available produces significantly better results than I've been able to get with free software, at least in Michael's hands, and secondly, it's clear that Apple has chosen to do things differently from the rest of the world.
I've been using rdesktop to connect my Microsoft boxes for some years now, but my last attempt to connect an Apple with VNC was less than successful. Tried again today, and it—almost—just worked. On Callum Gibson's recommendation, installed TightVNC (the client name is vncviewer) on dereel, and Vineserver on boskoop. For some reason, initial attempts to connect just hung, and later I found that Vine Server was listening on port 5901, and vncviewer was trying to connect on port 5900. I'm not sure why, and I'm concerned that it might change at some time.
The good news: it works. The not-so-good news: it's slow. People had warned me of this, but I think I can live with it.
Also did some reading in MAC OS X Tiger in a Nutshell, which has a couple of chapters for people migrating from UNIX. It's not the clearest; the abuse of the word folder to mean "directory" has come up with statements like:
Folders directly under the root directory (/) that don't belong to other domains fall into the Local domain .
And yes, the space after the final word is original. It would be easy to infer from such statements that the terms "directory" and "folder" have a different meaning—maybe they do, and I just haven't found out yet. What a domain is isn't really described either, but it appears that it's a directory hierarchy.
They're a little more optimistic about "Finder" than I am, putting a different spin on the same problem:
There are two interpretations of the root directory on Mac OS X: one that's displayed for Finder views, and a Unix one that is mainly accessible from the Terminal.
It did show me how to get the "Finder" to stop losing things and display everything—with multiple mouse clicks in less than 5 minutes I was able to start the property list editor, chase through a directory tree and edit the preferences. The same thing in UNIX would have taken less than a minute. I'm getting to understand things better, but acceptance is still difficult.
It took Lilac about a week to come to terms with Piccola, but that's still not the same as complete acceptance. I had already noted that last time it took 5 weeks for her to accept Perdita; we're coming up to that sort of duration with Piccola now. Today at least they lay together on my chair:
Lilac also licked Piccola, but apparently didn't like the taste, so she alternated between licking and growling. Presumably it won't take too much longer now.
A bit more work in the garden, mainly mulching and digging. With the rain coming, it should be time to do a lot of planting, but there wasn't much to be seen of it today.
Finally some rain! 6.5 mm in the past 24 hours. It doesn't sound like much, but it's the highest daily rainfall we've had in over 4 months, and in the course of the day it continued. It still wasn't enough to get any water in the dam:
IPStar did some "scheduled" maintenance on their Broken Hill beam today (in other words, we were told yesterday). According to the schedule, it was from 2:00 to 5:00, but in fact it lasted until 8:00. Then it went away again at 14:00 and stayed down for another 6 hours. After that, we had two further outages during the night. The red line in the graph shows the link state, but it's covered by the green when they're both at 0: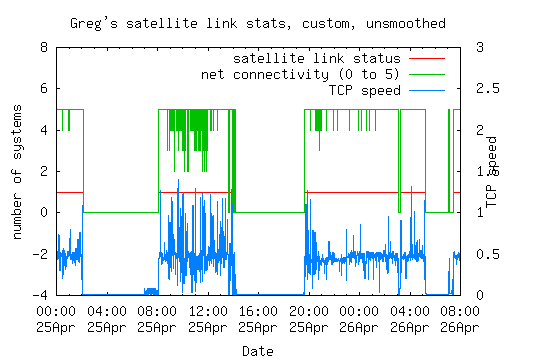 Chris is also on IPStar, directly with them, and she had an even longer outage; so it's clearly IPStar's fault. Round 15:00 called up Wideband support and spoke to Paul, who told me that they were having difficulties with authentication. But what kind of amateur outfit can make such a mess that they're down for hours after "routine" maintenance?
More photos, and once again it took all day. Firstly the lighting kept changing, and secondly I did some experimentation: as I noted last week, hugin can handle exposure differences from one image to the next. So this time I used automatic exposure instead of manual. The results were not good: hugin adjusted the exposure, but started at the darkest level and raised the brightness for the remaining ones, resulting in severe overexposure. So I had to go back and do it again with manual exposure. Then, once more, the results for the automatically generated terrace panorama were terrible. I think it's related to the wind: hugin selects control points apparently at random, and moving leaves obviously confuse it. So I had to do the whole thing manually. Here the comparison between automatic and manual control points: Interestingly, the manual one seems to have a different orientation; I'm not sure why that is. But there are far fewer discontinuities in the manual version. If only it didn't keep doing things like turning individual images on their side! As a result, had no time to play with Photomatix.
Looking back years later, it seems that I never tried again, or didn't record the attempt. It's quite possible that Photomatix didn't support the PPC architecture of my Apple, and was too Leet to say so.
Made some Ayam Lemak for the first time in some time. We had some old lemon grass in the fridge, which was about to go bad, along with some ginger that had seen better times, so threw that in; surprisingly, it didn't make much difference to the taste.
Chris along for dinner. This is becoming a typical Saturday thing.
The weather has really changed suddenly. In the 24 hours to this morning we had another 7 mm of rain, and the maximum temperature was 9°. Coupled with strong winds, it was a really miserable day, and we spent most of it inside.
Yesterday's network outages weren't the end of the story: as reported, they went on until 07:25 this morning, and I had a further 9 shorter outages in the course of the day. Spent some time writing another program to evaluate the availability of the link. It's a filter, and there are two different modes, one without options, and one with the -c option. Without options I get output for each individual outage, along with statistics:
Start time End time Duration

1240631742 1240632172 430 # 25 April 2009 13:55 25 April 2009 14:02
1240632375 1240632460 85 # 25 April 2009 14:06 25 April 2009 14:07
1240632662 1240652291 19629 # 25 April 2009 14:11 25 April 2009 19:38
1240679112 1240679665 553 # 26 April 2009 03:05 26 April 2009 03:14
1240686923 1240693494 6571 # 26 April 2009 05:15 26 April 2009 07:04
1240693688 1240694723 1035 # 26 April 2009 07:08 26 April 2009 07:25

Total 326 outages, total time 369811 seconds (4 days, 06:43:31)
Average time between outages: 130428 seconds (1 days, 12:13:48)
Average duration: 1134 seconds (00:18:54)
Availability: 99.13%

With -c, I have something that could be used for plotting graphs: it summarizes per day, so I get something like:
Date Outages Duration Availability
1240495200 0 0 100.00% # 24 April 2009 00:00
1240581600 5 42139 51.23% # 25 April 2009 00:00
1240668000 12 8891 89.71% # 26 April 2009 00:00

It's interesting to compare availability over the time I've had the system. 99.13% looks good until you consider it means 4¼ days.
First generation WLAN support waning?
More attempts to get tvremote (which has now really been the kitchen computer for some time) to run from a USB stick. It does under FreeBSD 8-CURRENT, but my old PCMCIA wireless card, which I've had for over 8 years, no longer works. I've already observed that the card didn't get a carrier, so today I spent a bit of time playing around and discovered:
wicontrol no longer works either. I know some people have been trying to get rid of it and replace it with functionality in ifconfig, but as long as that isn't properly documented, it's not a good alternative. But now an ioctl fails, so I suppose it's more likely to be removed than fixed.
An attempt to talk to the card with ifconfig failed too, more spectacularly: it paniced the system. It's impractical to dump to USB stick, so I got a disk to try installing to. And for some reason, probably hardware-related, that didn't work either.
The network is more or less back to normal now, so decided to download an ISO image for FreeBSD 7.1. In the past I've got about 120 kB/s from the mirror server, but since then my downlink speed has been increased from 1 Mb/s (obviously quite accurately) to "up to" 4 Mb/s. What download speed did I get? 75 kB/s.
Called Wideband support and spoke to Ashley, who confirmed that I had the fast link, and who suspected that my satellite link itself was faulty. Never mind that the speed was a very constant 75 kB/s, something that doesn't suggest any dropped packets. They have a remote maintenance interface, via which he claimed to see that the connection between my modem and the dish was not conducting correctly. He asked me to power down the modem, disconnect the cables at both ends and wait for 20 minutes so that the excess capacitance could drain from the cables. He was deadly serious, even when I told him, as nicely as I could, that this was complete bullshit. Did as he requested, thus creating the only outage of the day:
Date Outages Duration Availability
1240754400 1 574 99.34% # 27 April 2009

About the only thing that might make sense is that there could be a poor contact at the connectors, something that disconnecting and reconnecting might help, and power cycling the modem could reset all kinds of memory leaks and other problems that this horrible modem doubtless has. But draining capacitance! Modern-day old wives' tales.
Reconnecting (on his instructions, after only 9 minutes) brought no change, of course. Then he got me to try a speed test, which seems to be a global network, and which knows that I'm in Germany, so it gave me a server in Frankfurt/Main. After resetting to Melbourne, I got completely unrepeatable rates with downlink speeds sometimes over 8 Mb/s:
Every time I ran it, I got vastly different results.
On IRC, got a link to Oz Broadband, which looked a little more plausible:
About the only thing I really got out of here is that the download speed wasn't related to my satellite link.
Another 8 mm of rain overnight. If this continues, we'll have above-average rain for April. I should go to the dam and see if any is collecting; that's my personal criterion for "barely enough rain".
Now that my father's funeral is over, we have the matter of his will to contend with. The will itself is completely straightforward: my sister Bev and I each get half of the estate. The question of the estate is less straightforward, and he had appointed an executor to his will, Mark Blackley in Melbourne. Called him up today and was given the rather startling news that he died last year, still in his 40s, of melanoma. That's sad, but also somewhat bizarre under the circumstances. It turned out that, though he had done the work on the will, he was only the substitute executor, and the primary executor is Paul Watkins, with whom I discussed at length, and discovered that there's the option of not getting him involved if he's happy that justice will be done without his intervention, which will of course save a lot of money. More things to consider.
Linux deletion speeds, continued
Another data point for the slow deletion problems I've been seeing:
=== root@cvr2 (/dev/pts/5) /recordings 18 -> df .; time rm *.orig; df .
Filesystem 1M-blocks Used Available Use% Mounted on
/dev/sda1 188735 159745 28990 85% /

real 0m37.507s
user 0m0.000s
sys 0m0.676s
Filesystem 1M-blocks Used Available Use% Mounted on
/dev/sda1 188735 81166 107569 44% /

I was transferring a file to teevee at the time, and during this time, the transfer speed dropped from 11.2 to 3.8 MB/s. I need to look at the disk accesses.
Sourdough: rotting your brain? (or, solving world hunger)
The last half-sourdough bread turned out to be surprisingly good, so now I'm investigating in more detail. There are a number of documents on the web, of course, and at first sight Sourdough Home looks quite good. They have a series of pages on starters, so read that. Maintaining a Starter tells me:
If you have 100 grams of starter, adding 50 grams of water and 50 grams of flour. [sic] ... All the professional bakers I know feed their starters at least twice a day. And, that's what you should do as well.
Elsewhere, Storing a Starter tells me:
So, when can you optimally refrigerate a starter? The starter should be at least 30 days old, having been fed twice a day the entire time.
This reminds me of a story I know from my childhood about the invention of chess, where the inventor wanted one grain of rice for the first square, two for the second, and so on up to the 64th square. That was a lesson in mathematics, of course, but it seems that the author of these pages doesn't seem to know it. Feeding a starter twice a day for 30 days is only 60 iterations, not 64, so instead of 9.23E18 grains of rice, there would only be 5.8E16 kg of starter—better expressed as 5.8E13 tons. Spread over the 6E9 people on earth, this represents approximately 10,000 tons of starter per person on earth. It's obvious that there's something seriously wrong with this recipe.
Or I thought so. Then I talked to Sue Blake on IRC, who told me to use 1 part old starter, one part rye flour and one part water, all by weight (of course), then to throw half away, thus remaining with the original quantity. Or maybe 20% more. Sue's not a stupid person, so I can only assume that this kind of inaccuracy comes with accepting unacceptable inaccuracies in cooking, or maybe it's the result of an organism in sourdough.
In any case, I don't like throwing food away, especially if it adds up to millions of tons, so I started enough for one loaf, and I'll replicate it until I have the right quantity:
Take 50 g old starter, add 50 g rye flour and 50 g water. Contrary to my expectations, this proved to be a very thick dough, too thick, I expect.
When that has risen, I'll add 150 g each of rye flour and water to give a total of 450 g.
When that is done, I'll have enough starter for a loaf (add another 550 g flour). How much water I'll need here remains to be seen; it's much more than I've been using previously.
But this inaccuracy has me thinking. I've added a new topic to the diary, fiction.
I'm following the instructions at Sourdough Home for Maintaining a Starter and Storing a Starter. Today's the first day, so I started with 100 g of culture and fed it with 50 g of rye flour and 50 g of water in the morning. It rose nicely, so I did it again with 100 g of flour and 100 g of water in the evening. Now I have 400 g of nice, healthy starter.
More work in the garden, between the rain, and planted the remaining bulbs. With the recent rain, things are looking a lot better.
Finally my ISO downloaded, at surprisingly low speeds:
=== grog@dereel (/dev/ttypg) /src/ISOs 141 -> ftp http://mirror.wide.net.au/pub/freebsd/7.1/i386/7.1-RELEASE-i386-dvd1.iso.gz
Requesting http://mirror.wide.net.au/pub/freebsd/7.1/i386/7.1-RELEASE-i386-dvd1.iso.gz
100% |*****************************************************************************| 1807 MB 63.85 KB/s 00:00 ETA
1895702133 bytes retrieved in 8:03:11 (63.85 KB/s)

Other speed measurements suggest that I am getting about 2 Mb/s download, but it doesn't seem to help much. About the best news is from mtr, which shows round trip times dropping below 1 s. That's not spectacularly good, but better than I've been having. Peter Jeremy suspects that part of the problem is that the cheap Ethernet cables I'm using have their pairs twisted anti-clockwise instead of clockwise.
Yesterday the only drop in my satellite connection was on instruction, to drain the electrons from the cables. Not so today:
Date Outages Duration Availability
1240840800 6 975 98.87% # 28 April 2009

Feeding my sourdough, day two
While in town, also bought a 25 kg sack of rye flour. Continued with my sourdough starter and added a total of 600 g flour, 600 g water. I now have 1.6 kg of starter, and already it's getting to be a handful. Fortunately I have containers big enough for it, but it's clear that that won't stay the case for very long.
Somehow I'm dragging my feet getting this new HLT together, but finally went into town to buy another hole cutter and back to try drilling a hole in the old HLT first. That worked, but the hole is still not very pretty. Still, I should be able to get things sorted soon. That's a good thing, because despite my intentions to build up a stockpile of beer, I'm running low again.
While in town, looked around for some clear plastic foil to wrap around the protective mesh for the citrus plants. There seem to be only two possibilities: translucent polyethylene foil for about $1.10 per m², or polycarbonate for about $15 per m². But the former doesn't let enough light in, and anyway, I can get it for free on packages, and the latter is too expensive for what I want it for. More searching needed. Spent some time preparing the vegetable garden, which we should plant soon.
Lilac came to terms with Piccola in a little over a week, but as the photos show, that was less than complete acceptance. I suppose we can lay the same criteria as with Fluffy, that they play together. We've now had Piccola for a month, and we're still not there, but now at least Lilac is prepared to lick her spontaneously without growling:
| | |
| --- | --- |
| | |
So the only satellite link outage yesterday was deliberate, requested by Ashley. Things were looking better. Then I tried to synchronize my photos, and the link went down—repeatedly. After a while called up Wideband support and spoke to Matt, who required confirmation of my name, phone number and address—all information available. He wanted to know what program I was using to upload—as if that would make any difference, since it was clear that the link was dropping. He also asked me to copy a file to a different system—as if that would make any difference, since it was clear that the link was dropping. Tried both, with the expected results, and while doing so noticed that the uplink speed went up steadily to about 800 kb/s before the link went down, much more than the 256 I'm allocated. About the only information of use that he supplied was that IPStar had changed gain parameters on my link yesterday to work around the downlink speed issues I had been having from the mirror server. He promised to investigate and call back by evening. He didn't.
Andy S pointed out that rsync has a bandwidth limiting option, so tried that, limiting bandwidth to 50 kB/s; it still failed. But at 20 kB/s it doesn't, which is doubly useful: firstly, after nearly 2 hours, I was able to upload my data. Secondly, it is a pretty good indication that it's really a bandwidth issue.
Spent some time playing around with my statistics program, adding the ability to show statistics for a range of dates. Today came out as:
Date Outages Duration Availability
1240927200 16 1423 98.35% # 29 April 2009

The "Availability" column is generous: it doesn't show, for example, that I spent 2 hours trying to upload my photos.
The other day I had tried drilling a hole in the old HLT to confirm that it was clean, before going at my new pot. Today finally got round to doing that, with Yvonne helping me steady it. The hole was even untidier, and getting the burrs off the inside was a real problem. To add insult to injury, it doesn't seal properly: the flange is flat, and the inside of the pot is curved:
There's got to be a simple solution to that, but I haven't found it yet. Sent a message to the brewing community, who might have an idea.
Mail from Tom Maynard today about sourdough. As he put it:
Once again you've ventured into territory that can be as zealous as religion: sourdough.
He confirms that much sourdough starter gets thrown away. I'm not prepared to accept that—yet. You can put yeast starters in suspended animation simply by cooling them, and in principle you can do that with sourdough too, though there's the added issue that, since there are many different organisms in a sourdough, cooling could upset the balance. But based on the quality of the documentation I've seen so far, I think I'd rather do my own experiments.
Tom also notes that he uses 2 parts of flour to one of water. Is that too much flour or not? Two days ago I added 1:1 and found the paste to be very stiff, but yesterday I used the same proportions and they seemed much more liquid. Why? I'm pretty sure I'm measuring carefully. The first time I used plain rye meal, and the second time rye/wheat flour mix. Is that the difference? Tom doesn't say what kind of flour he's using, so maybe it's wheat. He gives a link to a pain au levain which supports this assumption.
Feeding my sourdough, day three
My starter is now getting really big! Added 800 g of flour in the morning and 1.6 kg of flour in the morning. It's now a total of 6.4 kg, and almost completely fills the "9 litre" bucket I've put it in. I need to plan for something bigger, not just to put it in, but to mix it.
Only a few months ago ago we had the highest temperatures on record, and the garden's still recovering from it—the irises and hellebores think it's early spring:
In particular, the Osteospermums in the foreground of the last photo have grown considerably over the summer, but they've only just started flowering in any quantity. The irises have also really grown—I've never seen such rhizomes:
But today we had the first mild frost, which only affected the paddocks and didn't make its way into the garden itself. That's at least 6 weeks early. What a crazy year!
Another frost today, this time a little heavier. It still doesn't seem to have hit the main garden areas, but we'll see in a day or two if anything wilts.
Fujitsu—broken by design, revisited
One thing that's still very evident is that our air conditioners have a severe design defect: the temperature control is barely acceptable when cooling, but when heating it's completely unacceptable. To get a 22° temperature on a cool summer morning, we have to set the thermostat to 19°. On a chilly, windy autumn morning we have to set 23°—a complete 5° difference. In my office I set the temperature to a completely ridiculously high minimum temperature of 16° overnight, but when I come in, I have to raise the thermostat to 24° to get it to notice it has been changed. I'm continually going round checking temperatures and changing thermostat settings.
All of this can be explained by the ridiculous design. It's bad enough that so many air conditioning units measure the temperature of the return air, but this model goes one step further: the temperature sensor is hidden in the innards of the wall unit, where there's not even any air flow, and placed directly above the pipe sensor, which is at about 50° when heating.
As a result, the convecting heat from the sensor has more effect on the thermostat than the room temperature, and it needs to cool down first before the room temperature can have any effect. All this can be worked around by attaching an external temperature sensor placed where you want the temperature to be controlled. Does Fujitsu offer this option? No.
Still no call back from Matt about my network connection, which was really not acceptable yesterday:
Date Outages Duration Availability
1240927200 16 1423 98.35% # 29 April 2009

Tried synchronizing without rate limitation, with the surprising result that it worked well:
sent 7290005 bytes received 378 bytes 136268.84 bytes/sec
total size is 10624635 speedup is 1.46
Thu Apr 30 11:56:58 EST 2009

That's an average uplink speed of over 1 Mb/s, more depending on how you count your bytes (I've found it convenient to compare bytes over ADSL to bytes over an async link: both tend to have bytes of 10 bits). According to the web display, it went over 2200.0 kb/s, which appears to be genuine. It's a pity that the downlink speed doesn't seem to be any better, so probably the bottleneck is no longer the satellite link.
One interesting thing is that, although the link didn't drop during the transmission, it frequently did shortly afterwards; not every time, but often enough to be worth observing. After the transfer above I got:
1241056572 1 5 # Thu Apr 30 11:56:12 EST 2009
1241056698 0 0 freefall shella1.mysql.com www.auug.org.au ozlabs.org ftp.netbsd.org # Thu Apr 30 11:58:18 EST 2009
1241056765 0 0 freefall shella1.mysql.com www.auug.org.au ozlabs.org ftp.netbsd.org # Thu Apr 30 11:59:25 EST 2009
1241056805 0 3 freefall shella1.mysql.com # Thu Apr 30 12:00:05 EST 2009
1241056812 1 5 # Thu Apr 30 12:00:12 EST 2009

It's interesting to note that there's no loss of TCP connections here. On reflection, this is probably an indication of the extent of the dropout: it presumably does not include either of the BST endpoints.
Yvonne went shopping today and came back with a thick rubber washer, which seems to have done the trick for the HLT. So now I can—finally—brew again.
Feeding my sourdough, day four
Another thing Yvonne brought with her was four 50 kg sacks of rye meal and a 300 litre rubbish bin for the sourdough starter, and also a clean new spade, which we'll use to mix it, and later in the garden. This is gradually getting expensive. Stirring worked well enough, but it's tiring work. I now have 25 kg of starter; you can smell it all through the house.